Do you want your small business to work effectively? You need quality delivery management software to take your business to the next level.
Even a small business has a huge list of tasks, processes that need to be managed. Without the right, up-to-date software, managers will be ineffective compared to the competition.
It is necessary to simultaneously serve customers, conduct financial calculations, and plan orders. All this requires a highly efficient system that makes it easier for you to do business.
According to Akveo, delivery management software is an incredibly useful system even for small businesses. In this article, we'll take a look at the best shipping management software.
Small Business Needs Delivery Management Software
01

. ClearDestination
Delivery management problem remains relevant for small businesses to this day. ClearDestination is a great solution for retail businesses. This is a solution for companies dealing with the delivery of large volumes of products.
However, ClearDestination will also work for small shipments. Such as pharmaceuticals, food, alcohol and others. ClearDestination provides users with an innovative yet easy-to-use delivery management platform.
Great for Fleet Management and Transportation Management. Route planning includes performance data, live driver tracking and driver management.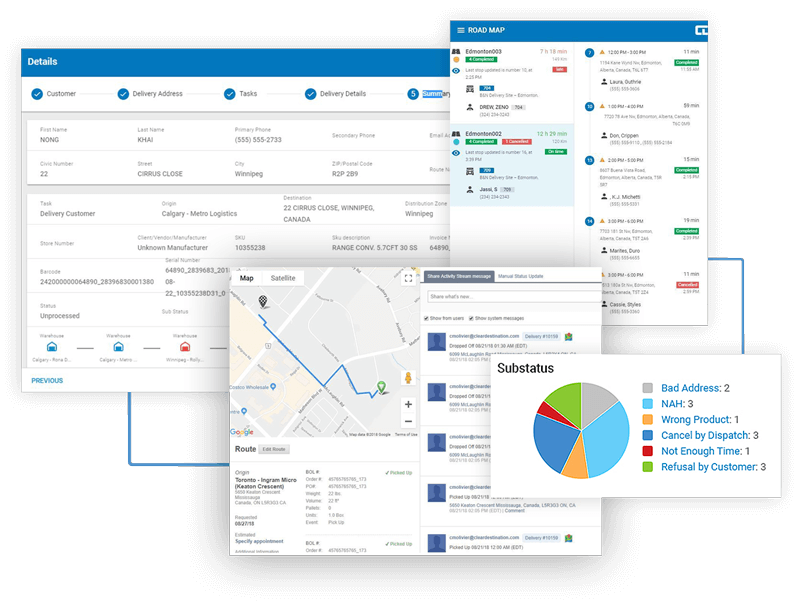 02

. Onfleet
Onfleet is a modern delivery business software. It greatly simplifies planning and distribution and management work. Onfleet is a truly modern solution. The ecosystem includes user-friendly dashboards that are also available for smartphones.
Onfleet offers an easy-to-use and online web-based panel. Onfleet offers a free trial to use. Thanks to this program, more than 60 countries in the world are already using this solution.
More than a million deliveries were made thanks to Onfleet. Onfleet subscriptions start at $ 149 per month. There is no completely free version, however, there is a free trial version.
Onfleet's clients are a variety of both large and small businesses. Great for Fleet Management, Transportation Management, Barcoding /RFID, Order Management logistics.
Road planning includes dispatch management, drag & drop scheduling, and driver management. Besides, it has live driver tracking, performance metrics, and territory management.
03

. OptimoRoute
OptimoRoute is software that helps companies plan routes for their deliveries. And also draw up a work schedule for employees, provide them with a route.
OptimoRoute is a tool to help you optimize supply planning for your business. With its help, work efficiency is increased up to 20%. Drivers serve more orders, using the best path and using less fuel.
OptimoRoute is software that will help you distribute deliveries among drivers in the most optimal way. And at the same time to be in compliance with all regulations. If any situation arises, OptimoRoute will help you re-plan the road quickly and without loss.
OptimoRoute is one of the top 20 best fleet management solutions. It is a cloud-based solution, so it is very easy to use it to manage the entire system from any device. Subscription prices start at $ 19 per month per user. There is a free trial to test the product before implementing it.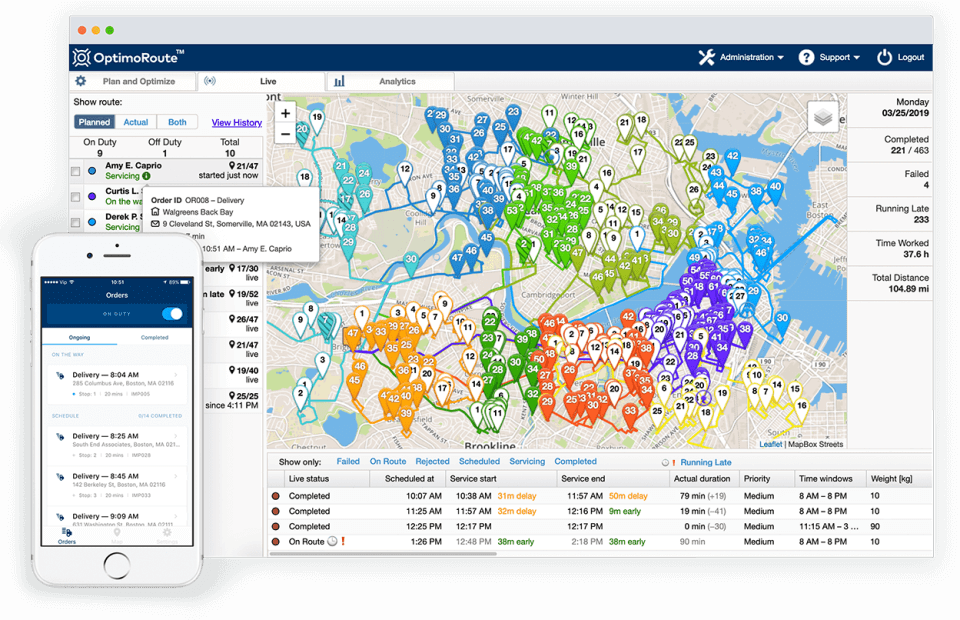 04

. eLogii
ELogii is one of the leading delivery management solutions. It helps companies plan the best routes and optimize them. ELogii is used by both large and small businesses.
It is used by companies in the field of logistics, grocery delivery and courier services. eLogii is the solution trusted by big companies like Caldic North America. He has satisfied clients all over the world.
eLogii subscription starts at $ 159 per month. A free trial is offered to test the product. Customers trust elogii for several reasons. And here are some of them:
Elogii developers have done everything possible to make it convenient and understandable. Even if you can't figure it out, technical support and training are focused on it.
05

. LogiNext Mile
LogiNext Mile is the software that companies use to plan routes and distribute deliveries. It is great for companies engaged in courier delivery, mail delivery, etc.
LogiNext Mile is a modern solution that automates the delivery management process. The software offers to plan the best routes, avoiding congestion and traffic jams.
With LogiNext Mile, you can dramatically improve delivery efficiency by monitoring in real-time. LogiNext Mile subscription starts at $ 49.99 / month per user. A free trial is also available for testing the software. Many users have noted the following benefits: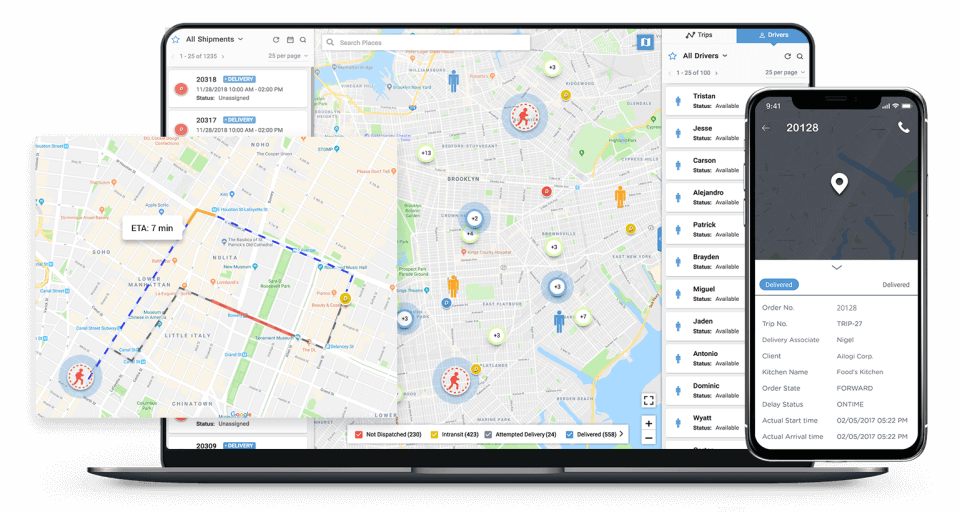 06

. Track-POD
Track-POD is software that provides users with quality delivery business software. With this solution, companies of all sizes can optimize their delivery process. This includes planning the route, optimizing the resources used, using the maximum amount of transport.
Track-POD is software for delivery businesses used to optimally distribute orders between drivers based on their routes. Great for businesses dealing with courier delivery, distribution, food, parcel, and equipment delivery.
A Track-POD subscription starts at $ 19 per month. You can also use a free trial to test your product. Track-POD is a great software to improve the efficiency of your business.
Delivery managers always understand what is happening with the delivery, by whom and where. They can exercise control online. The solution benefits also include road optimization.
This significantly reduces fuel costs and time. With an optimized route, the company can make more deliveries per day. Usability also lies in the fact that the application has both mobile and desktop versions.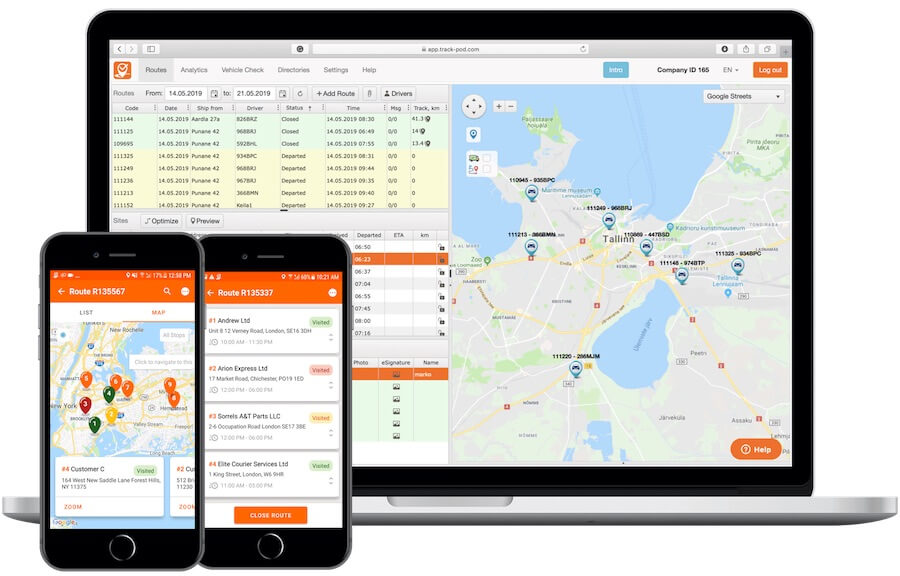 Final decision
Nowadays, all companies realize the importance of introducing innovative technologies. However, not everyone understands exactly how the right software will help their business. This article presents the best delivery management software for small businesses.
These solutions have been tested by no one dozen users. They all admired the amazing role of user-friendly dashboards like this. Plus, if you can't decide on the program, then all solutions provide free trials. They will help you familiarize yourself with the software and make a decision.