WP File Download is a plugin that will make the entire process of managing files on your WordPress site easy and organized.
Though WordPress comes with its' own default file management option, it is not as comprehensive and powerful for a site that involves a lot of work around different files.
This is where the WP File Download comes into play by making the process smooth for the users.
WP File Download is a WordPress plugin that helps in organizing and managing files on your WordPress site.
The plugin comes with a beautiful user interface where things are streamlined to help the users to manage a huge number of files.
In this WP File Download review, we will have a look at the plugin in detail and how it can benefit your business.
We have installed the plugin on our site and we will go through the process by adding live files to understand the plugin better.
Let's have a look at the plugin
WP File Download Overview
There are a number of advantages of using the WP File Download plugin. If your site has multiple users who manage file on tour site, you have the option to restrict users only to certain categories.
Here are some of the key advantages
Installation and Getting Started
The process of getting started with the plugin is simple. You can purchase and download the plugin from JoomUnited.
Go to your WordPress dashboard → Plugins → Add New and upload the plugin zip and install.
Once you activate the plugin, it will run you through a simple installation wizard, you just need to click on continue and proceed further.
You will get the option to select a theme for your file manager.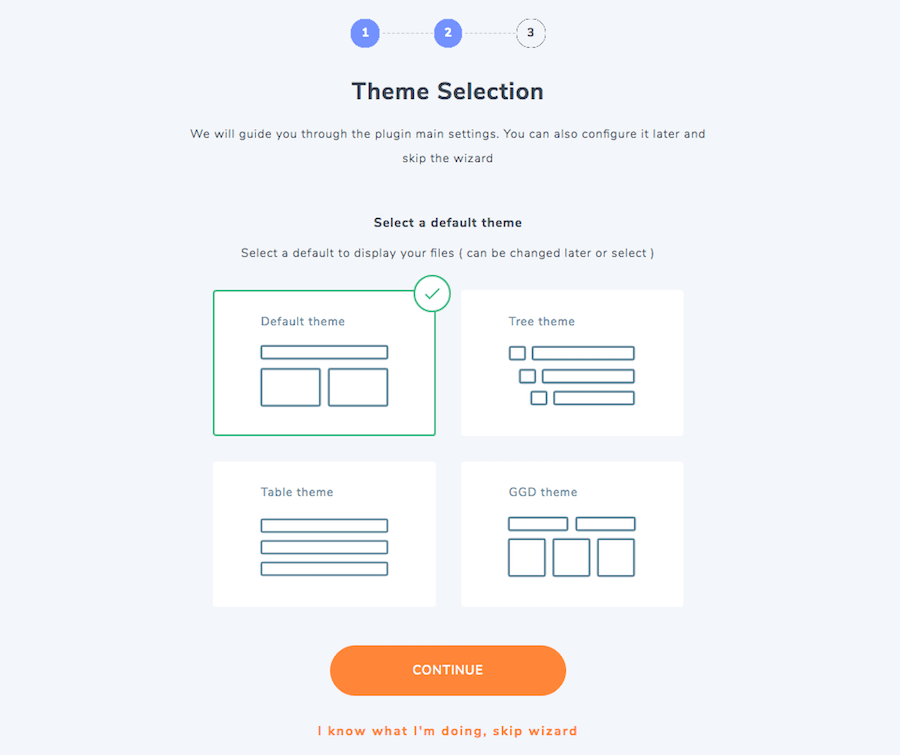 Then you will see the options to customize the theme options according to your need.
You can follow the options, you also choose to skip these details and proceed.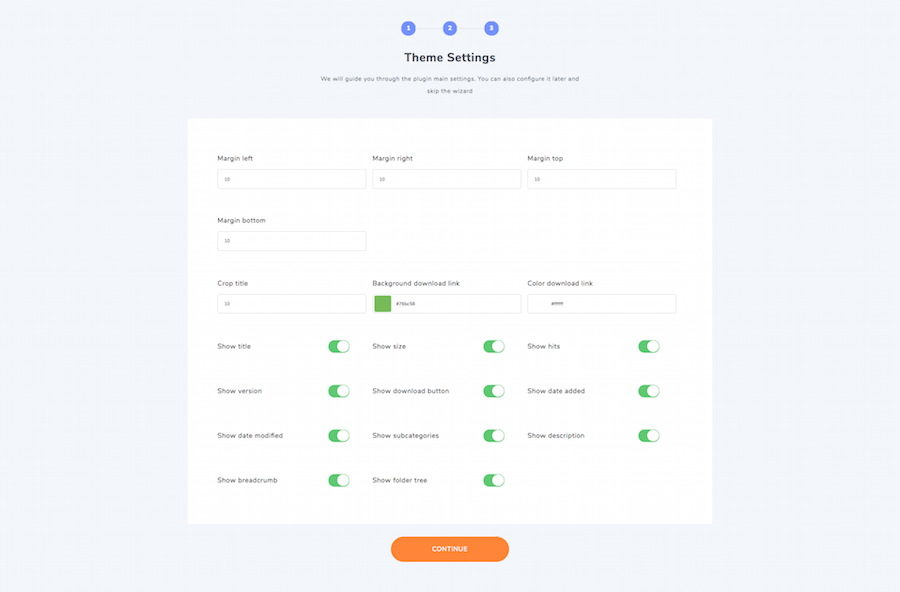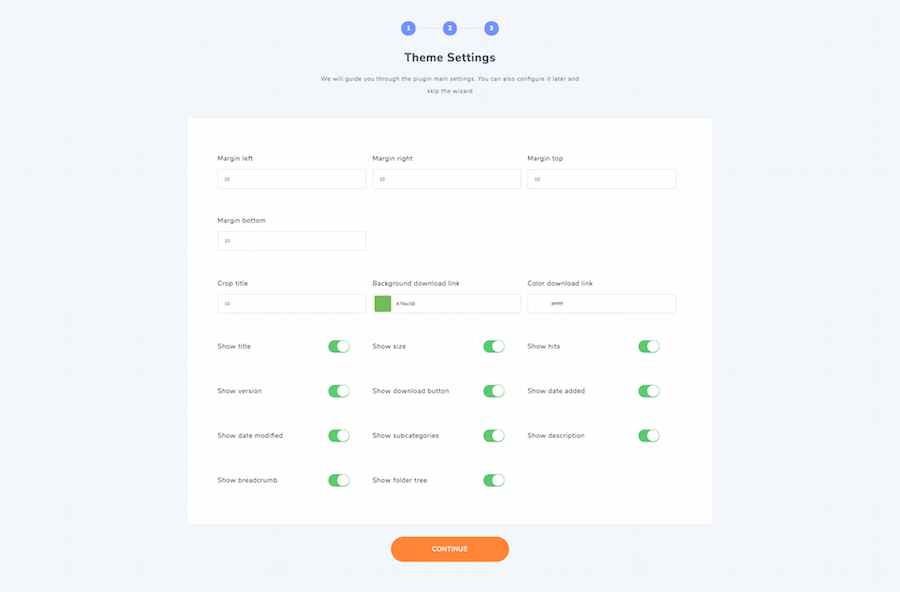 WP File Download Plugin Settings
Before we dive into the users interface and upload your files. Let's have a look at the main settings of the plugin.
Go to WP File Download → Configuration Here is how it looks.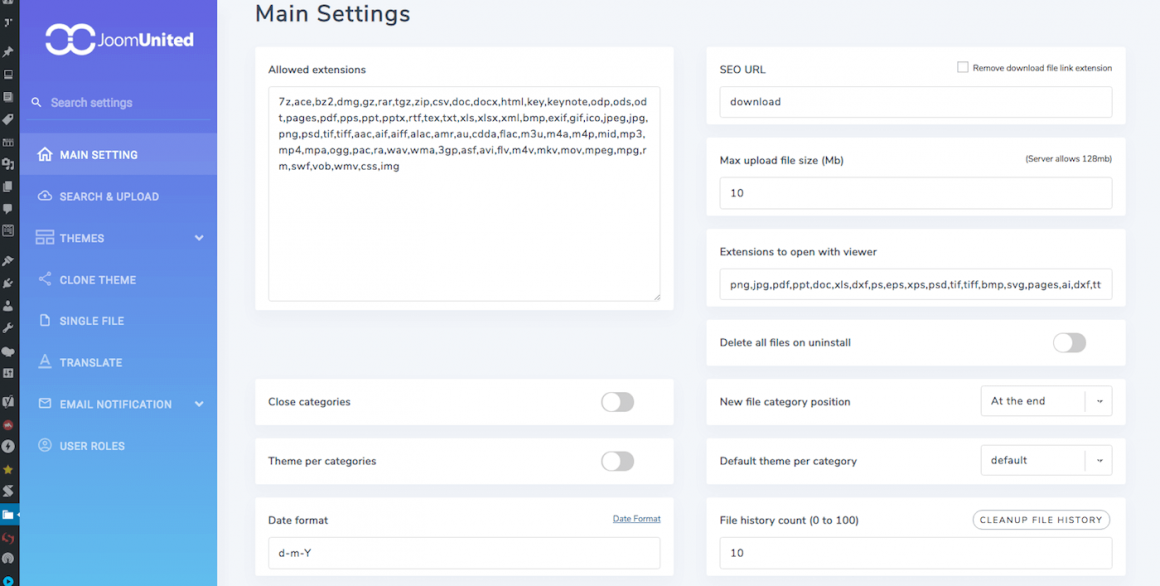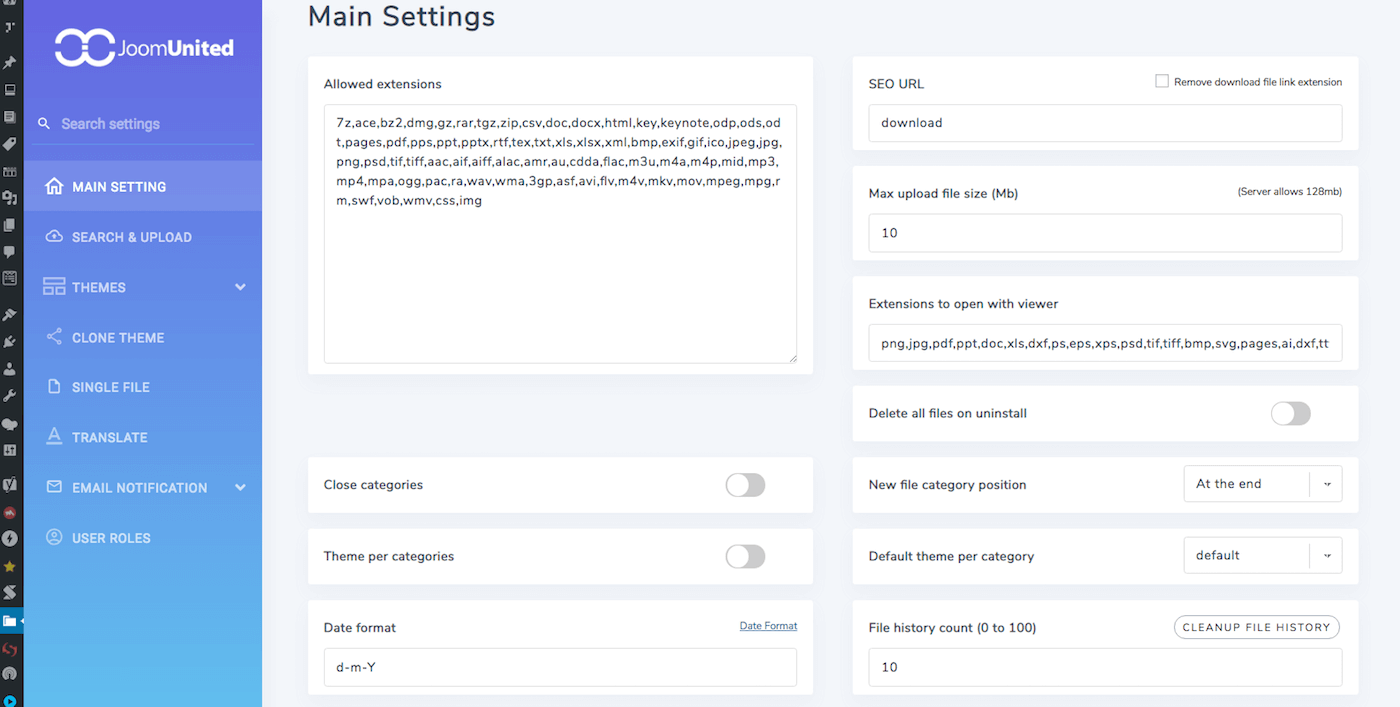 As you can see in the image above, you have a number of different settings starting with the file types that you plan to upload on your site. You have different file extensions doc, docx, html, flv, m4v, mkv, gif, ico, jpeg, jpg, png, psd and many others.
Here are some more settings options under the main settings tab.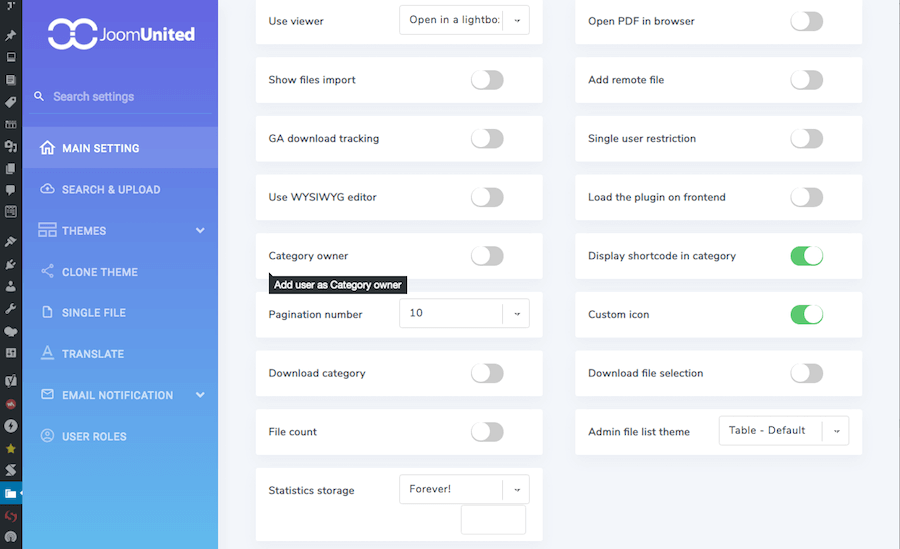 There are more settings options such as
The User Interface
The WP File Manager plugin will bring in a refreshing feel to your file management interface.
Please note, the plugin doesn't replace the default WordPress file manager, it brings in its' own settings option to your WordPress dashboard where you can manage your files.
This is how the interface will look. You can quickly upload your file and categorize it accordingly so that it becomes easier for you to retrive any file even after five years.
As you can see in the image below, we have uploaded a file and created a new category for the files related to this review article.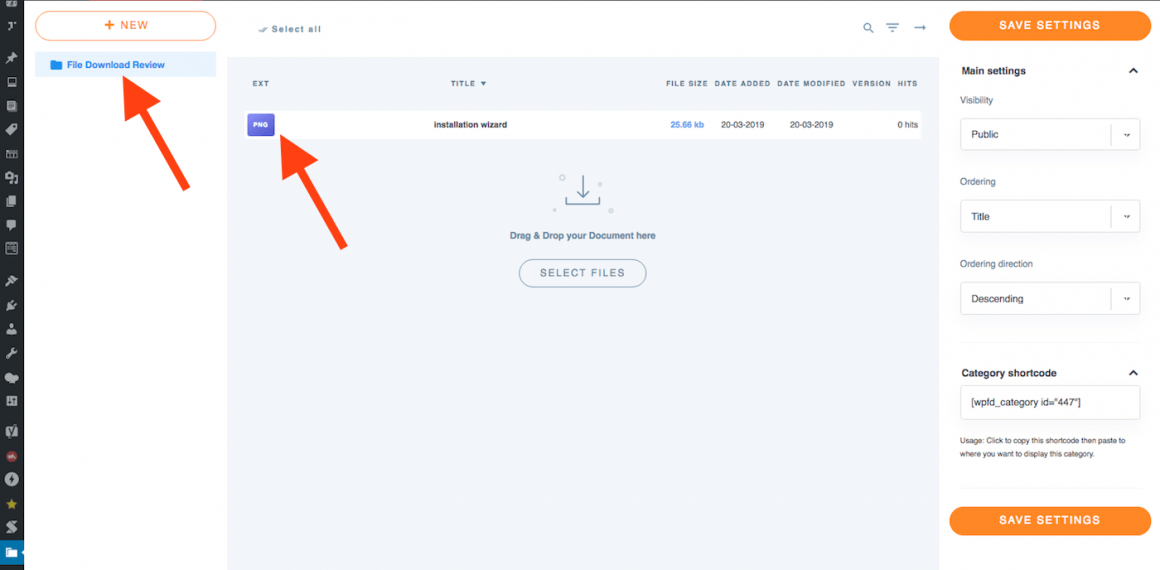 File Category
The WP File Download has been created with an idea to streamline the complete process of managing your files easily.
It offers you quick option to create different categories for your files so that you can retrive the files whenever you need them in the future.
When you click on any of the categories, all the files inside that folder will be shown. So you can create different categories depending on your project or any other way that makes things easier for you.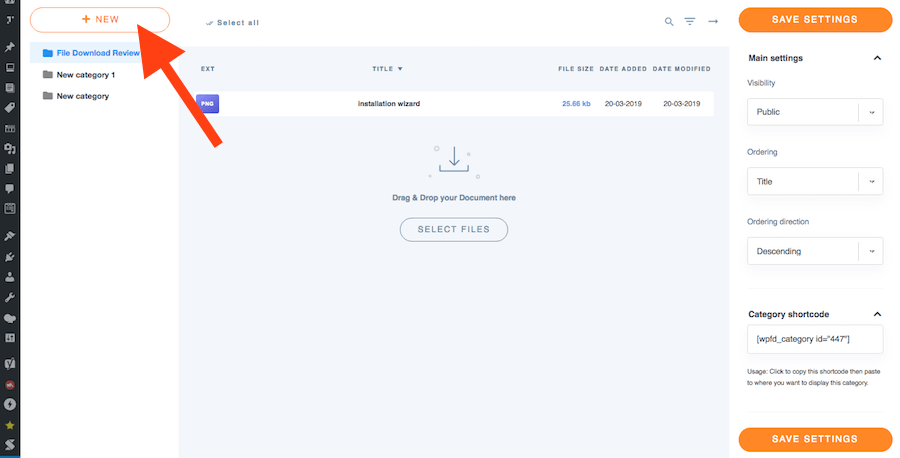 File Details
Now, let's have a look at the option for each individual files on your site. We have uploaded two image files, when we click on a file it brings in the options related to the file.
Also, if you look at the top of the folder, there are certain options that are shown as you click on a file.
Here you have the option to copy any file, delete, download etc.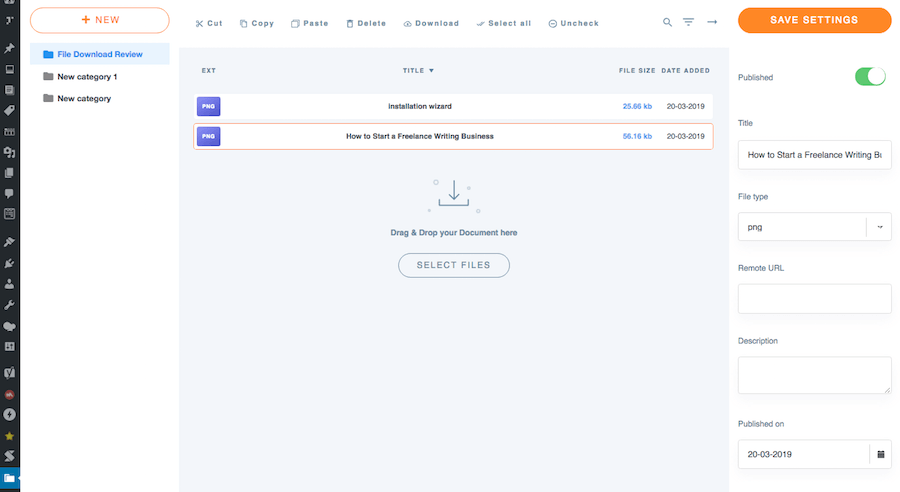 File Search Option
The plugin comes with a comprehensive file search option that makes it super simple for the users to find any file even after years.
As we mentioned above in the article, you can setup the search option depending on your requirement.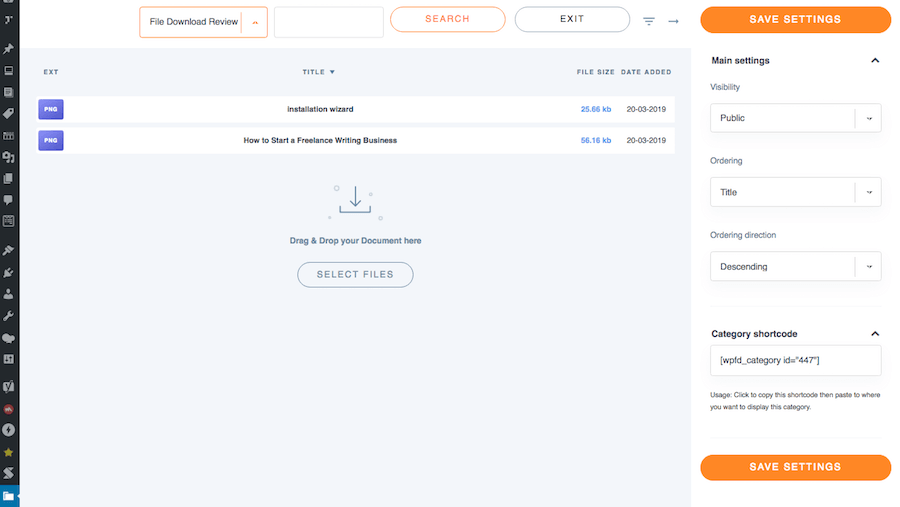 Allow Users to Download File
The real utility of this plugin comes into play when you allow your users to download files on your site.
Now, the file can be of different kinds. Either you offer some software to download or some kind of website template, this plugin will be extremely helpful for you.
You can quickly grab the shortcode of any file and place it on any page so that your users can easily download that fine at their end.
You also have the option to allow your users to download multiple files as a zip from one category by generating a shortcode for the entire category.
Gutenberg Blocks
The WP File Download plugin works perfectly with all the leading page builders such as the Divi Builder, Beaver Builder etc.
But as per the current scenario the Gutenberg blocks make more sense.
The plugin comes with two blocks that you will find under the widget blocks group, one is for individual file and the other is for entire category.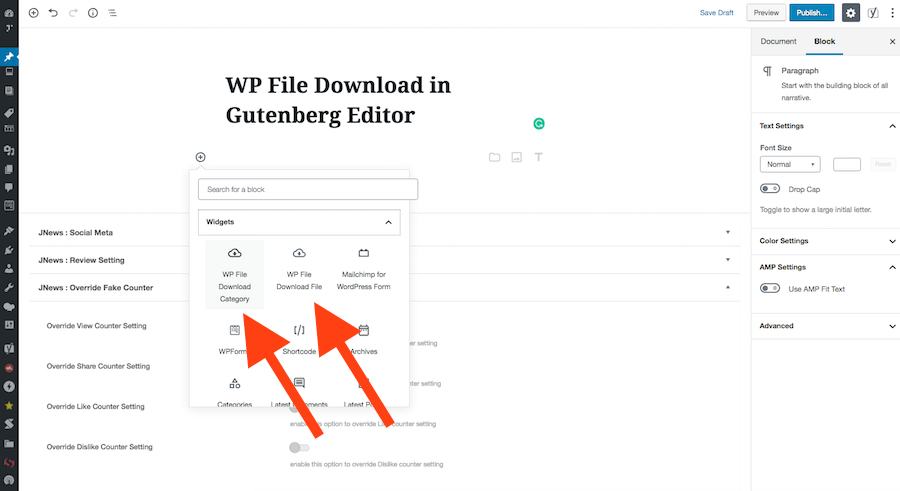 These blocks will help you to add files to your posts and pages so that your users can easily download at their end.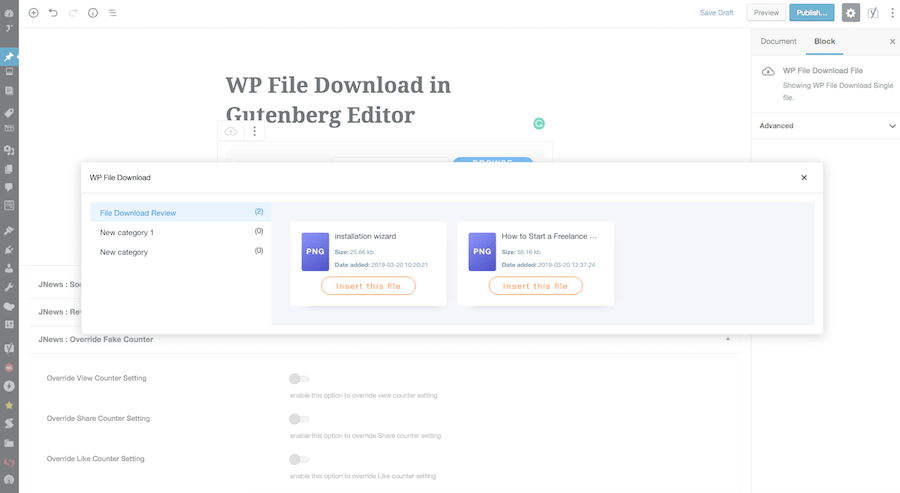 User File Upload
The plugin is not only about downloading files, it's about uploading as well. Yes, the plugin offers a quick and easy option to allow your users to upload files at their end.
Her is how you can set up the file upload option
Go to the configuration page and click on Search and Upload Settings. Here you can set up the file upload options and get the shortcode so that you can add the upload option on any post or page.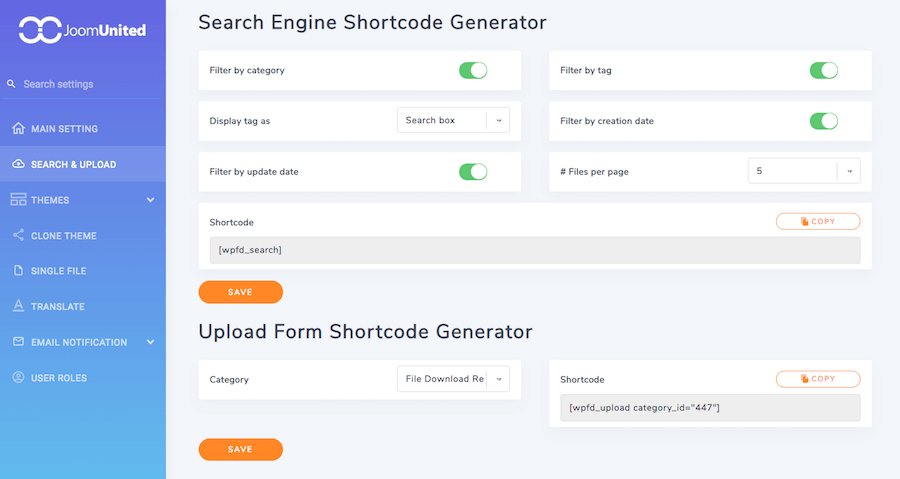 Here is how it will look at the front-end of your site.

WP File Download Add-Ons
The plugin comes with a number of add-ons that you can use to extend the plugin further and make things even easier.
Here is the complete documentation provided to use the add-ons with the WP File Download plugin.
Here are a few useful add-ons
The add-ons are self explanatory, nothing much to talk about. The add-on like Google Drive, Dropbox can be used to store your files.
Google Drive Integration works both the ways, if you upload a file in Google Drive it will show on the WP File Download folder and vice versa.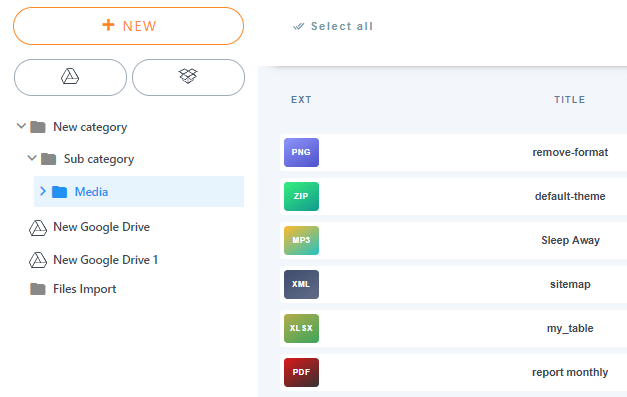 Let's have a look at the social content locker.
The social content lockers used to be very popular a couple of years ago and it still works if you have something useful to offer.
So, when we are talking about the file download plugin; this add-on makes complete sense.
If you are offering something useful to download for free. For example, you are offering a free WordPress theme; why not use the social locker add-on and increase the social sharing of your product.
Once you install this addon, you will see an option in the settings to lock any file or category that you can make "yes" and lock the file.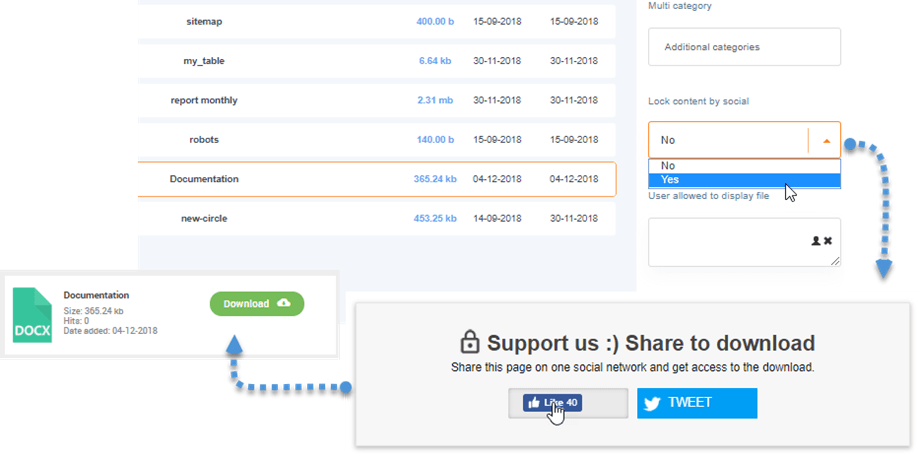 Pricing of WP File Download
The WP File Download is a premium plugin and comes with three different packages based on the duration of support, updates and the features.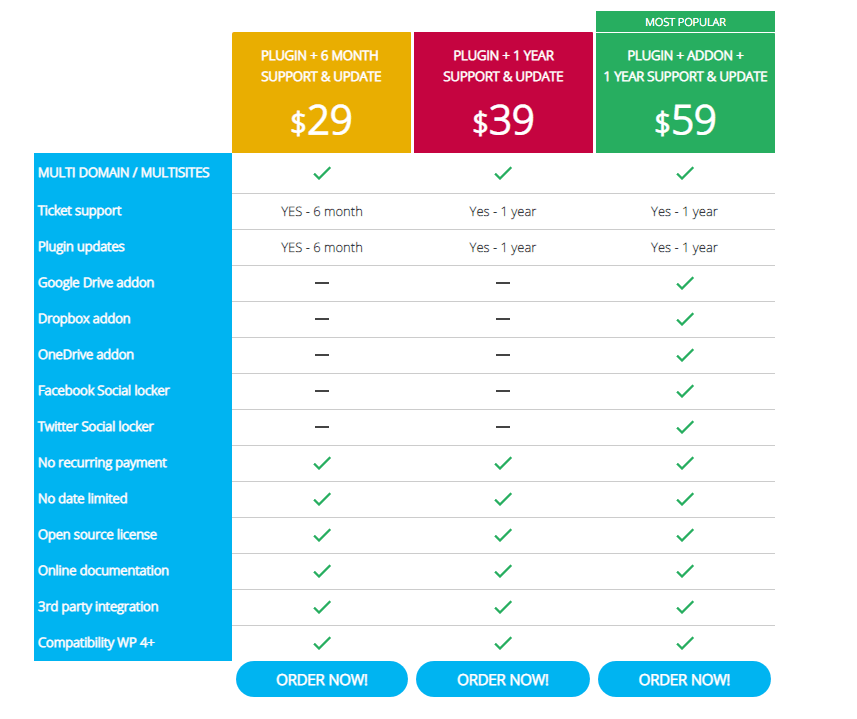 Also Read
Final Word
This is a high quality file management plugin for WordPress that will surely make things easier for you while you work on any site that involves file upload and download.
The interface is beautiful and all small details are taken care perfectly so that you have a comprehensive solution.
The dedicated Gutenberg block make it even easier for the users to quickly add the block and add the files for download.
Overall, it's a perfect solution if you are looking for a plugin to manage files on your site.
A Product By JoomUnited