We realize the value of providing a production platform that is both powerful and intuitive and provides a well-crafted creative experience. It's about understanding the marketing barriers that can be solved by delivering exclusive, high-quality visual content.
This blog post aims to solve all your queries about visual production platforms and provide a solution to the same.
Among the various visual production platforms available in the market, the question is whether Creatopy has the ability to bring your designs to life?
Don't worry! Here's an in-depth Creatopy review, including its best features and pricing facts.
We acknowledge that you need resources to help you kickstart your creative process and organize your visual content, and there are many that claim to deliver the best results. However, you don't want to put your finances in jeopardy by devoting a significant portion of your marketing budget to that one.
Let's see if Creatopy is the right platform for you!
Creatopy Review
We're sure that as a marketer, you've heard about the Bannersnack. Bannersnack was the company that established itself as the top player in creating flash banner advertising.
Well, Creatopy is the new Bannersnack as the company adopted and evolved with the change in the industry.
Bannersnack expanded to include more than just banner ads, and the name no longer reflected what they provided. A company that began in 2008 under the name Bannersnack has grown to be highly popular while remaining innovative in its offerings.
With a mission to build a world where people can unlock limitless creativity, Creatopy has successfully helped over 4 million clients. Among these are many Fortune 500 companies that trust Creatopy to build visuals for their campaigns.
Isn't that wonderful?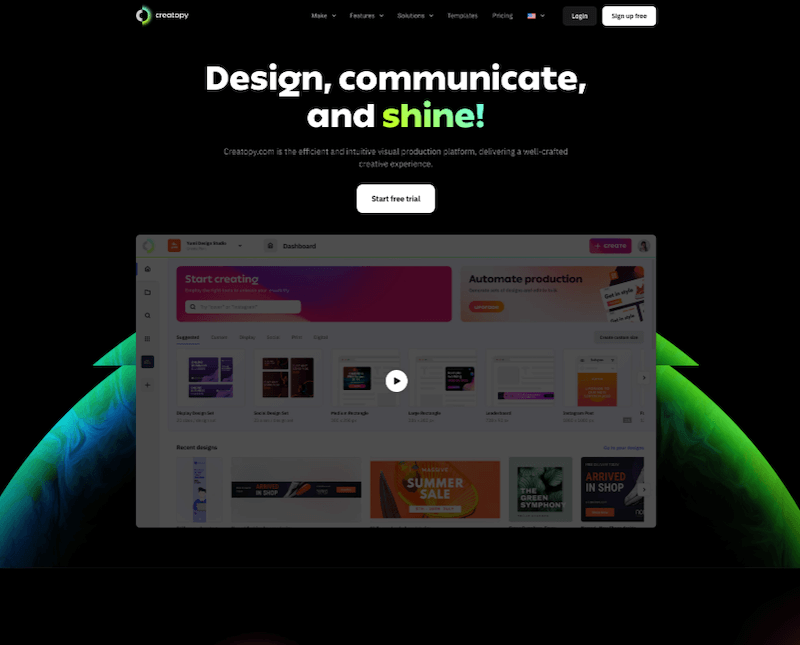 What Does Creatopy Offer?
Creatopy promises to reduce the marketing team's design time in half. We won't be able to verify this claim in this Creatopy review but the tools Creatopy provides are sufficient to construct a strong defense.
Here's what they offer:
Best Features
What makes Creatopy a competitive choice?
Creatopy has some of the best features that make it one of the top prospects and top competitors for some of the industry's big players.
Thousands of small businesses, Fortune 500 companies, and digital marketing agencies trust Creatopy for its commendable abilities.
Here's why we think why people prefer Creatopy over other similar tools: 
Helps in keeping brand consistency
As a marketer, you'll realize the importance of incorporating brand consistency through your graphic designs across all platforms. This consistency facilitates you to include your core values in your designs.
Creatopy's dashboard makes it easier to hold your company's essence in any design you have. You can upload all of the brand-related assets to each brand/project using the multiple brand kits feature. You can also change between these brand kits without returning to the dashboard.
You can upload your logo, set your font and typography options so that all your designs are consistent.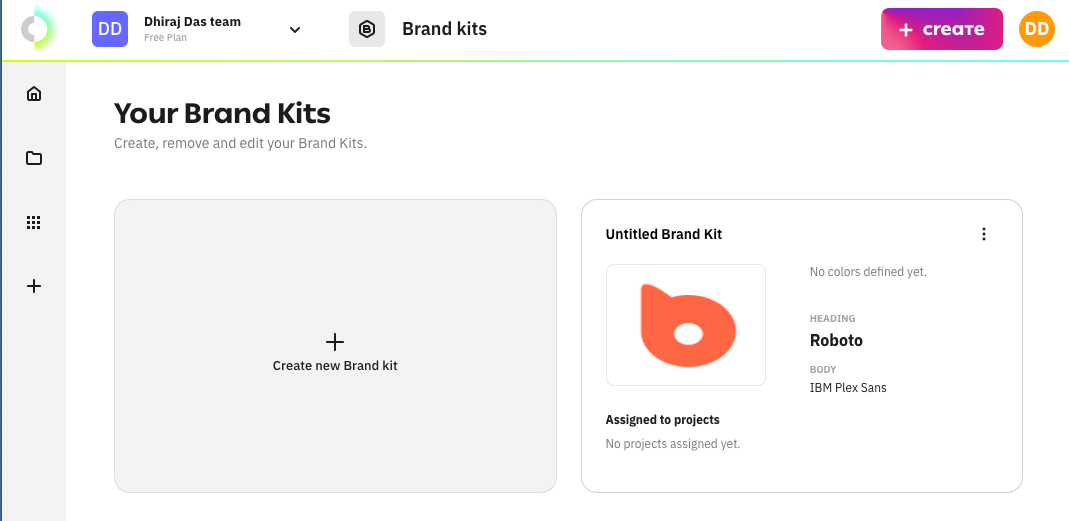 Easy Team Collaboration
It is easier said than done when it comes to team collaboration.
However, by getting everyone together with Creatopy, you can quickly simplify your graphic design workflow. Through multi-channel content development and comprehensive organizational resources, its platform ensures improved performance and productivity.
The team collaboration feature allows you to:
Easy Organization
With so many features at your disposal, it can be difficult to manage and organize them effectively, but Creatopy excels in this area.
It has a straightforward and seamless design flow that will help you and your team become more efficient. With the aid of labels, the folder system helps you keep your built content organized.
With just a glance, you can easily see various details for each of your projects.
Templates
Simply put, Creatopy's ad templates section and creator are world-class.
You can choose from thousands of templates available in different categories such as e-commerce, education, Black Friday, fashion, and the like. In addition to the display ads banner, you also get templates for social media banner ads and print ads.
With easy customization available with these templates, you can create well-crafted graphic designs.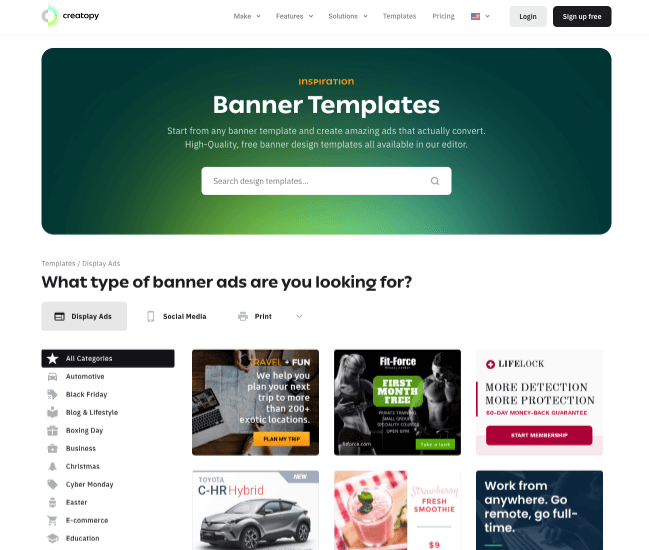 Creatopy Interface & How To Use It?
Creatopy offers a clean and user-friendly interface. As you create your account and login, you will see all the different design options available on the platform.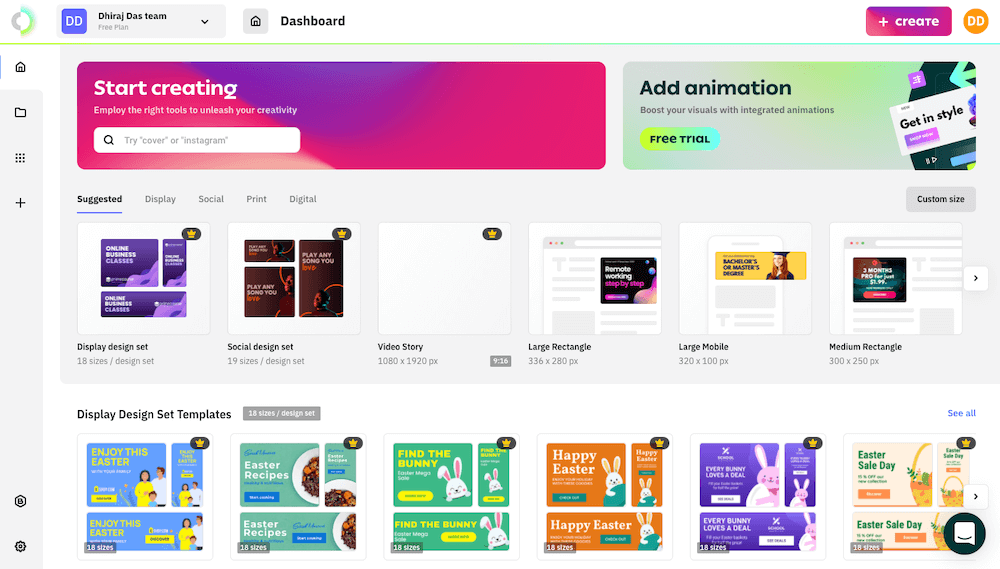 Select a Design to Work On
Creatopy offers all different graphic sizes and design options to work on. From ad banner designs to social media graphics, you can create anything using this platform.
You can select the option on your dashboard or click on the Create option at the top and select the design you need.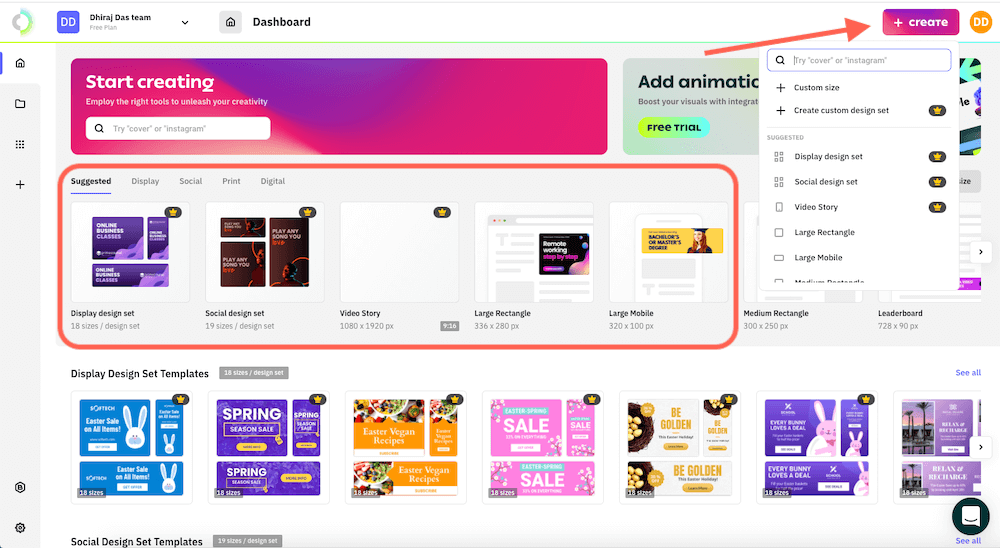 Now, suppose you wish to create an Instagram post. You can click on the option, in the next page, you can select a template and start working on it.
Or if you wish to create a completely custom design by starting with a black template.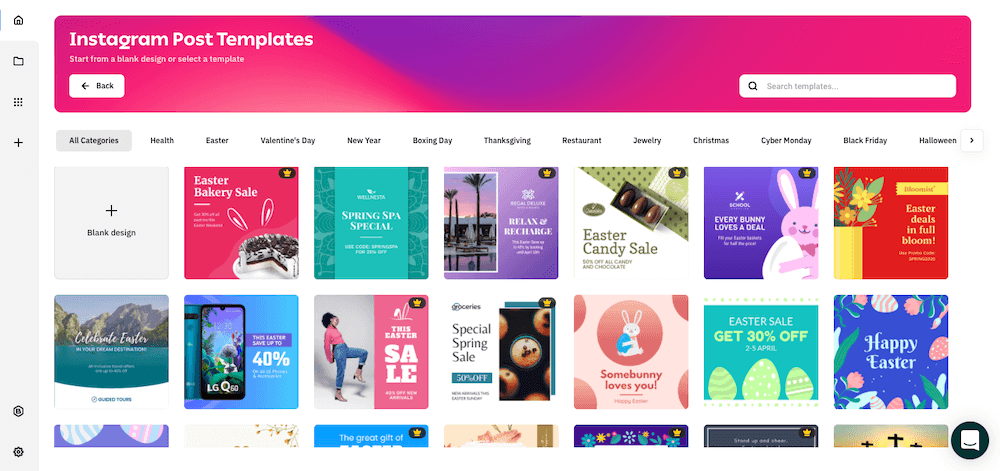 Editing Elements
Creatopy comes with a simple and easy-to-use editor. You can set your own background color, and pattern, add shapes to your design, or any other element that you need.
You can add your own logo, custom images by uploading them from your computer to make your design completely unique.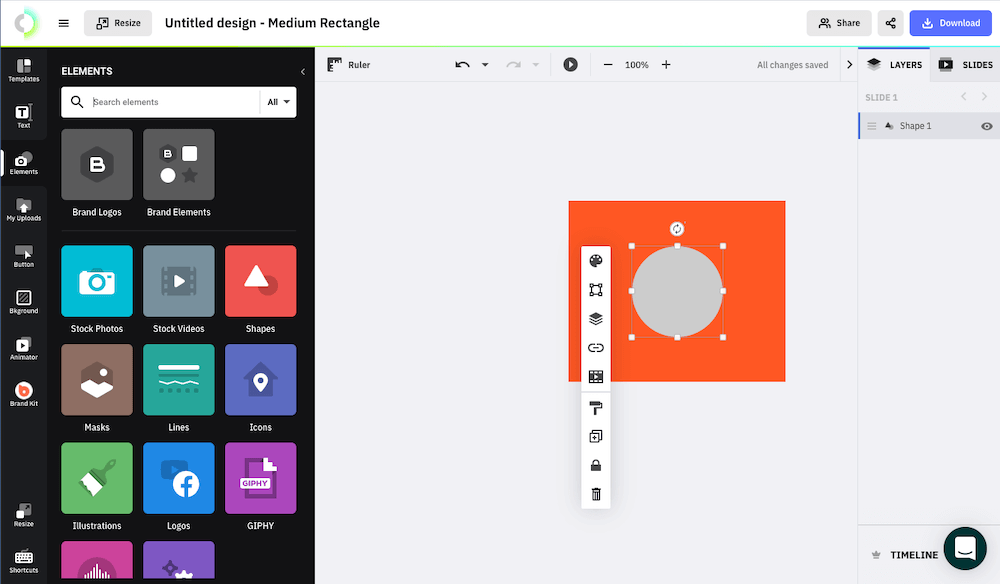 Multiple Formats To Download
Once your design is ready, you will have the option to download it in multiple formats. You can select the one you wish to use and download your graphic.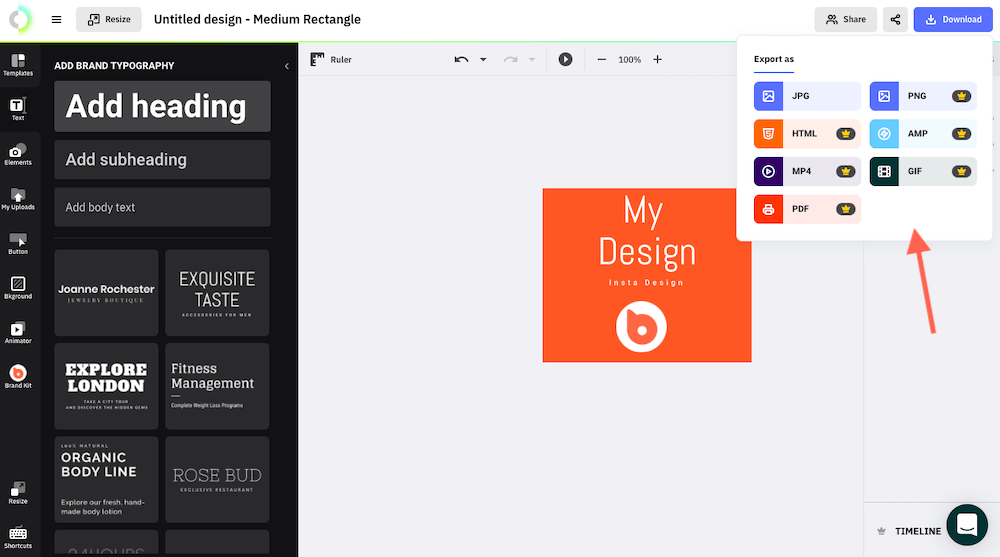 Creatopy Online Video Maker
Videos are big these days. When you look at social media sites like Facebook, videos get the maximum engagement.
Or if you are planning to start your YouTube channel, you will need a quality video editor. While there are a number of video editing software and platforms these days; not every user is technically sound to make use of those platforms.
Creatopy makes it simple for the newbie video producers with their simple and easy-to-use online video editing tool.
You can use this tool for any kind of video such as YouTube videos, Instagram Stories, video ads, or video slideshows, and more.
You can choose from a variety of different sizes to make sure that your video is perfect for the platform you are posting on. Also, you can use this tool to create a video version of your blog post quickly by using the elements offered by Creatopy.