If you are looking for a reliable 101domain.com Review, then look no further because this is an in-depth and hands-on review of a hosting provider service that has been competing quite steadily in the market.
Choosing and deciding the one hosting service for your business is all about what your business is about and what it actually demands.
You have to decide what all features do you need and what all can you compromise. And above all, you have to take care of the budget.
So here we present you an in-depth analysis of 101domain.com which will help you decide if this is the one hosting service you need or not.
What is 101domain?
As is it pretty clear from the name itself, 101domain.com is a domain registration providing service, but additionally, it also offers web hosting service, and other related services as well.
One of the most interesting aspects of 101domain.com is the all the packages offered here are somewhat feasible for both personal portfolio websites and multifunctional businesses.
101domain runs the backend of NIC.IO, NIC.SH, and NIC.AC.
101domain offers more extensions that any domain registrar in the world. So, no matter what extension you are looking for 101domain will have an option for you.
It currently offers over 1,800 TLDs and SLDs. 101domain specialize in international domains.
Some of the major must-have features you get in this hosting service is SSL certification, shared web hosting, and domain registration.
As mentioned above, this is primarily a domain registration service, hence it lacks some major features like there is no VPS available. Therefore you have to believe that this an affordable and easy-to-go with hosting service provider.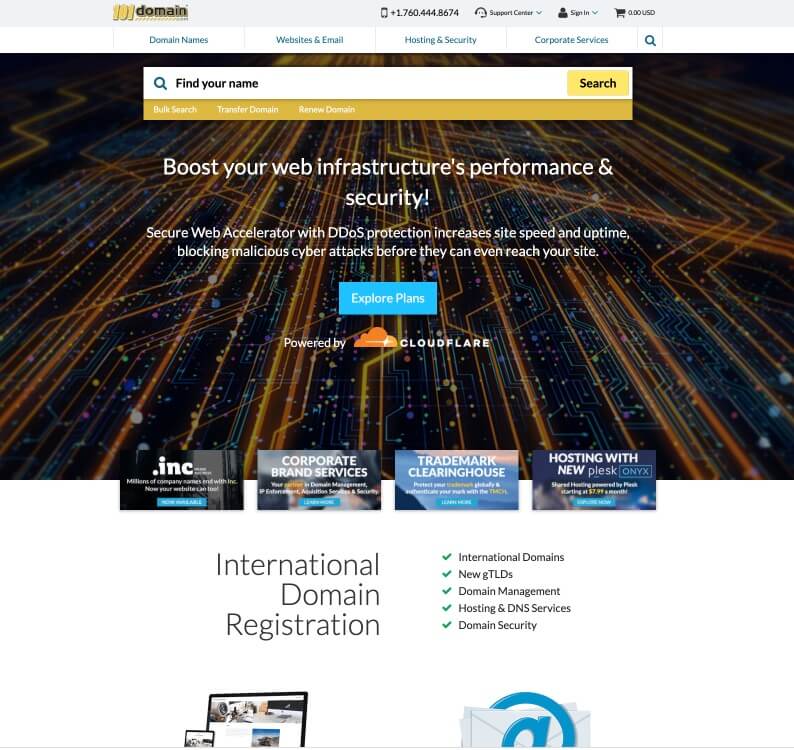 101domain Review: Major Features and Services
Any hosting provider's quality is measured with respect to the kind and level of features & services it provides, and of course the performance of these features altogether.
So let's take a look at the features provided by 101domain.com.
Domain Registration
101domain, as the name suggests is primarily for domain registration and management of your domain.
When it comes to online businesses, the domain names are the most important properties.
No matter where you live in, you can use 101domain to register your country specific domain name.
Other than registering a new domain, you can transfer a domain from other platform and manage it on 101domain.
If you are looking for a domain with a specific extension, you must have a look at 101domain as it offers a wide range of local, and generic extensions.
It also releases a variety of new extensions that you might find interesting.
Bulk Domain Registration With Discount
If you need domain names in bulk, look no further. 101domain offers you amazing discount when you register more than one domain name at a time.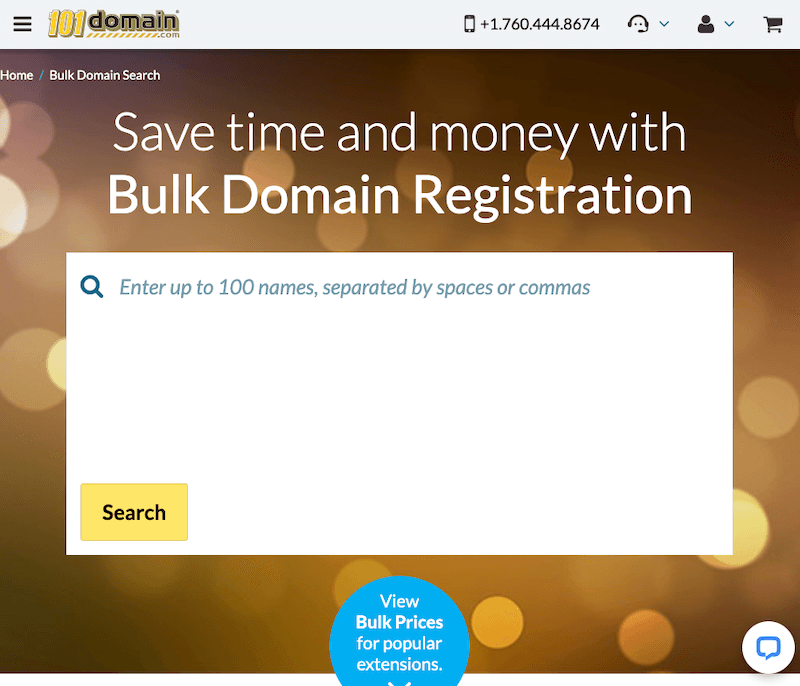 Web Hosting Solution
Along with domain registration, 101domain offers you a web hosting solution as well.
You have a variety of different hosting plans to choose from. The prices of hosting plans starts at $7.99 per moth and goes up as per the plan you select.
They offer normal web hosting solution, cloud hosting as well as dedicated hosting for big corporate clients.
Plesk Control Panel
This is very easy to use control panel using which you can manage your complete web hosting service. The control panel is equipped with a ton of different features like the one-click installer for Joomla, WordPress, and other applications.
You can also activate regular automatic data backups to take care of your data and security. However, it is always recommended to customers to practice regular backups themselves on a regular basis.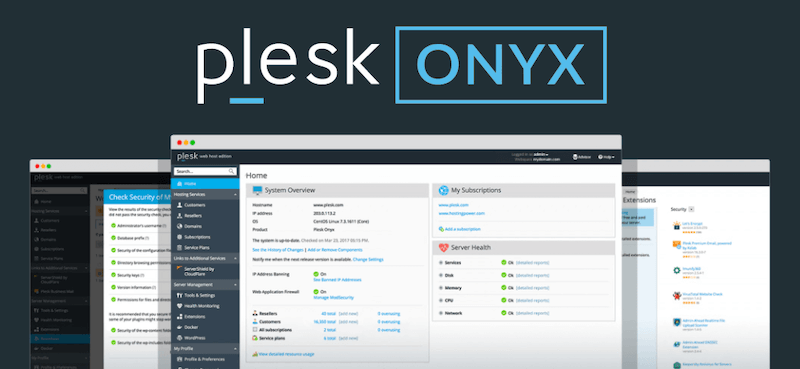 SSL Certificate
That is why 101domain.com also offers premium SSL certificates at decent prices, as well as a personal SSL certificate for your personal business or startup.
Moreover, you can also choose from Wildcard or Premium SSL certificates in case you have large scale businesses. All of these SSL certificates are authenticated by Sectigo ensuring high-quality security.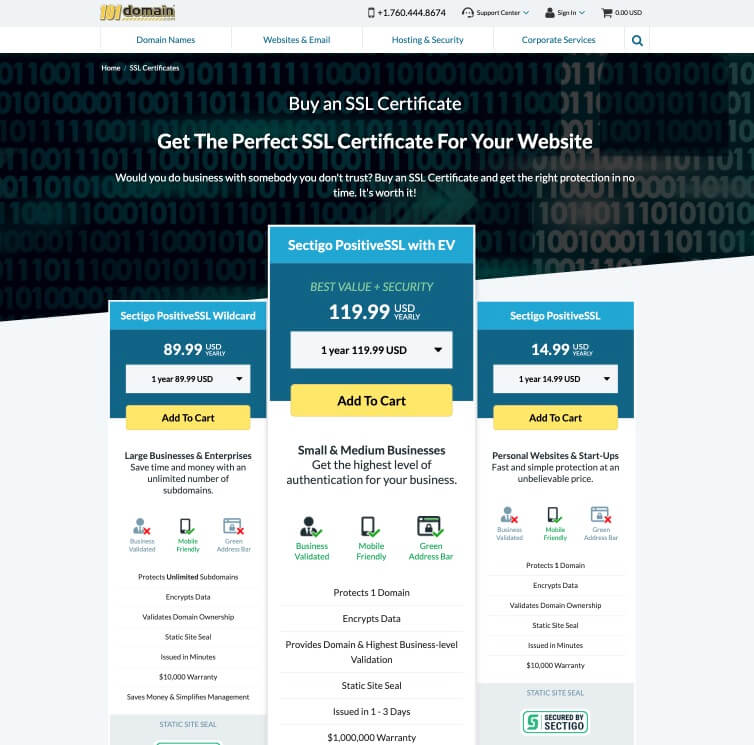 Easy Website Builder
101domain also offers a full-fledged easy to use website builder, using which you can create websites and webpages easily and quickly.
The website builder consists of a drag and drop feature which makes setting up the webpage very easy.
You also get additional features like SEO panel, Click to Call, Stock Images, and more.
Email Service
101domain.com offers a complete email suite with its hosting service. The email service is super easy and is very user friendly.
The email service can be managed from all kinds of mobile devices like phone, tablet, and laptop.
You get a simple to use What you see is what you get (WYSIWYG) editor to customize HTML emails.
You can execute features like email preview, multiple mailbox management, continuous backups, folder tree, built-in attachment viewer, and search filters as well.
Along with the email suite, you can also get the G-Suite service for your email, delivering you all the amazing Google services inside the hosting service to ease off the collaboration productivity.
101domain Review: Performance
---
Security
One of the major factors in deciding your ideal hosting service is what level of security the hosting service has to offer.
And this becomes even more important when the provider additionally offers you an email, website builder, and other additional services.
101domain implies the Cloudfare security service which gives a high level of protection to your hosting and its additional features. This secures the website from DDos attacks and actually helps in speeding up the website.
Uptime
101domain.com has an impressive and much-needed 99.99% uptime, and your website is very unlike to face any speed bumps or downtimes.
This factor becomes even more important as this is an important aspect of SEO.
Additonal Features
101domain also offers you a lot of important and must-have features and services that would be needed in expanding your online business.
It includes a Brand and Trademark Monitoring feature, for better monitoring the presence of your brand and its image.
Also, features like DMARC Email reporting, portfolio review, and Domain acquisition is also there for your medium and large-sized businesses.
Overall, the performance of this hosting service is above average and keeping in mind the said limitations, 101domain really does well in all major areas.