Joomla is a content management system, which enables the user to build websites for their business purpose. It has been a considered as a beautiful option for its affordability, ease of use, and extensibility. In this article, we will discuss the most trending Joomla websites.
Joomla is the second most popular CMS, equipped with numerous features such as
Multilingual facility
Well supported
Easy updates
Integrated Help System
Media Manager
Banner Management
Contact Management
Content Management
Menu Manager
Below are the best personal Joomla templates that are widely used by webmasters for their unique features and performance.
Best Joomla Portfolio Templates
Newsline Magazine Joomla
The Magazine Joomla is small but very informative. This template creates the latest design that perfectly suits this modern world. The layout Builder, Responsive design and unlimited module designs, six excellent preset styles are some of the attractive features of Newsline.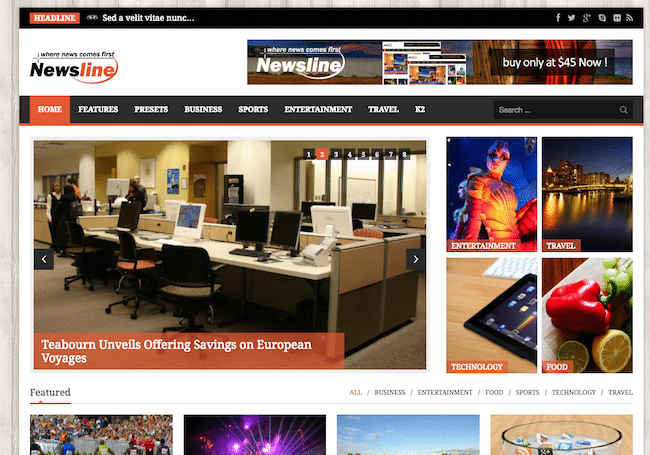 Demo TemplateDownload Template
OwnFolio
This is a one-page personal portfolio which showcases great framework with enormous option and flexibility. Also, more than 50-page builder elements are available for the users to make the best use of it. OwnFolio comes with Smart Responsive Layout with creative and modern flat design and supports multiple languages.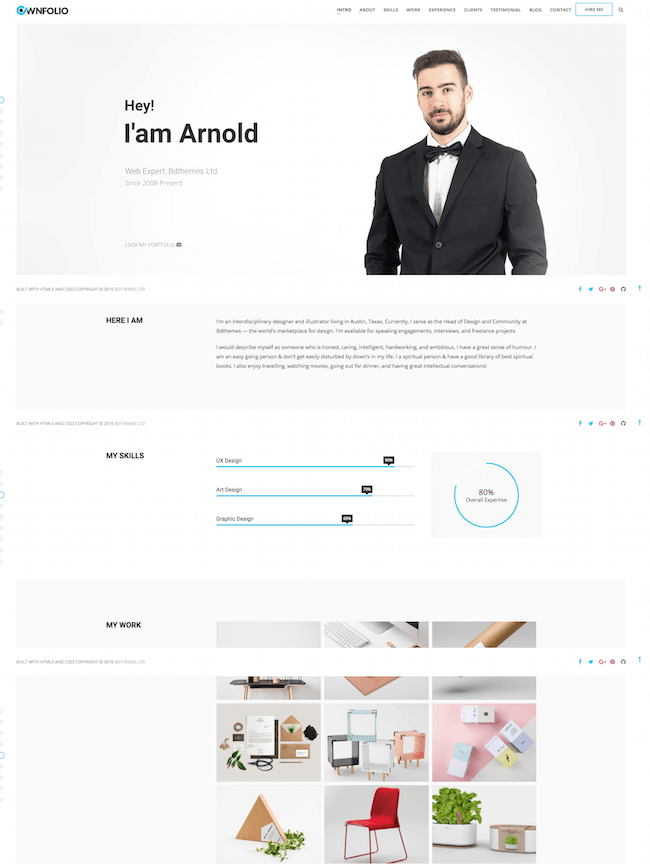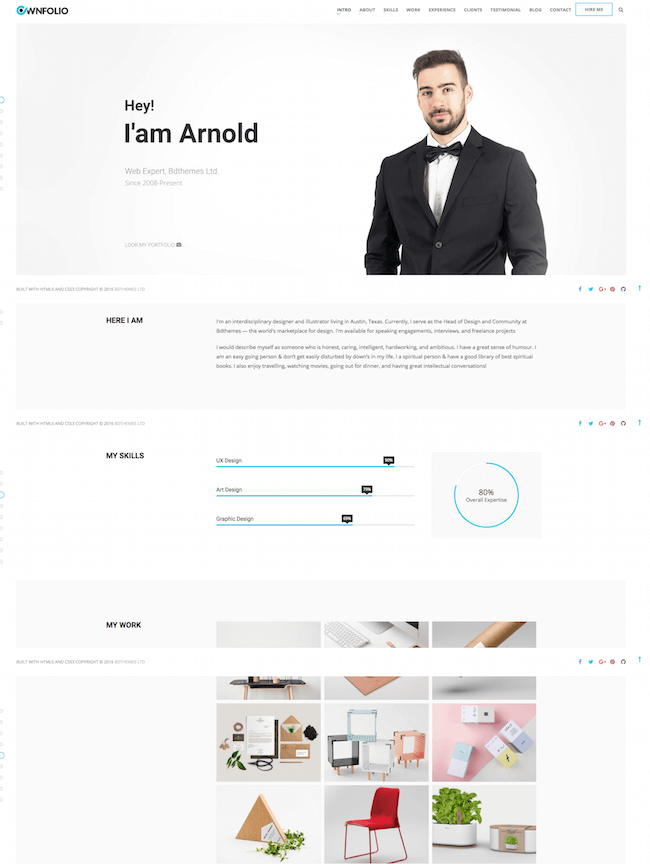 Demo TemplateDownload Template
[irp]
NowaDays
NowaDays is powerful one/multipage Joomla theme which will more suitable for the creative agency, portfolio, and blog. It has one page and multiple page layouts, and there is more space for the user to customize the theme as per their wish.
Also, 14 different home pages are available. The blog layout consists of "No Sidebar, Left Sidebar, and Right Sidebar." Whereas, the portfolio layouts include options like Grid, Masonry, Fullwidth, Boxed, with or without gutters, Homepage, and other features.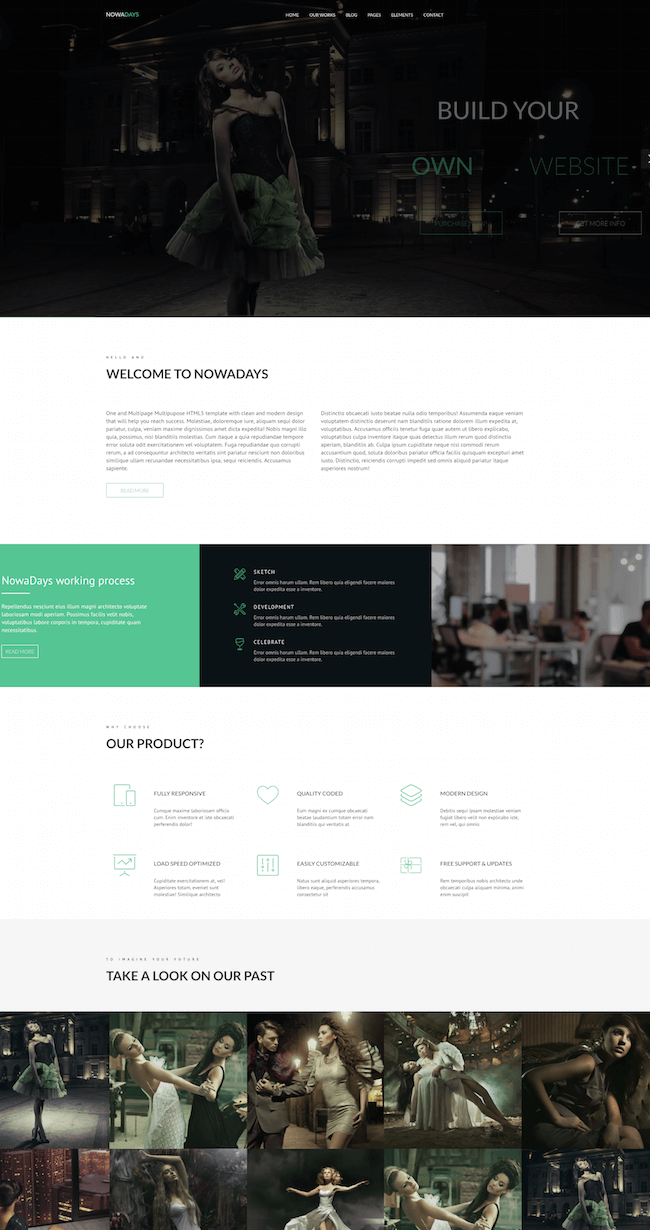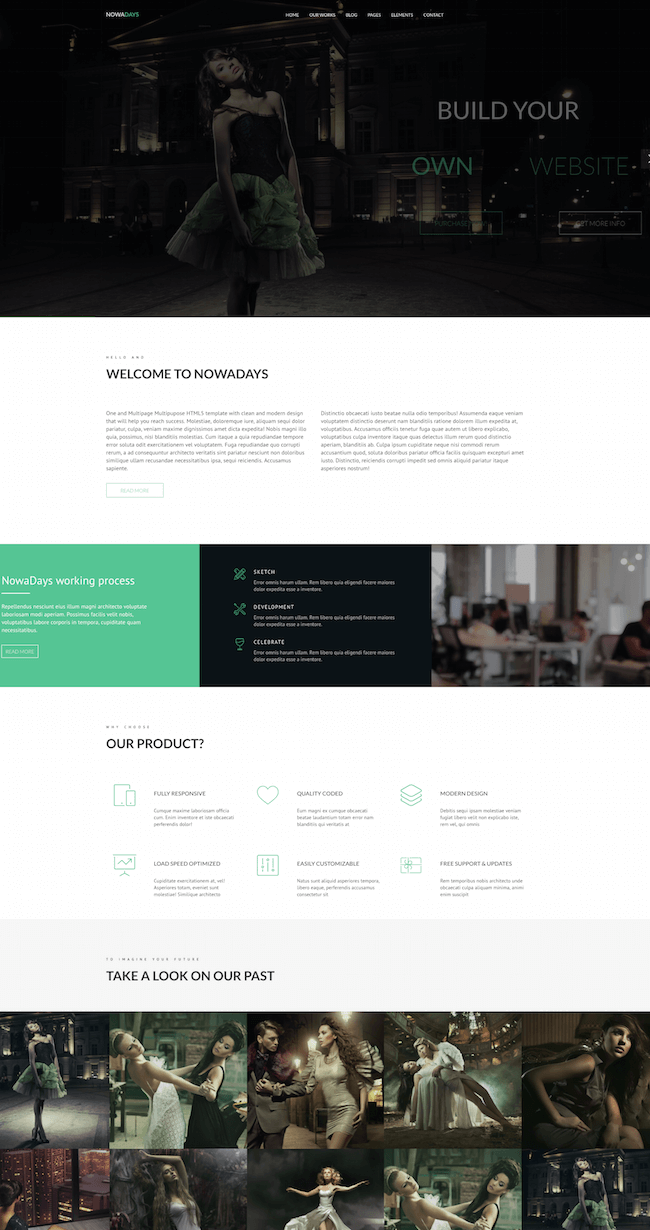 Demo TemplateDownload Template
Who am I
This is a professional and personal template as well. It is a Portfolio resume Joomla template which is built using Twitter Bootstrap framework. The bootstrap version is 3.3.1, and it acts as a responsive template. Varied fonts and filters with the user-friendly interface are the main features of this template. It comes in Black and White version with Template Manager Options.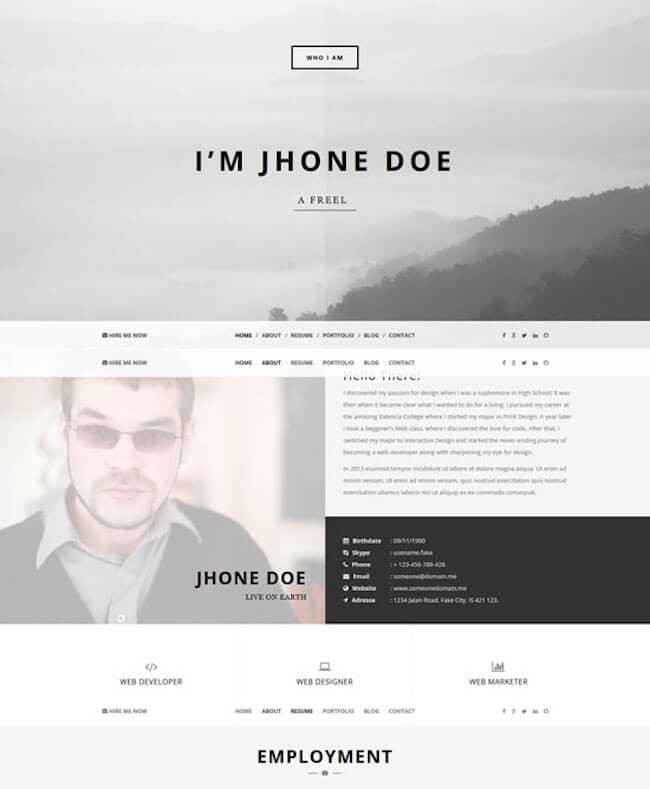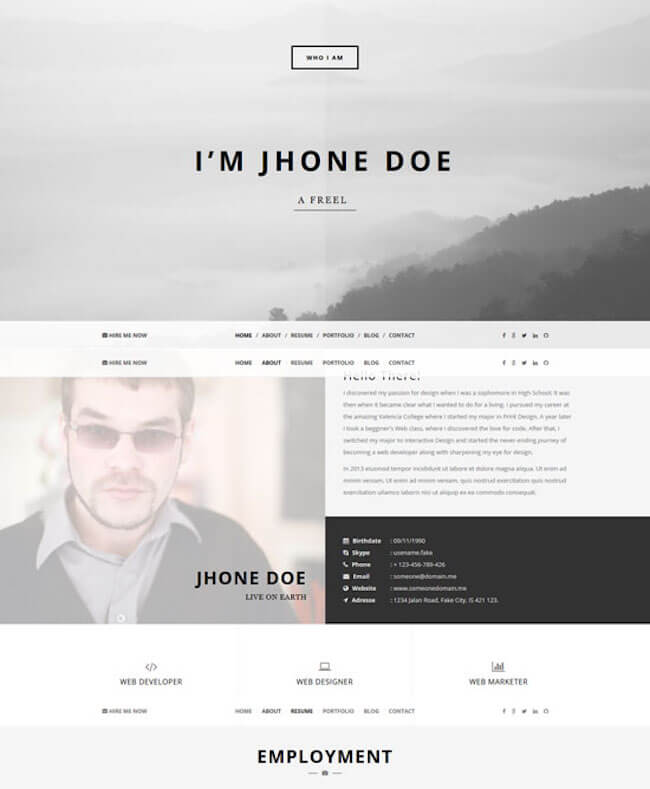 Demo TemplateDownload Template
Cubic
This one page responsive Joomla template will help the user to build a modern website in minimal time. It also has many features which make your blog site stay unique among others. Cubic is built with Bootstrap 3 and includes seven different homepage layouts.
Also, it has amazing animation options which enable the user to access animated elements on the scroll. It has a Parallax background inbuilt along with Video background. The light weighted font icons are cool to use, and filtering gallery option is more useful. Compatible browsers list are IE9, IE10, IE11, Firefox, Safari, Opera and Chrome.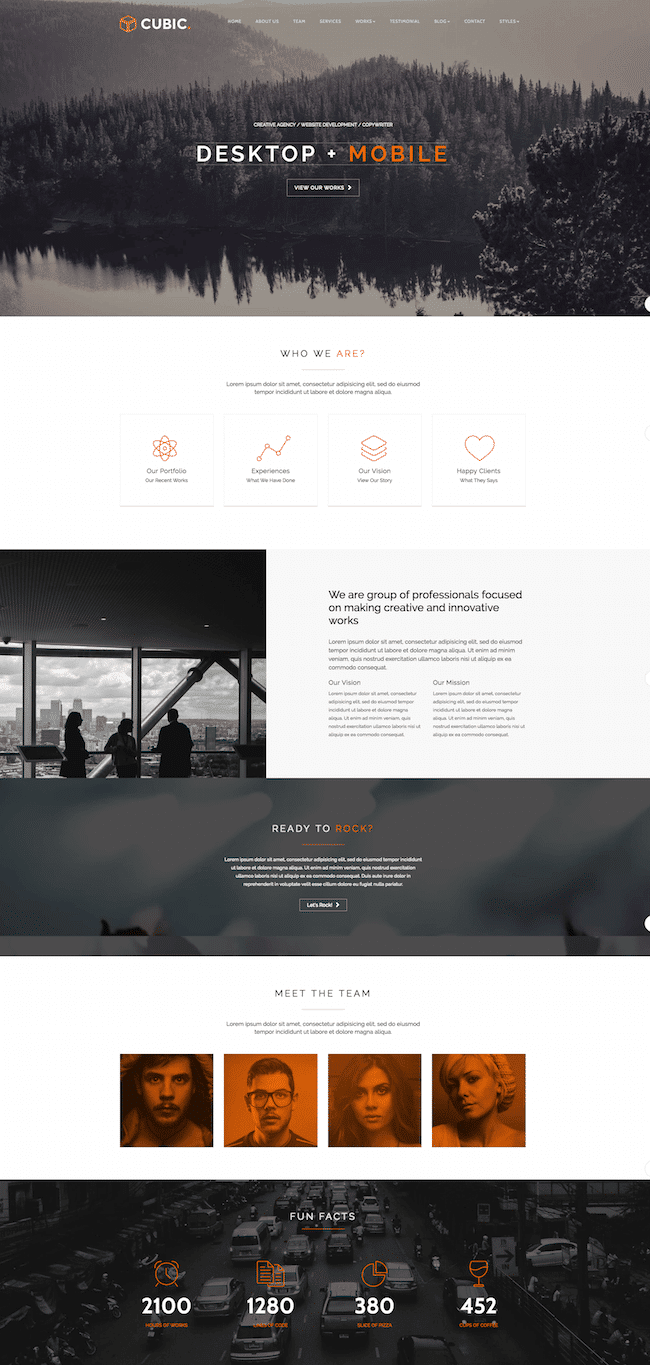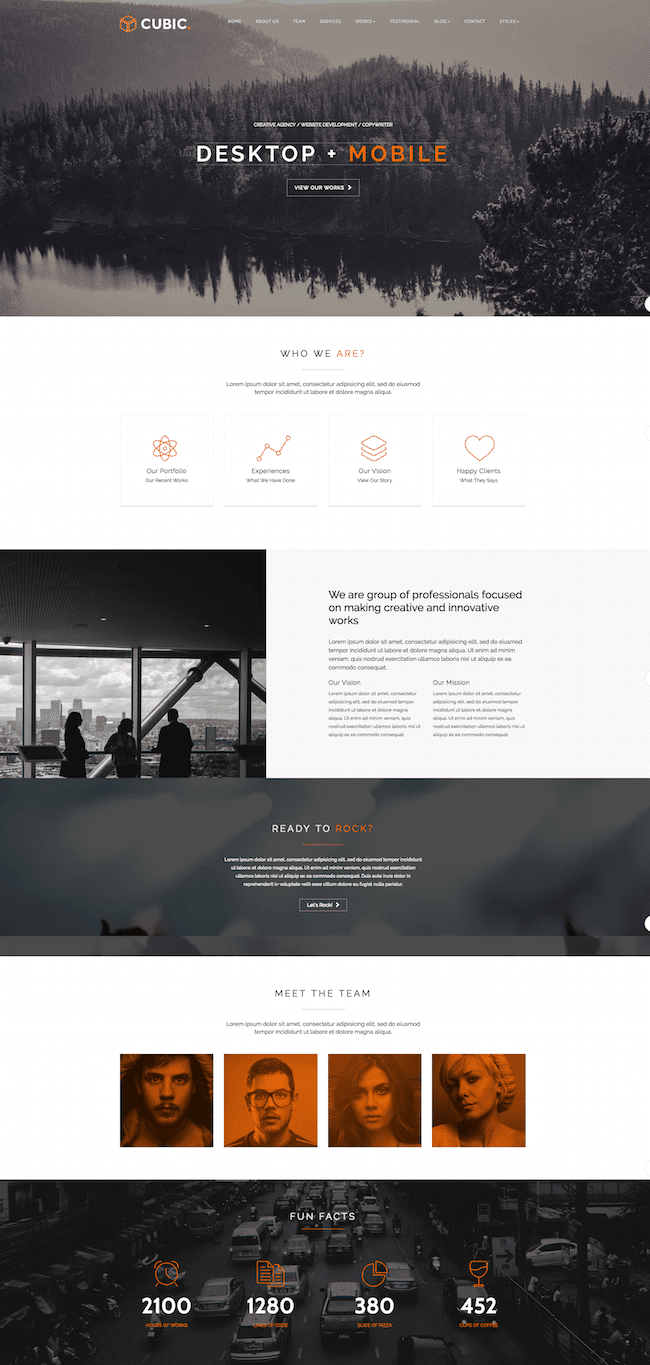 Demo TemplateDownload Template
Amazed Photography
This is beautiful and easy to use Joomla template which everyone will fall in love with. The flexible menu system is supported with a well-developed menu system which provides unlimited menu items, and the users are allowed to add subtext for each menu item and make columns by simply setting a menu item.
The font resize has three alternatives like decreasing, maintaining the default size and increasing the font size. This can be disabled or enabled easily. The vertex is built on upgradable version, so it will easily upgrade to the newer version whenever the release is made.
The parallax background will allow the background image to scroll at different speeds. Amazed photography supports all popular browsers like Safari, Firefox, Internet Explorer, and Chrome.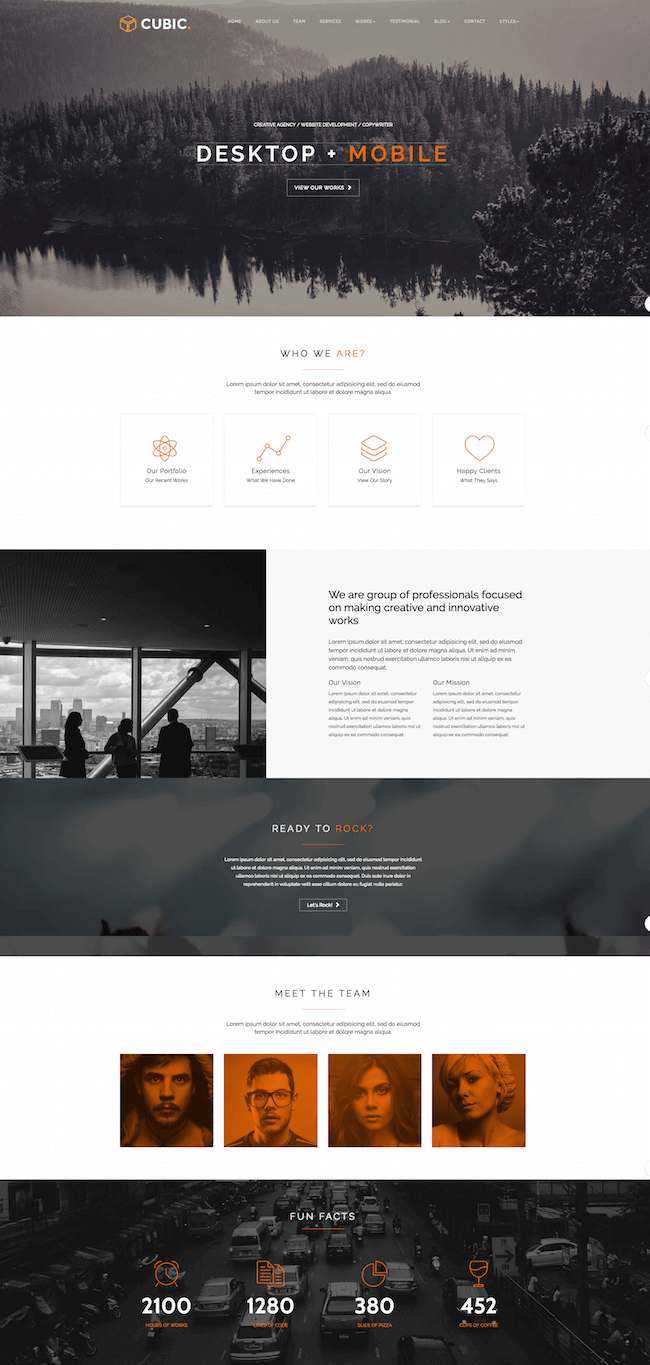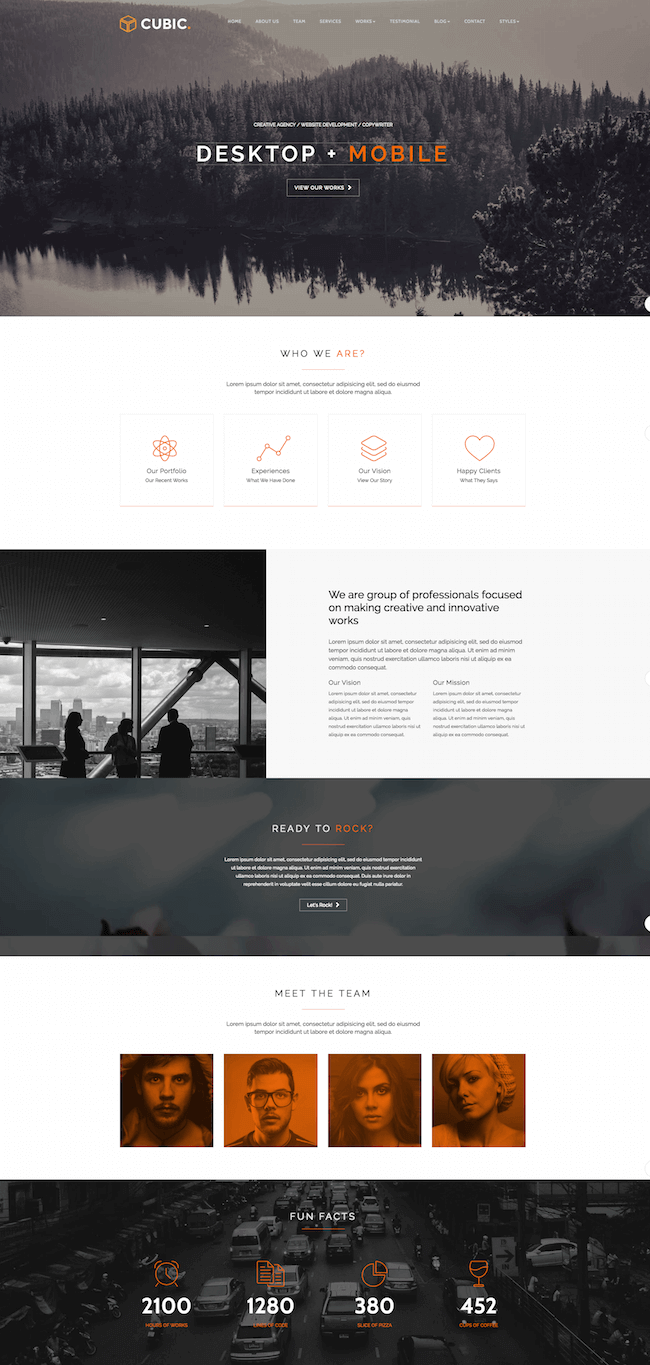 Demo TemplateDownload Template
Phoenix
Phoenix is a multipurpose Joomla template which will best suit for a creative agency and personal portfolio for freelancers or any nominal website. This multi-page / one-page template is built using Bootstrap 3.
The homepage has different sections with the full-screen background, full-screen video, and full-screen parallax and additionally included pages like 404, coming down with countdown timing and portfolio page variations. Phoenix is compatible with all popular browsers like IE 9 & 10, Firefox, Chrome, Opera and Safari and 100% responsive.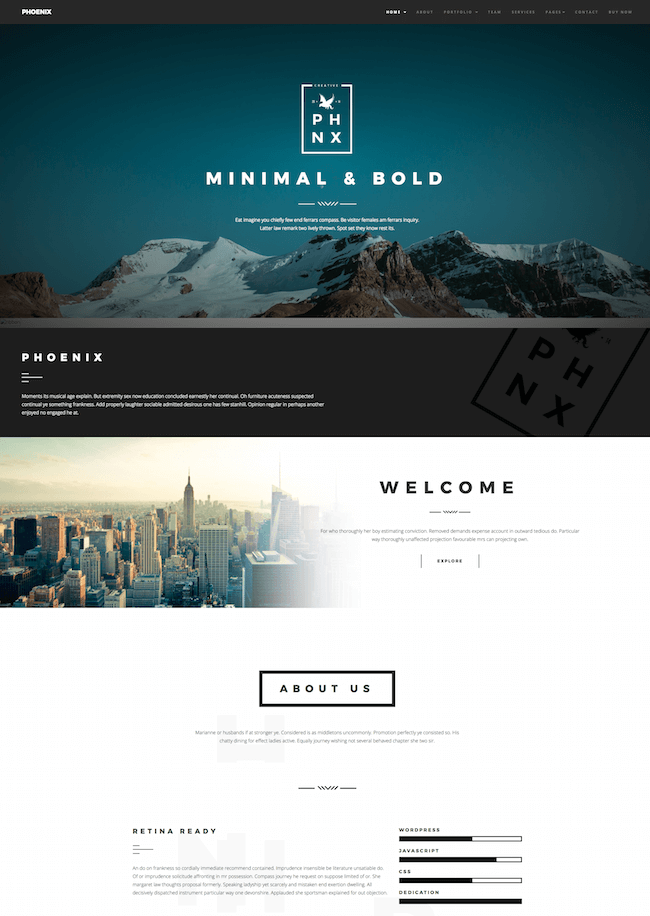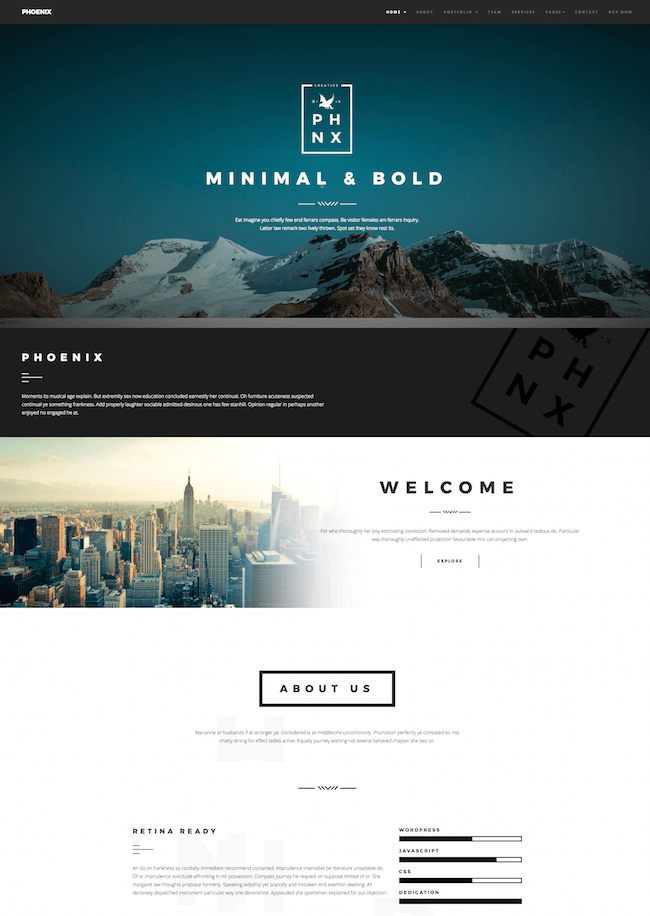 Demo TemplateDownload Template
[irp]
JSN Ares
It is the ideal template for those who are looking for personal portfolio and application website. The template is designed in such a way it is found to be easier to customize as per the user's wish and also there are many options available with style and effect.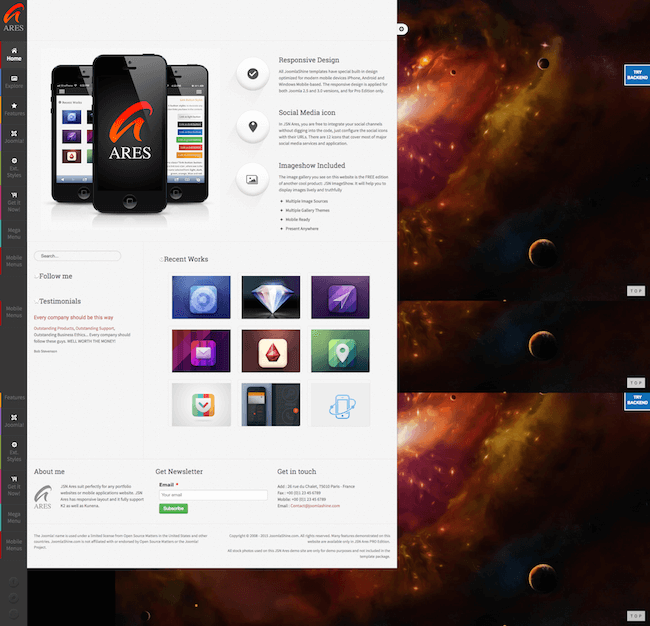 Demo TemplateDownload Template
Framed
Framed Joomla template is a simple, flat, and clean with numerous features. This is compatible with all modern browsers like Firefox, Safari, Chrome, and Internet Explorer 9+. The template is designed for multipurpose so that it can be used for any portfolio site, blogging, personal website, and software firm.
Framed template is multilingual supported. There are 360 and more icons as per user's need, so it is possible to add subtitle and also make any modifications such as text alignment, padding reset, margin reset, subtitle, icon, and other features.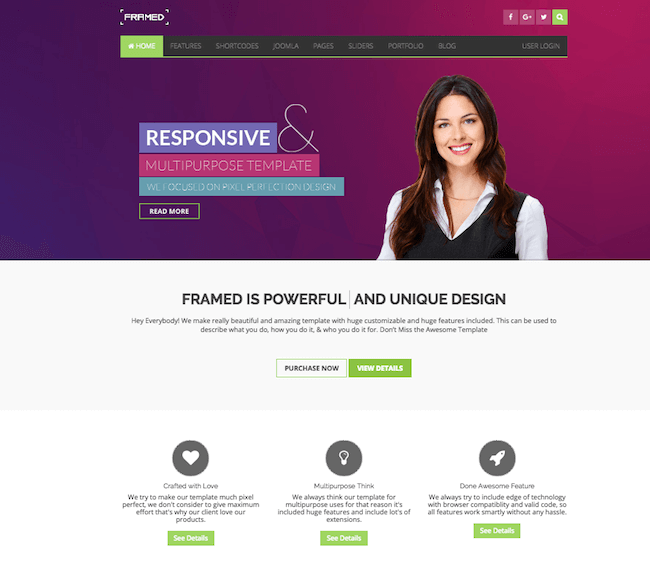 Demo TemplateDownload Template
JM Portfolios
This is the best photography portfolio Joomla template for photographers, designers, and creative agencies with varied effective portfolio templates to support your picture. JM portfolio can support any kind of photography websites like wedding or events category.
Also, it is best suitable for a professional photography website. The user can display the high-quality photos and videos here. It acts as an eye-catching foundation which attracts the viewers. There are unlimited template color versions and also multipurpose. The canvas site bar can be enabled or disabled easily. Also, customize the template layout that suits the user needs.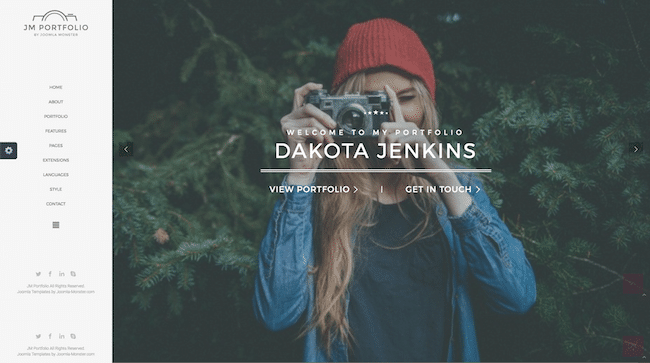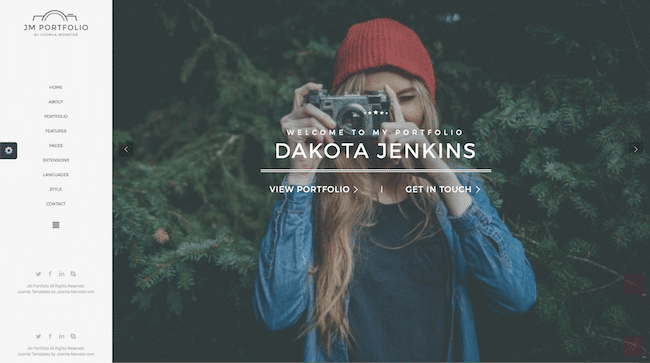 Demo TemplateDownload Template
Hans
This modern HTML personal portfolio template is built with Bootstrap responsive framework 3. This is an ideal alternative to showcase your personal portfolio or creative agency. Hans is compatible with IE 9,10 &11 and also, Firefox, Safari, Opera, and Chrome Edge.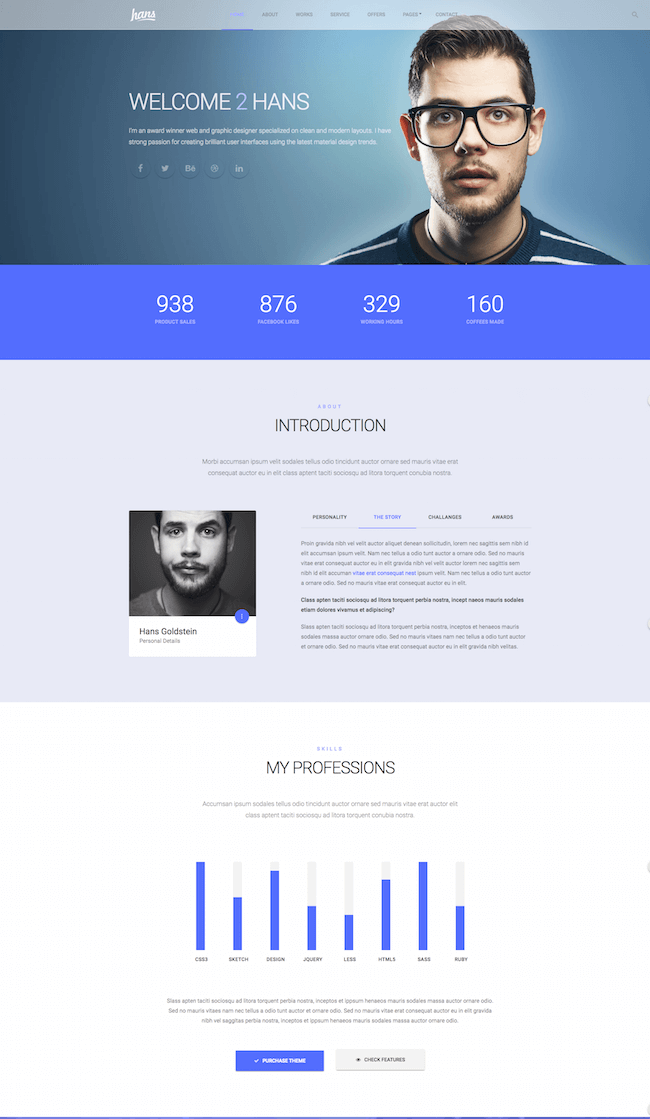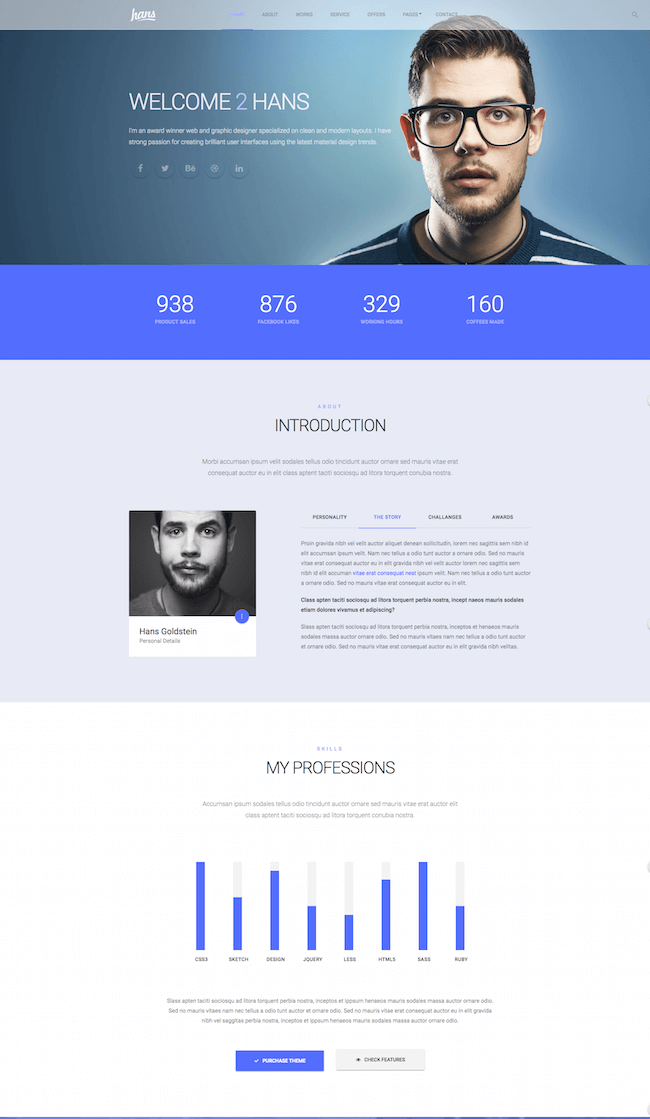 Demo TemplateDownload Template
Branten
Branten is also one of the personal portfolio template built with Bootstrap 3 which is highly compatible with major browsers like Internet Explorer, Firefox, Safari, Opera, Chrome, and Edge. This is a user-friendly platform with well-documented code.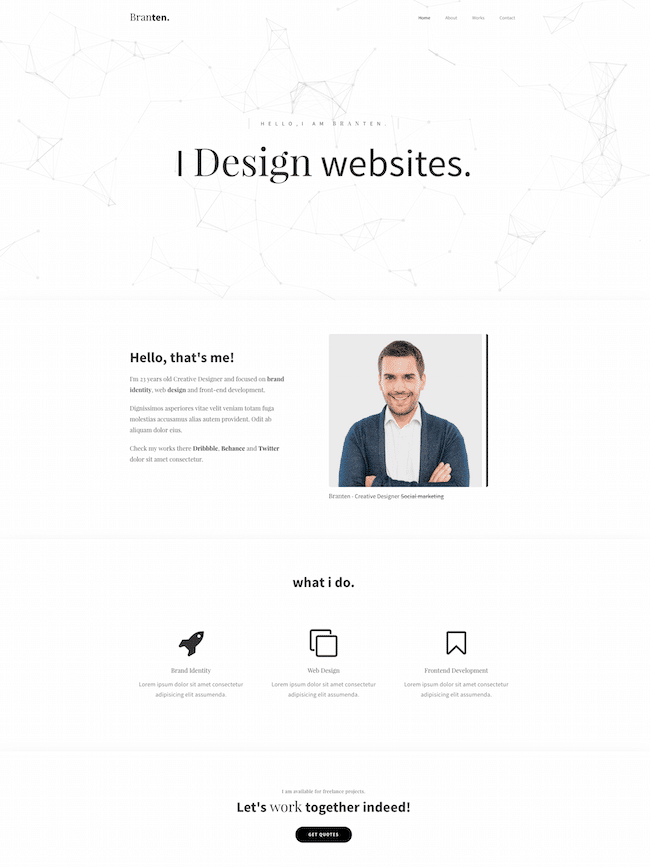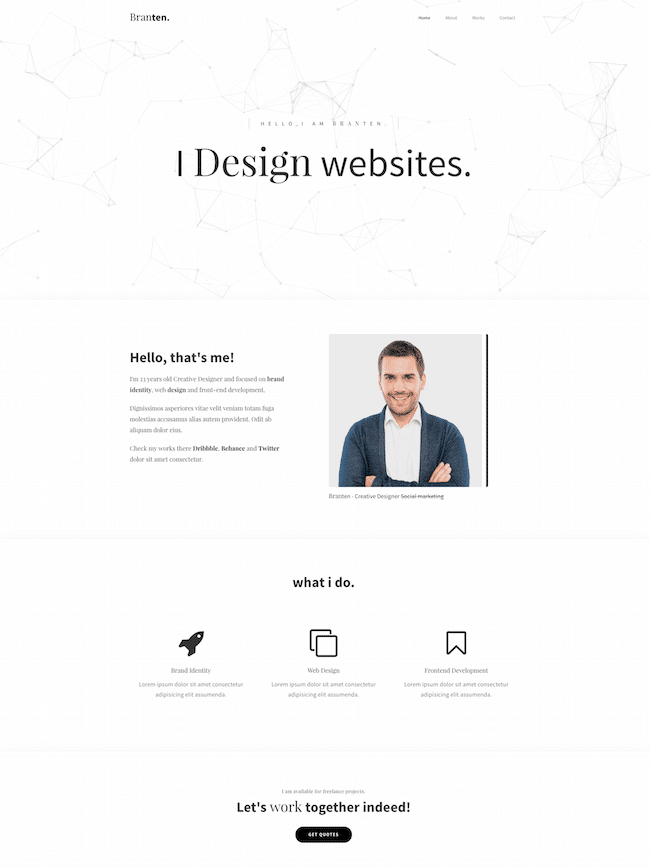 Demo TemplateDownload Template
Marqa
Marqa is an excellent alternative for personal and creative portfolio template which is one page based and built with Bootstrap 3.3.6. This is a great choice for a resume and CV. Also, this page includes different elements like About Me, Contact, Services, Portfolio and more.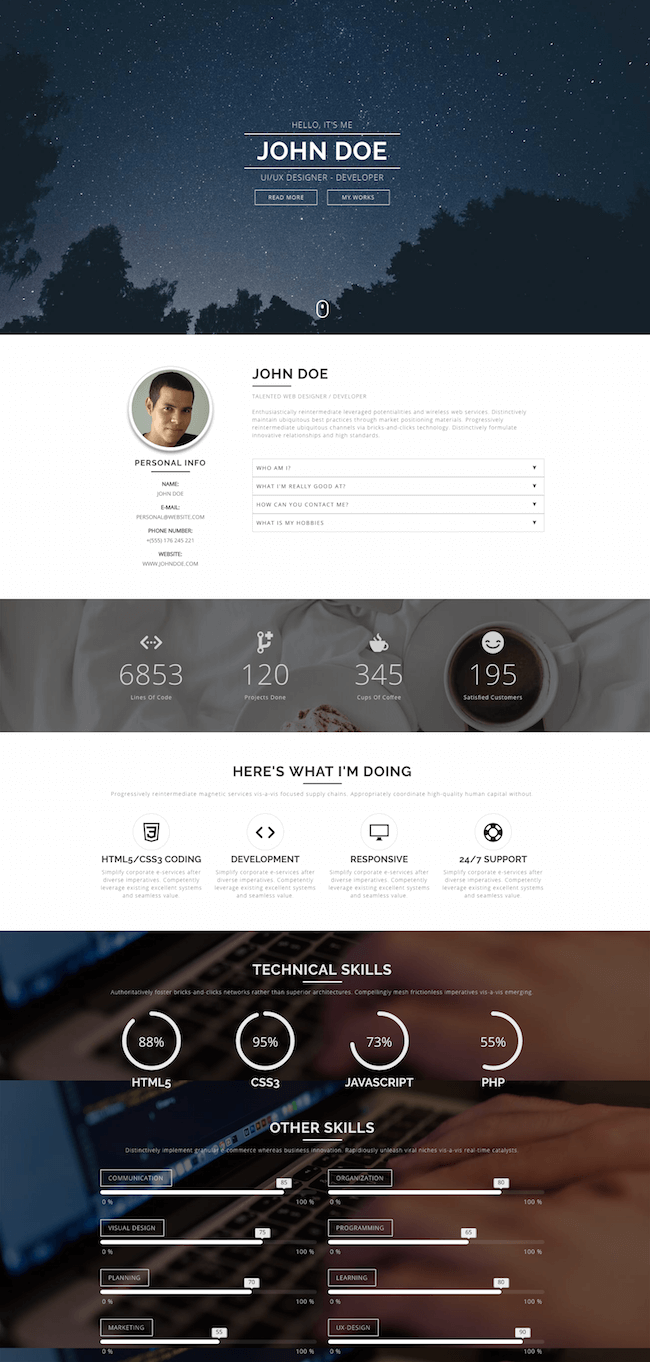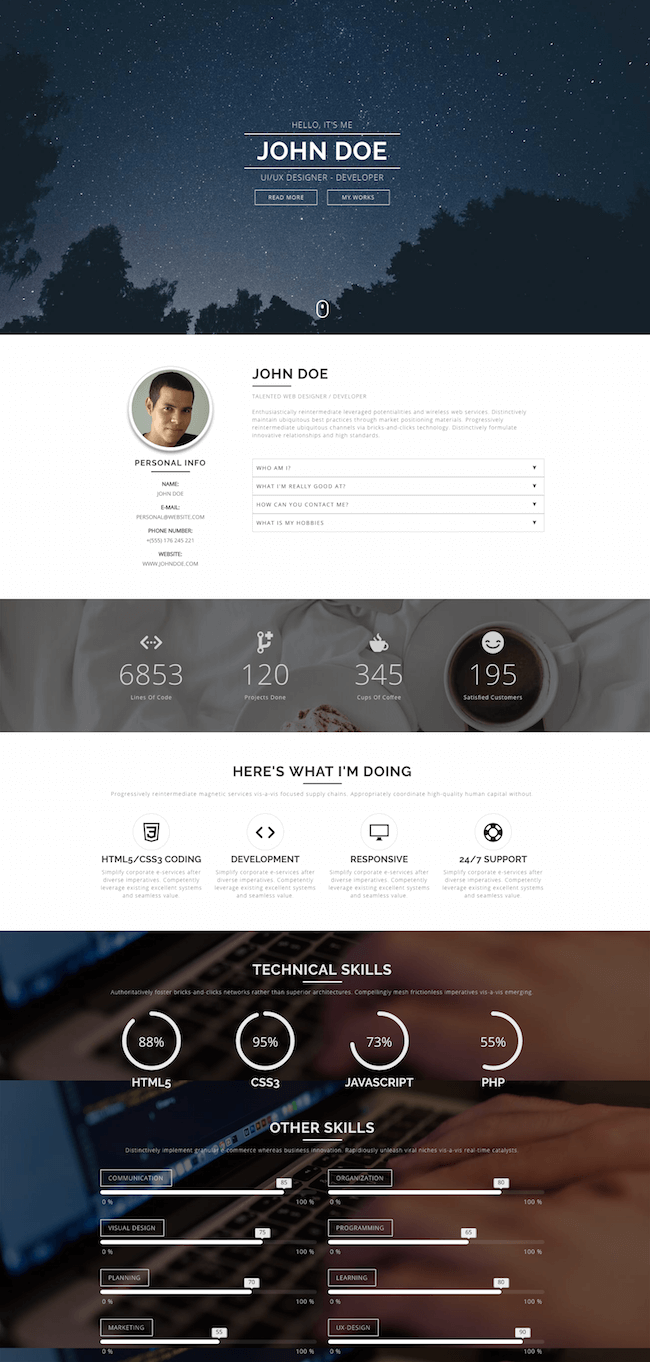 Demo TemplateDownload Template
WordPress Vs Joomla
Even though WordPress dominates the blogging world, Joomla plays an equally important role by competing with the former. Let us have a quick sneak through the features that are available in Joomla comparing with WordPress.
WordPress is best for the beginners whereas Joomla is best suited for the commercial purpose. Joomla is easy to install, and it is customizable with various options that are available according to the user's need. Also, Joomla creates social network quickly and easily. This does not engage too technical steps to use. Amongst all, Joomla offers help portal which is available 24/7 so that the user can contact in case of any crisis.