Sometimes you feel frustrated when finding a good hosting. Not anymore, as you can get WPEngine one of the best-managed hosting platforms that you can get.
WPEngine provides the leading WordPress hosting platform that uses service and innovation to meet growing customer requirement.
They have to build a complete managed WordPress experience which can help digitize faster and in more unique ways.
So, what does it mean for you? It means better business without worrying about hosting issues. The platform is powered by years of experience and allows you to run your business with solutions not found in another hosting platform.
It doesn't matter which website you are planning to run using WordPress, WPEngine can handle it all.
WPEngine Coupon: 20% OFF, 4 Months Free
WPEngine makes WordPress more powerful and customizable by providing it with a platform. Anyone who has used shared hosting will know how painful it can get when running a high-traffic website.
It slows down significantly. Not to mentions shared hosting always have a higher chance of getting hacked.
WPEngine provides you with the highest standards for WordPress hosting. Also, their plans are flexible and affordable to a great extent.
To make them even more affordable, you can use the coupon shared below. Also, don't forget to share it with your friends as they will love it too!
WPEngine Features: What Makes It Worth?
The biggest selling point of WPEngine is the managed environment that it provides. The infrastructure is top-notch, and the services are fine-tuned to a point where you will feel at home.
The website speeds, for example, are always under control. There is also no downtime associated with the platform.
The managed environment also means that it is completely secure thanks to the effort that WPEngine puts into protecting their servers.
To get a better understanding, let's list the key features that WPEngine offers.
1. Caching
The first thing that you will notice with WPEngine is their proprietary caching technology. The technology is developed by them and hence provides much better caching compared to other cache plugins out there.
2. Daily Backups
WPEngine provides daily backups for all their plans. They automate the process so that you don't have to worry about your website.
Even with the best protection or best intention, sites do break down and these backups can help the site owner to get his website back.
3. Offers One-Click Restore
Backups are fine, but one-click restore is better! Yes, WPEngine provides an easy way to restore backups and get your site up and running in case of a snag.
This is extremely useful for users who are not technically knowledgeable. Basically, if you mess up your work, you have a way back to what it was. They use Easy Snapshot backups to make it happen. Amazing, right?!
WPEngine Pricing: How Much You Have to Pay For Their Service?
WPEngine provides flexible pricing for their users so that maximum people can take advantage of their services. Below are the plans that they offer.
Startup: $35/mo. Offers 1 site installation with 3 environments/site. The traffic limit is 25K visits/month with a 50 GB bandwidth. Other key features include SSL, CDN, Page performance, powerful tools, and free migration.
Growth: $115/mo. Offers everything that Startup plan has to offer, plus, support for 5 sites, 100K visits/month and 200 GB Bandwidth.
Scale: $290/mo. Offers everything that Growth plan has to offer. On top of that, you can start with 15 sites, 400k visits/site, and 400 GB bandwidth.
They also offer custom plans, for which, you have connected with them.
Get 20% Discount Now
WPEngine undoubtedly a leading WordPress managed hosting platform. It offers state-of-the-art WordPress service which great plans backing it up. It is mainly targetted at established business or startups that are looking for the best.
Bookmark BeginDot if you are looking for similar coupons and deals. We also cover exclusive other topics such as SEO, WordPress themes and plugins, and much more!
Use coupon code "wpe20OFF" and get 20% off on any plan. So, if you go for the annual plan, you get 4 months completely off out of 12 months.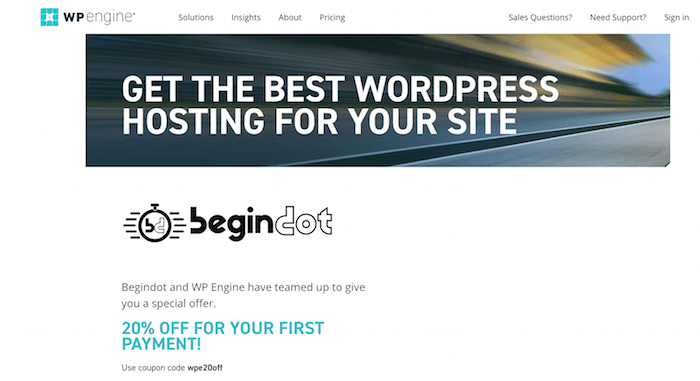 Go to our BeginDot Deals section to get more exclusive discounts and offers!