Get 20% off on any TemplateMonster templates. The TemplateMonster marketplace is one of the leading sources of themes & templates.
It came existence in 2002 with the focus provide digital products at ease and cost-effective manner.
From there, it has grown rapidly and is now one of the places where you can get high-quality themes, plugins and other digital product.
The platform is also ideal for any budget and caters to a large group of users.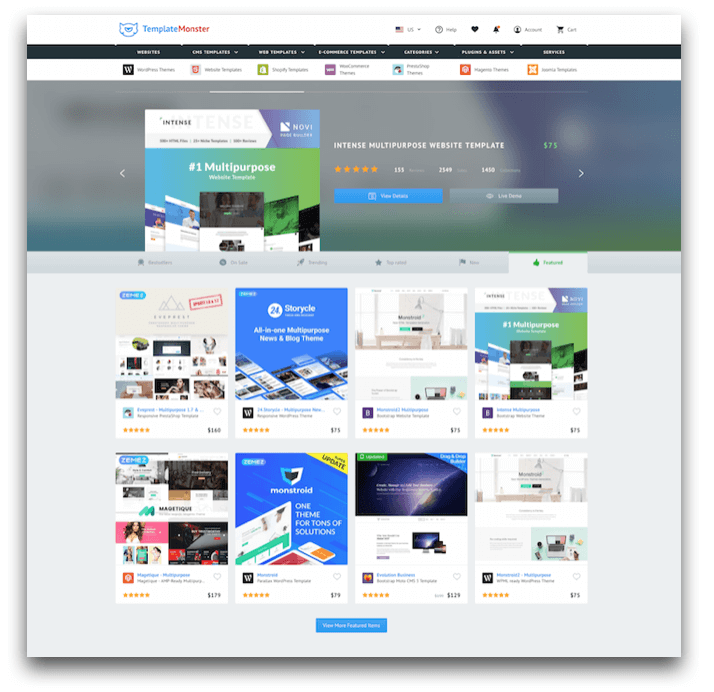 Template Monster Coupon 2018 
In today's article, we will be sharing the Template Monster coupon and review. With the coupon, you get juicy discounts on your choice which will help you save money and also get the best deal possible.
Template Monster is mainly popular for the themes that they have to offer. All the themes are professional and have excellent support.
The themes are customizable to the core which means you can pick one of those themes and customize it according to your needs. This makes Template Monster an excellent choice for freelancers, web developers, and small web companies.
Template Monster: What You Will Get?
Before you use the Template Monster coupon, it is best to know what you will be getting. Let's start with the themes and templates that the platform has to offer.
Diverse Themes and Templates
On Template Monster, you will get access to thousands of template design for different platforms such as WordPress, Drupal, Magento and so on.
Almost all the platforms are covered, hence providing a one-stop solution to everyone's needs. At the time of writing, they have more than 27,000 digital products.
Also, they are adding 300-400 products every month which make them one of the biggest digital libraries on the internet. To get a glimpse, let's list few of the templates and themes that they have to offer.
WordPress Themes

Website Templates – HTML5 and CSS3

Magento Themes

Joomla Themes

PrestaShop Themes

WooCommerce Themes

Moto CMS Templates

OpenCart Templates

Shopify Themes

Free Templates
Amazing Services
For a platform to succeed, they need services that accompany the products that they sell. That's why you will get a lot of services from Template Monster. Let's list them below and discuss them briefly.
— Template Installation: They provide paid installation services to the products that you buy from them. The service is provided within 3 hours.
— Logo addition: If you are starting out your online journey, you might want to check out their logo services.
— WordPress Plugins: Their team installs the 7 recommend WordPress plugin within 3 hours to your website.
— Primary Metrics Tool: They integrate main metric tools to your website so that you can track down users and understand their behavior.
— Joomla Extension Bundle: Get basic Joomla extension for your website.
— Changing Color Scheme: A service where you can ask Template Monster to change the color scheme to what you like!
Template Monster Coupon
Template Monster offers a great collection of themes, website templates, plugins, and services. To get the best deal, we advise to use the coupon code shared in the article and enjoy the best digital product and services out there.
Bookmark BeginDot if you are looking for similar coupons and deals. We also cover exclusive other topics such as SEO, WordPress themes and plugins, and much more!
You will get a 20% discount on any TemplateMonster theme or template with our coupon "begindot"
Go to our BeginDot Deals section to get more exclusive discounts and offers!