If you are managing a blog or you are a digital marketer, you probably understand the value of good content.
With search engines like Google becoming strict around the quality of content, it is not easy to rank with just any content. Your content has to stand out. it has to fulfil the user intent to get a good ranking in the search results.
At BeginDot, we regularly talk about the best tools that can help you to grow your content business. And in this article, we will look at SimilarContent; a tool that can help you to create perfect content that can beat your competitor.
If you have not heard of SimilarContent before, it's a platform that offers you a set of tools to create and optimize your content by reviewing the computation to make sure that the final product can surpass all competitors.
Sounds good?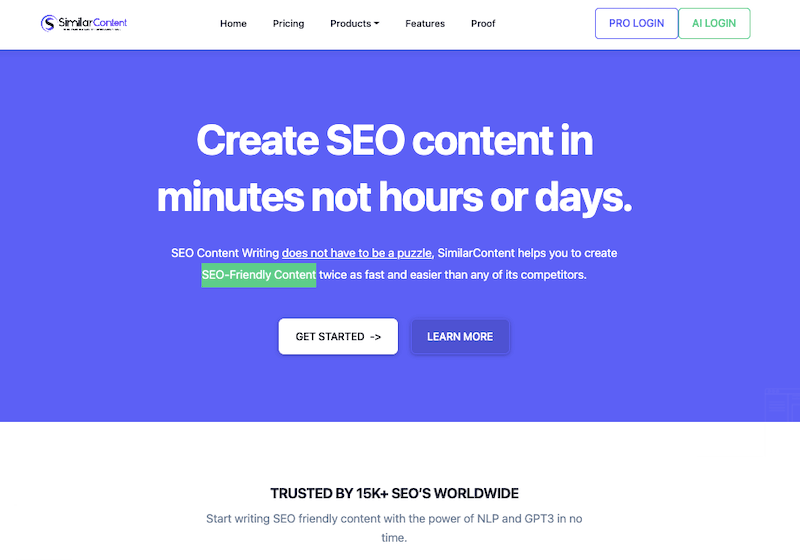 The best part about SimilarContent content is that it is newbie-friendly. If you are just starting your blog or any other content business, you can take full advantage of the tool.
You don't have to be a specialist to use the tool.
Let's check the tool in detail.
You can start with 7 days trial of the platform before you go for any of the paid plans.
Register on the SimilarContent platform and get started.
As you login to your account, you will see a very simple dashboard.

As you can see, there are a few simple options to check the topic before you create your content. For example, if you are planning to create a piece of content about "marketing tools" you can make a search and check the possibilities.
Start Your Research
As you start writing your keyword, the tool will suggest similar topics that are popular and used by other users. (You have probably seen that on Google autosuggest)

Select Geo Location & Device
When it comes to ranking, the geo-location and the device are really important. As your target keyword ranks in your desired location, it can make a big difference to your overall revenue.
When you start your research, SimilarContent gives you the option to select the geo-location and the device. You can select a desktop or small-screen device as per your need.
After selecting the options, make a search. It might take a few moments to show you the results.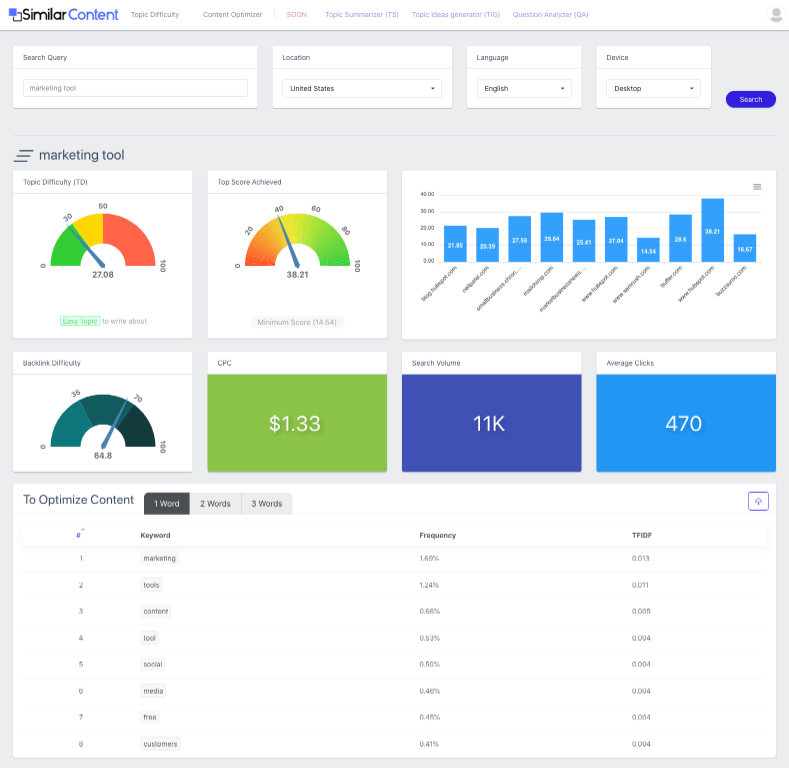 As you can see, the tool offers you a number of parameters to look at for your target keyword.
So, overall you get all the important detail that will help you to understand the topic in a better way and create your content accordingly.
Now, coming back to our search for the keyword "Marketing tool"
The topic difficulty for the term is 27.08 which means this topic is easy to write about and cover but that does not mean it's easy to rank for..look at backlinks difficulty, it refers to you need average 26 backlinks in order to compete with the top 10 results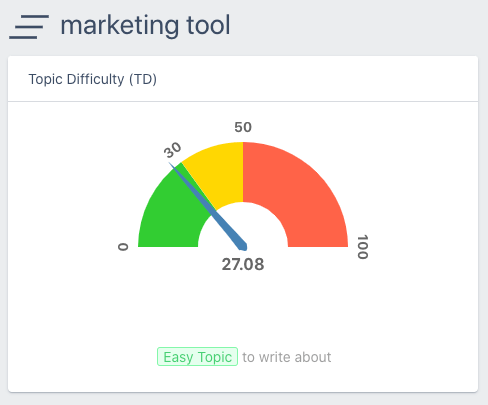 Sites that are already ranking.

Sites like HubPost, NeilPatel, MailChimp are on the first page. These sites are very high authority sites in the marketing niche.
So, if you make a decision to create content around this niche. Your content has to be outstanding that can attract organic backlinks from marketing sites. Overwise, it is almost impossible to outrank these sites with just any content.
let's check it for a relatively new search term
Here is a search for the keyword Covid 19, a new but widely searched topic at the moment.
As you can see from the result, the topic difficulty is around 30 which should be ok for relatively strong medical-related blogs to rank.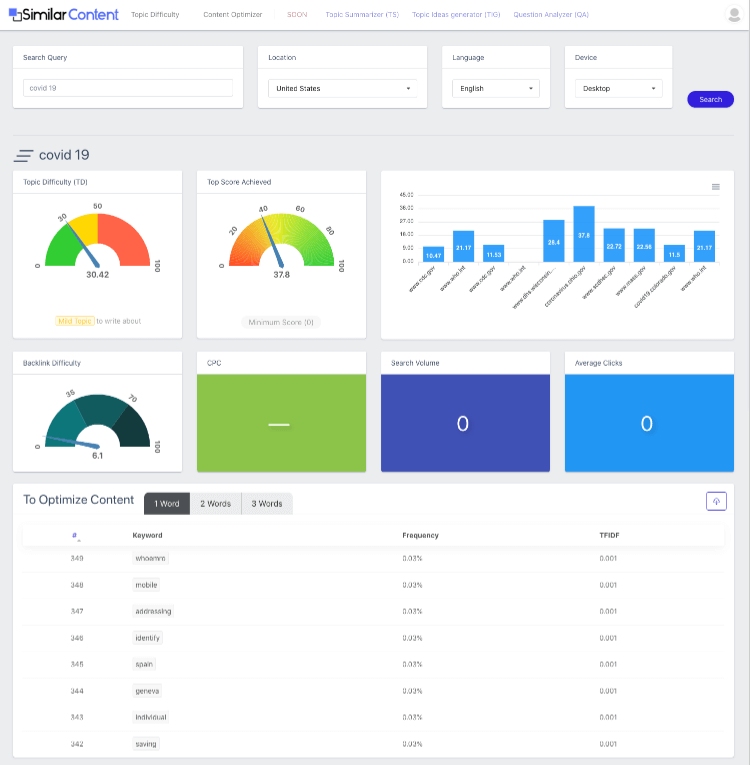 But again, if you are working on a sensitive topic, you must understand that Google is very particular about the results that want to display.
So, even if you have a sting domain authority site with relatively low competition; it will be difficult to rank for sensitive search terms like Covid-19 as Google will prefer to show only highly trustable sources.
In this example, all the government-related sites that create content around Covis 19 are ranked at the top.

Other Important Parameters
Along with topic difficulty and the sites that are currently ranking, there are a number of important factors to look at.
You will get detail about how difficult it is to create a backlink for a particular keyword, the total search volume, etc.
Her is a search for the keyword phrase "How to Lose Weight fast"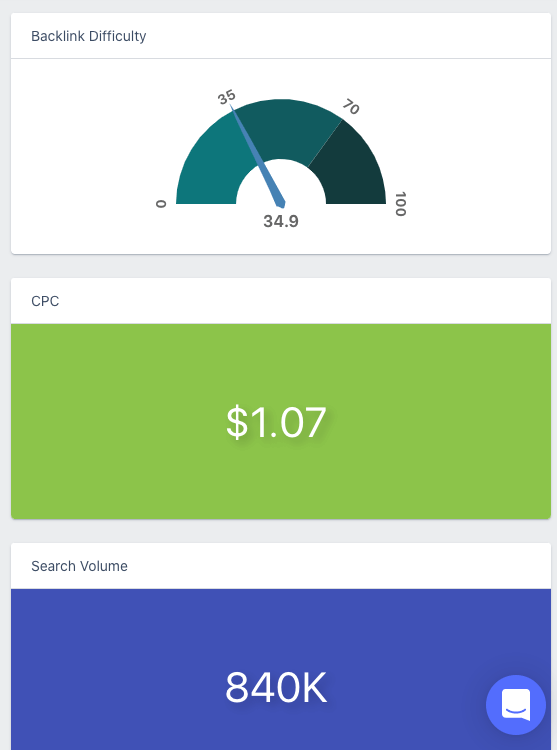 These parameters will give you a complete idea about if you will be able to rank for keywords through organic or through paid advertising.
Content Optimizer Tool
The content optimizer is another very useful tool offered by SimilarContent. You can use this tool to optimize your content to achieve a better ranking.
Here is how the Content Optimizer interface looks like.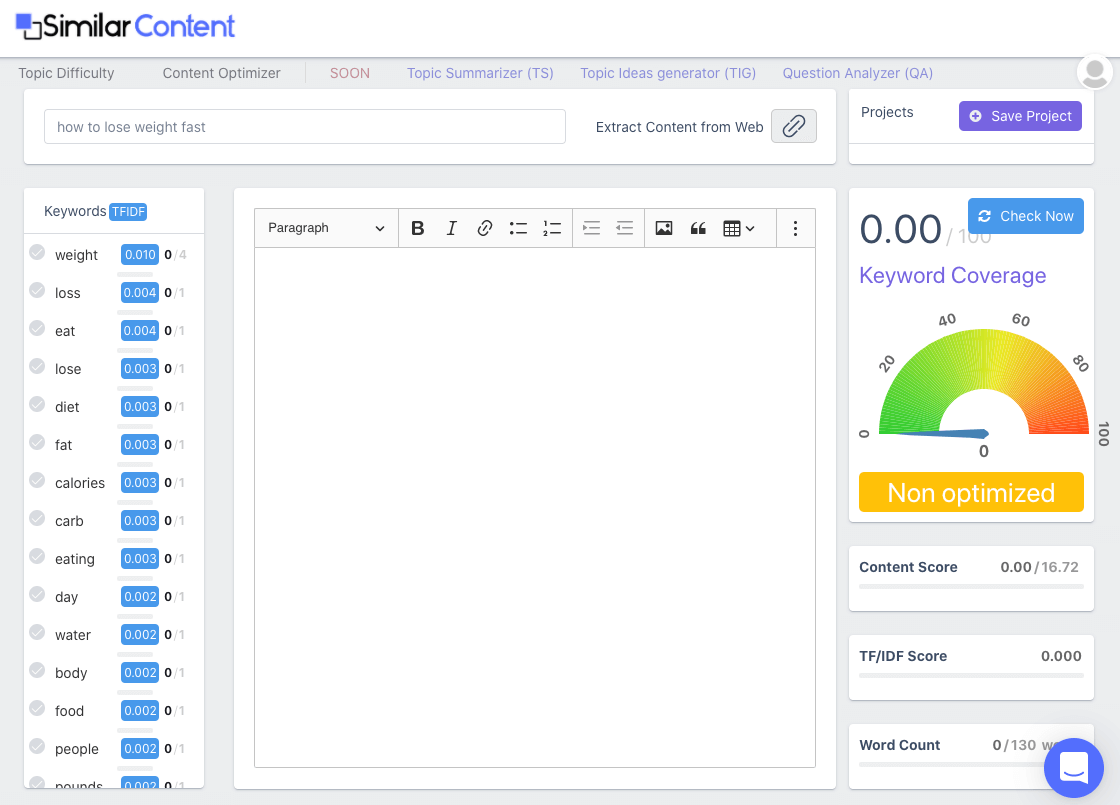 Once you have created the content, you can simply copy-paste it to check how well your content is optimized.
You also have the option to fetch content through the URL of the page.
Along with your own content, you can use the Content Optimizer tool to check your competitors' articles to understand what kind of keywords they have used and overall how they have optimized the content.
The article by Healthline is ranked at the top for the keyphrase "how to lose weight fast"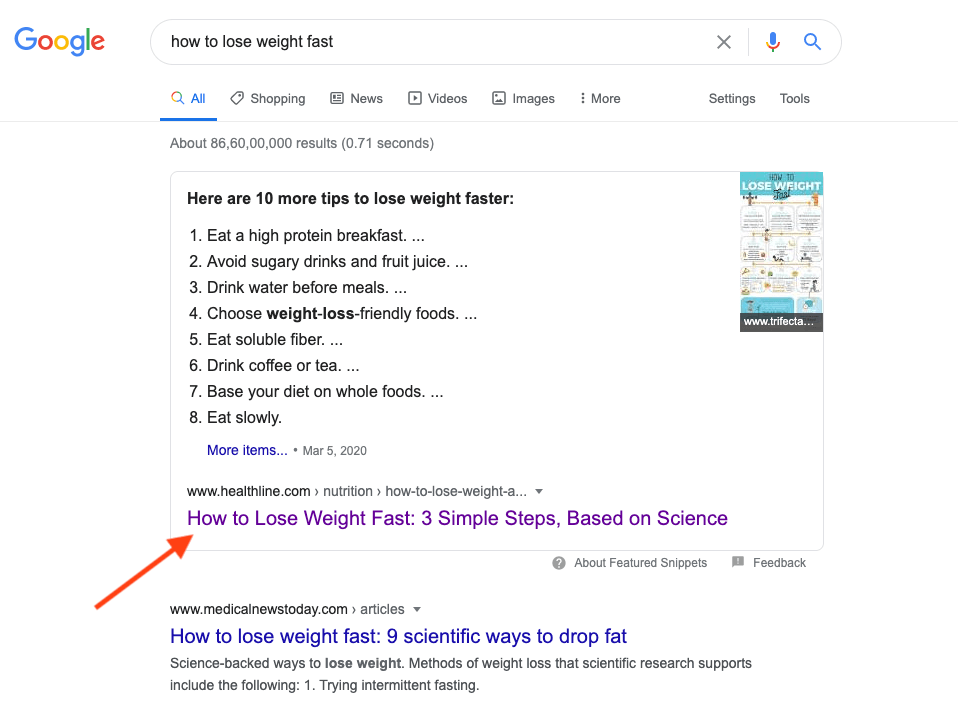 Let's analyze this article by using the Content Optimizer Tool.
Copy the URL of the article and use the Extract Content from The Web option.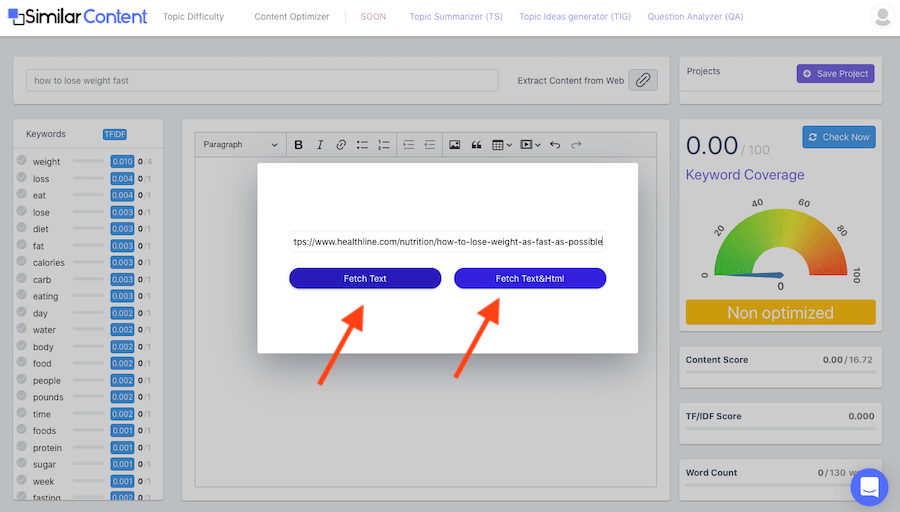 As you see in the image above, once you place the URL, you get two options. The first once "Fetch Text" which will extract only the text on the page. The second one is "Fetch text & HTML" this option will fetch the article as it is on the site along with the images.
Here is the result.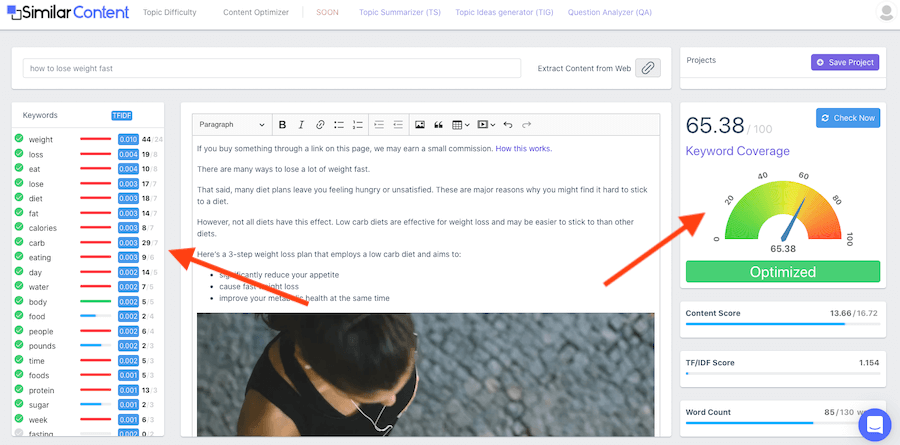 On the right side, you can see the overall optimization score and on the left side, you can see the LSI (related terms) keywords that are incorporated in the article.
Now, to have a proper comparison; let's have a look at a page that is currently being ranked on the 14th page for the same key phrase "how to lose weight fast"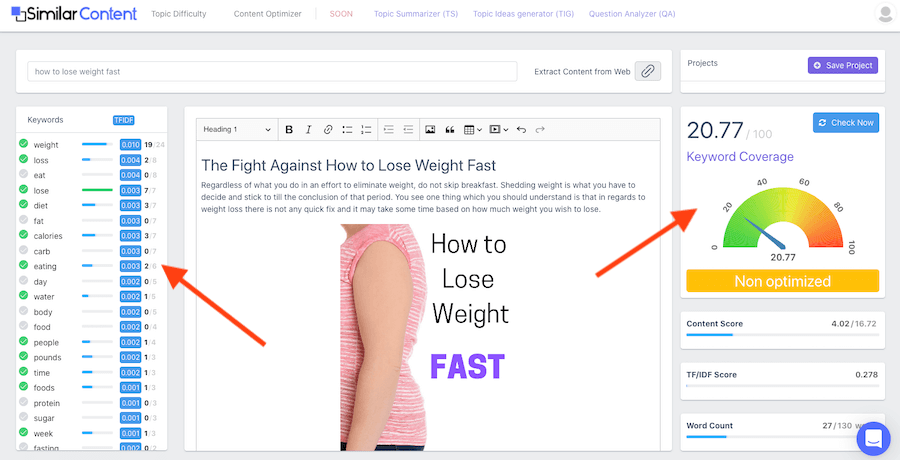 The image clearly represents the difference. Leaving aside the site authority or other parameters. The article by Healthline is much better optimized than the one we compared.
So, here is how you can compare your own content with your competitor's articles to make sure that your article is well-optimized.
Check Readability Score
You must have come across the term Readability Score, some of the SEO tools, and plugins also give the Readability Score analysis. It is another very important on-page SEO factor to consider.
While analyzing any article in the SimilarContent's Content Optimizer tool, there is the option to check the Readability Score for the article.
It will give you a complete idea of how well your article is outlined.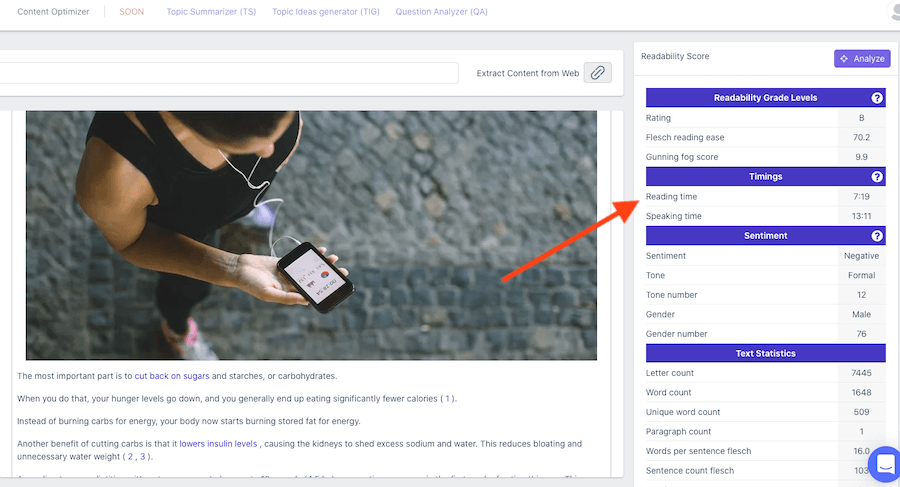 Support & Plans Ahead
Though SimilarContent is a simple tool for you and there are no complicated settings or learning curve, still if you need any help, you can reach out to the team through email or chat.
Also, there is a new set of tools that will be coming soon on the SimilarContent platform such as a topic idea generator, question analyzer, and more.