Here is your chance to get a 50% discount on Host4Geeks Managed VPS hosting for the first month and a 15% discount on any plan of your choice.
We have recently published a detailed review of Host4Geeks that you can read to know more about what Host4Geeks has to offer.
No matter you are a newbie or an expert webmaster, Host4Geeks will offer you amazing hosting options for an affordable price.
If you are looking for a fast server in a tight budget, Host4Geeks is a great hosting option for you. Their hosting plans start at $2.95 which is lower than most of the frontline hosting providers.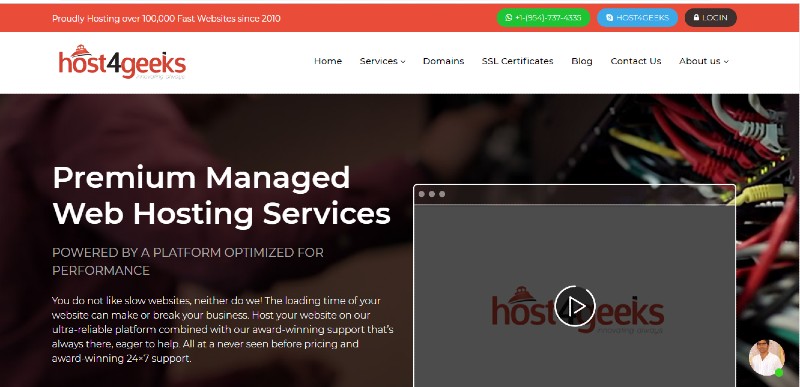 Now, what can expect from Host4Geeks?
All Types of Hosting Options
From shared hosting to managed hosting to dedicated server, Host4geeks offers you all types of hosting option that you can select depending on your budget and requirement.
Shared Hosting for New Sites
If you are just starting out with your website, there is no point in going for an expensive dedicated server. A shared server with affordable pricing is good to go.
The starter plan of Host4geeks hosting gives you the option to host one site. You get (10 GB SSD Disk Space, unlimited bandwidth, 5 email accounts)
Here is the pricing
Get Free Domain Name
You will need a domain name for your website. If you go for the business plan for longer-term like 1 year, 2 or 3 years, you will get a domain name for free.
50% Host4Geeks Managed VPS Hosting Discount
If you need a very fast loading server, you can go for the Managed VPS hosting plan. You will get more resources in a VPS plan.
There are a number of Managed VPS plans to select from. You can select one depending on the size and requirement of your site.
Also, don't miss to get a 50% discount on your first month's invoice by using our coupon code.
BGNDOTVPS
15% Host4Geeks Discount on Any Plan
If you wish to go for any plan other than the VPS plan, you will get a 15% discount on any plan of your choice using our coupon code "BGN15SAVE"
Get an exclusive 15% discount on any plan of your choice using teh coupon code below.
BGN15SAVE