WordPress Plugins are the key parts of a WordPress website. Whether you need to add contact forms, boost SEO, increase site speed, develop an online shop, or enable email opt-ins, they bring crucial capabilities to your website. Plugins can do just about whatever you want them to.
There are hundreds of free and paid WordPress & WooCommerce Plugins to choose from. Which one to select and use is always depending on your business requirement
We at Essential Plugins have brought you the finest WordPress Plugins Bundle, making your WordPress site and business processes seamless.
Using the Essential Plugins Bundle, you may get 35+ different plugins for one fixed fee. By purchasing this WordPress Plugins Deal, you may have access to all the features you'd otherwise have to pay hundreds of dollars for separately, such as pop-ups, sliders, and many more.
Let us see what's there in WordPress Plugins Bundle?
We've already said in our introduction that the Essential Plugins Bundle now includes 35+ WordPress Plugins that cover a wide range of topics such as marketing, design, security, and many more.
For example, Essential Plugins has a WordPress Popup Plugin – which can help you make any popup on the web page. We have a total of 7 effects combined with 9 positions available.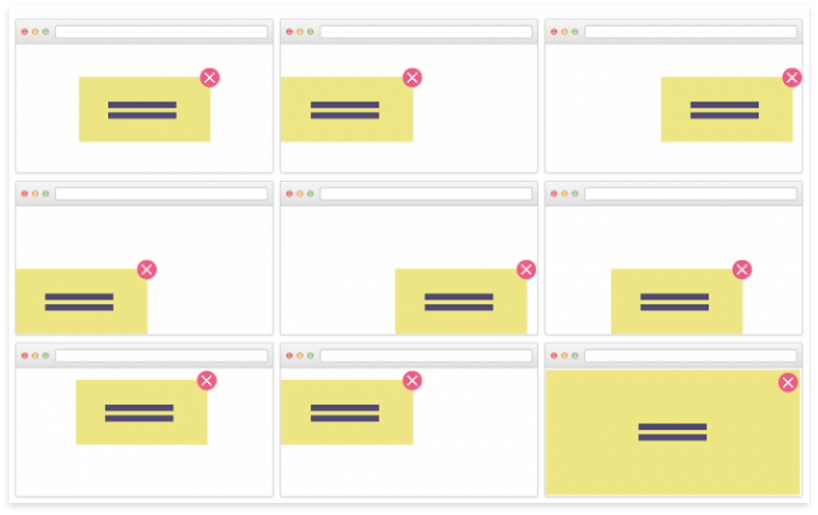 It can be used Inactive Popup, Exit Intent Popup, Scroll Up & Down Popup, Cookie-based Popup, etc.
For instance, you may add the widget immediately to Elementor, Beaver Builder, etc., when showing a client logo slider.
Additionally, the Essential Plugins Bundle was developed by a WordPress core contributor.
The WordPress Plugins are broken down into a few distinct categories in this part, and I'll go through each in detail.
Let's break down the entire WordPress Plugins Deal into several parts.
Plugins for Galleries and Slider
WP Slick Slider and Image Carousel – You can create powerful slideshows with 5 layouts and 90+ beautiful designs with the WordPress Slick Slider plugin.
WP Team Showcase and Slider – It is included in WordPress Plugins Bundle. Create and show your team members and employees on your site with the Team Showcase Slider. You'll be able to provide a visually appealing roster of your employees, complete with photos and social media symbols. 
Meta slider and Carousel with Lightbox – WordPress Meta Slider is an easy-to-use plugin that lets you build stunning slideshows on your WordPress site. Add a gallery meta box to your WordPress posts and pages with the Meta Slider plugin. Use lightbox sliders to display an image gallery of your photos.
Plugins for Marketing
You may use Popup Anything – a Marketing Popup– to construct any form of popups, such as lightbox, scroll boxes, floating bars, and more. It may be used for marketing, lead generating, or other purposes. Functionality-wise, this is one of our most potent WordPress plugins.
Countdown Timer Ultimate – Countdown timer that may be used for various purposes, including driving traffic, increasing revenue, and drawing attention to forthcoming events or deadlines. Within three minutes, you can create a countdown timer that is scheduled, evergreen, recurring, and straightforward. You have 13 types of styles for creating countdown.
Plugins for General Utility
WP Login Customizer – Create the login design that helps you to attract customers. It is included in WordPress Plugins Deal currently with 50+ active installs.
Hero Banner Ultimate – When it comes to online design, a "Hero Banner" refers to a vast web banner picture prominently displayed on a web page. You may use the hero banner for summarising the site's most significant material to visitors before they even get on the site. Many heroes have a backdrop picture, color, video, and text.
WP Responsive FAQ with Category plugin – The WordPress FAQ Plugin lets you pick between two layouts and displays your FAQs on your or a client's website in an easy-to-read format. You can display your FAQs in various ways on your website, thanks to 15 pre-designed, customizable layouts.
WooCommerce Plugins
Slider & Carousel for WooCommerce Products – Showcase various WooCommerce product kinds in a slider.
Pricing for the Essential Plugin Bundle
It is important to note that many free plugins in the Essential Plugin Bundle have a restricted free version found on WordPress.org. Currently, there are 35+ free plugins to choose from – you can find them all here.
On the other hand, Premium subscriptions provide you with complete access to the plugins and all their features.
The Essential Plugin Bundle's sole aim is to provide you access to all the plugins. There are two major categories – 1. Annual Plans 2. Lifetime plans.
The Annual Plans holds 2 sub plans – Stater (99$ per year for 1 site) and Professional (149$ per year for unlimited sites + 1-hour expert consultation)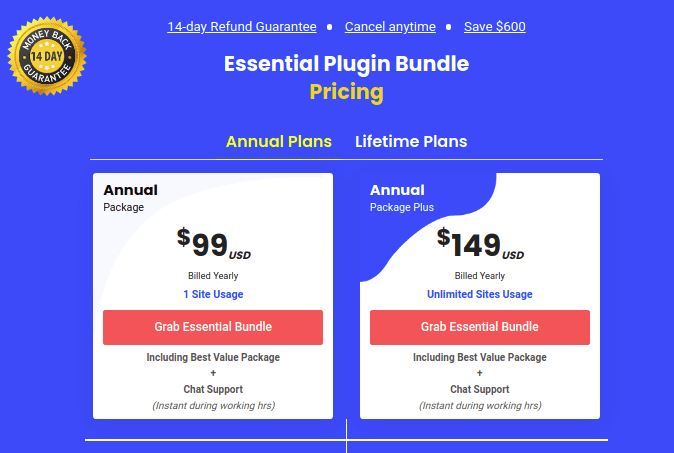 The Lifetime plans hold 2 sub plans – Starter (299$ per year for lifetime access) and Professional (399$ per year for lifetime access + 1-hour expert consultation)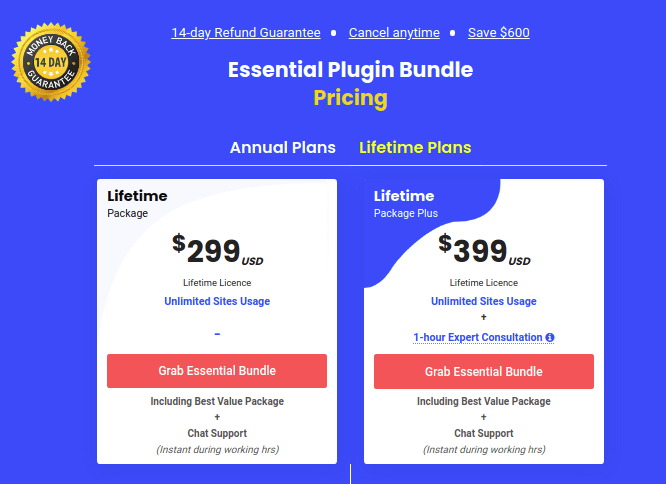 Wrap Up
Compared to purchasing each plugin separately, buying the Essential Plugins Bundle saves you significant money. You'll receive all of the developer's current and future plugins for one low payment.
Try out the WordPress plugins and see whether they meet your demands before making a final decision. Visit our website www.essentialplugin.com to understand our offering, or email me back at info@essentialplugin.com for any query.