Looking for the best WordPress hosting providers? Here are the top custom WordPress hosting providers for your business.
And when it comes to the internet, the most important aspect of it is a website. Today we will talk about the best web hosting services that make your website accessible to your visitors.
Web hosting is a service that is provided by a web hosting service provider to provide your business with the technology and the platform where you can create your website and make it live on the internet.
These hosting companies host your website on their powerful backend servers. There are various WordPress hosting providers that you can choose from to launch your website in a hassle free way.
Most people who are new to websites and the internet end up getting the wrong hosting service and later face problems like server breakdown, slow website speed and interrupted working.
We have curated some of the finest hosting providers with a wide list of features and the comparison given here is unbiased and based on performance, actual speed tests, and user ratings.
01

. BlueHost Hosting: 60% Off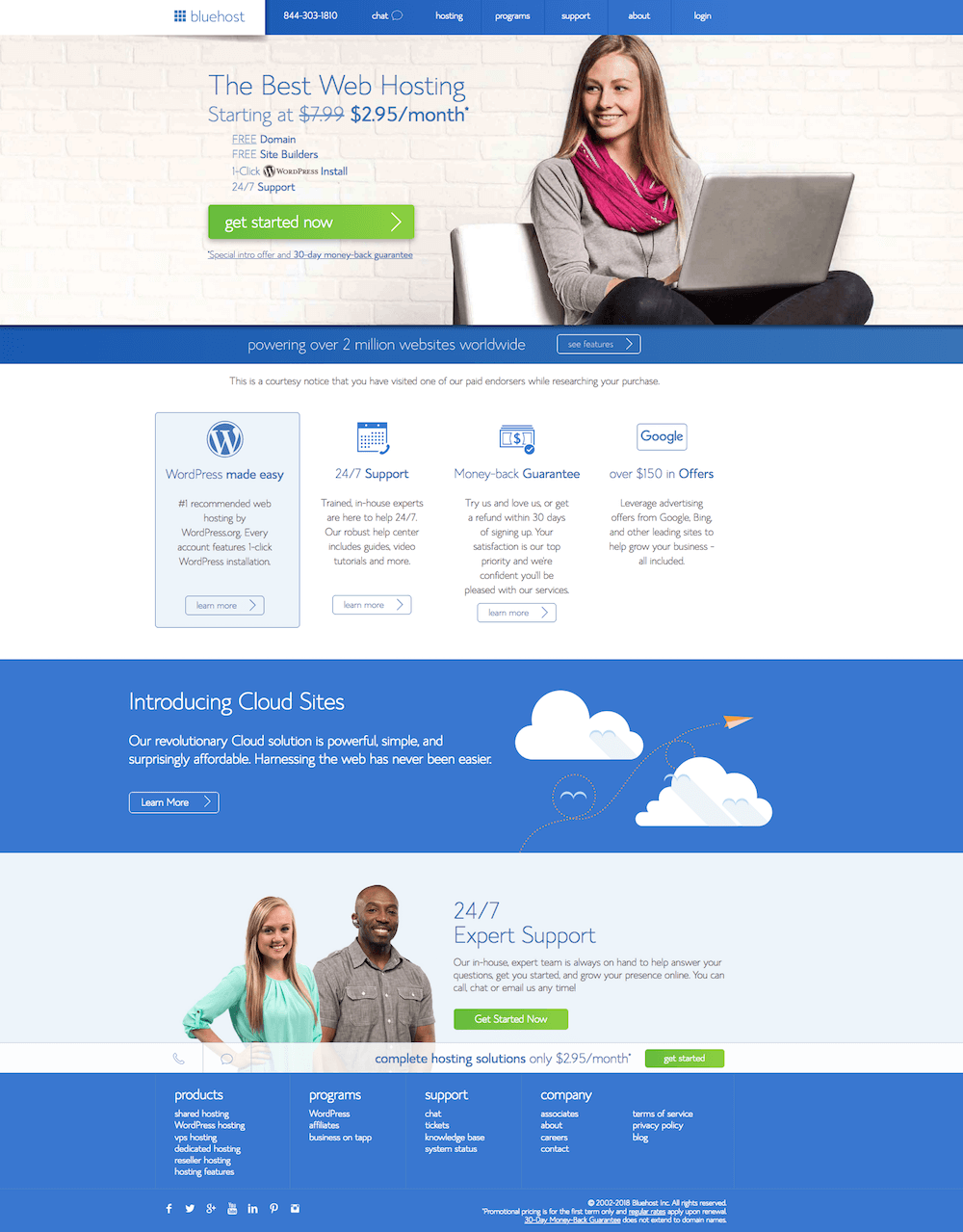 BlueHost is a very popular web hosting service and is an official WordPress hosting partner. They have been known for hosting almost two million WordPress sites.
It is owned by Endurance International Group and is one of the largest web hosts service providers. It operates its facilities in Provo, Utah, and employs around 700 people in its Utah office.
Founded in 2003, BlueHost has shown geometrical growth since then. Bluehost is famous for its shared hosting and offers various other plans which will help you in growing your website.
The basic pricing is around $3.95 per month and $2.95 during sales and special offers. The prices that BlueHost offers are one of the best in the markets. It is the most affordable shared hosting service and comes with some of the best features.
Managed WordPress starts at $24.99 per month. Some of the features of Bluehost include unlimited bandwidth and unlimited database, unlimited email accounts and unlimited email storage.
It has a powerful cPanel dashboard with POP3 and IMAP email support. Its one-click WordPress installations are handled by MojoMarketplace, and it manages all your installations from one place.
Bluehost has outstanding customer support and the extra smart support via chat is fast and friendly. It is a very user-friendly platform for beginners as Bluehost's customer service provides five with all the installation problems via email and phone as well.
Each of the features comes with tools that will get you started off with a website with ease. The loading time is decent enough but shows some variance in shared hosting. It has a beautiful user interface.
BlueHost believes that customer satisfaction is their top priority. Hence they provide you with a 30-day money-back guarantee if you are not satisfied with the services. With so many useful features, Bluehost seems to be a good deal for beginners and professionals alike.
02

. WPX Hosting: 50% Off & 2 Months Free (Annual Plan)
WPX Hosting offers you only dedicated WordPress hosting with managed service. Another important feature of WPX Hosting is its easy migration. In fact, the team at WPX will help you to migrate your website without any additional cost.
Moving your site is hassle-free and even if you are not tech-savvy, there are various products that will make your website migration easy. But these products come at a cost. There might also be a chance that during these processes, your site can experience downtime.
WPX Hosting also backups your website daily and your data is stored on a server for two weeks. It also includes E-Mail which can allow you to send and receive the emails associated with your website's domain name.
The WPX Dashboard is very easy to use, and you can view your account details and services while managing your email and website. Monitoring your disk space and bandwidth usage is also possible.
If you're a business, a start-up or even a blogger, everyone needs good support staff. The customer support by WPX Hosting is available 24/7/365 and is always ready to help you out and clear every doubt so that you can have a hassle-free website-making experience.
Their monthly package starts at $24.99 for a business, $49.99 for a professional and $99.0 for the elite. You can choose any package as per your needs and requirements, and you will not be disappointed. This hosting service has been known for its fast service and even faster speed.
Use coupon code "WHD50" to secure 50% OFF for the first month and 2 months free if you go for the annual payment option. Read our WPX Hosting coupon article to know more.
03

. GreenGeeks: 70% OFF & Free Domain Name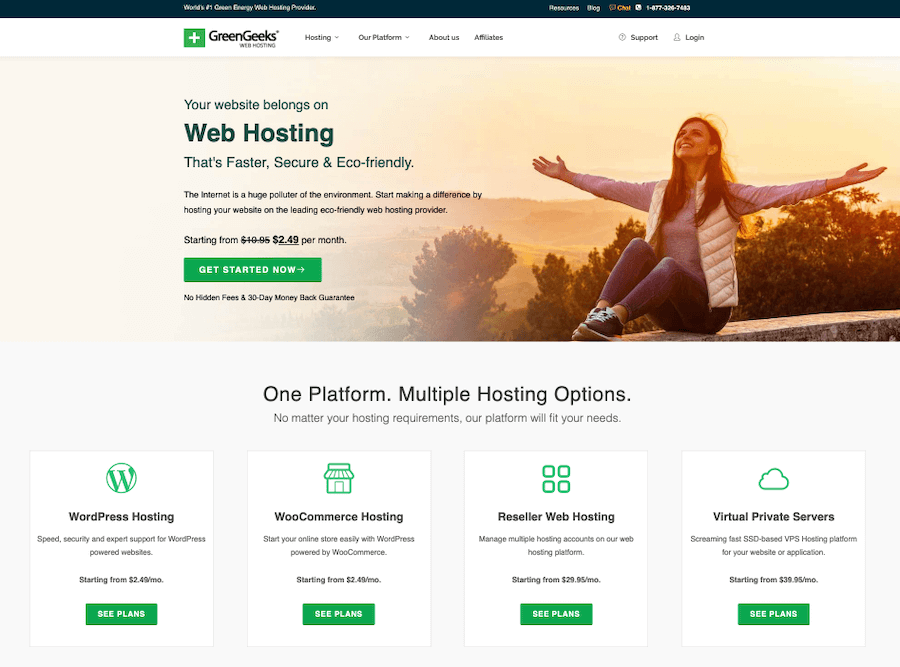 One of the most popular hosting providers for the WordPress platform, GreenGeeks is a leading name when it comes to cost-effective hosting providers.
This eco-friendly hosting provider has been offering hosting service since 2008 and created a name for itself by offering great service over the years.
Here is your chance to host your site with 70% off the price and you will get your domain name completely free. Yes, that's true.
You can start hosting your site for as low as $2.49 per month and you will save the additional $15 that you will have to spend to get your domain name.
If you are planning to start a WordPress site or a WooCommerce store, GreenGeeks will offer you everything that you need with your hosting.
Fast and secure hosting servers will give you peace of mind so that you can focus on growing your business. In case you need any support from the team, there will be an expert 24/7/365 for your support.
You will have LiteSpeed, LSCache, MariaDB, HTTP/2, PHP7 and free CDN to speed up your site and offer a great experience to your visitors.
04

. HostGator Hosting: 60% OFF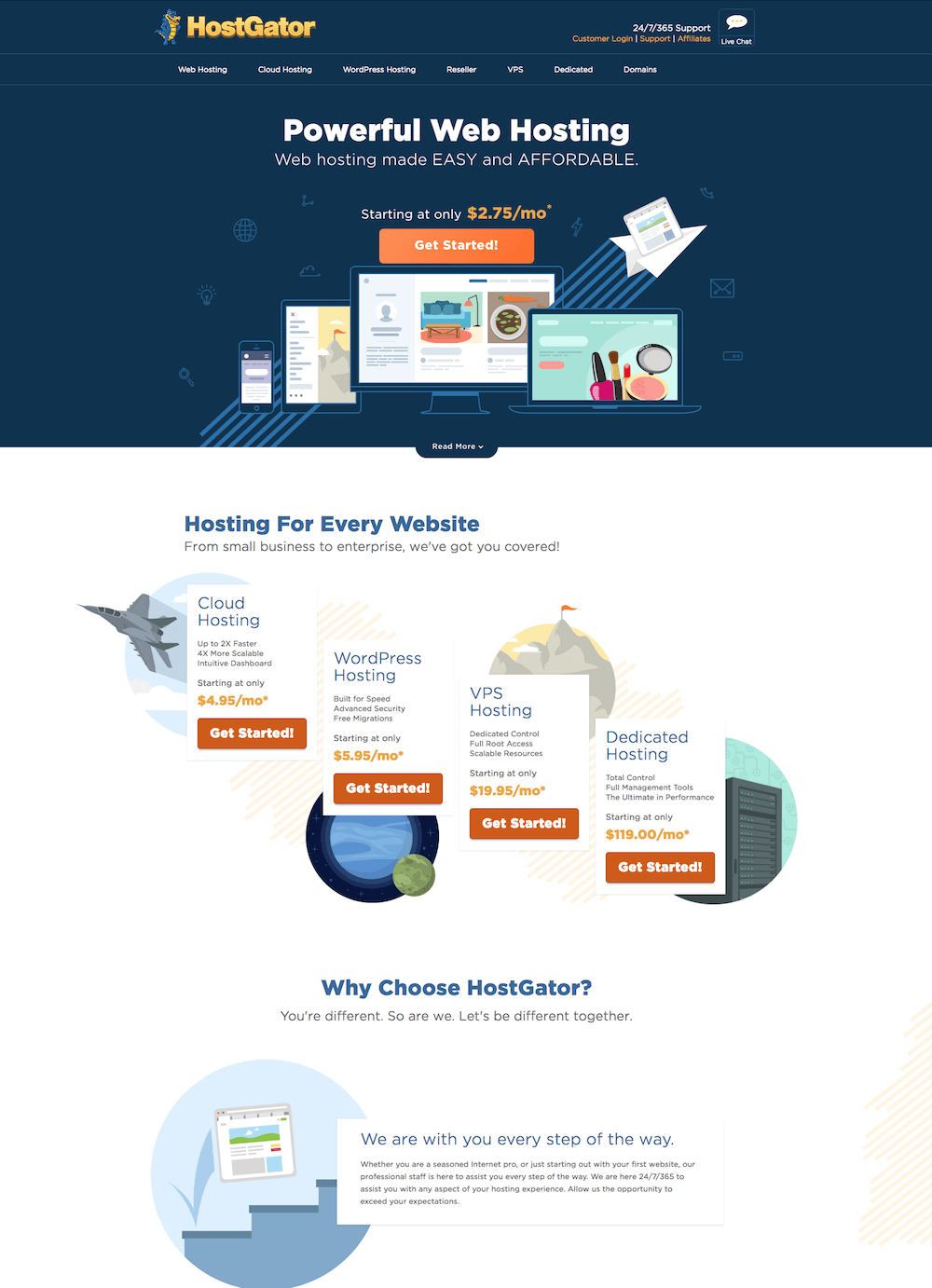 HostGator is one of the most popular web hosts on the internet today. It is a high-performance-oriented Houston-based web hosting company and is known to have hosted over 9 million domain names.
Founded around 2002, Hostgator has two U.S.-based data centers in Houston and Provo and has become a successful brand for a long time.
It opened its gates in India in 2012 and since then, has gained massive success. Talking about the advantages, HostGator has consistent performance in uptime.
HostGator was able to hit a 99.99 percent uptime which is almost 0.20 percent better than the market average. Another feature that makes HostGator stand out from the rest is its 45 days money-back guarantee, where every other host service provider gives a 30-day money-back.
With endless tutorials and documents to help you at every step, this service provider is suited for professionals and beginners alike.
Talking about the cons, HostGator may sometimes have a high page loading time, which might get you frustrated at times.
Further, HostGator shows the feature of instant backups in the panel, but these do not involve automated backups.
Automated backups require an extra $15.95 annually. Apart from that, the company says that one should look for third-party backup services if you want to backup your important data. The pricing looks great for the features that HostGator offers.
'Promotion pricing' can be said to be a trick because of the fact that once your plan expires and it's time to renew it, the rates come back to what they were original.
However, this can be a decent deal if you want features like great uptime performance and want to set up a website by following just a few basic steps. With so many useful features, HostGator is undoubtedly the market leader and is indeed a great pick!
Use our coupon code "BEGINDOT" (caps matter) to get the discount. Also, don't miss our HostGator review and discount article.
05

. Cloudways: 3 Months OFF (20%)
Cloudways is a popular managed WordPress hosting service. You can host your site on Digital Ocean, Google Cloud, Amazon AWS servers using the Cloudways services.
As it is a managed hosting service, all the technical aspects of hosting will be managed by the team while you focus on creating content on your site.
They offer a very fast-loading hosting service, so if you are not happy with the loading speed of your site with the current hosting provider, you may choose to go for Cloudways.
Highly secured server with automated backup makes Cloudways a great choice for business. And in case you come across any issue with your hosting, they offer 24/7/365 Support.
Free Migration: If you are planning to migrate your old site from another hosting provider to Cloudways, the team offers a FREE migration service. So, you don't need any technical knowledge to migrate your site to Cloudways' fast-loading server.
Free SSL: Cloudways offers you FREE SSL certificate for your website making it load through the secure HTTPS protocol.
Overall, Cloudways is a great option when it comes to hosting a WordPress site. You will get Get 20% OFF for the first 3 invoices on Cloudways hosting by using our coupon code "BEGINDOT"
06

. WPEngine Hosting: 20% Off & 3 Months Free Hosting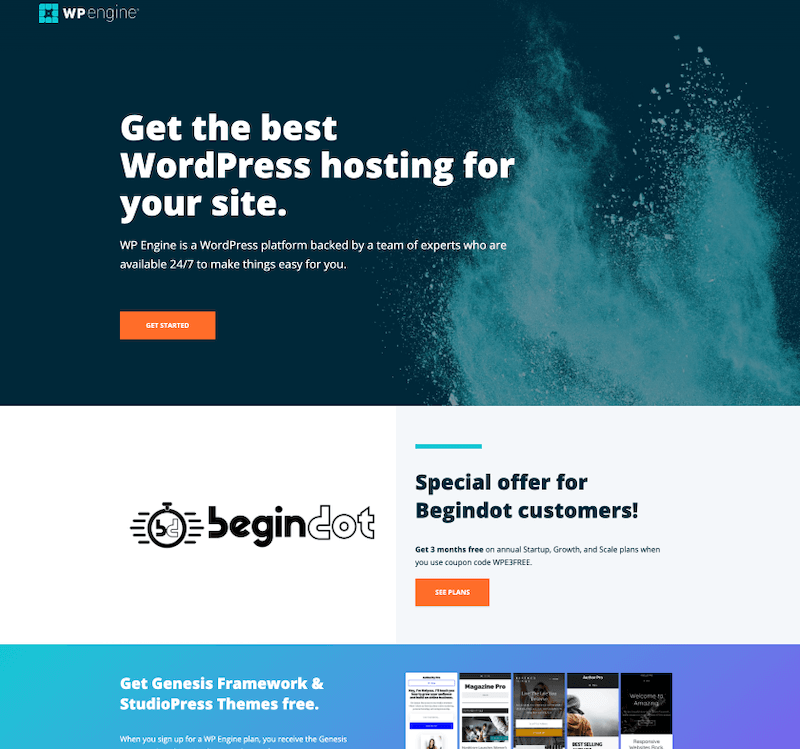 Founded in the year 2010 in Austin, Texas with the idea to provide the best hosting services for WordPress sites and applications, WP Engine is a great hosting provider in many aspects.
The company has its data centers in the US, UK, and Japan and has its headquarters in Austin.
With 300+ employees and great workplace culture, the company strives to achieve the best practices in providing WordPress Hosting Services.
It has provided the best tools and platforms for WordPress sites to perform better.
If you are a beginner or even a professional, WPEngine has the best plan for everyone. There are various levels of services that are provided by WP Engine.
With $29 per month, you can buy a personal plan which is suitable for 25,000 monthly visits with one WordPress install.
You can get professionally managed WordPress hosting at $99 per month and business hosting for $249 per month.
The pricing structure is much higher than the other hosting service providers but comes with worthy features. The tools available are easy to manage, which makes it easy for anyone to use.
The web portal provided by WP Engine will help you to manage your website from an 'easy-to-use dashboard.
It has a quick and easy setup wherein users can set up their website within seconds. The web hosting service provider trains and manages their support staff to solve any issues that you may be facing.
Whenever you face a problem, even with the installation, the support staff will be there to help you and resolve your queries within minutes.
The experts are highly skilled and are available to you 24*7 on live chat and phone support. The main feature of WP Engine is a mixture of technologies that are highly secure.
Now, the best news for you is that you will get 20% off & 4 months free hosting with our link and coupon code "wpe20OFF"
07

. Kinsta Hosting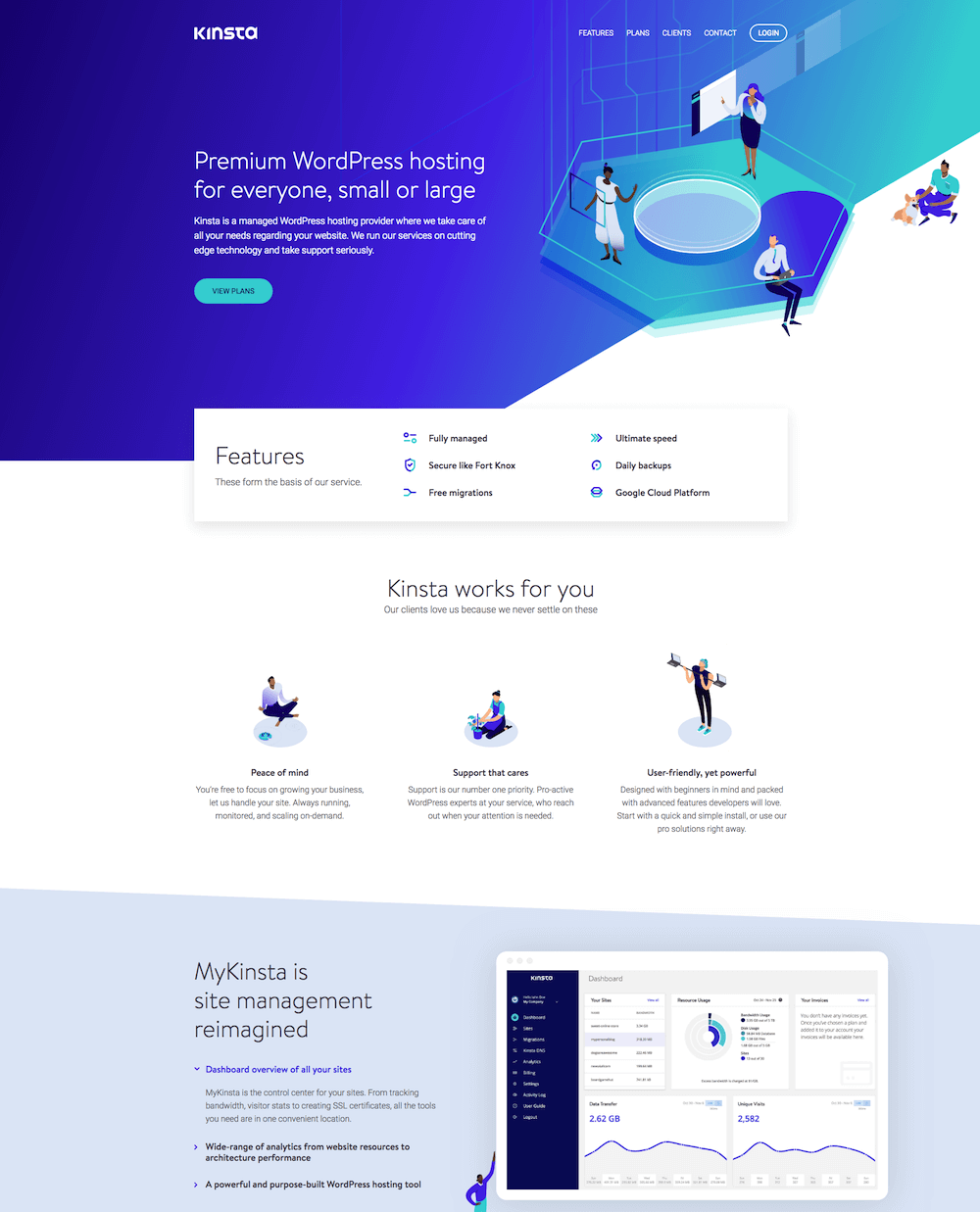 Kinsta is a renowned web hosting service provider and has been loved by almost all of its users. Kinsta takes care of all of your needs regarding your website. Kinsta is designed for beginners and professionals alike and is packed with some of the advanced features that are loved by everybody.
You can start with simple installation, and you can also receive professional solutions by contacting their customer support. If you are hosting your site somewhere else, the Kinsta team will migrate your site free of cost.
The starter pack of Kinsta comes with $30 per month with 3 GB disk space, a pro pack for $60 with 6 GB disk space, $100 for business and goes on to $200 per month with 200 GB disk space.
All their servers are hosted on Google Cloud which is the best part of this hosting provider. Some of the best features of Kinsta include Their SSL Support which means that from your Kinsta WordPress hosting panel, you can install the SSL certificate for free.
You can also use the CDN or Content Delivery network as per your choice. Backups made in Kinsta are created instantly with no server overhead. It's a backup of your whole system, and you can restore them at the click of the mouse.
If you want to migrate, you don't have to pay for it. You can switch hosts without trouble with Kinsta. The performance is strong with improvements even when you access the site manually. All in all, Kinsta is a much better choice than others.
Some websites may occasionally face some unexpected downtimes. Some characteristics which make Kinsta stand out from others are the Google Cloud Platform which is very easy to use.
If you are managing a high-traffic WordPress site, Kinsta is the best option for your site. They offer you a fully managed WordPress hosting solution. Their hosting is super quick, so you don't have to worry about performance.
08

. Flywheel Hosting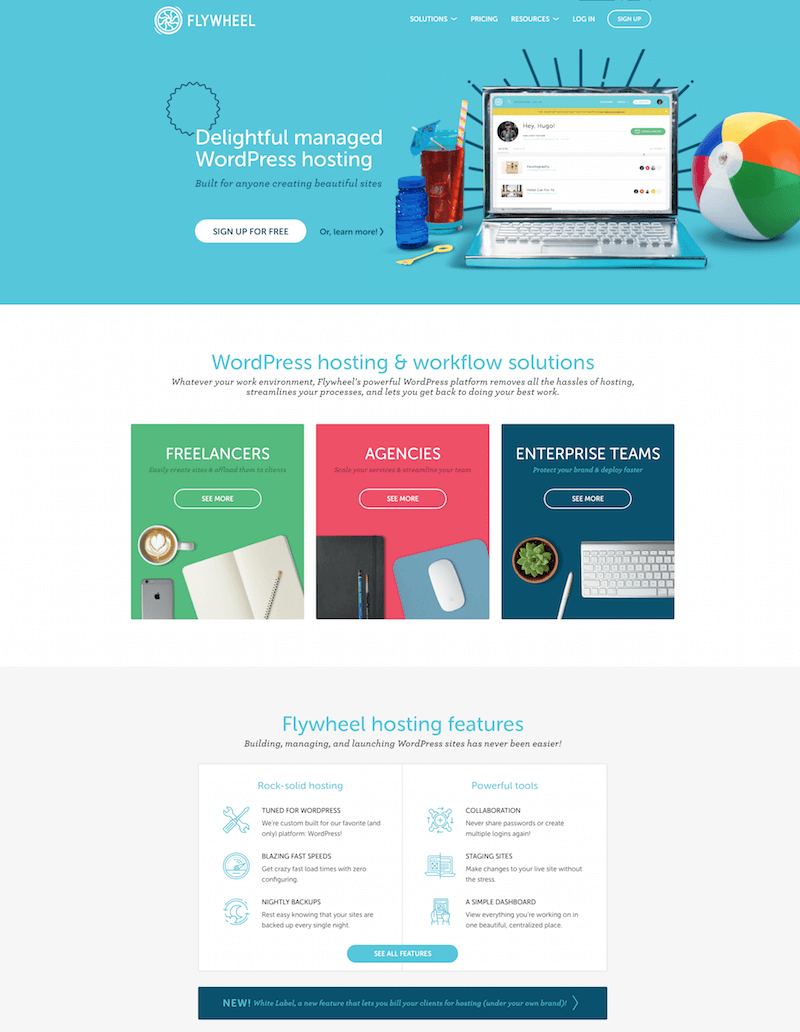 Flywheel is a very powerful name in managed WordPress hosting and calls itself a gorgeous WordPress hosting provider built for any use.
Flywheel has a lot of different qualities that set it apart from other host providers available in the market. The numerous features that come with Flywheel managed WordPress hosting is very useful. It automatically updates the WordPress software, backs up your site and makes it easy to create staging sites.
Installation is just some clicks away and Flywheel provides you with a free Let'sEncrypt SSL certificate. With free malware removal, it assures that there is no harm to your websites and you can choose from around 10 data centers including America, Europe, and Asia.
The customer service is readily available, and the staff is available to you 24*7 by phone, email or live chat.
The qualities which set FlyWheel apart from its competitors include a development tool that majorly focuses on the development of your WordPress. You can create a local WordPress site through the PHP version.
There are various pre-defined themes and plugin packages as well known as blueprints which help you in launching your WordPress sites in seconds. Another differentiating feature is for those agencies who want to host for their clients.
The agencies can create a profile for your entire team and work on projects together. The billing transfer is also a very easy process.
Flywheel has competitive pricing and has three main plans: the tiny plan which starts at $14 per month, their super popular single-site plan starts at $28 per month and a plan for professionals which starts at $69 per month.
This would be the best option for an agency that caters to its clients' needs. Because of the unique features and competitive pricing, Flywheel would be a good option to go with for your website hosting.
9

. A2 Hosting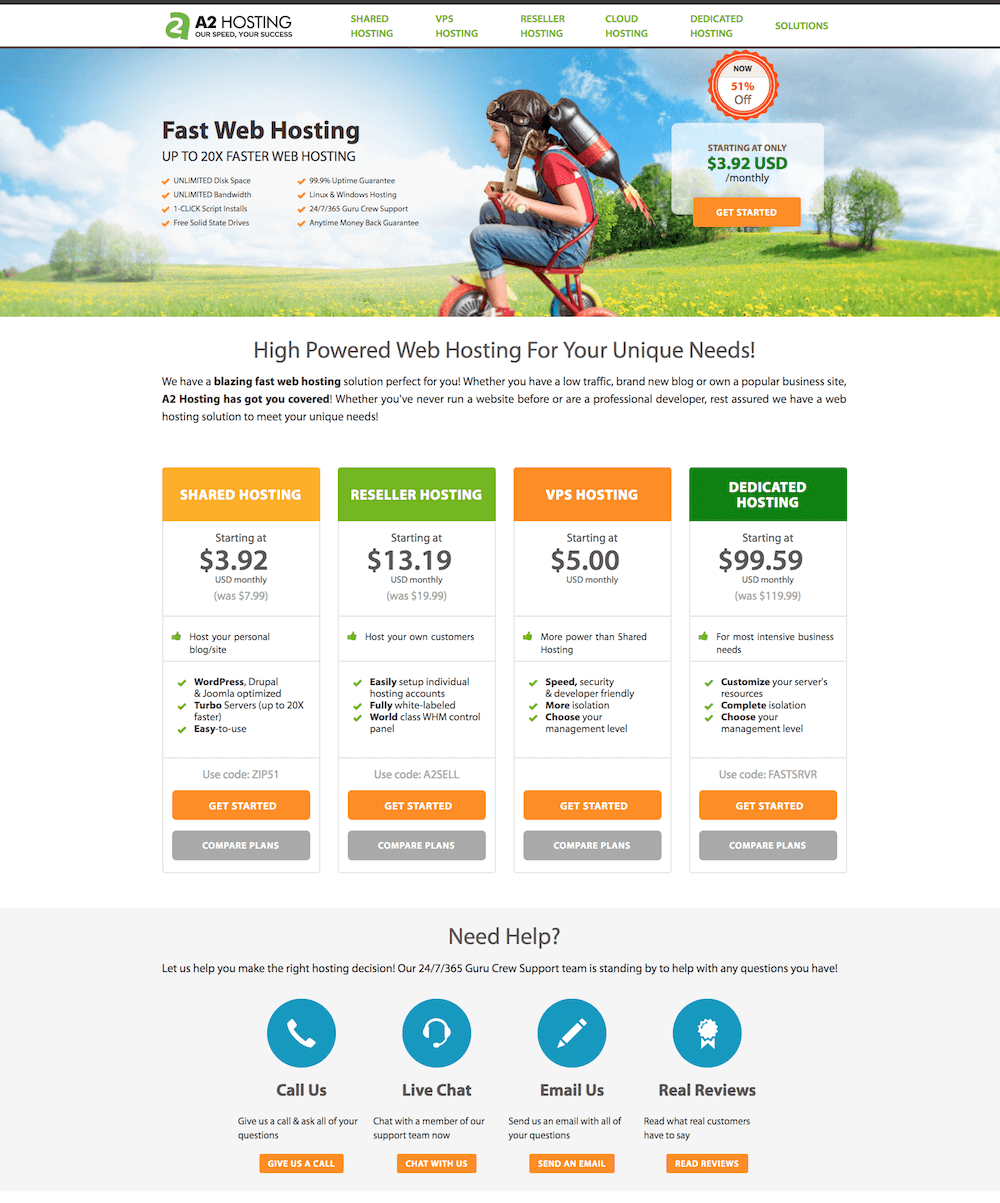 A2 Hosting is another popular WordPress hosting provider. Because of its commendable performance at low and affordable prices, this hosting provider has made its name in around 10 years. They have one of the best hosting solutions with very reliable speed.
It comes in 4 purchasing packages; the first one starting at $3.92 monthly which is great for a start for a single site; you get a dedicated hosting server for just $99.59
The company says that the page loads up to 20x faster than the competing WordPress host providers, which makes them one of the best hosts regarding speed.
A2 Hosting believes in being user-friendly for both beginners and professionals alike, high security, and good performance. The customer service provided by A2 hosting service is hassle-free and 24*7.
They claim to have the best trained and hand-picked support staff with some of the most knowledgeable technicians. They are available on live chat, email or phone, and the support staff does not disappoint you when it comes to asking them even the basics of WordPress.
The server is located in Michigan and gives you three main server locations that you can choose including Amsterdam, Michigan, and Singapore.
Though the ability of the host to withstand the load is decent, it is not that satisfactory when it comes to putting more load on the server. With all these great features, A2 Hosting is a great pick!
10

. DreamHost Hosting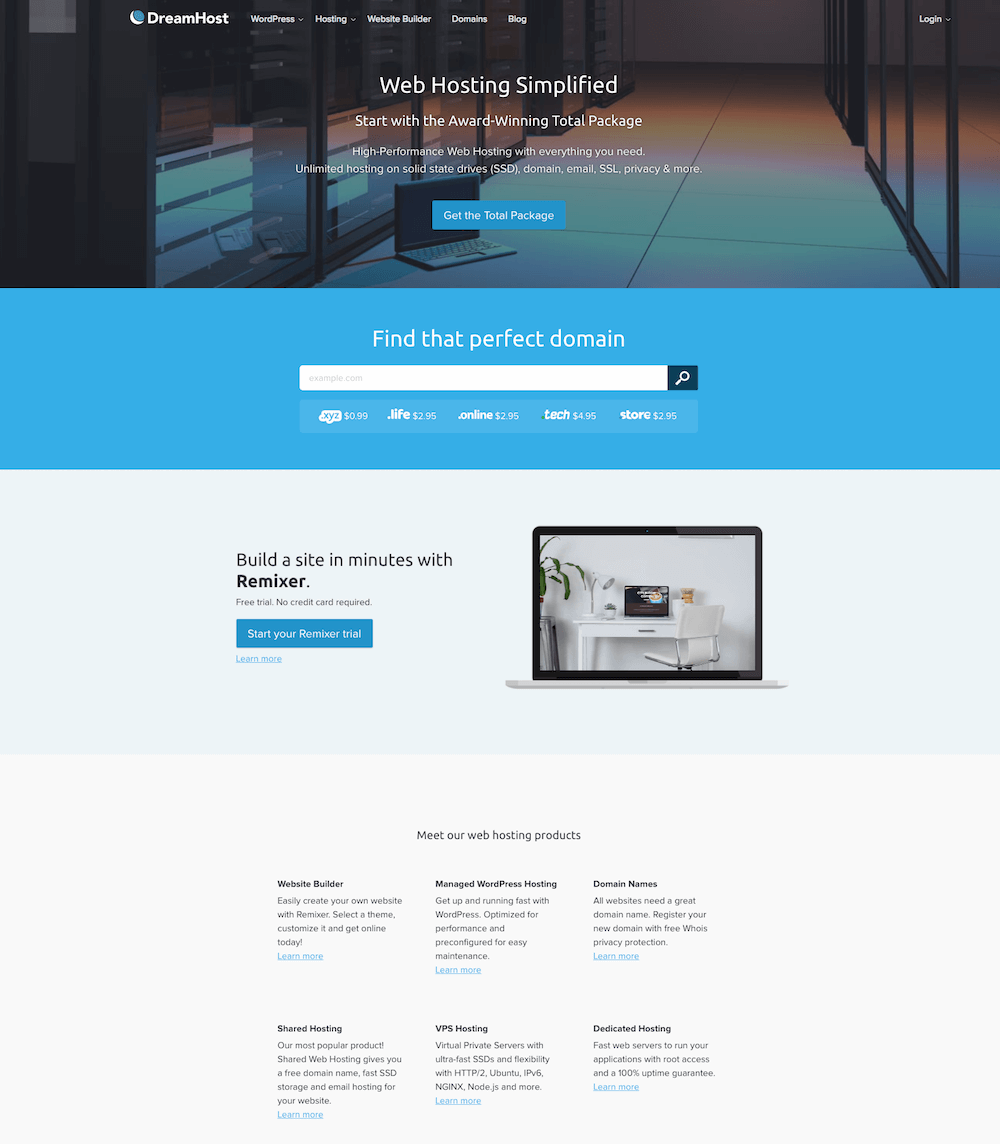 Dreamhost started hosting websites in the year 1997 and is based in Los Angeles. It was founded in 1996 in Claremont, California, U.S.
DreamHost is owned by New Dream Network LLC. And employees over 200 employees and have around 400,000 customers.
It comes with 5 packages starting from $17 per month for small websites and 5GB SSD Storage. The second package starts at $25 per month with 10GB SSD Storage.
The third package known as the advanced package starts at $36 per month with 15 GB SSD Storage. You can also customize the packages as per your requirement.
DreamHost's customer support is readily available and is available 24*7 via phone or live chat.
DreamHost has been known for the best infrastructure to keep the website running smoothly and fast.
It has also been rated as 4.4 / five by the users regarding the satisfaction that they were getting while using the website.
Regarding the hosting survey, it is rated as 4.3 / 5. The user-friendliness rating is 4.2 / 5. Choose this for a firsthand speed and optimization experience.
11

. InMotion Hosting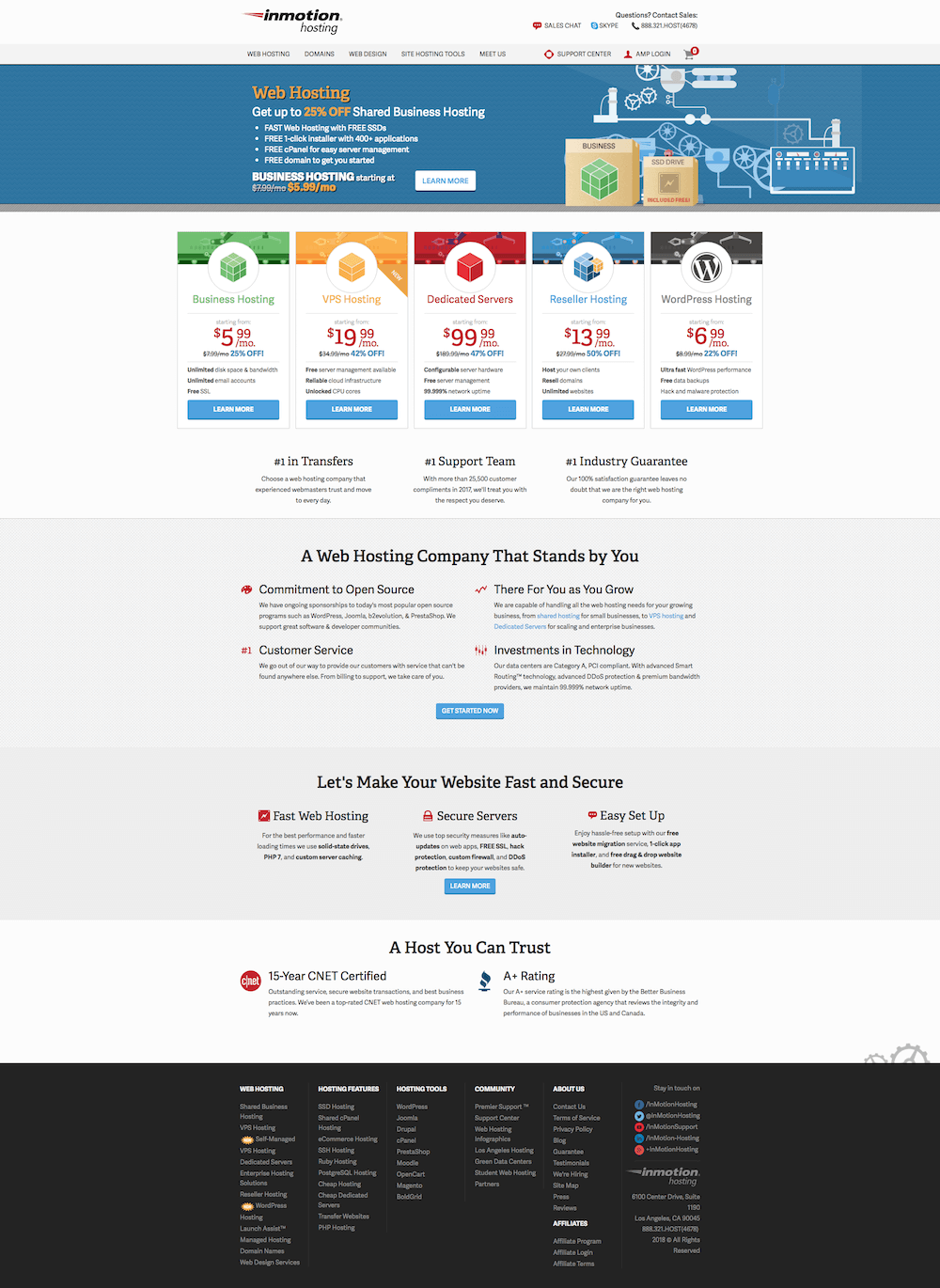 Founded in 2001 and based in California, inMotion hosting is the oldest hosting service provider in shared WordPress hosting. The company employs 200+ people and has its offices in LA and Virginia Beach and maintains its servers at the data centers in LA.
The plans offered by this hosting company are quite competitive. The shared business hosting starts at $3.49 per month, dedicated hosting starts at $119.99 per month and managed to host starts from $40 per month.
If you are looking for a hosting provider for your start-up or even a blog, then InMotion Hosting is an affordable option for you.
Apart from the affordable pricing structure, the web service provider has won various awards for its services, extremely friendly support staff and good business hosting solutions. It has also been given an A+ rating on Better Business Bureau.
Their comprehensive set of features is what makes them stand out from the other players in the market.
InMotion Hosting provides you with unlimited disk storage, SSD Drives, unlimited bandwidth, and WP CLI support. A lot of unlimited features provided by InMotion make it the best with such low pricing. It has a very easy-to-use user interface and can be used by newbies and professionals alike.
Even if you do not have a lot of technical knowledge, you will be able to use it with ease. InMotion uses the latest cPanel tool for your dashboard and you can manage all the aspects of your hosting account from the cPanel.
If you are someone migrating from another web hosting service, your website will start working in no time.
With inMotion, you will never be away from help. You can always hit up the support staff 24*7 and get instant help in a friendly way via live chat from highly-trained US professionals.
You have to submit a support ticket, and you can also ask for help from other users. InMotion is indeed a great pick to put your website into motion.
12

. SiteGround Hosting: 60% Off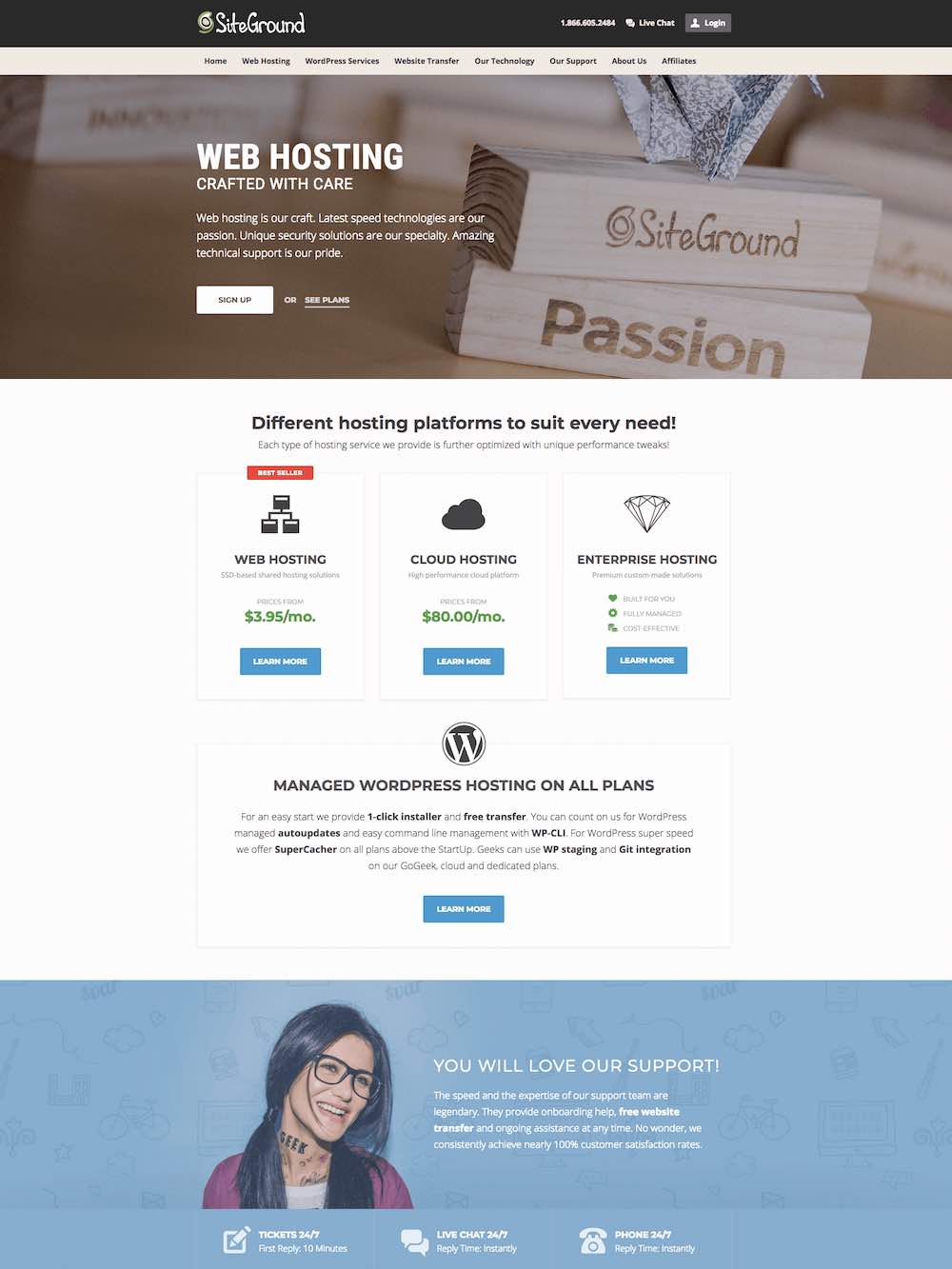 Founded in 2004, SiteGround is one of the best hosting service providers today. It has its headquarters in Sofia, Bulgaria, and employs around 300 people with six offices in Spain UK, the USA, and Bulgaria.
The hosting provider is one of the most powerful and stable hosting platforms and has made its name in the top names of the service providers and hosts millions of websites.
For its servers, the company uses MySQL, Apache, CeentOS, PHP and WHM/cPanel. SiteGround has competitive pricing set for the needs of all types of clients and their plans include cloud, shared and dedicated hosting.
Their start-up shared hosting plan starts at $14.99 per month, you will get this plan at a discounted price of $6.99. The next level plan which is known as the GrowBig, crafted for easy WordPress growth is at $9.999 per month ($24.99 regular price), and the third level is called the Growgeek for real WordPress geeks starts at $14.99 per month ($39.99 regular price).
On the website, they say that their team is available 24*7, with no wait time on the phone or chat and live to your satisfaction.
Their hosting platform is built on SSD hardware with an add-on of their caching tool to increase the WordPress speed. SiteGround comes with tight security to monitor WordPress-related problems and protect your data.
The WordPress and plug-ins are also updated automatically, and daily backups are made of your hosting account. They have a 99.99 percent uptime guarantee and 30-day money back. Beginners do not have a lot of information about the technicalities of hosting websites.
Hence, with the ease of use of SiteGround, it makes it easy for even beginners to use it. The differentiating factor is the cPanel which is the easiest way to manage your hosting account.
With a beautiful cPanel dashboard, SiteGround gives you access to all the relevant tools needed to set up a beautiful website in no time. All in all, a great pick!
Best WordPress Hosting Comparison: Final Word
We have listed the top and most widely used WordPress hosting options on this list. No matter how big or small your WordPress site is, you have an option that is perfect for your site in this collection.
If you are just getting started with your WordPress site GreenGeeks or BlueHost are great options, we have created a detailed step-by-step guide to create a site with BlueHost here.
If your site is already getting a good amount of traffic then you can go for hosting services like Kinsta as they offer you high-speed managed WordPress hosting.