The best minimalist Blogger templates that you can use to create your Blog on the Blogspot platform. Blogging is a great way to enhance your creativity and nurture your writing skills.
And once you have found the right blogging tools and the platform, following certain steps would ensure a safe landing.
We have already written about the best Blogger templates as well as a collection of Blogger templates for education blogs that you can use to create your blog.
You will find some great quality templates in the collections mentioned above. These templates offer you a modern design and SEO-friendly code.
Minimal design and minimal website templates are always popular among users as it offers a great reading experience to visitors.
If you are using or planning to use WordPress for your site, here is a collection of the best minimal WordPress themes. Also, if you wish to use Tumblr to create your blog, here is a list of minimalist Tumblr themes.
Below given are some amazing minimal templates for the blogger in you.
Top Quality Minimal Blogger Templates
---
True Blog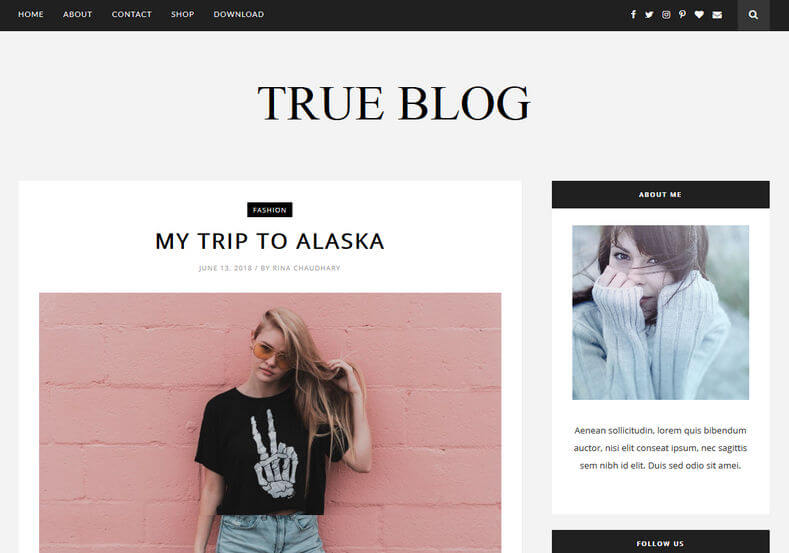 A very responsive template with a stunning design, it's quite apt for blogs such as fashion magazines, fashion news, traveling writers, food stylists, etc. The template is flexible and is compatible with any device.
Some of its breathtaking features include a drop-down menu, social bookmark ready, page navigation menu, post thumbnails, browser compatibility, and many more.
Central Blog Blogger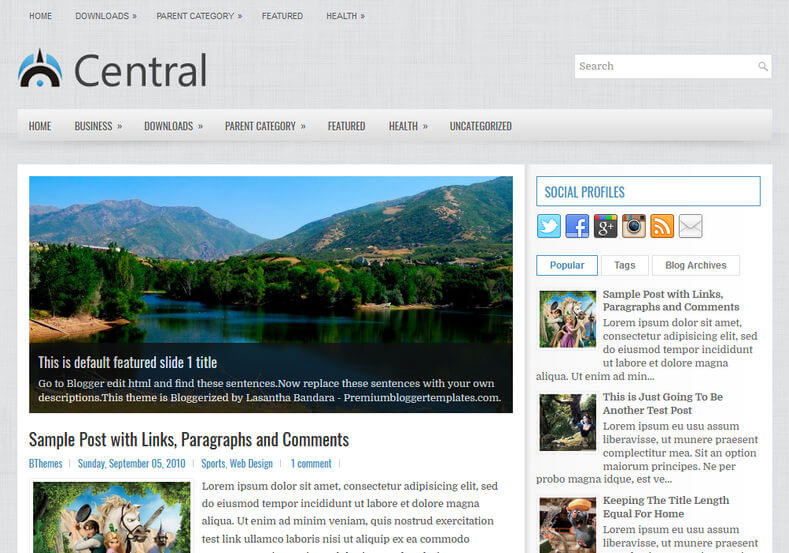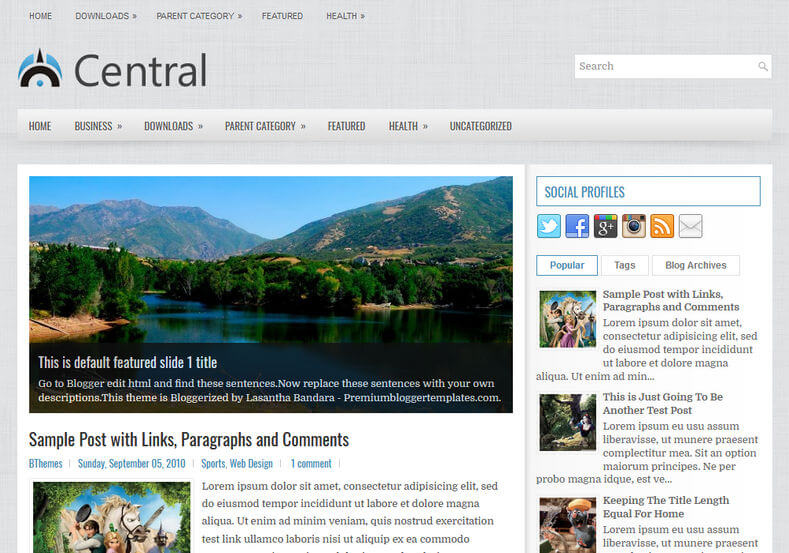 It's a clean BlogSpot theme that fits everywhere irrespective of the screen size. With its simple and minimal design, it suits any niche of blogs though it's crafted specifically for personal blogs.
It boasts of many user-friendly features like a drop-down menu, breadcrumb, related posts, social bookmark ready, post thumbnails, ads ready, fast loading, etc.
Sora One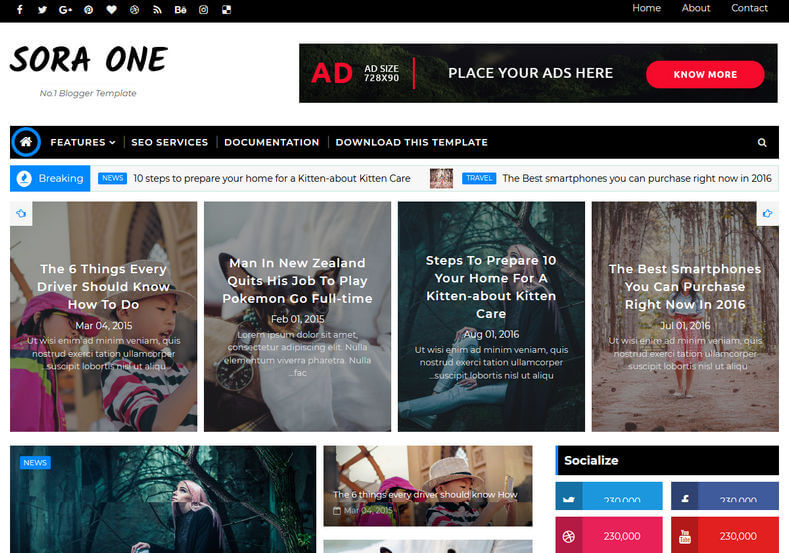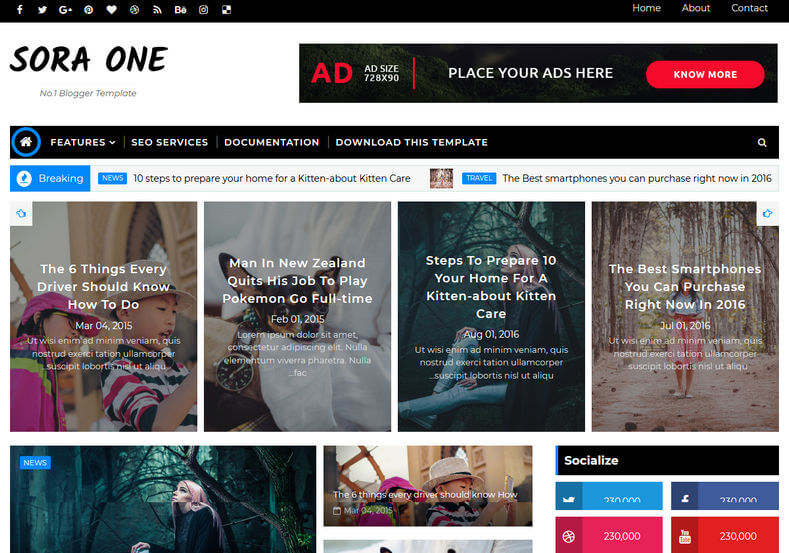 Sora One template is perfect for blogs featuring lifestyle, fashion, games, food, health, sports, travel, business, or entertainment websites. This professional template is completely optimized for SEO and ensures that your blog has one of the best possible ranks.
Extreme Surfing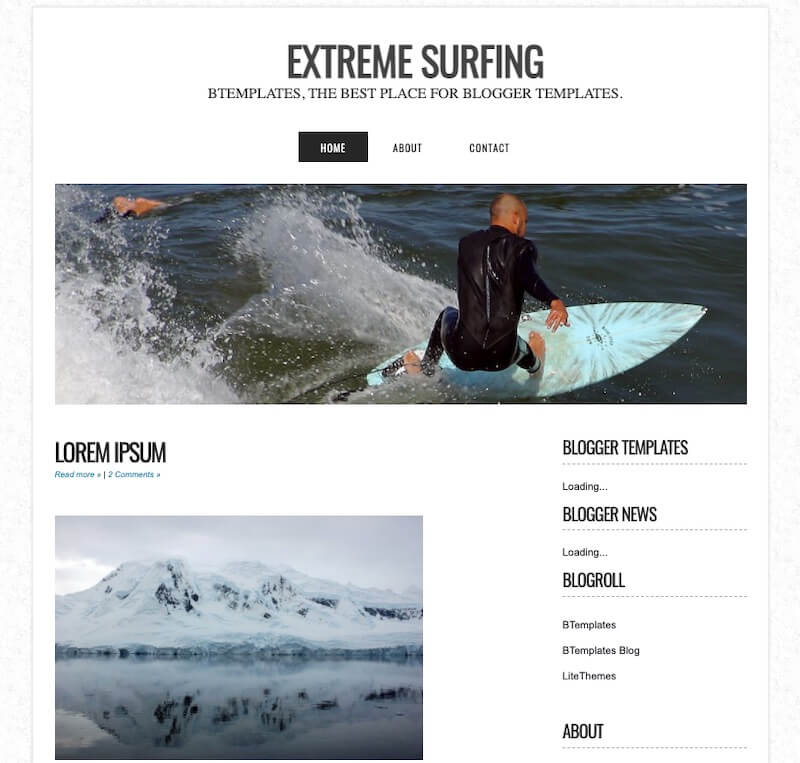 As the name suggests, this template is created for Surfing-related websites. However, it is a great option for any kind of blog.
The templates come with a clean and minimal design that will keep the focus on your content. It is a simple two-column design with a right sidebar where you can place widgets of your choice.
If you need a simple and professional design to publish your content, this is a good choice.
Robusta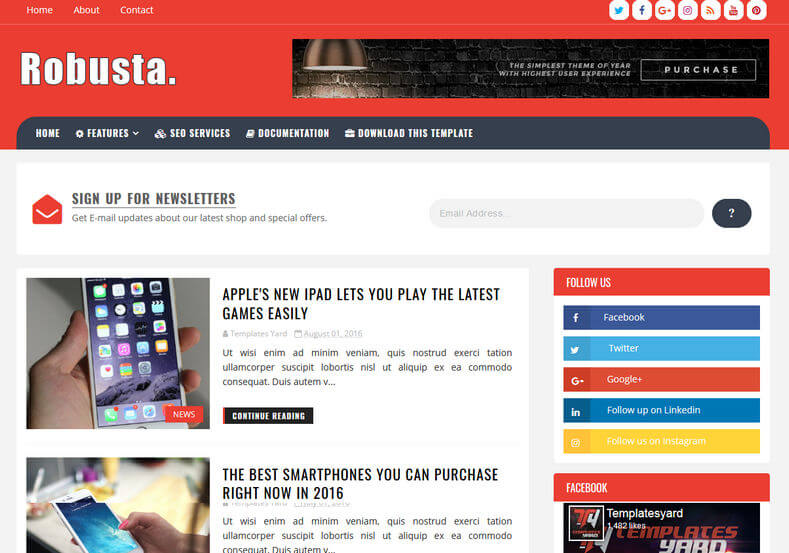 It's carefully designed to provide a more professional experience than any other Blogspot template. The template is made especially for blogs about news and tech magazines.
Its wonderful features like browser compatibility, social media sharing, 3-column footer, email subscription widget, etc make it a wise pick among others.
Lily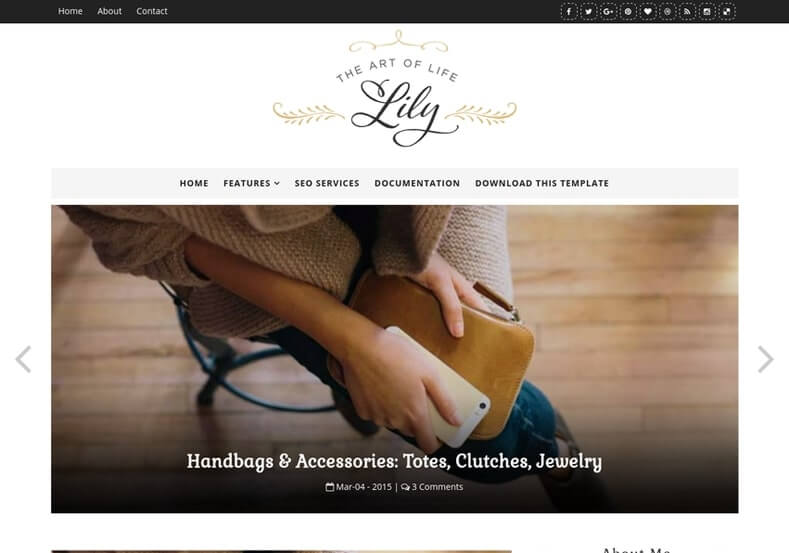 Lily is a minimal yet charming Blogspot template that showcases a soothing feeling in its design. It caters to the needs of blogs featuring fashion, photography, travel, sports, news, magazine, OOTD, makeup, daily blog, lifestyle, cooking, etc.
Insomnia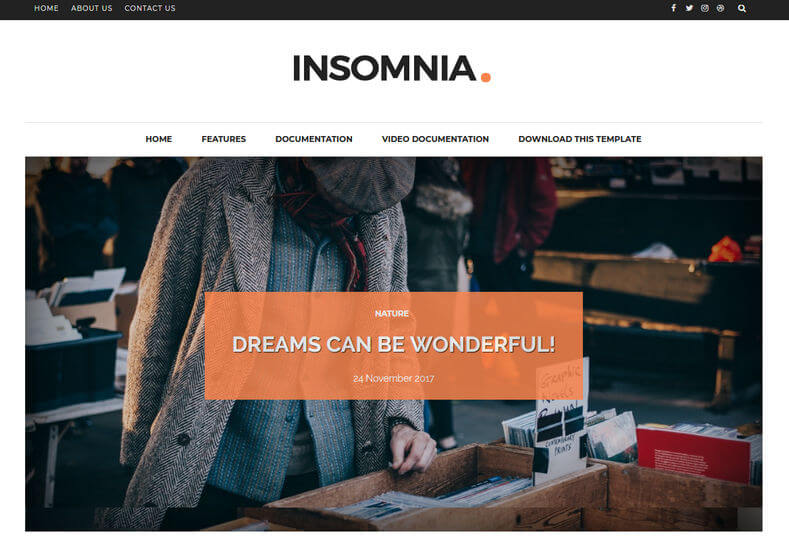 Insomnia is most suited for fashion magazines, fashion news, traveling writers, food stylists, makeup, daily blog, lifestyle, food stylists, cooking, and related blogs.
The template can be easily customized, background and themes can be easily changed; the main color combination is black, white, and amber. The slider present at the upper fold of the design gives an opportunity to showcase the posts in accordance with the priority.
Melissa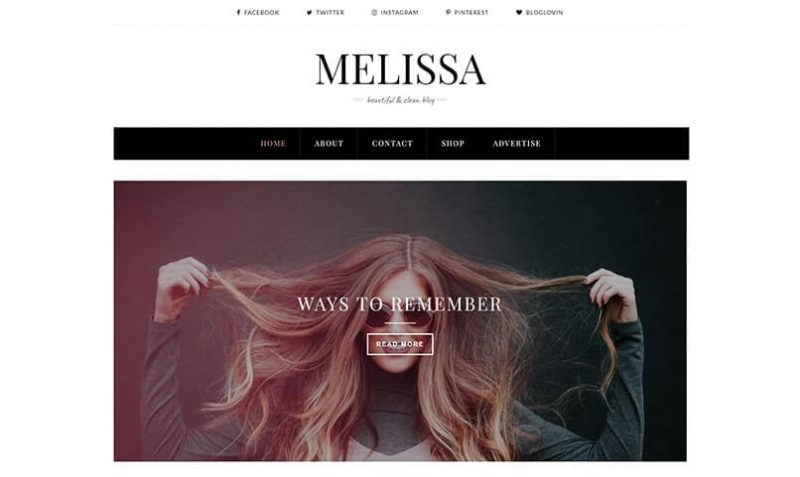 Melissa is a modern, ready-to-use blogger template that contains every essential feature for setting up your beautiful blog and photo gallery. It's the ultimate template for fashion magazines, tech news, traveling writers, food stylists, etc. It's very responsive and compatible with tablets and mobile phones.
Travelista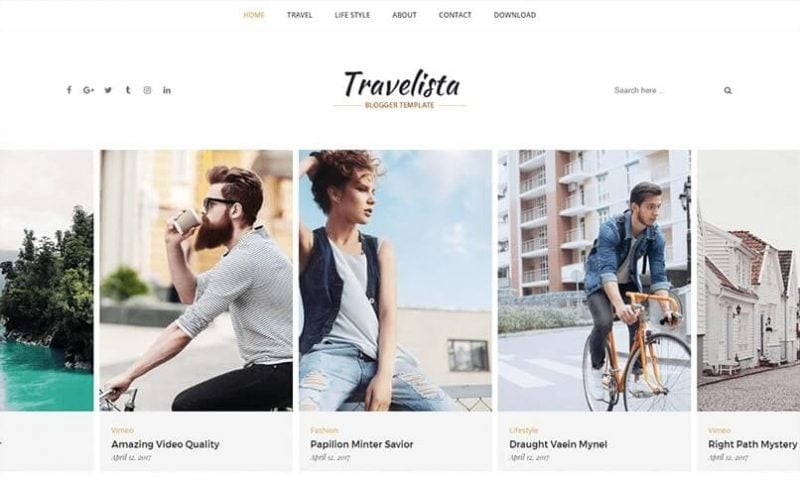 It's essentially a blogger template designed for travelers. Its clean and robust design also suits blogs featuring food, lifestyle, photography, health, fitness, yoga, and so on. It boasts of a strong SEO base and the scripts are simply modified to make the blog run at top speed.
Rareti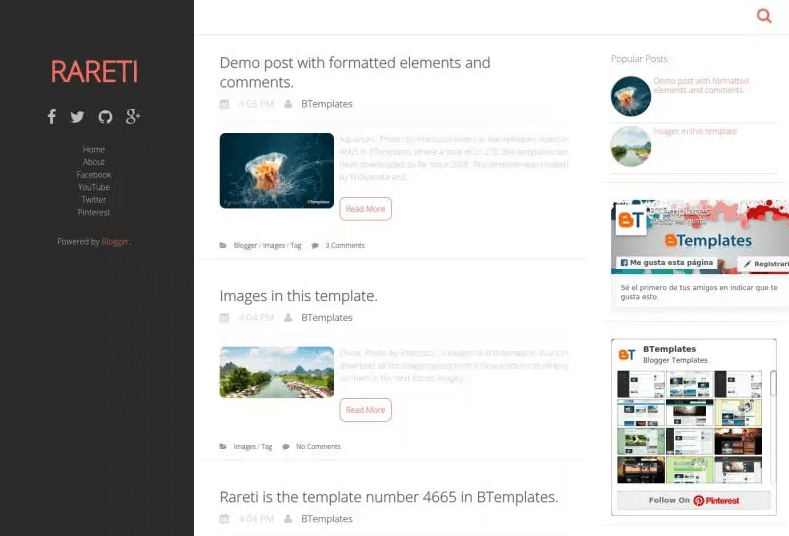 A beautiful minimalist blogger template with a three-column layout. This template is adapted from a WordPress theme.
It is a perfect template for bloggers with optimized ad placement to increase your revenue. The blogs are placed in the middle wide column while the other two columns work as sidebars in right and left.
Trendy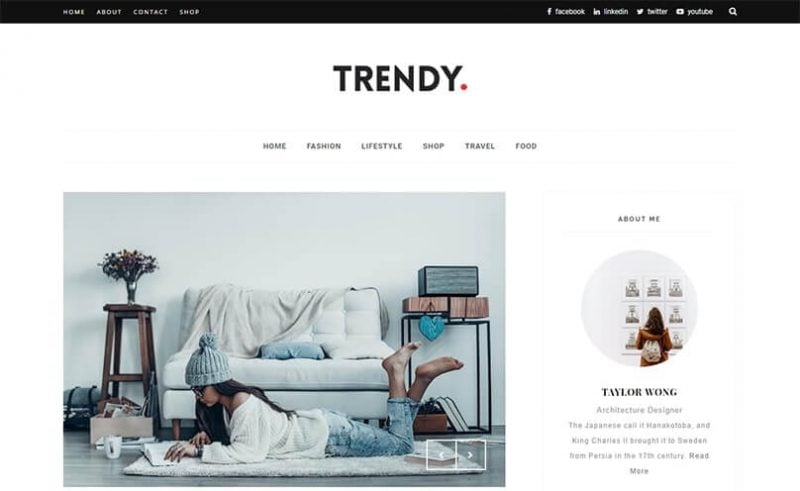 A bright-minimal blogger template that mainly focuses on simplicity, Trendy has become a trend in the market today. It's quite easy to install and use across many popular devices. The customizer that comes with the template allows you to design and change the theme in no time.
It works amazingly well for corporate blogs, marketing blogs, authority blogs, and any other blogs featuring creativity.
tdSimple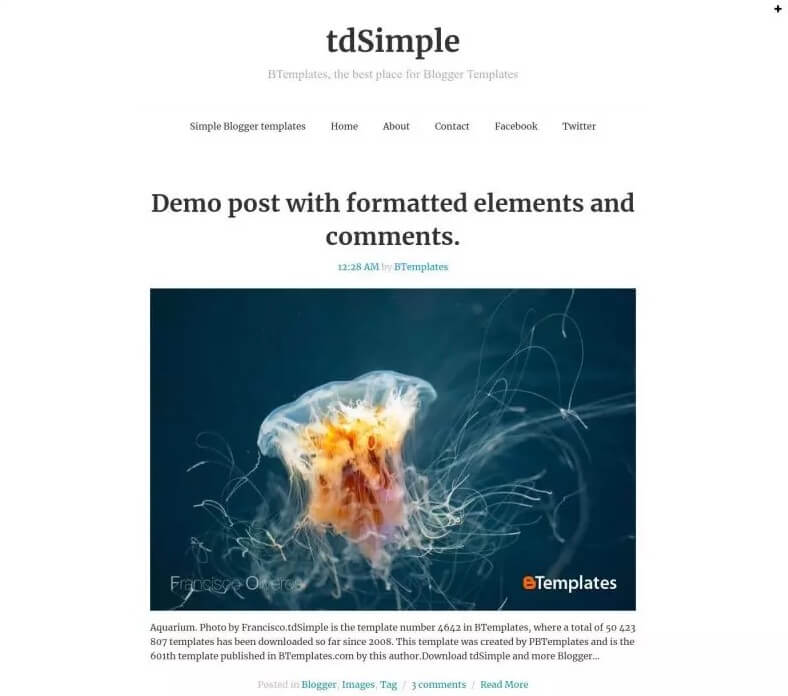 As you are looking for a clean and minimal template, you will love tdSimple. It is a perfect template for a blogger who just wants to have a complete focus on the content.
The minimalistic design of the template will make sure that your visitors are able to enjoy your content without any distractions.
Maverick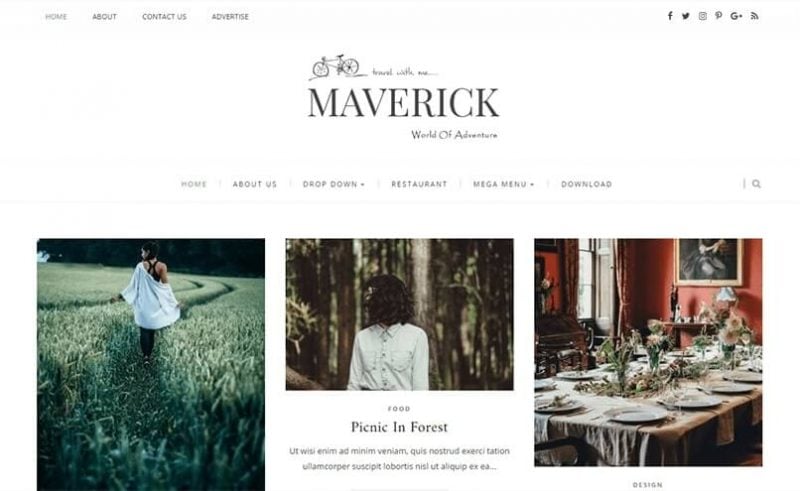 A well-coded template that comes with a masonry grid layout, it's designed exclusively for articles featuring food, travel, hotels, life tips, finance, and programming.
Readers would definitely have an enthralling experience while reading the posts on blogs. The design fits into any device easily.
Prose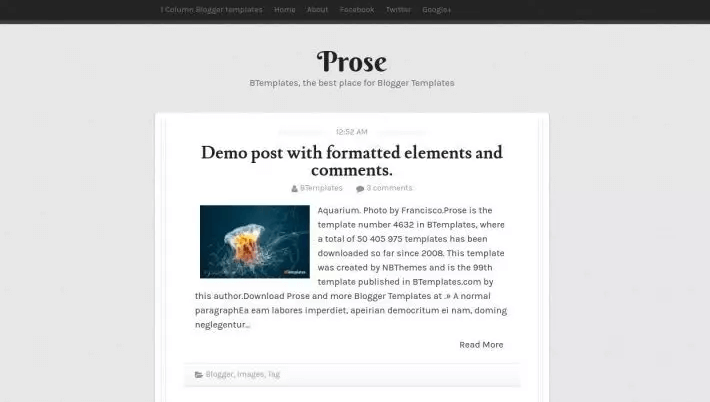 A free minimalist blogger template for creative writers to publish content in a clean and minimal design so that your users can enjoy your content without any distractions.
Angel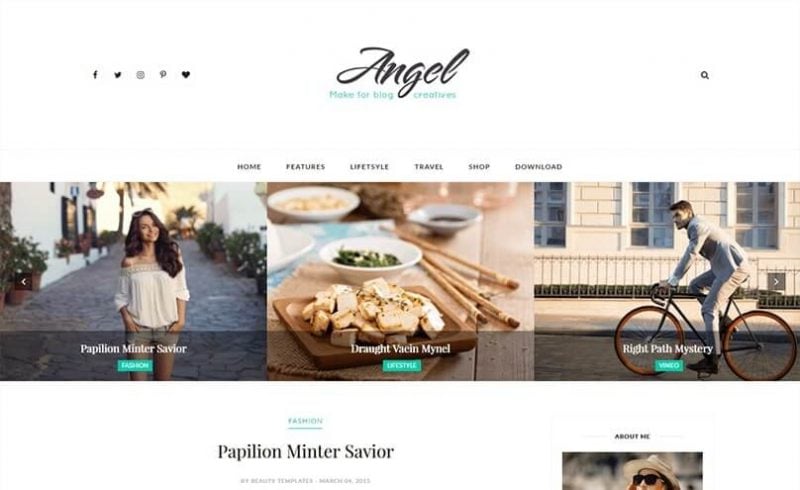 Angel is definitely a savior for all the bloggers who have been stuck with old worn-out designs. It's highly recommended for creating blogs and websites displaying fashion, travel, food recipes, lifestyle, adventure, technology, etc.
Emma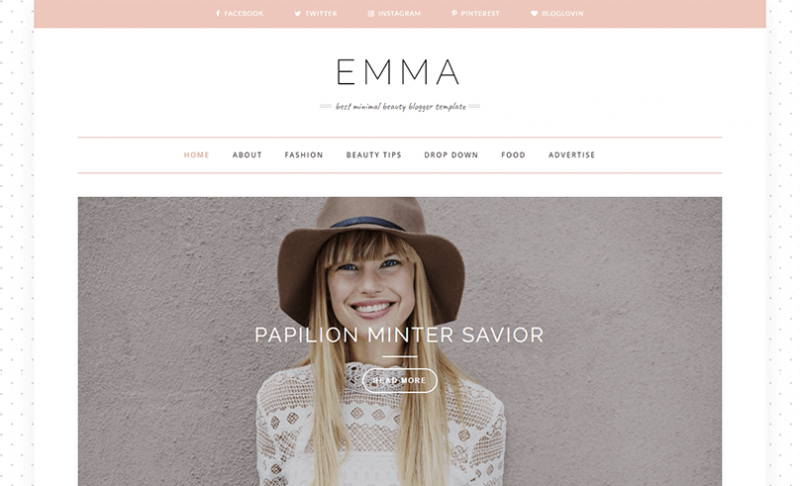 Emma is a modern template apt for any kind of personal blog. It includes all the essential features for helping you out with narrating your story in an incredible way. It has a wide variety of custom options to change colors, layouts, fonts.
Minimal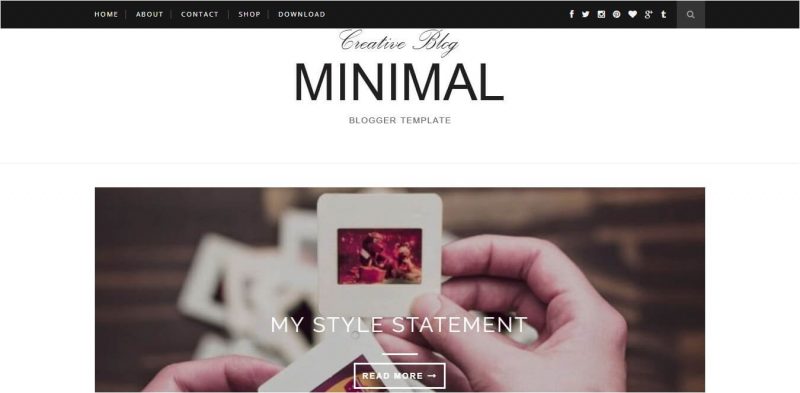 Minimal comes in a light and bright blog theme that's tailored to display your posts in sheer style. It's an apt choice for personal blogs, fashion blogs, OOTD blogs, authority blogs, or any type of creative endeavor.
This is the minimalist blogger template that you'll ever find to meet all your essential needs.
SEO Rocket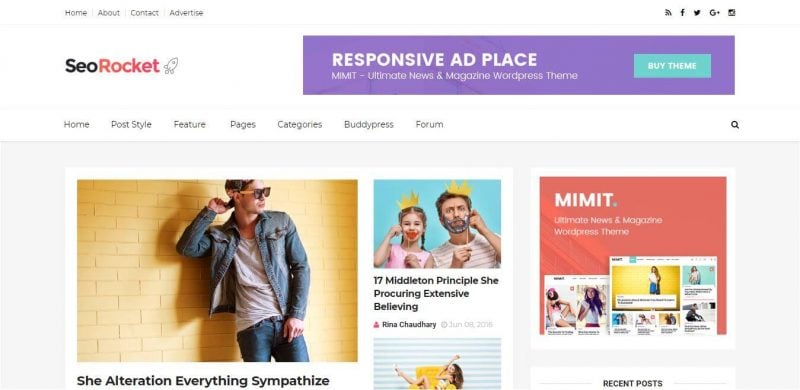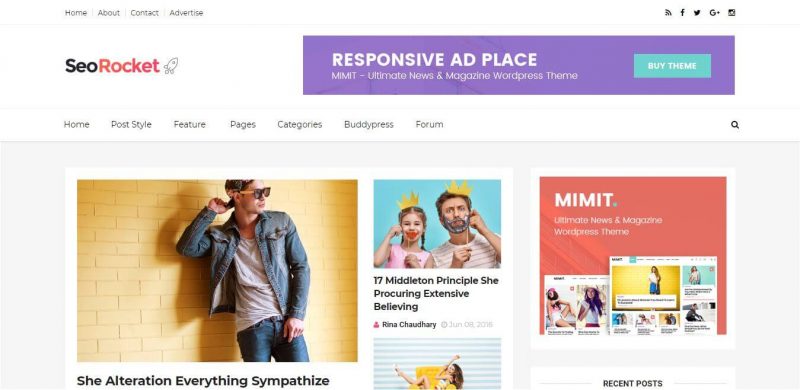 SEO Rocket is a responsive template that is fully SEO-optimized. The template is specially made for any type of newspapers, blogs, magazines, portals.
Some of its impressive features are a tabbed menu, random posts, online documentation, robust design, mobile-friendly layouts, ads ready, threaded-comments, etc.
Carolina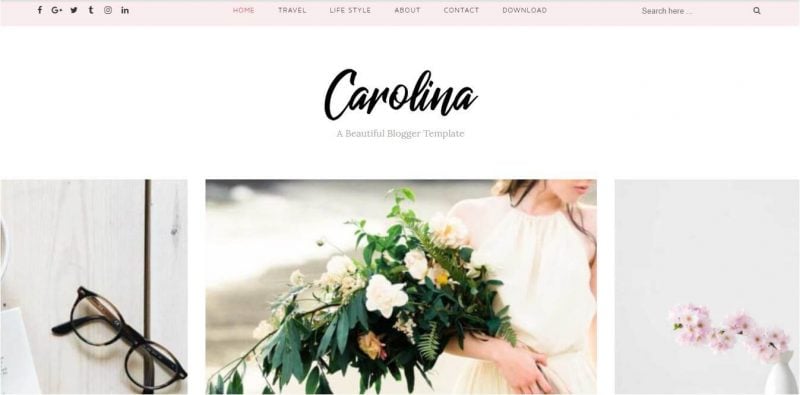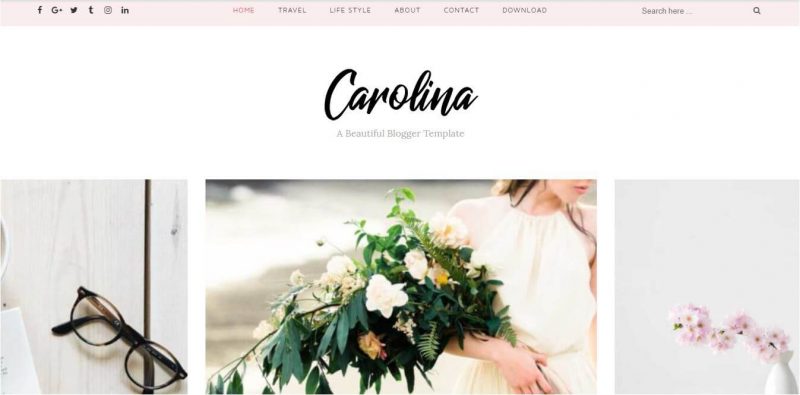 Carolina is created using best coding practices and is just the right pick for any bloggers concentrating on fashion, traveling, lifestyle, etc. It also works well for any kind of newspaper, magazine, portals, and personal blog.
Clean Blogger Template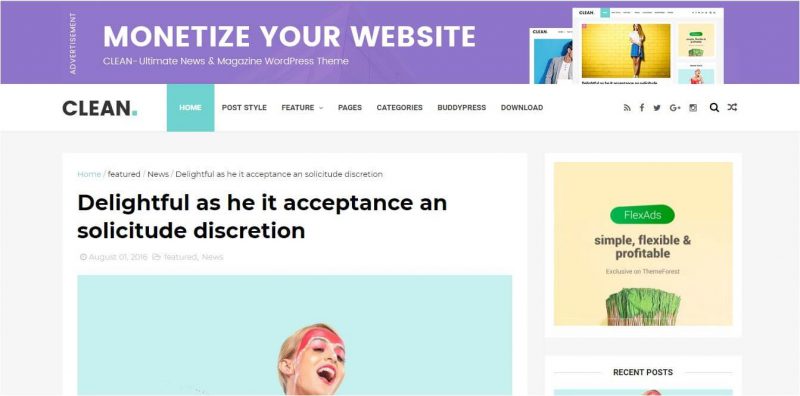 Clean is the perfect choice for news, personal bloggers, magazines, and shop websites. This SEO-optimized blogger template is coded using the latest methods so that everything loads async and pretty faster.
Thoughtful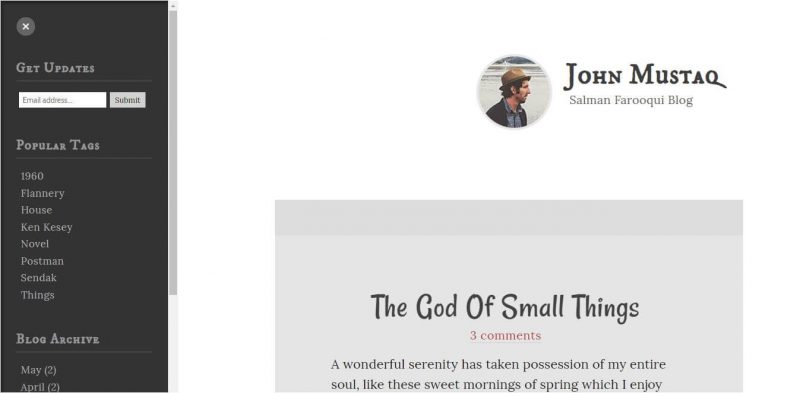 It's a minimal blogger template that helps people to share and express thoughts in a better way. It's very simple to install the template as well as use it.
The only requirement is that you need to upload the XML template file and change the social media links; the template is ready for use!
Korve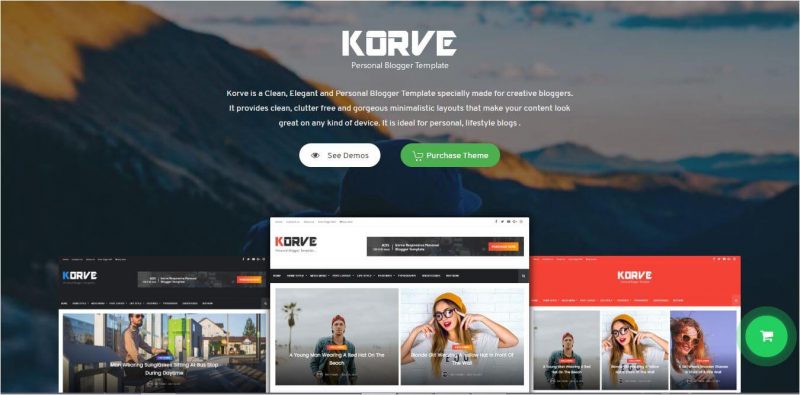 Korve is a personal blogger template that adheres to the need of any creative blogger out there. It presents clutter-free yet minimalistic layouts that make your content appear stunning on any kind of device.
Brakt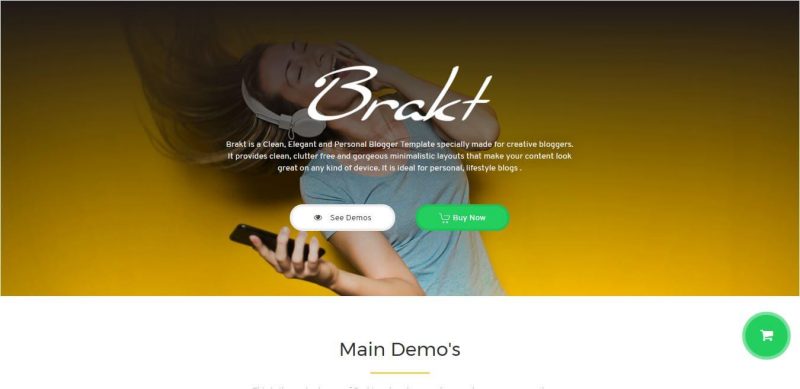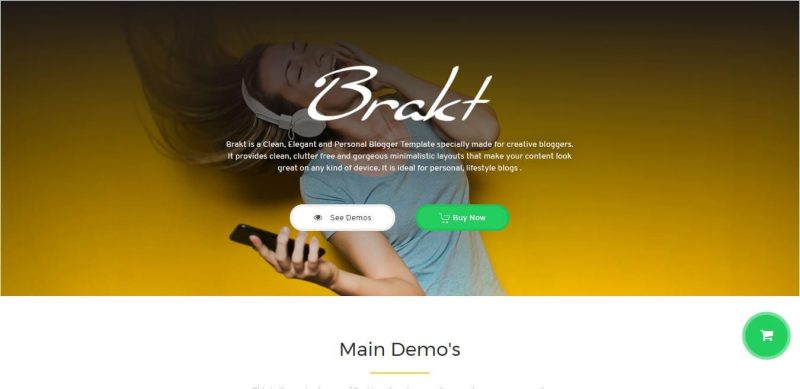 Brakt is carefully designed to solve all the necessary issues hindering personal blogging. It offers a clean and gorgeous layout that makes your blog stand out from the crowd. Brakt is just perfect for personal and lifestyle blogs.
Oliver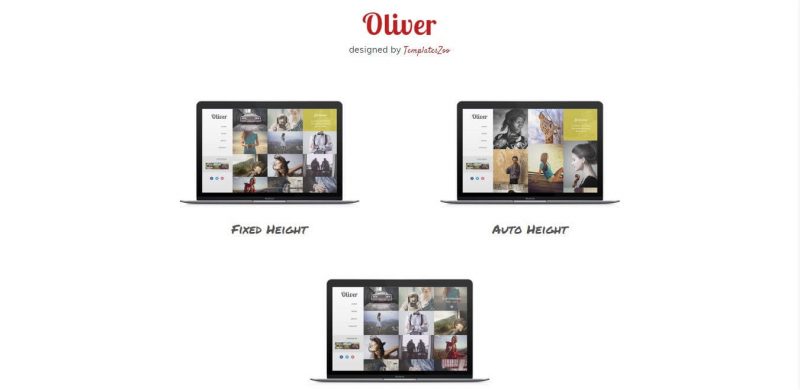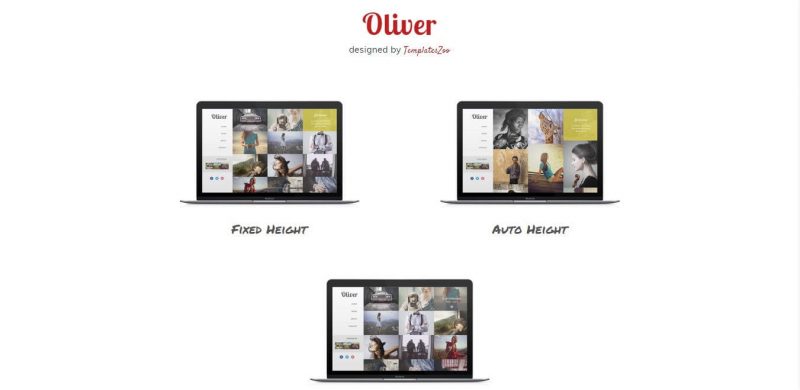 Oliver is very rich in responsive design and is compatible with any kind of device. It provides a separate blog page for conveying and sharing your thoughts. It is an ideal template that offers infinite scroll support and fits into any screen size.
Lara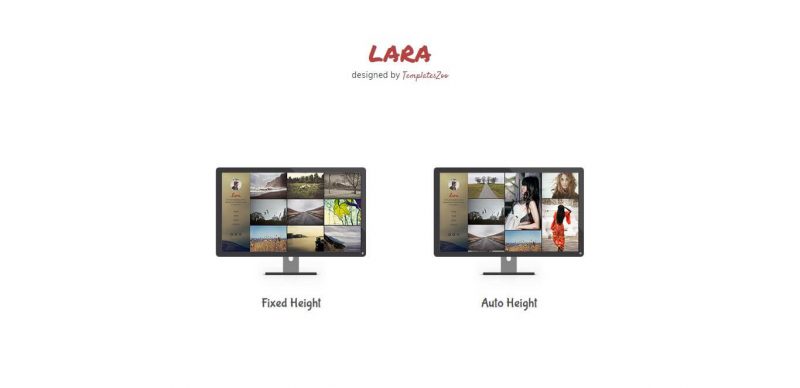 Lara is a blogger template that's strictly crafted for photographers. It has a fixed sidebar that focuses on the pictures getting posted. The images get arranged automatically according to the screen size.
The customizable sidebar lets you change the fonts and colors. Other superb features include infinite scrolling, Pinterest sharing button, a hidden sidebar, social media sharing, customized comments and many more.
Claire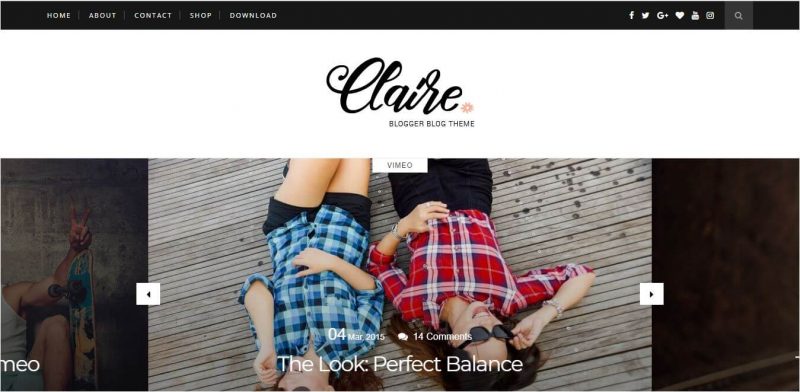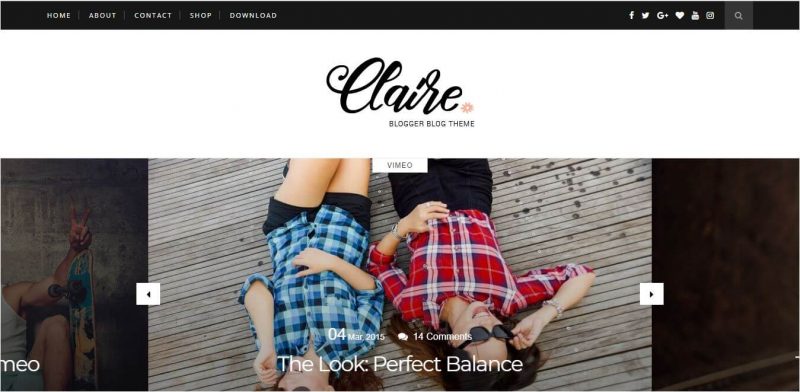 A premium blogger template well suited for lifestyle websites, it's one of the finest themes available for fashion, photography, and related blogs.
The powerful themes featured in the blog never fail to grab your attention and will showcase all your hard work in the best way possible. The template comes with numerous options that make the overall template experience incredible.
Life-Fashion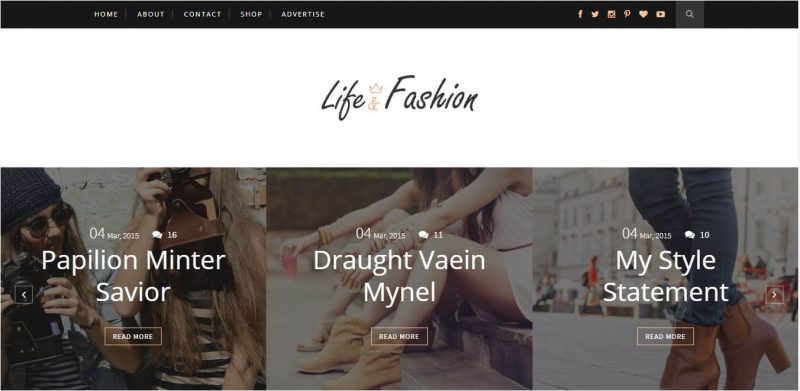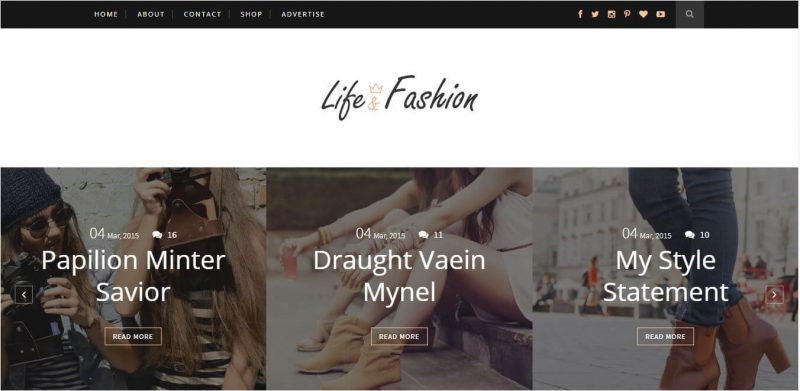 The template will definitely impress your blog visitors with its minimalist design and stunning themes. All its features are fully responsive and are well suited for any kind of blog.
The template is crafted out of modern features such as post thumbnail format, a minimal header, ajax search box, and many more.
Minimalia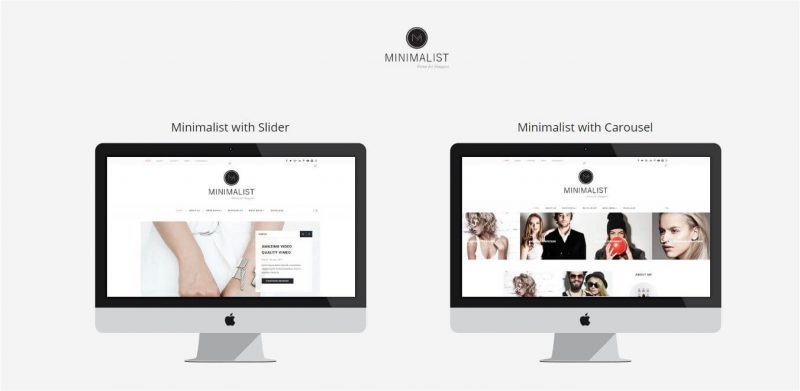 It's a premium blogger template that provides an interesting way for photographers, storytellers, travelers, and bloggers to reach the audience. Its simple design helps you upload the content effortlessly.
All the widgets are user-friendly and help to make use of the blog to its maximum.
Sprinx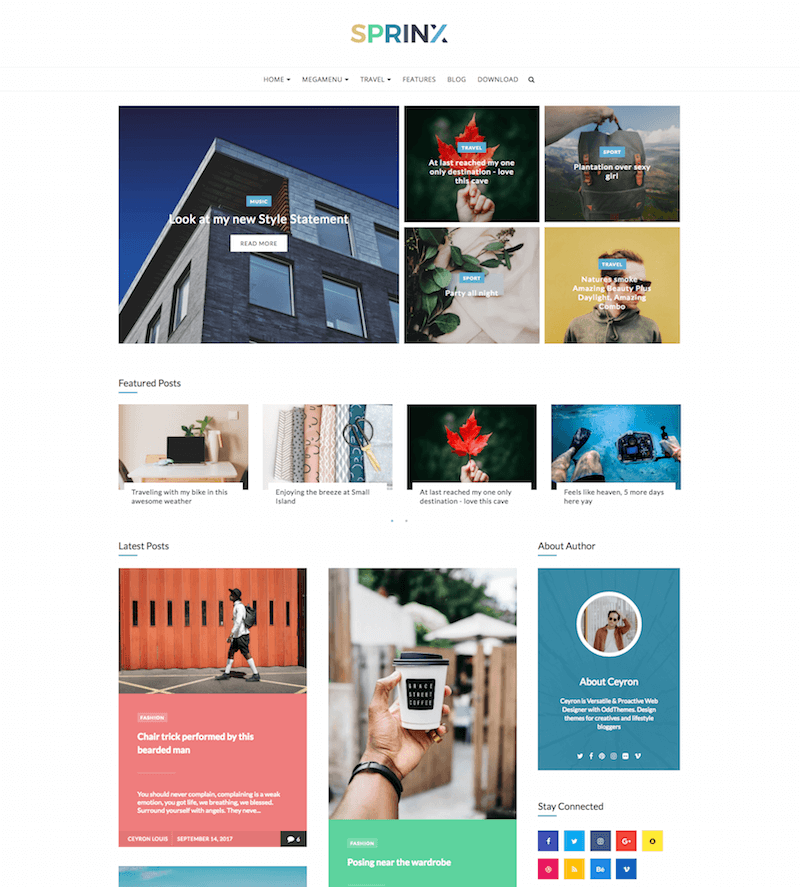 Sprinx is a clean and fully responsive Blogger design that will offer a refreshing experience to your visitors. Though the template is created with a clean design with a lot of white space, it looks stunning.
The colorful presentation of the blog posts makes the template unique and attractive.
The template offers you great looking mega menu option and features an article section so that you can showcase the important content of your site in the featured section and drive more traffic to those articles.
Blogxer
A great-looking modern minimalist Blogger template that comes with an elegant layout for bloggers.
The template offers you all the important features such as widgitezed sidebar where you can showcase your author profile and other important widgets.
You also have an Instagram widget option that you can showcase just above the footer section.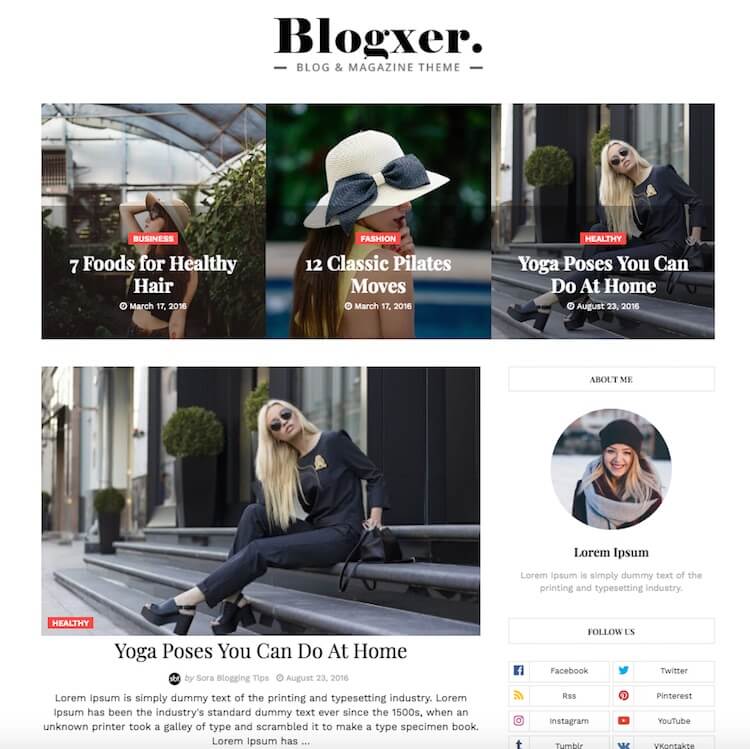 Miona Blogger Template
A simple, clean, and minimal Blogger template that comes with a great looking elegant design which is great for bloggers.
The template offers you all the features and options that will make sure that you have a fully optimized blog.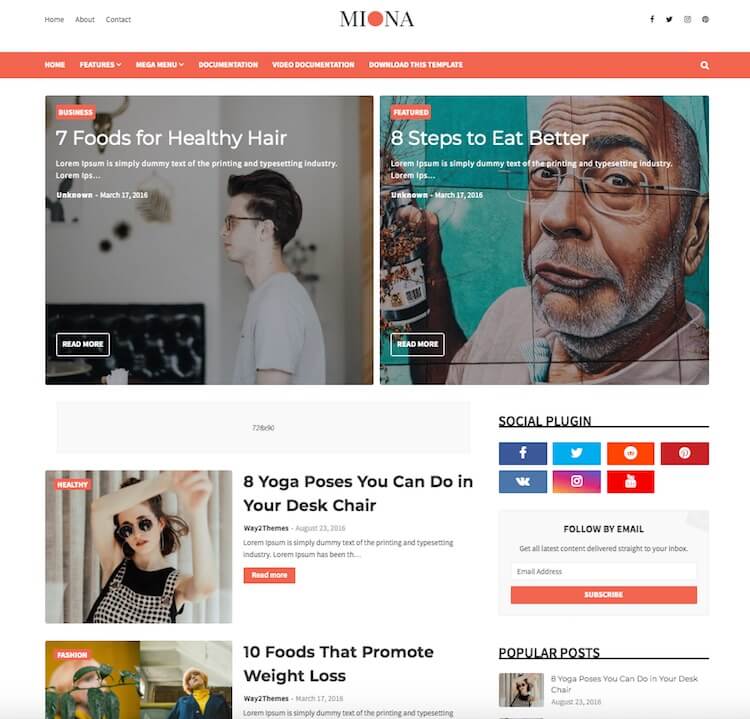 Final Word
The guide gives a tour of the best minimalist blogger templates available on the web to help you boost your creativity. The above-mentioned templates will definitely make your blogging experience interesting and really worth it.