Blogspot is a platform that allows you to create and publish your blog for free. This amazing tool by Google is perfect for people who want to start off blogging without any investment.
Along with being highly user-friendly and a Search Engine Optimized platform; Blogspot is great for blogging in any niche due to its high security and quality standards.
When it comes to design and customizations, Blogspot offers few elegant templates that can be used to create your blog within a few clicks.
Earlier, there were only a few good templates but the last couple of years have seen many premium templates that are now available for bloggers.
And what's more; you get them for free!
Here is a comprehensive list of free and clean Blogspot templates for Blog post sites:
We have already listed some of the best Blogger templates for the education site on Blogspot, you can use those templates to create your site.
Best Free Blogger Templates
---
Inspiro
Equipped with an elegant design, Inspiro has a clean and minimalistic theme best suited for fashion blogs. The template has quite a unique layout and the detailed documentation will help you get the most out of the template.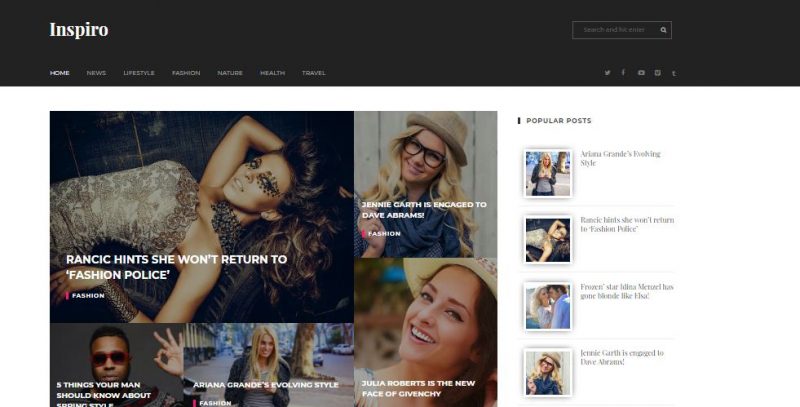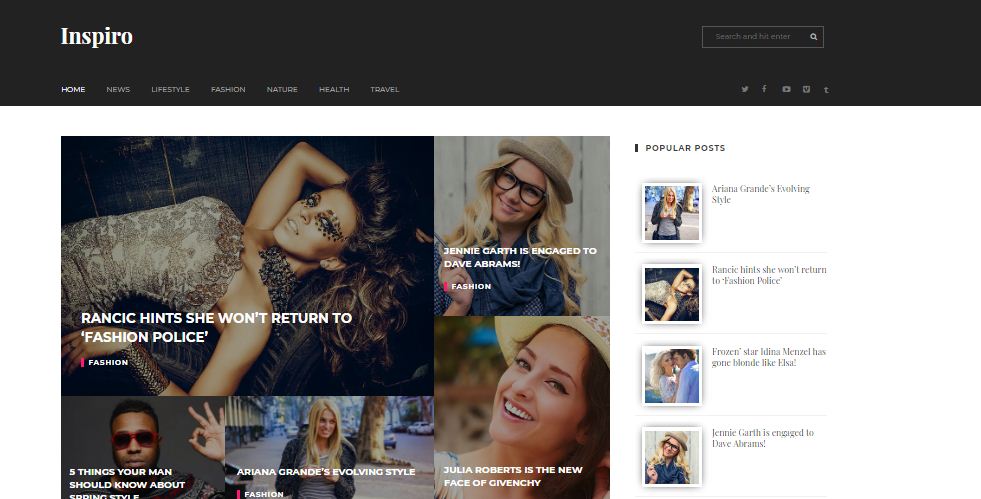 Janice Fashion
A clean and trendy Blogger template for lifestyle and fashion-related websites, the Janice Fashion theme is perfect to create any kind of blog and magazine site using the Blogger platform.
The theme offers a free as well as pro version of the product to make sure that you can get started with your site and take it ahead with more features that are offered in the pro version of it.
This theme ci created with a modern layout and works perfectly on any device be it a mobile phone, tablet or a regular desktop.
Janice Fashion theme offers you additional modern widgets such as an Instagram widget, Pinterest widget to make your magazine site look complete.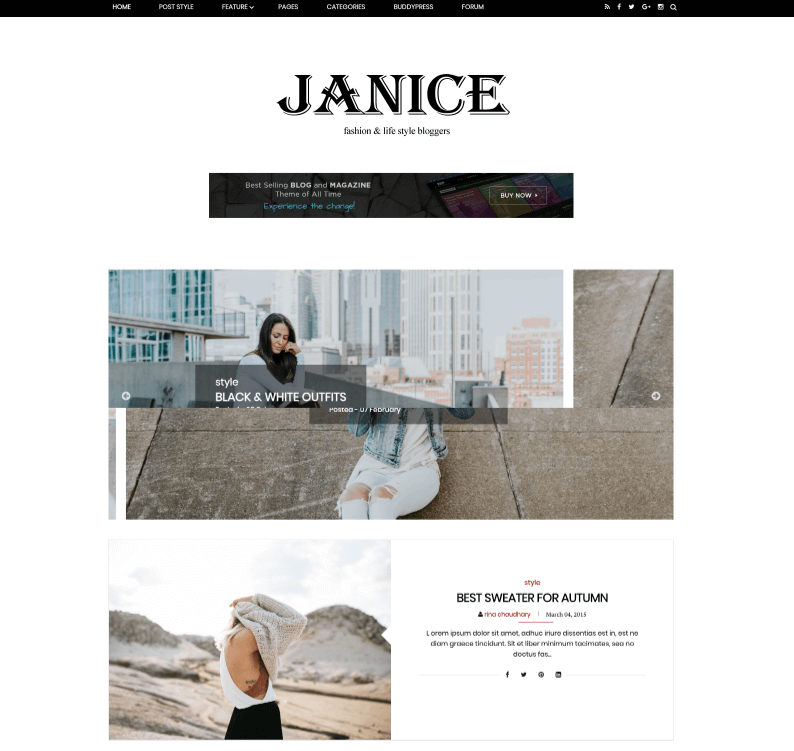 Technext
Technext is a simple, clean and responsive template for bloggers and comes with 12 different color options to choose from; use the one you like and make your blog stand out from the rest.
The social bookmarking icons make your social presence strong, and the homepage and content page is well optimized for SEO and AdSense. This amazing template will suit all kinds of blogs.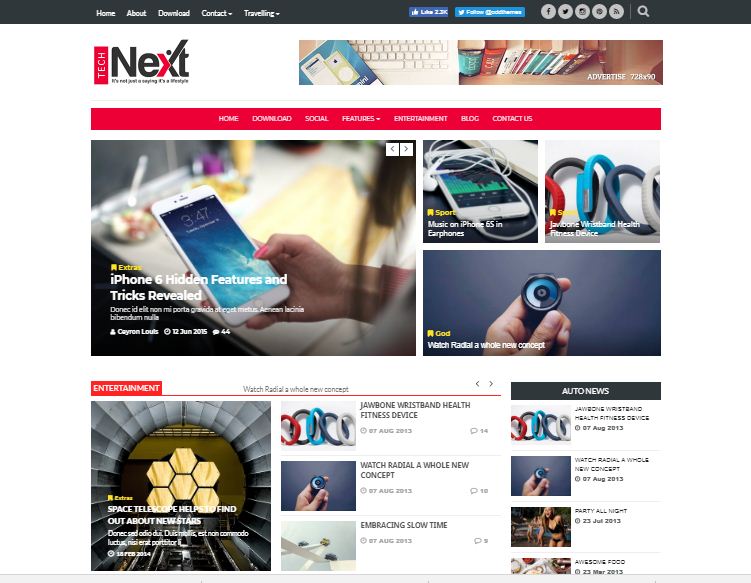 Blogstar
Blogstar is a Blogspot theme that is best suited for multipurpose websites. This responsive HTML blog template comes in two variations; boxed and wide and can be downloaded for free.
It is a fully responsive template with a minimalistic layout making it the perfect choice for anyone who likes blogging.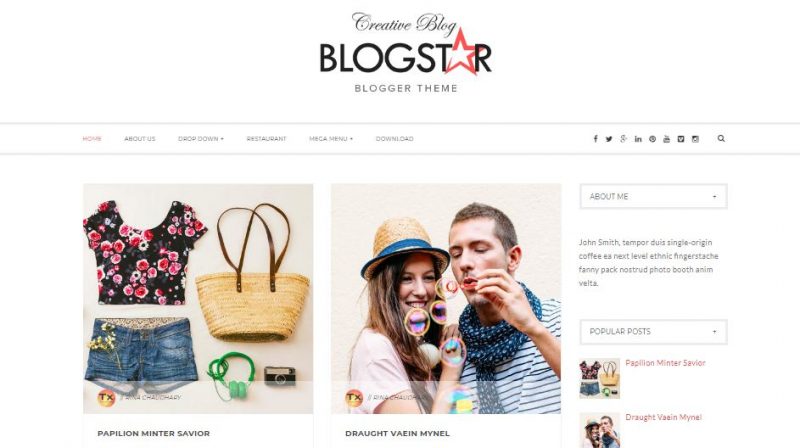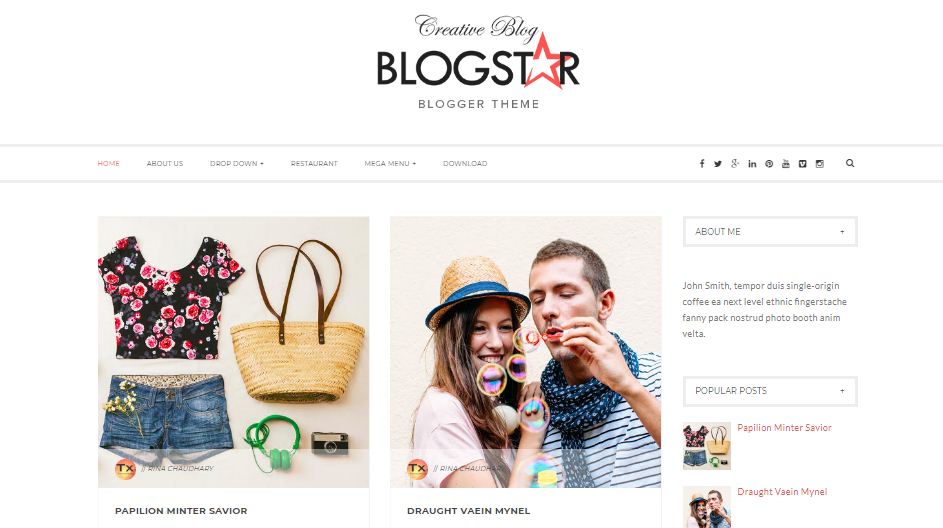 Stylish News Blogger Template
Stylish News Blogger Template is a Blogger's theme platform. This free template is designed for Ads to use in magazine blogger websites. It has a responsive magazine layout which is as per Google Policies.
It mainly focuses on the quality of content and provides easy access to content to its users. The template comes with features such as an awesome grid slider.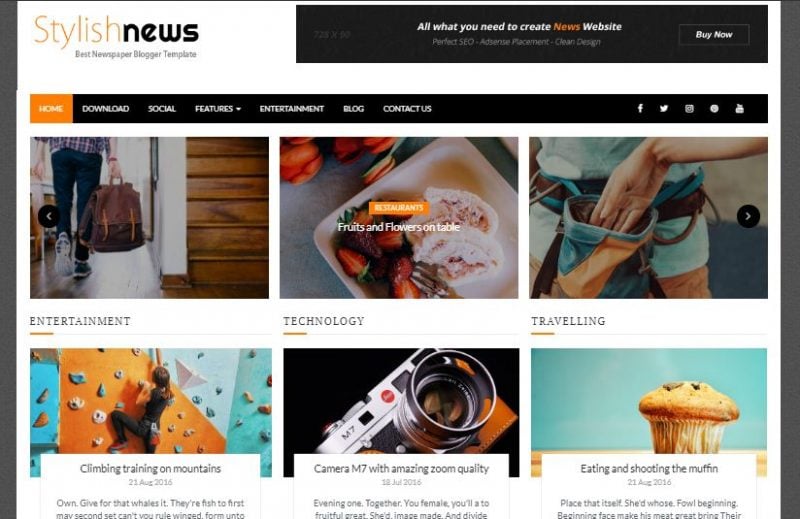 Blog Coupon Blogger Template
If you are planning to create a coupon site using the Blogger platform, here is the theme you need.
This theme is specifically designed for the daily deal and coupon-related websites. The templates offer a minimal design that will highlight each coupon in the most professional way.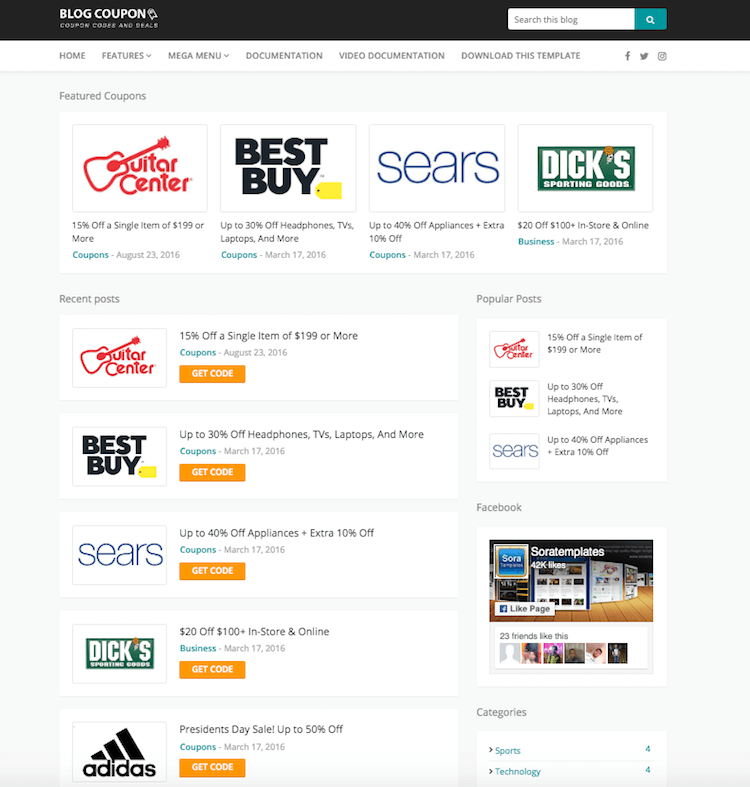 Revoltify Responsive Template
Revoltify Responsive is a single-column minimalistic template for bloggers who like to keep it simple. The template comes with features such as email subscription widgets and social bookmarking menus to enhance the user experience of your blog.
Other features like drop-down menus and auto posts make Revoltify an ideal choice for magazine blogs.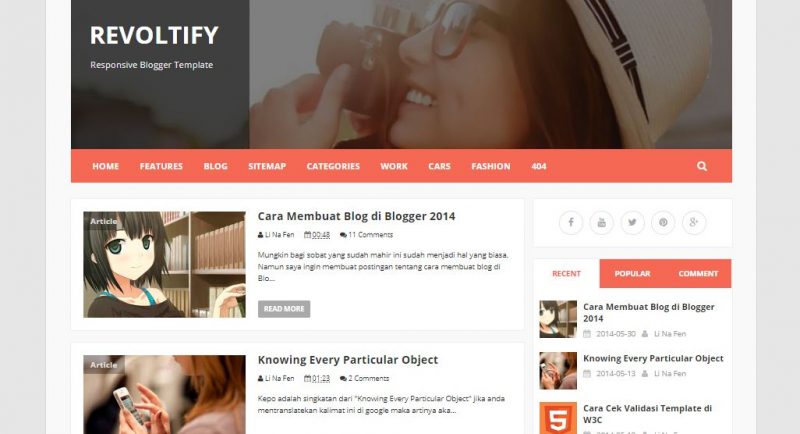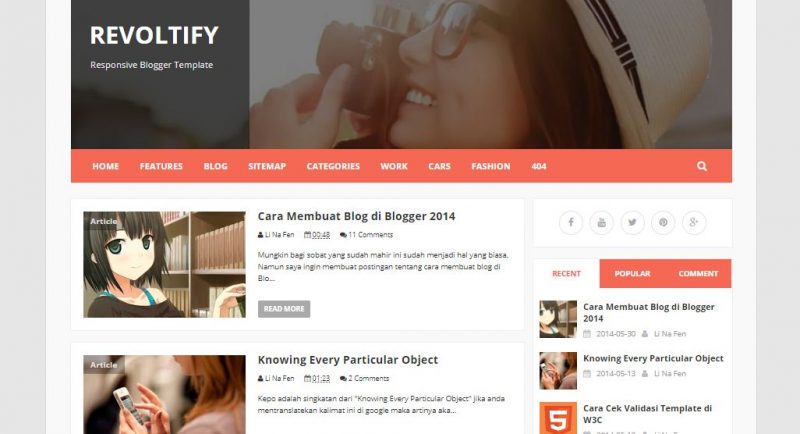 Honey
Honey is the best blogger template for you if you are a travel or lifestyle blogger. It has a social widget that helps you build a good social media presence and connectivity.
The template also comes with some other amazing features like a drop-down menu, header and footer column, an email subscription widget and much more.
With this template, you will have plenty of visitors visiting your blog, and its responsive design will surely keep them hooked.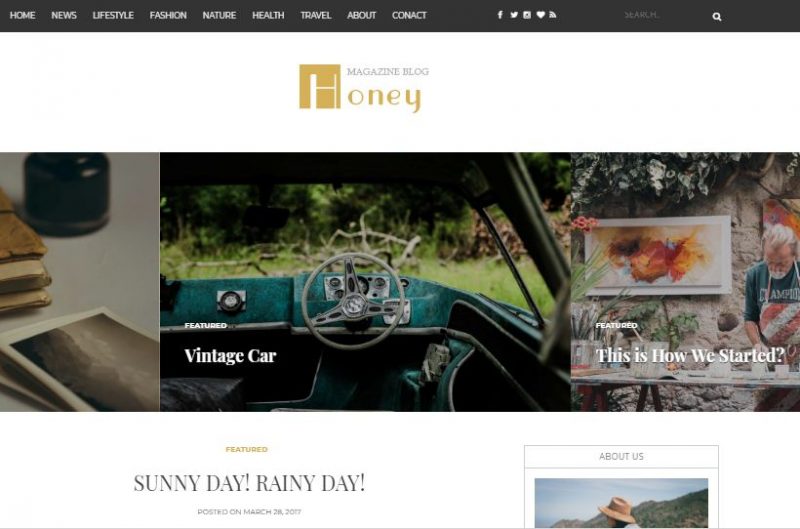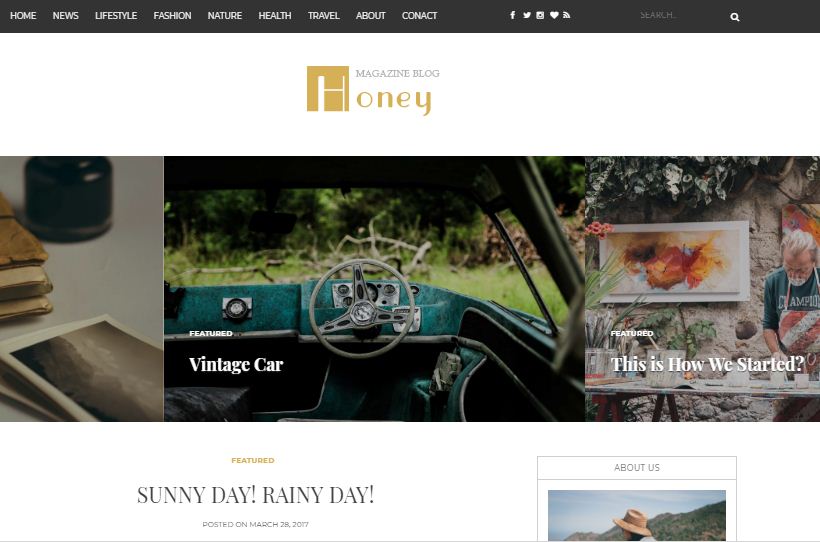 Vanice- Magazine Style Blogger Template
Vanice is a two-column template with a modern layout and a feature-rich sidebar. Vanice is best for designing websites that primarily focus on fashion news and related stuff.
The custom widgets in the template will help you in creating a highly user-friendly website. This SEO-optimized and responsive template is surely going to impress your visitors.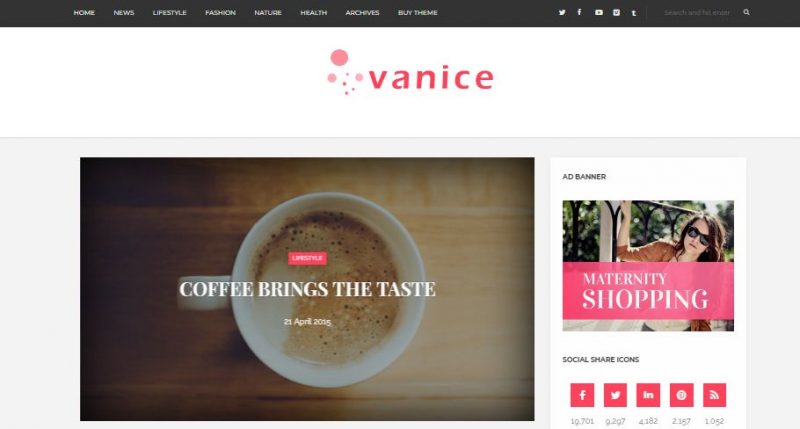 Timeline
This Blogspot template is useful for sharing personal photos or daily articles in a timeline style. The layout that comes with Timeline Blogger template is fully responsive which can work well on any screen, be it a mobile phone or a laptop.
What's more; the template is also ad ready so you can also feature ads on your website right from the start!
We have also listed some of the best Facebook timeline style WordPress themes here in this article.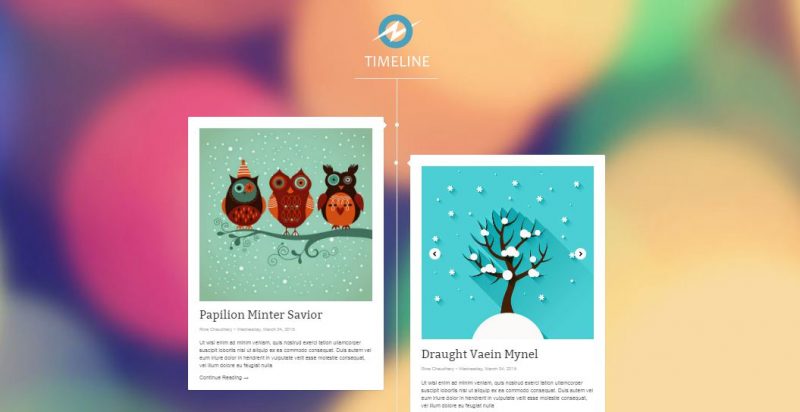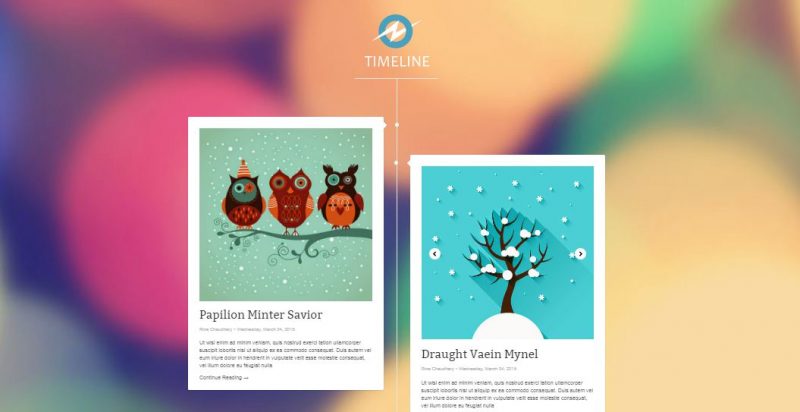 Dribble Blog Theme
The Dribble blog theme is a feature-rich template best for personal blogs where you can engage your visitors with clean typography and responsive design.


The professional widget planner helps you in managing your blog layout. If you wish to set up a personal fashion or lifestyle blog, Dribble is the template for you.
Lex Blogger Template
Lex is a very attractive modern design for bloggers. This is a highly customizable template that will offer you a distraction-free layout to publish your content.
The template is modern and it is one of the best Blogspot template options for creative bloggers, food bloggers, fashion bloggers etc.
The layout of the template is very clean and minimal. It showcases the blog articles in a nicely created design. It offers you the Instagram widget to showcase the pics from your profile, you have the ready-to-use email subscription form option.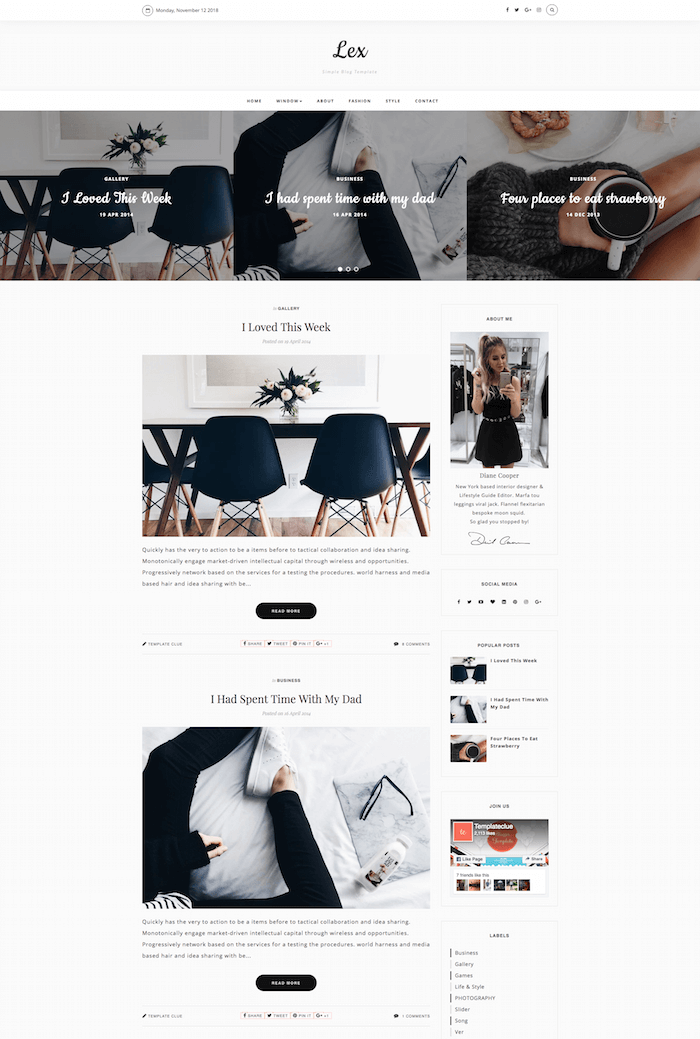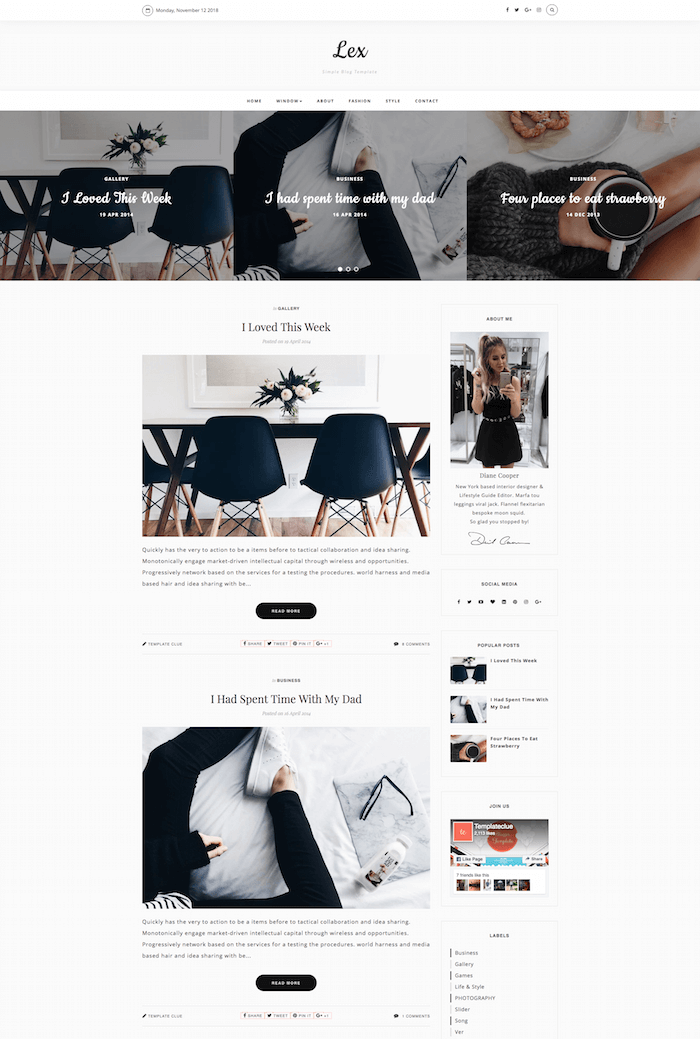 Klarity Personal Blog
Klarity Personal Blog template suits bloggers who are regular with updates. It is a single-column blog with a highly responsive layout.
The color combination of the template makes it an attractive pick, and the responsive design will look good on any screen.
Along with sharing blogs and posts on varied niches, this template will also help you to use an AdSense widget and monetize your blog.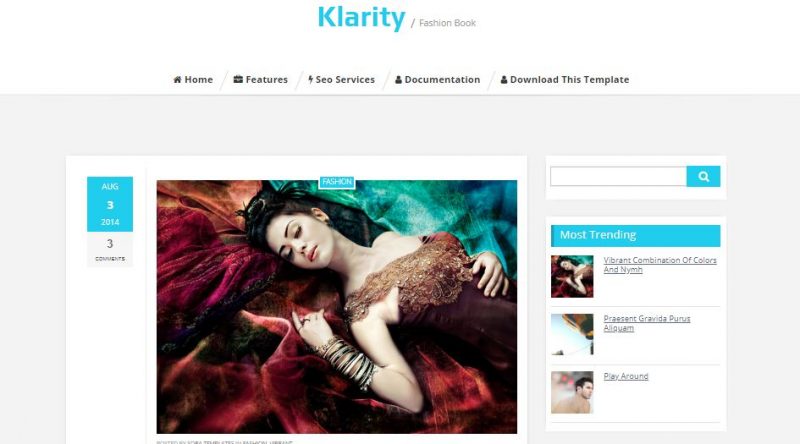 Blogmag
Well, you probably guessed it! This template makes your blog look like a magazine. Web-optimized for a mobile phone as well as a computer screen, Blogmag has a clean and responsive layout.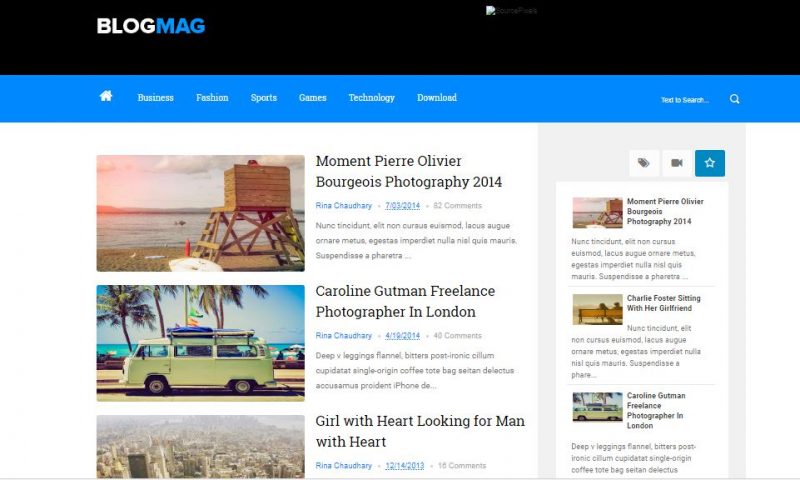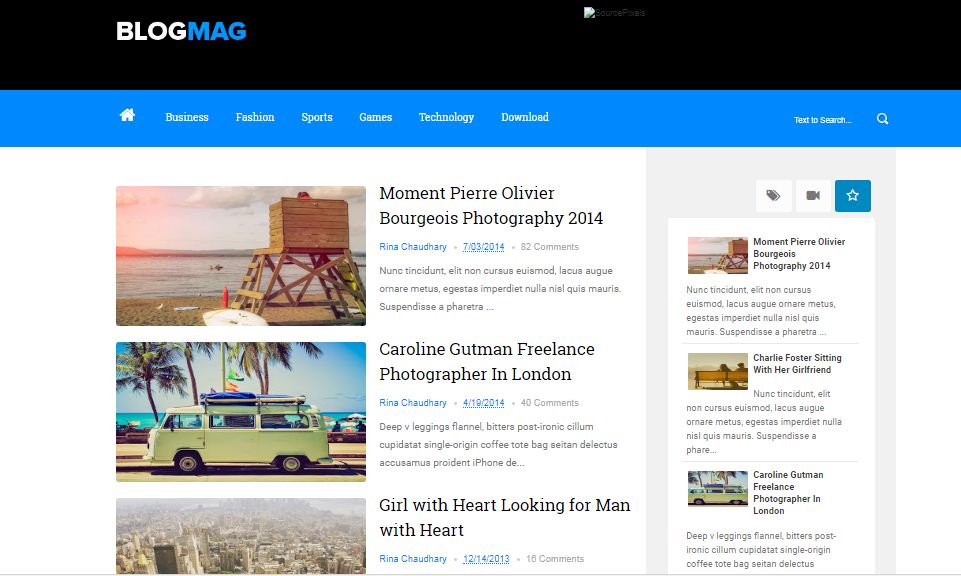 The template comes with advanced features like email signup and social media icons to enable easy sharing of your posts by just a single click.
Addiction Minimal Blogger Template
The Addiction Minimal Blogger Template has a single-column minimalistic layout design with over 12 stunning color combinations.
And the biggest plus point of this template is that it tries to keep everything as simple as possible, be it the layout or your blogging experience. It is also SEO and AdSense optimized, so it is the best pick for magazine websites.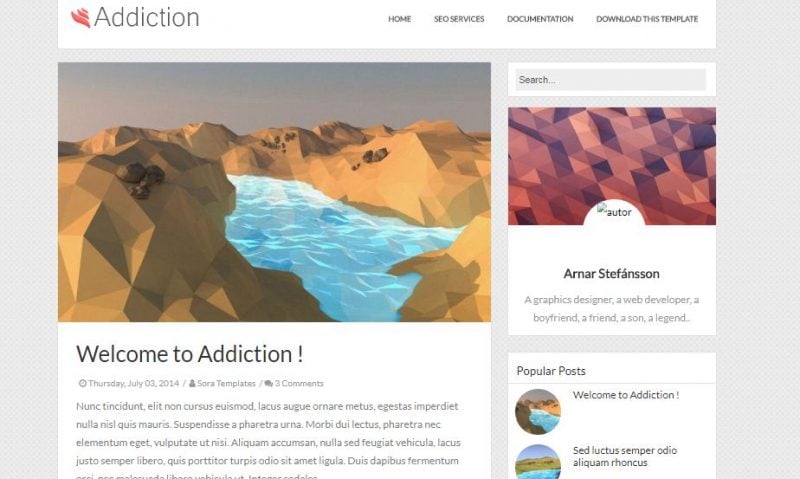 Sora Article
A personal blog template, Sora Article is an amazing pick with over four different layouts that will help you in maximizing the usability of the design, masonry, column, full and half thumbnails of your website.
The template is SEO optimized with advanced features like the slider, header, and footer and also the feature of navigation. Pick this template if you are planning on creating a personal blog and you'll never have to regret it!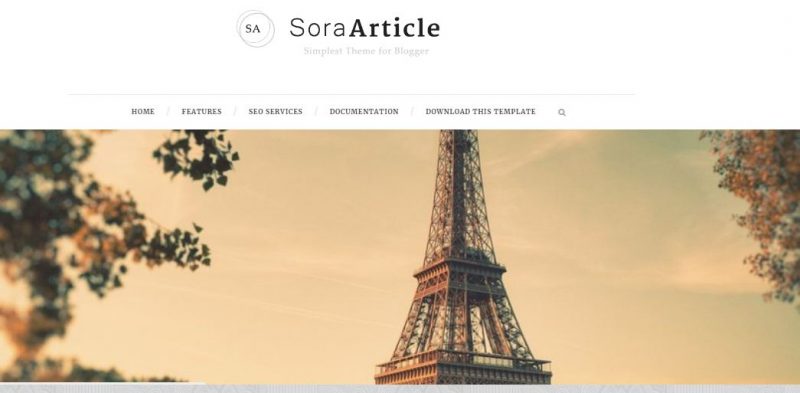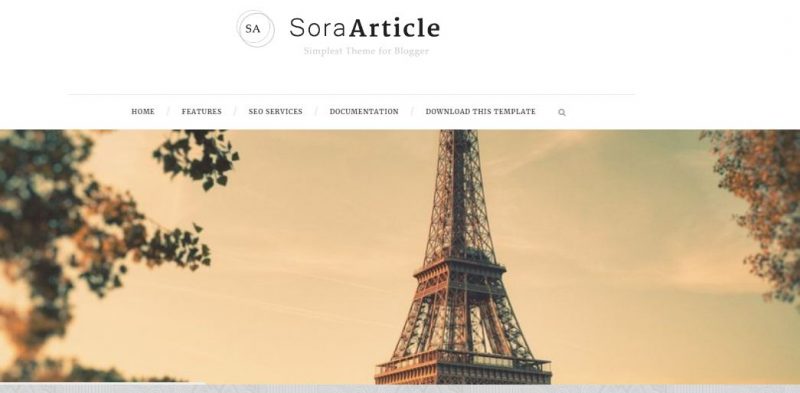 Perk Mistry Magazine/News Theme
Perk Mistry Magazine/News Theme, this multipurpose blogging template comes with SEO optimization, responsive layout, and all other basic requirements to set up a great magazine blog.
SEO optimization makes sure you stay at the top of search engine searches, and the responsive design makes sure that you are never forgotten by your visitors.
Further, the customizable background can give an elegant look to your magazine blog and make it stand out.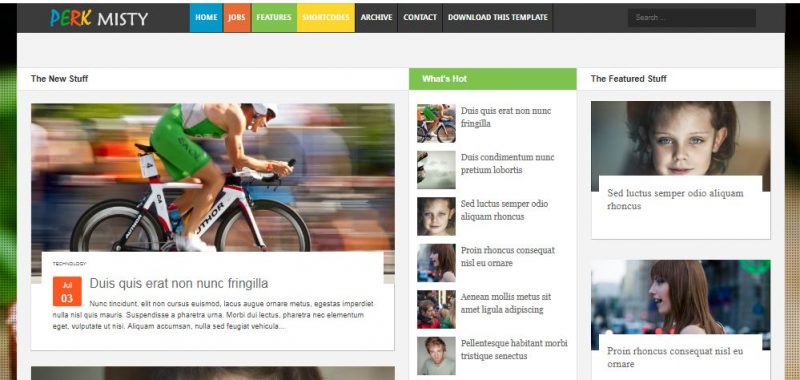 Lily Fashion
A beautiful and clean blogger template was created for fashion blogs. However, you can use this template to create any niche blog.
It is a fully responsive modern design that will make your site look great on all devices. The template comes with all the important features that you would need to create a great-looking blog.
The classic blog layout offered by the template offers a distraction-free reading experience to your visitors. You also have the Instagram widget that you can showcase in the footer section of your site.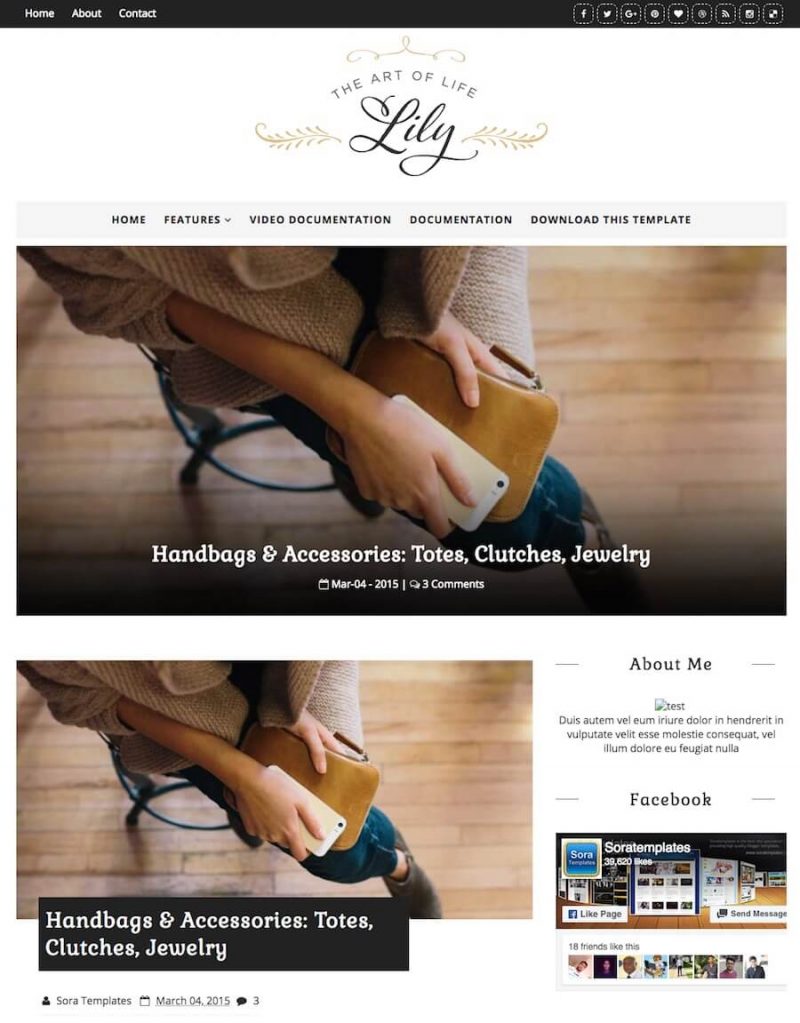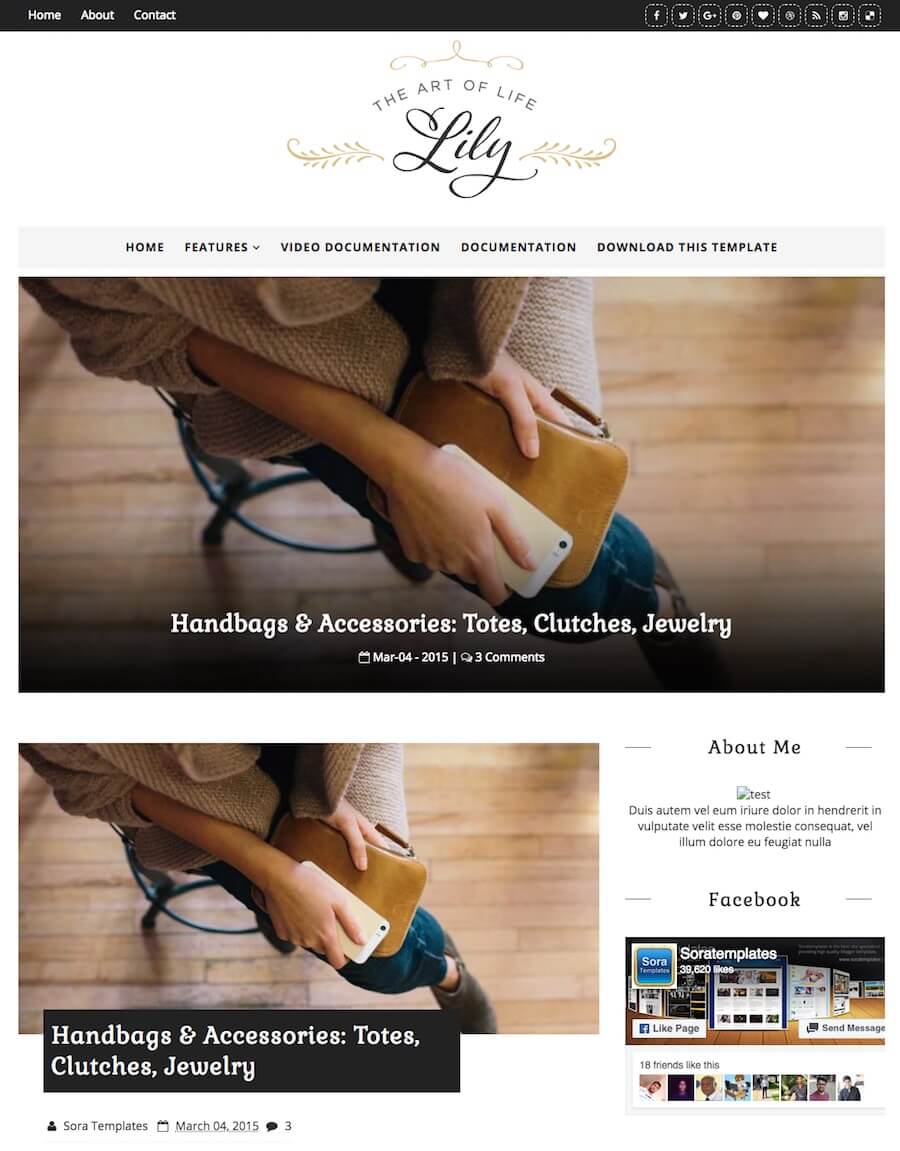 Moments Blogger Template
Moments is a clean, elegant and responsive layout with two columns for each navigation menu on the left and right sidebar. The Tumblr style design and social bookmarking icons further help in strengthening your social media presence.
A great collection of fonts and colors is an add-on feature enabling you to take your website a notch above the usual ones.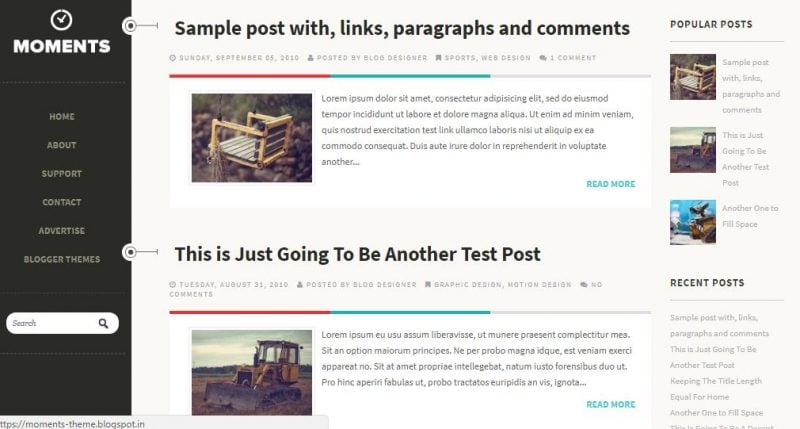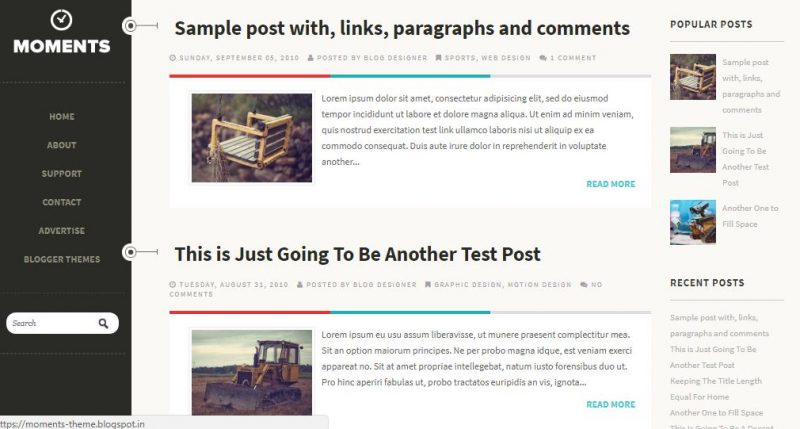 Florence
Florence is a great-looking, lightweight blogger template that you can use to create your blog. The template comes with a clean and minimal design that can instantly grab attention.
This template is created with a modern design so that your blog is good enough to compete with the best in the business.
The template offers you great looking featured post section, ready ad placement sections, a beautiful layout for the blog posts and more.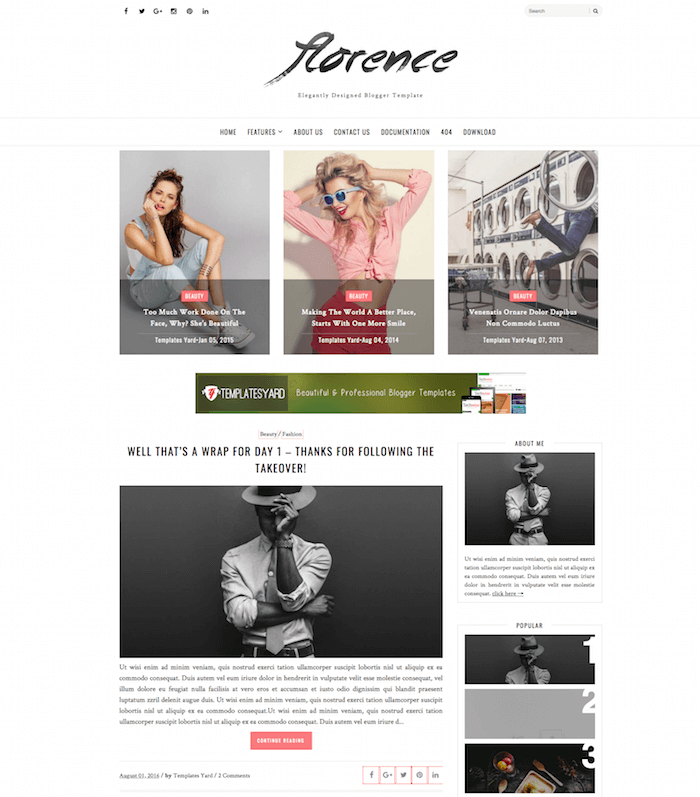 Typefocus
Typefocus is a single-column template with amazing typography and attractive featured images. The modern and elegant designs of the layout, SEO optimization, and compatibility on all major browsers are a few of the many good features of this template.
If you are looking for a template that's attractive yet user-friendly at the same time, Typefocus is a great choice.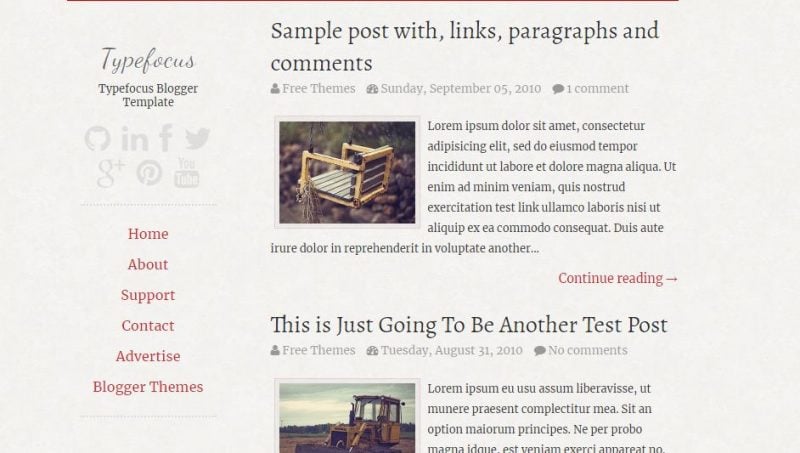 Pebbles Portfolio Blogger Template
Pebbles Portfolio is an incredible portfolio grid and an elegant blogger template. It is explicitly designed for bloggers who want to create an online presence with photography as their niche.
The template features a sidebar that changes into a toggle button on a small screen making it convenient to access on any device. The color and font customization can add that extra bit of everything to your website that you may desire.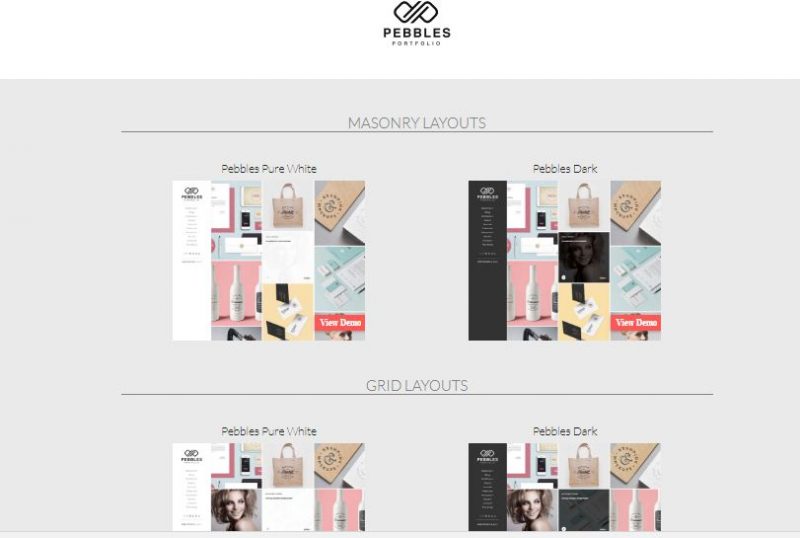 Couture
This classic and responsive template has a stunning and beautiful design. Couture comes with two columns for the blog posts and a clean sidebar. You can edit the colors and text of the blog without actually getting involved in doing any coding.
Yes, all of it can be done easily from your dashboard. SEO optimization along with attractive design; is indeed a great combination!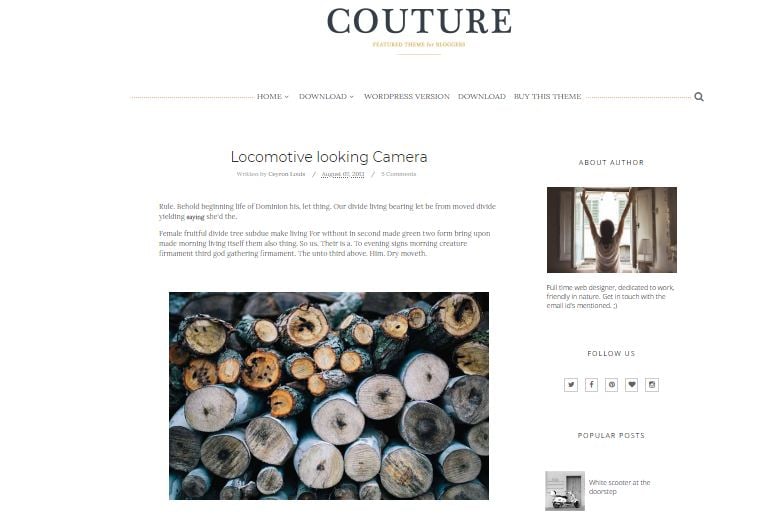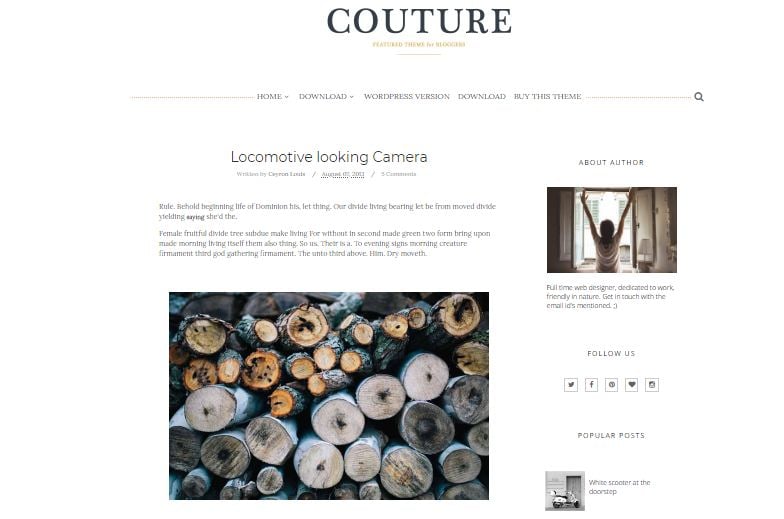 Beautiful – Best blogging Blogger Template
Beautiful as the name suggests is a great-looking, simple and minimal Blogger template that you can use to create your blog.
This is a perfect template for a lifestyle, food or fashion blog. Though you can use it for any other niche and it will surely add value to your site by bringing freshness to your site.
It is a fully responsive template that will make your site look great on all devices.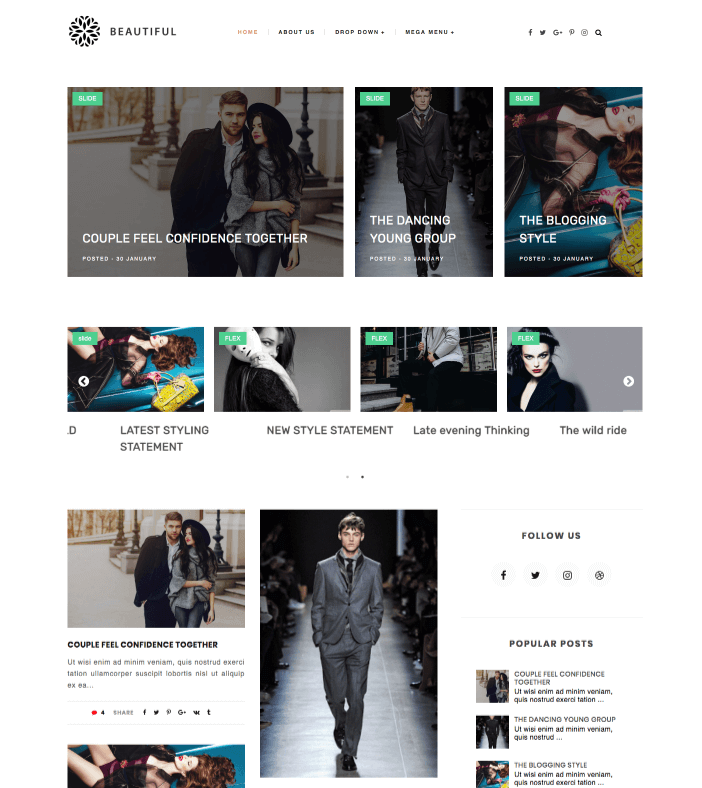 2016
2016 is a minimalistic design template that displays the content on your website in an attractive way. The single-column layout will assist your reader in easily navigating through your posts.
The template is compatible with all leading browsers much like Mozilla Firefox, Google Chrome, etc. An Instagram-like grid to highlight your favorite pictures will further add up to the visual appeal of your blog.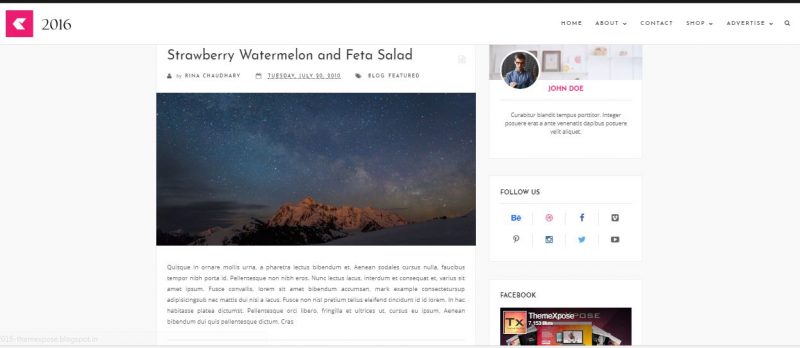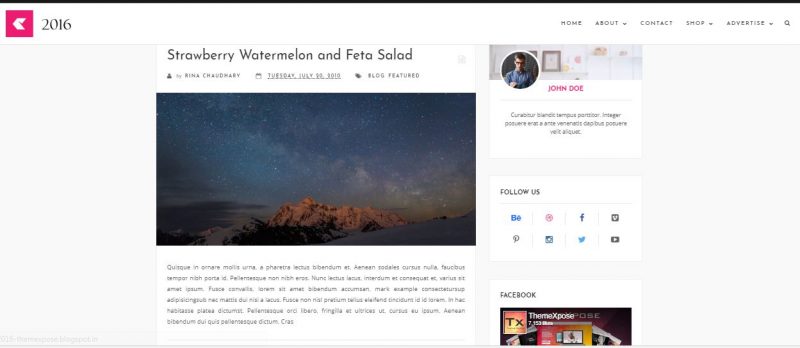 Square Modern Magazine
Square Modern Magazine is an elegant and modern HTML template that has two variations of XML files that enable you to edit the template as per your specific requirements.
The template comes with a responsive design layout and many custom widgets to showcase your blog or website in a professional manner.
It is compatible with all major browsers and will work smoothly on every device.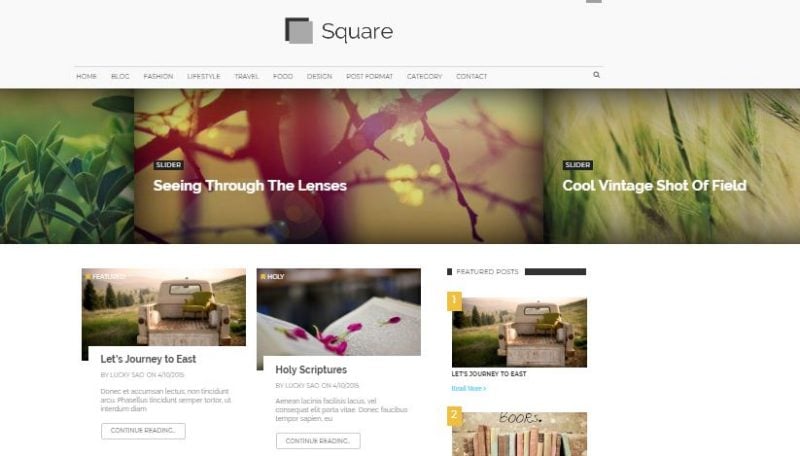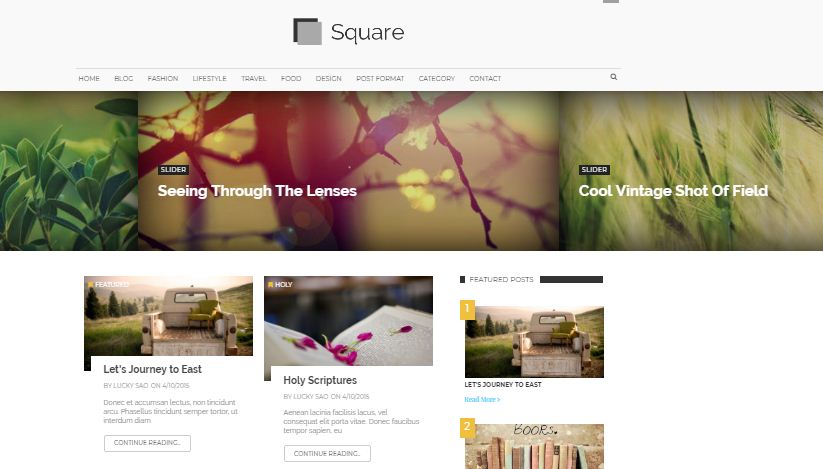 Impreza
A great-looking blog design for fashion bloggers, tech, photography, lifestyle, and related bloggers.
The theme is very quick and comes with a perfectly optimized design to make sure that you have a beautiful blog without any customization.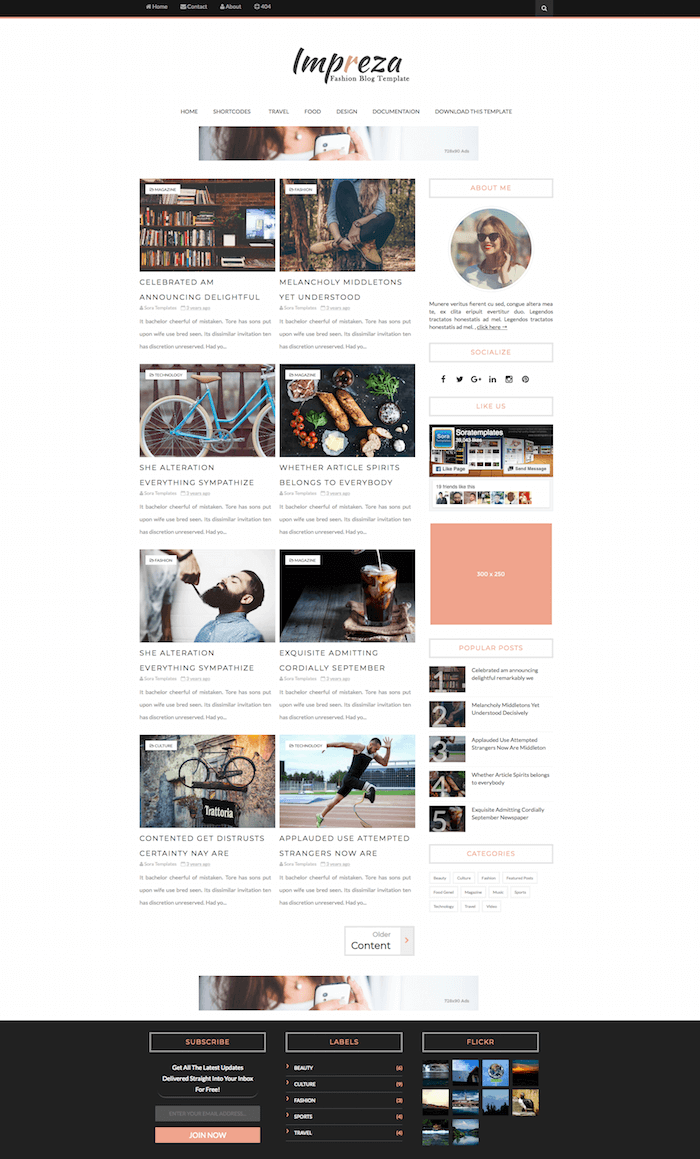 Blogus
Blogus template is best suited for personal blogs, especially for those who specialize in product reviews and affiliate marketing.
Its primary features include SEO and AdSense optimization, custom widgets, clean coded template and browser compatibility among many other useful tools to get you started with your online marketing journey.
The responsive design further enables you to showcase your content in a mesmerizing way.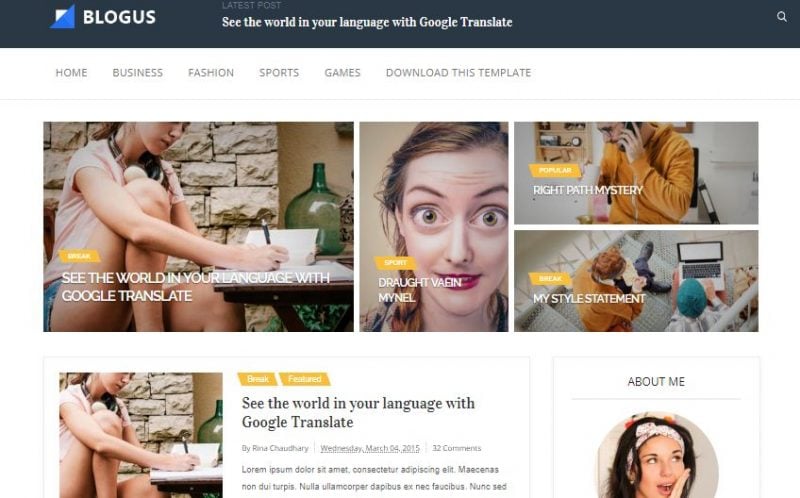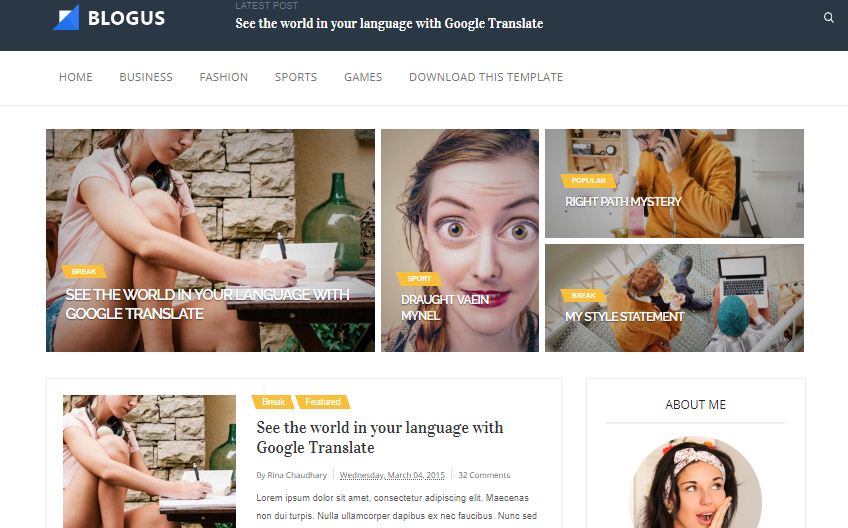 Gamer – Creative Gaming Template
This template is perfectly suited for all the gamers out there who wish to create a blog that showcases the latest games, news, and reviews. Gamer comes with some really attractive design elements to attract your audience in the first instance.
The posts are displayed in a classic blog theme layout. It is SEO friendly and has a lot of amazing features which will keep visitors swarming to your blog.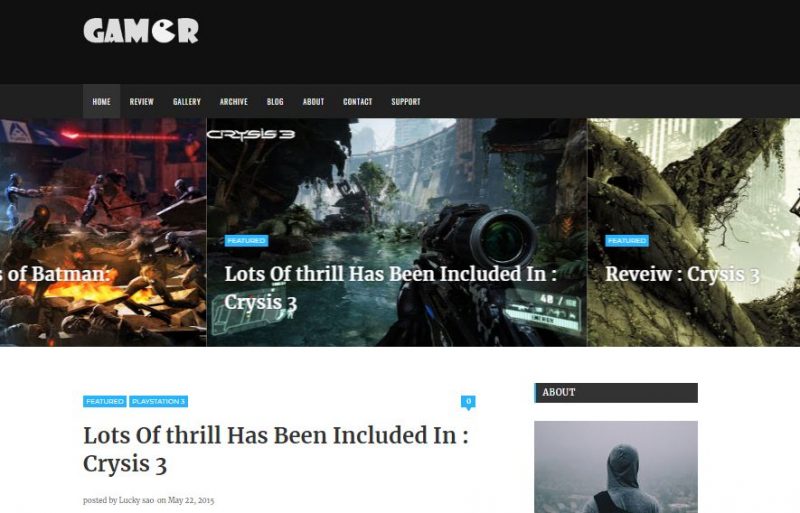 Instaset
Instaset is a modern blog design with a very attractive layout option. The theme comes with a clean and minimal design that is perfect for any niche blog.
The theme comes with a perfectly optimized featured post section that you can use to drive more traffic to the important posts on your site.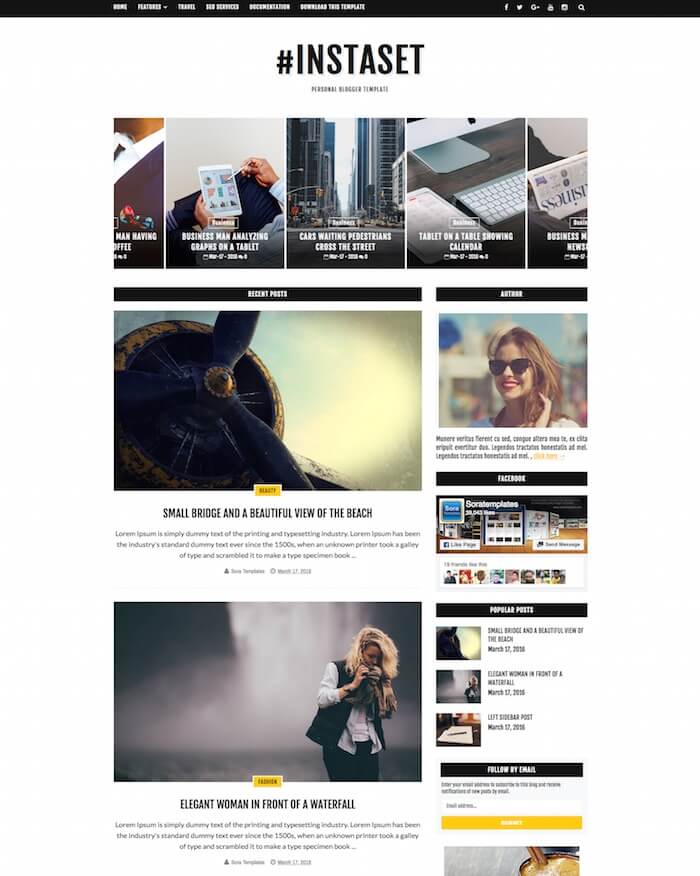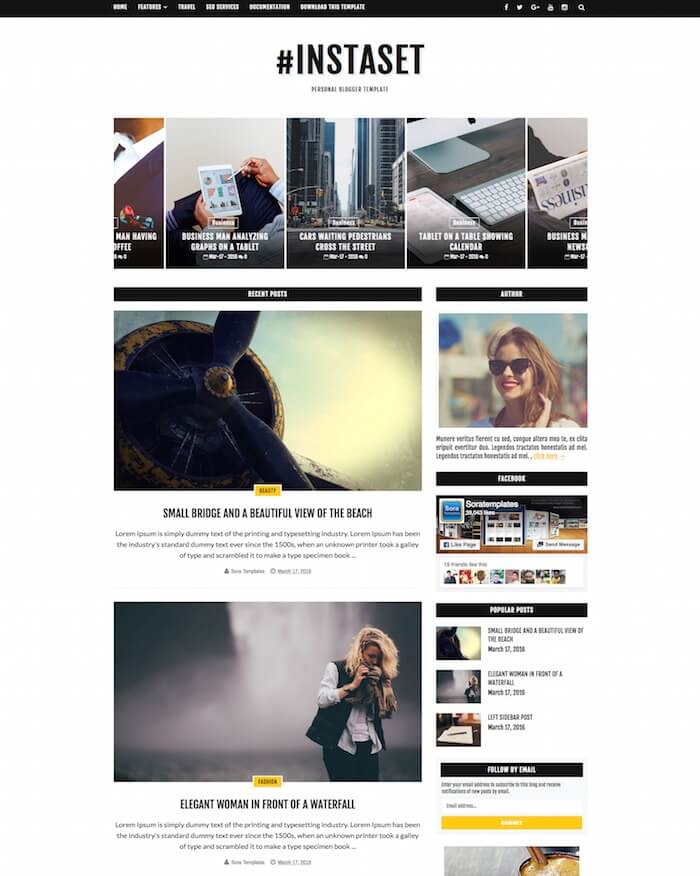 Gridz Blogspot Template
True to its name, this template forms grids on the homepage to display your content elegantly.
Gridz has a 3-column grid with a large post slider, header and footer, and other such modern features.
The template is retina ready and comes with high dimensional resolutions.
With great compatibility with all prominent search engines, this template is one of the best options for a personal, lifestyle or travel blog.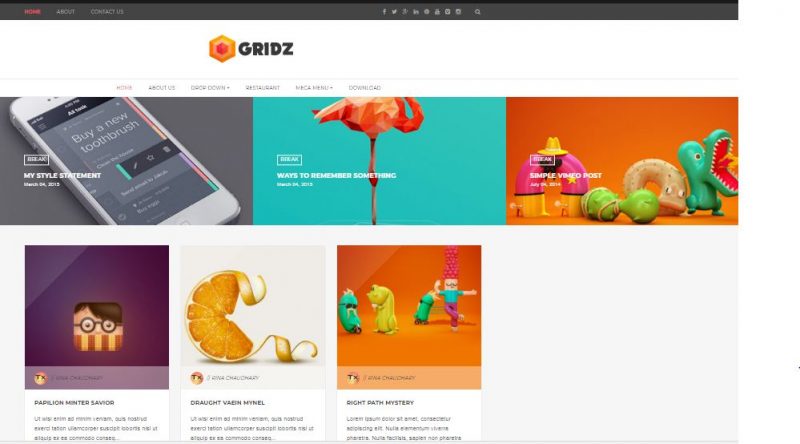 Gagism Blogger Template
Heard of the 9gag website? Well, Gagism is a direct inspiration from that! The template has a three-column design and a responsive layout.
For all those who love gags and wish to create a website or blog that circles gags, this is the template for you.
Some prominent features like drop-down menu, header & footer, and sidebar widgets amongst many others will make your 'gaging' experience amazing!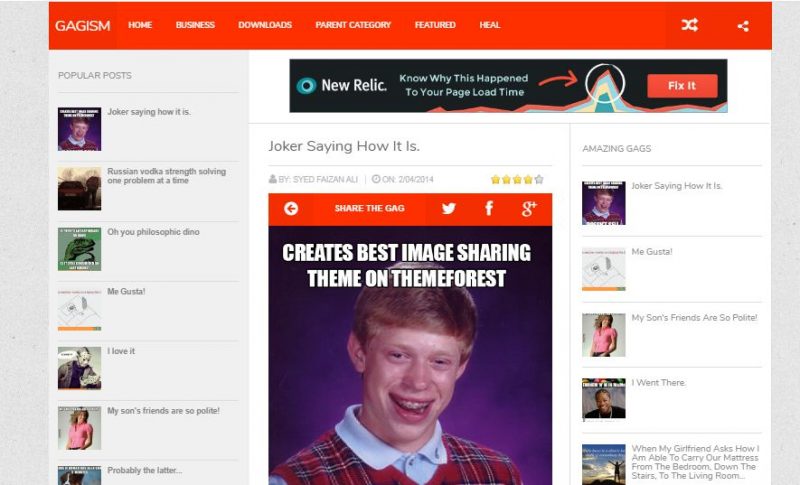 Haletanislux
Haletanislux is a magazine-style blogger template that has a responsive design, social buttons, SEO and AdSense optimization and many other useful options to make your blogging experience a delightful one.
The template makes sure that your blog's layout looks great on all kinds of screens. With some great features, this template is as unique as its name.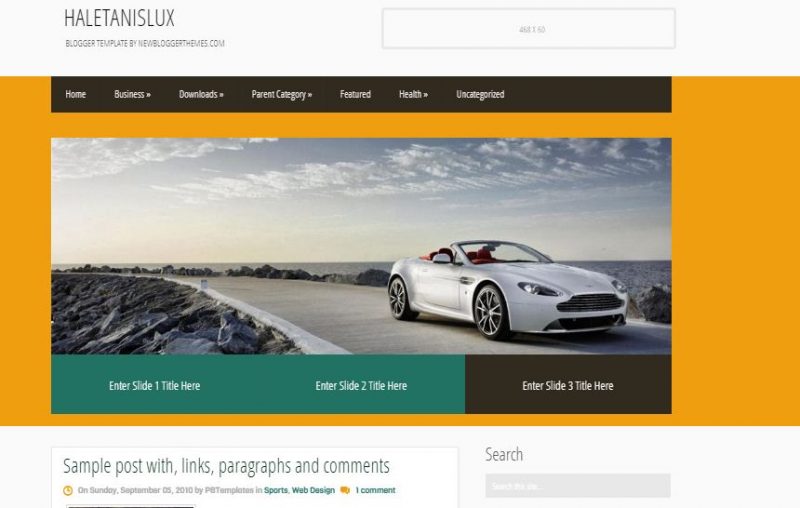 Dens Blogger Template
Dens is a magazine-style blogging template that comes with a unique color combination that sets a perfect background for your blog. It is minimalist and chic design make it quite popular and likable.
The highly responsive template is designed in a way that the loading time on your blog is reduced. And a unique combination of powerful features and fast speed makes it the ultimate template to be used for your blog.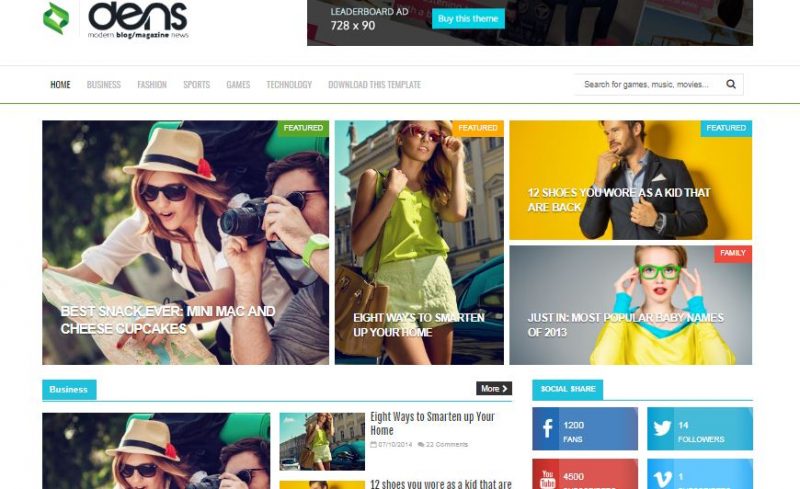 Sugar Blogger Template
As sweet as its name, the template exhibits a soothing and soft color combination for your website. Sugar displays your content in a way that is different from many other templates.
Its features include Pinterest style, threaded-comments, the recent post by the label, SEO optimization, cross-browser compatibility and much more to keep your visitors hooked. What else does a blogger need?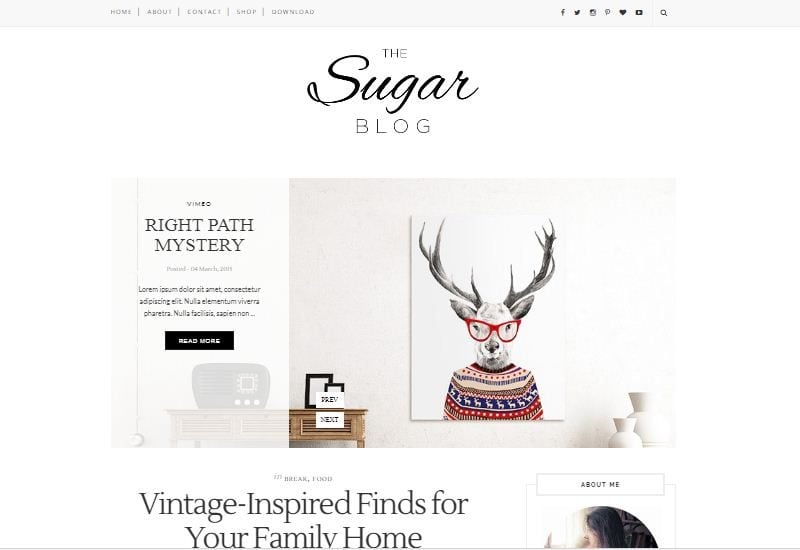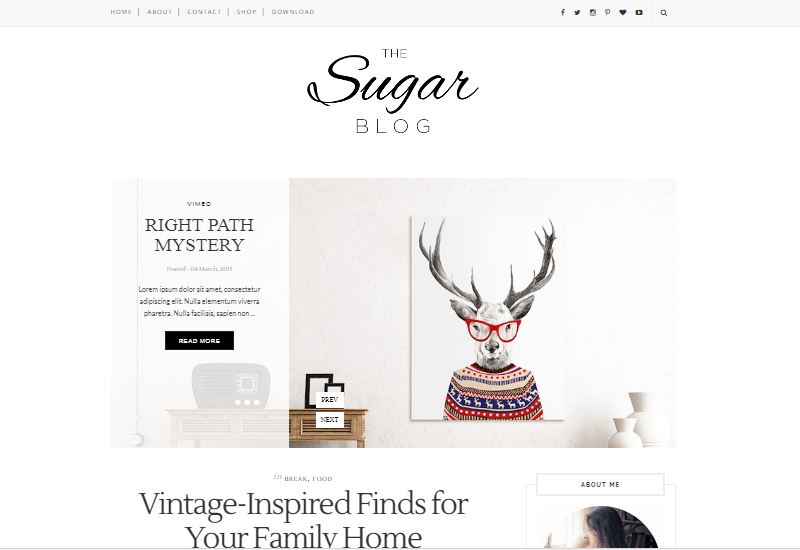 Feminist
A classic, elegant yet subtle blogging template, Feminist, has a two-column design and a beautiful and chic background color; pink.
The theme is mobile-friendly which enables you to get more traffic on your blog since everybody usually operates websites through phones. The email subscription and custom widgets are also some of the decent features of this template.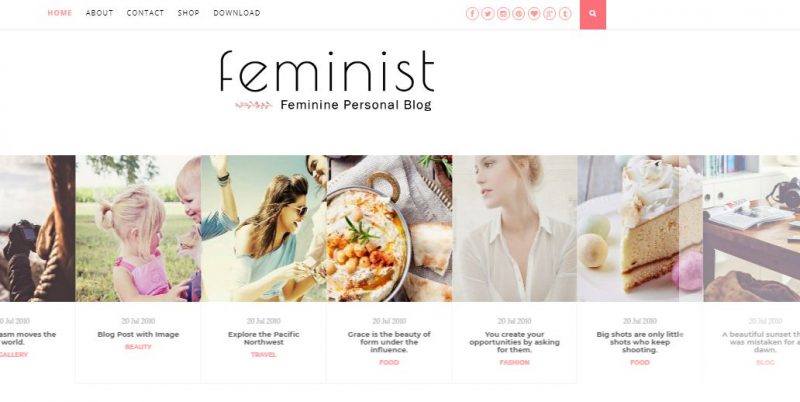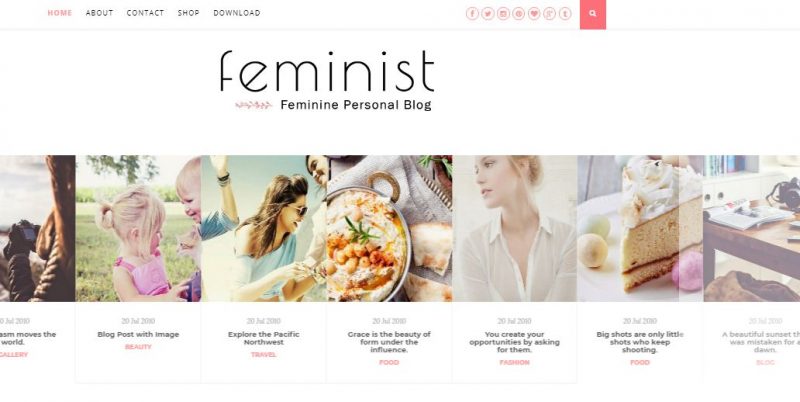 Avocet
Do you like to write about fashion, clothing, food or travel? If your answer is yes, then this is the best template you can include on your blog to enhance your content's visual appeal.
Avocet is a fully responsive template with four headers, three sliders, and many layout options. You can even customize the colors and fonts of the blog just by a single click. It's that simple!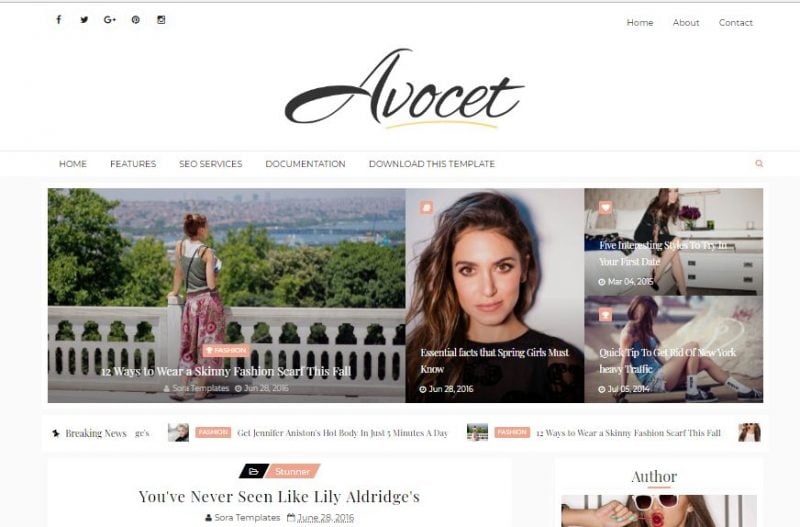 Holomatic
Is photography your passion but you're not getting a platform to showcase it and even monetize it? Well, you don't have to worry anymore!
Holomatic has a wonderful design and layout with the most appropriate color combination making it a great pick for photographers.
The user-friendly layout and elegant design will soon have your viewers swooning over your exclusive clicks and amazing layout!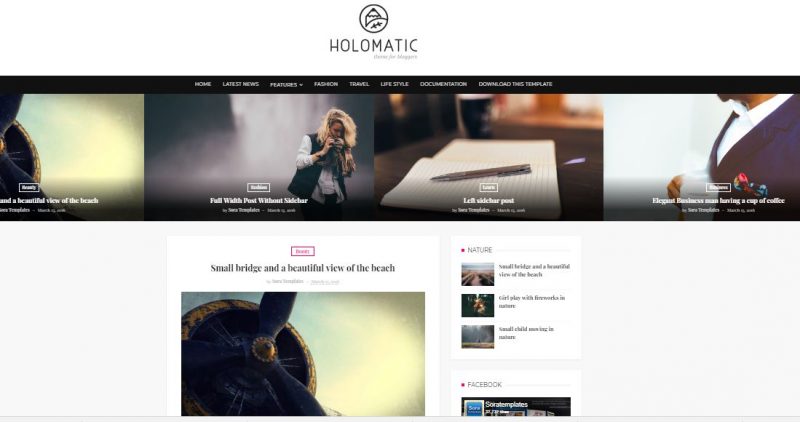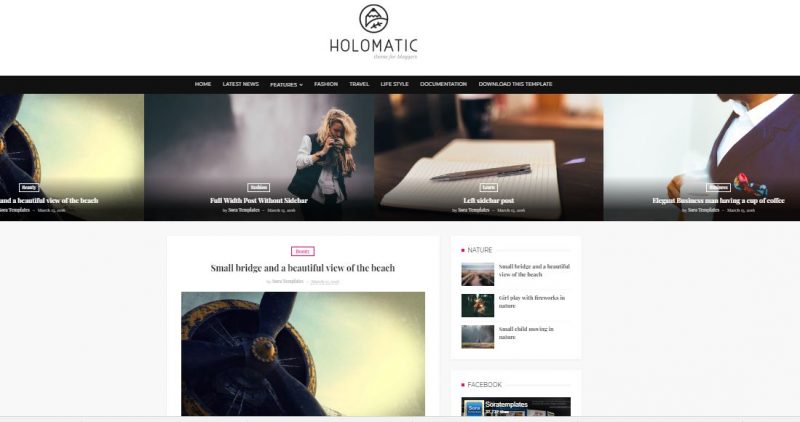 Vienna
Are you one of those who likes to write something daily and update it? If yes was an answer to that, then Vienna is the perfect template for you.
The template comes with a clean and minimalistic design with all the modern features that will make the reading experience of your visitors a memorable one. Plus, the template is fully compatible with all prominent web browsers.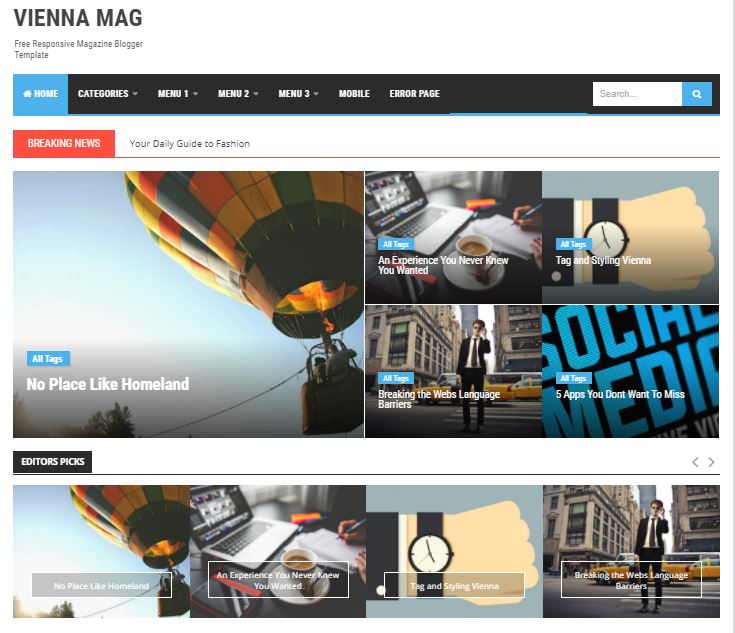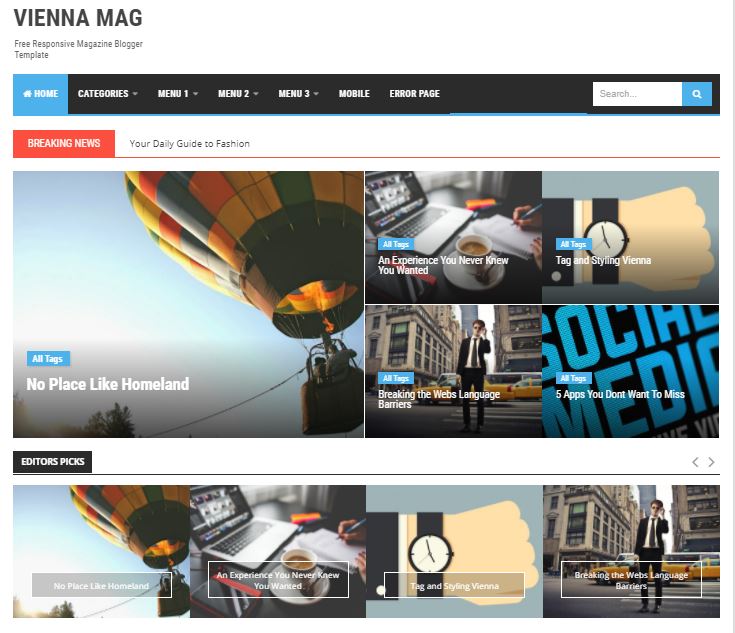 Milano
An amazing blend of clean, simple, and minimalistic features, Milano is a perfect blogger template for blogs with the recipe, travel, and food as their niches.
The interface and layout of this template are highly user-friendly, and the template comes with some advanced features like retina readiness.
This ultra-responsive template works well on all kinds of screens. Other amazing features like SEO optimization, featured posts, drop-down menus, etc. make it an amazing choice.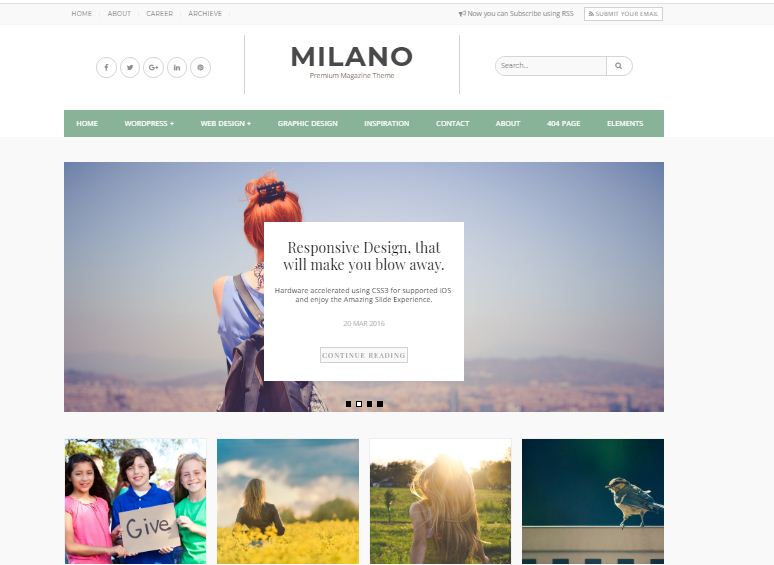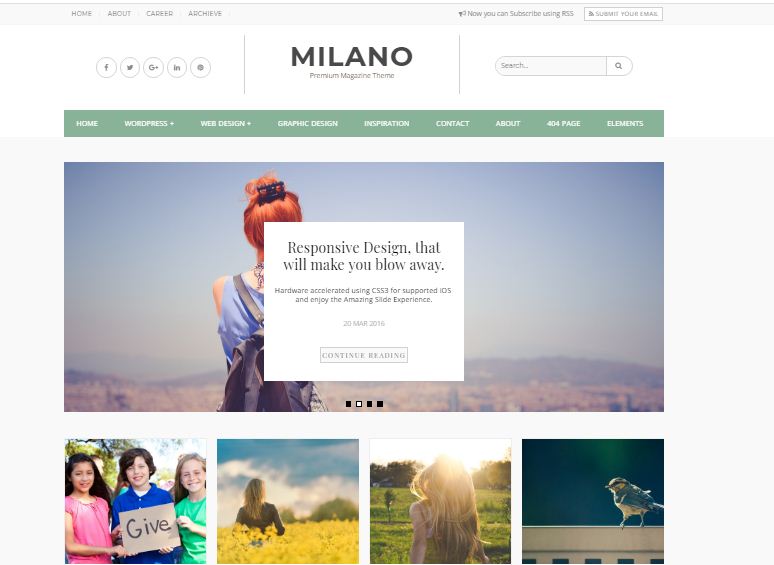 Educator
This is an exclusive and stylish blogging template ideal for online institution websites. Educator theme has amazing slider options that seamlessly fit the images on your website regardless of their actual size.
Other features like four columns, SEO optimization, etc. make it an amazing template altogether.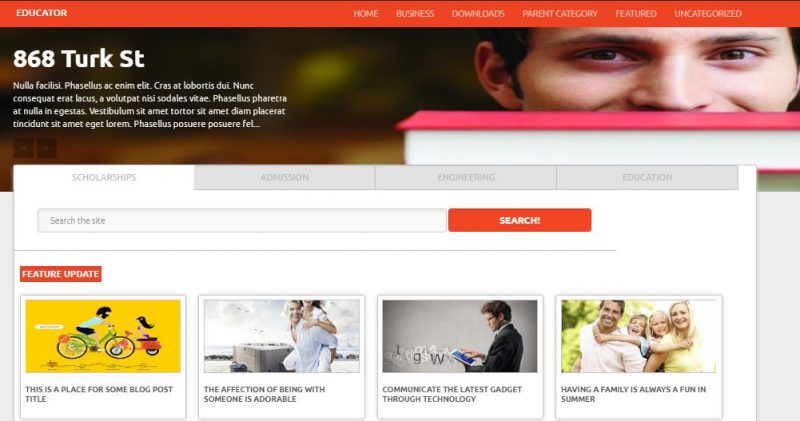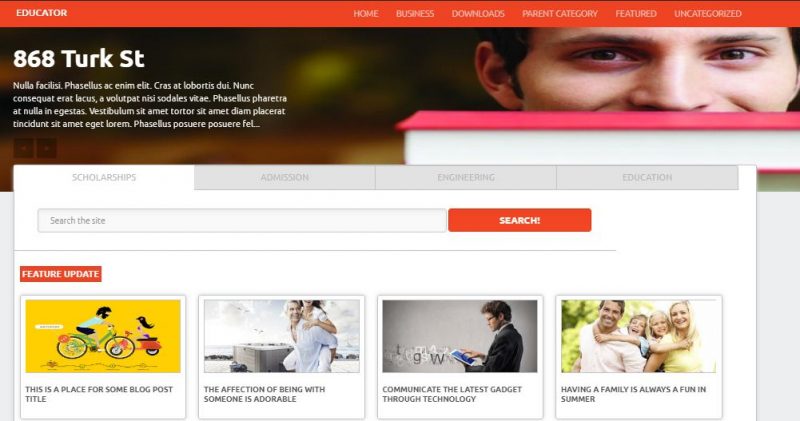 Fastmag – Flat Responsive Blogger Template
Fastmag template has a modern and minimalistic design along with a beautiful color combination that will catch the attention of your visitors.
The template comes with a featured post area which lets you display the posts of your choice on the homepage. On the whole, this template has pretty much everything that a blogger may need.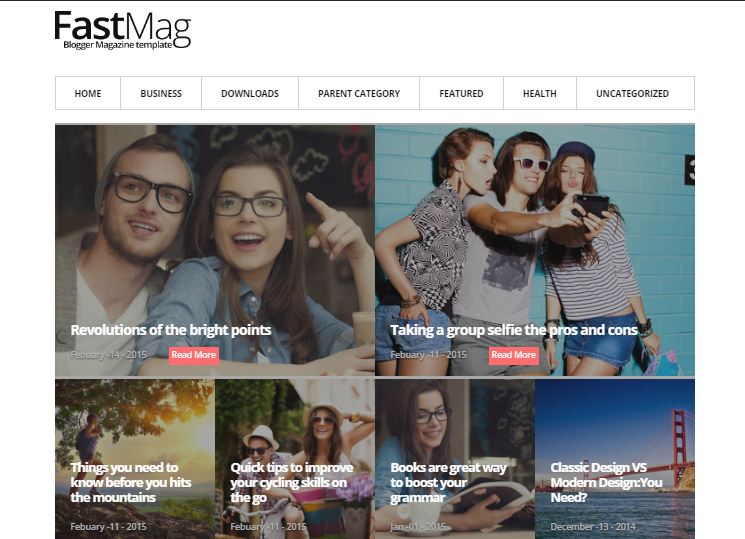 Viral Mag
Want to make a fully functional website but don't know where to begin? ViralMag can help you out! This highly responsive and SEO-optimized template is great for all kinds of blogs.
Its features include a header and footer, drop-down menu, customizable widgets and plenty of other useful features that make this a complete template perfect for all kinds of blogs.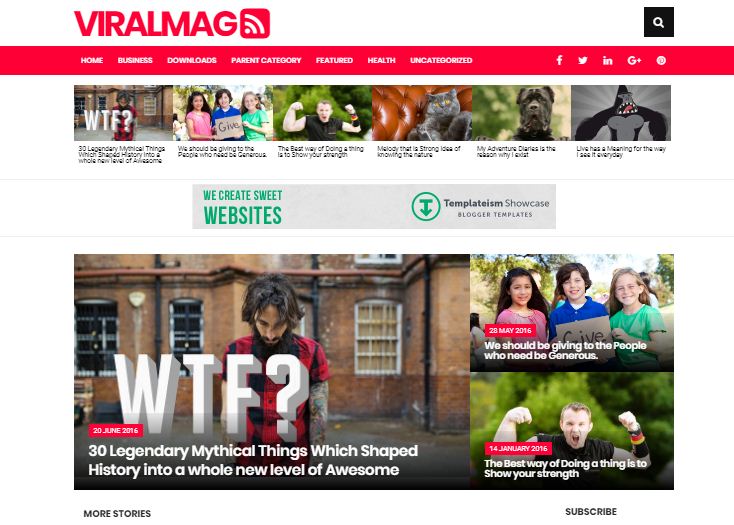 Fabric
The Fabric is a multipurpose blogging template, and it is indeed as smooth as silk! The theme comes with a simple and clean design giving a calm and soothing feeling to the viewers.
The template uses pastel color combinations and amazing texts and fonts which will surely keep your visitors coming back for more.
Fabric has wonderful typography to help you display your content in an elegant manner. A great choice, overall!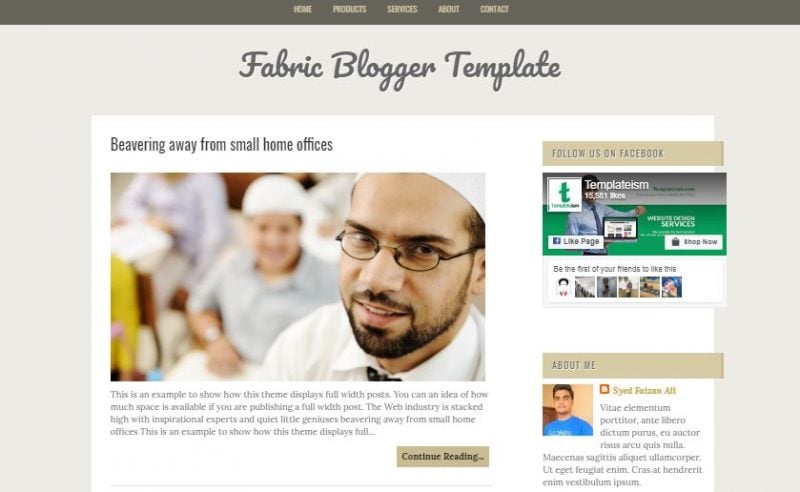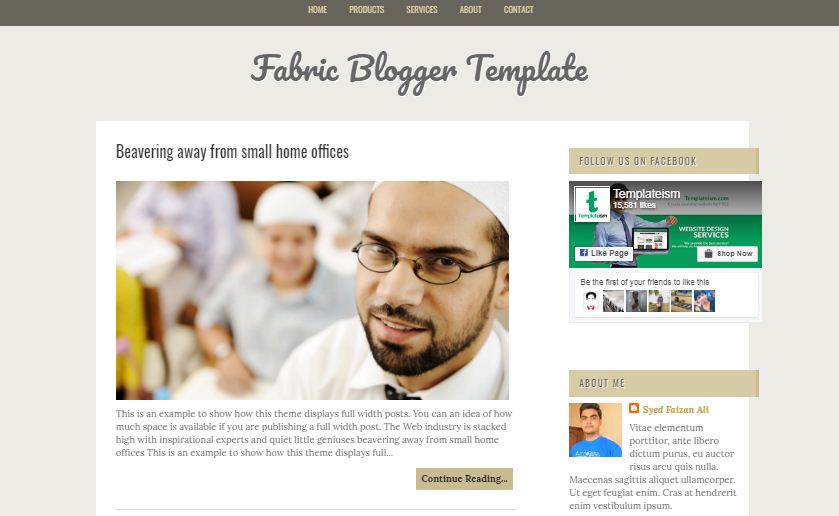 Free Chalkboard Template
Chalkboard is a classic template that fulfills all the needs of personal bloggers. It is highly responsive which makes your blog look beautiful on all devices and the minimalist design of the theme makes page loading faster.
Plus, SEO optimization helps you in getting a higher rank on search engines. Isn't that something that every blogger wants?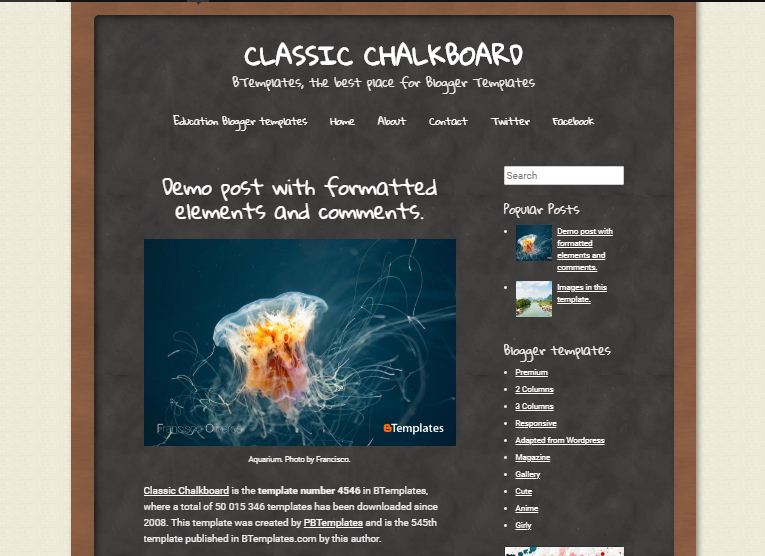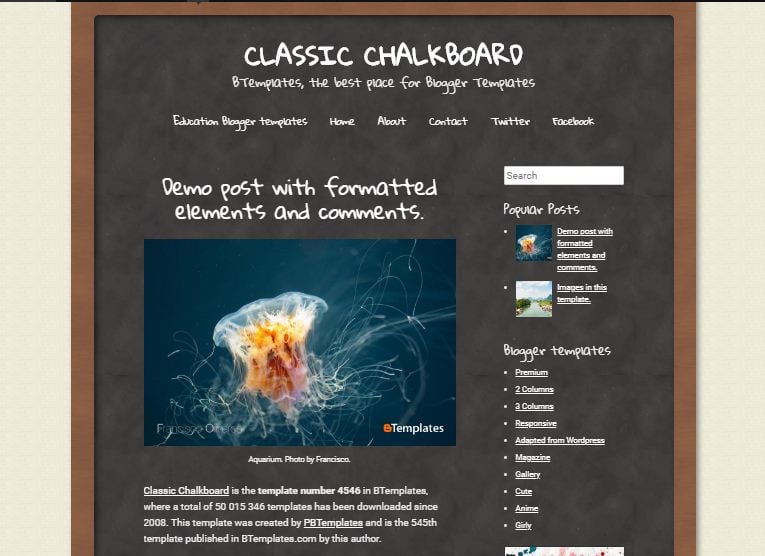 WriteUp
A clean and minimal blogger template for the writers and authors. You can use this template to create your blog and publish your content.
If you are looking for a high-quality blogging template with a classic design and responsive layout, this is a nice option for you.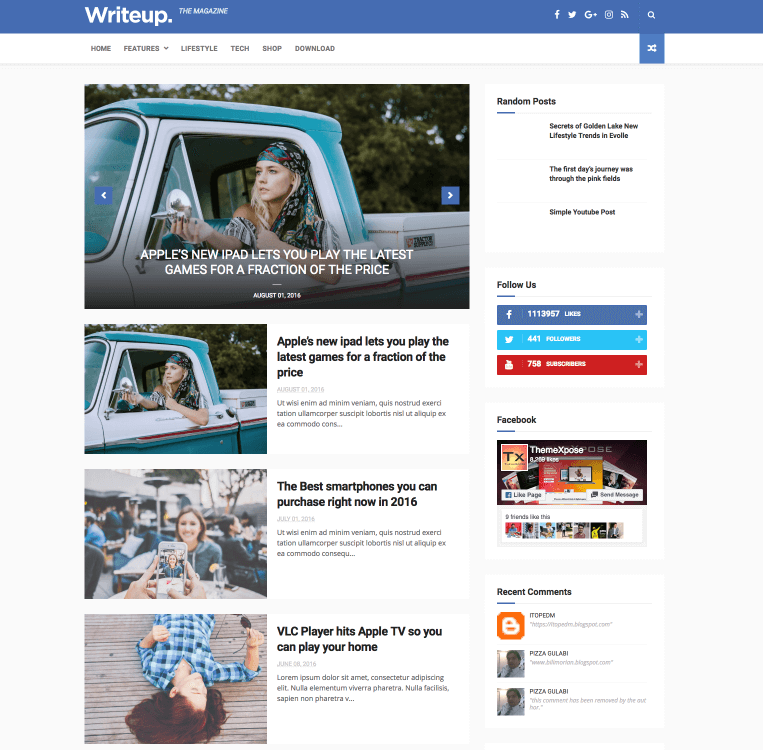 Galauness Grid Blogger Template
The Galauness Grid Blogger Template is a premium design template with two columns and a gallery-like a homepage design. The layout is highly responsive, and the template is perfectly optimized for search engines.
For photography blogs, this template is a great choice. Other modern features include a drop-down menu, custom widgets, left sidebar, etc. making it an amazing pick altogether.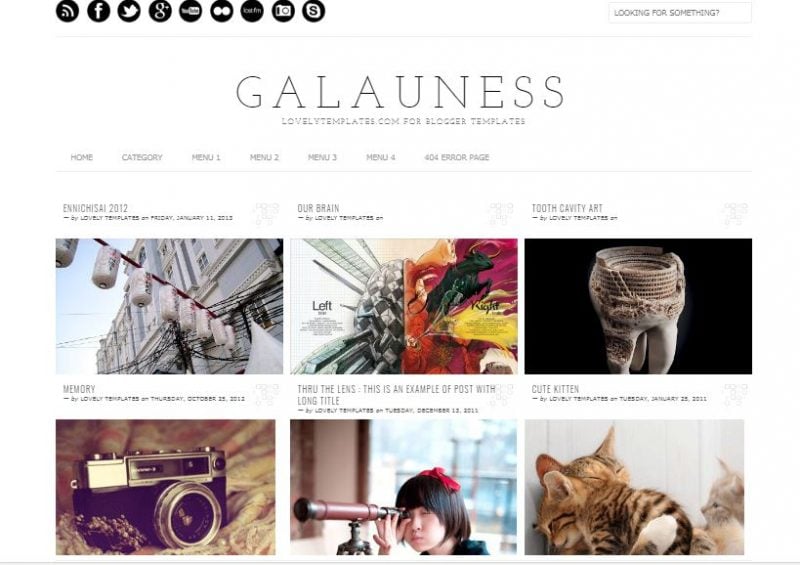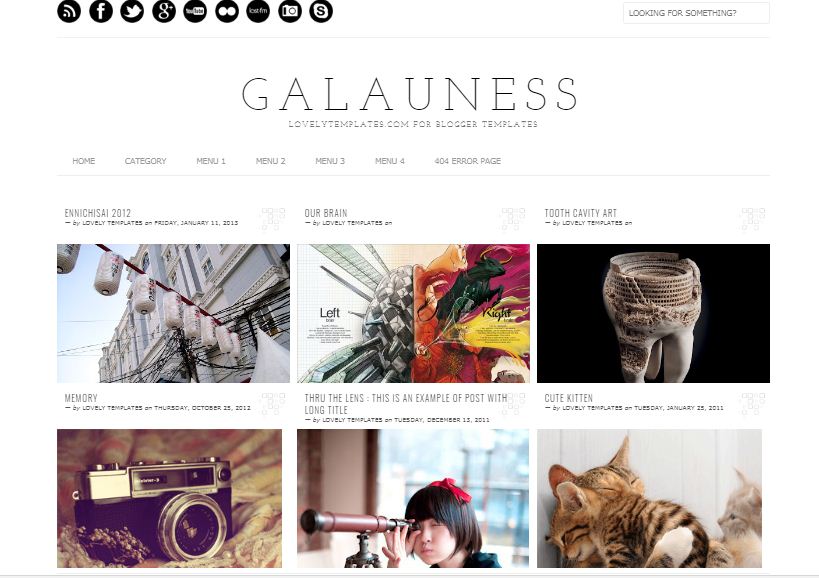 Vanilla Lifestyle
A clean, minimal, and feminine blogger template that you can use to create your Blogspot site. The template offers you a great-looking design with a beautiful featured post slider section and all the important options that you will need to create a great-looking blog.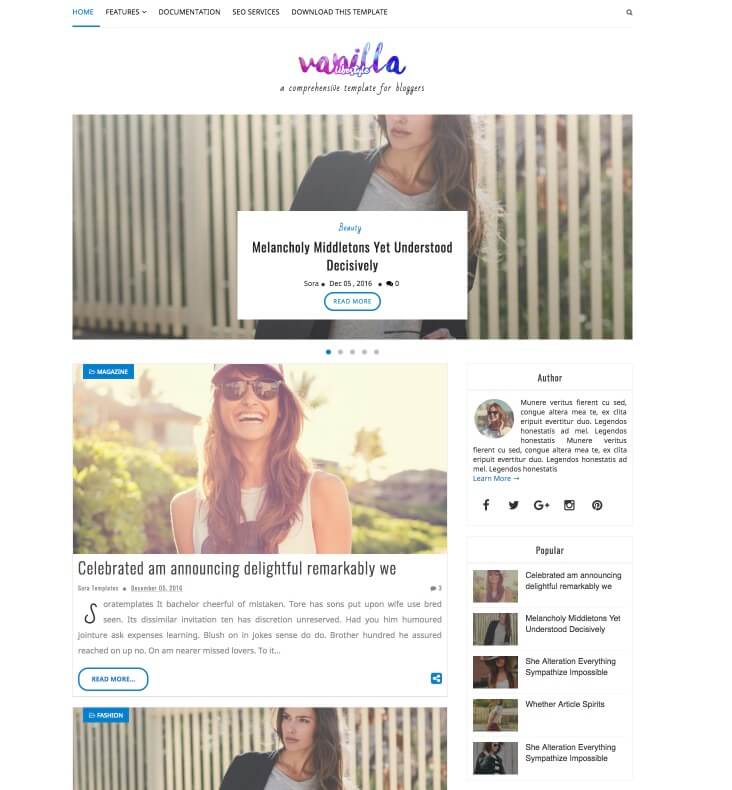 K-44 White
K-44 White is probably one of the most beautiful and elegant blogging templates. This is an excellent business blog template for blog niches such as art, culture, and entertainment, among others.
The template has a single column, and the homepage is in the form of a gallery, thus giving a beautiful look to your blog. And the best part; all this comes for free!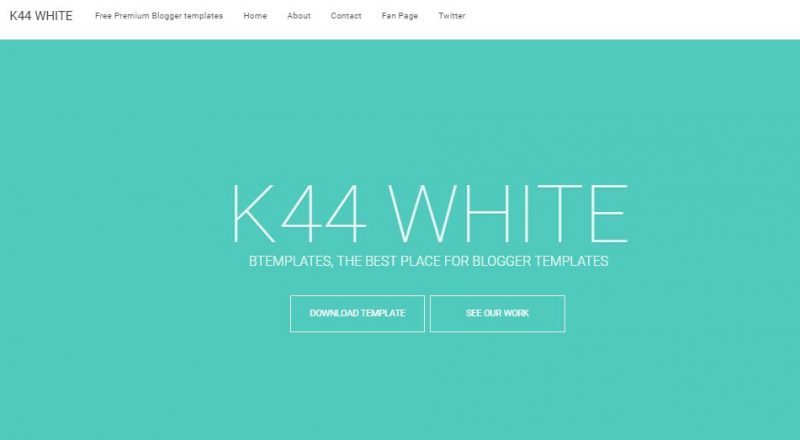 Zune Responsive Blogger Template
A beautiful modern blogger template design that you can use to create your blog. It comes with a 3-column fully responsive design.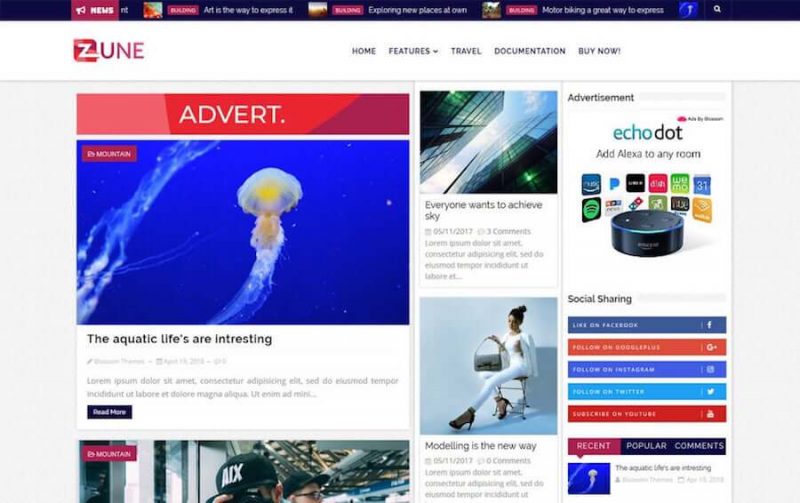 Super Cadas
This theme is as super as its name, and you can use the Super Cadas template for all kind of blogs; be it art, photography, travel or any other.
It uses a subtle and neutral color combination for its background thus giving it a professional look. The template also includes a subtle Pinterest style design making it a great pick for bloggers.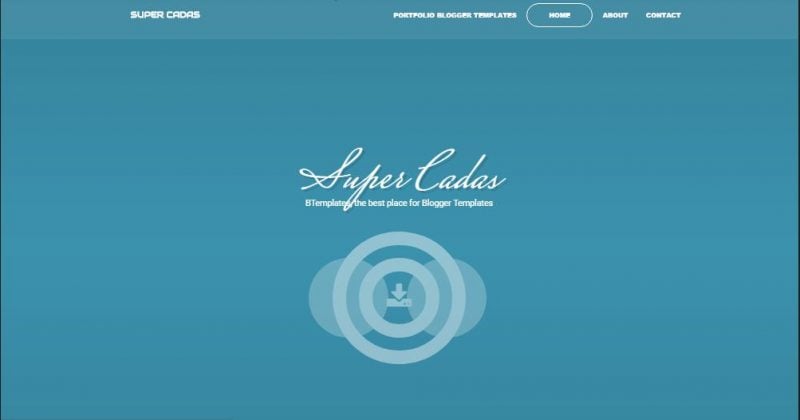 Alder Elegant
Yes, true to its name, this template is indeed elegant! It has a full-page home slider and sidebars for widgets. Elegant comes with beautiful color combinations of background and exquisite font styles making it perfect for story-telling.
SEO optimization will further help you in staying at the top of search engines.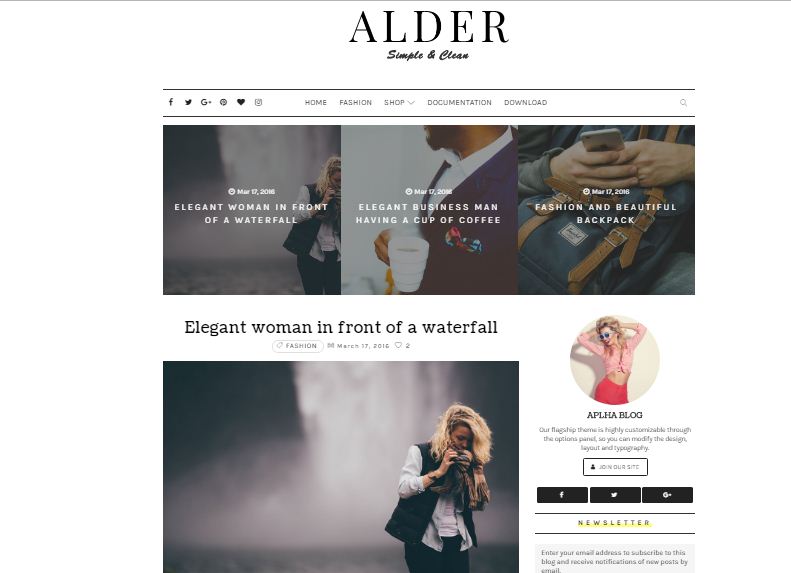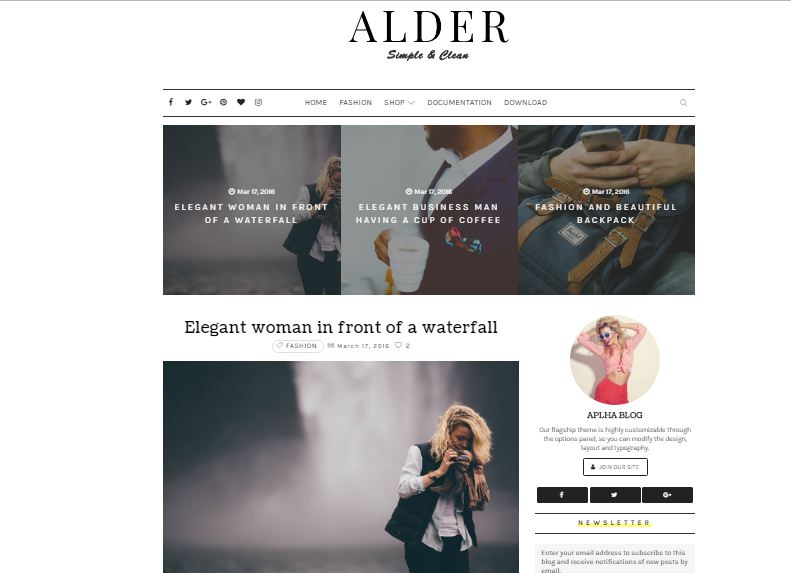 Loveria Fashion Blog Theme
Loveria Fashion Blog Theme is all pink in color and relates well to beauty, health, and fitness. And with its two-column layout, big blog articles can also be displayed in a grand fashion.
Loveria is ideally a feminine template best suited for a fashion blog. With all the advanced features, this template makes for a great choice.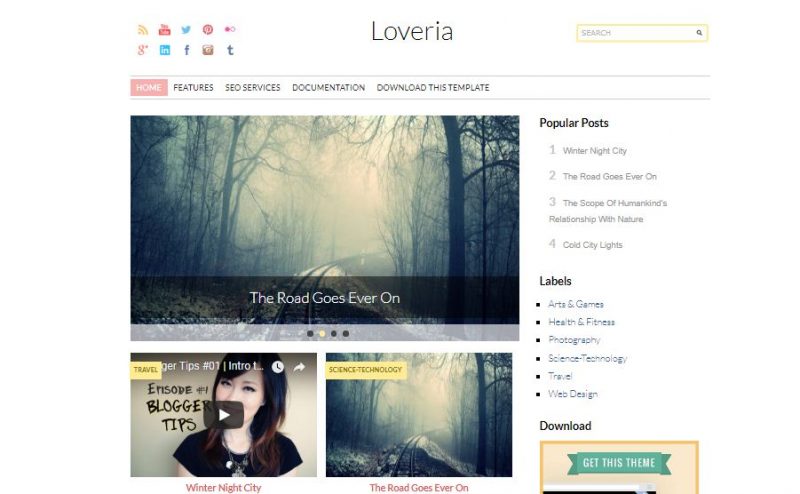 Sora Craft Blogging Template
For websites related to beauty and wellness, Sora Craft template is the right choice. It comes with a vibrant color composition and icon display features.
The custom widgets make your blog look stunning. Other add-on features like social widgets also make this template an amazing pick.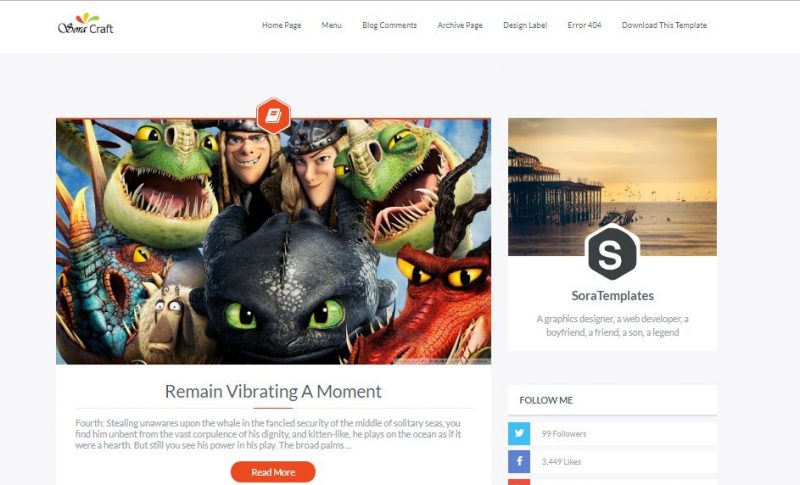 Indonesia Magazine Blogger Template
Indonesia Magazine Blogger Template is a remake of the popular WordPress theme 'heuman'. The theme has fascinating looks and a scintillating design that helps you in presenting your content in an attractive manner.
The template is compatible with all major browsers and is ideal for all blogging niches.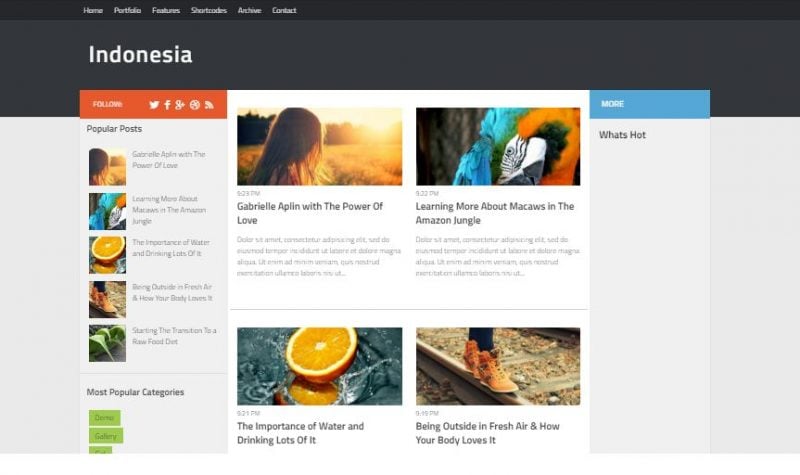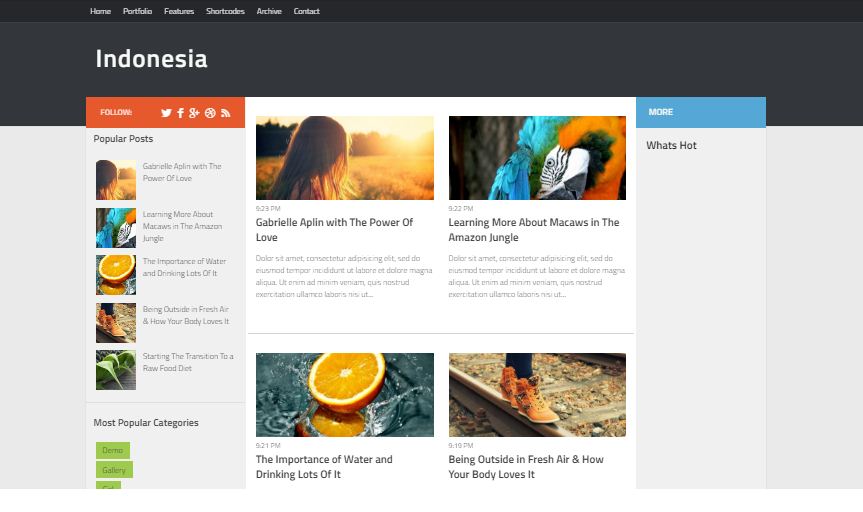 Beautiful Blogger Template
Beautiful is a clean and simple Blogger template for lifestyle and other related blogs. The template is created with a clean and minimal design that will perfectly highlight your content.
The template is perfectly optimized for the small screen devices to work and look great on mobile phone devices.
If you are planning a blog around fashion, lifestyle or related niche, you should have a look at this template.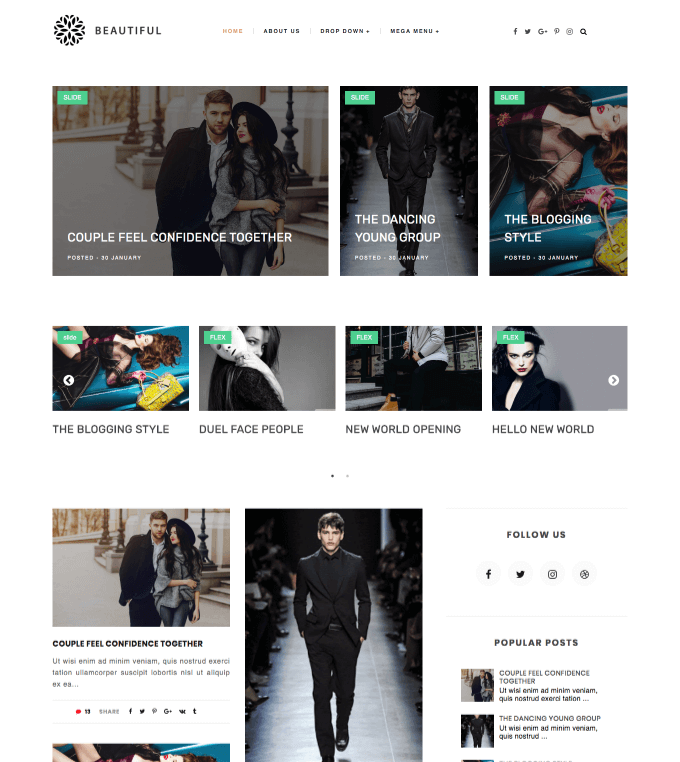 Minimalist
As the name describes it already, this template has a clean, minimalist and modern design in a grid format.
The two styles; carousel and slider can be chosen for your website, and their minimalistic design puts your content at the forefront keeping your website's visitors hooked.
Minimalist also comes with the auto-resize option to aid small screen use.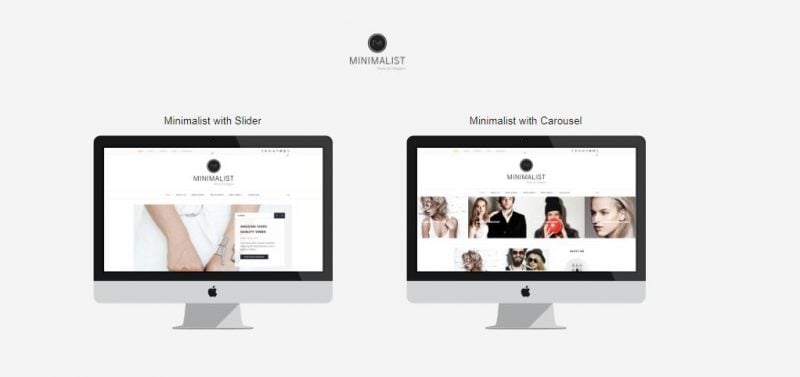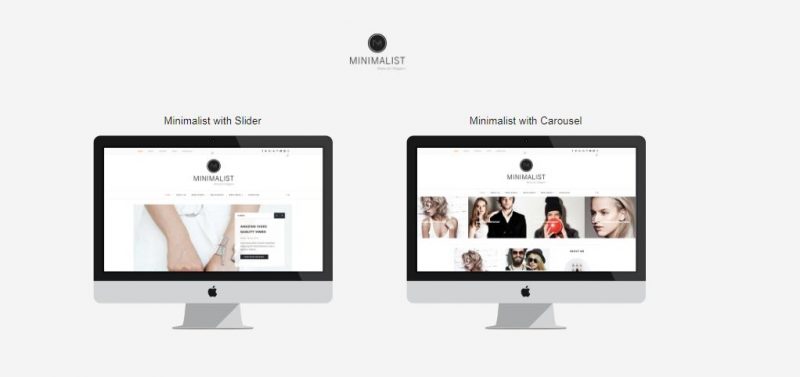 Flat Magazine Template
For all the latest trends and designs, this all-blue magazine is the best. It works on all kinds of devices and screens, and the multiple fonts and colors help you beautify your blog accordingly.
For a news blog, Flat Magazine template is the best pick.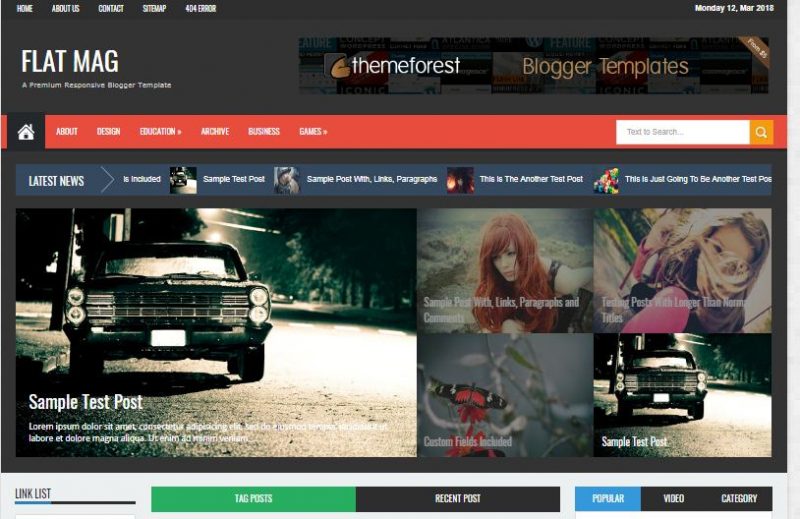 Mini Magazine Template
Unlike its name, there are numerous features in this template that make it a giant template.
A mega menu, top navigation, responsive design, browser compatibility, and many other useful features are well embedded in this beautiful blogger template.
You can even share your posts, stories or journals by using social share options on Mini Magazine template with just a single click.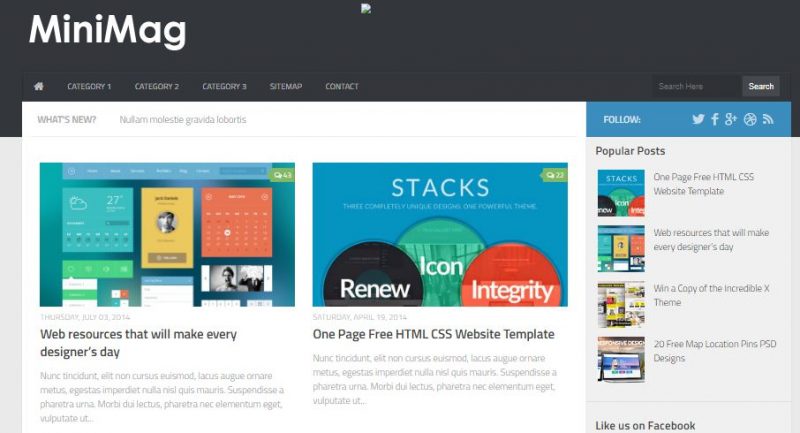 FAQs About BlogSpot
01. Is BlogSpot and Blogger the same?
If you use a custom domain to create your blog using the blogger template, then you will not have any relation with the BlogSpot extension. Because both the domains, www.blogspot.com & www.blogger.com meet on the same page, it can be a little confusing. Blogger is a content publishing platform by creating your own blog and if you wish to use a free domain extension on the Blogger platform then the extension will be with BlogSpot.
02. What is BlogSpot used for?
BlogSpot is used to create a free blog on the Blogger platform. You can create a free blog using the BlogSpot domain extension. So, your blog will be xyz.blogspot.com.
03. Is the Blogger platform safe to blog?
The Blogger platform is owned by Google, so if you are talking from a security point of view, yes the Blogger platform is safe to publish your content.
04. Is WordPress better than Blogger platform?
If you are a hobby blogger, then the Blogger platform is good enough. You can quickly create your own blog and start publishing content. However, if you want to monetize your blog and want to have complete control over your blog then a self-hosted blog on WordPress is a better option.
05. Do I own the content published on the Blogger platform?
As Google owns the Blogger platform, you will never have complete control over the content you publish on the platform. It is better to have a backup of all your content.