You've successfully created the business of your dreams. You might've opened a small coffee shop or a small designer clothing store, and now you want to attract more customers to your place. What if I tell you that there's a great and simple way to do it. Go online.
Small businesses have an unprecedented chance to expand their reach through online stores. By going online, you'll open up to a vast number of potential customers worldwide.
A great thing about it is that it is very easy to do. There are plenty of platforms that allow you to get an online store up and running for an affordable price. 
Zyro is a great example of an online store platform. They provide pre-built online store templates, which you can customize all its elements to your preference.
It gives you access to sell your things through many platforms like social media and Amazon too. It also gives SSL protection using Cloudflare.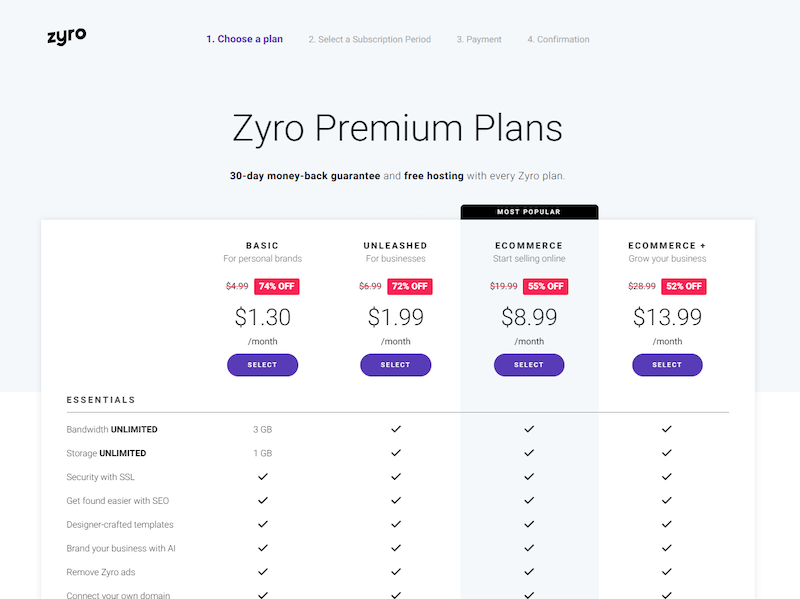 Basically, there's never been a better time to start selling your products online. Thanks to the ease of use provided by the many different website builder platforms, or CMS like WordPress, you can get to work and grow globally from the comfort of your office.
You Should Start Selling – How to Start?
There's no downside to starting an online store due to the low keep up costs. To help you get started, in this article, I'll be providing a few ideas. 
Ditch Etsy and Expensive Commission Fees
Online store platforms like Etsy and eBay are great and help you by offering their traffic for an improved chance of a sale, but they also take a large cut of your profit. 
They have selling/commission fees for every time you place your product for sale and for when the product sells. It goes up to 12% for the final value fee.
By creating your own online store for your small business, you're eliminating the need for a third party to help you with their traffic.
As a benefit, it will allow you to keep more of the profit for yourself, as you can choose the payment processors, and there isn't a company hovering over with selling fees.
Zyro can help you regarding traffic, as it will help you optimize your website so that it has a high ranking in the SERP (search engine result page) using their various AI tools.
Global Isn't Always Best
If you've just started on your online business or you treat it as a side business, you might not be ready to expand to a country-wide market, let alone a global market.
Some of the reasons can be:
What you can do instead is start an online store that focuses on a local market – a single city, or smaller geographic region for starters.
By doing this, you can focus on a single market, lessening the number of customers buying from you. You don't need to have a shipping partner and can do the delivery yourself or use local postal services.
As your business grows, then you can slowly expand your reach to more expansive areas. If you've acquired a lot of profit, then you can think of going global.
Try a New Niche
As you start growing your business, you might want to test out to see if your customers are interested in a new product line. A way to do this is by dropshipping under your brand.
Dropshipping is essentially a retail fulfillment method. Here you let other people sell your products. When they have an order, they'll let you know, and you can prepare the product and ship it to the buyers. 
When you're using this method, you minimize the need to promote and market your product yourself, thus reducing cost. Of course, the drop shippers will get a few percent from sales, but the cost is still less than needing to market everything yourself.
This is a great way to see whether customers are willing to buy your products without having to pay for marketing and promotion. 
Build Communities
Going online doesn't mean just selling. You can do a lot more things such as:
Customer interaction. You can communicate with customers through your website. This could be either setting up a comment section on your site or through feedback.
Mailing lists. You can get the list of names and email addresses of previous customers to give future promotions and product recommendations.
Blog posts. Here you can write about your niche, focusing more than just products.
Social media. You'll be able to monitor the latest trends by being active in social media.
Ask for donations. Having a loyal customer base means that you can politely ask them for donations. Of course, not everyone will donate, but it might just be enough to cover your online expenses.
By doing the things above, you're creating a community around your business. You'll have a loyal following of people who relate to what you sell and do.
This is great because it creates plenty of benefits like repeat purchase, increase in popularity, attractive to advertisers & become your support system. 
Because of the current COVID-19 pandemic, this is especially helpful to stay in touch with your customers. 
Conclusion
Going online is essential if you have a small business. You'll get plenty more exposure and access to many more customers around the world.
Creating an online store is very simple. You can use website builders to help you get set up. It's very affordable.
I've given you a few ideas on starting an online business and what to look out for. Those are:
Now all that's left for you is to start your journey to the online marketplace. Good luck!