Use of Instagram as an advertisement channel has been a matter of debate among digital marketing experts. However, the rise of Instagram as a widely popular image-based social media platform has helped many businesses get increased customer outreach.
According to Forrester Research, the engagement rate on Instagram is at an excellent 4.21%.
This begs the question that while other social media biggies like Facebook are launching diversified advertisement verticals like FB Ads and Shopify, what potential does an entirely image-based platform presents?
To get an estimate, we need to understand the Instagram Advertising Framework
Social Media & Advertising platforms like Facebook, Google and Twitter have a learning curve associated with their ad frameworks. However, it is quite simple to spot Instagram advertising.
Each sponsored image carries a tag of the same name at the top. The ads are targeted based on your interests. The entire framework is similar to Facebook Ads with the only difference being the narrowed down image-only niche.
Instagram Ads have been running for more than a year now. Countries like UK & USA provide the significant contribution to these ads.
However, mobile advertising over Instagram has a severe drawback. Instagram disables sponsored links on the app interface. With an exponential number of people accessing the platform from smartphones, this is not good news for brands.
Targeting on Instagram is similar to Facebook
You can target audiences based on specific parameters that include gender, age group, and interests among others.
Instagram doesn't have detailed information about its users as compared to other networks, however, as the same parent manages both, cross promotions and account syncs nullify this problem.
Albeit, it is mandatory to sync both Facebook and Instagram together for the Ads to run!
What are the stats that support ad-feasibility on Instagram
Instagram is strong when it comes to metrics. Here are some of them:
500 million active users are waiting to be targeted
Of these, 70% users are non-US citizens
More than 30 billion images have been shared
70 million pages are updated with new photos every day
People share 2.5 billion likes daily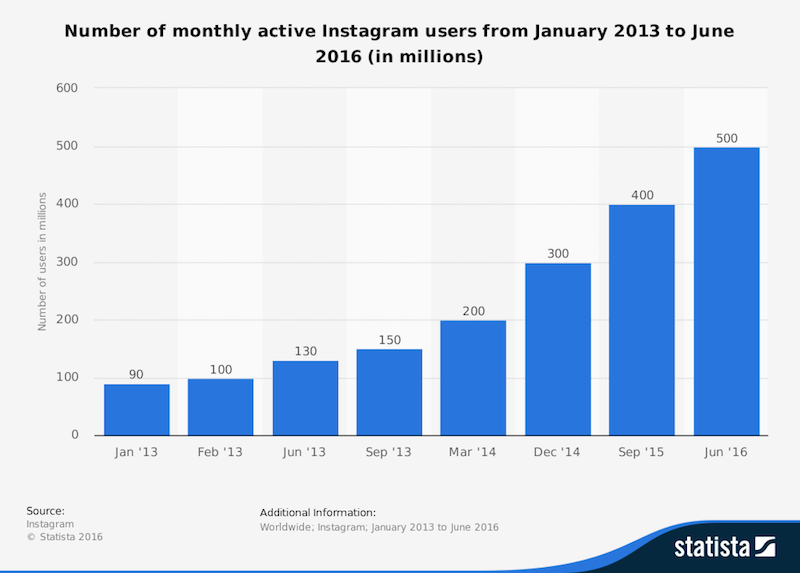 However, the numbers are pointless if your ads don't convert
Statistically, millennials are the toughest to convert. If you start analyzing responses, there are three scenarios that spring up:
People think that sponsored ads make their feed cluttered and irrelevant
Some believe that it is everything against the core vision of Instagram
Some didn't mind the advertising
It is safe to say that most people don't notice these ads cluttering their feeds. This is an inherent advantage as everything is perceived organic and thus audiences interact with sponsored posts organically.
The high engagement rate on sponsored content shows that people have become impervious to such ads in their feeds and the process of differentiating between organic and sponsored content has diminished.
Also Read:
Case Studies proving Instagram can work for an ad campaign
---
#1. Channel 4: Gogglebox Campaign
After releasing its series of original programming, Gogglebox, in 2014, Channel 4 wanted to use Instagram to promote the same. The company wanted to target males and females in a specific age bracket of 16-34.
The campaign was run for three weeks (October-November)
Photo Content was used exclusively
User engagement was encouraged through character quizzes
The campaign reached 750,000 people
Ad recall saw a jump of 19 points
The campaign allowed Channel 4 to target a younger market, as they were more likely to tune into the channel.
#2. The John Lewis Winter/Autumn Collection Campaign
The famous UK-based clothing retailer wanted to target females in the age bracket of 25-34 for their autumn/winter fashion collections.
Campaign lasted a total of 6 weeks
They worked with the top fashion bloggers in Britain
The number of followers on Instagram increased by 10,000
Purchasing intent increased by 14 times!
The campaign was so successful that the converted into a regular quarterly campaign.
Brands such as McDonalds and L'Oreal have also carried out successful Instagram campaigns. Currently, every country that offers Facebook Ads offers Instagram ads also. This number was restricted to 8 last year.
Many brands have also stated that Instagram ads offered better returns than those of Facebook and Twitter
Nielsen's Average for Online Advertising states that statistically, the ad recall for sponsored images was 2.9 times higher than the standard level for the 475 beta campaigns launched on Instagram's web platform.
The factors that dictate the success of your campaign include the quality of your campaign, the uniqueness of your story telling and your business niche. There is no doubt, that advertisements on Instagram are high performing.
Therefore, yes you should Instagram in your online marketing and advertising mix
When done right, Instagram Ads have huge potential. You have to know your target audience and create great campaigns to reach and engage them.
You have to create powerful images that tell a story and engage the viewer instantly. There is no doubt that you will have to put in research, experiment with various ad pieces and post timings. But when you get it right, it will be worth it.
Advertising over any platform cannot guarantee success. The quality of your advertisement is what you should worry about!