Post the COVID-19 pandemic, the global online learning market has become hugely competitive among students from all parts of the world.
According to a recently published report, the eLearning industry, post the pandemic, is likely to gain a market size of $240 billion.
Various functionalities offered, such as the ease of use, instant reach to an international educational content, and the ability to learn at our own speed make online learning an attractive option for students around the world.
Students from all over the globe – be it casual learners or school kids – can connect with top-notch, world-class teachers and learn almost anything online easily.
These days, the two major names come to mind, namely Thinkific and Teachable. But now arises the big question, "which one is the best?"
To answer that question, you need to collect all the functionalities of each platform to understand what all you need to do before making your final decision here.
However easy it may sound, this choice could be very time-consuming as it involves a lot of research on these platforms.
To make your choice easier, this guide will break down Thinkific vs Teachable on the basis of features, price, performance, and more.
Let us get started now.
Thinkific vs Teachable: Overview.
Thinkific is currently powering over 50,000-course creators with over 100 million active online classes. The platform allows anyone and everyone to sell courses and memberships, all in one place.
Thinkific has over 100 dedicated employees in the team. It provides services in over 15 countries around the world.
Through its easy-to-follow video tutorials and assignment-based learning tools, the platform has almost revolutionized the manner in which people are learning and earning via online channels.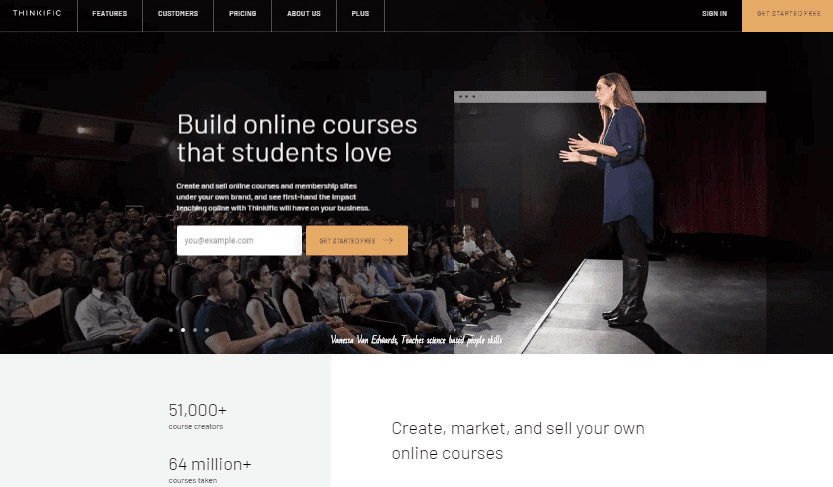 Some of the most amazing features of Thinkific are:
Thinkific enables a very easy to setup functionality and gives you absolute control over all of their content and customer data.
Though they have excellent web design options without the need for HTML and CSS, you can customize almost every inch of the website and online course.
Their marketing, as well as analytics tools, help all users in maximizing engagement and in boosting their revenues. Teachable was founded back in 2014 and has currently has 83,000 instructors and over 23 million students.
Some of the most highlighting features of Teachable are:
The main difference to notice between the two is that Teachable provides amazing marketing features, while Thinkific offers a lot better site design.
Thinkific vs Teachable: Pricing
Let's understand the pricing structure for both these platforms and which features accompany the pricing.
Thinkific Pricing
Starting with Thinkific, you can test out all the core features without paying anything. The plan looks technically for testing, so we wouldn't expect to run anything for free. That being said, it's nice that now you don't have to worry about a free trial getting ended soon or working along a limited set of online courses features.
You can also create three courses with the offered free plan. So in case if you only decide to have a small learning course website, it might work just great!
Here's a complete roundup of all Thinkific pricing plans being offered:
The Free Plan – $0 for all of the core functionalities. This also includes three different courses with unlimited students attendees, as well as quizzes, surveys, hosting, and immediate access to your funds
The Basic Plan – $49/month for all of the functionalities in the previous plan, plus unlimited number of courses and students. Also, you get coupons, email communications with students. Other features include drip content, affiliate reporting, custom domains, and email integrations
The Pro Plan – $99/month for all of the functionalities in the previous plan, added the unlimited courses and students with two site admins and 5 course admins. You also get hidden and private courses, advanced pricing, priority support, and certificates
The Premier Plan – $499/month for all major functionalities in previous plans with unlimited courses and students, 5 admin accounts and 50 course admins. Here you get a single sign in option, onboarding package, and unlimited access to all the growth packages from Thinkific.
The Growth Package Plan – The pricing depends on the number of students you have. On the lower side, you would only need to pay $10 per month for 200 students. The first 100 students are absolutely free, but it could potentially go up to $499 per month.
The Enterprise Plan: For the high-volume users and large companies out there, who most likely fall into the Enterprise category. Some of these companies use Thinkific include Intuit, Samsung, and Hootsuite, may it be for internal training or helping out troubled customers.This Enterprise solution is a comprehensive customizable plan, so you will have to contact the sales team at Thinkific for buying it.
Added to all this, you receive features such as groups, bulk emails, advanced segmentation, Public API access, webhooks, as well as the removal of Thinkific branding.
These added features could very well be valuable for adding more students to your online courses. People particularly like if you have a full customization of your website with the API and webhooks.
Teachable Pricing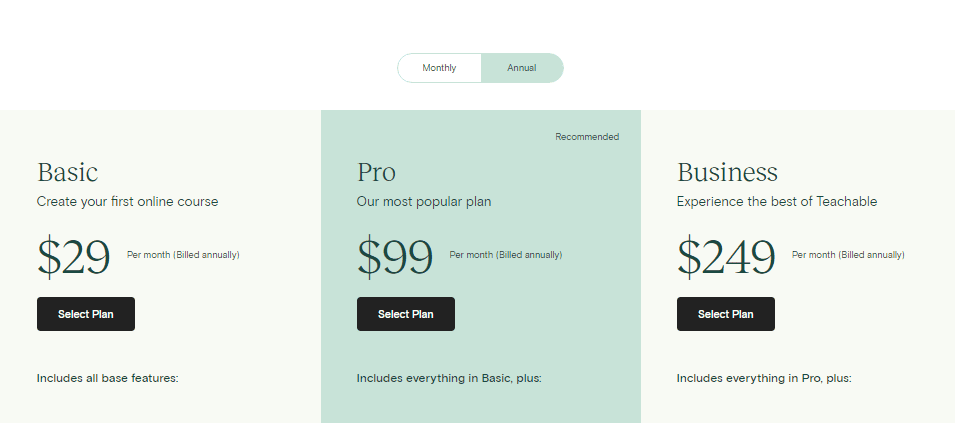 Now that we know what you would have to pay for Thinkific, let's see the Teachable pricing plans. Teachable also has a free plan for entry-level courses, websites or for testing out the various platforms. After using that, you can easily upgrade to some of the powerful plans.
So, now the big question arises, "which one is the best? Teachable's free plan is far better than that of Thinkific because as it gives supports for an unlimited number of online courses and student attendees.
Here it also looks like the lower pricing plans from Teachable are more convenient for companies just starting around as freshers.
 The offered features definitely vary from platform to platform, so some of these unique features might push you to choose one over the other plan. But, having said that, Teachable appears to be a far better deal overall.
Thinkific vs Teachable: The Uptime
The support team at both the Thinkific & Teachable continually monitors the platform to make sure that the site is always up and running.
When you go through both the links given here, you will rather see that Teachable has more number of incidents of downtime than that in Thinkific.
The most common issues reported here were:
Thinkific does have also faced a large number of downtime problems all the time with responsiveness in the past. But all of these mentioned issues were fixed on priority. These days the platform is delivering full-fledged performance.
Aside from this, Thinkific has overall mentioned an uptime of over 99.9% and 24/7 monitoring on its main corporate website, which is a very transparent and smart move. You can't see any kind of such claim on the official website of Teachable.
Thinkific vs Teachable: Design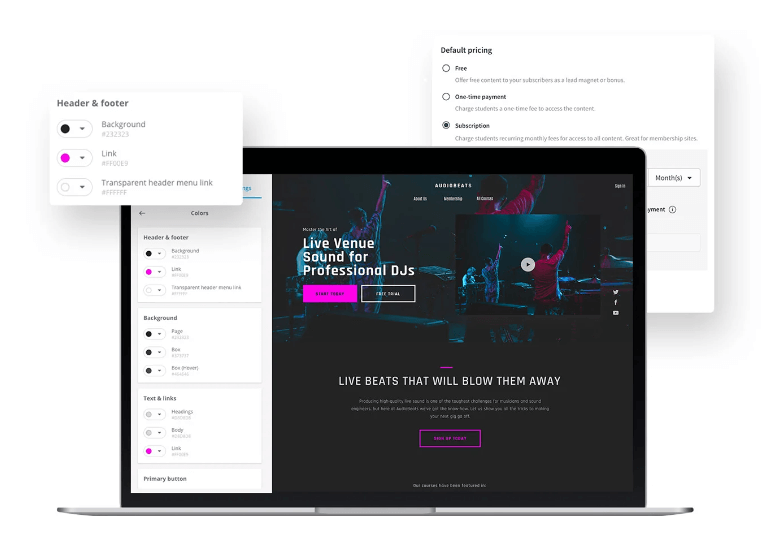 As we have mentioned above, Thinkific and Teachable each provide access to their CSS and HTML files. This simply means that if you are a developer, you can easily go into the these files and adjust your own code.
This is one of the most incredible freedoms for website designers out there since now you can brand your website the way you want. Also, potential changes just about any style, as well as any font, or item location can be made easily.
Added to this, the default site designs from both of these platforms looks clean, modern, and easy-to-use enough for beginners.
Therefore, you must take advantage of the various design tools from these amazing platforms, regardless you're an experienced designer or a newbie beginner.
It's also very important to know that at least you have the option to hire a professional designer to modify your site's backend files.
The sales pages from Teachable are absolutely enjoyable, but the overall design area is where Thinkific shiness.
Teachable also has a base website template that works pretty much for all of its users. You can also make changes in the design by uploading your images, adding logos, and making adjustments in the colors. It also adds a drag and drop builder for ease of use.
Thinkific has taken it all to the next level with a beautiful collection of templates. For example, If you plan on selling fitness courses, then there's a theme just right for that.
Thinkific vs Teachable: Customer Support and Training
Based on the various interactions of top users with the customer support, it is safe to say that both Thinkific and Teachable offer some amazing customer service.
In general, Thinkific's support and customer service as a more friendly option. Its email support is much more responsive than Teachable's email support, when you are on the lower tiers.
However, Thinkific doesn't offer any real time support. Your options are limited to reach out via email support. On the contrary, Teachable offers a seamless email support for all of its plans. You also get live chat support on the Professional Plans.
Live chat support is a must and you'll find Teachable's integrated customer support to be a better option than Thinkific on the higher plans.
Both of these platforms have an extensive knowledge base, where you'd find a ton of amazing how-to articles regarding doing various things on both of these platforms.
Moreover, both these platforms have very active Facebook groups where you can engage with the community, ask your questions and get advice on anything related to selling online courses.
Final Verdict: Which Is the Best For You?
To be very honest and straightforward, it is very easy to answer as both of these platforms are amazing. Thinkific ends up working the best for small and medium users, keeping in mind of their time constraints.
However, Teachable might work better for you in many cases as well. If your budget allows and deadlines are not a concern in launching your first course, it would be safe to say that you should sign-up for both and see which one works best for you.