WordPress is an open-source content management system or technology, if you prefer, beloved by web designers and developers.
Blog functionality is something WordPress is especially known for, and just posting content is something that's the essence of any website.
Also, speaking of blogging, WordPress uses MySQL to store and retrieve all blog information.
It's a symbiosis that works just fine knowing that WordPress is an open-source CMS, while MySQL is an open-source relational database management system and a central component in the LAMP stack (used by WordPress installations)
It is an open-source software set employed in building websites and web applications. You figured it out, open-source is the core of this collaboration.
If you want to choose a hosting provider for your WordPress site, you should know that most web hosting companies already have MySQL installed on their web servers.
Of course, when it comes to MySQL hosting services, their prices and plans depend on many factors but all of them are widely used to store and protect data of WordPress sites and apps.
The usual presentation websites have been overcoming. It has long been understood that websites have turned out to be more than just the location of your business on the Internet.
Many companies and individuals create a variety of tools and portals of different profiles and, somehow, everyone is dreaming of creating a service that will be useful to the wider community and that can make big money along the way.
As such, WordPress helps inexperienced developers with some key things, primarily by filling the space when there are "holes".
More precisely, that space is filled by plugins that either solve something you're not the best at or just speed things up, which in itself is enough.
There's One Key Trend in WordPress…
WordPress has proven that the standard approach to website development isn't the only one that makes sense, that it isn't necessary to encode absolutely everything.
Let's make it clear, that approach is still great, but WordPress has helped us understand the great deployment and speed by which you can build things in the world's most popular CMS, which occupied 33% of websites on the Internet in mid-2019, looking in general.
The company WordPress makes sure that it regularly incorporates new technologies in order to help users fulfill their visions.
It's reflected in adding new features and functionalities, keeping users around. These are some of the key trends WordPress will build in its services in 2020 and all are based on the most innovative thing in the digital world – Artificial Intelligence.
The Connection Between Artificial Intelligence and WordPress
As one of the key components used in strategies of digital transformations in the last several years, Artificial intelligence (AI) can be considered the top trend of all times and it has an impact on WordPress, especially in the past couple of years.
The essence of AI is machine learning, meaning that machines complete tasks typically done by humans or even complete those tasks better than humans.
Can it be used to replace all jobs done by humans is up for debate, but let's see what is the role of AI in WordPress? Many WordPress plugins rely on AI to improve content creation as well as to speed up the web design process.
Since these plugins are brand new technology, there are no guarantees they will work for your purpose.
Farewell, Spammy Comments
One of the most popular AI-based WordPress plugins is Akismet and it shows the best way to what extent the introduction of AI into this CMS platform can help your website out.
Akismet comes preinstalled with every WordPress installation and is an absolute lifesaver for bloggers who constantly receive spammy comments that slow down website forcing you to clear them manually.
What Akismet does is that it uses AI to clear out the "mess" by finding out which bots are most likely to hit your site. It runs in the background without you noticing it.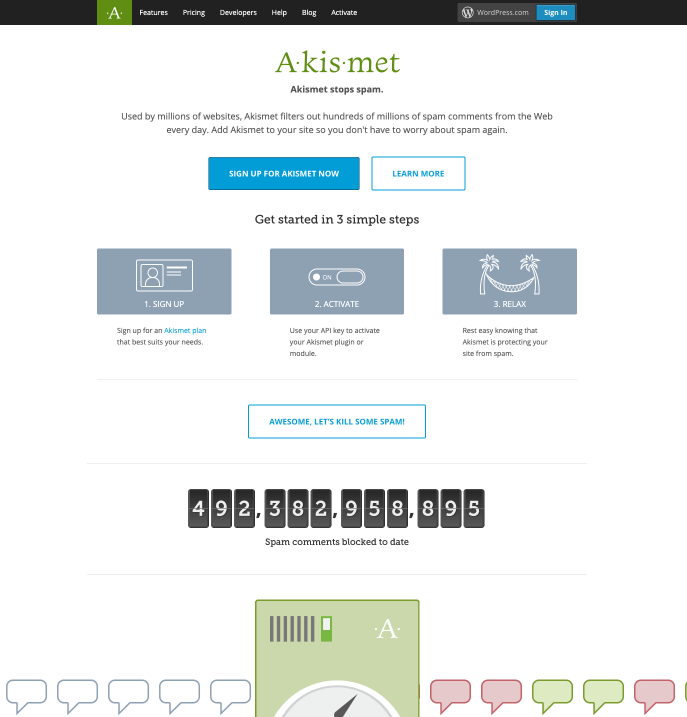 Boost Your Content's SEO
If you use a plugin like Yoast SEO, you'll get suggestions, based on what's been written, how to improve your content.
But, in terms of AI, there's another plugin doing a better job – WordLift. It actually analyzes your content and creates a Knowledge Graph (knowledge base used by Google and its services to enhance its search engine's results with information gathered from a variety of sources) for your website.
You'll gain SEO recommendations tailored to your content by receiving several facts and figures to help your SEO.
Have Expert Proofreading
Don't ruin your work in building a website by making typos and incorrect spelling and grammar. This will chase your audience away as they will recognize your website as unprofessional.
Use the right words, not clichés, or your content will make readers yawn. The wrong choice of words in sentences will confuse your audience.
Jetpack is a plugin that has a proofreading feature and it uses AI to achieve it. It can let you know if you used correctly spelled words in the wrong context, saving you from embarrassment, and it will check for style errors (clichés, bias language, etc.).
The multilingual capabilities of WordPress must be used carefully. The easiest way to translate WordPress is by taking advantage of the AI-based Google Language Translator plugin which will, after you install it, collect data about your visitors and the content on your website and deliver higher quality translations.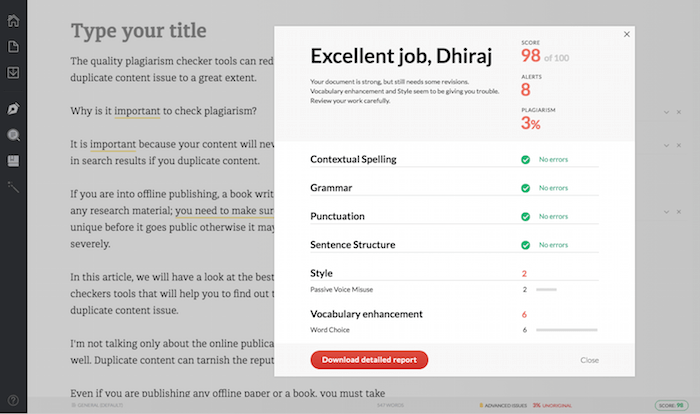 Personalize Users' Experience
Every website wants visitors to feel like at home when coming to their website and, which is more important, to make them return.
That's why related posts are important because they increase web traffic to your website and keep readers surfing your website by reading more articles.
There are plenty of plugins related to this purpose available of which Biblio has AI in its root. Its AI algorithms reveal relevant articles, realizing which of your website's other posts relate to what's being read.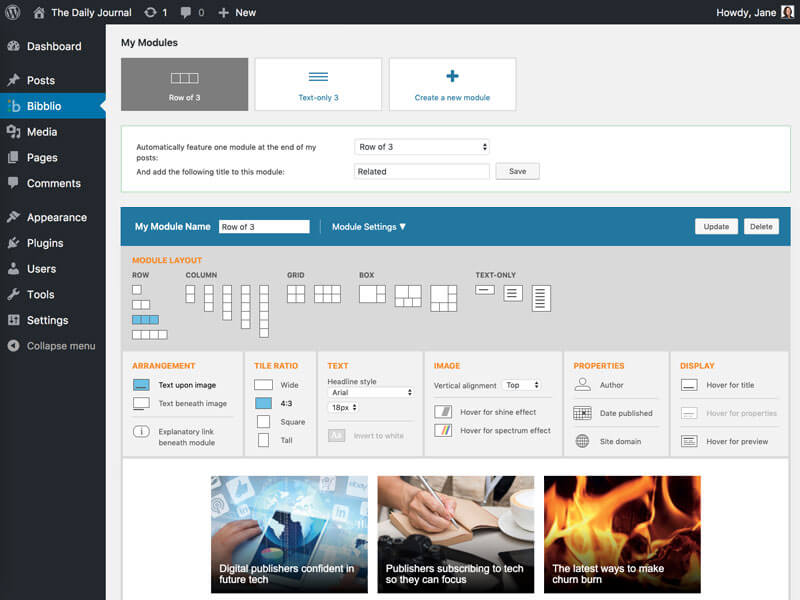 Let the Machine Talk to Your Customers
Yes, AI can help you with answering questions of your customers. This doesn't mean that you'll let AI of WordPress conduct your entire customer support chat but when it comes to those simpler questions, it makes sense to have chatbots.
You'll be free to answer some more delicate inquiries from other customers. Actually, this combination of communicating with customers is just perfect if you want to successfully drive sales.
Customers need quick responses which and directions around your website which you can't always give.
There are a number of live chat WordPress plugins and many of them come with an automated bot is able to complete simple tasks and send customers in the right direction – to a certain product, or a coupon.
AI in the plugin allows you to create your own response when a certain question pops up.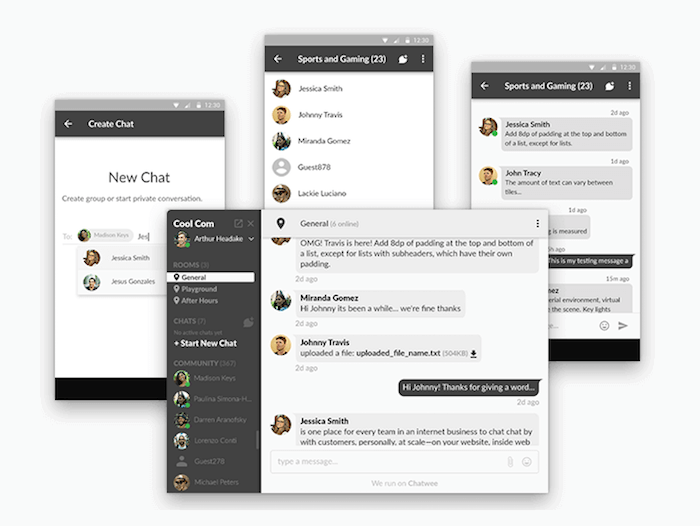 Understand Your Readers' Emotions
Machine learning is shown in its best light in this WordPress segment. In collaboration with the famous U.S. information technology company IBM, WordPress has introduced a plugin named Watsonfinds, which uses the AI platform of IBM Watson (Watson is a question-answering computer system capable of answering questions posed in natural language).
How does it help WordPress? Watsonfinds actually evaluates how readers are feeling when looking at the content of your website.
Then, it delivers an emotional score (divided into 5 different emotions: Joy, Sadness, Anger, Disgust, and Fear) of each emotion based on certain words and phrases used in the content.
This will help you adjust your content in order to reach out to the proper audience.
Nurture Your WordPress Site
The great benefit of WordPress is that it's an unrivaled platform used for marketing purposes, while the implementation of tools and plugins for statistics, email automation, and many other tools, is easy.
Ecommerce, as well as Dropshipping, have further contributed to the use of the already popular WP.
Creating a store in WooCommerce is quite easy, even for someone with no prior knowledge.
Generally, we can get all our ideas out to the world through an open-source platform and have the help of a huge community and countless websites and forums to help us with this.
But what's important, regardless of what trend we're using of the above mentioned – WordPress likes when we take care of it. Regular updates of themes and plugins, as well as WordPress itself, are necessary.