Templ.io is one of the top emerging names in the web hosting market. This is an in-depth Templ.io hosting review.
Templ.io is a managed web hosting company that offers highly optimized Google cloud hosting services. So, if you are looking for hosting with the fast loading speed and a highly secured environment, Templ.io is a great option for you.
What is Templ.io?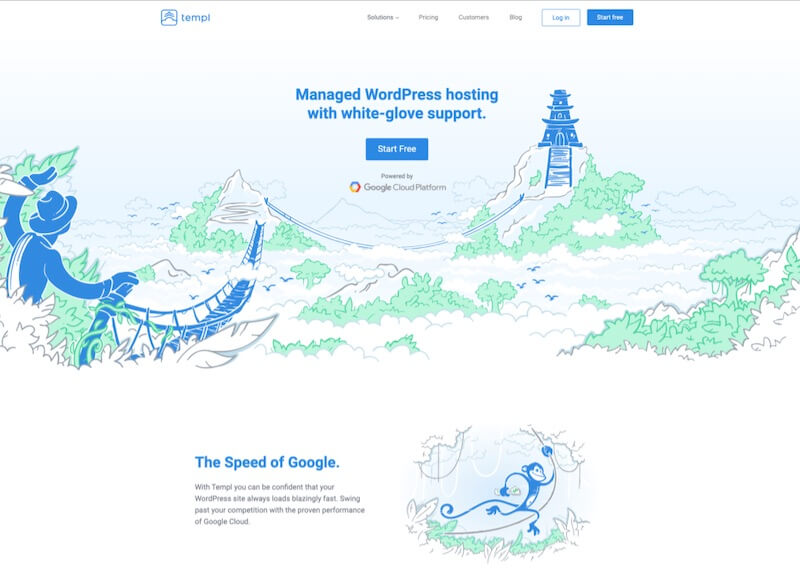 Templ is a Sweden-based cloud hosting provider that has been offering a lot of things to the online world like cloud-based web hosting, easy backups and restores, free SSL certificate, free migration support, and so on.
The web hosting service of Templ is one of the most talked-about and famous in the web hosting market. And the best part here is that this number is increasing every new day thanks to the easy to use and quick services offered by the company.
Templ.io also offers Google cloud-based web hosting. The major focus of this innovative brand is to help out the budding and innovative entrepreneurs all across the globe.
With the multiple features in the offering, like cloud-based web hosting, easy backups and restores, free SSL certificate, free migration support, the hosting service provided is optimized for high-end performance and high-level security. 
With an experience of over two years in the web hosting and technologies industry, Templ.io has made a good name for itself thanks to its ability to update itself with the new technologies. 5
Features Overview
Here is a list of some of the major features provided by the Templ.io in its hosting service.
Easy to Use
One of the most important factors in all the service providing technologies is the ease of use. And it becomes even more important when you are aiming for budding and small entrepreneurs.
Think about a new user who is just starting out, the whole process of settings up the hosting and the website can be intimidating, unless you have a hosting option with very simple process.
Here is when hosting providers like Templ comes into the picture. The platform offers you an easy to use control panel that is fully optimizable. New and people will find this platform very easy and comfortable to work with.
The Templ.io account management is very easy and hardly takes any major effort. It hardly takes a few seconds for a new user to signup and starts using this web hosting platform.
The user control panel is simple and easy to use unlike many other hosting providers.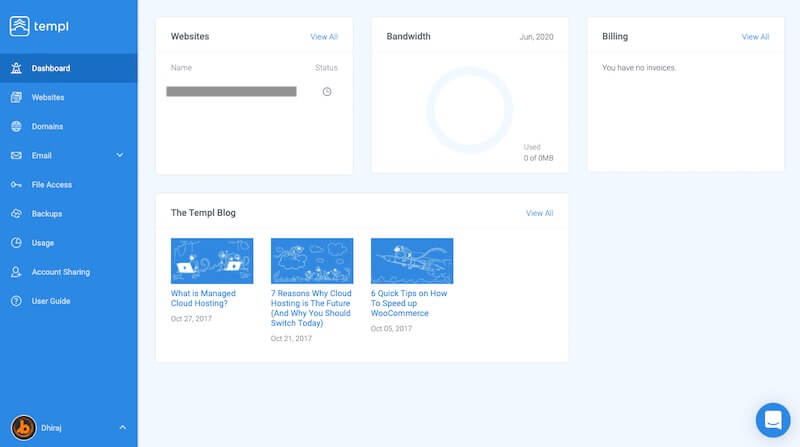 Google Cloud Server
When you go for Templ hosting, your site will be placed on Google Cloud that offers the best in the industry hosting environment. So, you can expect blazing fast hosting with a tightly secured facility making sure that your site performs at the top level.
Templ also offers you amazing cloud-based hosting, with servers in locations like USA, UK, Brazil, India, Singapore, Australia, and so on The cloud-based hosting servers make the overall experience much easier and simple
Google Cloud CDN
To make your site perform even better, the Templ hosting uses Google Cloud CDN. So, no matter where your visitors come from, they will see a very fast loading site.
As your probably know, the performance of your site is very important from the user experience and search engine's point of view. If your site doesn't load instantly; your are sure to lose traffic and ranking.
Templ will optimize your site and make sure that it performs perfectly at any point of time.
SSD Hosting
Super fast and highly productive Solid-state drives are also packed in this featured-packed hosting platform. The SSD offered here is with all the plans. This drive just increases the overall performance and reliability of websites.
The Solid-state drive ultimately decreases the overall downtime of the website and is great for all kinds of small and medium businesses.
How to Get Started With Templ Hosting?
The process is very simple. You go to the site and create your account. You have the option to sign up with your email ID or you can use Gmail or even Facebook to get started.
As you are done creating your account. You will see the option to start a new website on Templ platform.
if you are already managing your site on any other hosting and you wish to migrate it to Templ, you will see the option to migrate a site as well.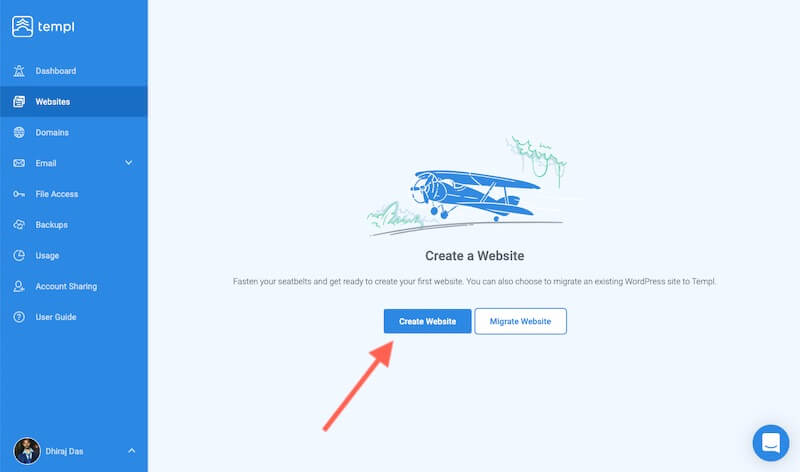 So, accordingly, you can select any one of the options. If you are staring a new site, select create website or if you are migrating an old site select Migrate Website option.
Select Server Location
In the next step, if you are starting a new website you can write the domain name and select the server location from a list of options from around the world.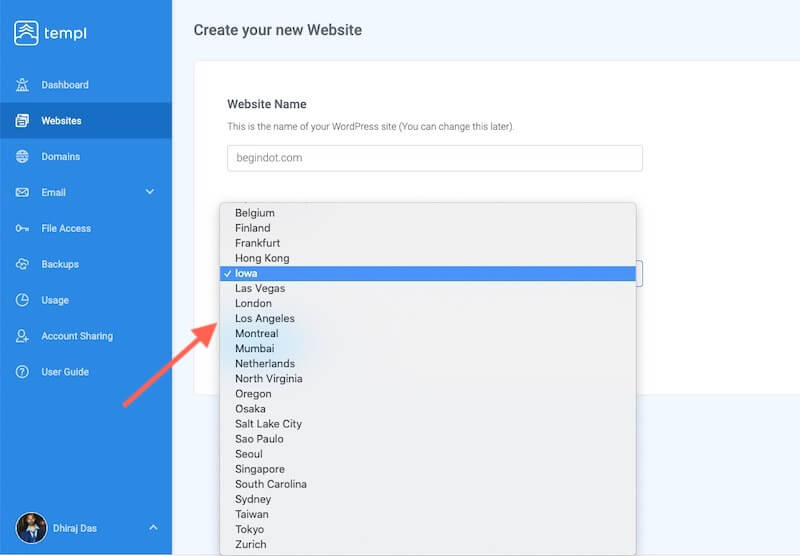 Temporary Site
In the next step, the Templ platform will create a temporary site for you so that you can edit your site before it goes live.
And during this temporary environment, you can get in touch with the team if you wish to optimize your site further to make it even faster.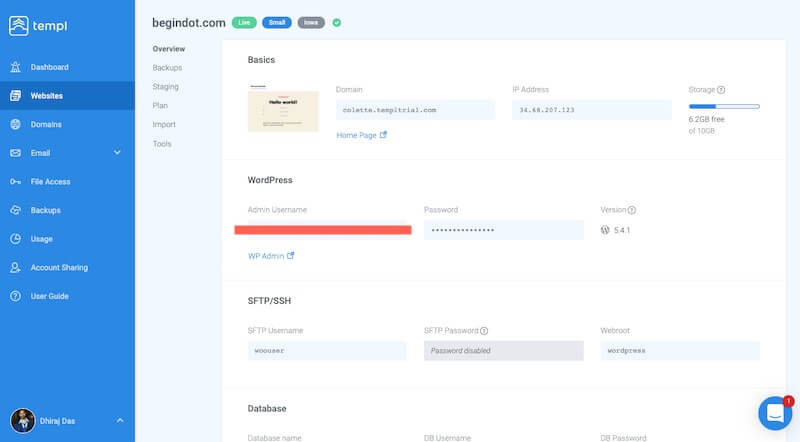 Free Migrations
If you are already managing a site and you wish to migrate it to Templ server, you just have to send the migration request to the Templ team to get that done for you.
You don't have to move a finger. Once your site is migrated to the staging environment of Templ, you can check if everything is ok. If you wish to wish to optimize it further you can inform the team to work on the speed to make it even faster.
Freebies and Add-Ons
Here you also get a lot of Freebies and add-ons with every plan. Add-ons like storage, TrueSpeed CDN, free SSL certificates, e-commerce blogs, and G-Suite applications as well.
Apart from the usual support provided from the company, the add-ons also provide you special WordPress help and support as well.
24×7 Customer Support
Templ offers 24×7 support to its customers. This support is available on phone, emails, and live chat. New users can also get guidance and troubleshooting from the customer support team easily.
The team at Templ also offers users a long list of highly-resourceful and easy to access online resources. There are blogs and tutorials available by the team itself.
Pros & Cons
---
Pros:
1. Performance: The performance is absolutely great. The ability to track and manage traffic is one of the most amazing options in this hosting service.
The ups and downs of traffic, user demands, speed, and overall performance is never compromised. You can hardly face any kind of downtime in Templ.
2. Automatic Daily Backups: One of the most important features of this hosting service is the automatic backup facilities. In the case of major emergencies as well, you will not find any data recovery issues.
3. Support: Customer support is one of the biggest USP of this hosting platform. It is available 24/7 through chat, phones, email, and twitter as well.
4. Reliability: Hosting services offered by Templ is super easy to use and is highly reliable. Handling traffic spikes and managing the hosting is super easy in Templ.
Cons:
1. Pricing: The overall pricing plan is on the heavier side. It is definitely much more expensive than similar competitors. Although it is very reasonable as per the services offered.
2. Low Bandwidth: The bandwidth offered by the company for the smaller plans is quite low as compared to others.
Templ.io Pricing
Pricing plans here are packed with a lot of different features. The hosting prices offered in these plans are ranged from medium to high. As mentioned in the cons, the pricing plans offered here are on the expensive side and as compared to other competitors, this will cost to higher per plan.
The company has claimed that the features and offers provided in these pricing plans are enough to justify the price range of these plans.
The pricing plans offered here are of five different types, each offering a set of features and different pricing plans. The pricing plans are as following:
1. Small Plan: The plan is designed for all budding new businesses and entrepreneurs. It is the base plan here and is packed with a lot of amazing features like:
1GB RAM
10GB SSD storage that is both fast and highly-reliable
Free SSL certificate for all small plan users
1 WordPress websites installation only
Each adding-on website will cost only +$10/month
2. Small Plus Plan: This is the pricing plan specially designed for pre-established websites and businesses. The plan is also packed with a lot of features and makes the overall migration, as well as using very easy.
2 GB RAM
10 GB SSD storage that is super fast and makes the traffic hassle-free
Free SSL certificate for all small plus plan users
1 WordPress websites installation only
Each adding-on website will cost only +$10/month
10 GB bandwidth for providing high performance
3. Medium Plan: This plan is aiming for the businesses that are well-established and for the ones that have made a good name for themselves in the industry already.
2 CPU cores shared half each
4GB RAM
Free SSL certificate for all medium plan users
1 WordPress websites installation only
25 GB bandwidth for providing high performance
Each adding-on website will cost only +$10/month
4. Large Plan: The large plan is for all the large-sized well maintained and highly functional multinational businesses. This for the users who have a large amount of traffic and usability.
50GB SSD super fast storage
8 GB RAM
2 CPU Cores, fully dedicated
100 GB Bandwidth for quick and easy use
Free SSL certificate for each website
Each adding-on website will cost only +$10/month
1 WordPress websites installation only
Conclusion
So this was the Templ.io Hosting Review. The choice is up to you as always, but if you need a cloud-based high-performance hosting platform with a lot of support, this is the one for you.