SEO can offer you impressive ROI and help you drive a lot of free traffic to your business. SEO traffic is long lasting and free.
The digital landscape has changed significantly even within the last few years. Marketing has evolved and there are now so many more ways of reaching people.
Nowadays most businesses, from Fortune 500 companies to freelancers, have a website that they are trying to direct traffic to so they can sell their products and services.
Most of them also have a strong social media presence, or at least an account on the three major platforms: Facebook, Twitter, and Instagram. You may even be familiar with some brands' famous hashtags.
With so many businesses competing for attention, it's important to find ways to connect with your audience that you haven't met yet. And try all possible sources to drive traffic to your business.
There are numerous examples of million dollar business that depends primarily on the search engine traffic. In this article, we will look at how SEO can help you grow your business.
Why is SEO important?
The entire world is online. Long gone are the days where people wondered about something and didn't walk over to a computer to find out an answer.
Over 90% of the web traffic comes through the search engine, so your business must focus on search engine traffic.
Please note: Over 90% of the total search engine traffic comes only through Google. Proper SEO and knowledge of Google ranking best practices can have remarkable impact on your business.
People can order a pizza without ever leaving their couch. And since spring 2020, the majority of social interactions and sales have been online because of the pandemic.
With so much attention on the search engines to find everything from local restaurants, news or to purchase products, it's important to take advantage of search engine optimization (SEO).
Market research allows you to find out what keywords people are using to find your business as well as your competitors' business.
By checking for keywords within your niche, or an SEO agency can come up with a strategy that utilizes the words your users' type to you. Then, content writers incorporate those keywords into your website.
Basics of SEO and Keyword Research
SEO (Search Engine Optimization) is the process that helps you to rank your content higher in the search results. The idea is to optimize your site and content with the correct approach so that your content starts ranking ahead of your competitors.
With some many websites around, it's not an easy job to rank a relatively new site for a high competition keyword. So, you can start your content strategy with some relatively easy to rank keywords.
When we talk about SEO, it is not just about the article you write; there are over 200 different algorithm components that are checked before you see the results for any search.
So, before you even start writing your content, the basis has to be right.
SHere are some of the important aspects to look at.
Keyword Research is Important
Once you have your website ready, you can start with your content strategy. Do not publish any random content without proper keyword research.
If you don't do proper keyword research you will never get the expected benefit from your content.
When you start a new website and create content, it is difficult to rank because your site doesn't have any authority.
So, you should focus on the low competition keywords that are relatively easier to rank.
You can use SEMrush to find profitable low competition keywords. SEMrush offers you a custom keyword research tool called the "Keyword Magic"
You can use that tool to find keywords around your niche. This tool will help you to find hundreds of potential keyowrds with the total search volume for those keywords along with the difficulty score to rank.
The difficulty score you give you clear idea about how easy or difficult is it going to be to rank for those keywords.
All you have to do is to search with your main keyword and the keyword magic tool will instantly show you all different related keywords that you work on.
For example, if your niche is digital marketing; you can make a search for "Digital Marketing Tools" to find all related keywords.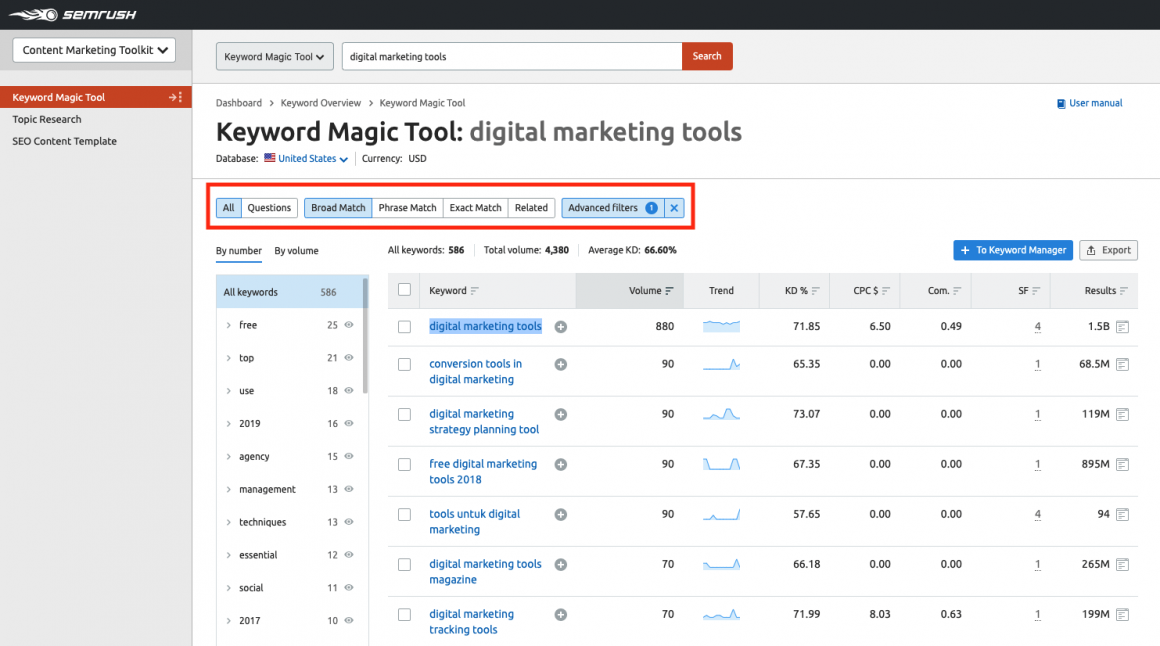 Content Types That You Should Focus on
Once you have the right keywords that you plan to target, you can choose the right format for your content so that it is more effective.
Some of the content types that works
Create an Editorial Calendar
A regular posting schedule if very important for a new site. You must plan your content strategy so that you are consistent with your content publishing.
There are a number of tools these days that you can use to manage your business and create all different plans.
You can use Taskade to create a schedule for your content. You can use this tool to create a detailed plan and share it with your team.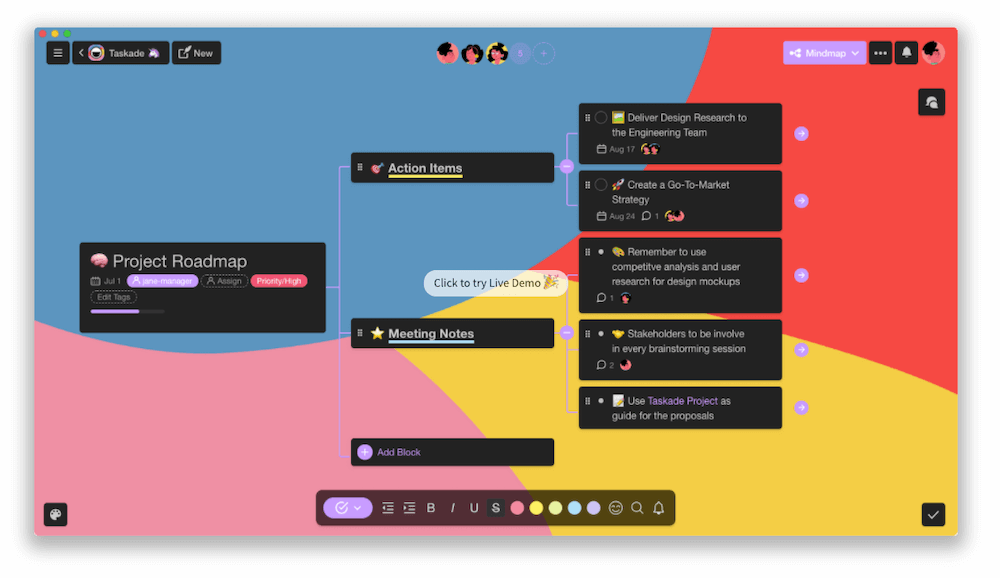 Consider Hiring a good SEO agency
As a small business owner who has no clue about SEO, you may find it different to drive traffic to your business. Also, you will need to devote a lot of your time in learning SEO and creating your content if you wish to do it yourself.
So, you may consider hiring an SEO agency that can do all your SEO related job while you focus on your core business. Through it will add to your cost, you will have long term benefit and great ROI in the long run.
If you want to grow your online business through SEO, there are many SEO firms these days. You should also ask for referrals, and check their customer reviews. Most offer free consultations, so if you want to improve your business presence in the digital world, then start reaching out today.
Why SEO is Important for Small Business
---
01

. Search Engine Traffic is Free

There are multiple different cost involved when you are managing a small business. So, getting free traffic through proper SEO can offer you the much needed relief.

SEO traffic will not only help you to make your brand bigger but it can bring you a lot of potential customers. Search engine traffic is considered as highly targeted traffic with buying intenation.

So, all you need to do is to focus on creating high-quality and conversion focused content with proper call to action.

Proper keyword research coupled with highly targeted call to action is the recipe for success.
02

. SEO Traffic is Long Lasting

If you go for paid advertising on Facebook or even search engines, you get traffic as long as the campaign is running. So, you might get 1000 visitors to your business during the campaign and it disappears as soon as you stop the campaign.

As a small business owner, it might not be feasible to run paid campaign throughout the year.

This is a strong reason why you should invest your time and money on SEO. Once you have a strong SEO strategy in place, you will keep getting traffic from the search engines for years.

SEO traffic is long lasting. Once your site is able to create the authority in the niche you are in, all your content will start ranking in the search engines bringing regular traffic to your site.
03

. SEO Helps You to Create Authority and Brand

SEO is a great way to build a brand. As search engines are the largest source of traffic; it is the best possible channel to reach out to a targeted audience.

If your business is new, no one will know your brand. But once you are able to rank your content on the first page of Google for important keywords; your site will start getting mentions on other sites making your brand popular.

The quality of your content will define how far you can take your business.

People will start sharing and referring others to your content if they find it helpful. So, focus on offering real value through your content.
04

. SEO ROI Can Be Tracked

You can use free Google Analytics to track your traffic. It will offer you a lot of in-depth data that you can analyze to improve your business further.

You will understand what kind of content your audience is liking, it will give you a direction. The pages that bring in the maximum number of traffic.

You will have complete demographic of your traffic and a number of other details that will help your business.
05

. Local SEO is a Must for Small Business

If you are managing a small business that caters to the local area around you, local SEO is going to be very helpful for your business.

You should start by listing your business on Google My Business and add your website. Also, for your website, you should focus on optimizing it for the area you you do business in.

If you are offering services in a city or a state, you can optimize your website by acquiring links from top authority sites in the area. You can get a mention in local news sites to increase the overall authority of your business in the area.

Final Word

Hope this article will help your small business. If you don't have a website for business yet, you must consider creating one right away.

We have put together a number of articles that will help you to start a grow your business, you can find the list below.