Choosing the right hosting service for the first time can be quite daunting with a number of reputed options available globally.
SiteGround and Bluehost are two of the most popular options people recommend, and we are ready to help you choose between the two.
Both services have been around in the hosting scene since the early 2000s and have garnered quite a bit of reputation.
However, as a customer looking for the right hosting service for your business or personal website, there are some differences between the two that you need to consider.
We have used both SiteGround and Bluehost for our sites. Currently, we are hosting a few sites on SiteGround.
In this article, we will try to compare teh basic plan form both SiteGround and Bluehost.
SiteGround vs. Bluehost: Performance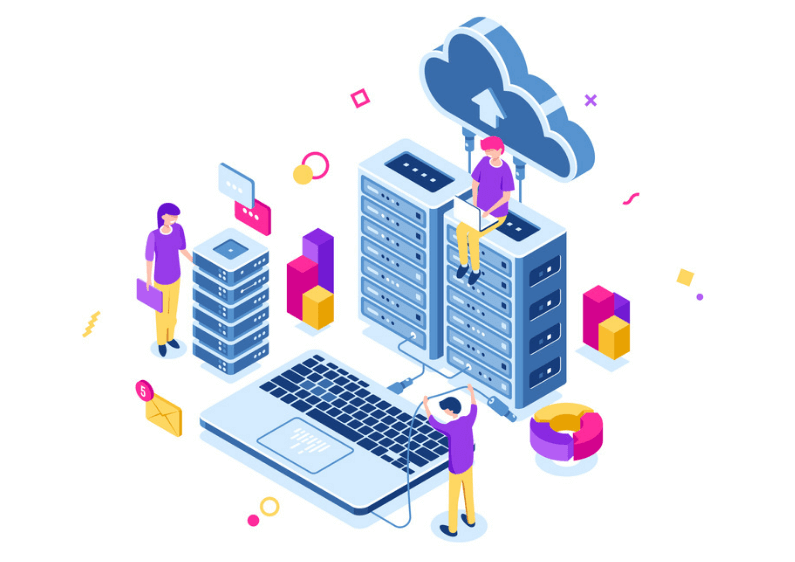 SiteGround Features
When it comes to performance SiteGround does a better job at offering blazing fast performance to its users. The web hosting service takes advantage of innovative ideas and uses their own cache plugin, updated PHP releases and more.
Both web hosting services take advantage of SSD drives which are significantly faster than your standard hard drives offered by generic web hosting solutions.
Both SiteGround and Bluehost take advantage of Apache + NGINX web server technology, which has been adopted by nearly all major web hosting companies.
The use of NGINX reverse proxy caching solution offers minimal load times and great performance across the board.
SiteGround is relatively faster at keeping their technology up to date. The hosting service provider has already implemented PHP 7.3 RC which is twice as fast compared to older versions and requires fewer resources.
Bluehost, on the other hand, is still using PHP 7.0, and there is no word on when the hosting service provider will update to the latest version of PHP.
As you may have noticed, HTTPS technology is being pushed hard in the internet community, and it is being promoted due to the free certificates and of course, added security.
However, HTTPS websites do come with a noticeable drawback, which is slower load times. SiteGround has managed to bypass this issue by taking advantage of TCP 1.3 and OSCP.
Verdict: While both service providers offer great service, SiteGround is much faster at delivering updates to its users.
SiteGround vs. Bluehost: Security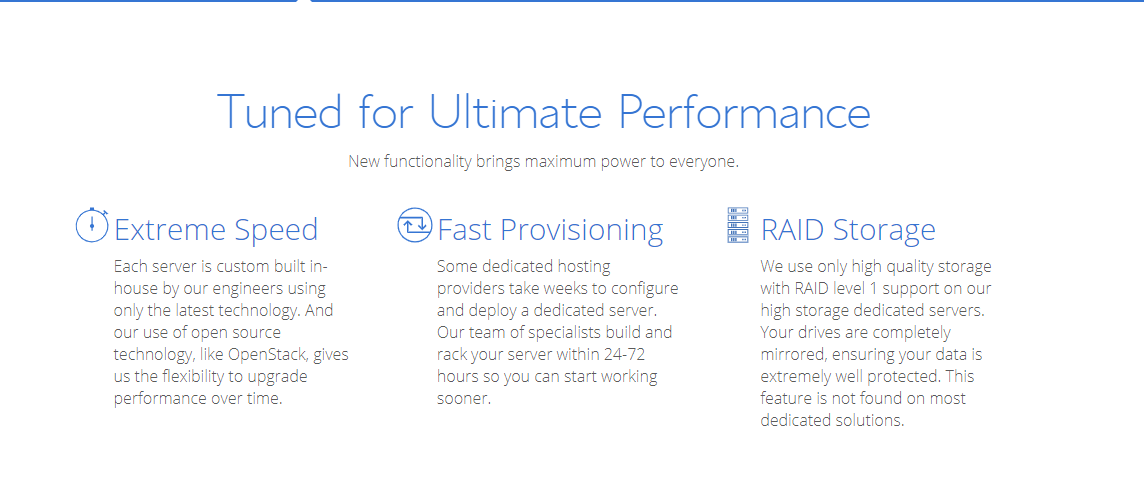 Bluehost Server Features
The mark of a good hosting service is its reliability. Both SiteGround and Bluehost do a very good job of keeping their users safe from malware and cyber-attacks.
SiteGround recently deployed an AI-bot that is capable of blocking over 2 million kinds of cyber attacks on their servers. Bluehost, on the other hand, uses Cloudflare protection for its users along with spam protection, IP blacklisting and more.
Cloudflare's online security services are widely accepted and are quite reliable.
However, SiteGround takes it a step further with its AI-bot and delivers a more secure experience. The bot can monitor failed logins, DDoS vulnerabilities, automatically flag unsafe IP addresses and an automated system that reduces the number of false positives.
Verdict: Yet again, SiteGround manages to edge past Bluehost in security thanks to its own AI-bot which is more efficient than standard Cloudflare protection used by Bluehost.
SiteGround vs. Bluehost: Uptime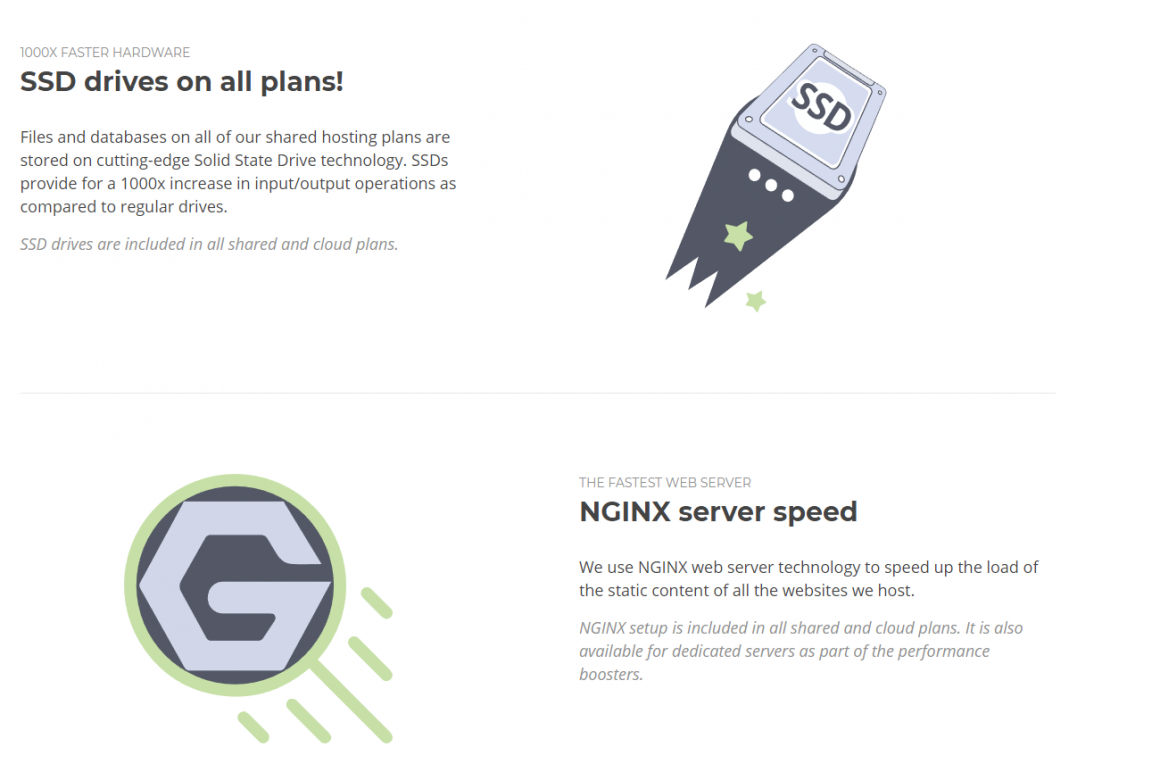 SiteGround Server Features
When managing a website, you want to have maximum uptime for all of your visitors.
While technical difficulties are not always avoidable and sometimes server maintenance of hardware failure does happen, you need to opt for a service that offers uptime as close to 100% as possible.
Both SiteGround and Bluehost market their services at 99.99% uptime. However, if we look at statistics from uptime monitoring websites that are accessible for free both services deliver on their promises.
Bluehost does have a slightly lower uptime percentage and runs into issues rarely, but SiteGround suffers from server issues on a much smaller scale.
Verdict: Both services are extremely reliable and deliver on their promises with SiteGround showing signs of slightly better uptime than its competitor.
SiteGround vs. Bluehost: Servers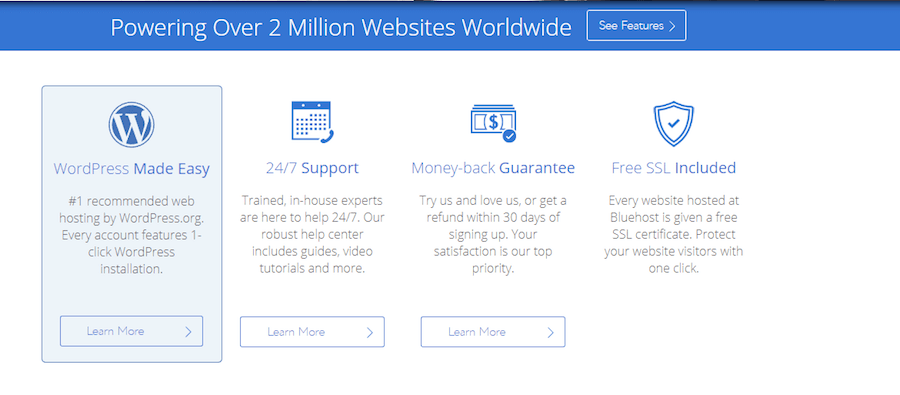 Bluehost Features
Server quality is of utmost importance, and if you expect your website to gain a large number of visitors, you want nothing but the very best.
Upon close inspection of server performance data from both Bluehost and SiteGround via multiple server locations, we saw a stark contrast between both providers.
In some tests, Bluehost's server response times were as high as 10.61 seconds with a minimum response time of 915ms.
SiteGround, on the other hand, performed significantly better with a response time of 1.6s at peak and a minimum response time of 669.9ms.
Bluehost's server response times are not very promising even with low traffic, which was quite surprising.
It may be possible that at the time of testing Bluehost servers were not performing as well as they normally but such fluctuations in performance are not to be expected from hosting providers of such stature.
Verdict: There is a noticeable difference between the performance across both companies with SiteGround performing significantly better.
However, server location can be a major factor when it comes to server response times, and your mileage can vary across different locations.
But the fluctuations in performance on Bluehost's end makes us give our vote of confidence to SiteGround instead.
SiteGround vs. Bluehost: WordPress
If you want to set up your website with WordPress, then you will be happy to know that both service providers offer WordPress plans that make creating websites a hassle-free experience.
There are a lot of benefits to choosing a WordPress website and ease-of-use ranks above everything else.
Pre-configured WordPress websites allow you to take advantage of CDN, SSL and other technologies with little technical knowledge.
The performance of WordPress websites is also quite impressive. SiteGround offers WordPress hosting solutions via a number of affordable and corporate plans.
There are a number of tools included, and you also get access to automatic updates, free WordPress migration (using a proprietary plugin) and more.
The company takes advantage of SSD hardware and their renowned Supercacher with NGINX for added speed. You get access to free server support 24/7.
Bluehost WordPress packages are extremely affordable, and you get pretty much the same suite of features that you get from SiteGround. Where Bluehost shines is its shared plans.
If you are not keen on having dedicated servers for all your files and your website project is of a smaller scale or simply built for personal reasons, you will be fine with a shared server plan as it'll help you cut down on costs significantly.
Verdict: Both companies offer similar features when it comes to WordPress websites. If you are looking for dedicated servers for your website, you should opt for SiteGround, and if you are looking for shared plans, you can opt for Bluehost.
SiteGround vs. Bluehost: Data Management
Online security is of utmost importance, especially if you plan on using your website for business purposes or handling large volumes of data.
It may very well be the most important deciding factor when it comes to choosing a hosting service provider.
A backup of your website is an absolute necessity. You may be wondering, what's the point of having a backup when all of your data is stored on a secure server?
A data backup secures you from the off chance that your service provider is attacked and all of your data gets stolen. Online data theft and data breaches are at an all-time high, and you do not want your data to be lost in case anything goes wrong.
In addition to data theft, your data can also be affected by malware or other technical difficulties may lead to loss of data. Having a backup is also important ahead of major changes to your website.
If something goes wrong during the update process, you will be able to restore your website to a previous version without any fuss.
While none of the above scenarios should happen to most users, it does not hurt to be safe.
If you opt for SiteGround, you will get access to automated backups every day, and you also have the option of restoring your data whenever you want with a single click.
It takes roughly two minutes to restore your data using the service. You can also request the provider to create additional backups beyond the daily quota of one backup a day.
Bluehost offers backup services using CodeGuard which costs an additional $8 per month. The third-party tool is quite good and is widely used by other hosting service providers as well.
You can get access to all of the features that SiteGround offers but the additional charges involved may be a concern if you are on a fixed budget.
Verdict: Both hosting service providers offer an equal level of service when it comes to backups and data management. The only differentiating factor is the added $8 fee you have to pay per month if you opt for Bluehost.
SiteGround vs. Bluehost: Pricing and Support
Pricing is a major differentiator for most customers looking to get a hosting plan.
If you are on a budget and plan on using your website for non-commercial purposes, you can opt for basic plans or shared server plans which will get the job done just fine.
SiteGround Hosting Plans
If are planning on setting up your business, we strongly recommend choosing a dedicated server plan. The basic startup plans cost $3.95 for 10GB of disk space.
There are no discounts available even if you get the yearly package (outside of special deals which change from time to time).
Bluehost Hosting Plans
Bluehost costs $3.95 per month if you get a three-year plan and $6.95 per month if you want to pay monthly. However, you get access to 50GB of data which is a big plus over SiteGround.
Both service providers offer Wildcard SSL, a feature that essentially allows you to secure your domain permanently until you release its rights and sell it to an interested buyer.,
Support is also of utmost importance as you will constantly need to be in touch with your provider for managing things during the initial setup phase.
Fast and effective communication is to be expected from both the hosting service providers as they hold the top spots in the industry. User feedback for both providers is quite positive, and you can't go wrong with either option.
Verdict: There are minimal differences in the basic pricing, and it's all up to you when it comes to choosing the right package. While Bluehost plans are more expensive at the base level, you also get access to more storage.
However, both companies offer tremendous value for money and have plans priced as per the international standards with no overpriced packages.
Which hosting service should you go for?
Both Bluehost and SiteGround performed tremendously well in our analysis and offer a number of benefits that your generic hosting provider will not be able to.
They use the best-in-class technology out there, but SiteGround's ability to keep up with their marketing promises pushes our verdict in their favor.
SiteGround is the better of the two hosting service providers but only by a small margin. With faster updates, marginally better uptime and security features, we would recommend SiteGround over its competitor.
Price is a major factor for a large number of users who want to start up a website, and in that front Bluehost, WordPress packages can be slightly more affordable.
Their shared hosting plans are something you can look into if you want a cheap solution with top-notch features.
Both service providers offer access to third-party plugins and scripts via the MOJO marketplace, and you also get access to advanced CDN, cPanel for WordPress websites and security features like SiteLock.
| | | |
| --- | --- | --- |
| | SiteGround | Bluehost |
| Performance | Faster updates and takes advantage of the latest technology. | Slower at updating to the latest frameworks. |
| Security | Standard suite of security protocols along with additional AI-bot for preventing cyber-attacks. | No proprietary measures but comes with all of the standard security protocols. |
| Uptime | 99.99% uptime. | 98% uptime. |
| Server Quality | Consistent performance with extremely low response times. | Response times can be inconsistent with some minor spikes. |
| WordPress | Ideal for WordPress with proprietary migration plugins. | More affordable WordPress plans compared to SiteGround with an identical set of features. |
| Data Management | Free daily server backups. Additional backups can be requested. | Server backups cost an additional $8 per month — unlimited backups. |
| Cost | Basic plans start at $3.95 per month and 10GB/month. Shared server plans available. Free support included. | Basic plans start at $3.95 per month (with 3-year packages) and 50GB/month. Shared server plans available. Backup service costs are extra. Free support included. |
| Server Locations | London, Chicago, and Singapore | Undisclosed |
| In-built Caching | Available | Not Available |
| Site Transfer | Free on all plans above basic package | $149 transfer fee |
| Server Location Change | Available | Not available |
| Free Domains | Not available | Available |