You must be familiar with the saying – "one man's trash is the next man's treasure." This also holds true for your smartphone.
Even if your cell is old, laggy, or filled with signs of wear and tear, there are people who are willing to pay good money for it.
So instead of throwing it away, or leaving it someplace to rot, have you ever considered selling your old phone(s)?
Now, this idea isn't new, and surely you have heard about electronic BuyBack companies like Gazelle, Decluttr, Buyback Boss, and the likes. But how do you know which company is offering you the most money for your smartphone?
You can go about from one site to another, input your smartphone information, and then see how much they are willing to offer. But this method is neither practical nor productive. And so, we come to SellCell – the largest phone and tablet price comparison site in the US.
And so, we come to SellCell – the largest phone and tablet price comparison site in the US.
The company will help you compare the buyback prices offered by the leading phone buyers in the US so that you can make an informed decision and sell your phone for the highest dollar.
If this has got you interested, then here is our full review of SellCell and how it can help you make money online.
SellCell: User Interface
Here we have put together a full walkthrough of the SellCell user interface with an in-depth step-by-step guide on selling your smartphones at the best price.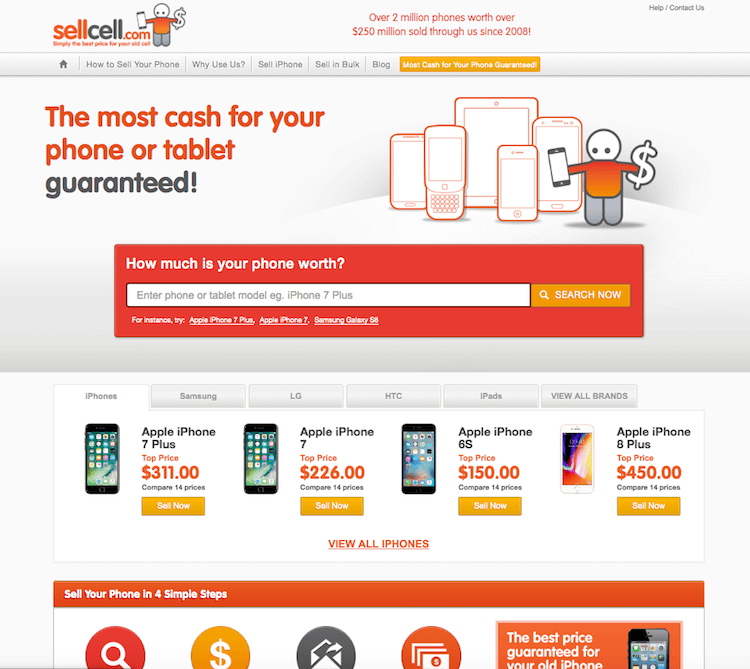 Step1: Search For Your Phone
Once you visit the SellCell website, you will be greeted with a search bar. Enter your smartphone's brand name, or model number and hit the "Search Now" button.
For this example, we are trying to find the best price for our old iPhone X.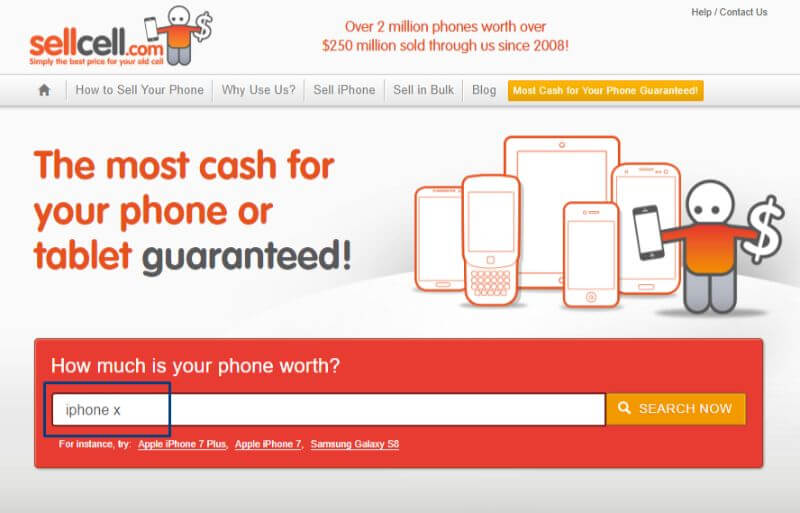 Step 2: Select Your Phone Model
Next, the website will generate an exhaustive list of all smartphones related to the keyword you just entered.
This is an extremely helpful feature for users who are not too tech savvy and don't remember the exact name or model number of their smartphones.
Furthermore, as you can see from the image above, not only will you get access to the different smartphone models with respect to your keyword, but it also displays the best buyback price – $845, and how many prices it is comparing – 13prices.
Let's try to sell our iPhone XS Max!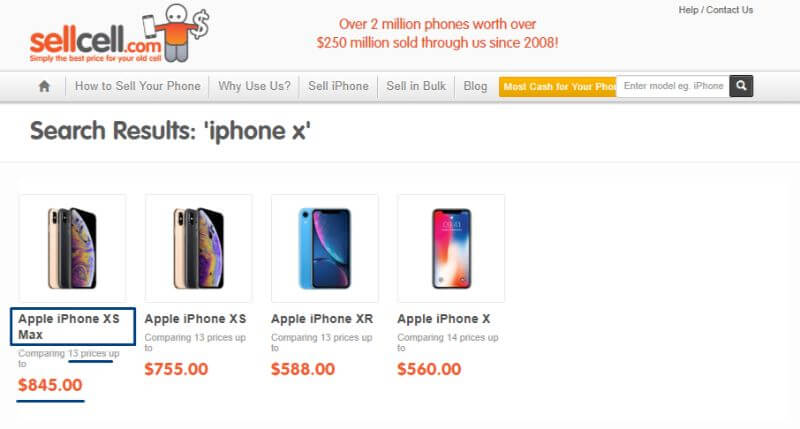 Step 3: Provide Information About Phone Condition
After selecting the smartphone model you want to sell, the website takes you to a new page where you need to provide extra information about the overall condition of the device.
This includes which network it's currently on, the memory capacity of the device, and its current condition. The last part might be a bit ambiguous, so let's elaborate on that:
A smartphone that's "LIKE NEW" means: it has zero signs of use without any wear.
A smartphone that's "GOOD" means: it has light to moderate signs of wear that's comes with casual usage.
A smartphone that's "POOR" means: it has heavy signs of wear.
A smartphone that's "Faulty" means: some of its functionalities are damaged or not working.
Now depending on your smartphone condition, as well as the memory capacity, and whether or not it is locked or belongs to a particular carrier will affect the buyback price offered by the companies.
Note: Don't input false information about your smartphone's condition, memory capacity, or carrier details. This will be used in the authentication process, and if the provided information doesn't match, then the transaction might get canceled.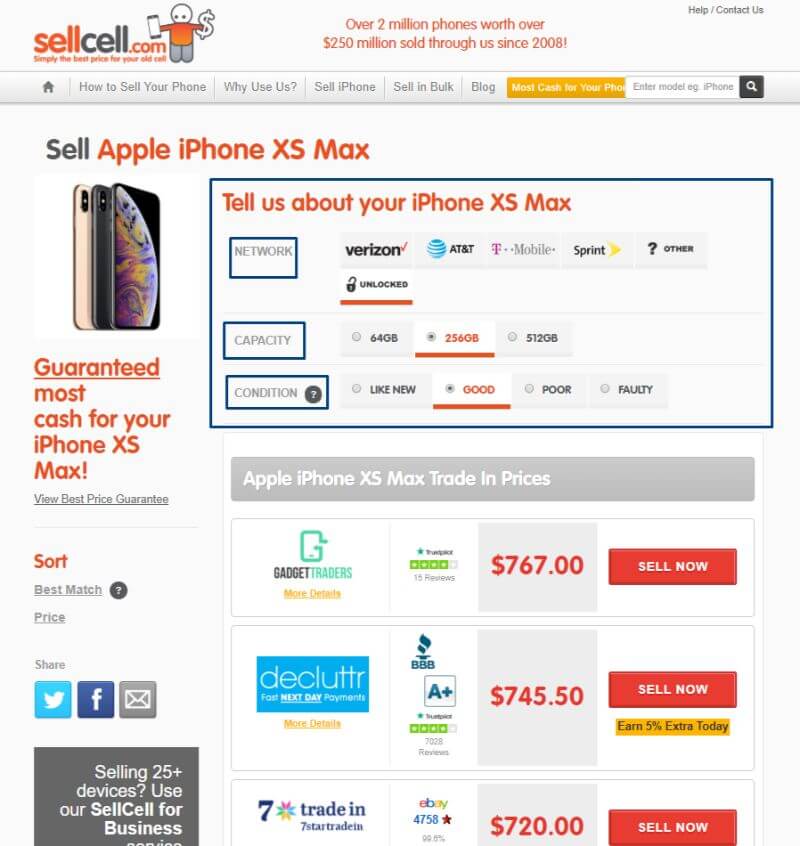 Step 4: Access Information About Buyers
Once you have selected the condition of your smartphone, the website will generate different buyers and the prices they are willing to offer for your device.
As you can see from the image given above, all the different buyers are organized from top to bottom. At the left-hand side, you get the option to sort the list based on prices or best match.
Sorting the list based on "Price" will arrange the list of buyers, with the highest paying company positioned on top.
Sorting the list based on "Best Match" will arrange the list of buyers based on who is offering the most money, as well as their user ratings.
Each row consists of the buyer company names, their user ratings, the money they want to offer, and the "Sell Now" button to initiate the transaction.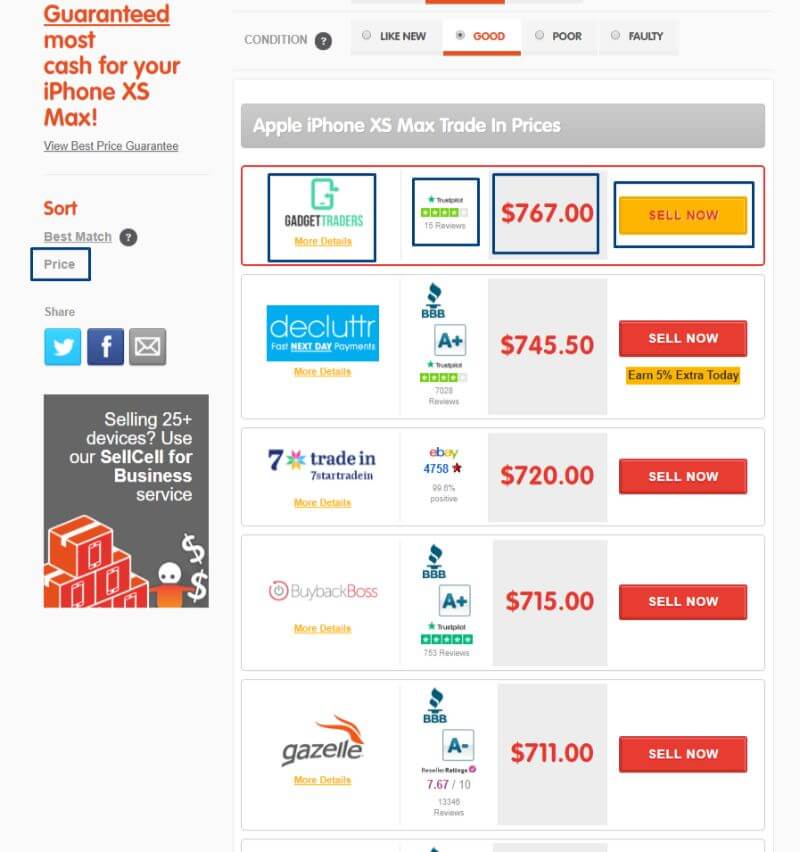 Step 5: More Details About Buyers
Now you might have noticed the "more details" button located beneath each buyback company. It opens up this pop-up window which provides extra information regarding the company and their buyback policy.
As such SellCell tries to give you as much actionable information as possible. This helps you to quickly filter out buyers that are giving you more money but sacrificing on the essential user experience.
Step 6: Transfer To Buyer Website
In the above example, we opted to sell our iPhone XS Max to GadgetTraders.
So after hitting the "Sell Now" button, the above redirection screen shows up informing us that we are leaving SellCell and heading over to GadgetTraders to complete the transaction.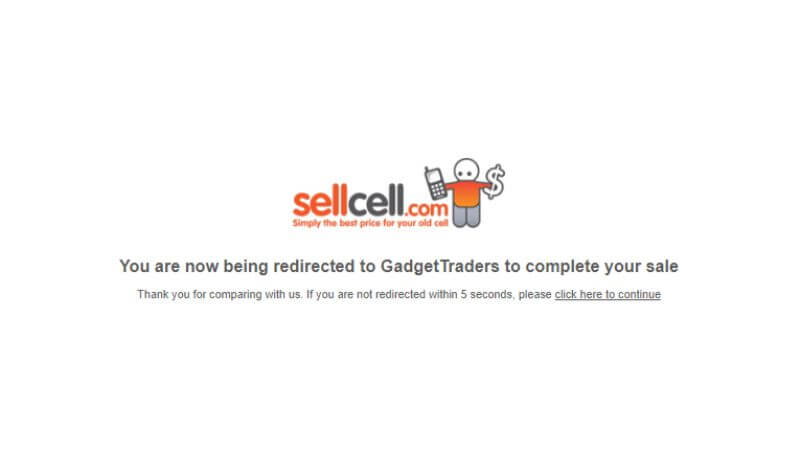 Do More Research About The Buyer
As mentioned above, SellCell is only a price comparison website. It uses a price comparison engine to fetch you the best prices offered by different buyback companies for your smartphones.
Do note, that SellCell is not the company that is actually buying your smartphone. As we showed in the above guide, it redirects you to the buyer's website where you need to complete the transaction.
This is why it is important that you do some manual research regarding the company where you want to sell your smartphone.
All you have to do is look at some user reviews and find out if they charge any hidden costs – for example, do they provide shipping expenses or do you have to provide it.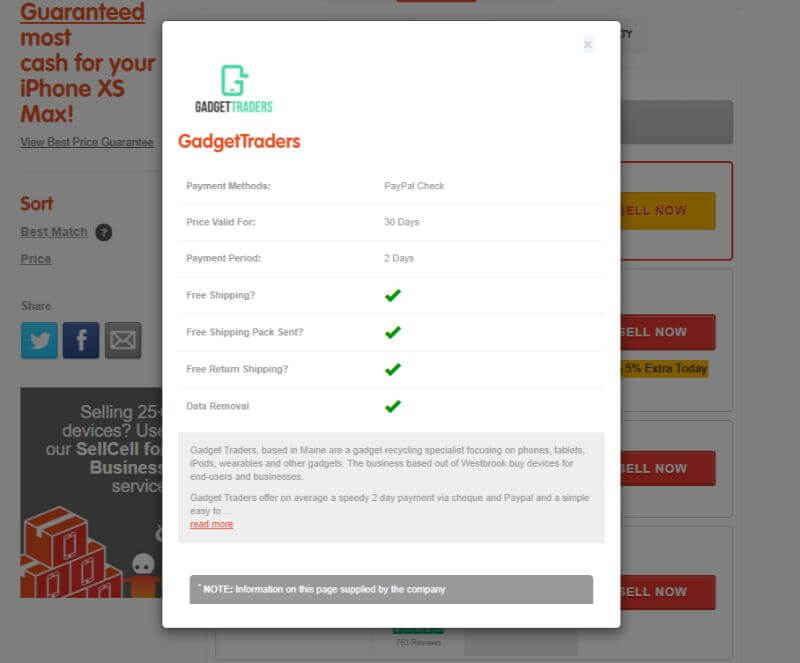 Best Price Guarantee
Basically, SellCell doesn't involve itself in your transaction with the BuyBack companies.
However, it does provide users with a "Best Price Guarantee". That is to say, the company guarantees that you will be able to find the best buyback price on your smartphone.
So if you are able to find a buyback company where you can sell the same smartphone at a higher price than shown on SellCell, then they promise to pay you back in double the price difference.
So, Should You Use SellCell?
SellCell is often mistaken as a buyback company when, on the contrary, it is a price comparison website. They will not buy your smartphone directly.
However, they have set up an excellent price comparison engine which lets you evaluate the different buyback companies which are actually interested in buying your phone.
You will get access to all necessary information including how much money the different companies are willing to pay as well as their user ratings.
This allows you to make a sound decision in selling your smartphone to the most reliable company that is willing to reimburse you handsomely.
If you find the article helpful, don't forget to share it.