For organizations with a distributed team or an extended enterprise, providing sales training is crucial.
It is often a challenging task to provide practical sales training on a large scale, ensuring consistency of the training experience, and tracking learner progress.
This is where the integration of Salesforce CRM and your learning management system (LMS) can make life easier for administrators, learners, and instructional designers.
On the one hand, LMS manages the training and learning process of your organization, while on the other, Salesforce uses the learner data from the LMS for generating leads.
However, it is quite challenging to manage the extensive data generated by both systems.
Integration of Salesforce with LMS allows you to combine both the systems into one while enabling you to use its Single sign-on feature to get authenticated access to both the systems with a single login.
It eliminates the requirement to switch between systems for referring to two sets of data.
Read on to explore the many benefits of Salesforce LMS integration.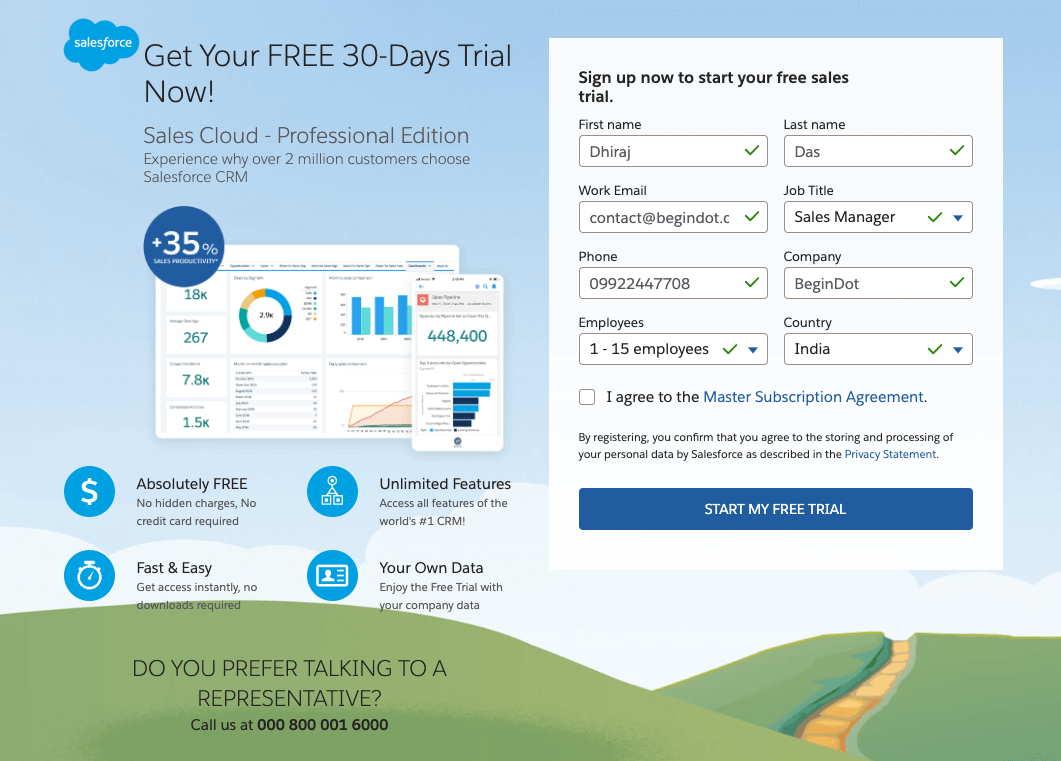 01

. Better Training Decisions

You can use performance reports and learning activities to suggest training courses for your employees. Based on their learning history, you can also assign them additional courses automatically, by defining user based triggers.

Finally, you can monitor the courses taken and their impact on the individual's sales to determine how effective the course is.

This process helps you in identifying the most effective training, enabling you to promote the better ones and make necessary changes to the others. All of this ensures better training decisions in the process.
02

. Seamless Data Synchronization

It is always a labor-intensive and lengthy process to create profiles for every new entry to your sales team manually. Salesforce LMS integration can effectively cut this effort to a large extent.

Once the integration is done, whenever a new user is added to Salesforce, your LMS will also create an account for them automatically.

As such, all the Salesforce data will also be shared with the LMS. With the progress in training, Salesforce LMS integration will make the learner progress data available on the Salesforce CRM itself.

An administrator just needs to ensure timely logins and track the course completion rates by operating a single platform.
03

. Training Delivery On A Familiar Platform

Generally, whether it is customer training or sales training, the user-interface of an LMS is unknown to learners.

It becomes a deterrent for the learners to have additional skills to learn even with a user-friendly interface of LMS. Such drawbacks can adversely affect course completion rates.

Also, struggle using the LMS will have a negative impact on the customer experience, which will further be detrimental for your business.

Integration of Salesforce with LMS adds a "learning" tab to the Salesforce account interface. With this, learners can quickly access the training materials by a mere click on the learning tab, on a familiar platform.
04

. Increased Profit Margins

One of the significant benefits of a business, i.e., considerable profit margins, is an amalgamation of various factors.

It includes task automation, customer satisfaction, increased employee efficiency, partner/customer education, sales leads, and enhanced learning adoption rates.

By integrating Salesforce with LMS, you can ensure that your business maximizes the experience and value of each customer interaction. It not only increases productivity but also minimizes your overall marketing and operating costs.
Final Thoughts
The frequent switch between different platforms creates possibilities for missed insights and updates. Salesforce LMS integration eliminates this and enhances the effectiveness of both platforms. Not only it improves the efficiency of your sales training program, but it also eases everyone's life associated with your training goals.