It's not only enough to grasp the SERP algorithm if you want to rank in the search results. It's about going a step further and evaluating the data to make informed choices to improve your SERP ranking.
This blog post aims to answer all of your questions about SERP checkers and how Zutrix is one of the few options that will work for your company website.
The question is whether Zutrix is the best SERP tool for you?
We understand that there is a multitude of choices on the internet claiming to be the best SERP tools, but you need the one that gives you the best results. Besides that, you don't want to place a strain on your finances by spending a large portion of your marketing budget.
Here is an in-depth analysis of Zutrix, including its best features and pricing facts.
Let's get started!
Zutrix: An Overview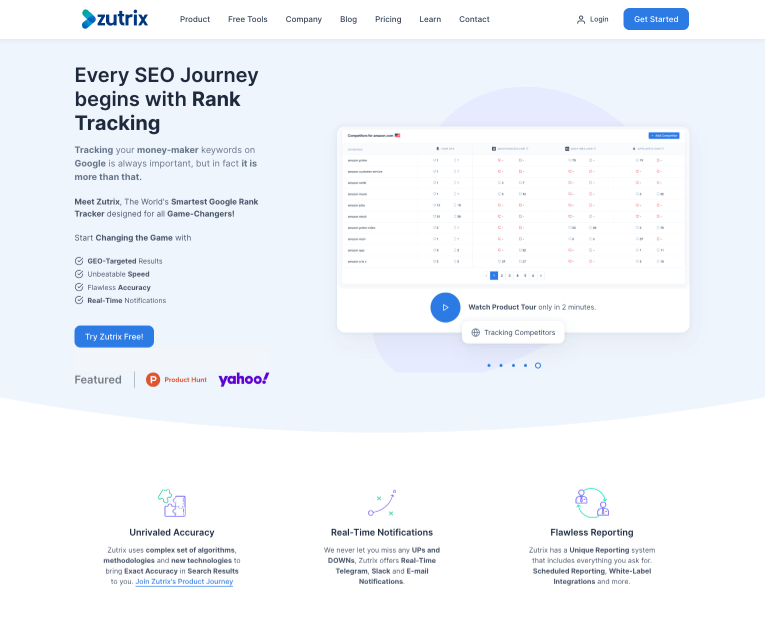 Zutrix is an SEO Rank tracker powered by AI and was established with the mission to help companies grow by providing accurate Google rank results.
Zutrix started its operation 8 years ago and since then, it has managed to expand its clientele to hundreds of customers. Zutrix has worked with big industry leaders such as Buzzfeed, Corsair, and Zalando.
With over 2000 domains tracked, Zutrix has succeeded in receiving positive feedback from over 95% of its clients.
Isn't that astonishing?
What Does Zutrix Do?
Zutrix claims to be the world's smartest Google Rank tracker. With the help of its friendly AI-based accuracy, it enables business owners to easily track keywords along with their rankings.
You can also analyze keyword performance, visibility, traffic updates, and competitor analysis on a daily, weekly, and monthly basis.
Zutrix Review: Best Features
What makes Zutrix a competitive choice?
Zutrix has some of the best features that make it one of the top prospects and top competitors for some of the industry's big players.
Thousands of small businesses, SEO professionals, and digital marketing agencies trust Zutrix for its commendable abilities. Here's why we think why people prefer Zutrix over other similar tools:
Zutrix's Keyword Lab
Keyword Lab by Zutrix will offer you an in-depth detailed analysis of any keyword that you wish to target.
Go to the Keyword Lab section on your Zutrix dashboard and get started. You can find the search volume of keywords, their competition, their difficulty level, live results page, and even the click-through rate.
All of this data on a single screen will help you enhance your SEO capabilities and make better decisions. You can also make use of the in-house metric designed by Zutrix, Z-rating, that provides information about which domain should rank higher based on keywords.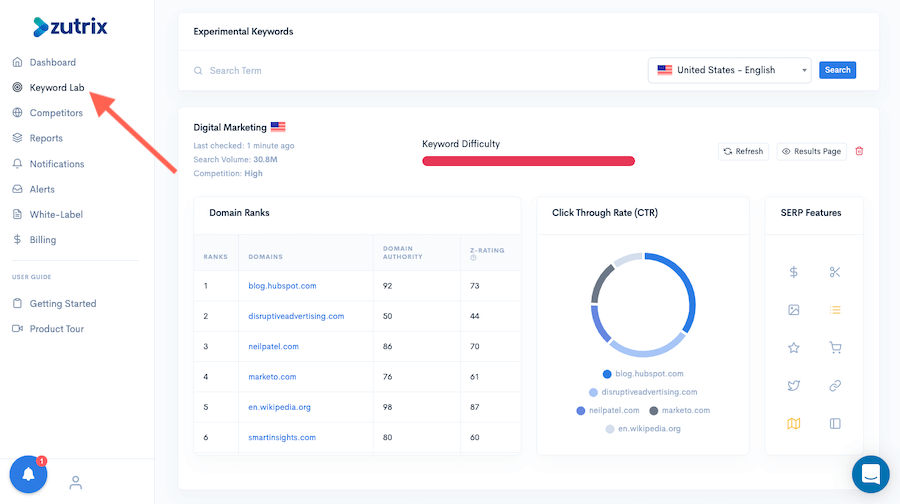 Language Search
For your target audience that lives in multilingual countries, you'll need a solid marketing plan. Zutrix makes it easy to keep on top of things by allowing you to add keywords for review by using the browser language and content language.
This SERP tool's location-based analysis can help you find the best keywords for your target audience.
Enhanced Tracking System
Zutrix does an incredible job to give you a comprehensive view of your entire marketing strategy through its enhanced tracking system.
You won't have to manually add your competitors to the analysis because Zutrix does it for you. Click the dashboard's "add competitor" button, and Zutrix will display all of your competitors based on your domain. As a result, you'll be one step ahead of your competitors.
Another advantage of using Zutrix's tracking system is that it tracks for every location where Google works with 100% accurate results.
Ease of Use
Even if you're just starting out with understanding the SEO and SERP rankings, you don't have to worry about learning Zutrix. The interface is user-friendly and it will take you less than an hour to understand all the data and the features.
Notifications and Shareability
If you're wondering how Zutrix can help you stay ahead of your competition all the time, this feature will prove to be very useful.
Its real-time notifications will not only assist you in keeping track of improvements to your project but also track competitor outcomes and warn you as soon as possible. You have the option of receiving these updates via email, telegram, or slack, among other options.
Another feature that we need to talk about is Sharing. Zutrix provides you with shareable reports that you can quickly pull up from its dashboard. You can also save the data and use it later to further make important decisions.