With the pandemic changing the way how we learn and do things, live streaming has become part of our work life.
Be it any kind of event, yoga classes, school, colleges, professional training, you name it and almost everyone is using live streaming to get things done.
In this article, we will look at WpStream which is a custom solution for WordPress websites to live stream.
If you are expert in anything, you can use this system to live stream and reach out to an wider audience. And it's not only about creating an audience for your videos but you can make money by live streaming.
We will look at how you can use WpStream to make money by live streaming later in the article.
With WpStream, you can
WpStream Overview
As already mentioned, WpStream is a live streaming solution for WordPress sites. That means you will need to have a WordPress installation at your end before you can use this system.
We have this article that will help you to create a WordPress site. Once you have the basic WordPress installation ready, you can install the WpStream free plugin, link it to WpStream platform, and get ready to stream.
No matter what your business is, live streaming is a great way to engage with your audience. For example, if you're a musician you can live stream from your own website to engage with your audience.
Why Should You Have Your Own Streaming Platform?
Before setting up this live streaming system, the important question is "do You Really Need Your Own Streaming Platform"
There is Facebook, Instagram, YouTube that offers the live streaming option and comes with a very big potential user base.
So, you probably be thinking why do I need my own platform.
Well, the simple answer is; you don't own those platforms.
There was a time when viral content sites used to get millions of traffic from Facebook alone helping them make thousands of dollars every month.
But, later Facebook changed their algorithm and many million-dollar businesses had to shut down or to change their content direction.
So, when you are using any third-party platform, you are at their mercy.
While you can take advantage of these platforms to create an audience base by promoting your videos and live streams, you must focus on creating your own platform that you control.
And WpStream is the easiest solution to get your live streaming platform up and running in an hour or less.
How to Get Started with WpStream
It's a very simple three step process.
Here is good news for you. You don't even have to look for any theme or spend any extra money to design a custom theme for your live streaming site as WpStream readily offers you a great looking theme that you can use for free.
Step No 1. Install The Theme
Once you have your account ready, you can install the WpStream theme and install it on your site. The theme is free, you don't have to pay any penny.
The theme offers you two ready to use demo design options that you can use for your site.
First Demo Design
Second Demo Design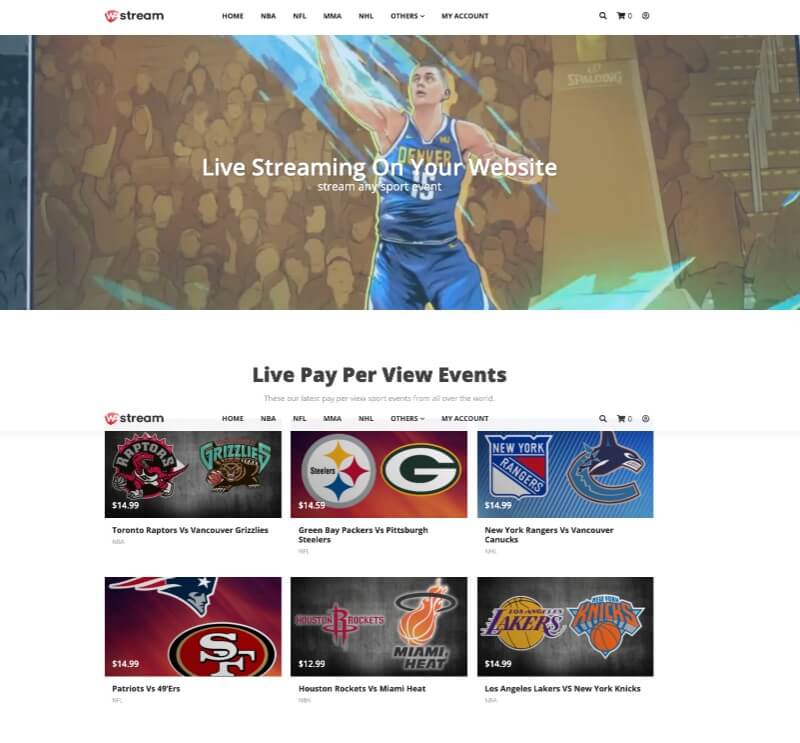 Step No 2. Install The Free Plugin
WpStream is primarily a plugin that will control all the streaming related features. You can download it free from the WordPress plugin repository.
You can install it right from your WordPress dashboard. Go to admin dashboard >> Plugins >> Add New.
Find WpStream and install the plugin.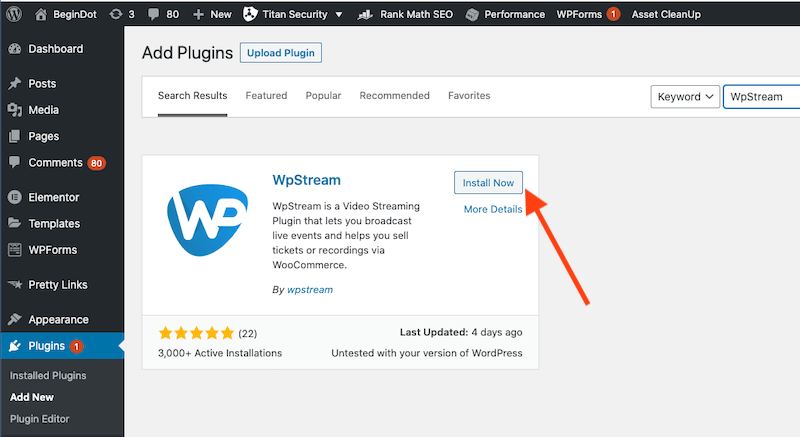 Step No 3. Link to WpStream
As your setup is ready, you have to link your site to the WpStream account. You will get a free trial of the plugin, in case you wish to check how it works before going for a paid plan.
You can create your account here and start your free trial.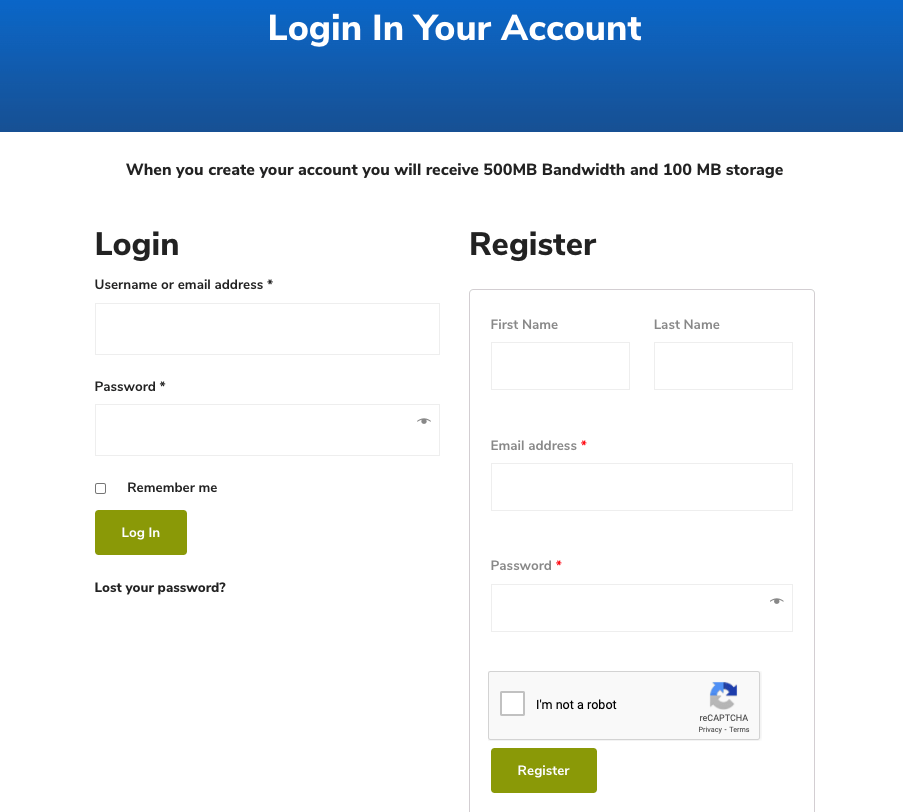 Once you are done with the registration, you will see the available data in the free trial package.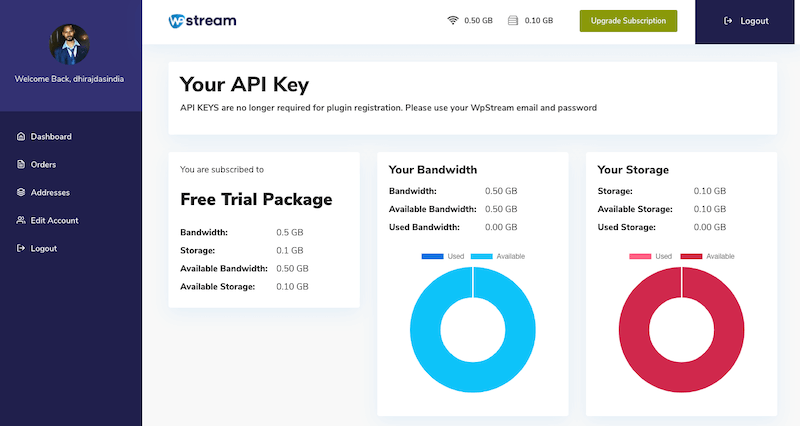 WpStream Settings
Once you install and activate the WpStream plugin, you will get the plugin option in the WordPress admin dashboard. You can set up the permalink (URL) of your channels on the plugin settings page.
By default the parmalink for channel will be like this (yoursite.com/channels). You can change this to anything you want.
Link to Your WpStream Account
You will need to link your WordPress site to the WpStream account for the system to work properly. You can simply use the email and the password that you set on the WpStream account.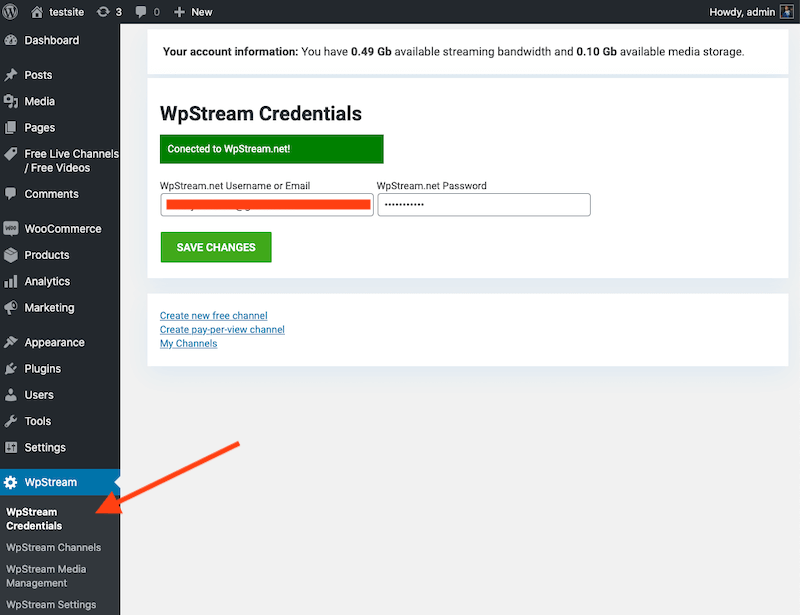 Creating a New Channel
Creating a new channel is simple, you can do that by using the new custom post type that you see on your WordPress dashboard.
Create Free Channels
You have three different types of channels that you can create. There is a custom field below the editing section that you need to select the option from.
You can select any of the above option as per you need while creating your channel.
Start Broadcasting to Your New Channel
Think of a situation where you are managing an online learning portal with a number of teachers. They can have their separate channels created and they can broadcast as per their convenience.
There will be an option in the right sidebar when you visit any channel to broadcast to the channel. Or you can go to channel archive in the admin and broadcast to the channel you wish to.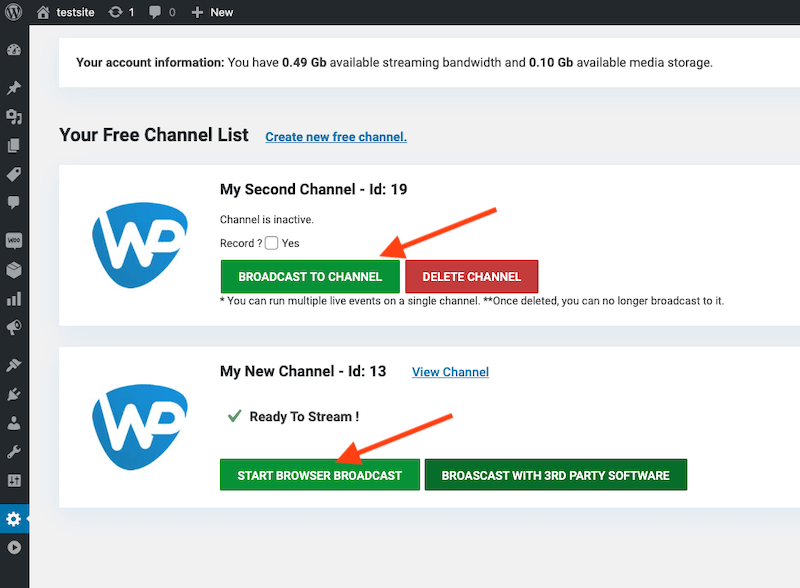 Broadcasting Options
WpStream gives you the option to broadcast through the browser using your system audio and the camera which is the quick and simple way to go about it.
You just have to allow WpStream to use the microphone and camera of your system.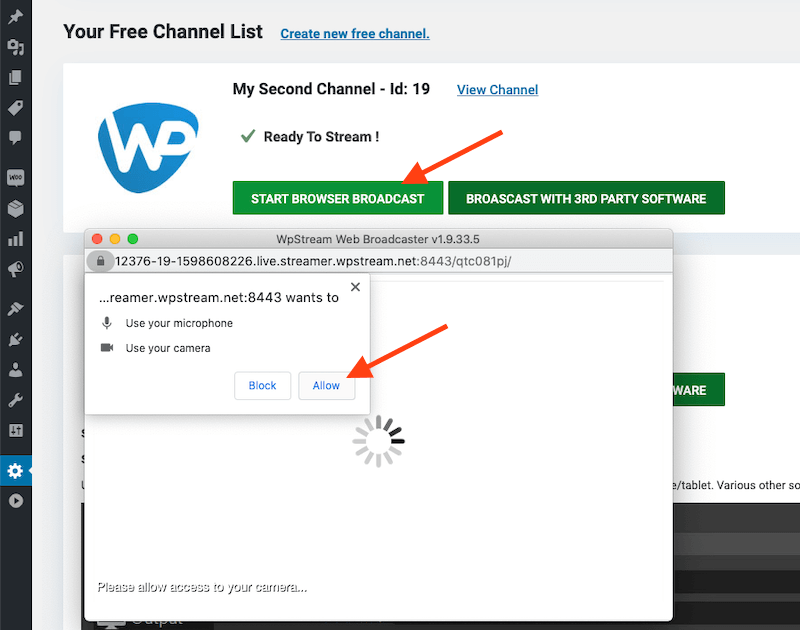 Third-Party Broadcasting Options
WpStream perfectly integrates with third party broadcasting software to give you the flexibility you need while live streaming.
You can go for
Creating Paid Channels
WpStream gives you the option to make money through your live streams and videos. This is done with the help of the WooCommerce plugin.
As you probably know WooCommerce is the leading eCommerce plugin for WordPress CMS. You can use the power of WooCommerce along with the WpStream plugin to make money.
Once you have an engaged community on your channels. You have different options to make money.
This can be a great business model to make recurring revenue through your live streams and videos.