Generally, the WordPress media folder looks like the following one, and all the media files are managed from a single folder. You have a few options to sort the file type and option to change the view (list and grid)
Now, let's have a look at how things will change once you install the WP Media folder plugin.
You can get the plugin Joom United store, as you install the plugin it will take you through a simple installation process; you can skip it if you want.
Wp Media Folder Settings
Here is what the plugin settings interface looks like. While we discuss the plugin's core features of cloud integration, a few small options go unnoticed.
The plugin gives you a few very useful options such as watermarking your images, and the option to regenerate thumbnails.
If you are not using WP Media Folder, you will need to add separate plugins to get these done.
New Features After Installing Media Folder Plugins
As soon as you install the media folder WordPress plugin, you will see a few new options and buttons in the WordPress media library.
You have a new media file sorting option and you have a new option to create folders. Now, you can easily create the folders with the names that will help you instantly find the images depending on project type or any other way that you select to create the folders.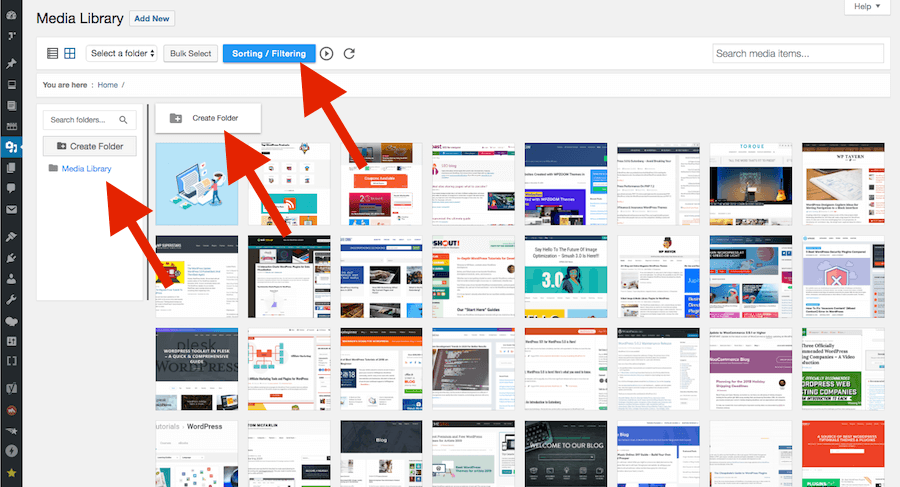 Media File Sorting
This is a very effective and simple way to find a media file depending on a number of different parameters. The plugin makes it super simple for the users to find a file depending on
The Size
Media Type (image, audio, video, PDF and more)
The Weight of The File
Folder Name
And More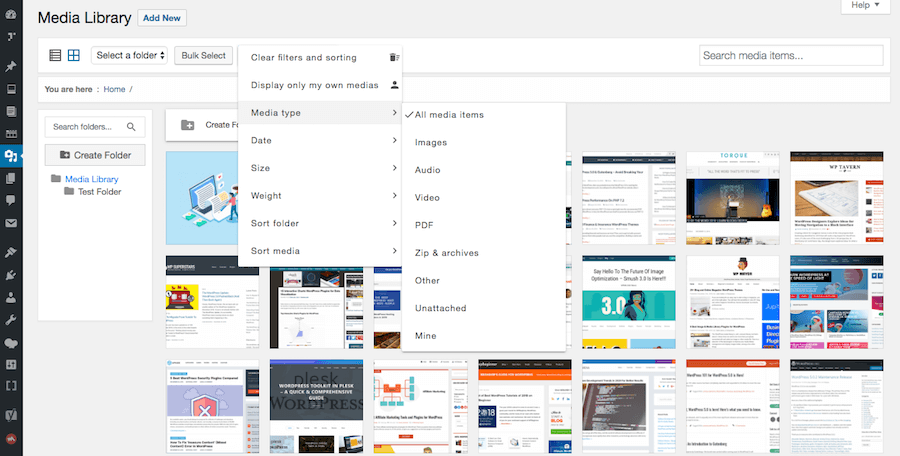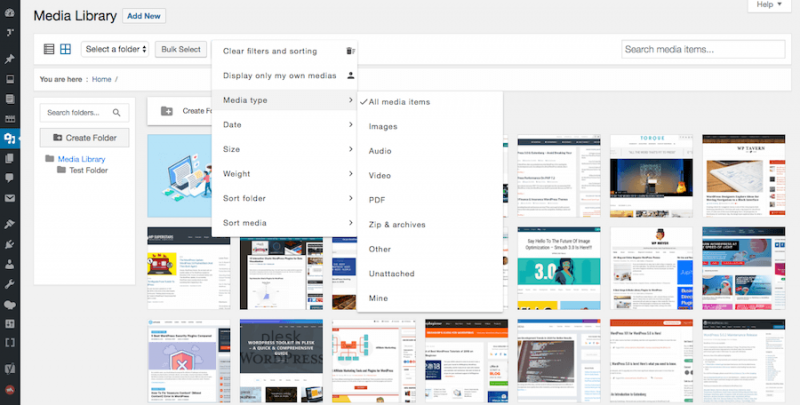 Creating a Folder
Creating a folder is simple, it is the same like creating a folder on your desktop. You can create the folder in a way that will make it simple and easy for you to find an image.
Once you have a number of different folders, the plugin makes it easier to search a folder. You have a search option in the sidebar of the media library to search a folder.
Add to Multiple Folders
In case you wish to add a single image to multiple folders to classify them perfectly, you can easily do that using the WP Folder option while editing an image.
Gutenberg WordPress Media Folder
The Gutenberg editor is a reality of the WordPress community now. There are a number of Gutenberg blocks WordPress plugins that came out to enhance the overall functionality of the editor.
Though the WP Media Folder editor is not a Gutenberg-specific plugin, the plugin integrates seamlessly with the new Gutenberg editor and offers two additional blocks as well.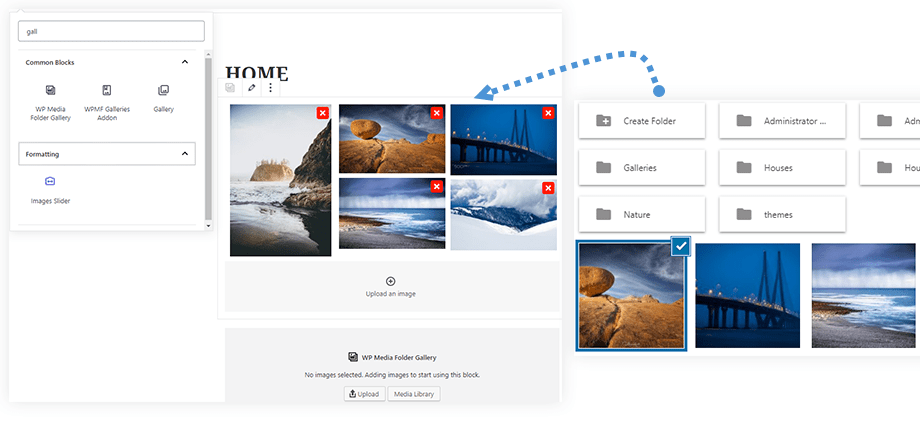 Update-Replace-Duplicate Existing Media
This is another very useful feature offered by the WP Media Folder plugin. You can easily find and replace any media on your site using this plugin.
You just have to replace the files with the same file format. if you are replacing a .png file you must use another.png file and so on. This will make sure the links are not broken.
WP Media Folder Add-Ons
The WP Media Folder plugin offers you a number of add-ons to make the process even easier and simple for you. You will be able to integrate your cloud store platforms seamlessly with your WordPress media folder and use them right from the WordPress editor.
Sounds good?
Here are a few add-ons that are offered by the plugin
Integrate Dropbox
Integrate Google Drive
Integrate OneDrive
And PDF embed
All these add-ons are integrated into a single addon plugin that you can use to enhance your media library functionality.
Let's have a look at the OneDrive integration in detail
OneDrive is a file hosting platform by Microsoft. The WP Media Folder plugin gives you a quick and simple option to integrate your OneDrive account.
Go to your OneDrive account and add an app. You have to select web and proceed

The next step is to add your website URL in the redirect field and then generate a password.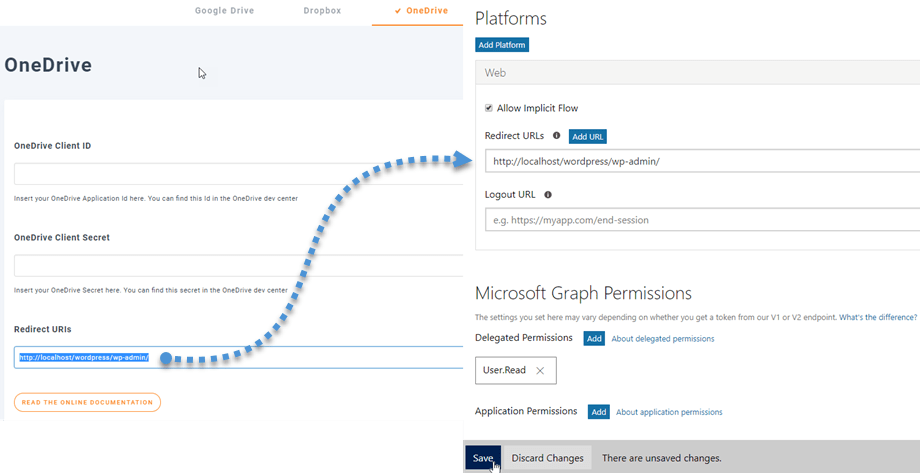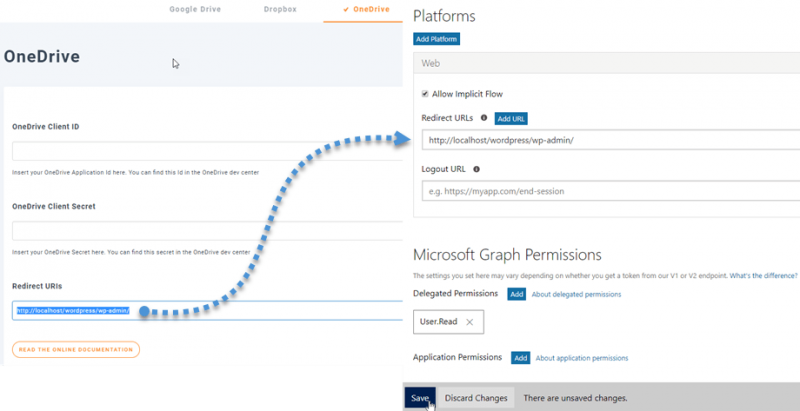 Now, you need to go to WP Media Folder settings > Cloud > OneDrive and add the Client ID and Secret of the app you have created.
In the next step, you will have to allow WordPress to access your OneDrive folder. Once the synchronization is complete, you will be able to access the folders and sub-folders on your OneDrive account right from your WordPress media library.
And it works in the reverse direction as well.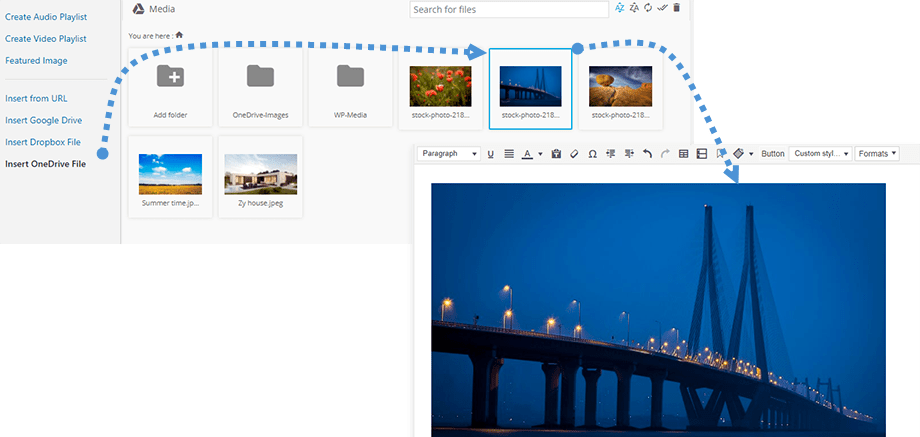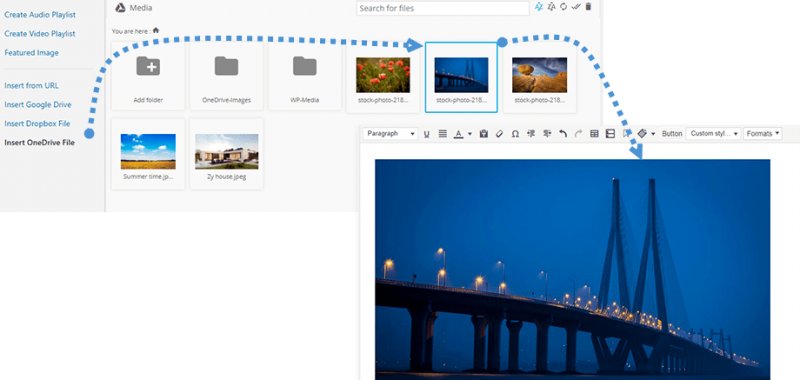 Other than the ease of use, one of the main technical advantages of this process is that the images will load from the OneDrive server, not from your hosting server, this will make your site load faster. 
In a similar way, you can integrate Dropbox and Google Drive accounts with your WordPress media library to make things easier for you.
Other than the cloud integrations, the WP Media Folder plugin offers you PDF embed and gallery add-ons as well.
Pricing and Documentation
WP Media Folder is a big and very useful plugin, especially for the sites that need to manage a lot of media files and larger files.
We all know that images are one of the main components that affect the loading speed of any site. If you start using your cloud storage account to server the images rather than your own hosting server, it will have a great positive effect on the loading time.
Here are the packages available for the plugin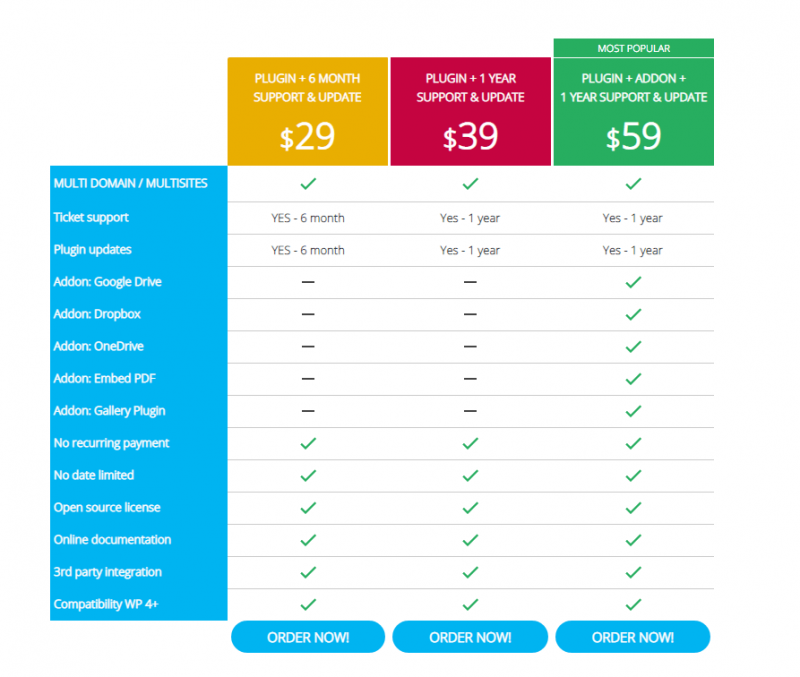 As far as support and documentation are concerned, Joom United offers detailed documentation and video tutorial for all their products.