If you are managing an WooCommerce store, you must know about WooCart hosting.
We understand your needs to manage visitors and to keep your website up-to-date, especially if your website is an online store.
If your online store makes more than 1 or 2 seconds to load, you are sure to lose a some business.
This WooCart review will answer all your queries and help you find a solution for the same, so you can determine if WooCart is the right one for your business.
When launching an online store, along with a tremendous amount of excitement of serving your target audience, there comes a bundle of responsibilities that might force you to scratch your head.
Although WordPress and its eCommerce plugin – WooCommerce has proven to be a masterpiece for a beginner to run his/her online shop, you will need good backup with strong hosting for great performance.
WooCart – An Exclusive Hosting Option for WooCommerce?
A hosting that is built exclusively for WooCommerce and we are not talking about Managed WordPress hostings that are often a part of certain web hosts' existing WordPress infrastructure.
WooCart claims to provide a comprehensive solution to those who're looking to manage their online store.
The question is whether WooCart is worth the amount of money you'll put in?
Let's find out!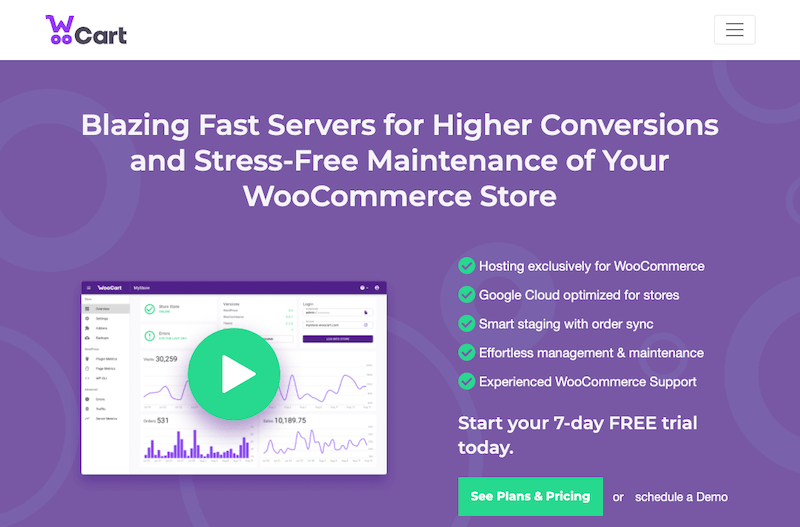 WooCart Overview
WooCart came into existence a couple of years ago and in this small period of time, it has managed to provide its services in 32 countries. Quite Impressive!
Claiming to be the only service provider that focuses on making the life of the store owner easier, WooCart provides blazing fast servers for stress-free maintenance of a WooCommerce store.
Simply put, it's the first hosting built exclusively for WooCommerce. Just as various web hosting such as WPEngine and SiteGround optimize especially for WordPress, WooCart optimizes for WooCommerce and WordPress.
What Does WooCart do?
WooCart provides one of the best services in the market for hosting and managing WooCommerce stores.
The vision behind providing such an efficient and effective solution is to bridge the gap in usability between WooCommerce and proprietary solutions such as Wix and Shopify.
WooCart PROs and CONs
---
The best feature we liked about WooCart was its ease of use. Although it would be fair to say that the hosting service is packed with some of the most advanced features, we can not ignore the fact that there is one key limitation that can have an effect on your decision-making.
Let's have a look!
The PROs:
High Performance
The first thing every online shop owner should look at before deciding their hosting service is the performance potential of the web hosts.
As far as WooCart is concerned, we are sure that your WooCommerce site will load as quickly as possible.
The reason behind it?
WooCart uses the Google Cloud Platform, which not only facilitates the handling of massive volumes of traffic but also improves the security measures of your website.
Besides fast servers, it will also help you find the plugins and web pages that are loading slowly. Benefiting from a dedicated Google Cloud Server would mean that the resources are not shared with other websites that sometimes result in unnecessary slowdowns.
Not to forget, the excellent uptime that comes along with your store being hosted on Google Cloud.
Staging Environment
One cannot ignore the importance of updating to the latest versions of WordPress, plugins, and themes to stay up-to-date on the security risks.
However, making changes to the designs of your website isn't as easy as it looks like. In fact, making live changes isn't recommended even if you've got the support of backups.
This is where the most crucial aspect and one of the biggest advantages of using WooCart come into play!
WooCart creates a safe environment, also known as Lossless Staging, where you can make a quick copy of your store and implement the changes you need. If everything is good to go, you can copy the changes to the live version with just a single click.
What makes it more amazing is that the LossLess Staging system knows how to sync the orders and customer data from live to staging before you publish the new version.
That's pretty awesome, right?
The staging feature like this was all an online store owner would need to simply its updating process.
No Hack Guarantee and Image Optimization
While millions of websites have chosen WordPress as their ideal platform, the one with the lowest security measures implemented is more vulnerable to being hacked.
We are not going into the amount of money you'll have to put if your website gets hacked. Also, if you implement third-party security services.
Luckily, WooCart comes with a No Hack guarantee with its every plan.
Fast Loading & Image Optimization
WooCart claims to be the fastest WooCommerce hosting provider. They have a number of optimization methods that will make your site load super quick.
Their hosting servers run on Google Cloud making it a highly secured and fast hosting option.
Another feature of WooCart that contributes to faster loading is built-in tools for image optimization. Therefore, without shifting to an image optimization plugin, you can rely on WooCart to reduce the size of the images without compromising their quality.
If you check any site speed on the Google Speed Testing tool, one of the most common errors that you see is about "serving the images in the modern format".
Here is the advantage with WooCart, they serve the images on your site in modern image formats (WebP) making it load instantly.
They also have a system to keep checking which pages on your site are show or which plugin is creating a loading issue and optimize those.
Free CDN and Daily Backups
Who wouldn't want to improve the user experience on their site by loading images and status assets as quickly as they can? One way to do that is by CDN.
WooCart comes with a free premium CDN with all the plans that will help the user load a file from a server that is physically nearest to them.
Moreover, WooCart provides premium backup plans with each plan. Although you can use plugins to solve this problem, you should rely on premium solutions to manage them and WooCart is the best you can get.
Free Migration
If you already managing an WooCommerce store that is hosted elsewhere, you can consider it migrating to WooCart server.
Here are some of the before and after speed improvements that you can see in the image below. We all know when it comes to an eCommerce site, the user experience can be big differentiating factors for your overall revenue.
You will see loading speed improvement as you migrate your WooCommerce site to WooCart hosting.

WooCart offers you free migration. That means you don't have to move a finger to transfer your site from other host to WooCart server. The team will take care of the transfer completely without any downtime.
The CONs:
There's no such thing as a perfect web host and as discussed earlier, WooCart has one major drawback too.
Let's see if it affects your decision making!
Premium Hosting Price
WooCart is a premium hosting service. Therefore, it will cost much more than other web hosts available on the market.
Even if you look at the basic plan (cart), you will have to pay $29/month.
While selecting WooCart would definitely lead to better conversions, a beginner might not find it ideal to spend so much while planning to create an online store.
Pricing
WooCart offers 4 plans i.e. Shop, Market, Mall, and Supermall. While all the plans include free CDN, Lossless Staging, daily backups, and a dedicated server, there are some differences that are stated below.
If you like what you read, you can take advantage of a 7-day free trial. This will give you ample opportunity and time to judge the services provided by WooCart before you make your final decision.
In addition, to try the service risk-free, there's a 30-day money-back guarantee.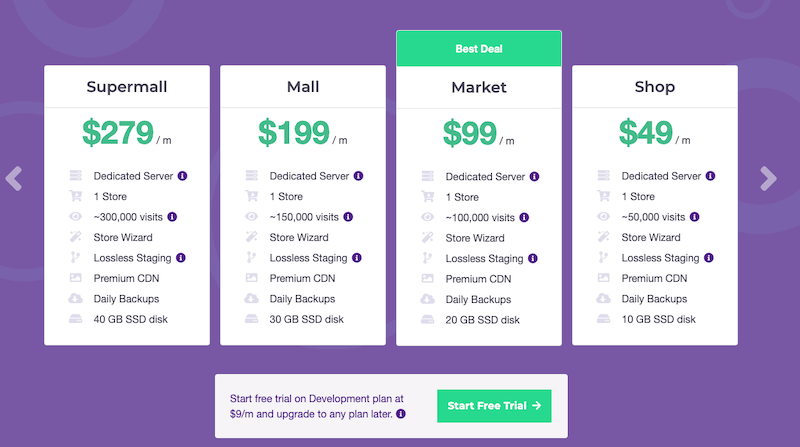 Not only this, but there are also additional WooCart features that can prove to be the cherry on the cake.
Final Words
Has WooCart managed to impress us?
Absolutely!
If you're planning to create an online store through WooCommerce, there's no better option than WooCart in the market. This is primarily because they are focused on WooCommrce and they understand the plugin better.
As far as the optimized performance, security, and support are concerned, WooCart did amazingly well in our test.
To make your online store a success, we would definitely recommend you to contact this Woocommerce expert.