Wholesale2b has been making quite a buzz in the dropshipping business. This Wholesale2b review takes a deep look at this much talked about dropshipping service.
The Dropshipping industry has been booming constantly for the last few years. The competition in this market is just maddening. The race to get an edge over competitors in online sales has made dropshipping a regular practice.
Wholesale2b has come out as one of the top platforms for dropshipping needs. The platform offers a lot of productive dropshipping tools, and a complete dropshipping suit for any kind of dropshipping you can actually think of.
Wholesale2b Review: Overview
Initially, the overall description and look of Wholesale2b might look a bit confusing, but when you start to understand the platform, you'll realize that it's actually quite unique.
In simpler words, Wholesale2b is an all-in-one platform for all the hardcore wholesale dropshipping business problems. For starters, you can find products at exceptionally cheap rates which you can buy from Wholesale2b and sell at higher rates on your own platform.   
If you navigate deeper in Wholesale2b, you'll be amazed with the options you can get as a dropshipper. Wholesale2b offers a complete suit of software & tools which empowers you for easier business management, inventory management, order management, business automation, and more such dropshipping-related needs.
Surprisingly, Wholesale2b also offers a pretty well established web hosting service. The most notable point here is that everything offered additionally is centered around the idea of dropshipping.
Also, Wholesale2b allows you to create a free account on its platform so that you can start your own dropshipping business online.
The catalog on Wholesale2b offers over 1 million unique products to choose from and sell from. The categories are almost endless on Wholesale2b.
From grocery to paintings, from digital products to baby wears, Wholesale2b offers it all to sell. The platform offers a ton of verified suppliers using which you can quickly start your online dropshipping business.
Also, the platform offers you tools to sell your products to targeted and specific audiences so that you can sell more.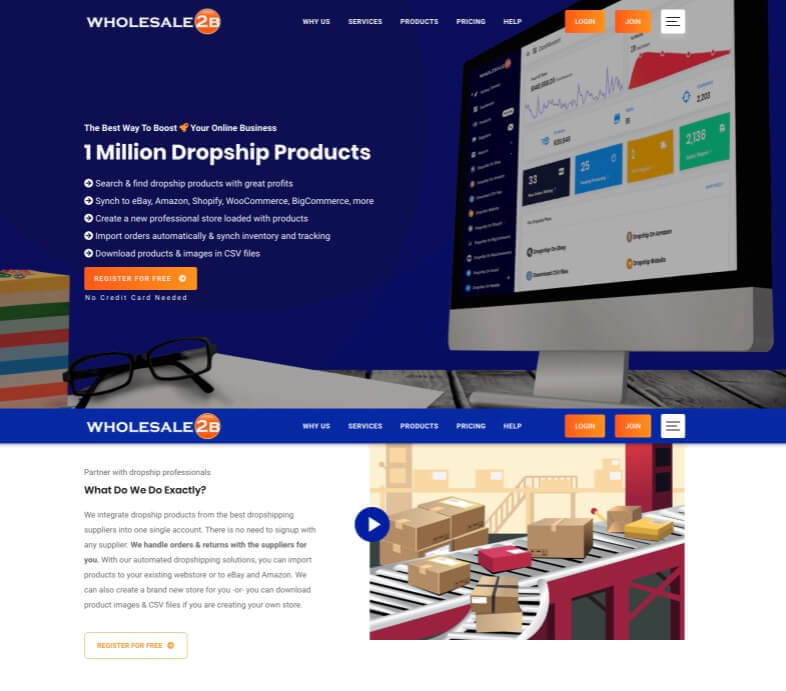 Wholesale2b Review: Top Features
---
Dropshipping on 3rd Party Marketplaces
For the sellers you already have an account on 3rd party marketplaces like ebay and Amazon, or wish to sell products on these platforms, can also use Wholesale2b to start a dropshipping business online.
All they need to do is to buy the package for the third party platform from Wholesale2b. The integration offered by Wholesale2b on the third party platform is totally verified and eliminates the possibility of any kind of complaint.
Wholesale2b allows you to dropship any number of products to want from Wholesale2b to your third party platform. Wholesale2b offers unique tools to monitor your sales on these third party tools so that Wholesale2b can automatically refill the stock, maximizing your sales as much as possible.
You can also get access to the Wholesale2b database from where you can compare the retail and wholesale price of a product in real-time. But the catch here is that it only integrates eBay USA & Canada, and Amazon USA & Canada.
Wholesale2b Amazon Plan
If you wish to start your dropship business on the Amazon platform, the Wholesale2b will make it easier for you to source products and automate the complete process of updating your inventory.
You can select items from over 1 million products, create your list of items, push it to Amazon, get your sales, Wholesale2b handles the shipping and you keep the profit.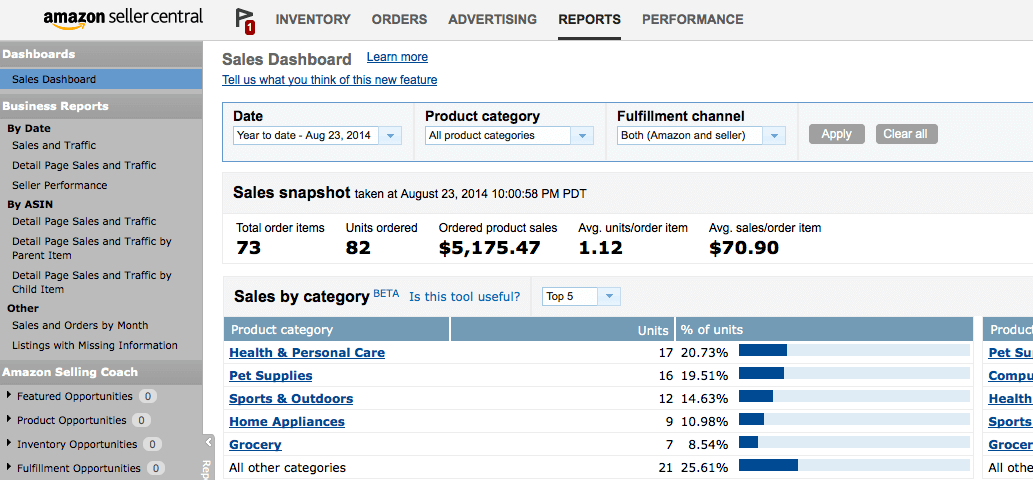 Basic Amazon Plan
The basic Amazon plan start at $37.99 per month with the following features.
Wholesale2b Shopify Plan
Shopify is one of the most popular platforms for dropshippers. So, if you start your own dropshipping business on the Shopify platform, Wholesale2b has an amazing offer for you.
Why should you choose Wholesale2b for your Shopify dropshipping business?
Well, as already mentioned, Wholesale2b offers you access to over 1 million products. So, one of the most critical process of dropshipping business is taken care of.
The app will completely automate the process of updating your inventory. You can edit the description of the products if you wish to so that the product pages are SEO friendly.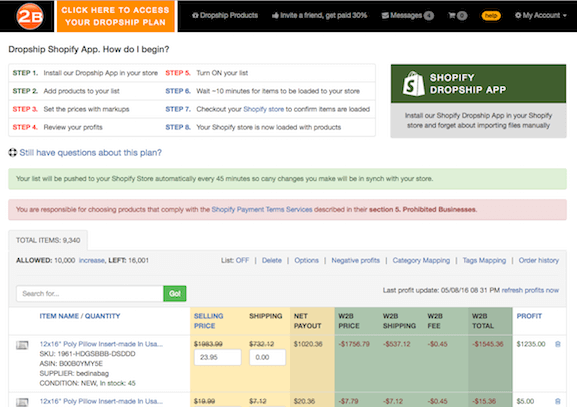 Similarly, you can start your dropshipping business on any other platform that you like. For example, you can start it on eBay, WooCommerce, BigCommerce, Weebly or even a with a custom website.
Dropship Apps
Wholesale2b offers innovative & highly-productive dropshipping apps. These applications are fully compatible with different eCommerce platforms like Shopify, WooCommerce, Ecwid, and BigCommerce.
You can easily manage and access your inventory in real-time using this dropshipping app with eCommerce platform integrations. You can get tracking codes quickly in your account and make one-click order fulfillment using the Wholesale2b application.
More Than a Million Products to Sell
When it comes to the number of options available in a single category, Wholesale2b is by far the best in the online dropshipping platforms.
The catalogue is huge, but still the integrated easy-to-use search engine helps you find your ideal products easily. The search filter options are very helpful and save you a good amount of time, considering the 1 million products to search from.
The suppliers regularly offer you amazing discounts, higher profit margins, and additional offers to make more profits in your dropshipping venture.
The biggest plus point of this search filter, or for that matter the whole platform is the ease of use. Wholesale2b is very easy to use and is designed perfectly to make it accessible for the ones who are technologically challenged.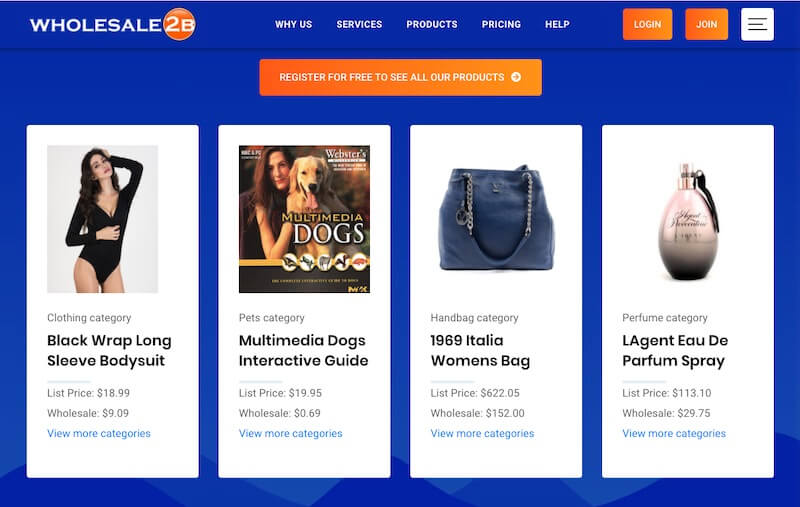 Dropship Sales Analytics
One of the most powerful feature of Wholesale2b is its analytics and reporting features. Wholesale2b offers a wide range of insightful metrics that help merchants & sellers in monitoring and managing their businesses online without any hassle.
You can easily check Wholesale2b's reports regularly on various metrics like the top-selling products and marketplace trends of the year.
Wholesale2b helps you in selecting the right product and the right suppliers by revealing their track history, as well as cancellation and fulfillment ratios. So, you should be more empowered to pick those suppliers you can entrust to do your business with.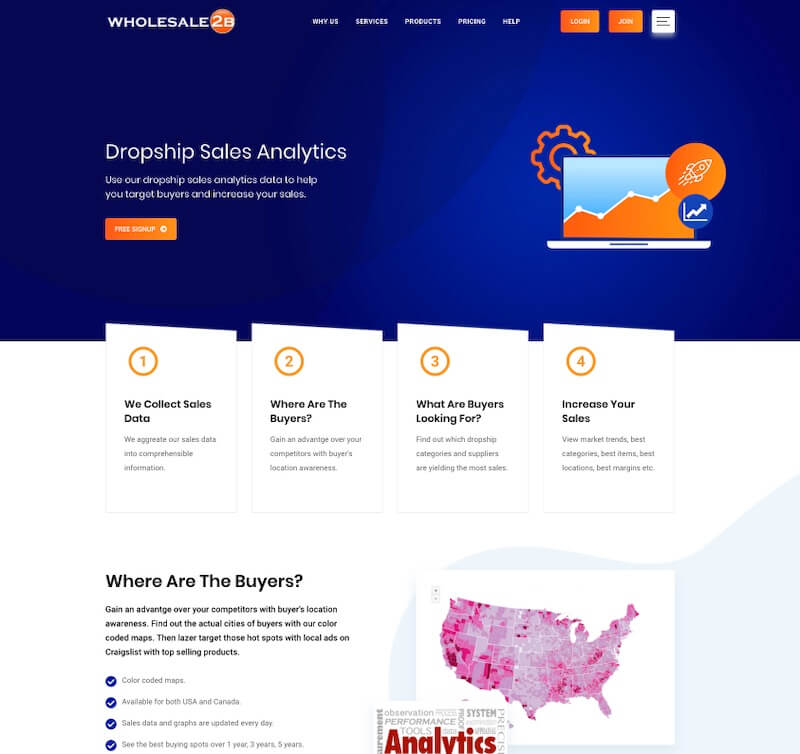 Wholesale2b Review: Customer Support
Wholesale2b's in-house technical support team is only available for solving your issues during the standard business hours.
On the other hand, the Ticket Requests system is still pretty flexible and quick. They typically responded to your problems and queries within 24 hours of submitting tickets.
It is always advised you to prioritize the chat support over any other method, since the live chat queries on Wholesale2b are answered almost instantaneously as you send your queries.
You can also try contacting Wholesale2b support team via their social media accounts, though there's no guarantee at all that your inquiry will be attended to at the soonest time possible.
You can find Wholesale2b on Facebook, Twitter, and Pinterest social media platforms for the latest news and feature updates from Wholesale2b.
Submitting a ticket request for your queries, however, requires an account on Wholesale2b.
Thankfully, creating an account on Wholesale2b does not ask for any kind of hidden charges. Still, it would have been much better if Wholesale2b would have supplied its users with a phone number for calling or an email address for a whole lot of convenience.
However, you could still check out for your problems on Wholesale2b's extensive learning and knowledge platform.
It's a very comprehensive resource & insights center for articles & blogs on how the whole platform actually works, as well as simple-to-use guides on running a successful online dropshipping business in your niche.
Wholesale2b Review: Pricing
The pricing packages are a bit tricky here and you yourself have to find the one for yourself from the bunch of different options available.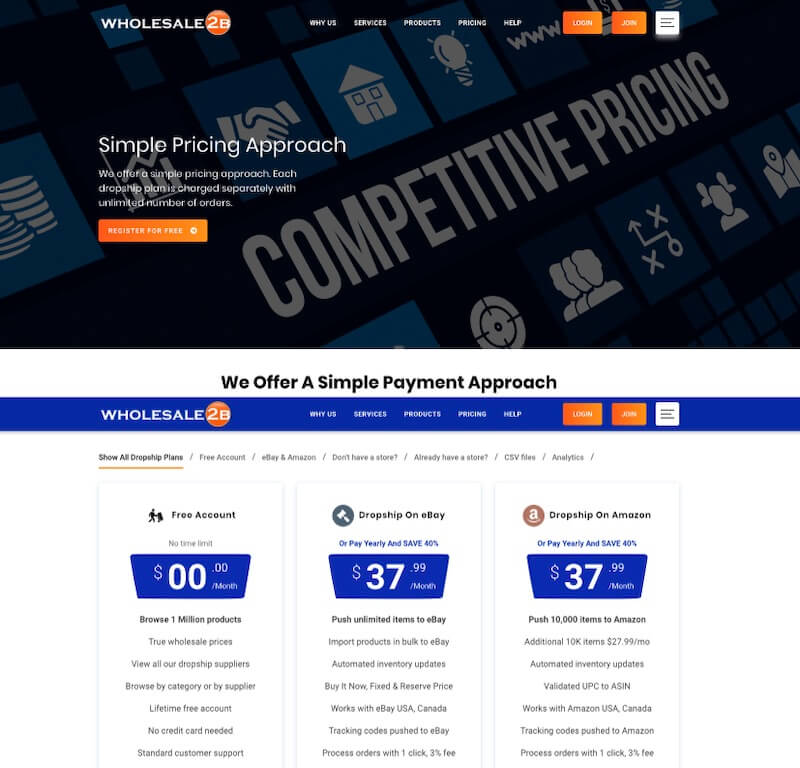 The similar charge and offers are offered for the WooCommerce, Weebly, and Ecwid App.
Wholesale2b Review: Pros and Cons
---
Pros:
Cons:
Final Words
Here the Wholesale2b review ends. All the features offered are reasonably-priced.
The listed price packages, including their customer support options, are not terrible. But they can still do better with a 24/7 phone or live chat support. That would have been a big USP.
You can also take full advantage of the unique tools and services Wholesale2b has to offer, such as the automate the product syncing process.
All in all, Wholesale2b provides a fulfilling priced drop shipping service with a populated list of suppliers and products.