Founded in 2010, vcita is a battle-tested business management platform that has helped hundreds of thousands of small teams and micro-businesses streamline their workflows and achieve their goals.
It's designed for businesses that offer services, like agencies, law firms, consulting firms, coaches, health clinics and home repair companies.
If you're thinking of purchasing vcita, this review will cover everything you need to know.
How to Use vcita to Streamline Business Operations
Let's take a firsthand look at vcita's main features:
Setting Up vcita
To use vcita, create an account by entering your business name, email address, and desired password.
vcita will assist you through the initial setup when you log in for the first time. Get started by providing important details about your business, like your industry, contact information, and business needs.
Take note that the contact information you enter here can be set to be revealed to your clients. Be sure to enter the correct and updated information if you want to enable this feature.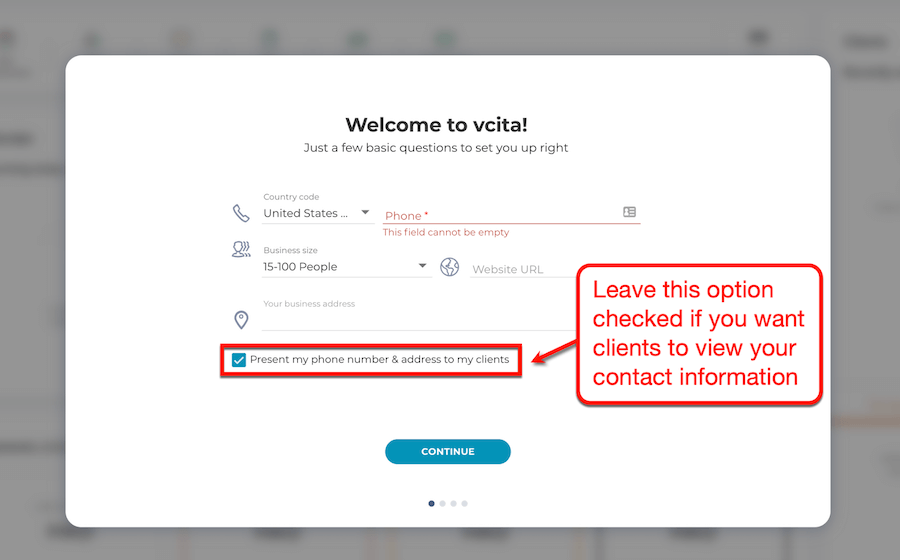 vcita will also help you with the steps to get your account up and running. This includes importing your client database, setting up your calendar, configuring your payment channels, and more.
Simply follow the on-screen instructions, and you'll be done with your account setup in no time.
Take note that you can skip any of the steps here. You'll still be able to finish setting up your account later through the vcita dashboard.
vcita also features demo content and guided tours for its core tools, including client management, marketing management, and the booking calendar.
Manage your clients
To manage your clients with vcita, click 'Clients' from the main dashboard menu.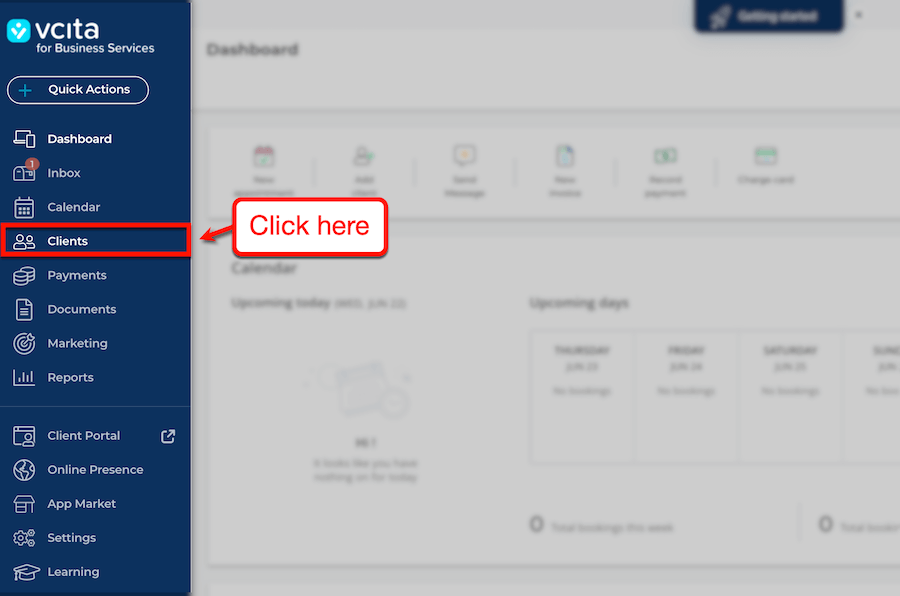 vcita lets you quickly import clients from an Excel or CSV file. You can also create new client profiles yourself or send them an email invitation.
To create a new client manually, enter information like their first name, phone number, social media, and time zone. Don't forget to set the client's status depending on where they are in your sales funnel.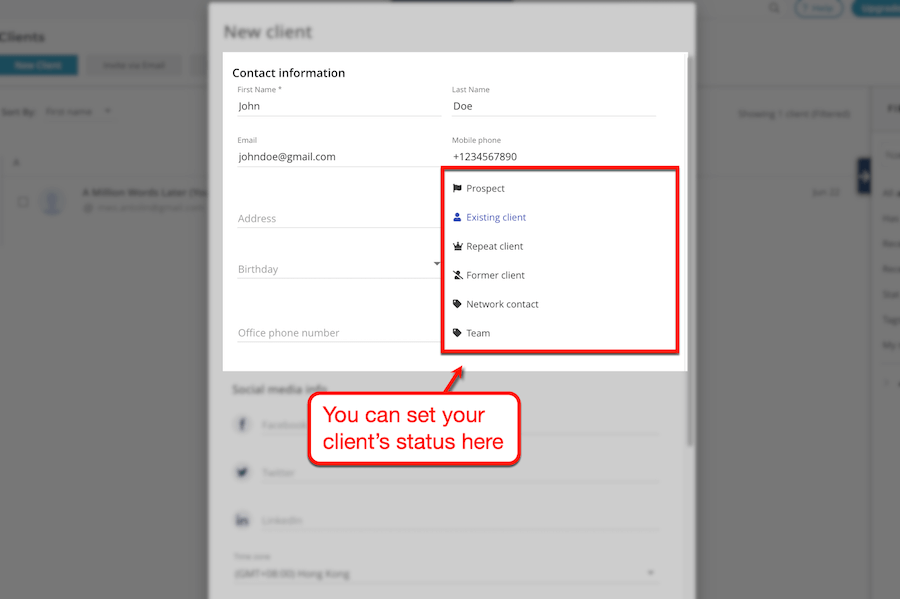 After creating a client, vcita lets you track your conversations, payments, documents, and bookings.
The client page also shows the profile's activity highlights, including the total payments received, booking, and overdue payments. This gives you a quick look at the client's value for your business.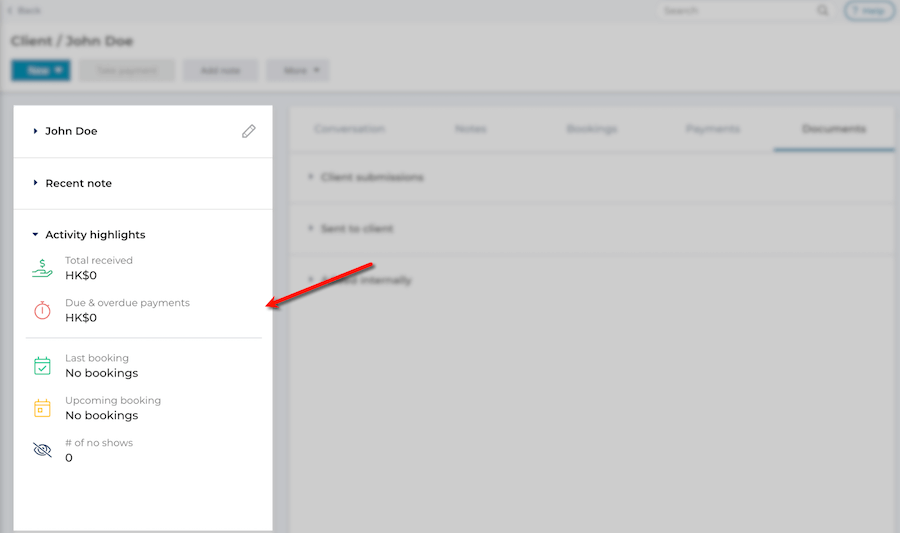 vcita Client Management Highlights:
Assign contact persons to clients
Share internal notes and documents about the client
Specify clients that opted-in for promotional content
Track no-shows to bookings
Boost Collaboration
vcita lets you create staff accounts for employees who will handle client requests within the platform.
Staff accounts can be given specific user roles, which determine the features they can access on vcita. They can also be assigned to render services like phone consultations, webinars, and face-to-face meetings.
To create these services, go to 'Settings,' click 'My Services,' and click 'New Service.'
To create staff accounts, go back to 'Settings' and click 'Staff.' On the 'Staff' page, click 'New Staff Account' and enter the required information.
Don't forget to set the staff's role and assigned services.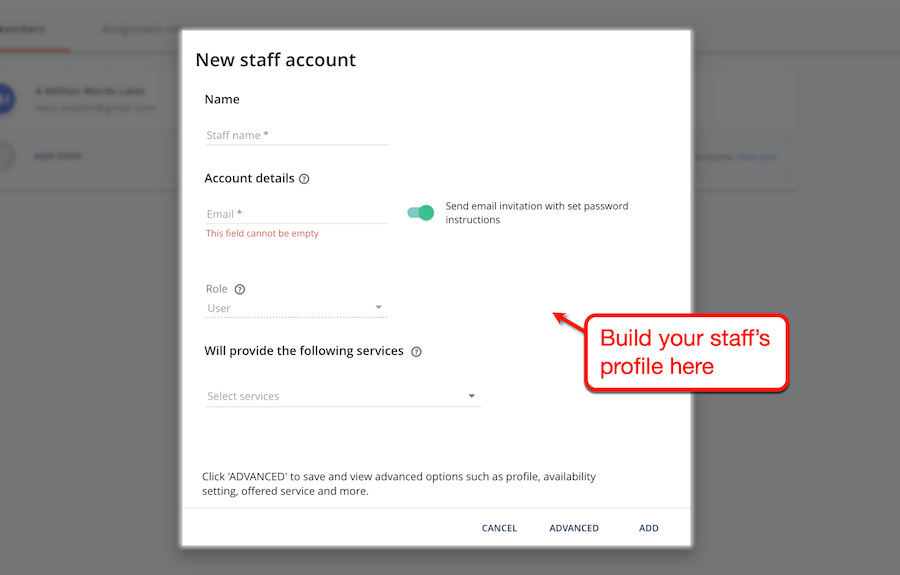 vcita Staff Management Highlights:
Assign user roles to control platform access
Personalize staff accounts using a profile photo, display name, professional title, and color
Specify staff members' availability
Use Marketing Automation
Marketing automation is one of vcita's strengths.
The platform offers pre-built automated campaigns for specific marketing goals, like getting online reviews, sending onboarding emails, and reactivating cold clients. Activate these campaigns with one click on the 'Marketing' tab.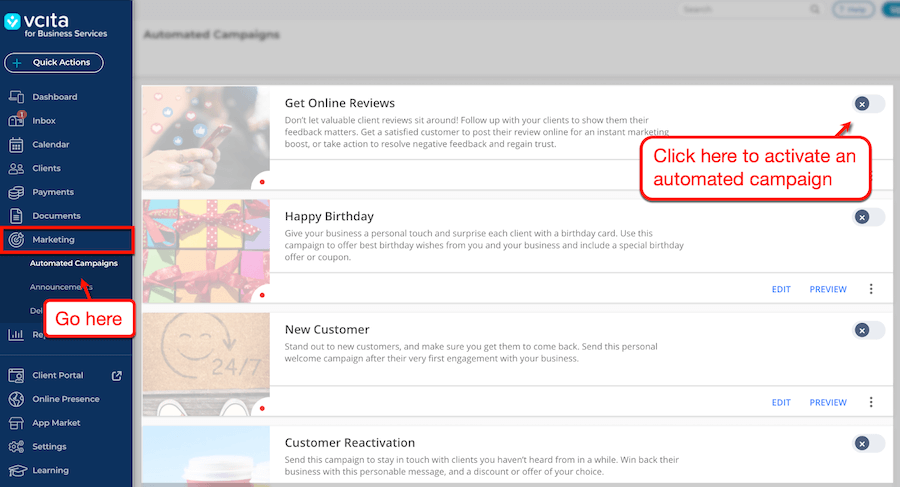 You can edit existing campaigns or create new ones from scratch.
vcita's drag-and-drop interface lets you customize your email and set campaign settings.
For example, if you want to build a customer reactivation campaign, specify the number of days required since the client's last interaction. The campaign will trigger if the customer stagnates over this period.
vcita Marketing Management Highlights:
Build email and SMS marketing campaigns with ready-to-use templates
Track the delivery history of past campaigns
Use different versions of the same campaign to match the client's preferences
Build a Client Portal
To give your clients self-service options, use vcita to create visual client portals without writing a single line of code.
vcita lets you choose what your clients can do on their portal. Just click 'Edit portal actions' and select actions like uploading documents, scheduling consultations, making payments, and leaving details.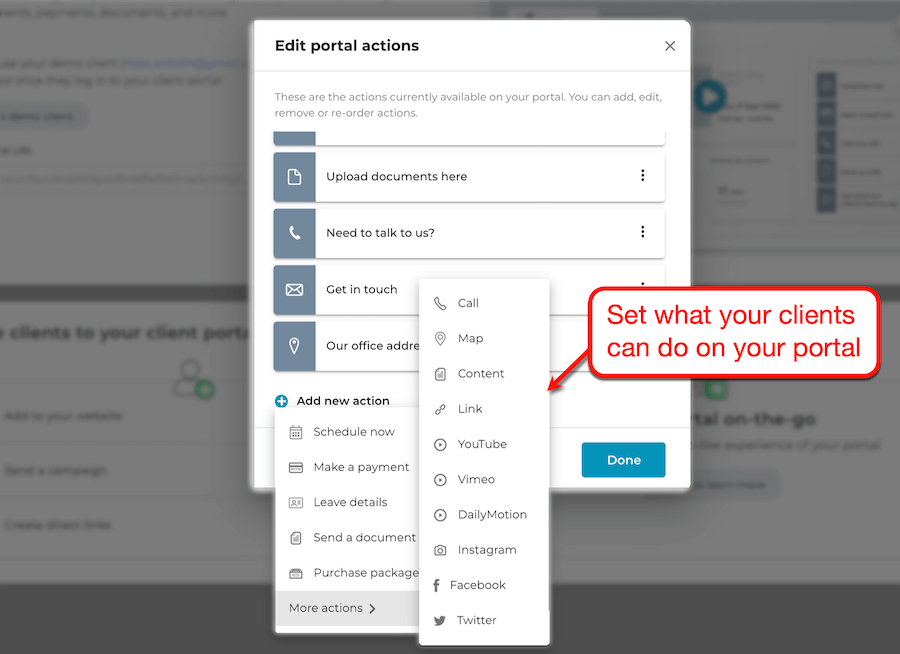 To customize the client portal's appearance, click 'Edit branding and colors' to open the 'Business Info' page. Set a profile picture, cover image, logo, and brand color as well as modify what clients can see about your business.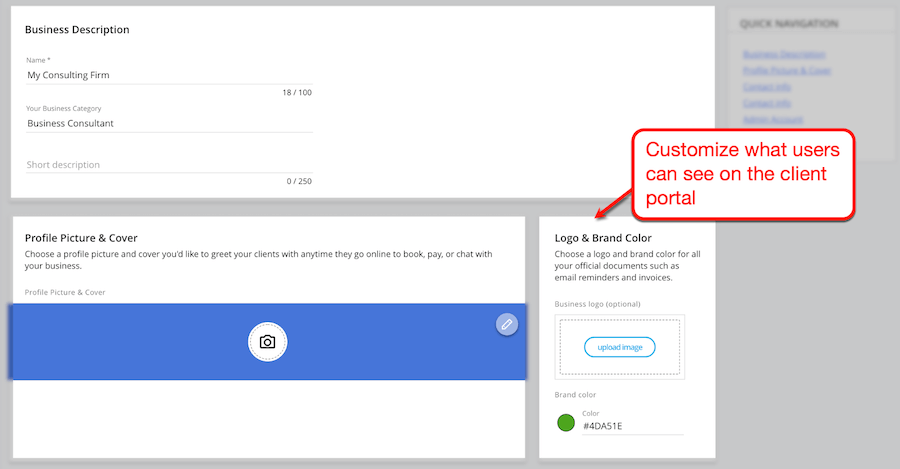 Here's a screenshot of the default client portal without customizations: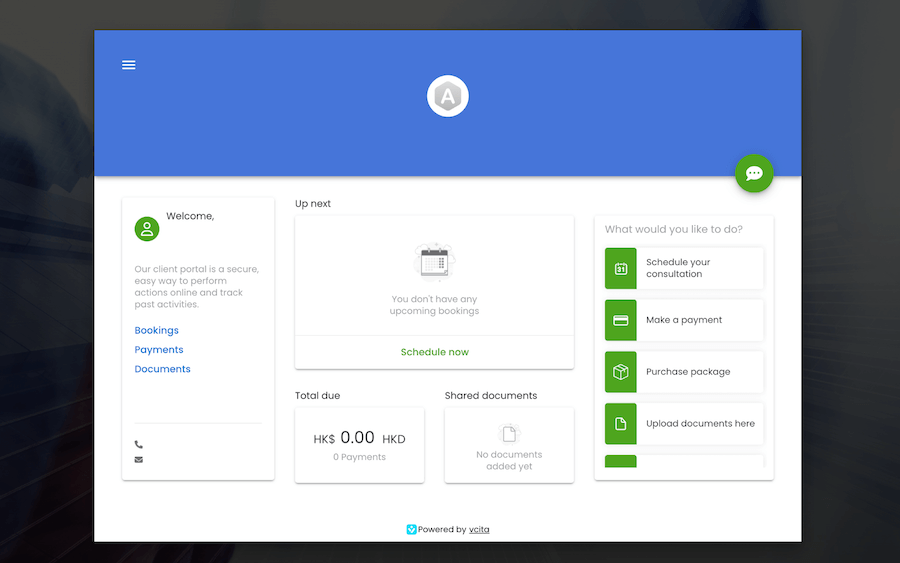 vcita Client Portal Highlights:
Create an admin account for your client portal
Add a self-service client portal to your website or use direct links
Serve client portals through a mobile app-like interface
Handle Payments
vcita helps streamline payments through automatic billing and integrations with third-party payment services or with vcita's own payment gateway.
The platform also offers ready-made billing workflows you can use for specific transactions, like sending estimates, charging credit cards, and requesting payments upon booking.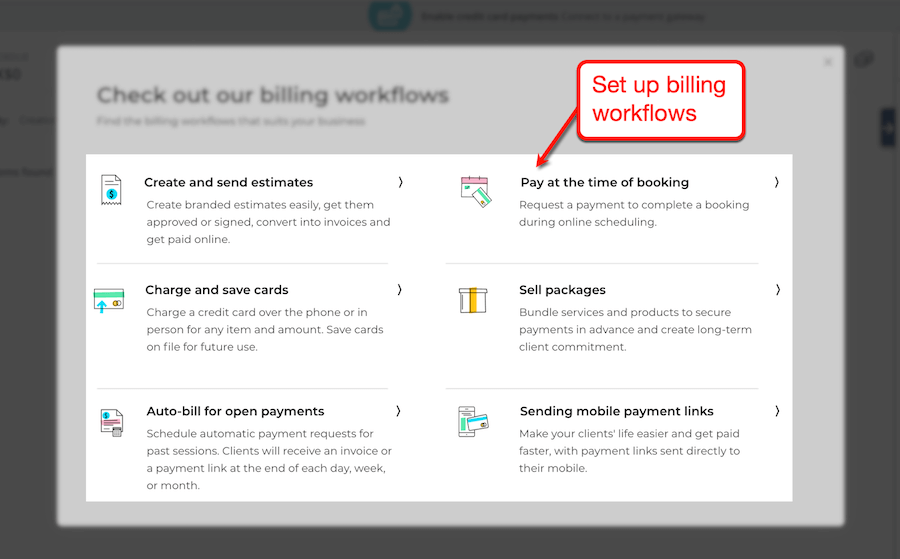 To create a single invoice, go to 'Payments' and click 'Billing & Invoicing.'
From the 'New' drop-down menu, click 'Invoice' and select the client you want to bill.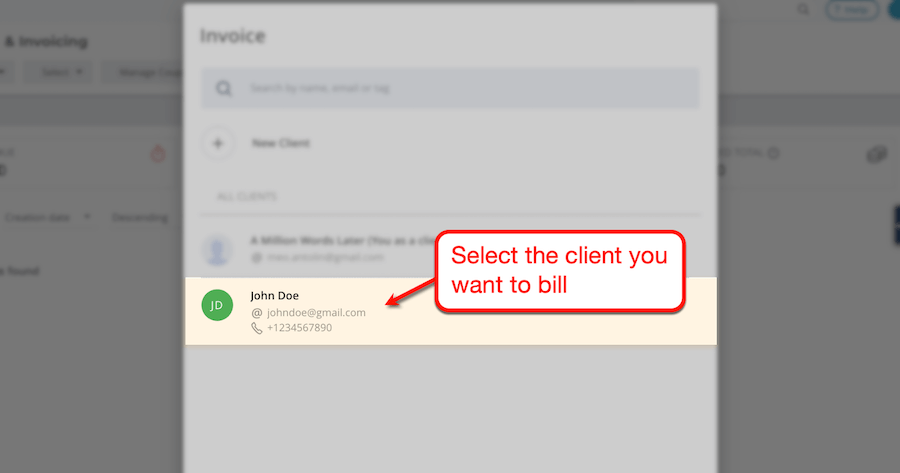 In the invoice editor, you can manually fill in the details like the total amount, item quantity, currency, and due date. You can also include custom notes and file attachments – whatever is essential to your billing process.
You also have the option to automatically aggregate all services rendered to a given client since the last invoice, and to schedule invoices on an automated recurring basis.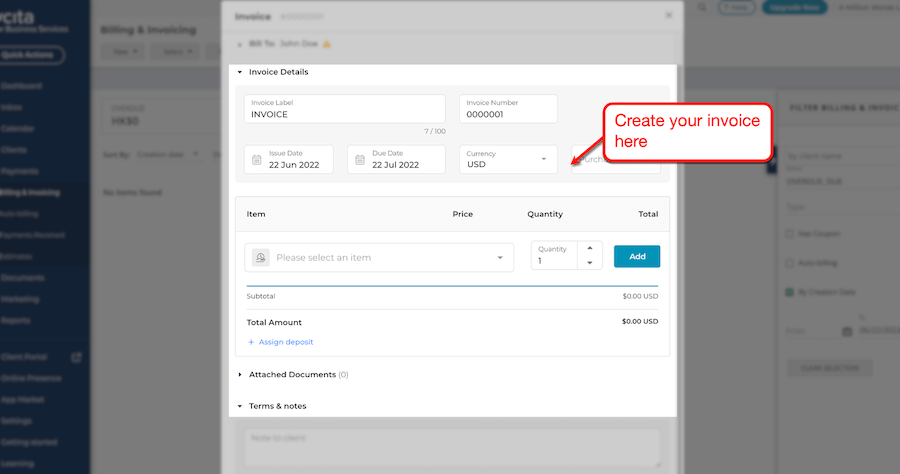 Don't have any services in your item list yet? Create one from scratch by clicking 'Add custom item' from the drop-down menu.
On the 'New Item' window, enter the details and pricing information of your service. Check "Save this item to your list for future use" if you need to use it in future invoices.
vcita Payment Management Highlights:
Create discount coupons
Combine multiple services into packages that can be redeemed over time
Use different currencies and payment methods
Send estimates and payment links, and automated late payment reminders, to clients
Set up auto-billing for subscription-based services or for recurring schedules
Should You Use vcita?
vcita has everything service businesses need to manage and scale their operations. It functions as a central hub for client management, team collaboration, marketing, and payment processing.
vcita is also highly cost-effective, considering the features it supports. Even their entry-level plan, which only costs $29 per month, equips entrepreneurs and professionals with the tools they need to grow their business.
If you're still unsure, remember that vcita offers a 14-day free trial. Use it to see the platform in action.