Thrive Themes, a prominent name in the WordPress community created a number of high conversion-focused products that can help you create a successful online business.
Thrive is a common name among bloggers and affiliate marketers. They have created a number of amazing products for the affiliate markets to increase revenue.
Products like Thrive Architect, Thrive Leads are good enough to pull your business to the next level.
If you are not a developer but a good marketer, Thrive will be the magical stick for you to create those stunning landing pages to increase conversion.
In this article, we will have a look at the Thrive Themes products in detail. Before that, let's get introduced to Thrive Themes
About Thrive Themes
Started in the year 2013, Thrive Themes created some top quality and easy-to-use WordPress products that changed how WordPress works to a large extent. Products like Thrive Theme Builder, Thrive Architect empowered a newbie WordPress user and helped to create great-looking custom designs without any coding.
---
Thrive Themes products are known for a high level of flexibility in terms of design and features.
Please Note: Thrive Themes have discontinued their themes and currently working on a single theme framework that will offer you all the features, options and design flexibility to create the perfect site.
Why Marketers Like and Recommend Thrive Products?
If you look around the internet, visit marketing forums or talk to any popular affiliate marketers about the top WordPress product they recommend, Thrive Themes will be right at the top.
The main reason why Thrive Theme products are popular among marketers is that they are created with the best practices to increase conversion.
Who doesn't like more revenue?
I'm sure you do. Thrive with over 270 highly optimized landing page designs will skyrocket your revenue quickly.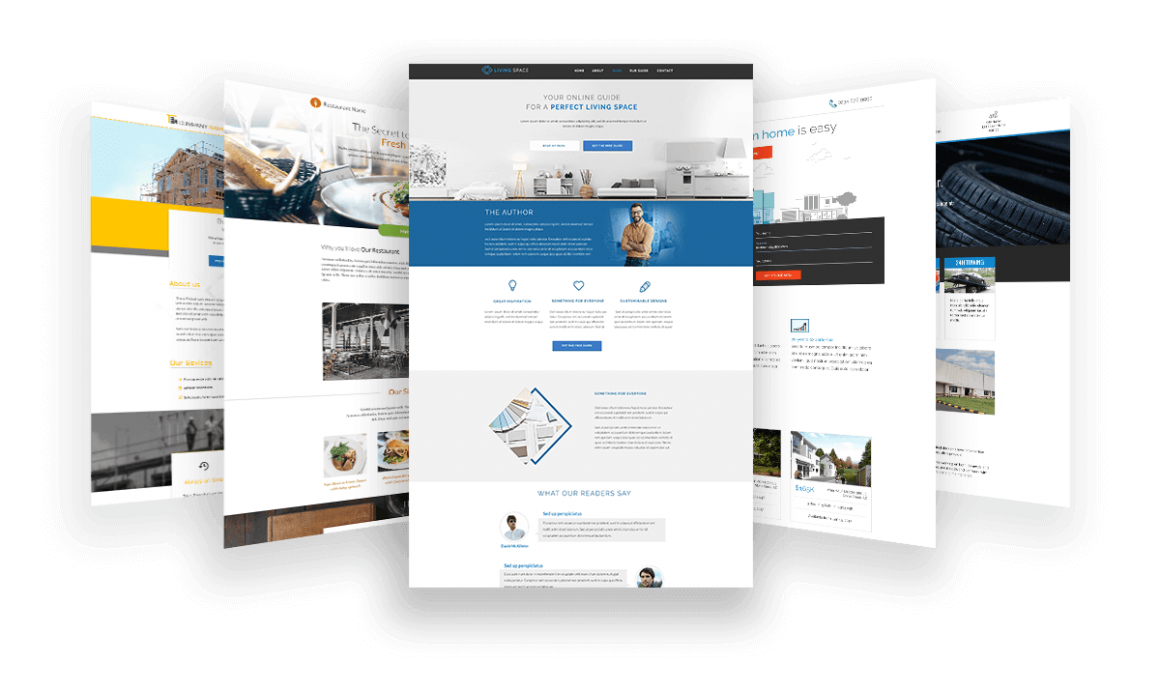 Thrive Theme Builder
Thrive has a new website builder now. They already had products like the Thrive Architect which is a drag and drop editor.
And now they have one of the most comprehensive Theme Builder for WordPress. You can create any design using this theme builder.
It's a 100% front-end builder, so you can simply click on any section of your site and start editing. The Theme Builder comes with a companion theme called Shapeshift.
You can completely modify the design of your site, the header, footer, blob section, 404 pages or any theme page you need to customize with the theme builder without writing a single line of code.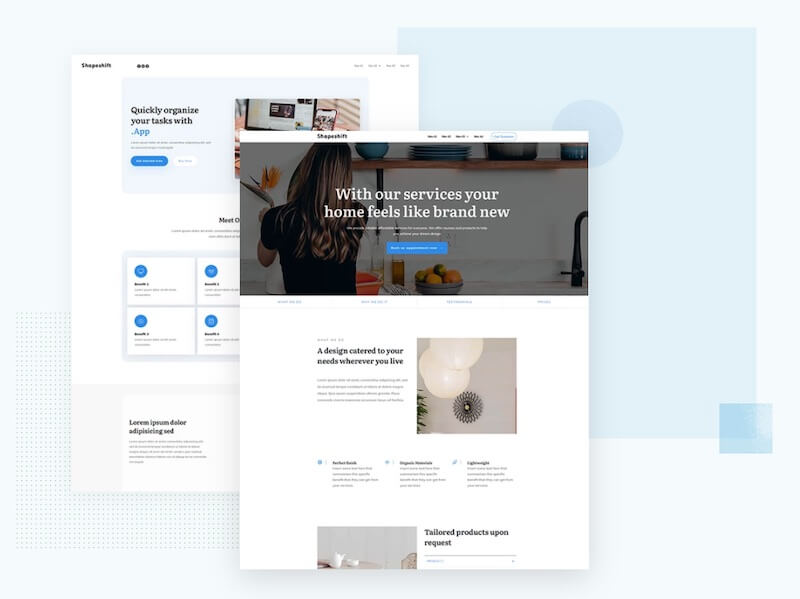 The theme builder comes with over 130 different pre-built design templates and blocks that you can use while editing your site.
There are a number of ready header and footer templates available with different layouts that are modern and high converting, you can simply choose any of those templates and move forward.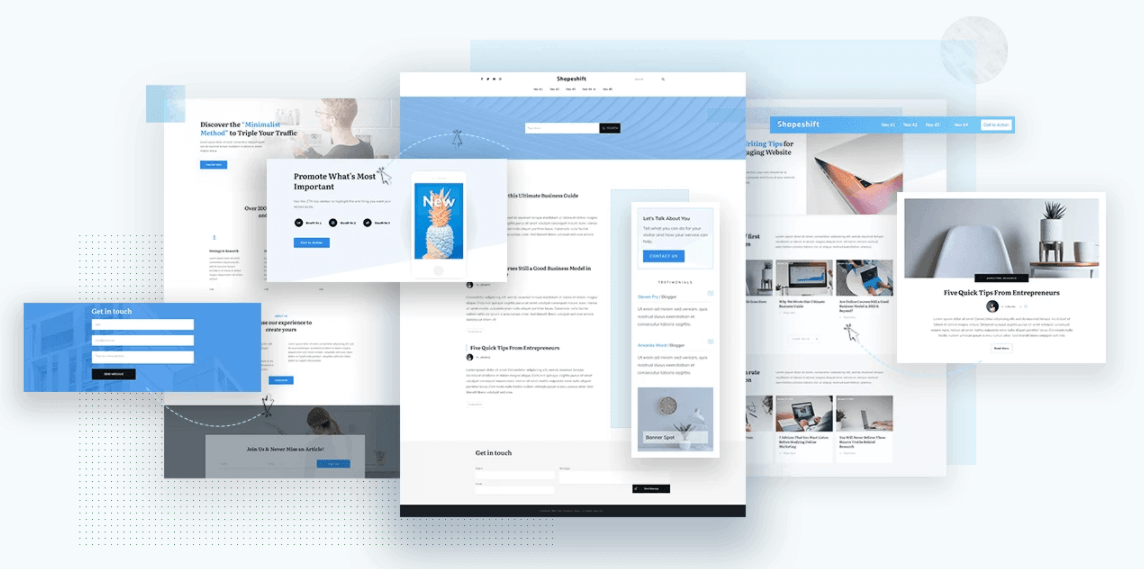 Ommi Theme for Thrive Theme Builder
Ommi is a new powerful WordPress theme created by the Thrive team to work with the Thrive Theme Builder. If you ever wanted a perfectly optimized modern WordPress theme that can do it all, here's the theme that you need.
With Ommi, you can create any kind of website in any niche and you will never have to write a code to customize the design of your site. The theme is packed with tons of features.
Here are a few top features of the Ommi theme.
You get the Omni theme as part of the Theme Suite that includes Thrive Theme Builder, Thrive Leads, Thrive Architect, and all other Thrive Theme products. That means, you will never have to look for any other product again to build your online business.
This all-in-one package deal is the best option to go for.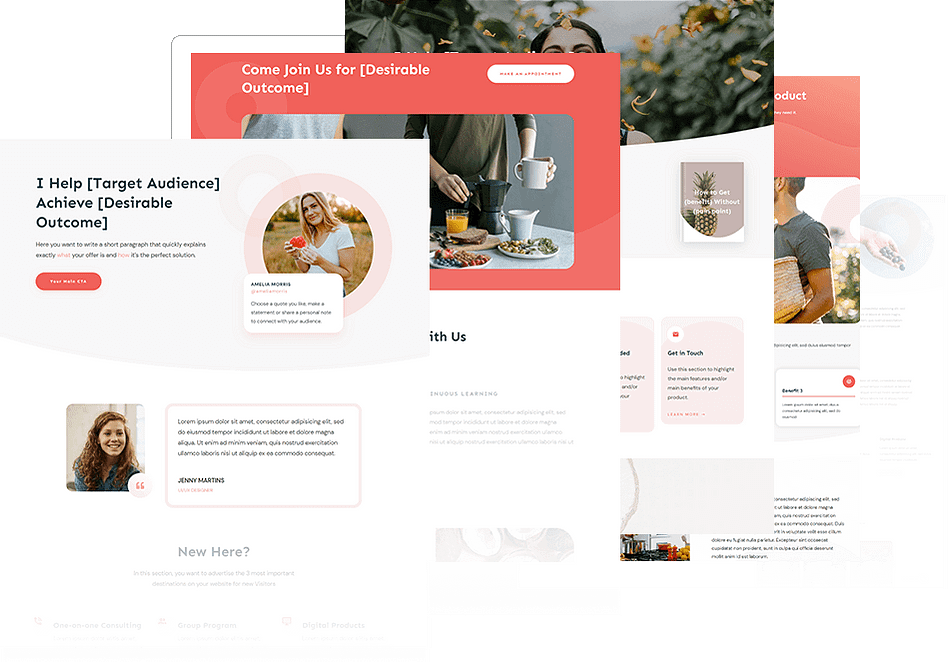 The Theme Builder seamlessly integrates with the Thrive Architect so that you can take advantage of the page building elements.
You will have hundreds of different page building elements that you can use on your pages.
With theme Thrive Builder, you can build your site like a magic. You will not need a number of plugins that you otherwise need to run a successful site as the builder readily offers you all other elements.
The builder offers you intuitive user friendly website builder and user interface, even a complete newbie can take the advantage.
Get Thrive Builder
Thrive Builder is one of the most comprehensive front-end website builders for WordPress. You can create a completely custom design for your site without any coding or help from the developer.

Thrive Themes offers you 30 days money-back guarantee if you don't like the product for any reason.
Thrive Architect The Powerful Visual Builder
Thrive Architect is one of the flagship products of Thrive Themes. It is indeed a very powerful website builder. It is created for bloggers and marketers to create custom designs without any coding.
Writing sample text content is not enough these days, you will have to present your content in the most professional way to capture visitors' attention.
Also, if you launch new products on a regular basis, the Thrive Architect will be a lifesaver for you.
You already have 274 beautiful landing pages that you can use to showcase your products.
You can easily customize any of the available landing pages just by using the visual content builder and make it perfect for your site.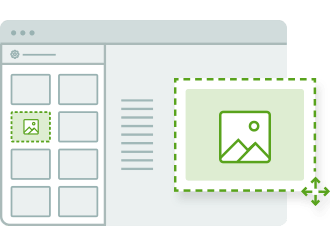 Drag and Drop
Drag and drop any module to build your custom site quickly.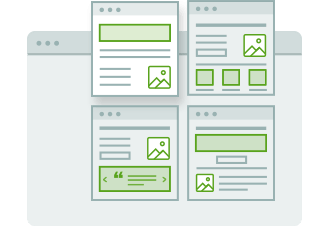 Ready Templates
You have a huge collection of beautiful ready templates to choose from.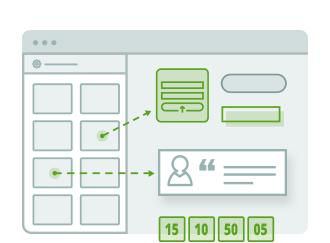 Page Elements
Thrive Architect offers you a number of high converting page elements.
The User Interface
At first glance, the Thrive Architect user interface looks similar to the Elementor website builder. If you have used the Elementor builder in the past, you will find it familiar.
It is certainly an advantage because Elementor is also one of the top website builders for WordPress, so, it's better to be in good company.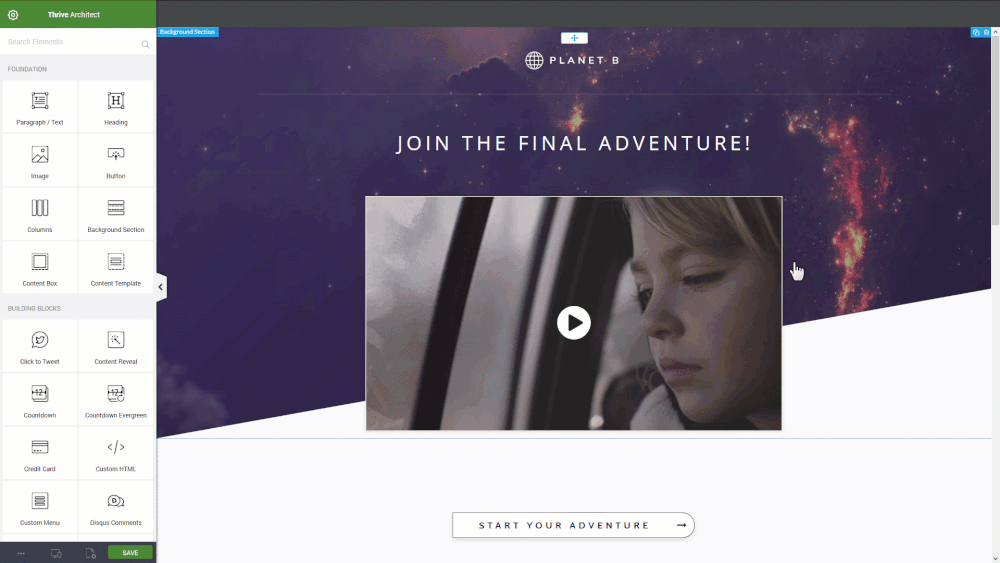 No matter what your business is, Thrive Architect will make sure to help you create the perfect design for your site.
You will have complete control over each and every element of your site up to the layout and the space between two elements.
Thrive Architect is one of the most comprehensive website builders that take care of almost everything that you will need to create a successful site.
The Building Blocks for Your Pages
Thrive Architect offers you a number of page elements that you can use while creating your pages. Some of theme are conversion-focused to create high-converting pages and some are general.
The list of long, here are some of the top picks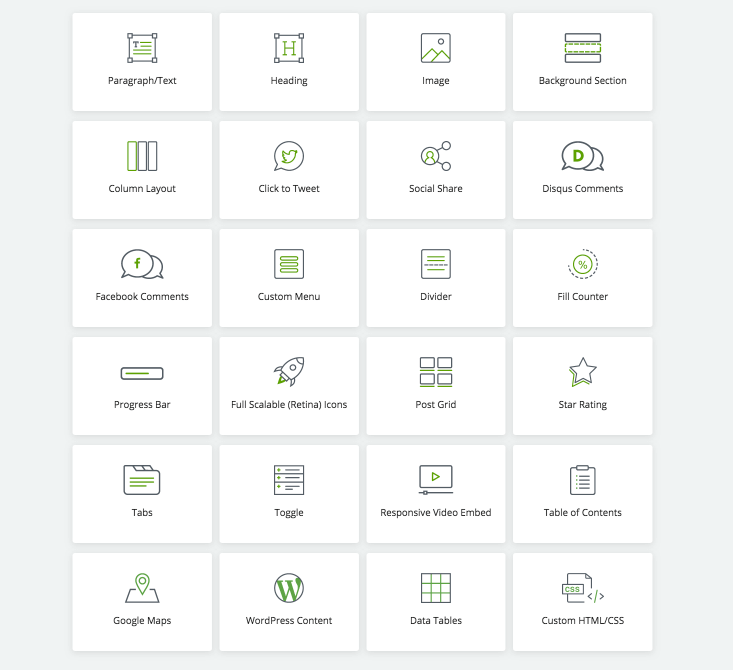 Creative Single Pages
How you present your content makes a big difference in engagement sales and revenue. You might have seen how the top bloggers and marketers present their content vs just another blogger.
With Thrive Architect, you can easily create great-looking custom single pages to make sure that your readers get attracted to the overall presentation of your post.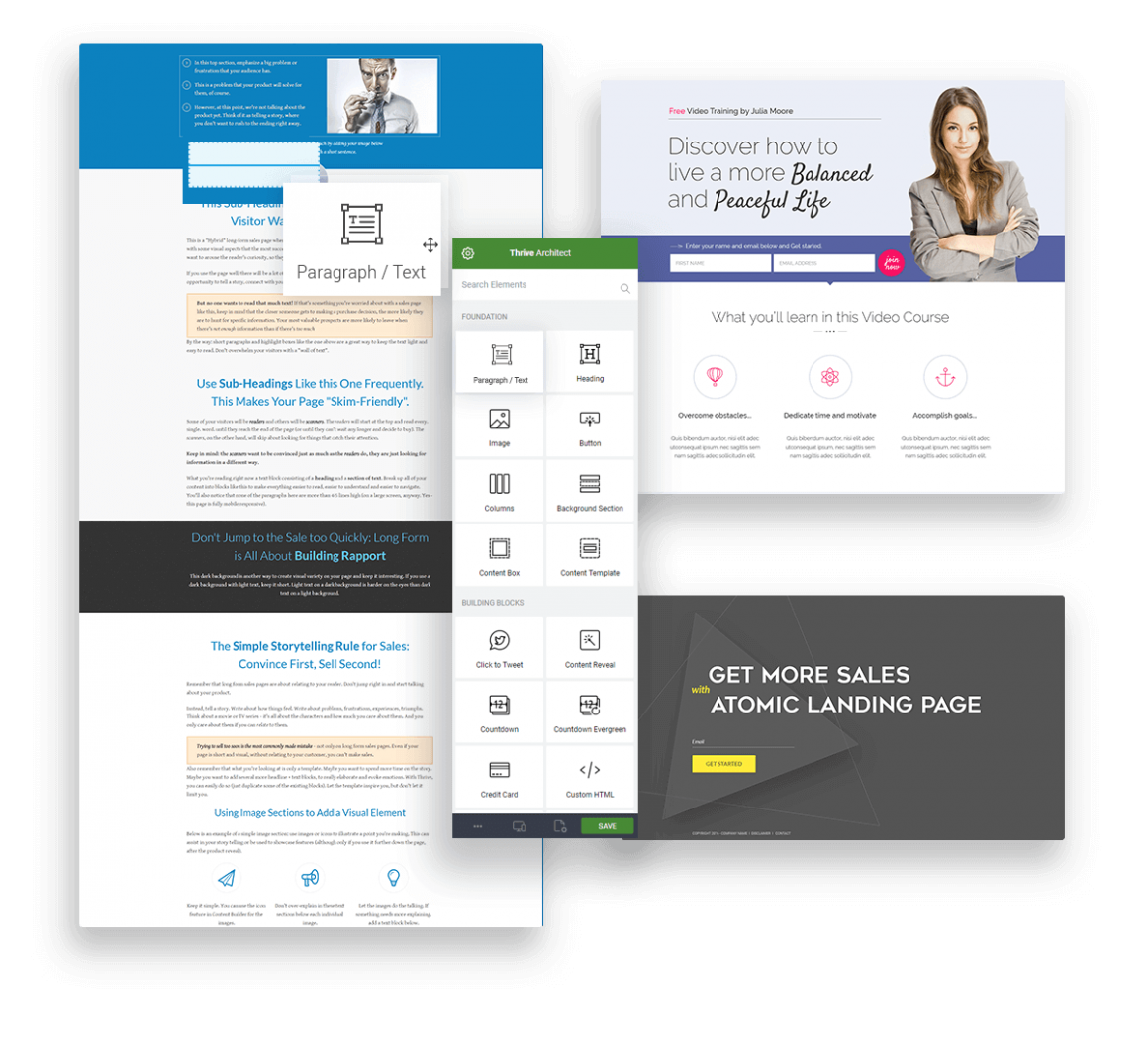 Grow Your Email List
One of the main reasons why the Thrive Themes products are popular is because it offers a high-converting email subscription option.
They come up with creative ways to display the subscription for the highest conversion.
The lead generation element of Thrive Architect makes it super simple for the users to place custom lead generation forms anywhere on the page.
Another important point is that Thrive offers you almost all the leading email marketing platforms to link to your forms.
Landing Page Templates in Thrive Architect
We have already mentioned about the 274 landing page templates that you get with the Thrive Architect website builder.
You can use the ready landing page template to create your product launch page.
One of the most common reasons why the product launch date gets postponed is because of the landing page.
Creating a high converting landing page is not as easy as you think. At times many great looking landing pages don't translate into increased revenue.
You need the template that is well tested for conversion. These Thrive templates are created with the recommendation from the top marketers, so that surely has the potential to deliver results.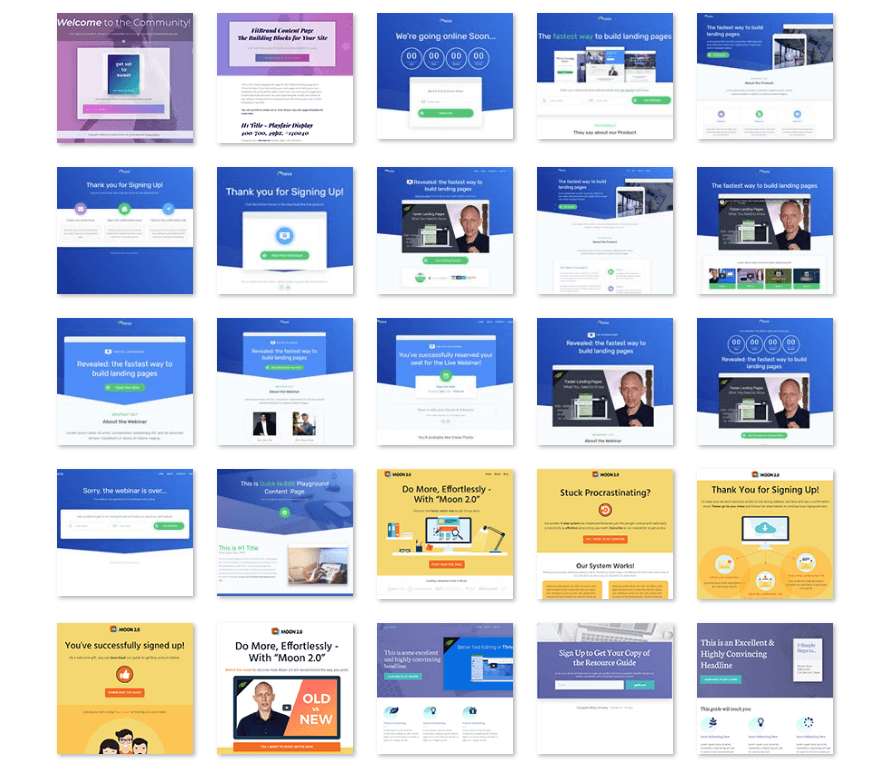 Get Thrive Architect
Thrive Architect is one of the most widely used and marketers' favorite website builder. Create great looking product landing pages or a custom homepage for your website without any coding.

Thrive Themes offers you 30 days money back guarantee if you don't like the product for any reason.
Thrive Leads
One of the top and highly recommended email subscription WordPress plugins, the Thrive Leads to help you grow your mailing list quickly.
As they say, "money is in the list"
And this statement is still true. If you have a big targeted email list, you can surely make handsome revenue by monetizing the list.
The plugin is popular because it helps you to deeply integrate the form into your business and maximize conversion.
You have unlimited design possibilities for the email subscription form. Thrive Leads comes with a number of templates that you can use to create your subscription form.
You can quickly customize the selected form by using the visual form builder.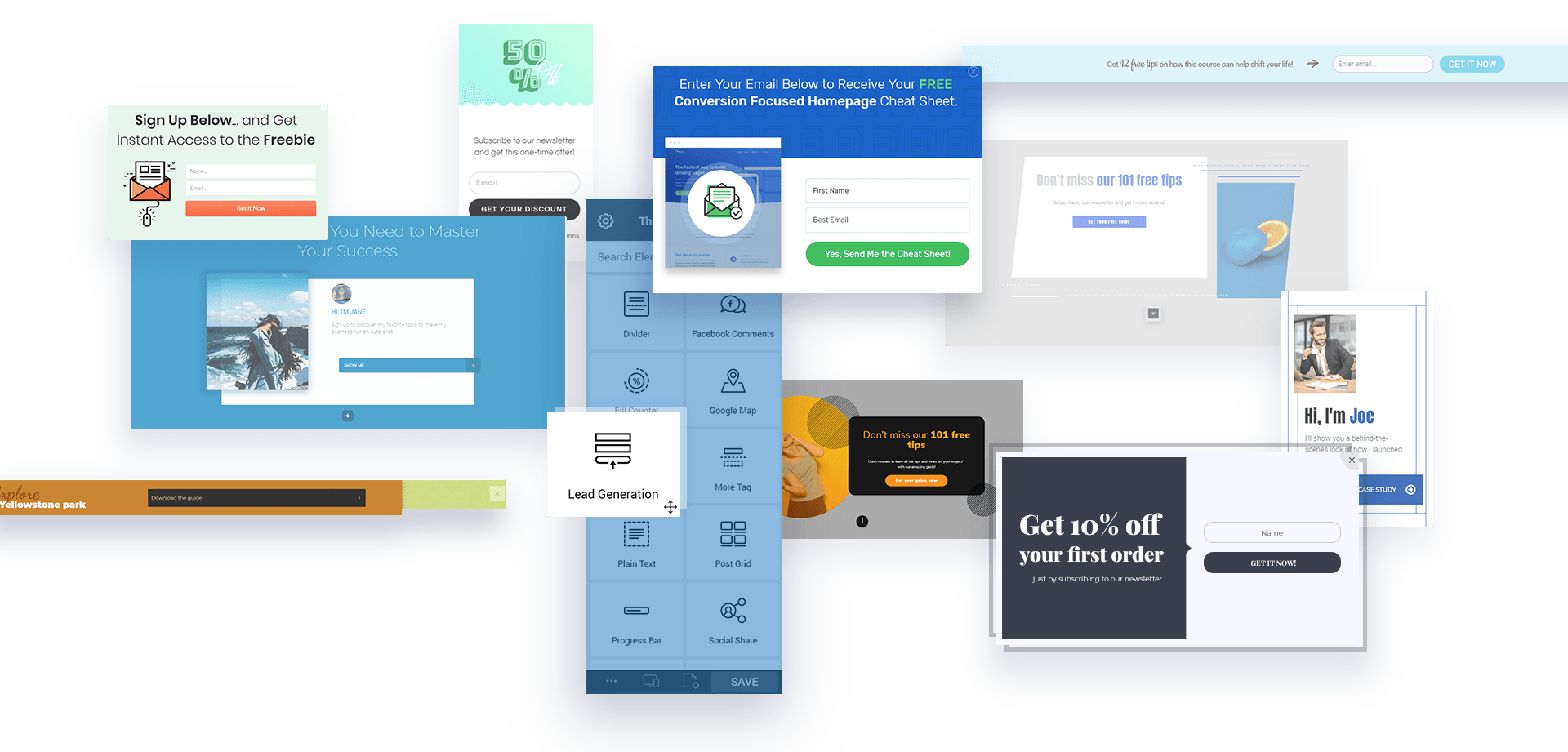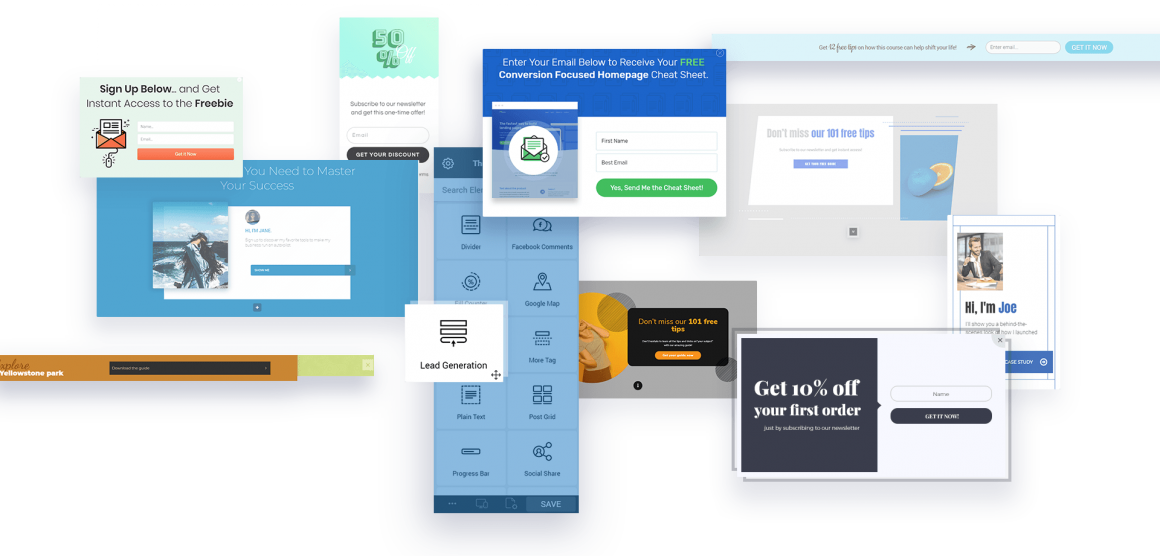 Mobile Friendly Design
These days the number of users is surpassing the traditional desktop and laptop users. So, your website and all other elements on the website have to be mobile-friendly.
Google has already made it clear that mobile-friendliness is a ranking factor. If your site works perfectly on a mobile device and it loads quickly; your site will have an advantage over the ones that don't work perfectly on mobile phones.
Similarly, the email opt-in form has to be mobile friendly so that you don't miss those users who land on your site using mobile devices.
The good news is that Thrive Leads offers you custom options to create a mobile-friendly version of the email opt-in form quickly.
You have the option to add or remove any field from the mobile-optimized version of the form to make it work in a better way.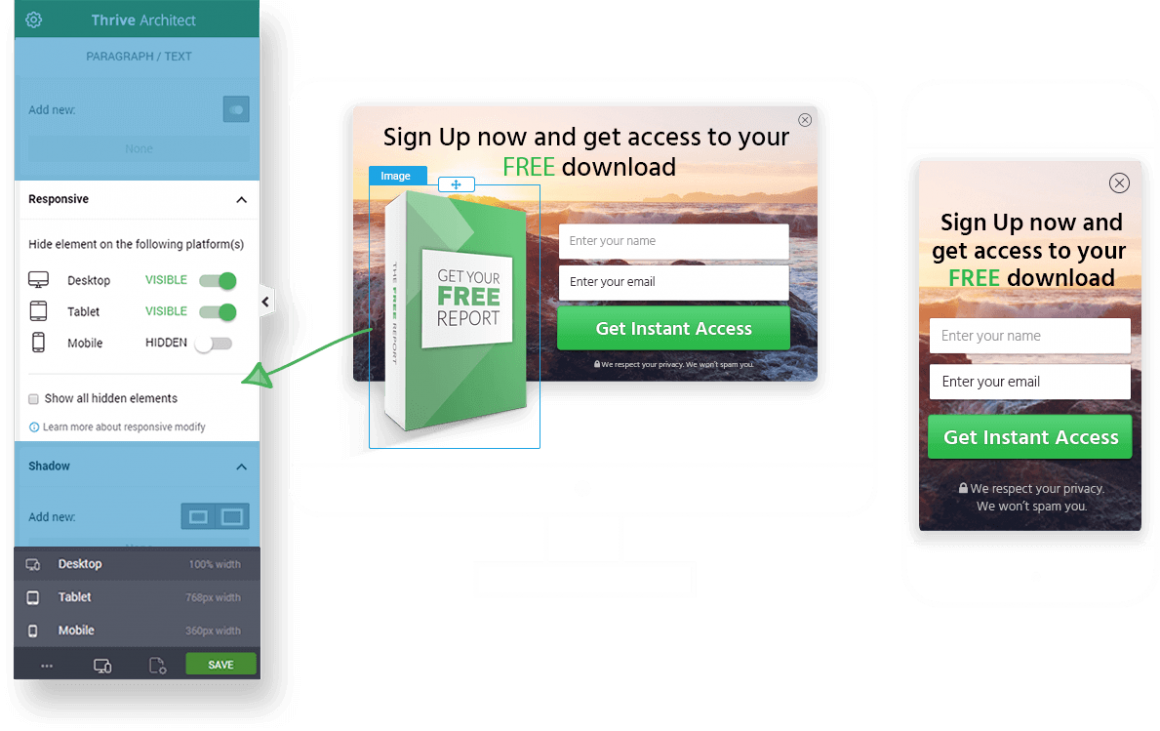 Thrive Opt-in Type and Placement
Where you place the opt-in form on your site can make a big difference to the conversion rate.
Thrive Leads offers you a number of different opt-in type and placement options.
Let's have a look at them one by one.
PopUp Lightbox
Popups are highly converting opt-in types and used by all the leading marketers. Thrive Leads offers you the option to show highly targeted popups to maximize conversion.
Another advantage is that your users will find the popup annoying because they will have the option to click on the subscribe button or link to trigger the popup.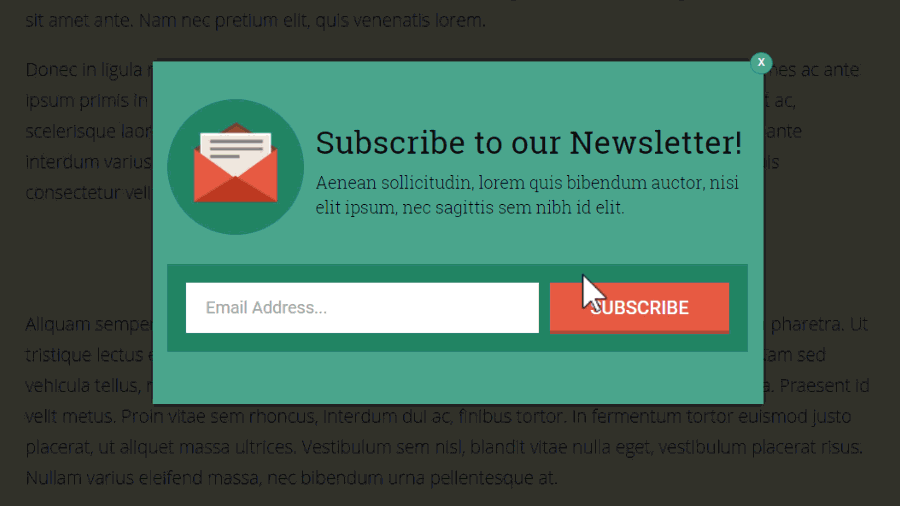 "Sticky" Ribbon
You must have come across the sticky header ribbon with the email opt-in box. A number of high authority sites use this opt-in type.
It is one of the top converting approaches to show the email opt-in form because a sticky ribbon will be visible to your users all the time.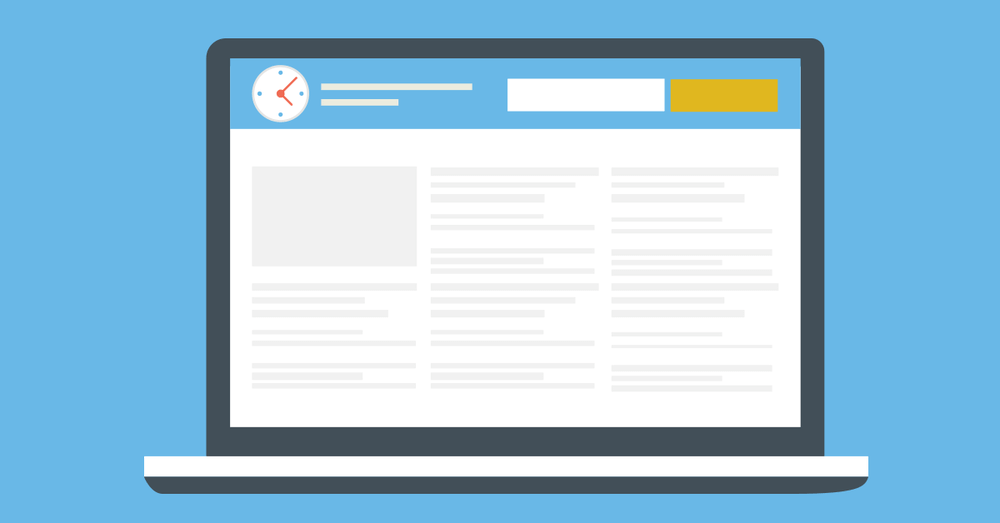 In-Line Forms
If you look at any top quality lead generation plugin, all of them offer the In-Line subscription form option because it works.
Showing a form within the content of just below the content is standard practice, and if a user likes your content or the lead magnet, they will subscribe to your mailing list.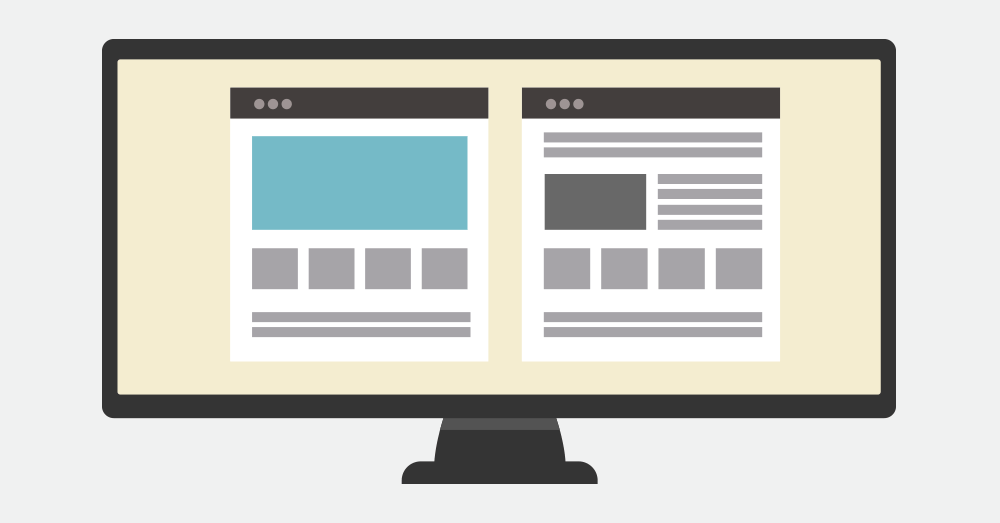 Slide-In Opt-In Form
Slide-Ins are another modern-day opt-in type that also has a very high conversion rate. The Slide-In form will slide the form from any corner of your site that you have chosen.
This is an eye-catching but non-annoying way of showing a popup form that pops up from a corner.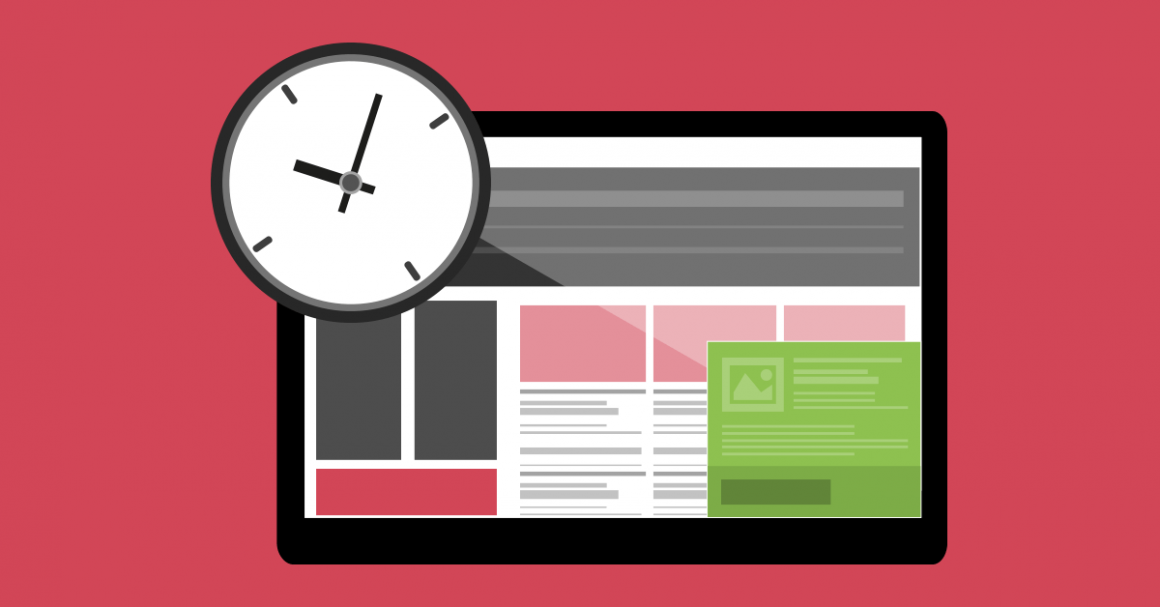 Opt-In Widget
This is a traditional way of showing the email subscription form. This is still practiced widely. No matter how big or small your blog is, it is always recommended to place an email opt-in form in the sidebar.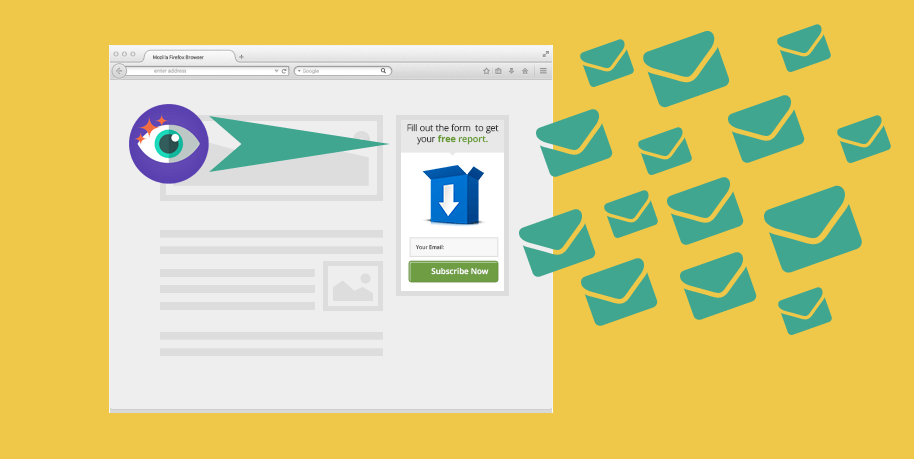 Screen Filler LightBox
This is a relatively new practice to show a full-screen layer that shows the email opt-in form. It is an attention-grabbing display type that you can customize according to your needs.
Once the system triggers the subscription form, you will have to take action to read the content further. You choose to close it or subscribe to the list.
Content Lock
I don't personally recommend the content lockers because they force the users to give their email to read the content.
It might work in some instances where you are offering a valuable product for free otherwise for content I don't think works, the users will leave your site and it will end up increasing your bounce rate.
Still, if you wish to use it then you have the option in Thrive Leads.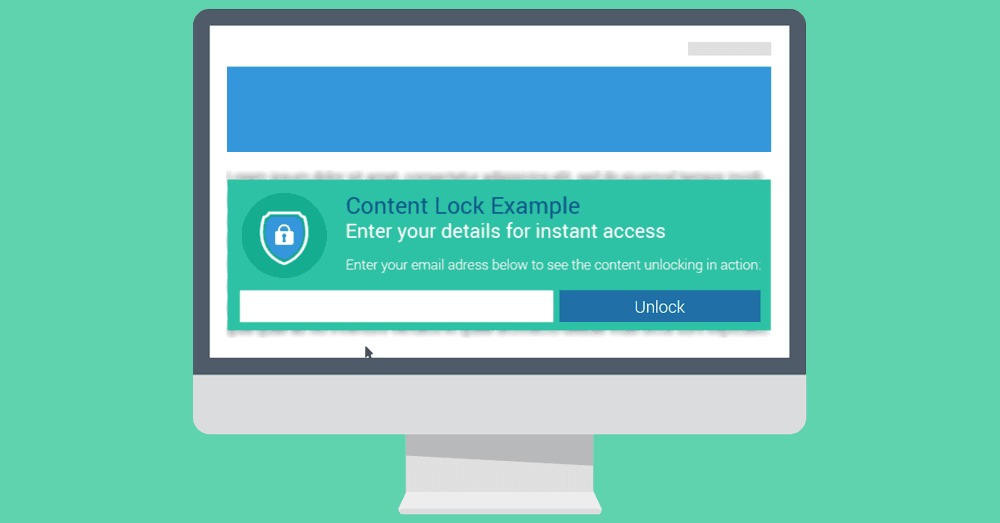 Scroll Mat Opt-In Type
Scroll mat is another widely used opt-in practice these days. When you land on a blog post, the scroll mat pushes down the content of the page and displays a full-screen opt-in form.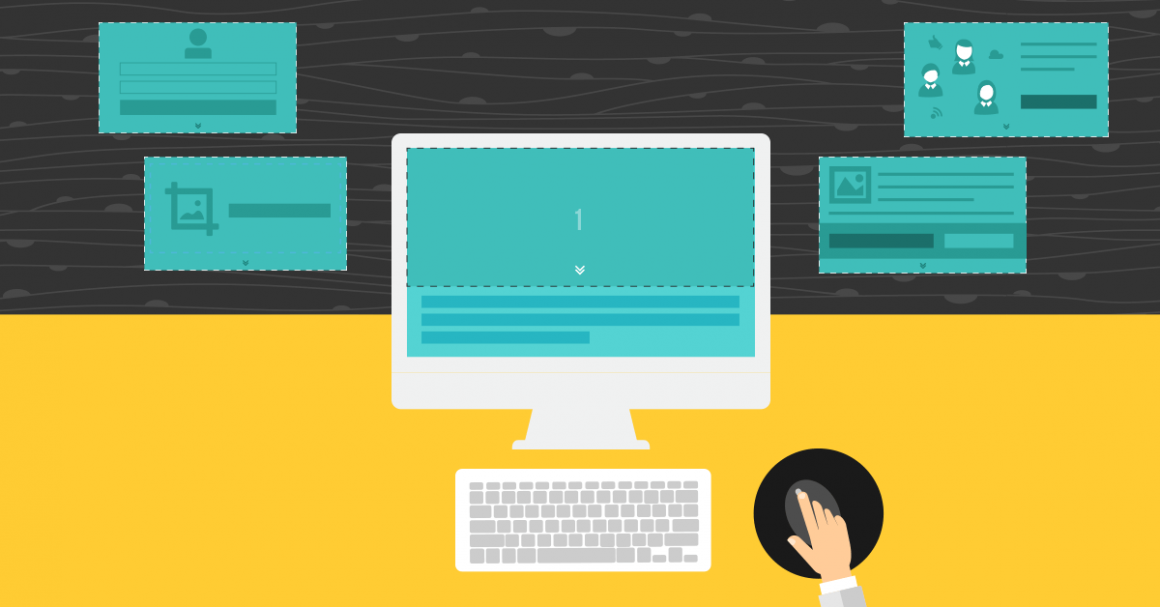 Yes/No & Multiple Choice Forms
This type of Yes/No multiple choice opt-in type works when you have a valuable lead magnet.
If you have something great to offer for free, you can ask your user if they want the product or not.
This is one of the best ways to clean up your email opt-in form and have highly targeted users who are interested in your content type.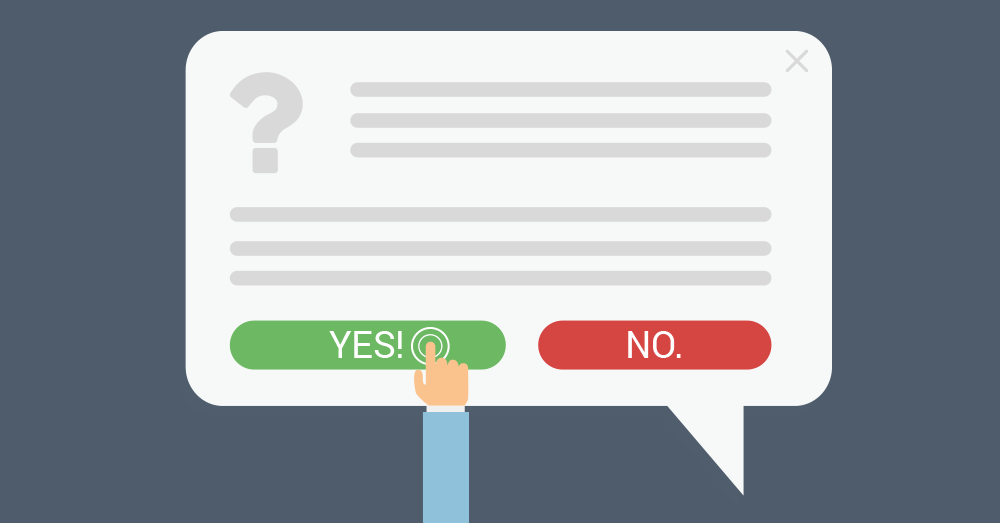 Advanced A/B Testing
A/B testing is the process of testing two different sets of design or offer with the same objective.
You can read more about the A/B testing here. Thrive Leads offers you advanced A/B testing options to make sure the final opt-in type you offer is the one that offers you maximum conversion.
You can carry on with your testing as long as you want. You can test different opt-in types, different offers, different riggers to increase conversion.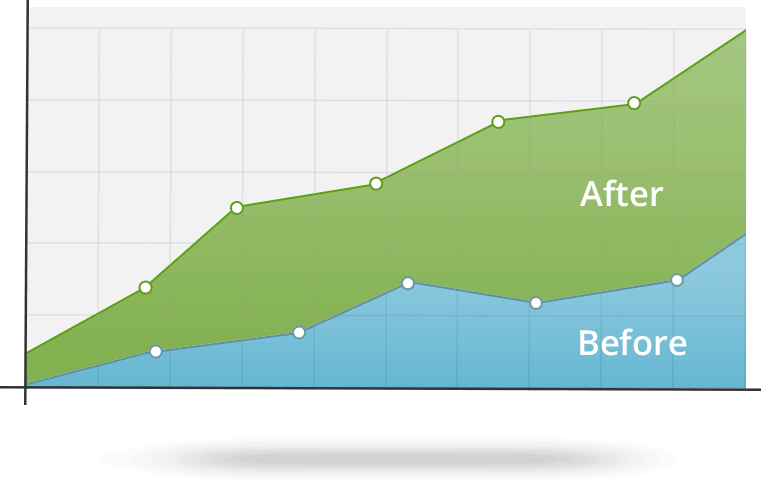 Thrive Leads SmartLinks
The SmartLinks option is certainly a game-changer. Sites make huge mistakes by showing the same old lead generation offers, popups, email subscribe forms to the return visitors who have already subscribed to the list.
It can be extremely annoying. In fact, I have personally stopped visiting a few high authority sites with very useful content just because they bombard with 3-4 different popups with different offers.
I doubt how will the user have an interest in the content when the site itself is breaking the flow of the reader.
The SmartLinks option by Thrive Leads resolves this issue once and for all. If you use the SmartLinks feature, the users who have already subscribed to your email list will not see any of the subscription forms or the same old offer again, they can simply enjoy your content or you can use the opportunity for upselling some valuable product.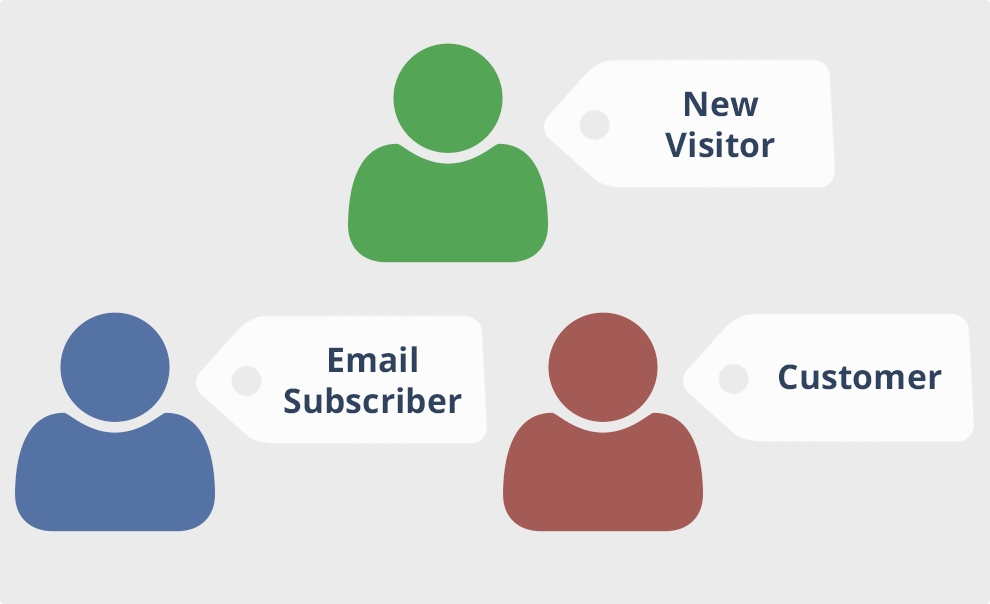 Detailed Statistics
Thrive Leads offers you detailed statistics with conversion details so that you can take an informed decision.
Get Thrive Leads
Thrive Leads is one of the best email opt-in plugins in the market that offers you industry-leading features and options to increase the conversion rate on your site.

Thrive Themes offers you 30 days money back guarantee if you don't like the product for any reason.
Thrive Quiz Builder
Quizzes can drive millions of traffic to any viral content site and this is a proven statement.
There are examples of sites that have nailed this content type and created a big business over the years.
Other than driving tons of traffic with viral quizzes, there is a big advantage of the quiz in the product based sites or even just a simple blog.
Delivering a product that all your users love is not as simple as it looks, not even with the best marketing and advertising team in the world.
You have to understand your audience precisely to deliver the best product that turns out to be the pillars of your business.
A properly set up quiz can help you in this regard and guide you to create the perfect product for your audience.
One of the most comprehensive quiz builders
Thrive is one of the most comprehensive and advanced quiz builders that offers you an option to create different types of quizzes on your site depending on your audience type.
You have the option to do A/B testing of quizzes to make sure that you are not wasting your time.
It comes with a beautiful user interface.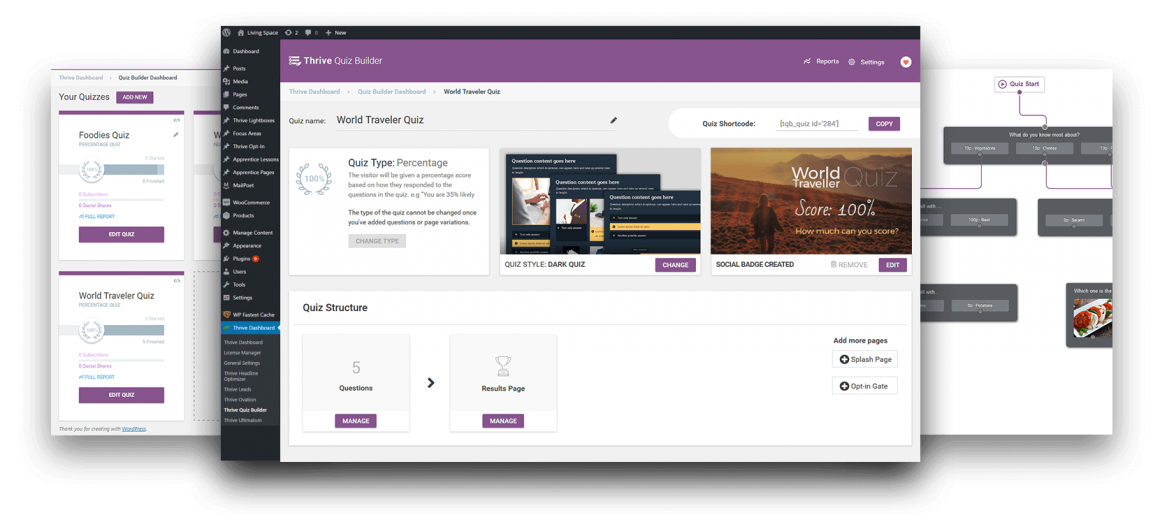 Creating complex quizzes with different logic and link is a lot easier with the Thrive Quiz builder.
Another advantage of the quiz content type is that it received a lot of social sharing vs a normal post.
Quizzes are engaging and entertaining.
Here is how you can use the quiz to your advantage. Using the Thrive Quiz builder you can offer your user the content depending on various factors that is relevant to a particular user.
This approach will help you to increase engagement on your site and reduce bounce rate which is a great win in itself.
Get Thrive Quiz
Quizzes are one of the most engaging content types on the internet. There are sites that are driving millions of traffic every month with engaging and entertaining quizzes.

Thrive Themes offers you 30 days money back guarantee if you don't like the product for any reason.
Create Smart Landing Pages
Thrive offers you a product called the Smart Landing Pages, a revolutionary way to create very professional looking landing pages in a few minutes.
The Smart Lanainf Pages, a part of the Thrive Architect will make things really simple and quick for you as far as creating a landing page is concerned.
It will automate the process of creating a landing page by replacing the manual work that you need to do while creating a landing page.
Smart Landing Pages system offers you the one-click color customization option. Once you change the color of a section, it will bring in a similar color palette that you can use.
Smart Landing Pages comes with pre-made color palettes that you can use to make the process even faster.
Also, while you are creating your landing page you don't have to upload your logo again, it will auto-populate the logo from Thrive Architect.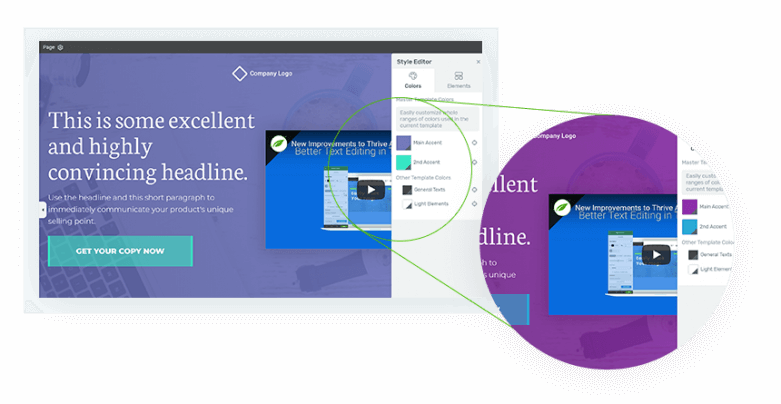 Get Smart Landing Pages
Create great looking landing pages almost on automation. The Smart Landing Pages system makes it super simple for the users to create a landing page with ready color palattes. You just have to selectand proceed.
Create Online Courses With Thrive Apprentice
Creating online courses was never so easy. There are a number of different tools and plugins to create online courses but they may not be as comprehensive as Thrive Apprentice.
If you don't have technical expertise, it could be a great challenge for you to create your own courses.
You might be an expert in blogging, cooking, health or any other topic that is popular and you know that you can make tons of money by creating online courses but the technical issues come in the way many times that restricts you to grow your business.
And if you hire a developer, you might have to spend thousands of dollars to build it and then managing it.
Why not use Thrive Apprentice and do it yourself.
You can easily create video courses and text courses without any technical knowledge.
How about growing your online courses business organically and have your own affiliate program so that others can promote your courses and you make constant revenue.
You can do that with Thrive Apprentice and SendOwl
Thrive Apprentice offers you the option to integrate your site with SendOwl quickly and take your business to the next level.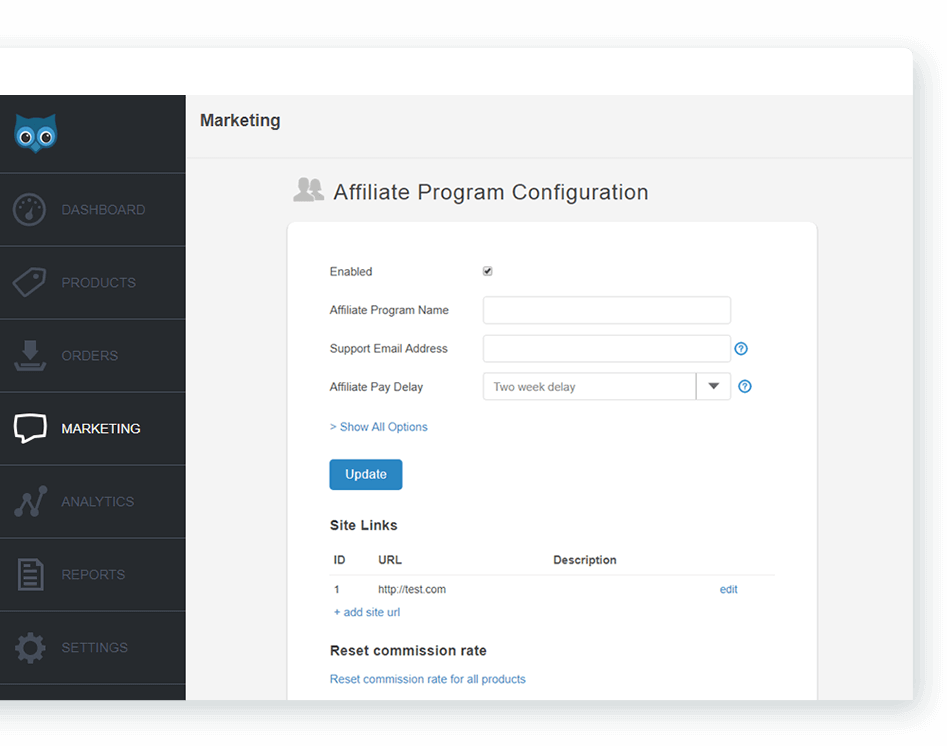 Get Thrive Apprentice
Create your online courses business easily with Thrive Apprentice and make regular revenue. You can also have your own affiliate program so that other users can promote your courses.

Thrive Themes offers you 30 days money back guarantee if you don't like the product for any reason.
Other Thrive Themes Products
Other than the ones mentioned above, Thrive Themes offers a number of useful plugins, such as the following.
Thrive Ultimatum
Thrive Ultimatum is one of the most simple yet powerful tools to increase conversion.
In simple words, the Thrive Ultimatum is a countdown timer plugin that gives you the option to give a clear message of the time available for an offer which can be instrumental in increasing conversion.
Thrive Ultimatum is a fully customizable plugin that can be a great fit for the affiliate marketing sites to increase conversion and help you make handsome revenue.
Another advantage of Thrive Ultimatum is that you can target your marketing campaign depending on the content of the user on.
You can showcase a different offer on different pages to increase the conversion further.
As you know every countdown comes to an end and if the same visitor sees the countdown again with reset time, you will end up losing your credibility.
To solve this problem the Thrive Ultimatum plugin comes with a user lockdown feature that will make sure that once a user misses an offer they will never see it again on your site.
Get Thrive Ultimatum
Thrive Ultimatum is one of the most powerful and comprehensive offer plugins with countdown timer and user lockdown option to maximize conversion.

Thrive Themes offers you 30 days money back guarantee if you don't like the product for any reason.
Thrive Optimize A/B Testing
A/B testing is an integral part of any marketing campaign. Every affiliate marketers do testing to increase the conversion of their marketing offers and campaigns.
The Thrive Optimize plugin makes it simple and easy to test your design, offers or any other element on your site easy and quick.
It works best with the Thrive Architect plugin.
You can create great-looking landing pages for your offers and do A/B testing with the Thrive Optimize plugin.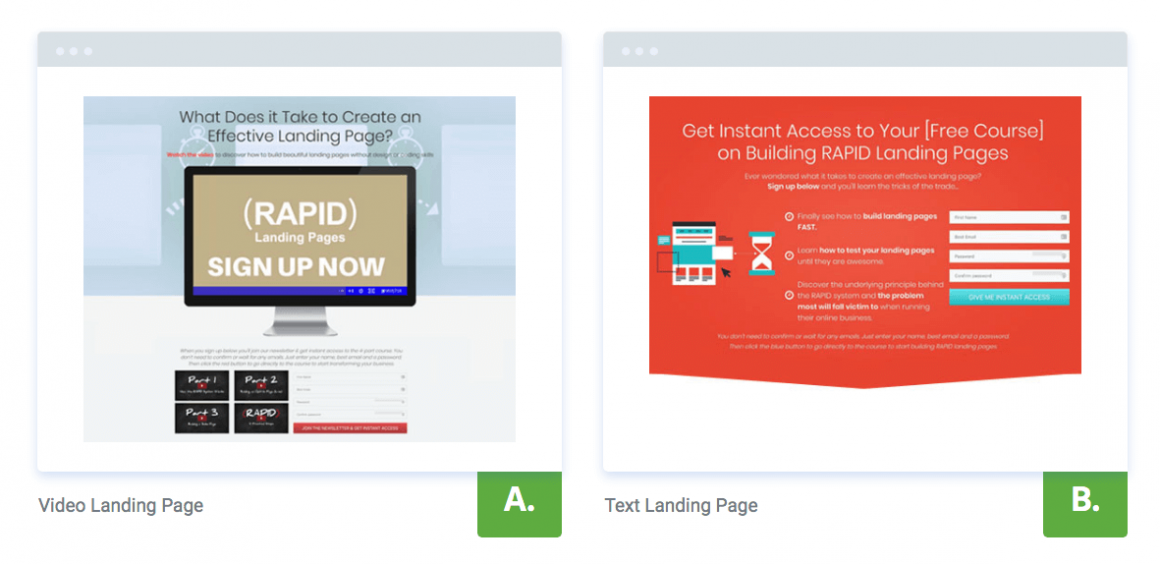 As all products of Thrive Themes are optimized towards conversion. You can club it with any of the products such as the Thrive Leads.
You can increase the number of email subscribers by doing proper A/B testing of your offers and email subscription forms.
Here is what you get with the Thrive Optimize plugin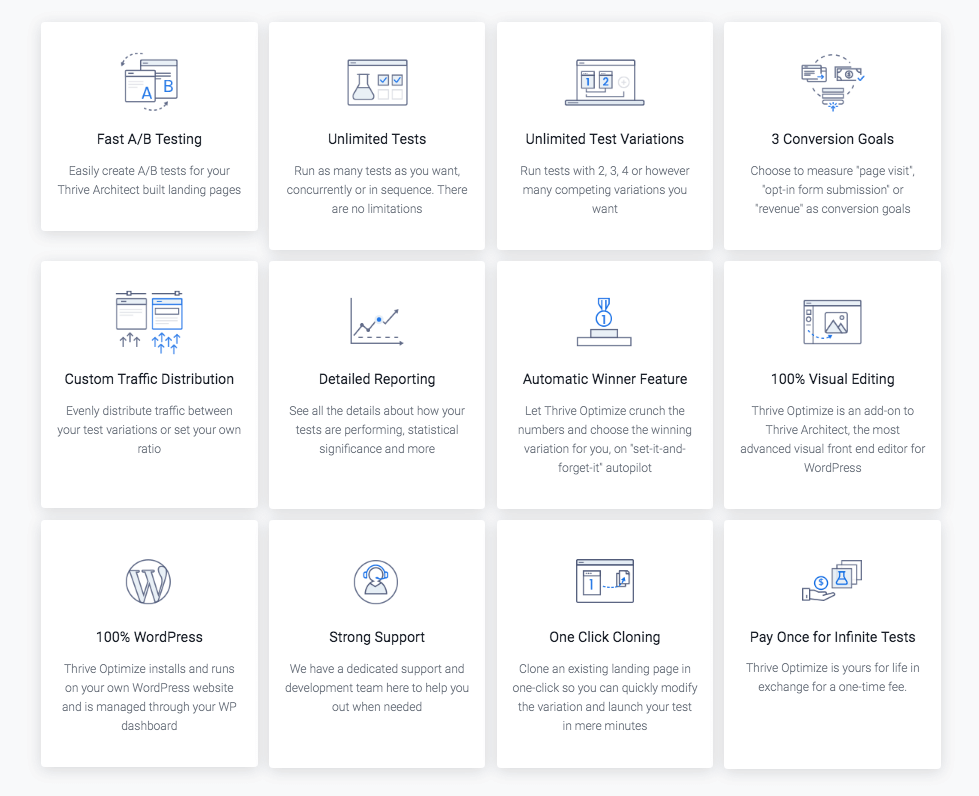 Get Thrive Optimize
Thrive Optimize is one of the best A/B testing WordPress plugins that will help you to increase conversion on your site to a great extent.

Thrive Themes offers you 30 days money back guarantee if you don't like the product for any reason.
Thrive Headline Optimizer
The heading of your blog post makes a lot of difference to the overall success of your blog.
Big sites like BuzzFeed use the heading to capture users' attention and make them click and read through.
While viral title that is only written to get the click may not be a good idea. A combination of google title and quality content is a great recipe for success.
The headline optimizer will make sure that your blog has good
The Thrive headline optimizer will help you to write the perfect headline for your blog post.
All you need to do is to start your tasting, the data-driven approach of the Thrive optimizer will suggest you the titles that are highly likely to drive more users.
the system will do A/B testing and go through tons of engagement related data to help you get the perfect headlines.
Another great feature of the tools is that you can do bulk testing if you have a lot of existing content on your site.
Final Word
Thrive Themes is surely a great investment as it can help you grow your business quickly and make a good amount of money.
If you check the overall ROI, you will understand the effectiveness. Products like Thrive Architect can help you the same hundreds of dollars that you will otherwise pay the developers to create custom landing pages for your marketing campaigns.
We have also mentioned the 30 days no question money-back guarantee in case you don't like the products, which is unlikely but definitely an advantage.
Another advantage of using Their product is that you will come across a number of high-quality tutorials and many pro bloggers are using their products and writing about them frequently.
So, get started now.
Thrive Themes Products Review