The pandemic has hit us all real hard! Companies from across the globe have asked the employees to work from home. Working from home is easy if you are a lone wolf.
However, the entire scenario changes when you need to work with a team from your home remotely. Well, you can let go of the stress, thanks to Taskade.
What is Taskade?
Taskade is the tool that you need for remote teams to get the work done seamlessly. Your office is your physical workspace. Similarly, Taskafe is your all-in-one digital workspace where you can manage tasks, workflow, and communicate via HD video chat.
Now that you know what Taskade is let us dig a bit deeper and know about its awesome features.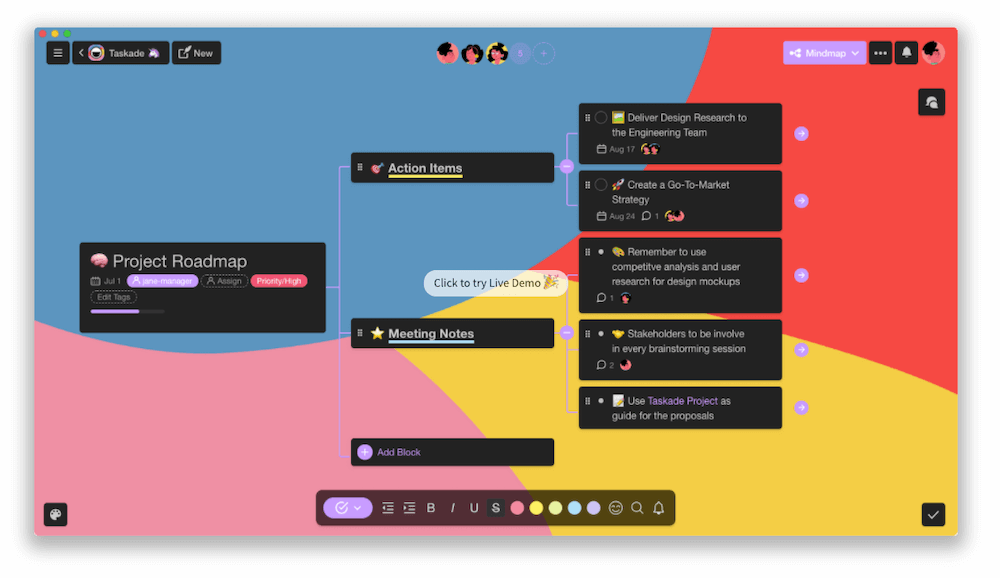 Features of Taskade: An Overview
On Taskade, you can create a team with unlimited team members. You won't have to leave out even a single team member from the project that you are working on.
Also, you can create and work on unlimited projects here and the projects that you are creating can be shared with unlimited guests. In addition to that, Taskade also supports unlimited subspaces. In short, with Taskade, there is no limit.
Taskade is your virtual office where you plan projects with your team, discuss, plan, execute. No matter where your team member is, Taskade will bring all of your together to achieve your goal.
Getting Started With Taskade
Taskade is a very powerful platform for professionals, yet it is very easy to get started. The tool is simple and easy to use. There is no learning curve involved unlike many other tools created for a similar task.
Create Your Profile
Start by creating your profile. You can use your Google Account to signup and login to the platform. Follow the steps, fill in the details and you are good to go.
You can define your goal and choose your account type. If you are The tool for your business, your personal use. You can define the goal of your business, select industry type.
Or you can skip these steps and move forward.
Simple User Interface
Taskade comes with a very simple and easy-to-understand user interface where you can create your project.
This is how it looks like.
Creating a New Project on Taskade
Click on "New" to start a new project. You have all the options such as bullet points, paragraphs, and other items depending on your project type.
Customize The Design That Represents Your Business
You can bring in your own branding to Taskade.
While you manage your project on the Taskade platform and share it with your team or your clients. You can have a complete look and feel with your own color scheme.
You can change the background of the project interface.
Click on the edit option below on the page and select a color or a background image. You have the option to add your own image that will make the interface completely your own.
Own Branding
You can also select a color scheme for the buttons and all other elements on the page. Also, you can upload your profile logo.
While you create a new project, you can define these elements. Or you can go to a project, edit it and select the color scheme and upload the logo.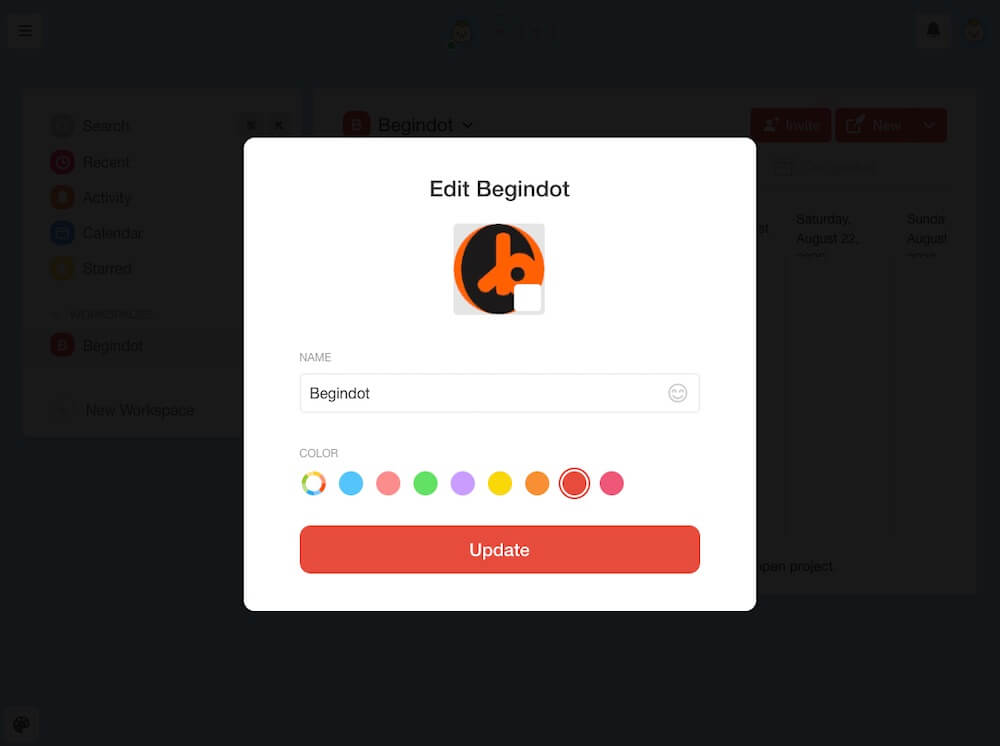 Enable Dark Mode
Taskade gives you the option to enable dark mode. Click on the Taskade icon at the right top corner to enable dark mode.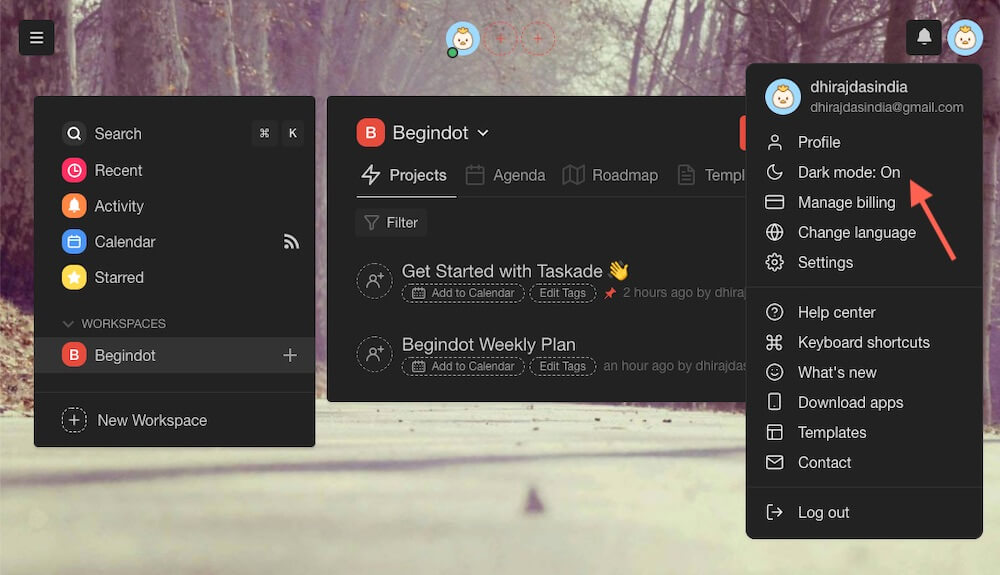 Collaboration With Your Team
The primary purpose of Taskade is to bring together the team members so that they can work together remotely. Therefore, it isn't surprising that Taskade is all about collaboration. Create projects, share them with your team members, chat with them to discuss more of them.
As the changes happen in the project information on Taskade, you will be able to keep an eye on it because everything is shown in real-time. The sync is impressive across all the devices. The app supports multiplayer synching and real-time collaboration.
In case you do not want to add a person to a particular project but want to share something from the project, you can go for a shareable link.
Communication will never be a problem in Taskade, as it supports multiple ways of communication like:
Video Conferencing
Team Messaging
Task Commenting
Different team members play different roles in a project, and that is the reason why Taskade allows you to assign tasks and projects.
Have a deadline? Remember about it by setting the due date along with the reminders. In case, some tasks need to be done regularly, or on a regular interval, you can include it in the recurring tasks.
The push notification ensures that you neither miss any deadline nor any change made in the project in Taskade.
Everything can be tracked instantly here. Want to check the progress on a particular project? You can see it in the workspace, in real-time.
Inviting a Team member to a New Project
Inviting a team member to a project is simple. You can click on the invite option on your project page or use the at the top of the page to invite a new member.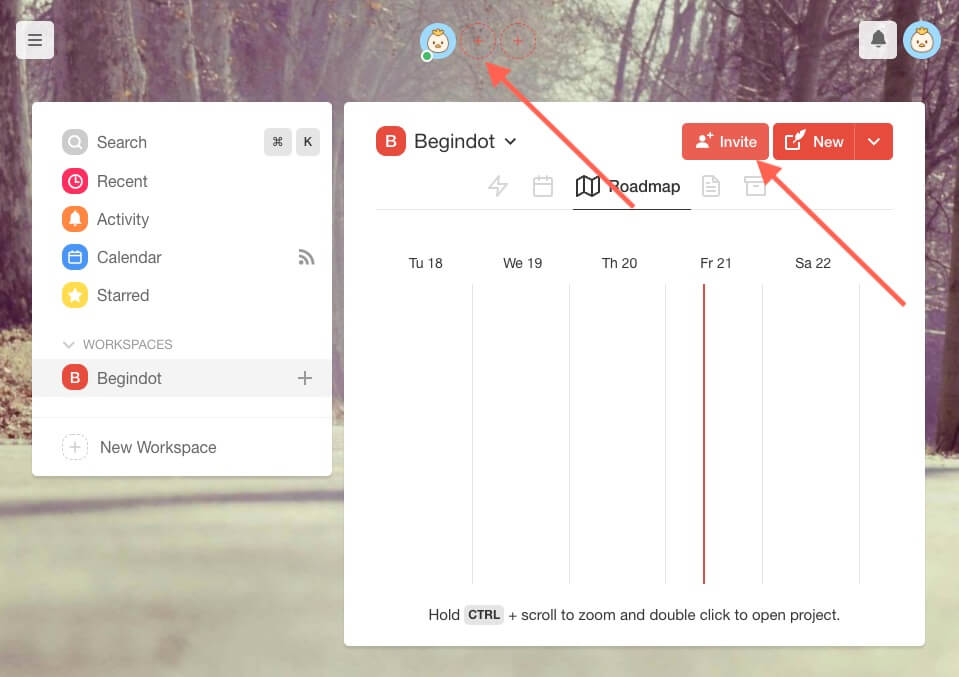 Add the email ID of the user, defile the role, and proceed. You can also use the invite link option that you see on the invite window.
Quick Communication
Quick communication between team members is one of the big advantages of the Taskade platform. While there are many other communication options available on the internet to do a virtual meeting with your team members, doing everything on one single platform certainly has its own advantage.
So, you will never have to leave the Taskade platform while you plan, manage or do a meeting with your team members.
Taskade gives you a quick option to chat, do audio calls or a video conference right from the same interface.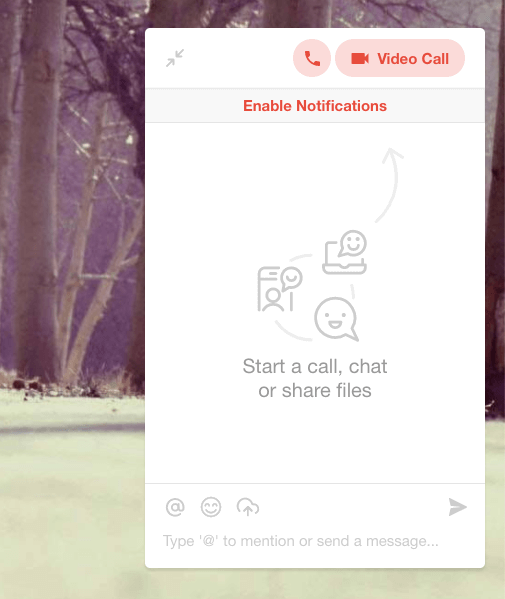 You can enable notification by going to the setting in your account.
Customize Views
Have you ever used any to-do app? Well, most of the to-do app allow the users to view the list that they have created in the task list format. Do you know there are so many different ways in which you can view your to-do list?
If not, it's time for you to give your eyes a treat with different views of the task list on Taskade. The different views which are supported by it include: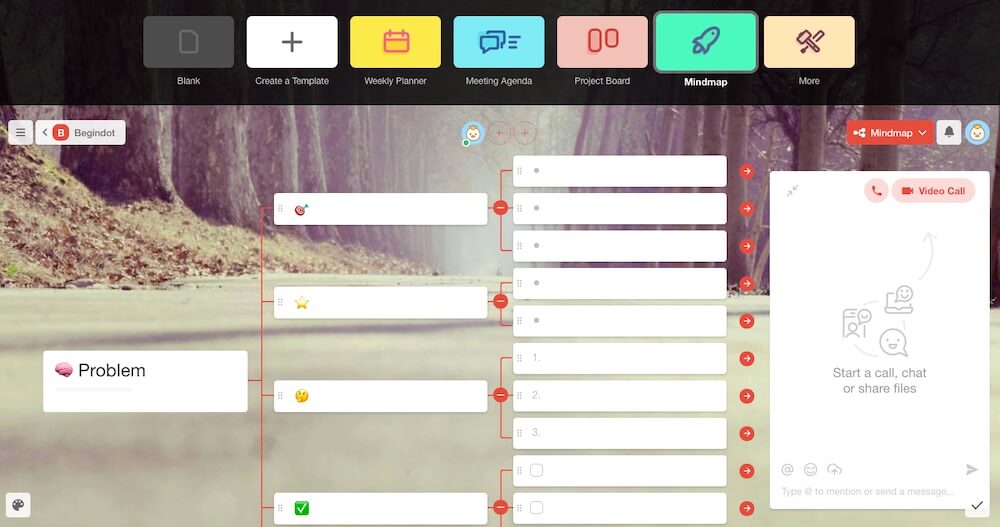 Ready Templates
You can start with a blank page for your project. If you don't know how to get started with the things that you need to create, to begin with it, you can choose templates from the templates gallery. The templates available here are broadly divided into categories like:
Once you are familiar with the templates, you can go ahead and create your very own custom templates to meet your very own specific needs. You can further go ahead with the customization by uploading the logo and backgrounds that we mentioned above.
Security
Your projects in Taskade are protected with data encryption. You do not need to worry about losing any data, thanks to the regular backups which are done.
Additional security layers include:
Platforms & Apps
Taskade is available for multiple platforms and browsers. Here's the list for you:
Mobile Apps
Browser Extensions
Desktop Apps
macOS (recommended Mac 10.12 or later)
Windows (recommended Windows 8 or later)
Linux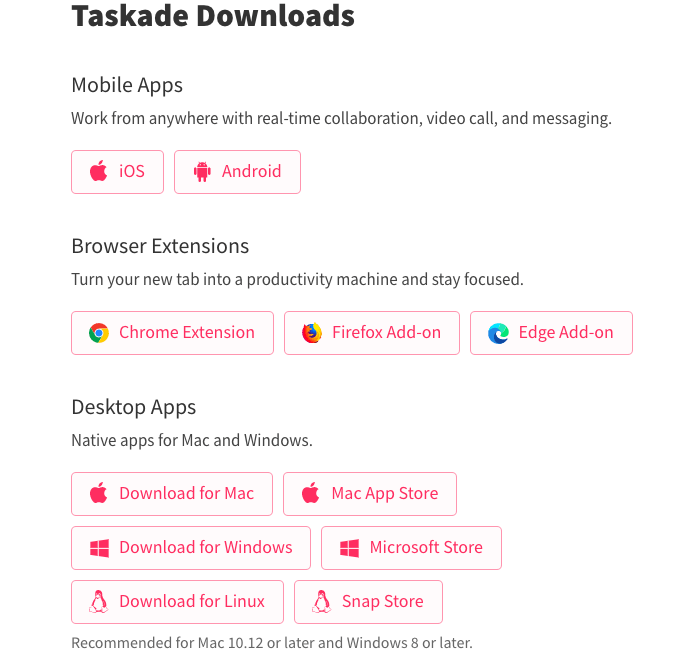 Support
While working on Taskade, if you stumble across any problem, do not panic. Taskade is there to support its customers 24*7. If you are a premium user, you will be provided with priority support. Also, custom onboarding and training are provided to the users.
Also, Taskade is planning to launch many new features. The common features in both the packages include schedule templates and email to Taskade. Features that are limited to the Unlimited version include revision history and integration with Dropbox/OneDrive and G-Drive.
Phew! That was a pretty detailed review. However, we will go ahead and address a few frequently asked questions too.
Wrap Up
If you are looking for a fun way of organizing and collaborating with your team member, there is no better app than Taskade. It has a simple user interface, and it looks great.
If you are a solo user, even the free version will suffice and if not, even the premium version is also available at a reasonable rate.
For a start, why don't you start using the free version of Taskade and try the app for yourself? You can upgrade the package after falling in love with the product.