If you are a small business looking to make it big on the internet and planning to boost your brand online, then you have come to the right place.
Here we bring you a detailed, insightful, and hands-on review of one of the most popular logo makers in the market, Tailor Brands. From its top-class features to its benefits for your business, the comprehensive guide offers it all.
Tailor Brands: A Brief Introduction
Tailor Brands logo maker is one of the most popular names in the online logo makers world. This is a complete machine-learning and automated tool that assists all kinds and types of entrepreneurs. 
Various business owners and website makers use Tailor Brands to design amazing and world-class logos that help them in branding better and in a powerful manner.
It eliminates the need for a complete budget or asset for designing logos and you don't need any technical skill to create a logo using Tailor Brands. A number of different reviews and listings have named Tailor Brands as the easiest and the best-in-class logo marker in the online market.
Till now, Tailor Brands has assisted over three million customers all around the world. Not only the smallest and budding businesses but also some of the fastest emerging and top brands have also used Tailor Brands for their designing needs.
As per the company itself, a new logo is created on the platform each second. One of the things making Tailor Brands better than some of its top competitors is that it allows you to create logos for free so that you can use the tool before buying the premium version.
Tailor Brands: How to Use Tailor Brands Logo Maker?
Creating a logo with the Tailor Brands online logo maker is very easy and you actually won't need any kind of design skills to create logos.
To begin with, you will have to answer a bunch of short questions, all related to your brand preference and about your company or product. Some of the questions here include things like the font of your choice and the name of your company or product.
Designing a logo with Tailor Brands is easy and it creates logos based on your answers about your company. The kinds of logos this platform offers you are amazingly stylish and feasible for all brand needs.
Start by adding your logo name and the tagline for your blog design (which is optional).
You will also see a progress bar so that you can know about your stage in the logo creation process and how much more you have to do to complete the design process of your brand logo.
You also have a ton of different options to choose from, such as whether you need that logo based on an icon, a simple name, any kind of initial, and you can also experiment with a lot of different font styles pre-integrated into the platform to choose from.
To create amazingly stylish logos on Tailor Brands, you will have to first think about your business, brand idea, goals, and other similar things before initiating the design process on Tailor Brands.
Think about whether your product is fun to use or not? Whether your target audience is local or national? and so on. To know and work out your business strategy is the first step in creating the right logo.
Once you complete the answers, the platform would generate different logo options to choose from based on the answers you give in the questionnaire.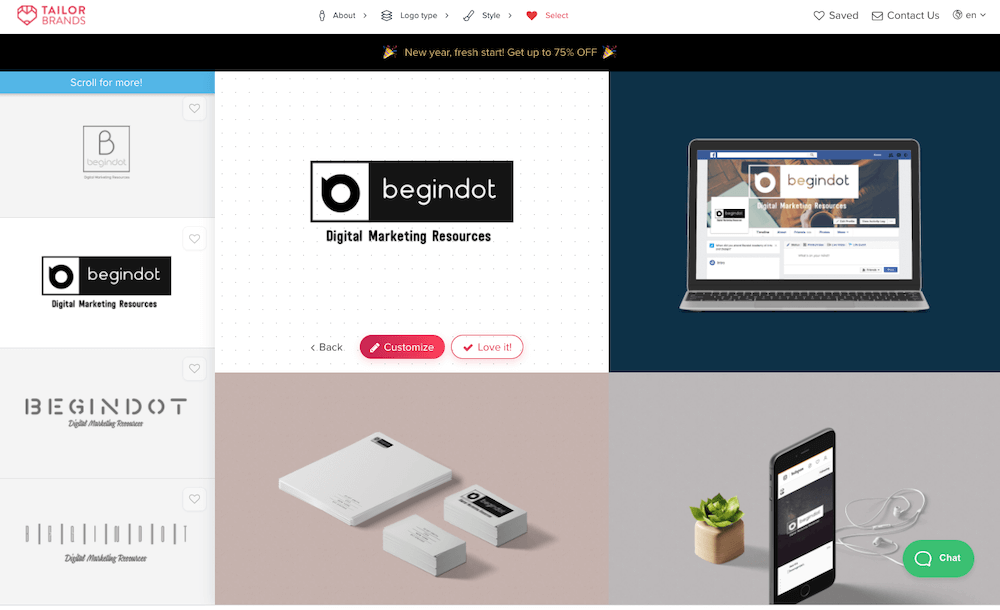 One of the greatest things the platform would offer is that you can see how your generated logos would look on different objects, such as business cards, T-Shirts, bags, and so on.
You can see your logos being implemented on different platforms and business uses. On using the platform a number of different times, you will find it very dynamic and even quite fun to use.
You can also go back to the previous editing page in case you have made any kind of mistake in the logo. One of the major concerns people have with automated logo makers is that they usually deliver very robotic and basic-level logos to choose from.
Tailor Brands is different as it delivers automated, yet beautiful logos for all business needs. The level of personalization offered on Tailor Brands is pretty rare to find on other logo makers online.
Why Tailor Brands?
Here are the top features of Tailor Brands that'll help you in creating an amazing logo.
Automated but Beautiful Logos
One of the biggest pros of Tailor Brands is that it generates automated yet amazingly useful logos. You get amazingly relevant logos for your brand and exactly what you see on the screen. The platform offers highly business-ready and useful logos and fonts, which are not found in many of its competitors.
The designs are not only unique but also have ready-to-use quality for all kinds of businesses. The platform receives all images from a third-party platform called Noun Project. The library of icons and available on Tailor Brands is something you will not find on many other platforms.
In the low-cost market of online logo makers, Tailor Brands logo maker's automated logo generation feature is the best for sure.
World-Class Customer Support
The customer support offered on Tailor Brands is one of the best in the business for sure. Though there is no phone call support offered from the technical team of Tailor Brand, the rest of the mediums offered on Tailor Brands are highly informative and helpful for all kinds of queries.
The FAQ section offered on Tailor Brands is unparalleled to any other logo maker service in the world. You will find some amazingly informative and detailed guides on almost all kinds of technical and non-technical queries.
You can also submit your queries via other major mediums like an online forum and the quick email support at support@tailorbrands.com. The usual response time of the customer support from Tailor Brands is somewhere between 24 and 48 hours.
Tailor Brands: The Conclusion
If you are looking for an easy to use and highly-creative online logo maker, this is all you need right now. The platform is easy to use and feasible for all kinds of businesses and products.
The integrated options and customization features are second to none for sure. Try the free trial to know more.