SOAX, a quite popular software among the global proxy solutions world, is a rotating residential and mobile proxy service provider that offers quality, affordable, and reliable solutions for all types of proxy users. The service is a rotating residential proxy provider used all around the world.
It is a unique platform that boasts over 8.5 million mobile and residential IP addresses from various geo-locations. It allows you to filter down your targeted settings to a particular city or mobile service provider.
The best part about SOAX is that even with the most basic SOAX plan, users can get access to all of its top-notch features and the complete pool of available IP addresses.
So now that you know what SOAX exactly is and what its capabilities are, let's dive deep into a highly researched and curated review of this amazing proxy solution.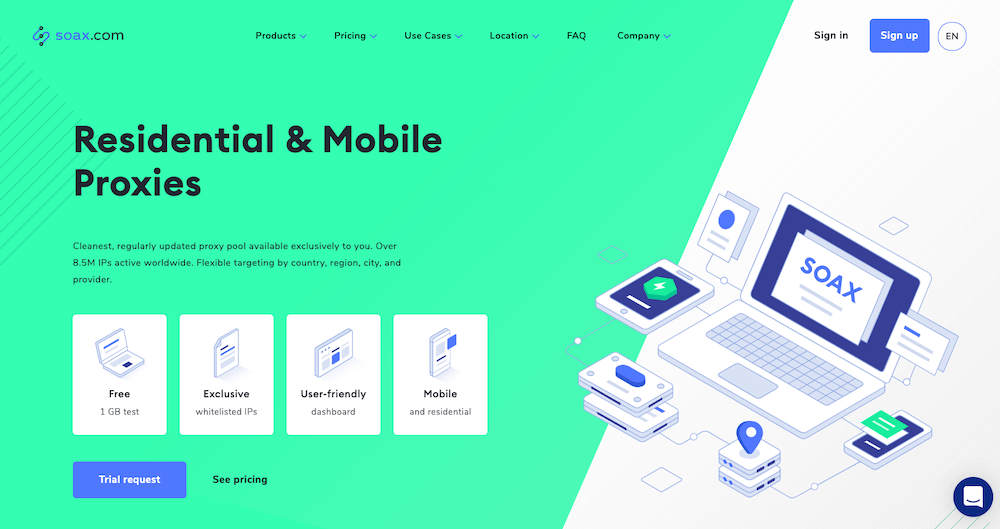 How to Use SOAX Proxy?
---
The Main Dashboard
SOAX's dashboard might not seem to be very easy to use at first but is handy for all levels of business organizations. After using it for a couple of minutes, you would realize that SOAX's dashboard is one of the best in the category.
On the very left edge, you will get your navigation panel, in the middle section, there is a list of a lot of different packages that you can or have purchased along with its status, and on the very right side, you will have the option for a specific package you are aiming to use.
Steps for User Authentication
There are two different methods using which a user can authenticate themselves in SOAX. One is the usual username and password method and the other is the IP wishlist option.
For opting the traditional, username and password method, simply go to the top section where you will have your username and password. The only catch with this authentication method in SOAX is that users are not allowed to change their username and password.
This authentication method is amazing if you want to use your proxy service from different parts of the world or even on the go. If you want to use SOAX proxy from multiple different devices, then the usual username and password method is a good option.
This eliminates the hassle of setting up a new IP address whitelist for each of your locations and all of your devices.
Now let's talk about the IP authentication method for using SOAX. This login and authentication method works best only if you are planning to use proxies on multiple different devices at the same time.
This means that you won't have to set up tons of whitelisted IP addresses in SOAX's dashboard at all. While most of the other proxy service providers, including the top alternatives of SOAX, call it IP authentication, in SOAX, this authentication service is called Binded IP.
To add an existing IP address to your whitelist, all you have to do is to click on the "Binded IP" button on the very top-right edge of the management panel. Simply type the IP address in the text box and then click on the button that says "Save IPs".
SOAX allows you to add two IP addresses for absolutely no extra cost. For every other IP address, you will have to pay an additional $5 each. This certainly makes the complete cost of your proxy solution an expensive deal, especially for the enterprises and emerging businesses.
SOAX Review: The Top Benefits
Here are the top benefits of SOAX that make it shine in the crowd:
01. Proxy Pool
SOAX's extensive proxy pool is simply amazing. It is undoubtedly one of the biggest in the market with more than 8.5 million listed IPv4 addresses from around the world. All of the available proxy addresses are ready for being used in different data scraping needs.
SOAX's enormous proxy pool is considered one of the cleanest IP pools in the business. Every IP is offered by real and authenticated network providers from all parts of the world.
02. Top Anonymity
A great takeaway of all kinds of residential proxies is that they look mostly like real-life users. The best part is that the same works great for sending requests from different parts of the world.
High anonymity helps users in managing multiple user accounts on all kinds of different websites and social media platforms.
All Geo Locations Covered: Another key feature of the SOAX proxy service is that it allows the user to go through different geo locations for accessing any kind of website on the internet.
03. Best in Reliability
What sets SOAX apart from its alternatives is that it offers an automatic rotation of their proxies for maximum reliability. The service allows you to navigate through any kind of website as long as you want without having to think about the fear of getting banners or going offline.
While using SOAX, if in any case the proxy goals offline, the platform will automatically replace that proxy with a new IP address, as per the targeting and geo-location service.
04. Feature-Packed Free Trial
As compared to its major alternatives in the market, SOAX offers a very intuitive and feature-packed free trial for all new users. The best part about the free trial is that it is risk-free and offers an actual free version of the real full version.
You can easily and confidently try out the software in a real-world environment without paying anything at all.
05. Round-the-Clock Support
The customer support team behind SOAX works round the clock to provide assistance and support for all kinds of customer queries.
Users of SOAX having any kind of technical or non-technical queries can reach out to the team via different customer support channels, such as chat, email, Telegram messenger, and Skype calls.
06. Auto IP Address Rotation
The platform allows users to choose any of their custom proxy rotation time when creating a new account. Even if the user ignores this configuration option, the app is pre-integrated with auto-rotate IP addresses.
This simply means that a user would automatically get assigned to a new, live IP address in case the last proxy IP goes offline. This allows you to enhance your efficiency and overall productivity very easily.
07. Easy Authorization
The platform allows users to authenticate themselves easily with either an IP address or a login and password. Although you can authenticate yourself easily with any one of the methods, the platform recommends you to use both of the authentication types.
However, many of the top users do not like this feature and have ultimately opted for IP authorization only.
08. Powerful Dashboard
SOAX offers a very powerful and easy-to-use dashboard for all levels of users. The dashboard allows you to streamline a lot of different hassles like making proxy configuration very easy.
Users can also analyze traffic easily via the integrated dashboard statistics. The platform allows you to export your complete proxy list in different file formats, such as TXT, CSV, and HTML. You can directly share it with your personal link.
09. Node Accessibility
SOAX's integrated Node Access feature comes in handy when a user needs to access a static residential IP address. The platform allows you to reserve your access to a specific device easily. You can continuously send your requests via the same IP address.
SOAX Pricing
SOAX offers different plans for residential proxies and mobile proxies.
Here is the pricing for Residential Proxies
Here is the pricing for Mobile Proxies
All these plans include
Conclusion
The app checks all the right boxes and has all the required features. In the world of residential proxies, SOAX definitely deserves a try!