Are you looking for Instagram insights to optimize your Instagram marketing strategies?
This review of SharemyInsights will answer all your queries and ascertain whether SharemyInsights is the right choice for you to take an in-depth look into your Instagram Statistics.
With more than 1 billion active users, Instagram has become one of the most successful social media networks in the world. The website, once popular for personal purposes, has become a hot spot for companies to launch their marketing campaigns.
To flourish your business on this platform, you should track and analyze the data of your audience. Unfortunately, Instagram's built-in insights fail to show more than seven days of insights.
This built-in insight also lacks major resources to realize the full potential of your audience's interest.
This is where tools such as SharemyInsights comes in and steals the limelight.
Also, as you know Instagram allows you to have only one link in the description. But, with the SharemyInsights smart bio link, it will allow you yo create a small website where you can have links to all your important pages.
The question is whether SharemyInsights is worth the amount of money you put in?
Let's find out!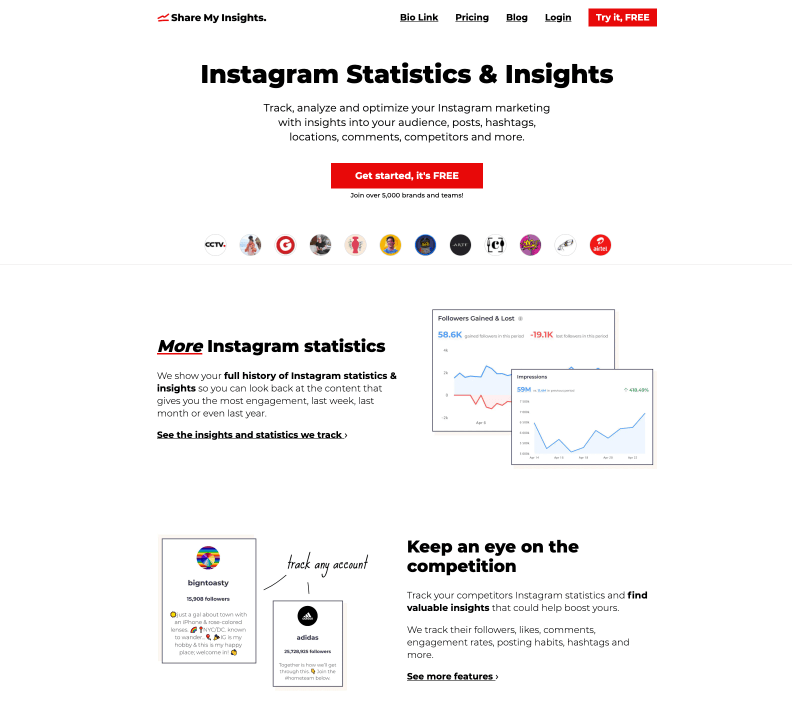 SharemyInsights Overview
SharemyInsights has been in the business for a while and has managed to build more than 5000 clients during its lifetime.
Using the Instagram graph API that is subject to approval from the team of Facebook, SharemyInsights provides full insights and in-depth information on your Instagram activity.
In terms of collecting important insights, this tool provides information about your followers, hashtags, location, competition, website clicks, etc.
Simply put, SharemyInsights provides the simplest means of collecting the right statistics for your business. From analyzing your posts and stories statistics in a simplified way to getting to know the right time to post for your followers.
The vision behind providing such an efficient and effective solution is to give the businesses a means to look back at the content that keeps their marketing strategies in the right direction.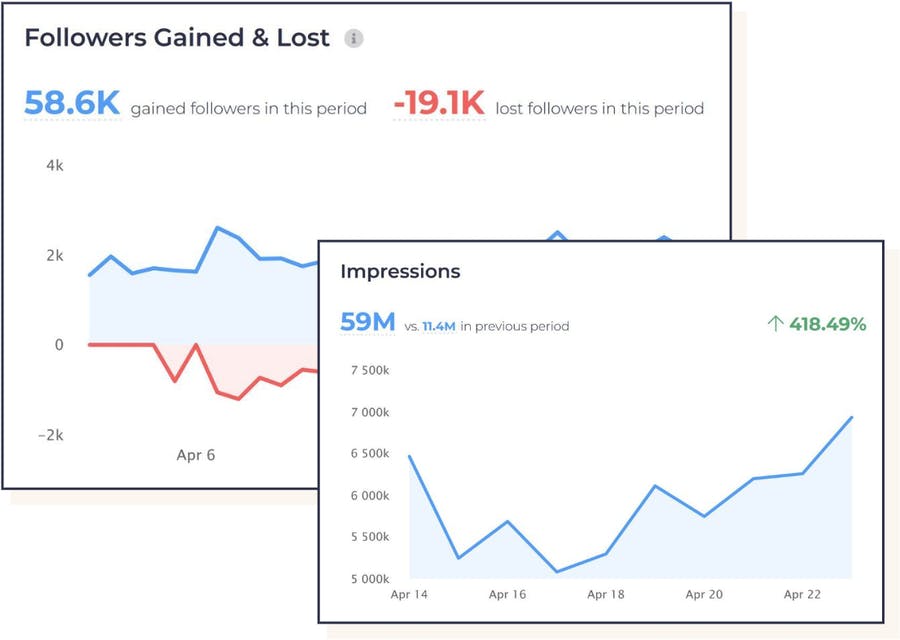 Key Features of SharemyInsights
We've already given a brief introduction about the SharemyInsights, now it's time to break down its key features.
We must say that this Instagram insight tool hasn't left us much to complain about, given its significant features with affordable pricing.
Let's have a look at some of its key features:
01. Smily Bio Link
As you know, Instagram allows you to have a single link on your bio. With the Smily Bio Link feature offered by SharemyInsights, you will be able to create a mini-website with all your important links in it so that you are able to make the best out of your Instagram audience.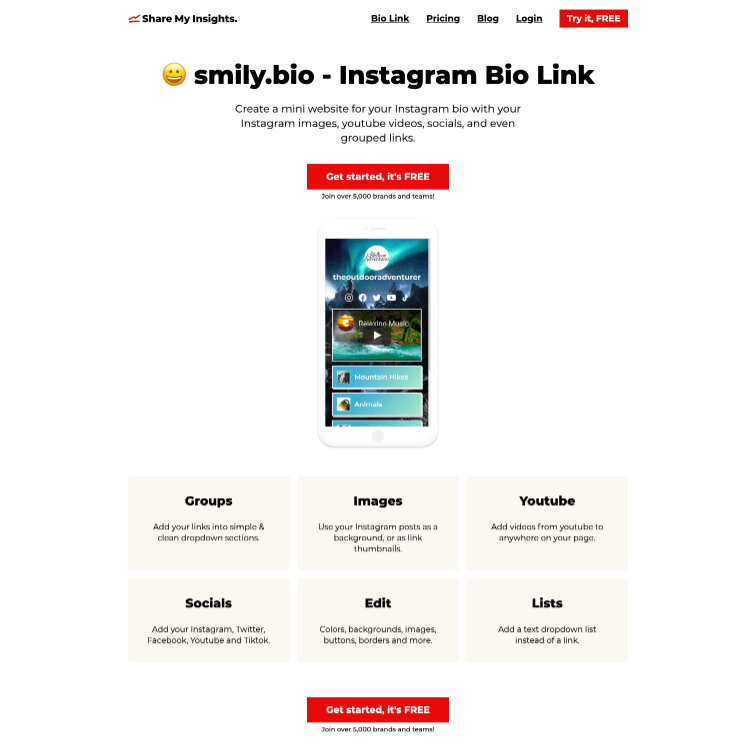 02. Best Time to Post on Instagram
If you've been using an Instagram business profile for marketing, we're sure you've already looked for suggestions for the best time to post on Instagram. The internet is filled with plenty of results that provide information about the best timings.
But should you be trusting them?
We will never know because sometimes it might work and sometimes they don't!
These pieces of information about the best timing to post on social media platforms are said in the general sense. Although this information can prove to be useful for some brands, it won't work for every brand.
Each brand has its audience and products that appeal to a particular target audience.
SharemyInsights provides you insight about the best time to get likes, comments, and impressions. This optimization technology would be tailored specifically for your audience.
This tool allows you to use custom dates that will help you see optimal time in a certain timeframe.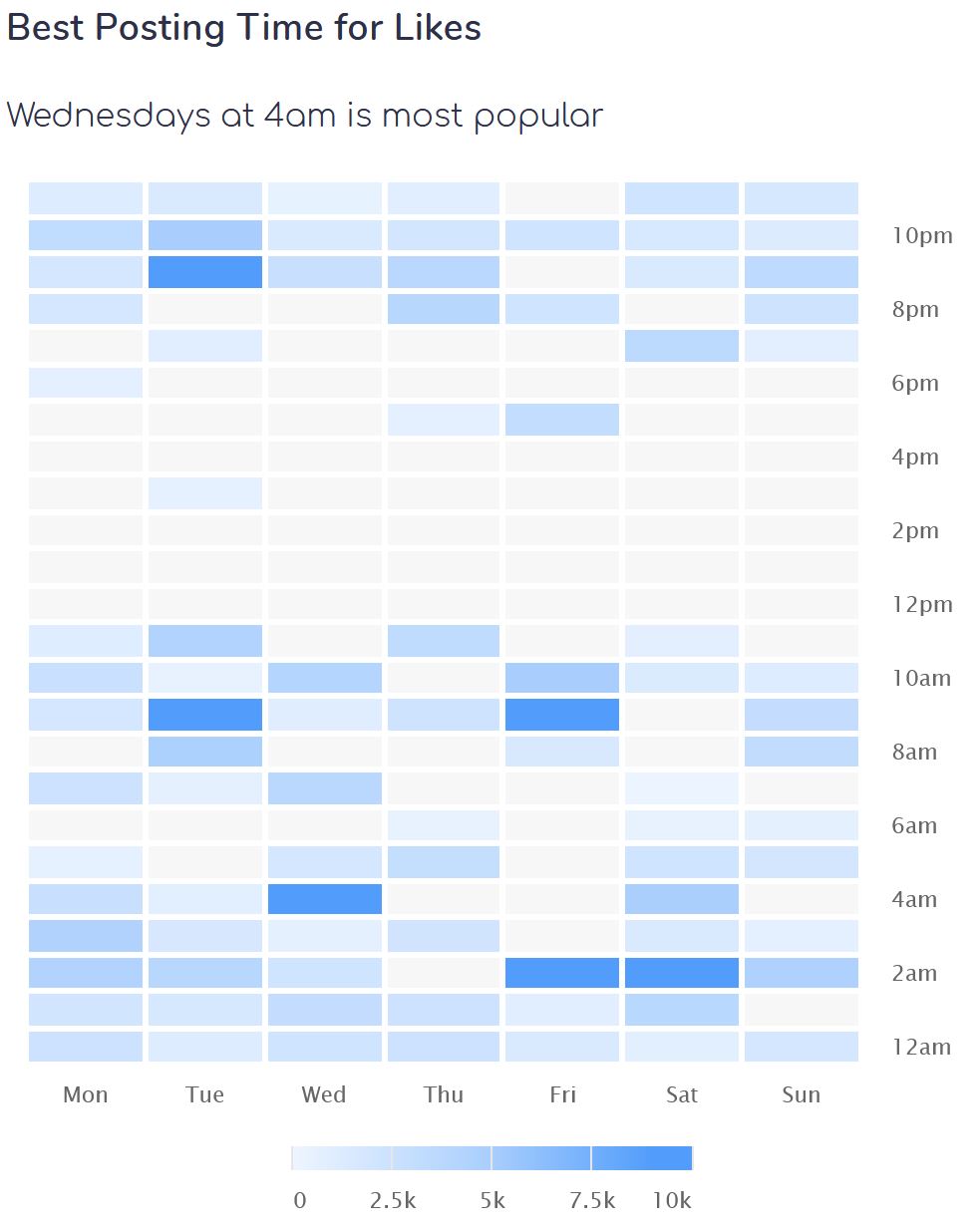 03. Use of Hashtags
It's probably the right time for you to stop collecting a bucket load of hashtags that won't work for you at all.
With this tool, you'll be able to see the average hashtags you've used per post in comparison with the average reach they generated. This will provide a fair idea of how many hashtags are ideal for posts to get the best reach for your brand.
Wait, there's more in the hashtags insights!
You can also see the hashtags that bring you the most engagement. This way you can use these hashtags more frequently. You can also export these insights.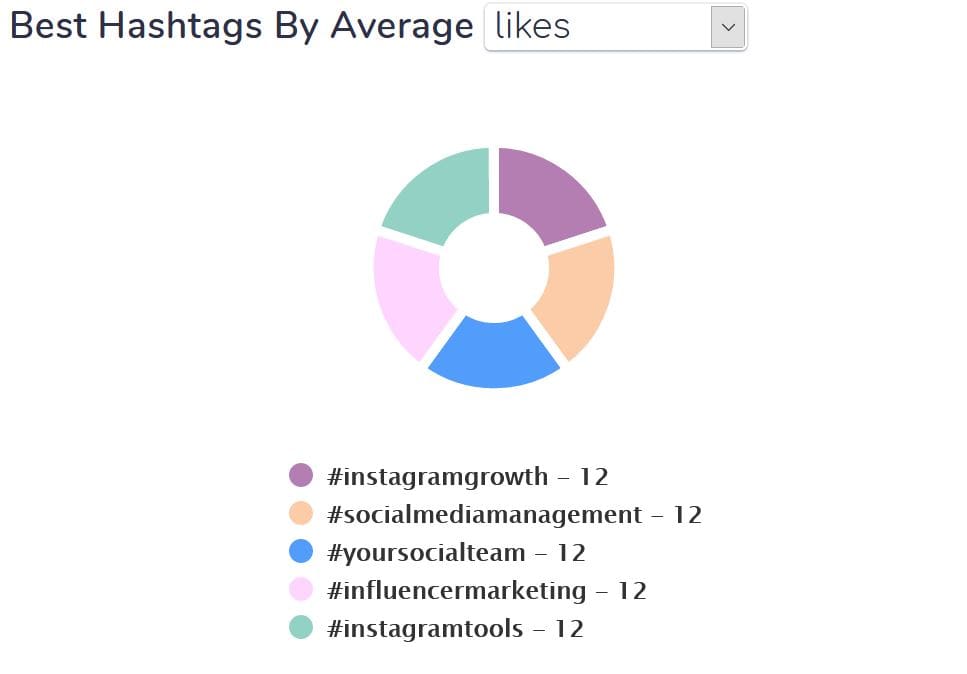 04. Location of Your Audience
The importance of the location of the audience depends on various factors, especially the type of business you are in.
Nevertheless, it is still one of the important insights as it can make or break any marketing strategy.
SharemyInsights will provide you an overview of the countries and cities from where your audience is located. This will help you stand in a better position during the paid advertisements.
The special feature that makes SharemyInsights differ from its competitors in the location section is its location tracker. This tracker will allow you to set a mark on a particular location and see how your audience is growing or declining in that area.
05. An Eye on Your Competitor
Let's face it, nobody wants their competitors to attract their future customers.
The use of Instagram as a marketing tool has resulted in thousands of brands performing well on the tool. That, in turn, has given rise to competition.
To stay one step ahead of your competitor, you'll need to keep an eye on your competitor's performance, and that's where SharemyInsights comes in.
SharemyInsights helps you track your competitor's statistics such as engagement rates, posting habits, hashtags, etc. These valuable insights would help you boost your marketing strategies.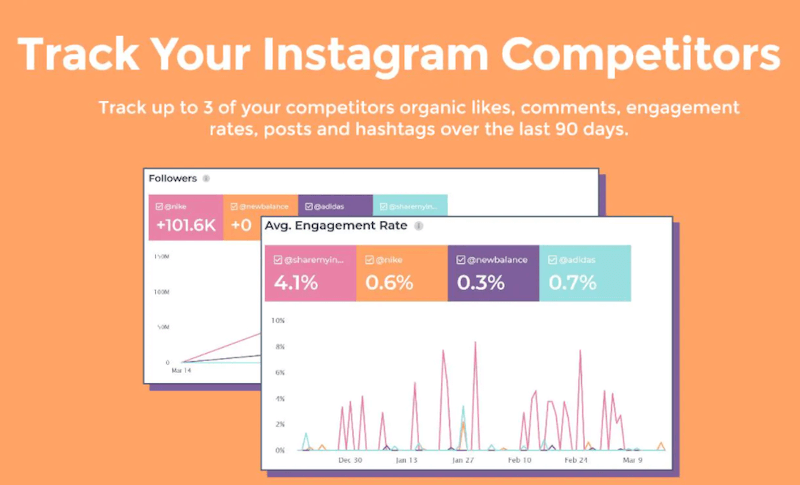 Additional Features
Whether you want to check last week's insights or last year's years, SharemyInsights will provide you with all the data. You'll also be able to see your follower's growth over time.
SharemyInsights has also the assurance to keep one of the most used words nowadays – Privacy. The tool doesn't share your Facebook information with any third parties.
The tool also allows you to remove all of your data or Facebook account at any point in time.
SharemyInsights Pricing
SharemyInsights uses a very simple pricing policy and an affordable one too. You have to pay $9 per month to subscribe to its plan.
This plan allows you to create unlimited teams to give your staff access.
If you want to add an additional profile to your plan, you just have to pay an additional $9 per month. Each profile has the potential to track up to 3 competitors.
In our opinion, SharemyInsights has kept the prices affordable. This is an investment that will end up paying for itself.
If you aren't sure about investing in their plan straightaway, you can opt for a 7-day free trial.
Conclusaion
Do we recommend SharemyInsights?
Absolutely!
We didn't find any weak spot of the Insights tool at this price range. It has covered all the necessary aspects that Instagram built-in insight tool lacks. You can have a free trial and look for yourself!