Sellzone is one of the best tools for Amazon Sellers. In this comprehensive review of Sellzone, we will look at how it can help your Amazon business.
If you're planning to expand your e-commerce store reach or locating new customers, an Amazon seller account can become your go-to option.
According to Feedbackexpress, over 3 million sellers have joined Amazon since 2017. Over half the sales on Amazon come from third-party sellers.
Aren't these numbers astonishing?
While there are many e-commerce solutions on the market that can assist Amazon sellers, the need is to improve your listings in such a manner that your sales improve. Furthermore, your budget should not be strained, and your product should outperform its competitors.
Don't worry! Here's an in-depth Sellzone review, including its best features, how to use it, and some pricing facts.
The question is whether Sellzone really boosts your sales. 
Let's find out!
What Does Sellzone Do? 
Sellzone's original purpose was to serve as an Amazon tool for listing split tests. It has evolved into powerful software that includes features like traffic analytics, listing protection, and split testing.
Let's look at the options one by one.
Listing Protection
You don't want to be a victim of listing hijacking or other undesirable listing changes that result in substantial traffic loss. The Sellzone Listing Protection Tool is an online tracking system that keeps track of your keyword rankings, buys box ownership, price, listing suppressions and more.
It tracks the rankings of your Amazon listings and informs you by sending you an alert if it detects any changes in it. You can easily set up both email and SMS notifications for this.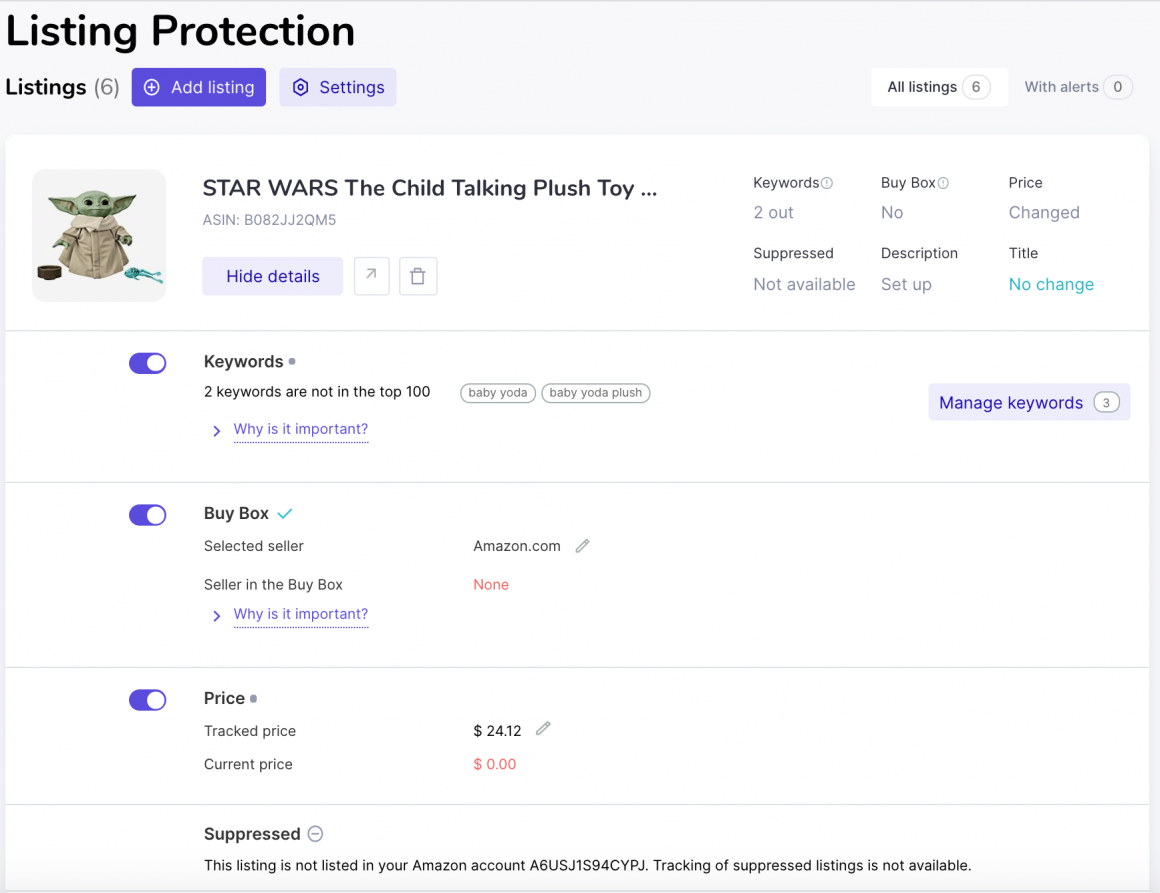 Traffic Insights
If you want to organize your marketing tactics to put you one step ahead of your competitors, you need to analyze your traffic insights.
For advertisers who want to analyze the most lucrative external traffic sources, Sellzone has developed a separate tool.
This tool generates detailed reports from various traffic sources, including Google organic traffic and referral ads. It also aids in the analysis of your rivals' promotional strategies.
Listing Quality Check
A Listing Quality Check is a Sellzone tool that acts as an audit tool. It aids in increasing product page visibility, click-through rate, and sales.
It will not only check to see if your listings are compliant with Amazon's rules and Amazon Style Guide, but it will also make recommendations on how to improve them.
Split Testing
Available in both free and paid plans, the Split Testing tool is an A/B testing tool that helps marketers test different images, prices, and descriptions. You have to run split tests and analyze which combinations work best for your product listings.
Best Features of Sellzone
What makes Sellzone a competitive choice? 
Sellzone has some of the best features that make it one of Amazon merchant's first preferences. 
User-Friendly Interface
If we had to choose one Sellzone feature, it would be its user-friendly interface. Sellzone has demonstrated over time how intuitive and user-friendly it can be.
Once you land on the interface, you will see the tools available for you to use.
Tools That Deliver Performance
If the e-commerce solution doesn't help you achieve the desired sales, it's of no use.
Similarly, it should possess all the necessary tools so that Amazon sellers can maximize their product listing success.
Sellzone has done a magnificent job in bringing all the necessary tools together. To create a perfect combination of your listings, you can use the Split Testing Tool. 
To track rankings and visibility of your listings through alerts, you can rely on the Listing Protection Tool.
The audit tools will provide you the right guidance to increase your product visibility. The Traffic Insights Tool can help attract maximum traffic.
Overall, it's a mix that every Amazon merchant should be looking for.
Affordable and Powerful
Despite all of Sellzone's strong features, it is still reasonably priced. In this area, we'll keep Sellzone ahead of the competition.
You can use its free plan if you only use it occasionally, or you can pay for an inexpensive monthly plan that gives you unrestricted access to its tools and features.
Customer Support
You can expect top-notch customer support from Sellzone since it is powered by Semrush. With exceptional customer service available from 7 AM to 3 PM EST, you can contact them through different alternatives such as email or even social media. 
If you aren't comfortable talking to their customer support specialist, you can make the most of their rich customer knowledge base. This customer knowledge will guide you through your questions with the help of webinars, FAQs, and blog.
Referral Reports
Referral report is probably the most underrated feature that Sellzone has to offer. This feature helps you learn about the performance of your external links.
Its competitor analysis can help you identify the links that can maximize your traffic potential. You can always discover new possibilities to build your marketing strategies.