Schema Pro is designed to help individuals and businesses step up their SEO game and rank high in search engine results.
There are constant updates to search engine algorithms, and if you want your brand to beat out the competition, Schema Pro helps you produce Schema markup snippets for all of your webpages.
Schemas can be used for displaying snippets under your page title which can include ratings, publication dates and more.
A search result without a Schema just shows the meta description only, which is far less engaging. This is where Schema Pro steps in and helps you create rich snippets.
Check our list of top rich snippet WordPress plugins here.
Schema Pro can help you generate snippets that appear in search results. The 'schemas' were designed to work across multiple search engines like Google, Bing, Yahoo! and Yandex.
The schema content is very important as it helps the search engines understand the content you are offering on your website whether it be products, services or even videos.
The better your schema snippet implementation is, the more often your website will show up in search results when relevant search queries are entered in search engines.
How Can Schema Pro Help You?
Search engines like Google and Bing consider snippets to be very relevant to ranking and adds information related to relevancy when search results are displayed.
With the Google Hummingbird update putting a lot of weight on snippets, it is important to adopt schemas for your website.
Search Engines want to display higher quality search results when users put in queries. If you implement snippets, it will automatically boost the rank of your web pages in search results.
Snippets are completely dependent on the search engines, and it is important to use a plugin that is capable of optimizing your SEO for all major search engines.
This is where Schema Pro steps in to boost your search engine results organically.
Relevancy
The content of your website is very important for SEO. However, your web content is indexed differently for search results.
It is important to communicate to the search engine what the data on your website really means. If the name of your brand is "Yellow Umbrella,"
Schema Pro will communicate to the search engine that it is the brand name of your business and not two random words put together.
Semantic Vocabulary
Schema Pro does not require you to acquire coding skills. As websites that make use of markup still use HTML, all the plugin needs to do is add schema.org vocabulary to your website's HTML microdata.
Schema was built by Google, Yahoo! and Bing working together despite being industry competitors.
It makes it very easy for website owners to make use of the same set of code markers across the three major search engines without needing to code separately.
Enhances SEO
Schema Pro snippets help the Schema markup categorize words and phrases for your website using HTML. Search engine crawlers understand your pages better instead of relying on keywords only.
Good quality placements in SERPs using high-quality SEO practices is far more effective than paid search engine marketing as they help your website be more visible in search queries.
User-Focused Environment
The Schema environment is user-focused, and any internet user can see what your website is about directly from the SERPs.
The SERPs are used to communicate to users what your brand is about, what you offer, the prices of your products and more directly from search results.
Schema Pro essentially helps you market yourself even before a user clicks on your website.
Increased Traffic
Studies have proven that schema microdata is very effective at generating traffic. As users are able to view a lot of relevant data directly from the search results, it makes it easier for businesses to draw an audience.
With less than half of existing websites making use of schema microdata, you can take advantage of snippets using Schema Pro very effectively to generate organic traffic.
WordPress Compatibility
Schema Pro is compatible with WordPress, which is the largest content management system out there.
The plugin can help you apply schema markup on almost any website no matter what niche your business caters to.
It is also very useful for website owners who do not have coding experience due to the plugin's simple yet effective design.
Boosts Local SEO
Structured schema markups using Schema Pro can boost the presence of your local business in Google My Business greatly.
Google tries to support local businesses by offering location-specific search results for its audience, and if you can implement good data markups, it can lead to more customers visiting your websites.
Higher Click-Through Rates
The rich snippets that are created by Schema Pro help users get a sneak peek into what you are offering. Users can simply look at your snippet and see if you offer what they want.
Implementing star-based ratings and offering important information in bits and pieces on your snippets can draw a large number of users to your website.
Different Schema Types Offered by The Plugin
While many argue that schemas do not affect all business categories, having rich snippets for your website can increase clickthrough just because of the improved visibility.
Here are some of the different schema markup types offered by Schema Pro: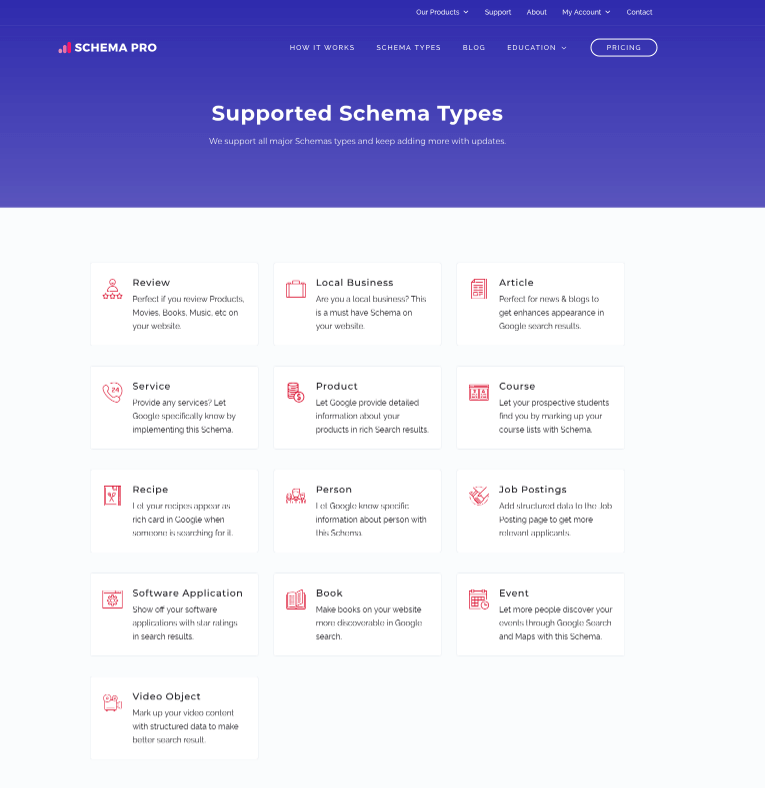 01

. Review
Schema Pro can help you create perfect snippets that summarize reviews on your website along with the relevant ratings.
You can deploy the snippets for books, movies, music or even product reviews for your website.
Here is how a product review rich snippet looks like.

02

. Local Business
If you are a local business that wants to improve visibility, Schema Pro can help you gain a boost in visibility.
You can enter the important contact information in your snipper including your address, email, contact number and also other data like your business ratings and opening/closing hours.
The plugin makes it super simple for the users to set the local business schema, even a complete newbie user can get it done quickly.
Here is how you set it.
Go to the schema setup page and select the local business from the options available.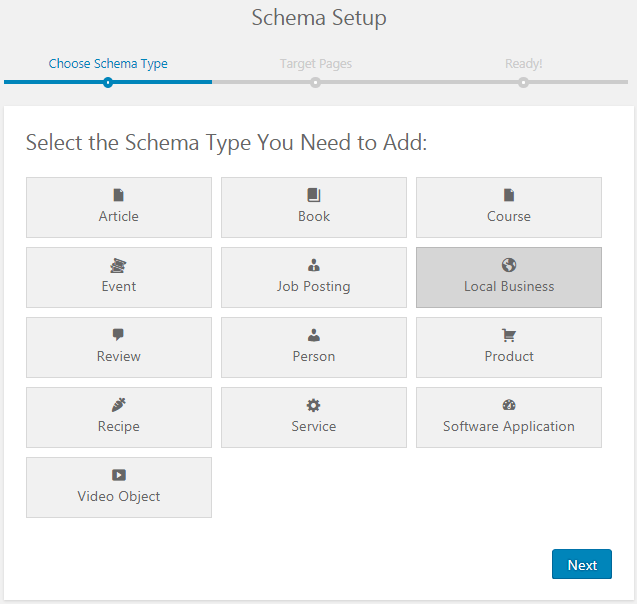 Here is how the result will appear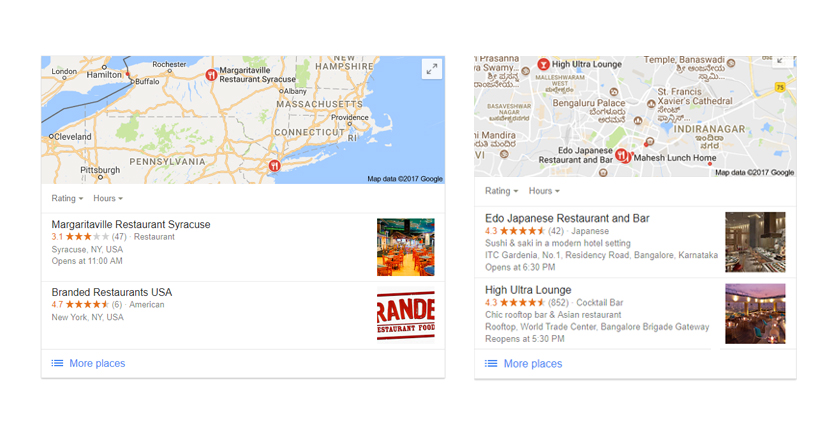 03

. Article
If you own a news or blogging website, you can enhance the visibility of your posts in search results.
You can add author names, date of publication as well as engaging meta descriptions that will draw more users to your page.
Here is how you can set the article schema
Select article schema type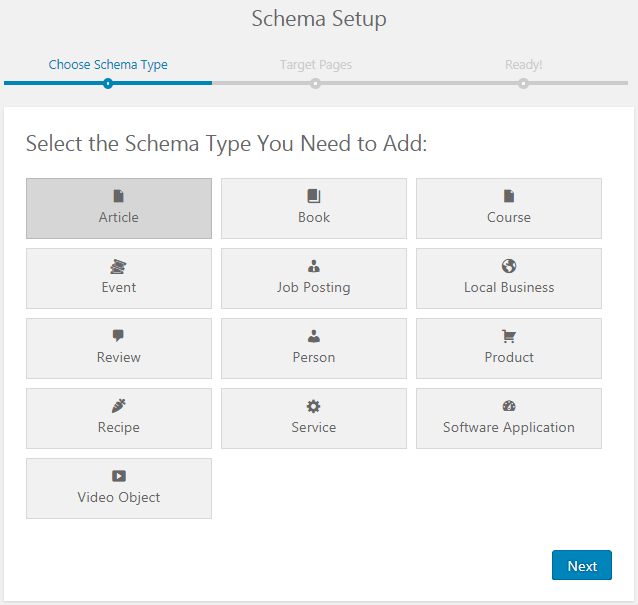 In the next step, you need to set the rule for your article schema and complete the process
Similarly, you can setup the schema for all the other options offered by the Schema Pro plugin
04

. Educational Courses
If you offer online or offline sources, you can help prospective students to get in touch with you by displaying contact information.
Website owners can also display the list of courses and other relevant data directly on the search results to help users out.
05

. Product
Online businesses can implement high-quality snippets using Schema Pro to help users find out more about their products.
You can display important features, pricing information and reviews on your search results so users can make their decision faster without needing to browse through dozens of pages.
06

. Service
Just like product snippets, Schema Pro can help you create snippets for businesses that offer services. You can offer details about your services and additional pricing information as well.
07

. Recipes
Websites that host recipes can implement small photos, ingredients and the cooking time directly in the search results.
It helps users find the right recipes instantly without needing to browse through multiple pages.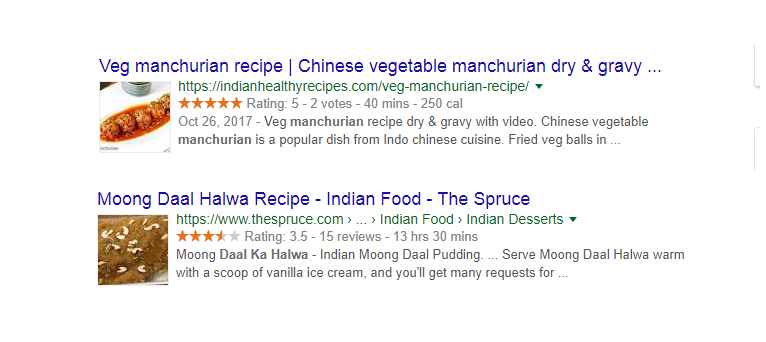 08

. Job Postings
Irrelevant job applications are a major problem for business owners. Displaying structured data using snippets not only helps job seekers but also businesses in streamlining the hiring process.
09

. Person
There are many websites owned by individuals who offer services or simply want to build their portfolio. Schema Pro can help such users display relevant information through snippets in search engine results.
Here is how it looks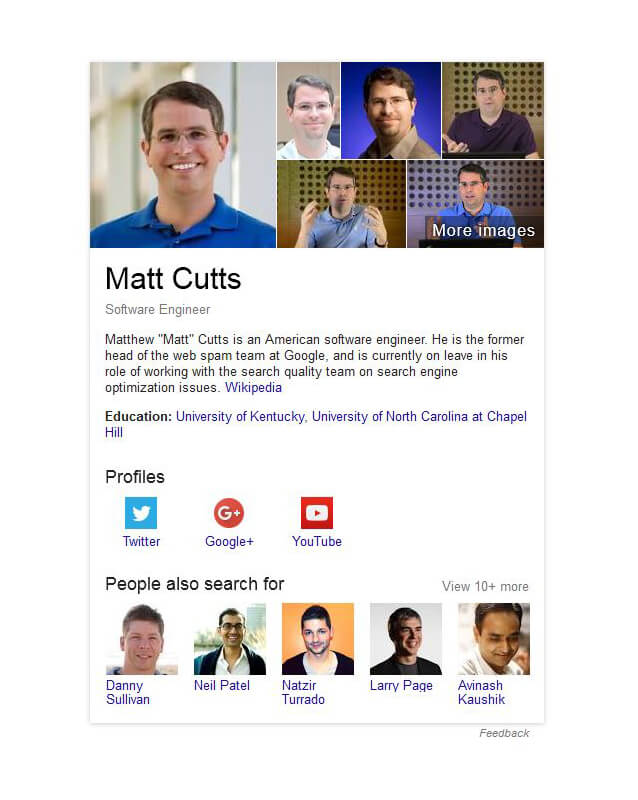 10

. Software
Businesses offering online software can showcase important features and user ratings.
It helps business owners stand out amidst competition and push their offerings. You can also implement images to make your snippets more engaging.
11

. Book
Book review websites, as well as publishers, can make use of snippets to display important information about books like ISBN codes, author names, publication dates and book summaries.
Quality snippets can enable Google to rank your listings much higher than others, leading to more conversions.
12

. Event
Public and private events can be displayed in search engine results, and users can directly join them through the snippets.
Dates, venues and other information can be coupled with a meta description and a sign-up link to draw in the potential audiences directly from search results.
13

. Video
If you own a video sharing object or simply want to make your search results more attractive, you can embed videos in your search results using Schema Pro.
The upload date, length, and description are part of a standard schema snippet for videos.

Schema Pro Pricing
Schema Pro is a premium plugin that comes with paid plans. The plugin currently offers two different plans, the plugin only plan will cost you $79 and the agency bundle plan will cost you $249. This plan will give you access to products like Astra Pro theme and all other products from Brainstorm force.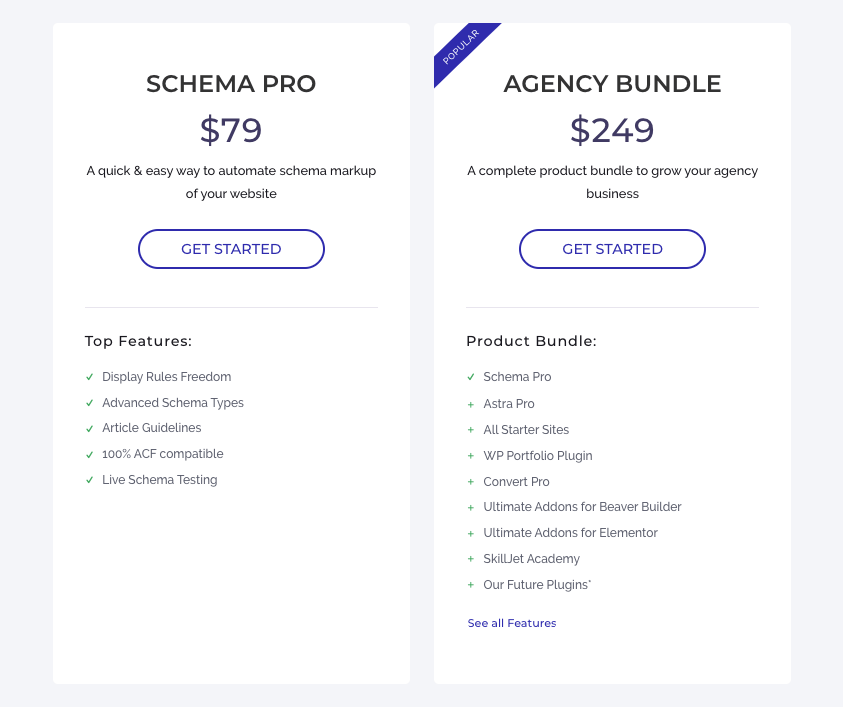 Conclusion
Schema Pro is great value for money as it helps website owners boost their SEO with minimal effort.
The plugin comes with great support and users should have no trouble setting it up for a website. It is important to note that the plugin alone will not boost your search engine rankings.
It is important to have quality content and good SEO practices to organically boost your rankings as well.
The best thing about Schema markups is you do not need to be an experienced programmer to implement high-quality schema markups.
The plugin caters to bloggers, programmers and business owners at the same time. Schema Pro can offer great benefits to any website regardless of genre.
Even though Schema markups might not guarantee higher search rankings for everyone, it boosts visibility in search results which directly translates to more clicks.
A Product By Brainstrom Force