Salesforce CRM allows you to improve your overall business and sales process with the help of its AI-powered system.
You can now automate your workflows, discover insights, make business predictions, and automate your overall internal working processes using Salesforce CRM.
The AI provided by Salesforce is called Einstein. Einstein helps you collectively organize your data and draw insights from them easily.
It allows you to manage and predict workflows, qualify your leads, and recommend solutions based on past behavior.  
Integrations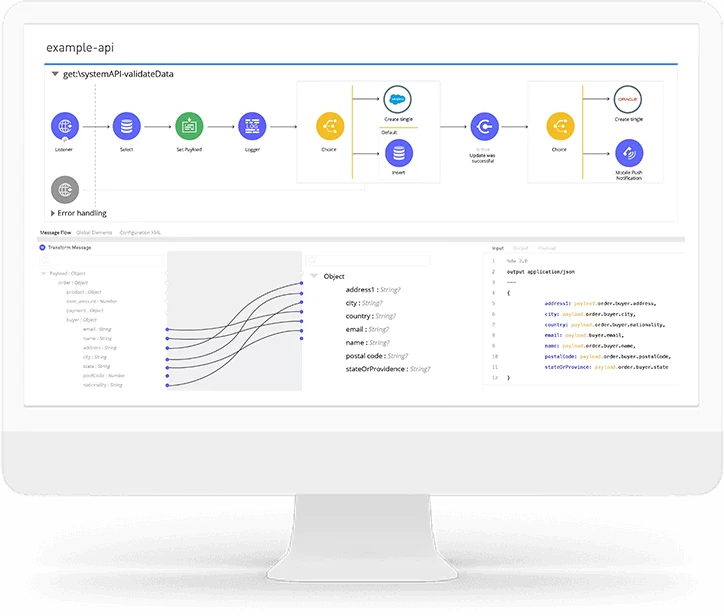 Salesforce is one of the best when it comes to integration. Just about every major third-party business application or tool can be integrated with Salesforce.
Whether it is an analytics software, customer support software, or financial management software, Salesforce can pull in data from any third-party tool.
One of the largest pools of integrations and options to display data collectively makes Salesforce CRM integration a pretty amazing choice.
Mobile-First Design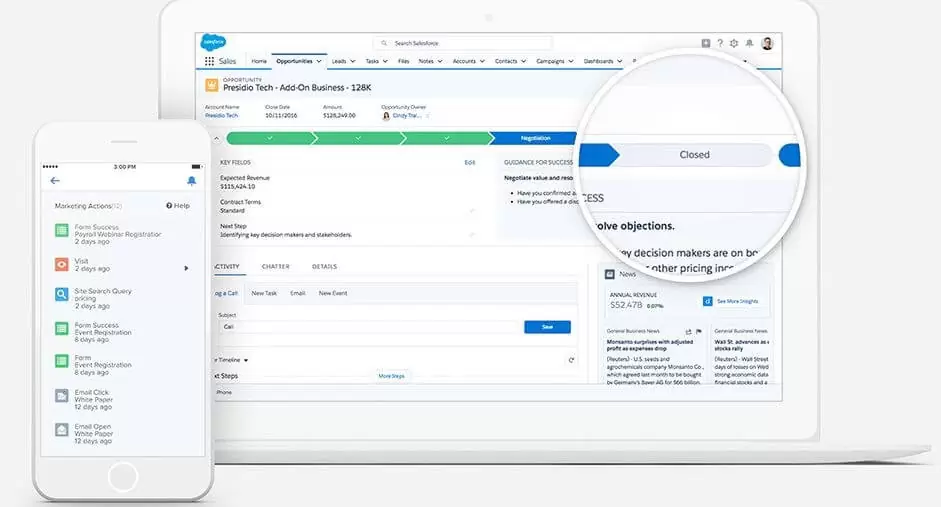 There are a lot of other CRM software available out there that offer the mobile version of their software for on-the-go business management, but none of them have a mobile-first design in the first place.
Salesforce CRM allows you to manage your leads, data, contacts, and opportunities from your mobile device, even if you are offline.
Customizability

Salesforce CRM is almost 100% customizable! You can make use of the point and click feature provided in the software to customize your overall layout.
You can also integrate hundreds of mobile apps from AppExchange to add additional customization features. Additionally, you can create your custom application using the Salesforce developer tool.
Built-in Marketing Feature
Salesforce CRM has a lot of additional features packed into the CRM itself. You can also manage your marketing through the software only.
You can create your marketing campaigns as per your workflow and target clients and additionally can also measure the effectiveness of the campaigns.
Salesforce.com Community
Salesforce offers an extensive online community for all individuals and Salesforce CRM owners to interact and share experiences.
This is quite an amazing feature as CRM being a little tricky to handle software, still needs a lot of how-to and about data for new ones to understand the depth of its possibilities.
The community shares programs, and events, and helps in creating feature discussion boards.
How to use Salesforce CRM?
Salesforce CRM has a lot of built-in features that you can make use of. From business process management to sales, from lead management to email campaign management, the possibilities are huge with Salesforce CRM.
Businesses and the ones that Salesforce CRM primarily targets are the large-size ones.
Let us take a close look at something Salesforce CRM is primarily designed for, that is, increasing the sales of a business.
01. Create a Free Trial Account
To get started with the Salesforce CRM, you can start with the free trial account to check all the features and options before you make the payment and start using it regularly.
The best part is that you don't even have to add your credit card. You simply fill in your details and start using the services.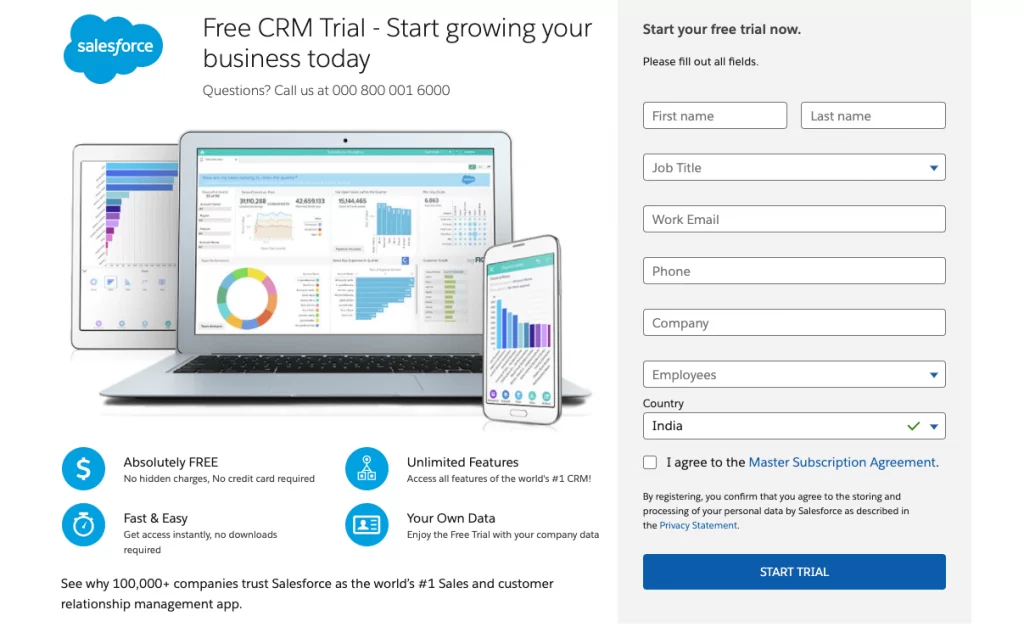 02. Salesforce Dashboard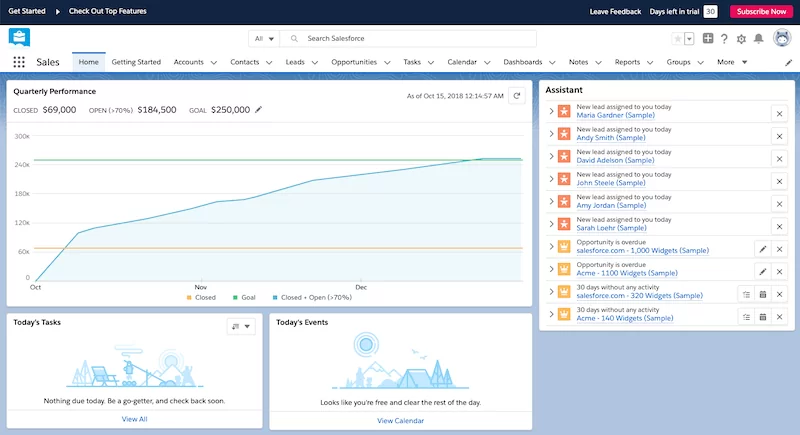 Once you create your account, you will be directed to the dashboard. I think, here you will have to spend some time understanding all the options that you have.
However, the features and self-explanatory. You just have to add the details of your business and get started.
03. Create / Add Users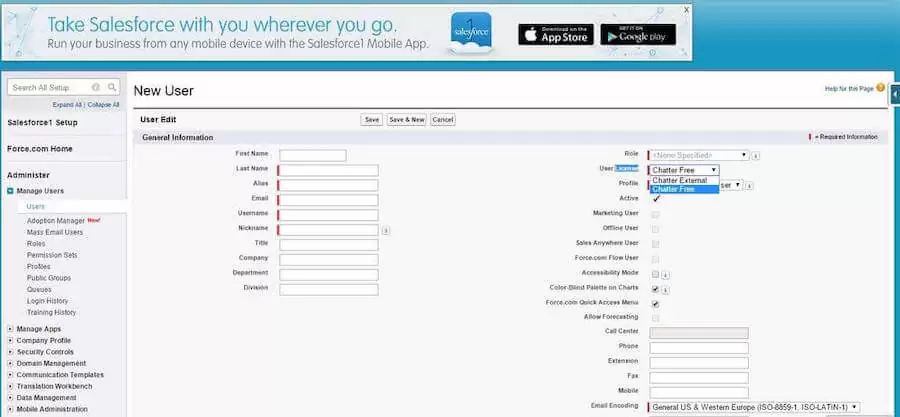 One of the first things to do while you implement Salesforce CRM is to set up of users that can access the system. This setup includes the assignment of role hierarchies and permission levels for every user.
Begin with setting up the role levels and hierarchy in the system. This ensures the data is secured and safe.
After you have created the hierarchies and roles, now is the time to add users to the system and assign roles to them.
It is recommended to give the users read-only profile rights initially, as this would allow them to become familiar with Salesforce.
04. Define and Design Sales Process
Once you have added users to the system now is the time to define the complete sales process of your company into the CRM.
This step demands you to carefully identify your onboard sales process and replicate that entirely into the system.
Also, the complete team on the system at all different levels need to understand and correspond to the process.
This is very important as CRM applies a pipeline management system and this has to match according to the match with your actual business process.
05. Customize Salesforce
Customizing the overall process and working of the CRM system is a very important step here, as this makes the overall process easier and simpler to implement.
Add the most used features and tools placed at the very forefront of your software, personalize its complete navigation layout, and make it more user-friendly for yourself.
06. Import Data
Importing data initially is the most important step in setting up any CRM tool. You can use the provided data importing tools to import data into the software.
Additionally, you have Data Import Wizard and Data Loader tools to import data into your CRM.
You can also import data into your system using Gmail and AppExchange, which even makes shifting data from some other CRM tool to Salesforce a lot easier.
07. Enable Analytics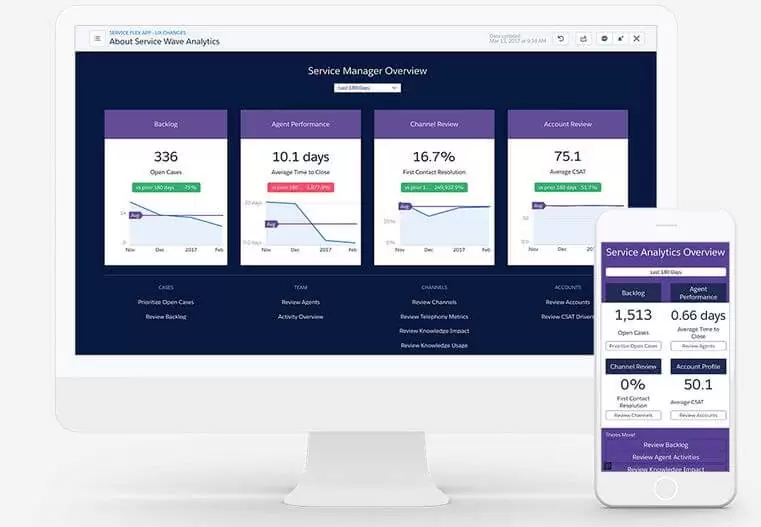 Salesforce's dashboard is one of the most feature-packed and productive in use. You can develop valuable analytics and performance data reports.
Get a visual representation of the progress and also get AppExchange analytics data reports as well.