We understand the pressure and responsibility needed to deal with graphic designs to work as an effective communication tool.
This blog post aims to solve all your queries and provide a solution to the same so you can decide whether it is suitable for your business, blogs, or even social media. 
We understand that you want to achieve your marketing goals in record time and refrain from complicated hiring and contracts with freelancers and agencies.
The question is whether Penji is worth the hype? 
While there are many alternatives for graphic design services on the market, the need is to choose the one that can meet your visual design model needs.
In addition, your budget shouldn't be challenged, and your project should receive a creative output without the expense of an overhead cost. 
Here is an in-depth analysis of Penji, including its pros and cons, how to use it, and some pricing facts.
Let's get started!
Penji Overview
With a mission to make graphic design fast, simple, and affordable, co-founders Johnathan Grzybowski and Khai Tran launched Penji in 2017.
Gradually, they've managed to build a community that works on the moral obligation of lifting others as well. A certain percentage of their monthly profits are assigned to help these communities and offer discounted rates to non-profit organizations and social impact startups.
You can visit the portfolio page in the site to understand the kind of design work they do.
What Does Penji do?
Penji's team of designers offers various services such as app designing, logo designing, and infographics. You can also request social media graphics, brochures, business cards, and catalogs.
Their service model works by providing unlimited designs at a fixed rate, subject to a monthly subscription.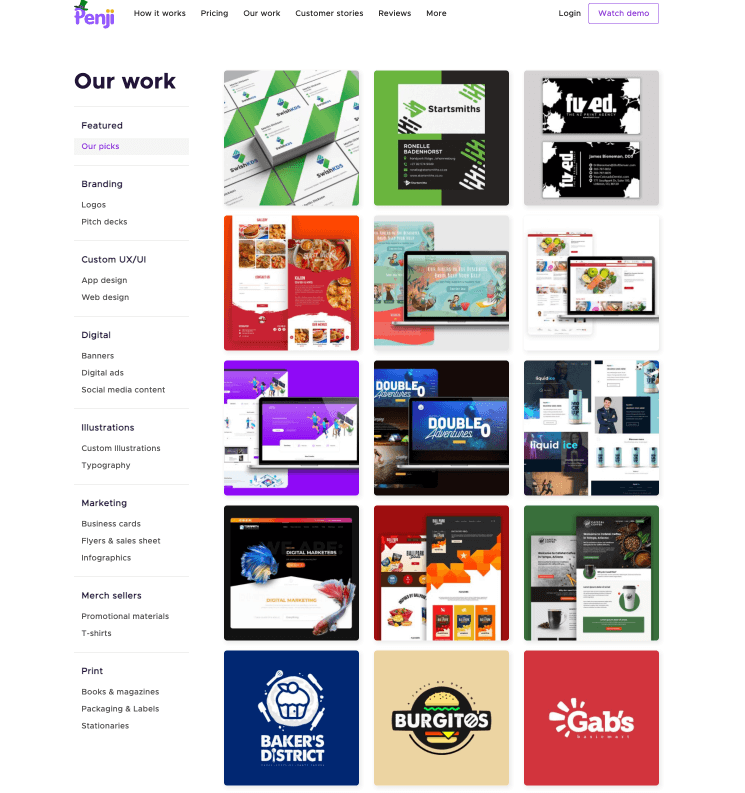 How Does Penji Work?
Penji is a company that is built on passion and its core values of providing transparency and putting customers first are evident through its service.
In this section, you'll learn about how you can delegate your design workload to Penji.
Penji Review: Use Cases
Anyone who needs great quality graphic designs can use Penji. With the top graphic designers working on your project, you can expert best quality work.
No matter how big or small your business is, Penji with top-class graphic designs can surely add value to your business.
Let's have a look at some of the use cases.
Small Businesses
At Begindot, we create a lot of content that is helpful for small businesses. It's all about optimizing your processes with the tools and resources.
With the increase in social media involvement in the businesses, the quality graphic designs have become way more important.
You will need the best graphic designs in order to stand out from the noise and create a space for your business.
However, if you are not a graphic design expert; you will need a service like Penji to take care of your graphic design-related projects.
So, you can simply signup for a Penji plan and get started. The team will take care of the designs while you manage your business.
Unlimited Design Projects: You can submit unlimited design projects to the team as per your need. Starting from your logos, business cards, pitch decks, and all other graphic design-related projects can be handled by the expert Penji team.
Top Quality Designers: Your graphics will be designed by the best in the industry.
Collaboration: You can invite your team members to the platform and manage the work together.
Ownership of Files: You will be the 100% owner of your graphics. So, there will never be any copyright issues.
Flat Monthly Rate: There will not be any hourly rate for your job. You will get a transparent, flat monthly rate. So, you will be aware of the amount you are going to spend in a month.
Penji for Agencies
If you are managing an agency, outsource all your graphic design-related tasks to Penji for a fixed monthly amount.
If you are looking for a quick and high-quality design team, look no further. The team at Penji is available around the clock to make sure that you don't miss a deadline.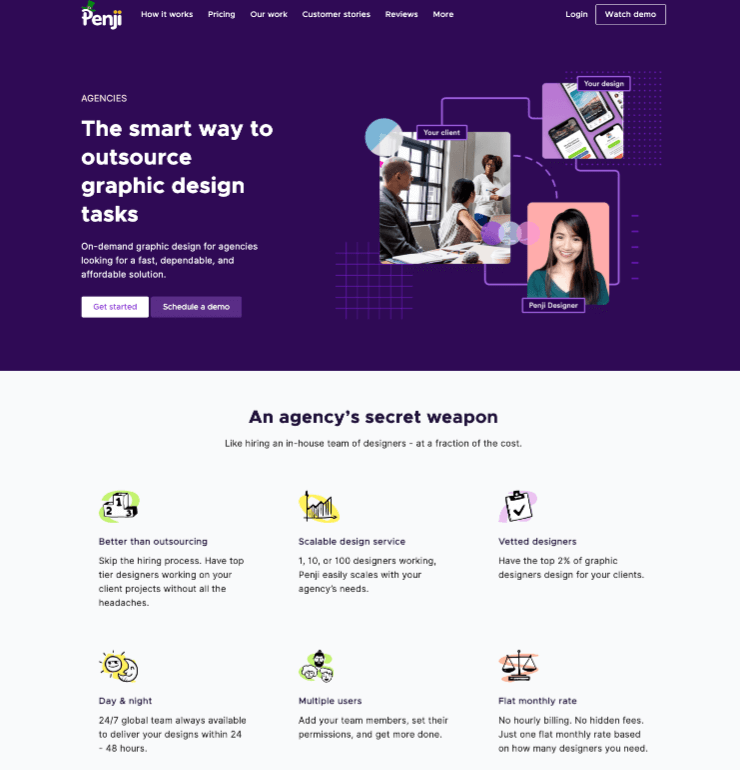 Marketing Teams
If you are managing a marketing team, graphics are going to be an integral part of your process while you manage social media marketing or just graphics related to your business.
Now, with Penji; the top graphic designers will be working on your graphics. You don't need to hire your own design team. Just pay a fixed amount in a month and outsource all the design-related jobs to Penji.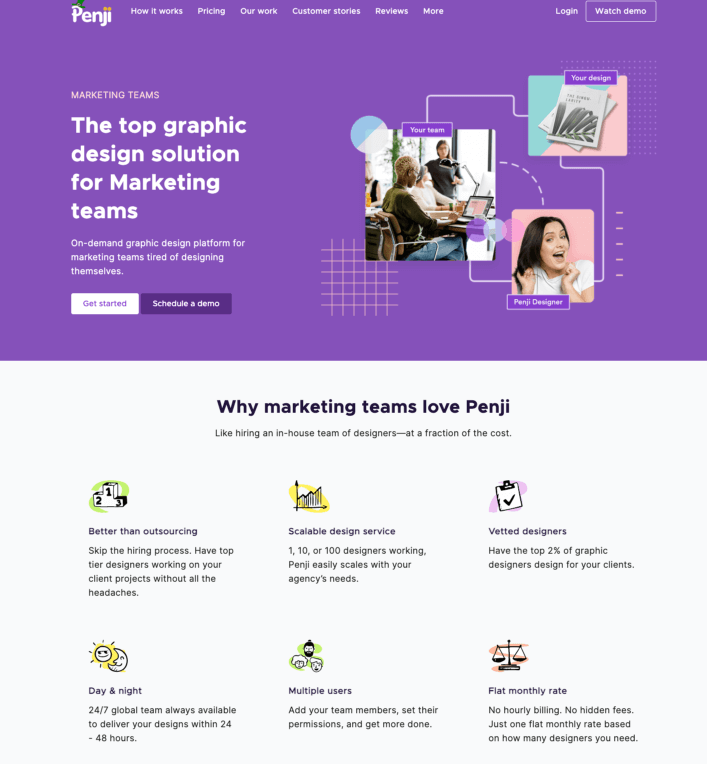 Pros and Cons
To make your decision-making even easier, here are some advantages and disadvantages of using Penji as your on-demand graphic designer.
Pros:
Penji not only claims to hire 2% of the world's best designers but also commits to deliver the projects within 48 hours. This way, you wouldn't have to waste a lot of time searching for the best designer for your project. We're sure that their sample work would be enough for you to bet on them.
Imagine having designs ready within 48 hours for your marketing strategies!
Penji's customer support: It is not just a quick turnaround that Penji is a master at. It is also very quick to respond to customer requests with the most friendly approach.
Your requests are handled between 24 and 48 hours.
Cons:
An honest review is incomplete without a segment on the product's drawbacks.
What makes people opt for Penji's alternatives? You can read for yourself if these drawbacks worry you and change your decision.
Emails might not prove to be a handful for those who find it easiest to explain the problems over a conversation. You will have to submit a well-written brief for your requested design project.