A detailed review of MGID, a prominent name in the native ad industry. Let's get to know how this platform can help your business.
Is there anybody in the advertising community who won't consider using native ads?
Native ads are non-disruptive advertisements, which introduce readers to advertising content on the website without sticking it out like a bad rash.
And talking about Native ads, we need to talk about one of the oldest players on the Native Network market – MGID.
So here's a full review of the MGID native ad platform that, unlike many online reviews, will cover not just the publisher's perspective, but also advertisers'.
Let's dive right in!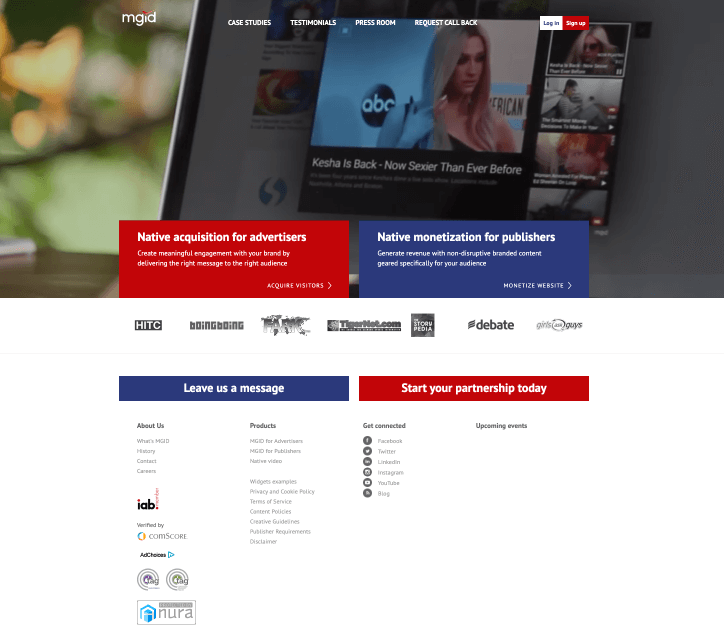 Overview
Should you be excited about the MGID native ad platform?
The answer is – absolutely yes!
Being in the business for more than a decade, there are some impressive figures to display. The network is now capable of reaching over 850 million unique users per month. That's pretty impressive!
Though most of the traffic comes from the European zone, Asia, Latin America, North America, and Mena are not far from stealing the spotlight.
Unlike Google Ads that follow a more conventional route, MGID provides tailor-made solutions to both publishers and advertisers.
From entertainment, food, drinks, health, and fitness to fashion, sports, and style, advertisers are allowed to display their advertising on any website that doesn't display adult, abusive or illegal content.
Are you aware of the fact that people are using a mobile device to search over the internet more than the desktop?
Over 60% of the internet accessed is through mobile phones.
MGID platform is best suitable for mobile advertising as nearly two-third of its traffic comes from this source.
How Does MGID Native Ad Platform Work?
For better understanding, we've divided this section into two segments – one for advertisers and one for publishers.
For Advertisers
Let's make it clear that MGID only supports Pay per click (PPC)-based payment system which means that you pay only when an interested customer clicks through to the site.
To start with, you will need a minimum deposit your advertising budget and then you can proceed.
You can deposit this amount via PayPal, WebMoney, or Credit Card.
An Account Manager will make your advertising life easier as he/she will not only be capable to give a handful of advice but also campaign optimization on the basis of your current operation.
In addition, you'll get free assistance on your native ads.
The next step is to create an Ad Campaign.
Since you've already registered your account and deposited the initial sum required, you can simply press the "Add Campaign" button that is located on the top of your dashboard.
The MGID Interface
the user interface of MGID is very simple and self-explanatory. You can simply start creating your campaign by filling the information asked for.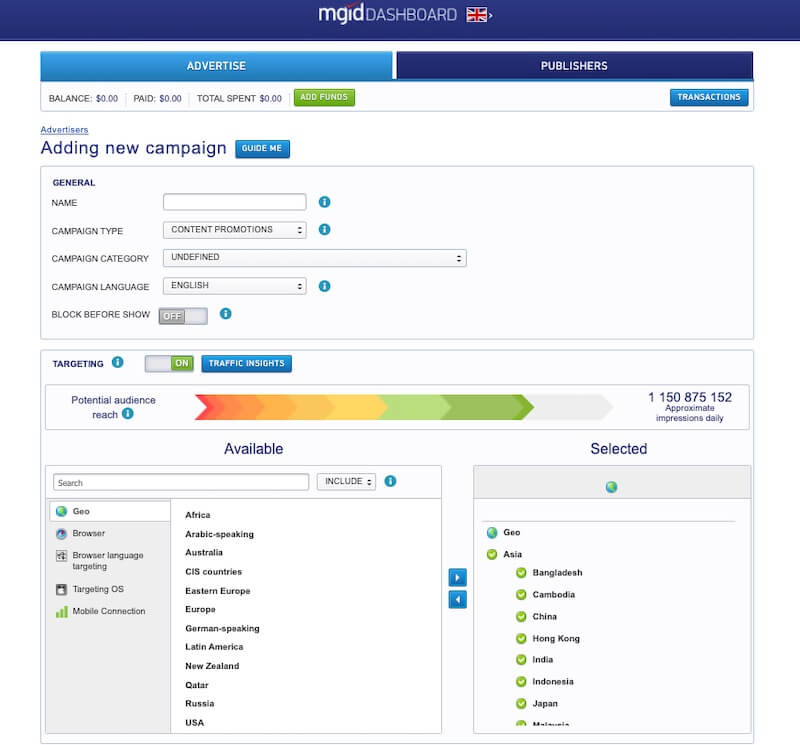 01. Fill the general information
After creating a campaign, you'll be asked to select between these two options –
Then you'll have to choose from over 20 categories that perfectly align with your type of promotion. Make sure you select subcategories to target the right type of audience.
Next, you have to choose the language of your campaign.
02. Targeting Audience
This step is further divided into four categories: Geo, browser, browser language targeting, and device and OS. MGID works across various platforms, devices, and websites.
03. Retargeting
To retarget i.e to pursue the audience that you already have, MGID provides retargeting campaigns in two installments – one that is for everyone, and the second is shown to the only relevant audience.
04. Scheduling and Setting Limits
Next, you just have to schedule your ads and set limits. To set limits to the cost, you can either set a defined budget or set the maximum number of clicks.
05. The ads are distributed by the MGID network of over 32000 publishers to get the highly engaged visitors to your website or landing page.
For Publishers
While all publishers might be familiar with the traditional method of monetizing traffic with the help of ad placements, MGID publishing services are more than just that.
MGID provides internal recirculation.
What is recirculation?
Recirculation is a process where you send traffic to other websites, who in turn send traffic back to yours and MGID does a very good job in accomplishing it.
Without hampering user experience, MGID allows you to choose the kind of relevant ads you want to show at your websites. This way, without blasting your audience with irrelevant advertisements, you can easily integrate relevant content into the user's natural activity stream.
To make it work, you just have to copy and paste the code on your website which makes it, even more, easy for WordPress websites.
The "promoted content" widgets will enter cohesively with your website design.
How to Add Your Website
The process is simple when you create your account on the MGID platform; you will need to go to the publisher section.
Here you have the option to add your website.

In the next step, you can add the details of your website like the domain, category of your site, language of your site etc.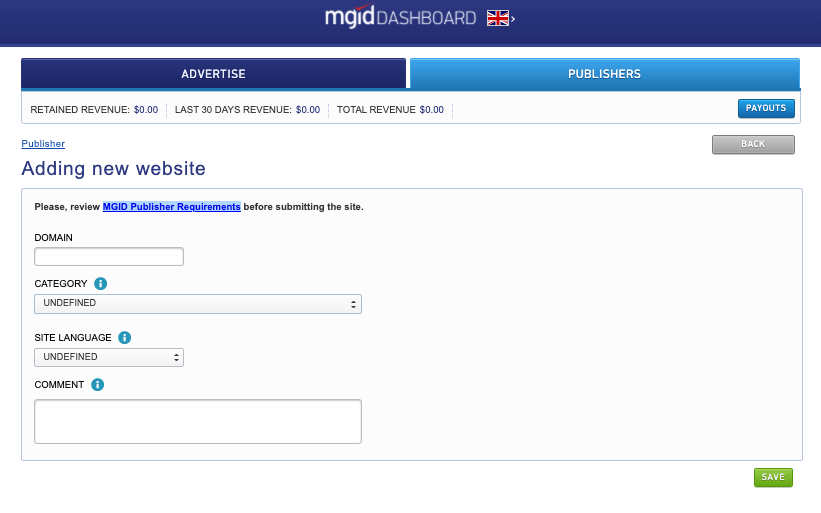 How Does it Help Advertisers and Publishers?
While we've already talked about how you can use MGID native ad platform if you're a publisher or an advertiser, it's time to talk about the section you're waiting for.
How does MGID help Advertisers and Publishers? Or How useful it is for Advertisers and Publishers?
For Advertisers
Let's start with the analysis part that will help you decide whether you've launched a successful campaign and what are the parts that need improvement!
The dashboard to check the statistics after you've launched the campaign is designed to help you easily understand what you paid for.
After optimizing in-depth targeting tools such as GEO, time targeting, browser, OS, and retargeting, you get an intuitive dashboard that shows you stats about impressions, clicks, average CPC and CTR, etc. Moreover, it effortlessly integrates the stats into a third-party analytics system such as Google Analytics.
Want to get the highest value from your ads?
Lower the bids on the widgets that show poor results and instead raise the bid on the ones that show a success.
You can do this through one of their best features "Selective Bidding".
In addition, MGID has employed smart anti-fraud algorithms and an in-house conversion tracking system.
For Publishers
For Publishers, the Native Monetization technique has a 100% fill rate worldwide. Publishers are free to choose from a number of ways such as header widgets, exit pops, and sidebar widgets to display advertisements on their websites.
MGID records an average RPM of between $1-$3 with no upper limit. In terms of revenue, it's comparable with Google Adsense (in all niches).
There is no question that MGID has done an amazing job with ad placements and their effectiveness, but it has also made the registration process simpler for beginners as well.
The extra assistance from the account manager would help you not only solve the issues but also reduce the risk of being banned.
With Internal circulation, you get the opportunity to bring new relevant visitors from other websites. A publisher can benefit by easily discovering his/her most engaging article and recirculating traffic within multiple yet relevant websites.
Our Thoughts
Native Ads have definitely left behind the traditional method of display ads far behind. There is a greater than 50 percent probability that a customer would see a native ad than a display ad.
Native Ads are certainly not out of trend in the near future, and MGID does a pretty excellent job of delivering some of the industry's best features when it comes to Native Advertising.
So is that a yes from us?
Absolutely!
The platform is perfectly designed for beginners as the dedicated Account Manager will not only help you familiarize yourself with the ad campaigns but also would be there to solve your problems and create the best campaign for you.
The next thing that stole the light was the "Selective Bidding" feature. It is the need of the hour as it can help you cut all the ad placements that show poor quality.
And how can we even forget the Internal Circulation?
For publishers, it can prove to be an additional method to gain more visitors.
While native ads won't be as cheap as the traditional display ads, make sure you select all the right categories while creating a campaign and take advice from your Account Manager.