Are you looking for a professional animation video maker?
The Mango Animation Maker review will answer all your queries and help you find a solution for the same. The review aims to help you determine if it can assist you to craft some truly amazing creations.
The ever-expanding digital animation world has led many businesses to communicate the most effective stories to their audiences through animation.
Whether you want to convey how a complex situation works or want to brief your audience about your brand, the animation is the perfect solution for breaking things down and explaining them easily.
To create the best animation online, you need the best tools, and one such animation maker that is gaining a lot of popularity is Mango Animation Maker.
Mango Animation Maker claims to develop intuitive animation software that can be used by not only a professional but also a beginner.
The question is whether Mango Animation Maker is worth the amount of money you'll put in?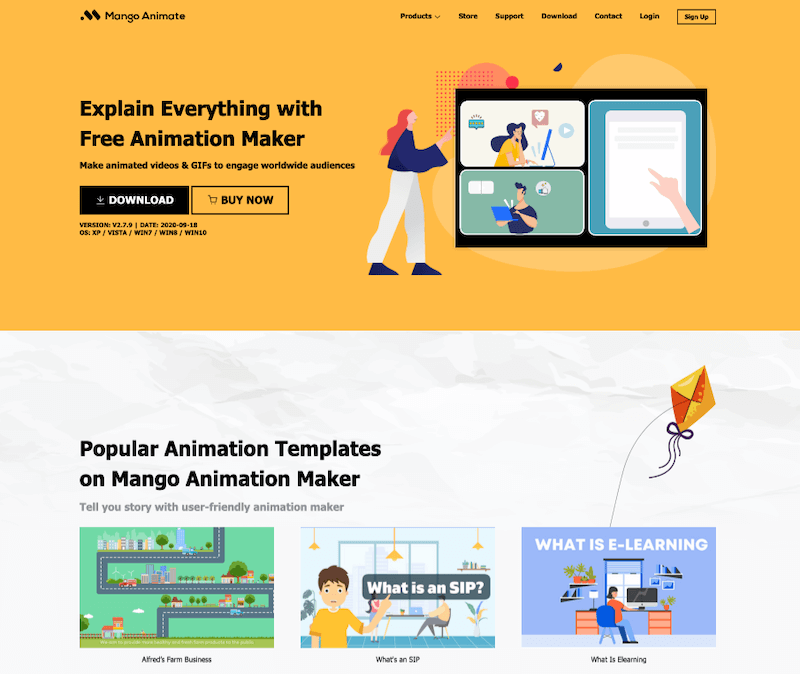 Let's find out!
Overview of Mango Animation Maker
Mango Animate has been serving the creative industry since 2003 and has successfully designed tools for successful storytelling.
Apart from Animation Maker, Mango Animate offers Character Animation Maker, Whiteboard Animation Maker, and Business Video Maker solutions.
With more than 2.5 million users, Mango Animate has managed to build more than 1000 business partners during its lifetime.
That's quite impressive!
Simply put, Mango Animation Maker is an easy-to-use animation software that helps you create quick animated videos. With the help of hundreds of templates, subtitles, and several other interesting features, this animation maker will help you make animated videos and gifs to engage worldwide audiences.
The vision behind providing such an efficient and effective solution is to put an end to the boring content available on the internet.
Key Features of Mango Animation Maker
We've already given a brief introduction about the animation maker, now it's time to take this review further by talking about its key features.
We must say that the software hasn't left much to complain about as it has combined some of the best features you'll ever see.
Let's have a look!
Ready to Use Templates
Mango Animation Maker offers hundreds of free templates. These templates will help you create an animation video in a few easy steps.
These templates will help you to create very professional animated videos even if you are a complete newbie. All you have to do is to select the right template for your video and replace the default content with your storyline.
Add Subtitle and Recording
To make your animation video look professional, the animation software allows you to add captions and voice narrations.
Recording your voice will give a personalized touch to your video that will help the audience engage more. With the help of customizable subtitles, your audience would be in a better position to understand the content of your video.
Adding subtitles to your videos is easy and simple, you need to click on the subtitle section in the video editor and start editing the subtitle.
Similarly, you can record your own voice to add a personal touch to your videos. As you click on the record, the countdown will start and then you can start recording your voice.
You can stop, pause, re-record your voice as per your need. Once you are done with the recording, you can edit the file to make it perfect.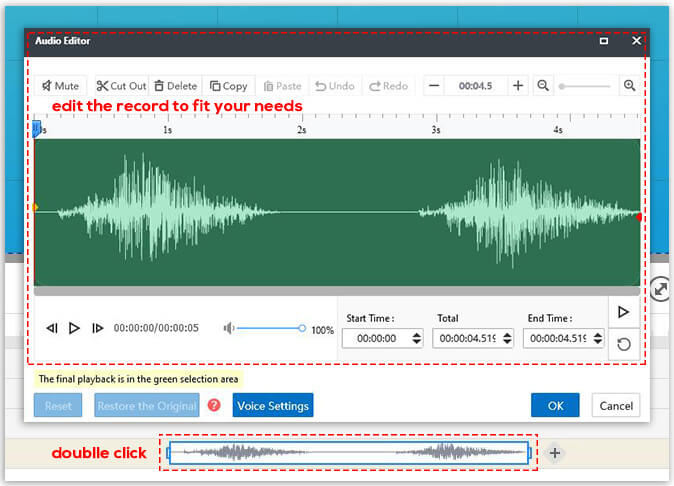 Dynamic Roles
If you're looking for the most simple way to convey your message, you would love this feature where you can take different roles. Mango Animation Maker offers over 40 types of roles such as teacher, doctor, waiter, and worker that will help in narrating your story.
Multi-Track Timeline
To ensure that every aspect of video animation is under your control, the software provides a multi-track timeline. This timeline covers everything from camera and background to foreground and animation.
This feature enables you to see all the animation elements in real-time and customize them with ease.
Animation Effects
This particular feature is provided to create an emotional impact on your audience. The software provides you three animation effects that you can use on the entrance, emphasis, and exit.
Video Distribution
This feature is something that separates the Mango Animation Maker from its competitors. While the majority of animation makers fail to provide a comprehensive solution for distribution, the Mango Animation Maker offers a flexible and comprehensive one.
It allows you to share the animated video as an online video, offline video, or gifs. You can also use various social media channels to share the video directly.
Stunning Scene Transition
You wouldn't want to deal with unusual ways of scene transitions that make the whole video look absurd, do you? In fact, Mango Animation Maker offers amazing scene transitions that will make the transfer of scenes as natural as possible.
For this, the software provides intuitive effects such as flipbook, blind, hand pull.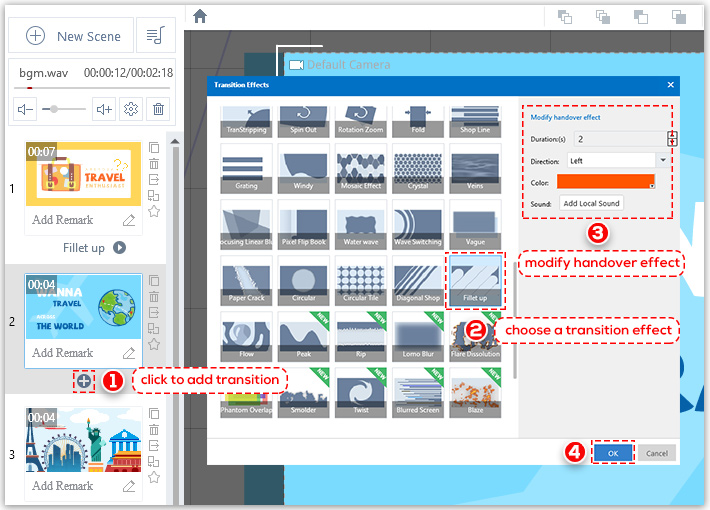 Additional Features
As we mentioned earlier, Mango Animation Makers is home to some of the best features. It has a huge library of free media objects such as animation widgets, images, effects, and charts that you can use while creating your animated video.
How It Works?
Since we've already talked about Mango Animation Maker and its key features, it becomes important for us to comment on the usage of this software.
While Mango claims that its animation software, irrespective of the level of experience or knowledge, can be used by anyone, we'll discuss how this software works.
Mango Animation Maker is a software that can be downloaded either by paying a one-time fee or for a free trial. Once you've downloaded the software, you'll gain access to all the features provided by it and begin your animated video.
Steps Involved:
Select a New Template or Start from Scratch – If you're a beginner, we recommend you to opt for a template as the software has more than 100 interesting templates to offer. If you are already familiar, you can start with a new black project and necessary elements accordingly.
Adding Content – You can make use of the drag-and-drop feature to add multimedia content such as images, shapes, and charts. You can also add subtitles and voice narration.
Add animation effects – As mentioned in the key features, the software enables you to use three animation effects on the entrance, emphasis, and exit.
Publish and Share – The last step is to publish or share your animated video or gifs as an online video or offline video. You can also directly share on your social media profiles.
Mango Animation Maker Pricing
Mango Animation Maker offers you highly affordable pricing plans. You can download the software and start using it for free.
The Professional plan comes for $67 and the Enterprise plan comes for $299. And these are one-time prices, that means there is no recurring payment whatsoever.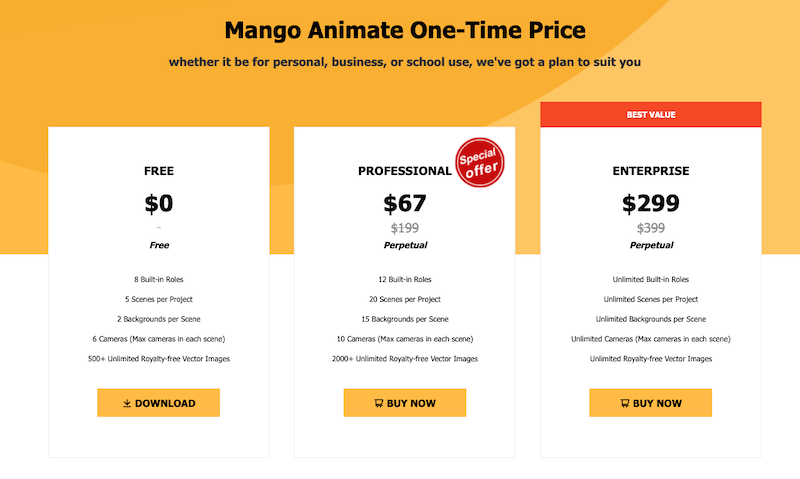 Conclusion
Has Mango Animation Maker managed to impress us?
Absolutely!
This software is not only easy to use but also provides a ton of features that can make your animated video look interesting. The one-time pricing policy can be used if you're convinced through the software's trial pack.
To make your animated video a success, we would recommend you to contact this animation maker expert.