When we talk about SEO, internal links are one of the most important factors that influence ranking.
However, adding internal links manually can be a tedious process and at many times we lose good internal linking opportunities.
In the manual process, you have to find the relevant link-worthy posts on your blog and link those articles one by one.
Link Whisper is a plugin to make the process of internal linking easier for every blogger on the WordPress platform.
Now, with Link Whisper it is a matter of a few clicks to add relevant links to any of your blog posts.
There has been a lot of discussion around backlinks, relevant backlinks from high authority sites. But the process takes a lot of time, effort, or money if you are planning paid outreach.
However, internal linking within your site is entirely in your hand.
Many times, you will see a jump in ranking as you put some internal links from highly relevant pages within your site.
If any of your pages are getting a large number of backlinks from high authority sites, you can pass on the link juice to any of your money pages through internal links.
So, internal links are extremely important.
Let's look at how Link Whisper can help us in the internal linking process.
How Link Whisper Can Help Websites Rank Better?
Link Whisper is a plugin that can help you improve your website's link building. It does this by allowing you to add links to your site's content when you write a new article by suggesting you all relevant content on your site that is already published.
You can add those links with just one click. It will help you to save a lot of your time that you otherwise need to spend looking for relevant content to link.
This plugin will improve the overall SEO by making internal linking easier.
Link Whisper: How It Works?
Link Whisper is a WordPress plugin that scans through your blog and offers you a suggestion for internal linking. When you create a new blog post or edit an old blog post, Link Whisper will be your best friend.
As you keep on adding links to all of your blog posts, the overall link structure of your blog will improve and uplift your entire SEO game.
Let's see how Link Whisper works.
You can install the plugin right from your WordPress dashboard. Go to your WordPress dashboard >> Plugins >> Add New and find Link Whisper.
Install and activate the plugin.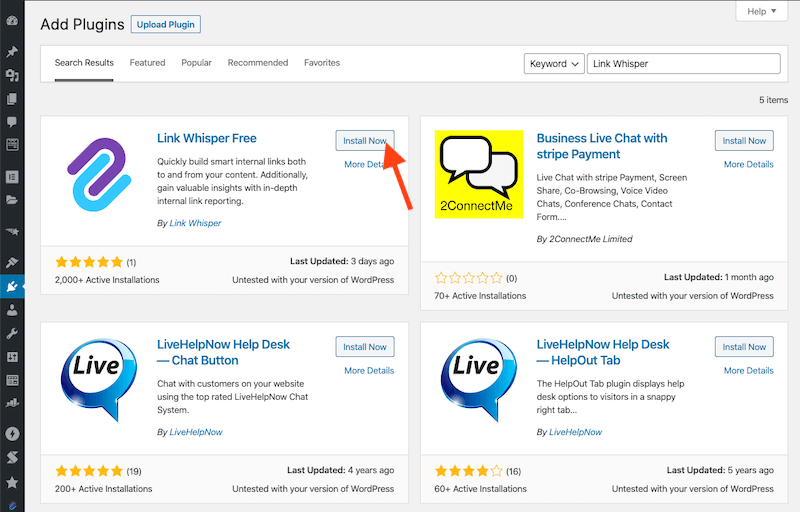 Once the plugin is activated, you will get the plugin option in the WordPress admin panel.
You will get the option to activate your license to use the premium features of the plugin.
You just have to copy and paste the license code and activate it. The process is simple.
Here is what the general settings look like.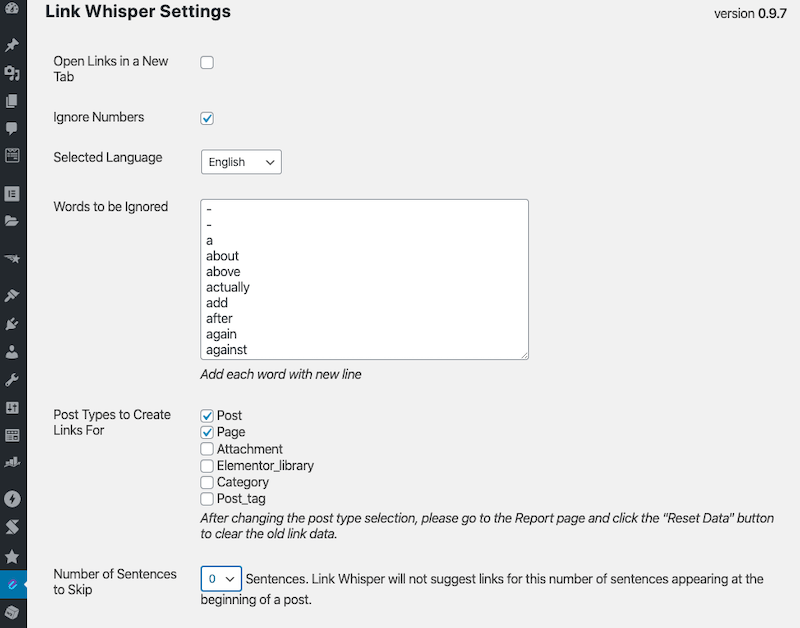 The settings are self-explanatory, there are options to
Link Whisper Repost
The plugin gives you a quick report of the overall links (internal & external) on your site to give you a glimpse of the current scenario.
Here is what the report looks like.
The report clearly shows that we have the opportunity to improve on the internal link number. And I'm sure Link Whisper will be a great friend throughout that process.
Links Report Detail
In the links Report section, you will get the details of each page. The number of links on each page (Inbound Internal, Outbound Internal & Outbound external)
That means you will get complete details of each page to make an informed decision on every page.
You can click on any of those numbers to get the details of the respective links.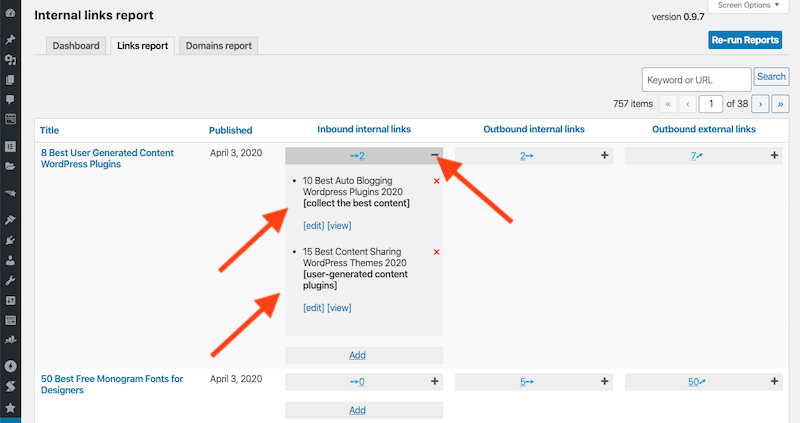 Link Whisper Suggestion on Single Pages
Link Whisper is a plugin that suggests internal link opportunities while editing or writing a new post.
If you are editing an old post, you will see the suggestion right away. You just have to scroll down your page and you will see the Link Whisper suggestion section.
If you are writing a new post, you have to save a draft and refresh the page once to see the suggestions.
Here is how you get the suggestions. You can insert the links with just one click.
It was never so easy to add internal links to any WordPress blog post before. The entire process is automated.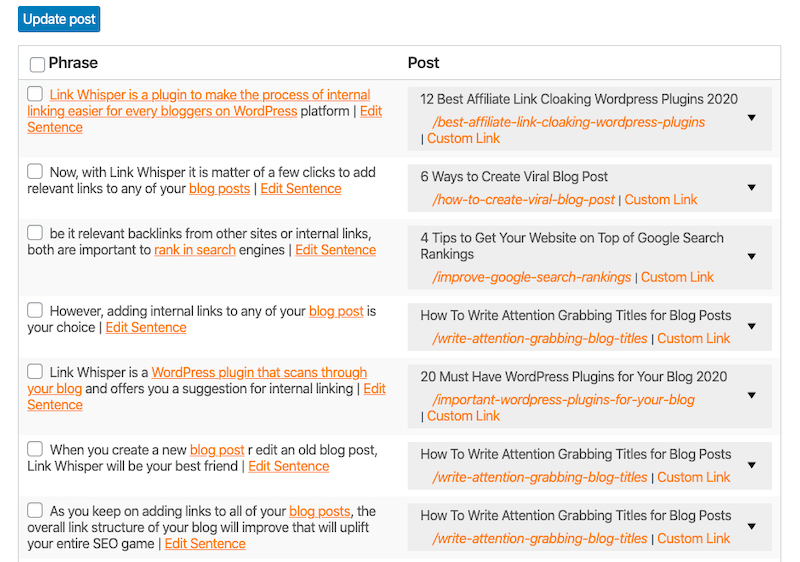 Get more than one suggestion for each link.
If you are not satisfied with the main suggested link by the plugin. You have the option to get more than one suggestion for each link.
All you have to do is to click on the down arrow to find the additional suggestions.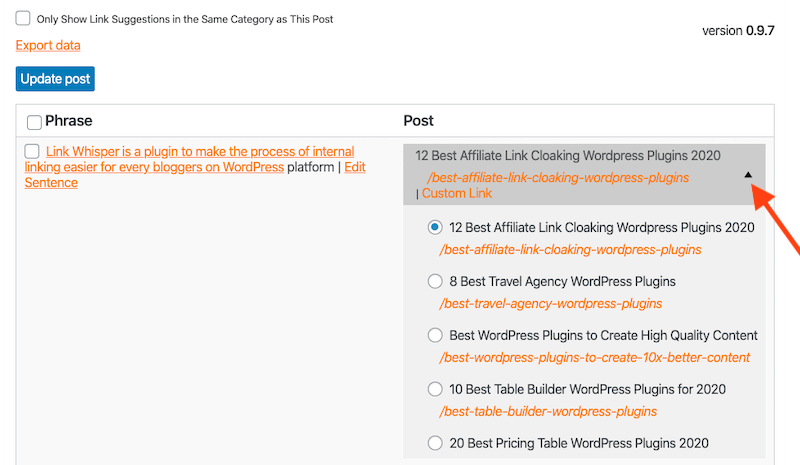 Edit The Anchor Text
As Link Whisper uses machine learning to suggest the link options, the anchor text selected by the plugin may not be perfect every time.
So, you have the option to edit the anchor text before adding the link.
What Happens When You UnInstall Link Whisper?
If you decide to uninstall the Link Whisper plugin for any reason, you are free to do so. It will not have any bad impact on your site or break it in any way.
The internal links placed by using the Link Whisper plugin will still be in place.
Link Whisper Discount Coupon Code
Here is the good news for BeginDot users. You can get a 15% exclusive discount on any of the Link Whisper plans using our coupon code.
To get the discount, don't forget to use the coupon code while checking out.