KnownHost has been around for years and offers hosting services for small and big businesses. You have the option to choose from a variety of hosting options on this platform and it has a range of pricing to suit the need of new and established businesses.
Let's have a look at the offerings of KnownHost in detail below.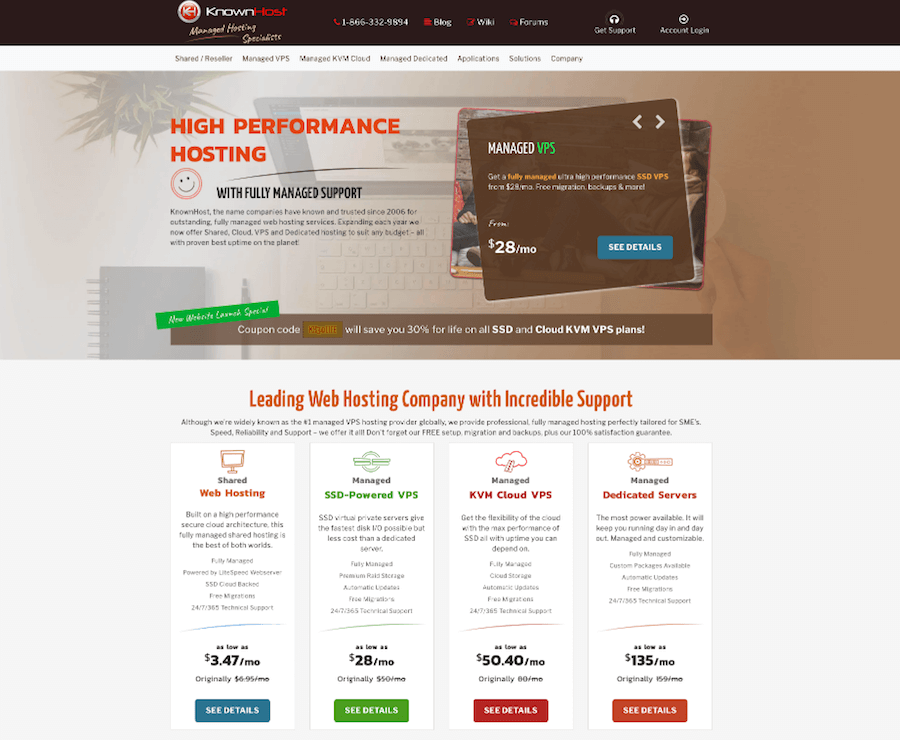 KnownHost: Features
Before we take a look into the different KnownHost plans and the overall user experience, it will be better to get an idea of all the different features it brings to the table. Starting off with:
100% Fully Managed Hosting Experience
Once you sign up with one of KnownHost's plans, you don't have to worry about any technical jargon. All technical aspects of your hosting are taken care of.
From technical configuration, optimization, basic security procedures, backups, migration, and much more, everything is handled by experts.
All you have to do is focus on the services you provide and market your brand.
Meanwhile, the company will make sure that your site is functioning a-okay and doesn't require you to think about the technical side of your website.
Scalability
As you put all focus on growing your business, you will soon see a spike in traffic coming to your website. In that case, you don't have to worry about the servers not being able to handle the load.
KnownHost offers scalable plans as well which helps you upscale to better and more powerful plans in the tier depending on your requirements.
Furthermore, the upgrades are completely seamless. Your site will not face any downtime or require IP change.
Hardware & Performance
The performance of your website depends on the quality of its server. This is why KnownHost uses premium SSDs from trusted brands and pairs them up with powerful network routers and advanced engineering tactics to bring out the power of each component.
All servers are built on updated firmware with each piece of aging equipment getting promptly replaced by newer hardware. To supplement the hardware, software like LiteSpeed and LSCache are also used to ensure optimized performance.
Security
With cybercrime becoming more and more common, KnownHost is very serious when it comes to the online security of your website.
This is why, even before you log in to your website for the first time, it will be preconfigured with tons of security optimizations.
From the basic free SSL certification which a lot of hosting providers have begun to include, to a custom 10gbit DDoS prevention system, you will have it all. Softwares like Immunify360 is also preloaded so you can keep malware and hackers at bay.
Uptime
Apart from the best managed VPS hosting in the market, the company is also known for its near-perfect uptime.
Over the years, KnownHost has upgraded its software, hardware configuration, and much more, to ultimately achieve an uptime of 99.996%.
You can rest assured that your site will be available round the clock, no matter when a customer or potential clients see fit to give you a visit.
Customer Service
Facing any problem? Want technical assistance? No problem! KnownHost has a team of technical experts based in Birmingham, Alabama available around the clock, every single day of the year.
They are trained to handle any issue you face so your problems are solved as quickly as possible.
KnownHost: Different Hosting Plans & Pricing
As stated earlier, KnownHost is mostly well known for its powerful managed VPS hosting.
However, you are not limited to just that as there are also options to go for the regular shared hosting, sign up for a dedicated server, or even take advantage of managed WordPress hosting.
Here is a brief overview of all their different hosting plans along with associated pricing.
Managed VPS Hosting
Let's start out with the star of the show, KnownHost's SSD-powered managed VPS hosting.
Here you get access to powerful enterprise-grade hardware to build you a virtual private server.
The plans are highly scalable. You can start small and gradually subscribe to higher plans as your business starts to grow.
Here is a quick look at the different pricing plans for the Managed VPS Hosting.
It starts out at $28/month for the base-tier plan. Here you get access to a 2 core processor, 2 GB RAM, 50GB RAID-10 SDD storage, 2 TB premium bandwidth, 2 IP addresses, and much more.
You can slowly upgrade to higher plans as you require more resources. The top-tier plan priced at $80.50/month will give you access to a 6 core CPU, 8 GB RAM, 200GB RAID-10 SDD storage, 5 TB of premium bandwidth, and the same 2 IP addresses.
Managed Dedicated Servers
Besides VPS hosting, you can also signup with KnownHost for a powerful managed dedicated hosting. You will get access to a custom-built dedicated server that is fully optimized to deliver optimal performance.
Here is a quick look at all the different pricing plans for the managed dedicated hosting.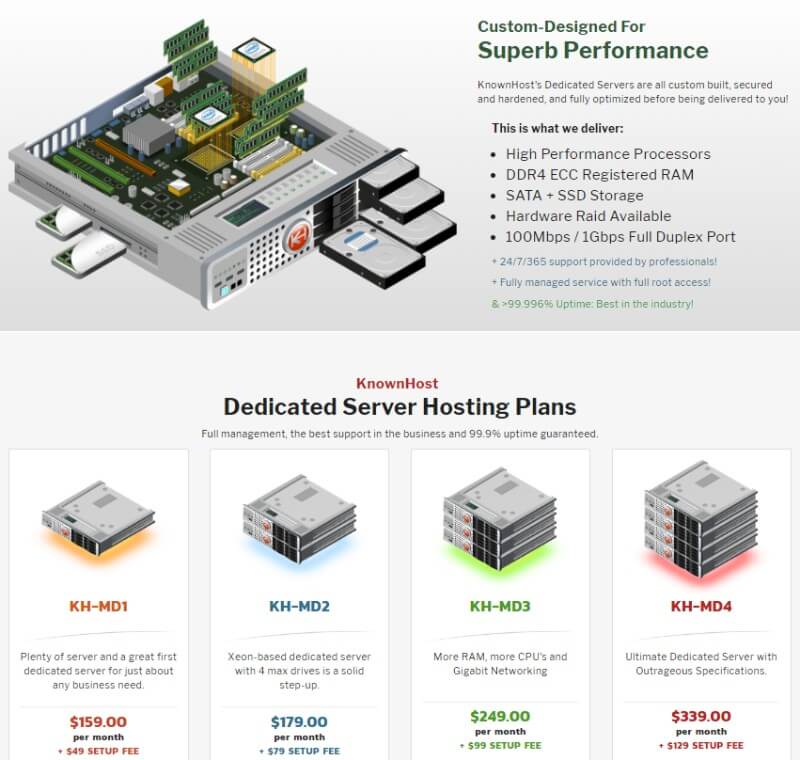 Plans start out at $159/month with an additional payment of $49 as setup fees.
At the base plan, you will get access to the Intel i7-6700 CPU with a 4×3.4GHz clock speed and 8MB cache. This comes paired with 8GB of DDR4 RAM, 256 GB SSD and 1TB SATA storage.
If you want more juice, you can max out to their top tier plan which will cost you $339/month and $129 as a setup fee. For the price, you will get 2x Xeon E5-2620v3 CPU with 12×2.5GHz clock speed and 15MB cache.
And for the memory and storage, you will have 16GB DDR4 RAM along with the same 256 GB SSD and 1TB SATA storage combination.
KnownHost offers flexibility to choose between traditional shared hosting or going with a shared cloud hosting.
All the different features and functionalities that you get with either hosting plans are the same as well as the price. The only difference is whether or not you want to go the traditional route or the cloud route.
Either way, you will get two hosting plans priced at $3.47/month and $6.47/month respectively.
With the low tier plan, you will get access to 5GB SSD storage (cloud or traditional) with support for unlimited email accounts, LiteSpeed Optimization, Unlimited premium bandwidth, and a hosting limitation of up to 5 domains.
For the pricier plan, features are upgraded to make room for unlimited SSD Cloud Storage, and an option to host unlimited domains, with all other features remaining the same.
WordPress Hosting
KnownHost also acknowledges the impact of WordPress and how it has (and is) changed the blogging industry.
As such, they also offer a dedicated WordPress hosting service that is fully managed, so the user only has to worry about content and none of the technical hassle.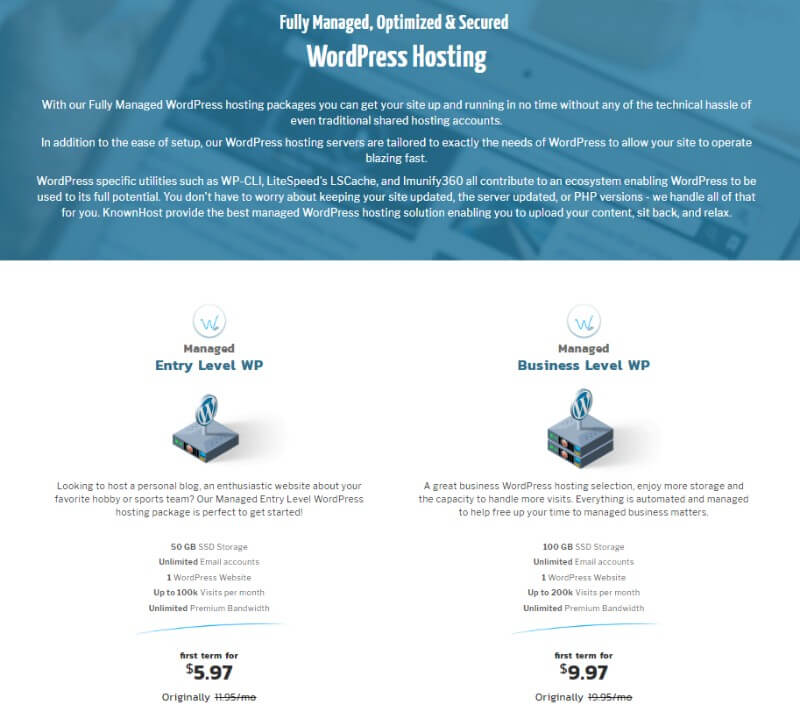 Prices start out at $5.97/month which gives you access to 50 GB of SSD storage, unlimited email accounts, a limit of up to 100K visits a month, unlimited premium bandwidth, and support for 1 WordPress website.
However, if you want access to more power, then they also have one more plan priced at $9.97/month. Here the storage is upgraded to 100 GB SDD storage and 200k visits per month.
Sadly, there are only these two plans and not much more flexibility.
Money-Back Guarantee
And in case, you are not satisfied with KnownHost, then you can simply go for their 30-day money-back guarantee, no questions asked.
KnownHost: Pros & Cons
Taking all this into consideration, here is a quick rundown of everything KnownHost does right, alongside areas where they ought to make some more improvements:
Pros:
Best hosting provider for SMEs which receive high traffic.
Powerful hardware for high-performance websites.
Best in class uptime.
Reliable.
Fully managed hosting.
Excellent customer support.
Cons:
No affordable shared hosting plans, making it not so affordable for bloggers.
No complementary website services like site builder, and the likes.
KnownHost: All Features in a Table View
So this has been a long review going over all the different features and functionalities of KnownHost. If you feel like the information is slipping your mind, then the following table might help you out:
| | |
| --- | --- |
| Performance | Powerful hardware powered by premium SSD RAID storage, network routers, and advanced engineering tactics. |
| Security | Free unlimited SSL certification, 10gbit custom DDoS protection, Immunify360 software, and much more. |
| Uptime | 99.996% uptime guaranteed. |
| Server Quality | Industry-leading performance with low response time. |
| WordPress | Supports managed WordPress hosting. |
| Data Management | Daily backups. |
| Cost | Shared hosting plans start out at $3.47/month. |
| Server Locations | 4 Data Centers located in Seattle, Dallas, Baltimore, and Amsterdam. |
| In-built Caching | Yes, courtesy of LSCache. |
| Site Transfers | Free unlimited site migration with all the plans. |
| Free Domains | Domains sold separately. |
So, Should You Go For KnownHost?
By now, you should have a clear idea of the type of customers KnownHost targets. As stated earlier, their plans are more catered towards small to medium-sized enterprises.
The company's main highlighted product is their managed VPS hosting service and if that is something you desire, then you won't be disappointed.
But on the flipside, if you are just starting out, or categorize yourself as a hobby blogger, then not only will KnownHost plans feel costly, but they will also be overkill for what you need.