Jupiter WordPress Theme is a multipurpose design that you can use to create any kind of site. be it a blog, portfolio, business site, or any other niche site, Jupiter will perfectly fit your need.
We recently went through the Salient WordPress theme Review, and this review is the follow-up to the great themes that are at our disposal.
Jupiter theme is currently in the X2 version of its existence and it powers over 100k WordPress sites. The first version got released in July 2013, and now managed to reach a huge section of WordPress users.
Jupiter is a beautifully crafted design. It offers you unlimited options in terms of design and it is loaded with amazing features that will help you to create a great-looking successful site.
Jupiter X2 Theme Review
Jupiter is one of the top WordPress themes that you can use for any kind of website. This theme offers you unlimited design possibilities to make sure that you never have to hire a developer again to create your website.
---
Jupiter Theme Overview
As we already mentioned, Jupiter Theme is a multipurpose theme. Even after four years of its release, it is one of the top-selling WordPress themes.
Another reason that makes Jupiter theme relevant to the current sites is constant updates by the developer of Jupiter. They are adding new features, optimizing the code, and providing support to both new and old buyers.
To better understand what the theme offers, let's get started with the Review.
Installation & Setting Up
Once you get the theme from ThemeForest, you will be provided with a download link. To get started, you first need to download the theme files to your desktop.
Once done, go to your site dashboard. Now, go to Appearance >> Theme. There you will find the upload theme option. Once you upload the zip file to the backend, now click on "Install" button.
You are now ready to customize your website. After you install, you can load one of the available templates and then customize it according to your needs.
Once you install it, you will be asked to install two plugins: Visual Composer and Evanto WordPress toolkit plugins.
All you need to do is select the plugins and click on "Install." Both the plugins will be automatically downloaded and installed in your plugin.
Child Theme: For starters, creating a child theme can help you in the long run. Good news is that the Jupiter theme supports the child theme. You can activate the child theme by going to the Theme Options, and then selecting "Advanced."
Product Registration: Product registration is a key step while setting up your Jupiter plugin and we recommend that you do it. By registering, you get tons of benefits including theme software updates, support, and access to the available 220+ ready design templates.
450+ Website Design Templates to Choose From
One common thing that is common among highly-successful themes is the number of templates/demos they come with. Jupiter is no exception in this case either. It comes with 450+ demo templates, and you can choose any one of them to get started.
The templates are easy to install, thanks to the smart template install. With the help of the smart template install, everything associated with the template, i.e., videos, texts, and contents are added automatically.
It also provides a simple rollback feature so that you are not afraid to experiment with the available templates.
The templates are categorized into nine categories: creative, business, food, education, health, food, shop, creative, leisure & entertainment, style, and technology.
From a user perspective, they can just simply choose the closest category. Once they have chosen the right theme for them, they can customize it with the already provided drag and drop page builder.
Just note that Jupiter Theme never restricts you with these 450+ templates, you have billions of layout possibilities with this theme. You have unlimited combinations to go for.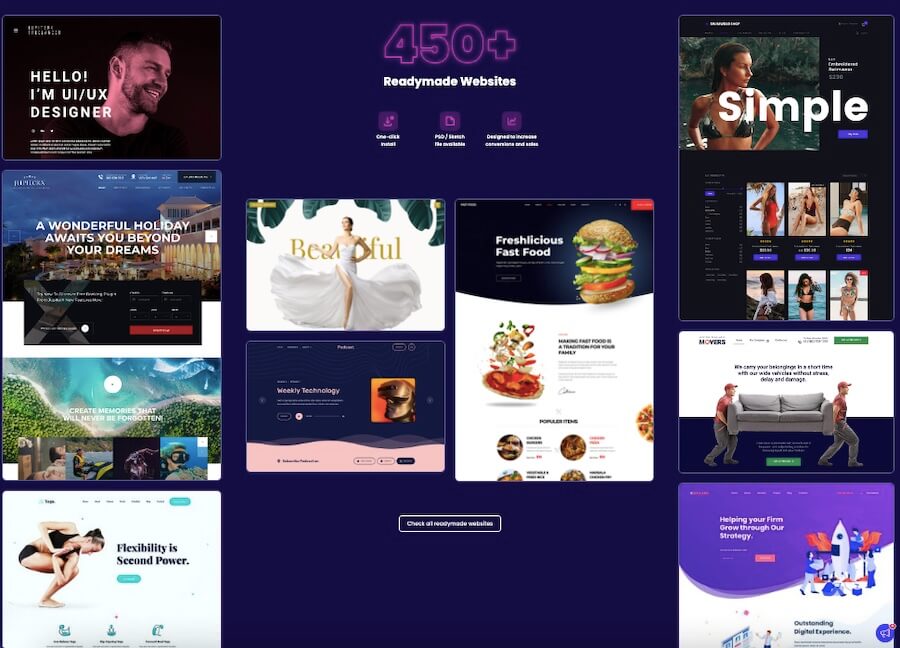 Jupiter Layout Builder
Creating a custom layout for your pages and posts has never been easier with Jupiter's Layout Builder. With this powerful feature, you can easily drag and drop elements to create a unique layout for each of your pages.
Jupiter also includes a wide variety of pre-built layouts that you can use as a starting point for your own custom layouts. Simply select the layout you want to use, and then edit it to your liking.
Jupiter's Layout Builder is a great way to quickly create custom layouts for your pages and posts. With its drag-and-drop interface, you can easily add or remove elements to create a unique layout for each page.
Jupiter also includes a wide variety of pre-built layouts that you can use as a starting point for your own custom layouts. Simply select the layout you want to use, and then edit it to your liking.
Jupiter Theme gives you the option to create a completely custom design for header, footer, single pages, 404 pages archive pages as per your need.
You will also have the option to conditionally display different layouts on different sections of your site. You can simply set the location within your site.
When it comes to blog pages, you will have infinite design options to fine-tune every part of the page as desired without any coding.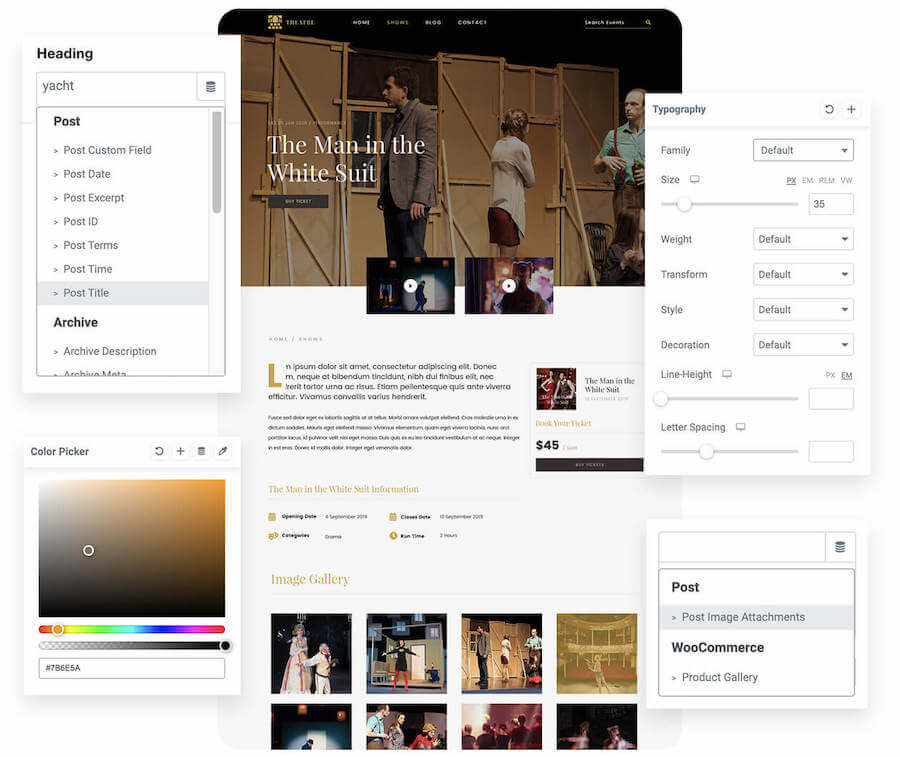 Drag and Drop Builder
Jupiter Theme offers you easy customization possibilities so that you can fine-tune the design of your site easily.
Jupiter X works with WPBakery website builder (Included with the theme for free) as well as Elementor drag-and-drop page builder plugin which are the most popular website builders available in the market.
With these plugins, you will be able to create great-looking custom pages for your site with the drag-and-drop builder. So, you will never have to write any code to change the design of your site.
You can create a page and design it according to your need from scratch, you have drag-and-drop modules to choose from. You can also choose any of the available demo templates that take it ahead with your own customizations.
To ensure that you can customize it as per your need, the theme comes with "undo changes" feature. It stores changes and you can revert anytime you want.
The real-time theme composer makes it super fun for the users to create the design you imagined. You can check the changes you are making before making them live.
Build With Elementor
You can use the Elementor plugin to create a completely custom design for your site right from the front end of your site.
Unlimited Layout Options & 80+ Design Elements
The Elementor plugin offers you unlimited layout options to choose from and you have over 80 design elements that you can use while creating your pages.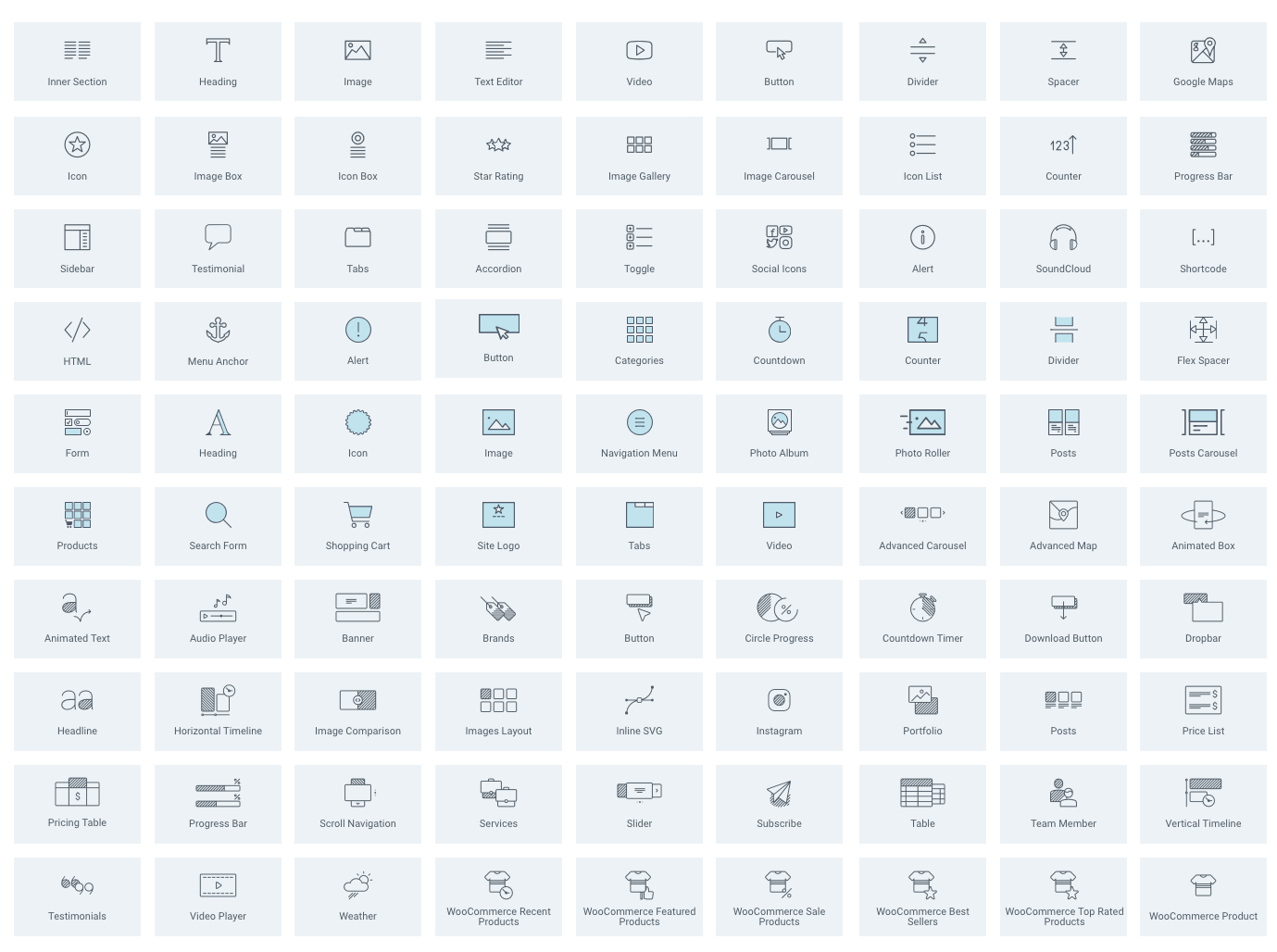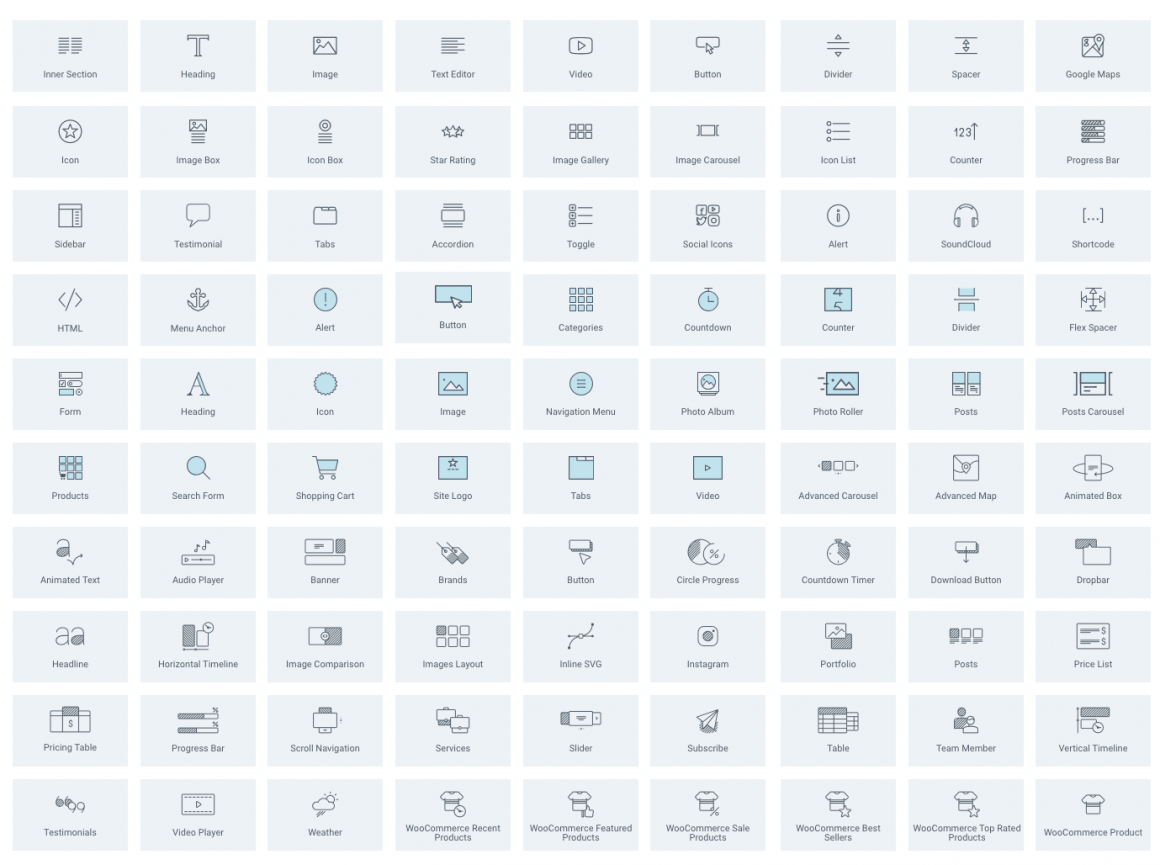 Shop Composer
You can create your own online shop with Jupiter and WooCommerce plugin. And the best part is the live shop composer; you will be able to fine-tune the design of your shop with a real-time preview.
You can edit the image, text, color, and a lot of other things in the live composer that makes your life a lot easier.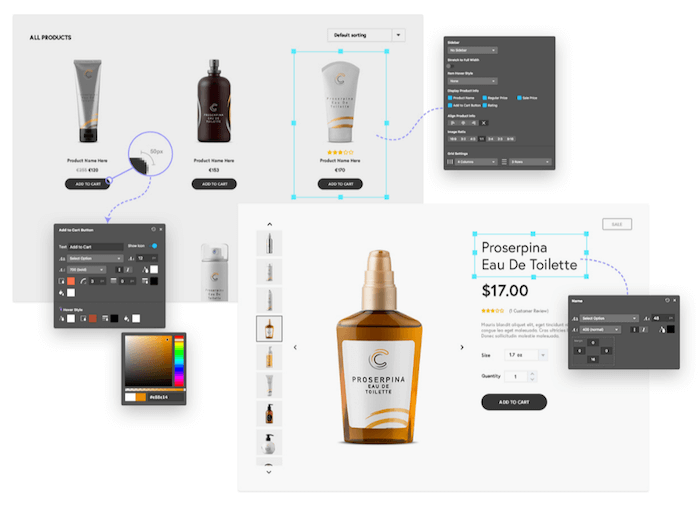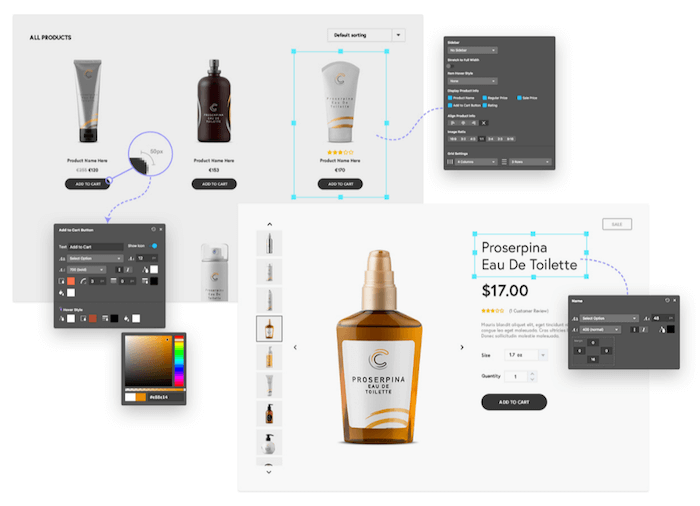 Use Jupiter's Shop Customizer to create a completely unique design for your online shop.
Unlimited Blog Layouts
If you are a blogger and looking for a top-quality theme for your blog, you have great news with Jupiter X.
The theme offers you unlimited blog layout possibilities so that you can create great-looking engaging layout options for your blog.
You can customize every element on your blog created with Jupiet theme using the Elementor website builder.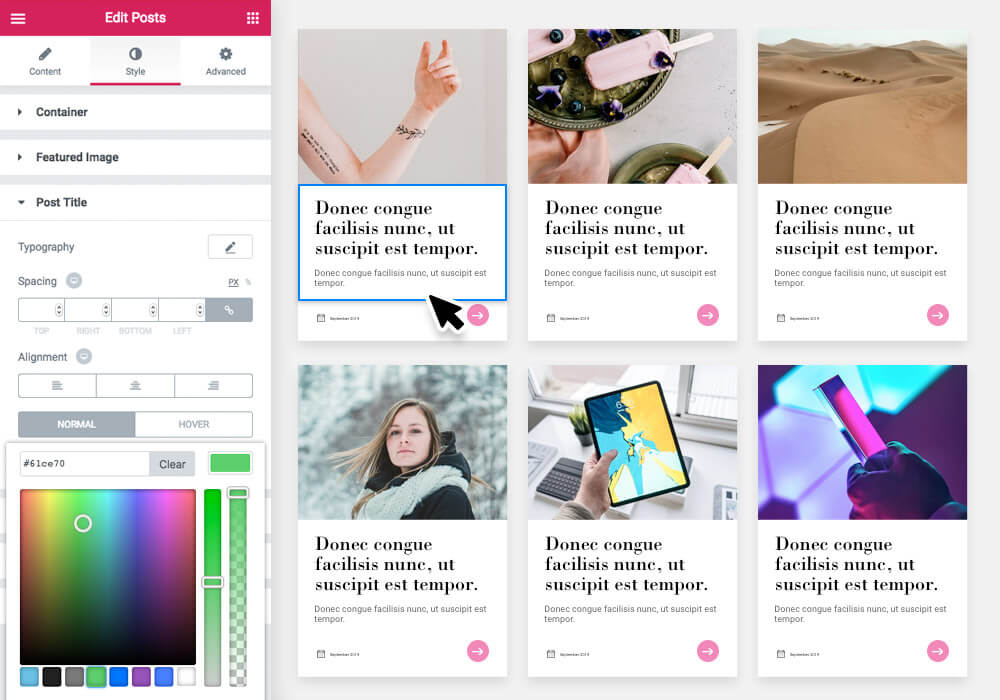 You have a variety of layout options to style your blog. A good-looking design is extremely important for every blog so that the user takes your blog seriously.
With Jupiter, create any kind of layout for your blog and make sure that your users have a great experience on your site.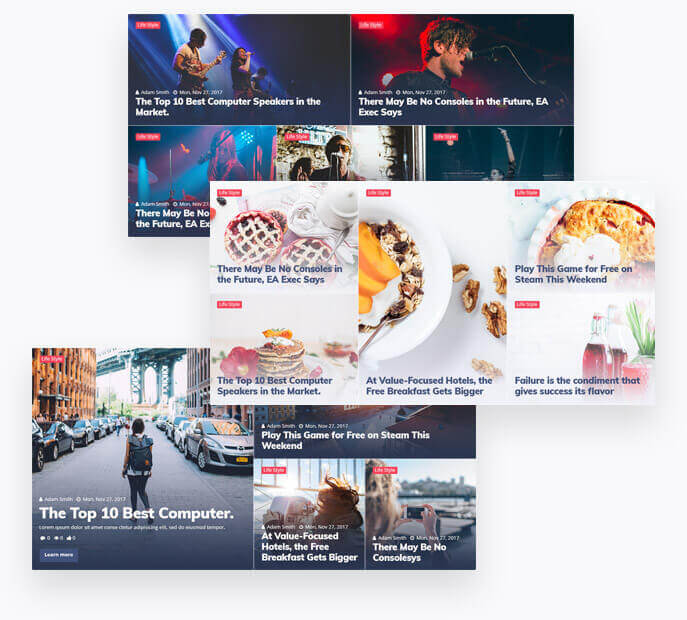 Theme Options
Theme Options are a key part of the user experience. Anyone who has worked with WordPress knows that they have to spend most of the time on the theme options at the initial stage is designing. There you get basic options to fiddle with the theme.
Want to change the logo or the header? Just go to the theme option, and you will be able to change both of them!
Jupiter does offer excellent theme options or an admin panel to start with. In the theme option, you will find seven main sections. They are General, Styling, Typography, Portfolio, Blog/News, E-Commerce, and Advanced. You might have already guessed the purpose of each section.
Let's go through the main things that you can change in the theme options.
Logo change
Social network icons
Google Analytics
Mail Chimp
Custom Sidebars
Speed Optimizations
Headings
Shortcodes
SEO
and much more!
True Performance
It is a fact that faster loading website has a better sale conversion rate compared to sites that are comparatively slow. What if your site loads in 1 second? Your sales will improve drastically!
Jupiter theme loads in just 1.17s and has a page speed score of 90%. The developers have used multiple techniques to make the site load faster.
To achieve the same results, you need to have a good dedicated server and not a shared server. The admin panel uses Vue Model which makes it super fast. It is almost 3x faster compared to other themes.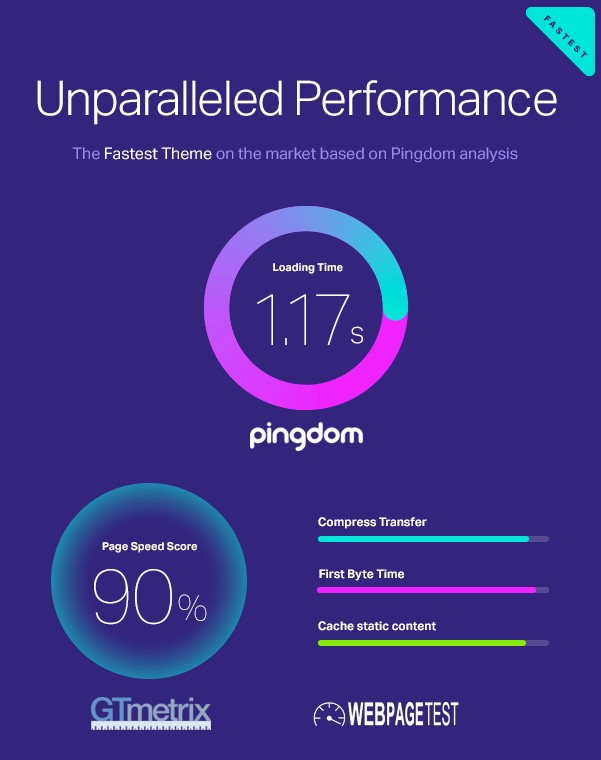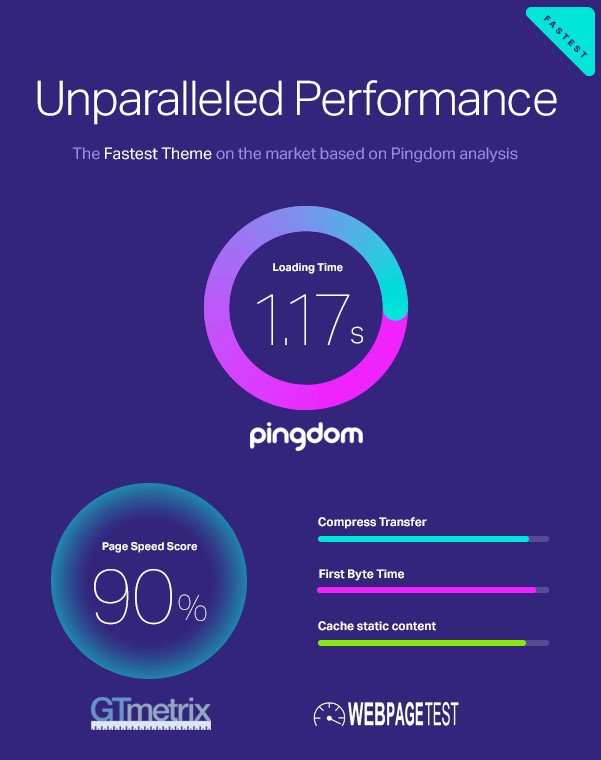 So, if you are looking to buy the theme for your business, you are already at an advantage compared to your competitors.
Check out the speed demo to know how speed feels.
Included PSD Files
Even though, this is not considered a big feature set, having PSD files can help many users customize the design of the website according to their needs.
This is especially helpful for businesses that need to keep their philosophy intact with the design.
SEO Powered
There is one thing that makes Jupiter ahead of the other theme in the same multi-purpose department. The theme excels at SEO performance. This means not only high-quality code but also good rankings on Google.
So, how does a site qualify as SEO Optimized? At first, it needs to follow all the guidelines mentioned by Google.
Also, the framework required to create the theme from scratch should be SEO optimized and value the SEO guidelines.
Jupiter does use a framework that is completely optimized. To add to all of this, all the available templates are SEO optimized for better results.
For a business, the main challenge is to publish content that is both SEO optimized and targets its specific audience. One last thing that you need to know about theme SEO compatibility is the support for SEO plugins.
Yes, it supports the popular SEO plugins available in the plugins marketplace, Yoast SEO. You can also use other SEO plugins if you think it fits the requirement better.
Design and Responsive Templates
Without a great design, users won't be interested in the site. In the era of modern design, Jupiter does manage to provide the right aesthetic of modern layout, creating a balance that meets the requirement of a wide variety of website types.
As the theme provides 160+ templates, it is really hard to evaluate each template. However, one thing is common in all of them, a simplistic modern design that values readability and accessibility at the same time.
Not to mention, the theme comes with the Visual Composer which gives the end-user the freedom to experiment and change the design as per his requirements.
All the templates that are available with Jupiter are responsive and they will make your site look great on all kinds of modern devices.
So, you can use any template and don't have to worry about screen size.
WooCommerce Support
Jupiter comes with full support for WooCommerce. This means that you can create an online store with the help of the most popular eCommerce platform available online.
Starting up your store is as easy as installing a simple template. With the right template setup, you now need to customize it according to your requirement.
The backend side of WooCommerce is also strong as you can easily add items, and products, and easily generate sales with all the available tools.
Portfolio Management and Tons of Shortcodes
If you are a creative professional and wish to create your portfolio to showcase your work, Jupiter X comes with unlimited portfolio site designs that you can use to create your site.
As usual, you can load the portfolio template and then customize it with the help of drag and drop builder. You can also customize the portfolio with the help of the options available within the backend.
Header Layouts
Having multiple header layouts can be very useful for the user. Jupiter comes with custom header layout options to make it easier for the users to customize the site easier. Almost every website on the internet has a unique and personalized header layout.
With 20 header layouts and unlimited design possibilities, you are ready to have an unlimited supply of designs for your ideas. The header customizer can be used to customize every website page that you have.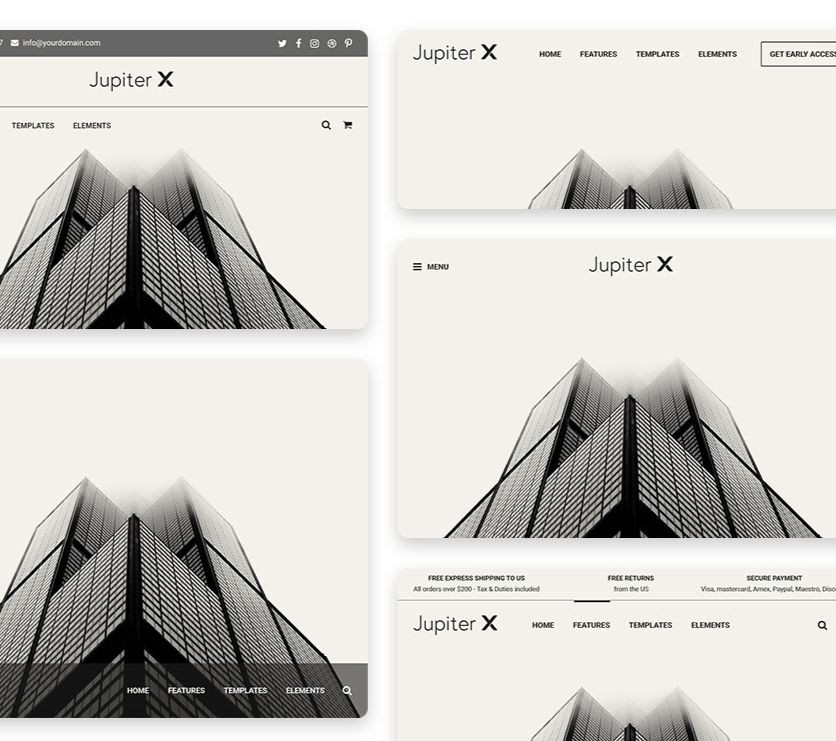 Use Visual Editor To Create The Header
The header is one of the most important sections of your site and you need to make sure that the header of your site looks great on all devices.
You can create a custom header for your site using the visual editor with a real-time preview of the changes you make.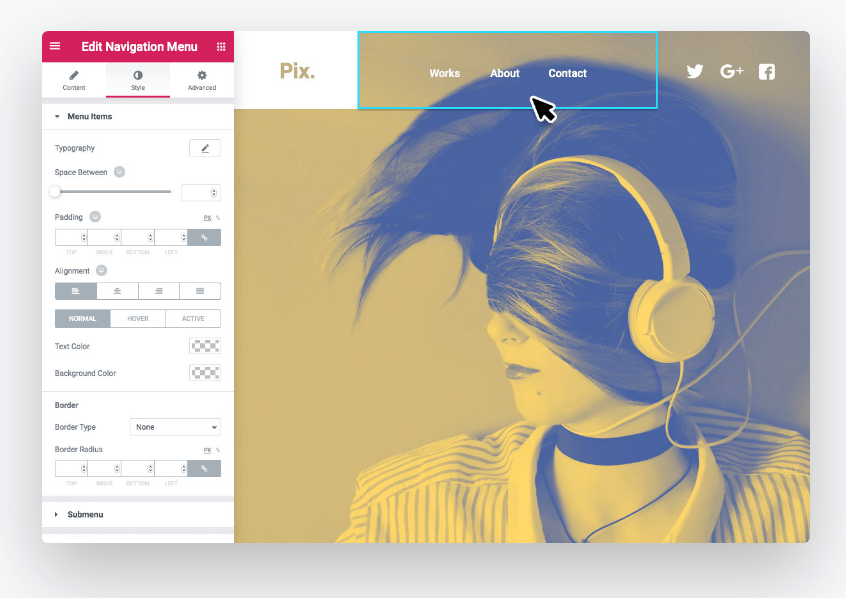 Live Header Builder
As already mentioned, there are a number of ready-to-be-used header design options to select from. But, if you are not ling the options available; you can create your own design using the live header builder.
You can create the header of your site using the drag-and-drop builder and check how it would look on different devices.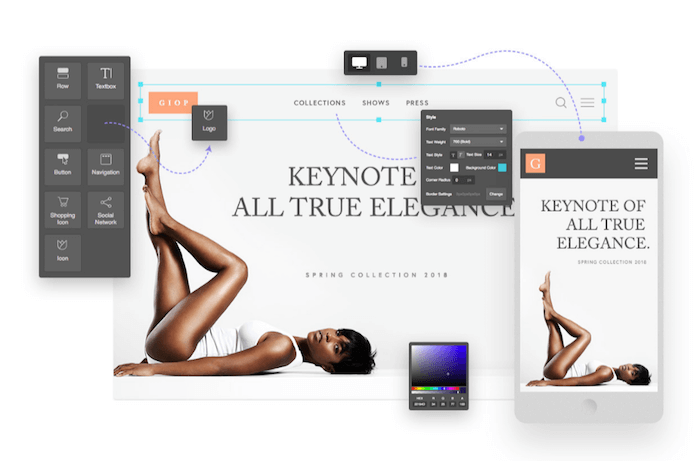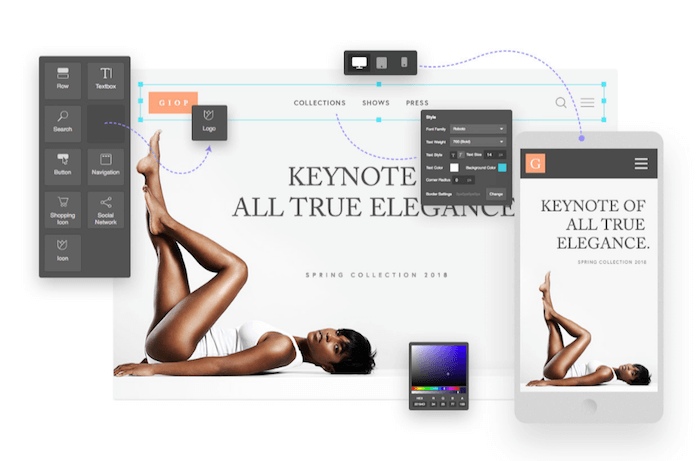 Create Stunning Slideshow
These days, it is all about the visual content be it a simple blog or the top social media sites, the visual content is the winner.
The reason behind the popularity of visual content is the engagement it brings. Even if you look at the normal internet trends people spend most of their time on visual content.
So, why not make the best of it? The Jupiter theme offers you a very easy solution to create a stunning slideshow with amazing visual content to attract more visitors to your site and keep them engaged.
You can create the slider with over 490 styles and millions of different combinations to make it stand out.
Create Beautiful Mega Menu
Jupiter X theme comes with a fully customizable mega menu builder that you can use to create a great-looking mega menu for your site.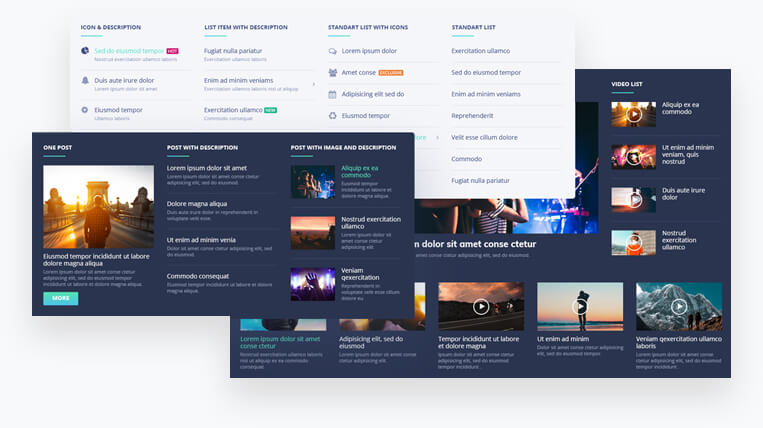 Create Beautiful Pop-Ups
Once you have Jupiter for your site, you don't need a separate pop-up builder for email subscriptions or any kind of promotional activities.
You can show a pop-up on a number of different parts of the page that works the best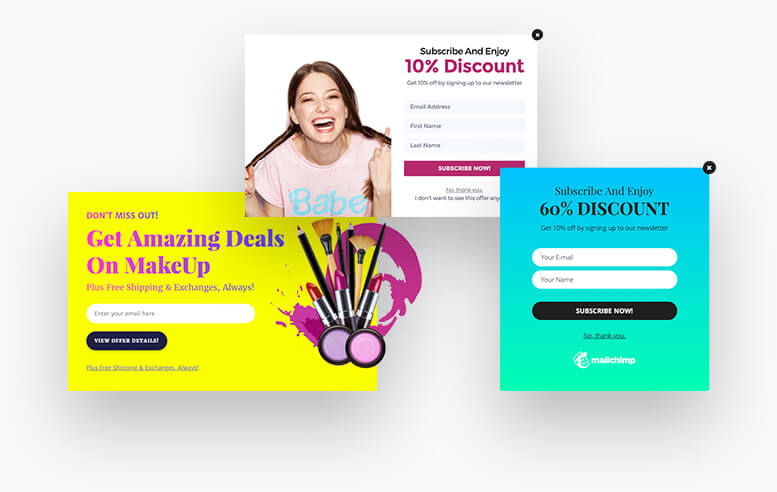 Documentation and Support
Any complete theme not only means features but also means documentation and support. Jupiter comes with extensive documentation which can be used by anyone regardless of their knowledge.
Their knowledge Base(KB) ensures that you get an answer to all the common issues that a user might go through while setting up or running a website using the Jupiter theme.
Overall, they have 240 pages of online documentation and 20 narrative video tutorials for the Jupiter theme.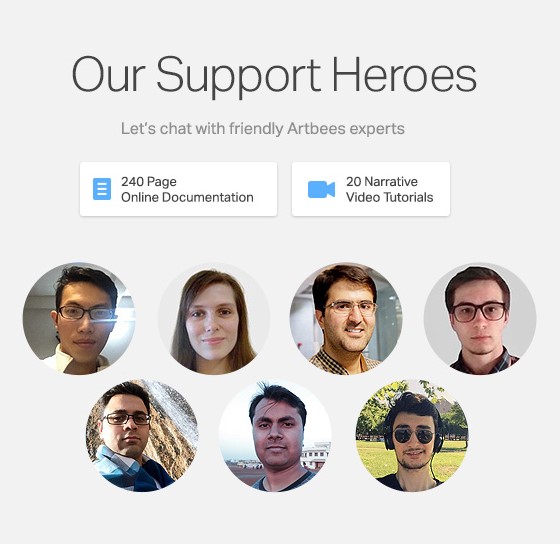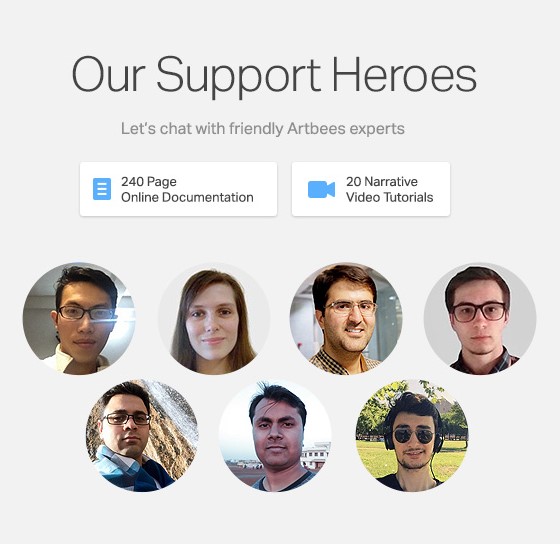 To ensure complete coverage and help the end-user with different working environments and requirements, Jupiter also provides support in the form of tickets and emails.
You can also use the Jupiter forum to post your query and get answered by experienced users or the support staff.
Overall, you will get great documentation to start with, and you can always vouch for their support to solve any problem that you might have.
Other Features
Jupiter is a multi-purpose theme and comes with a lot of features. It's next to impossible to list all the features and discuss them, and that's why we are going to list the important ones below.
RTL Support
Multiple Header Style
1800 Icons
Five main navigation hover styles
3 Portfolio styles
10 Custom Post Types
6 Portfolio Hover Animations
Edge One Pager
Multi-Language Support
Background Customizer
Powerful Edge Slideshow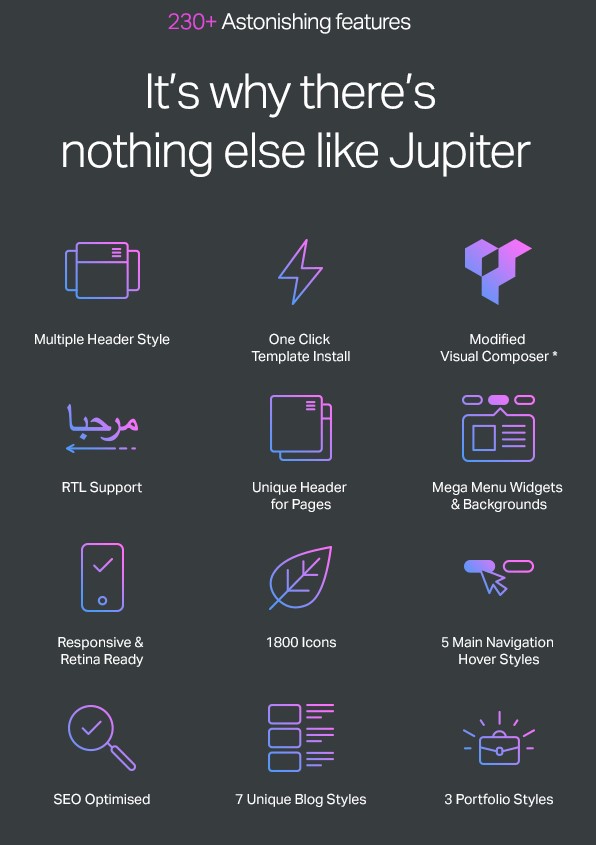 Jupiter Theme Demo Designs
We already spoke about the availability of over 450 ready-to-be-used demo design templates to choose from. So, let's have a look at some of the available design options.
Create a beautiful store
Create a great-looking modern online store instantly with Jupiter theme. There are a number of great-looking online store demo templates to choose from.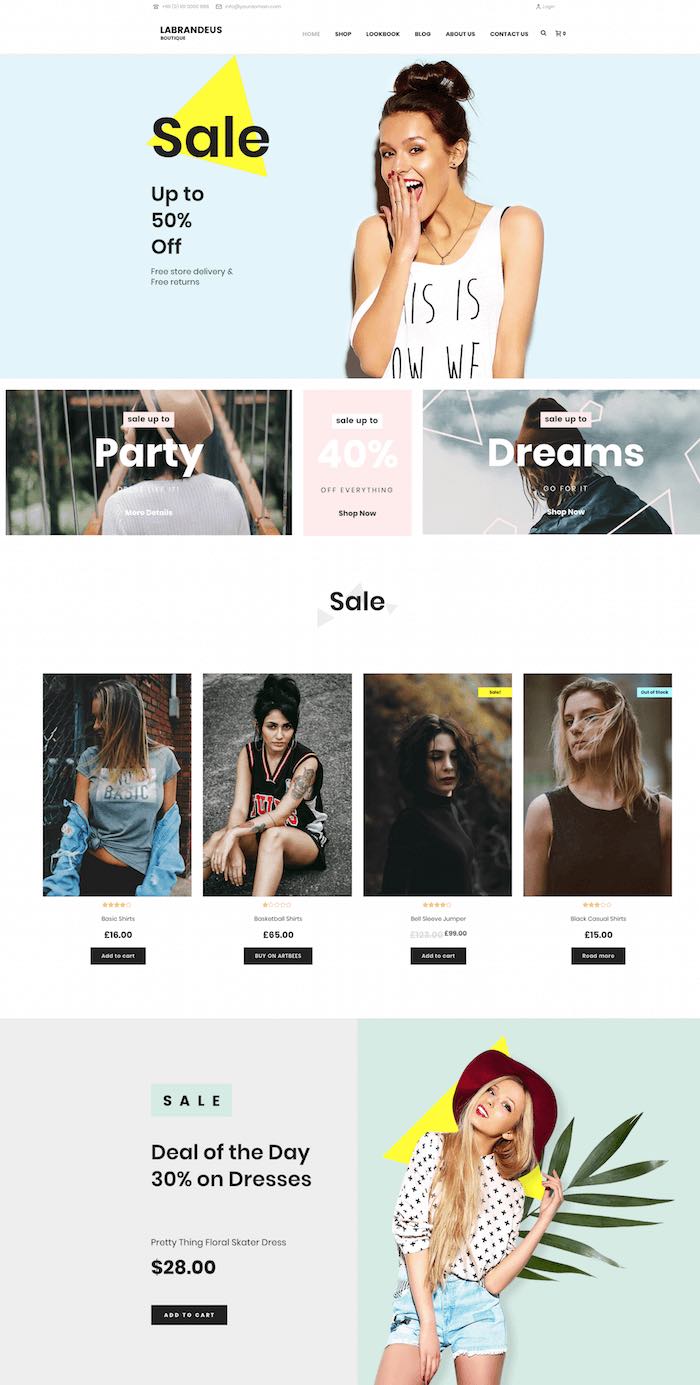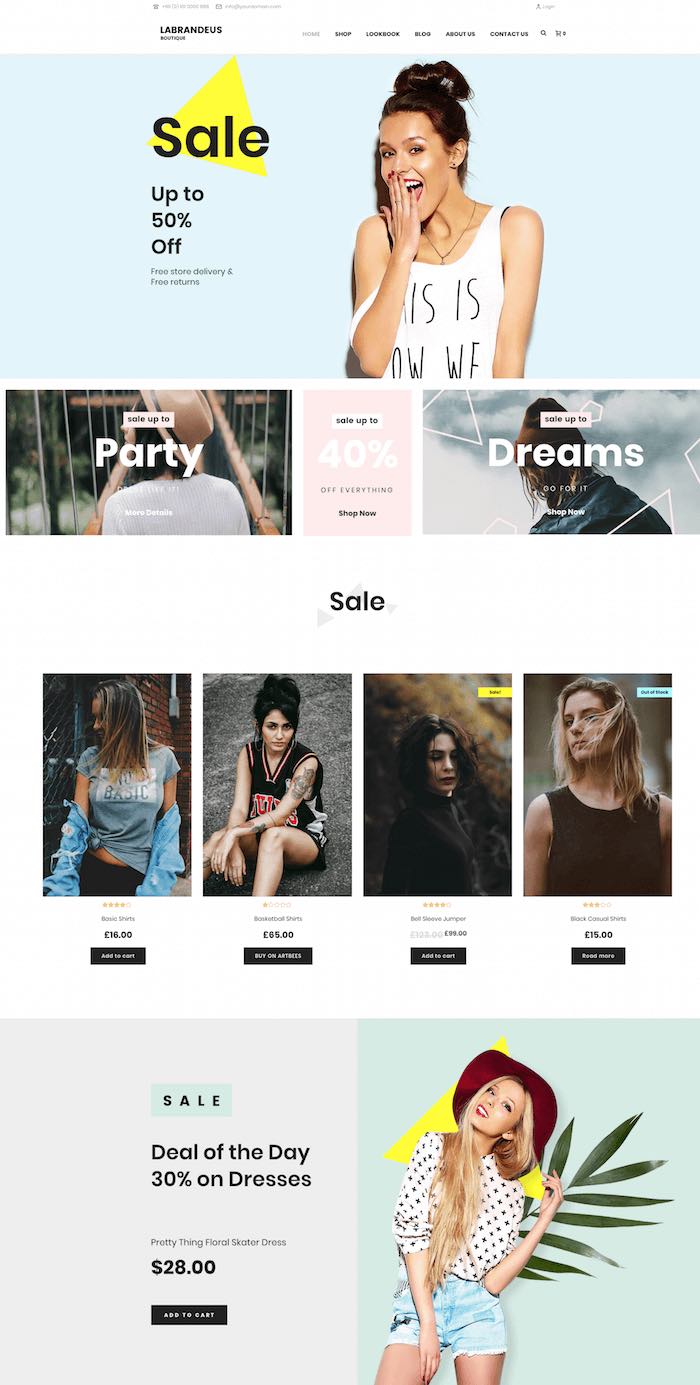 Creative shop template
Here is a minimal creative shop template that is clean and very professional.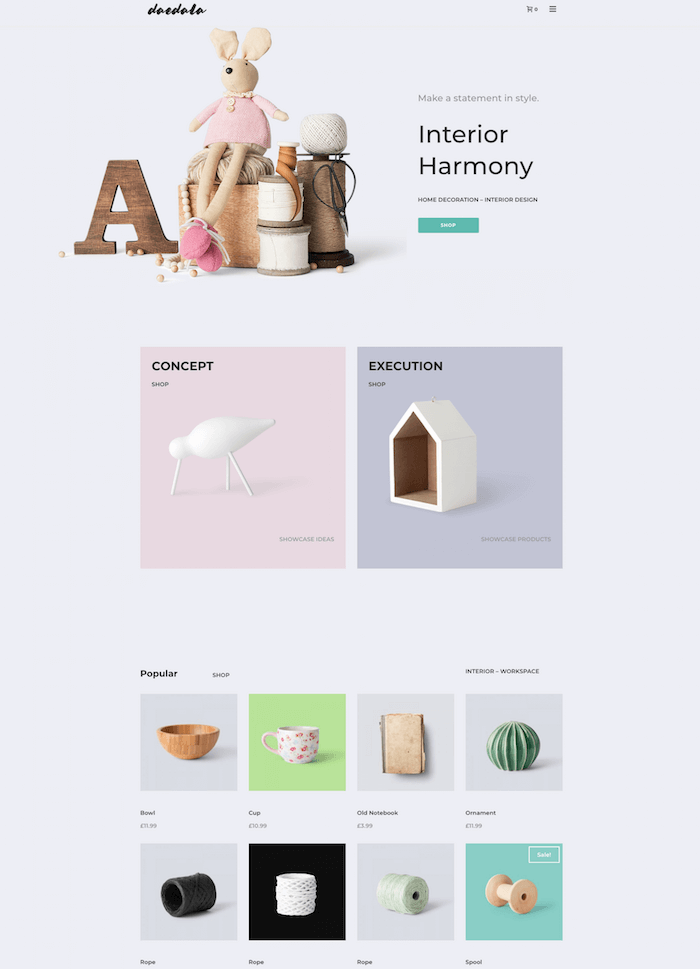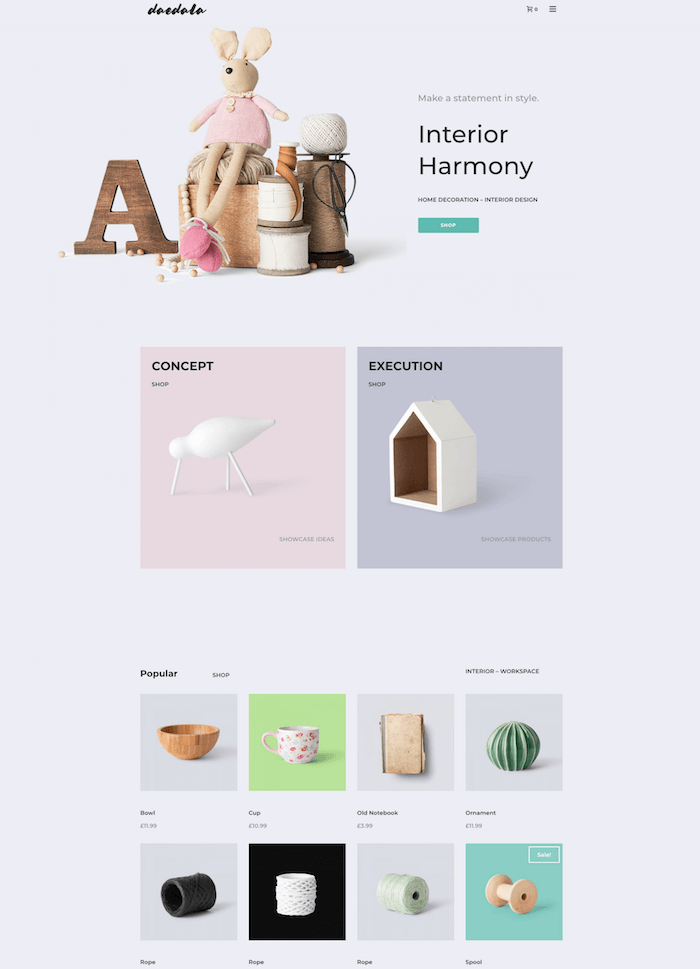 Beautiful Creative template
If you are a creative professional and wish to start your own site, here is a great design from some of the beautiful options available.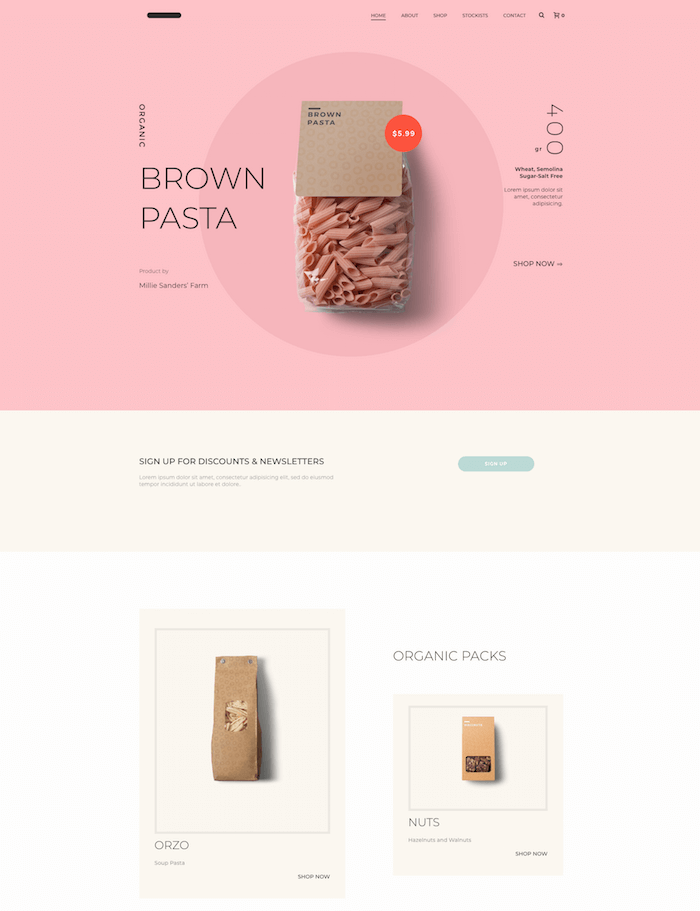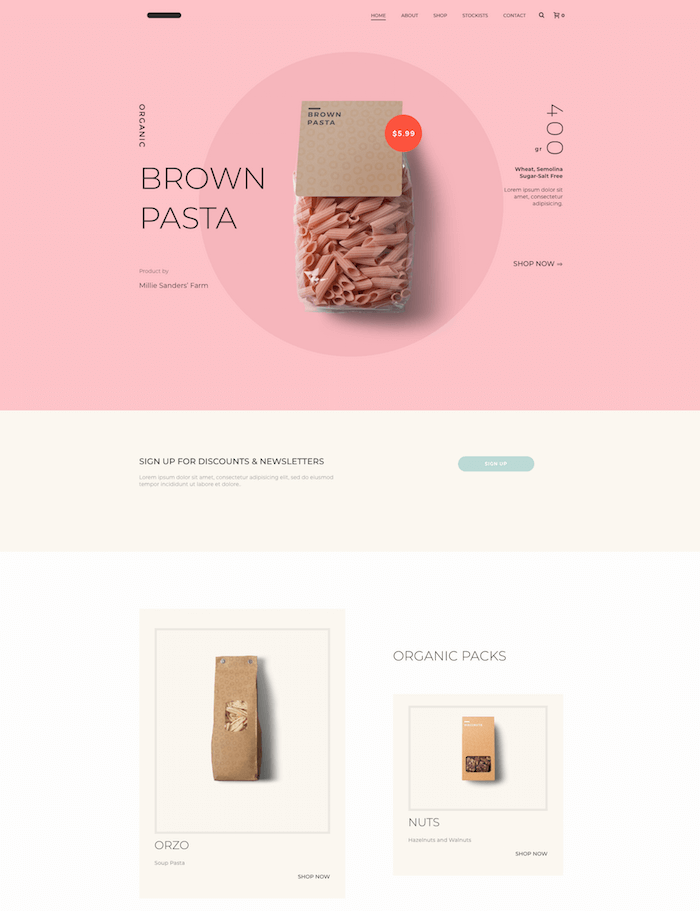 Professional landing page
Create beautiful product landing pages with the ready landing page template.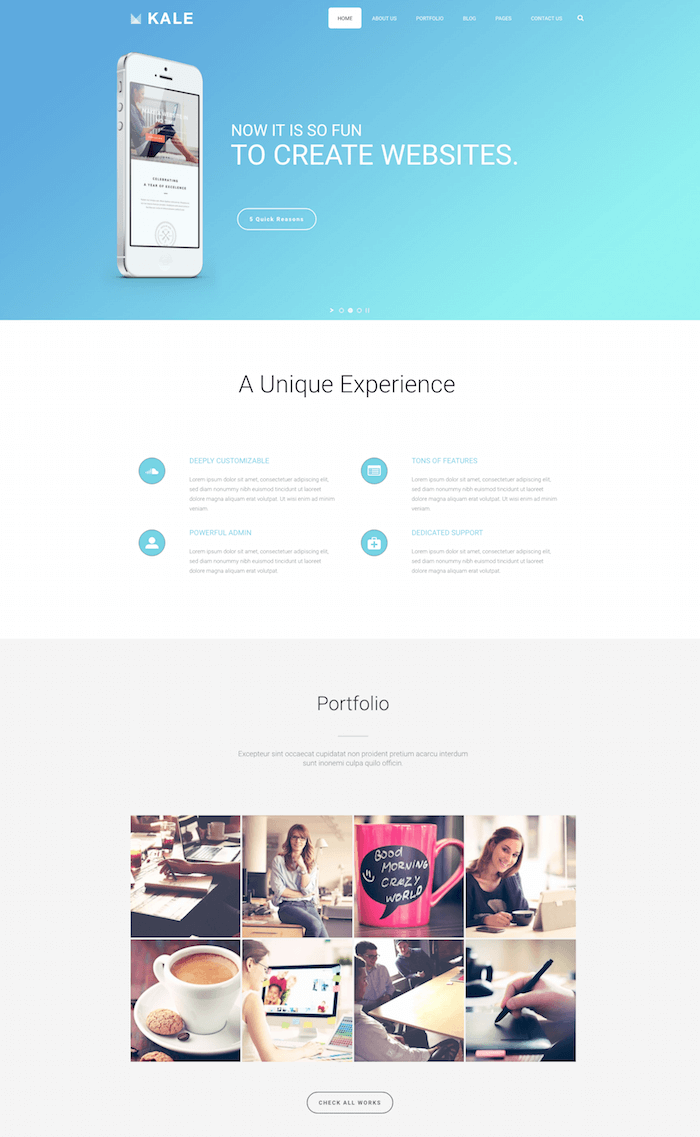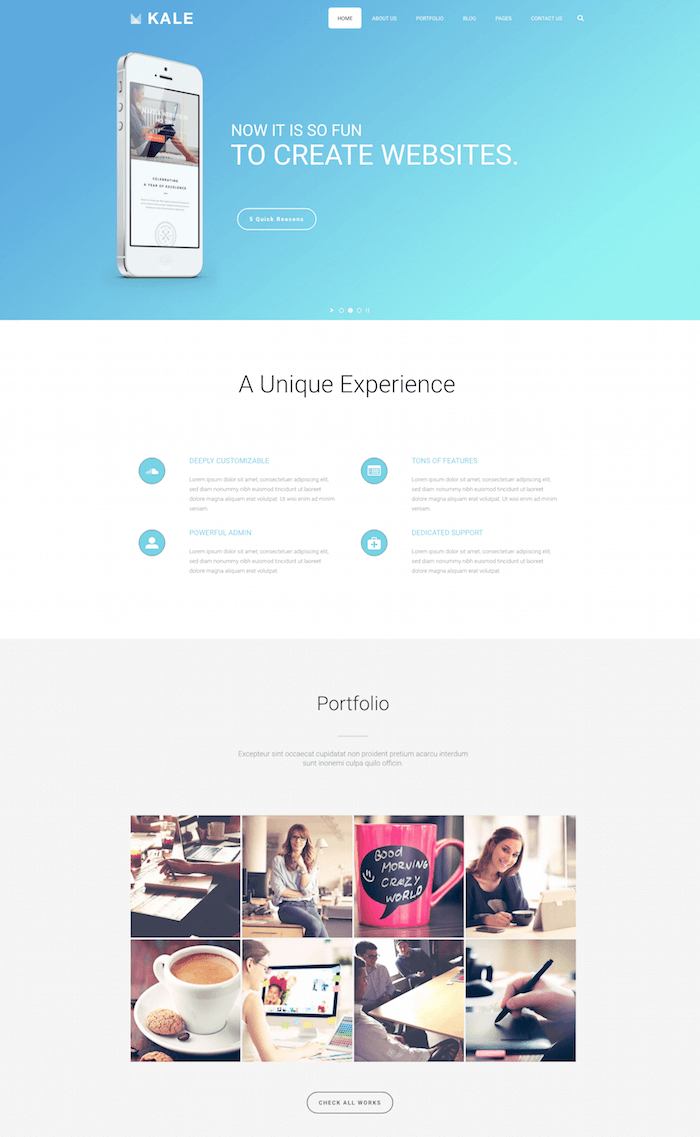 Who Should Choose Jupiter?
Congratulations, if you are still reading the review. We covered a lot of features that Jupiter has to offer.
However, the real question is who should buy Jupiter? Is it aimed at creatives or just normal users? The answer is both.
If you are a WordPress developer and create a website using WordPress, you might want to give Jupiter a test run.
You can kickstart your website creation process by using any one of the templates and then customize it according to the client's requirements.
For a normal user, Jupiter can also be a great purchase as it comes with all the features that you need to run a successful website: SEO optimized, Documentation, Support, Templates, etc.
Conclusion
Jupiter is one of the top-selling WordPress themes in the market. With constant updates and a great feature set, we highly recommend getting the theme.
Generally, multi-purpose themes are bloated, but it is not true for Jupiter as it gives true performance with an astounding loading speed of 1.17 seconds.
So, what do you think about the Jupiter theme? Are you planning to get it? Comment below and let us know! We are listening.
Get Jupiter X Theme
---
Jupiter gives unlimited design possibilities to your hand. Create a blog with a unique design or a business site with powerful design elements