Every website has its own requirements and expectations when it comes to choosing a web hosting provider.
For someone, storage space may be a priority, for someone else, tech support may be a deciding factor.
Whatever your web hosting needs are, we are going to test Host4Geeks on all the important parameters. Here is a detailed review of Host4Geeks, one of the most feature-rich web hosting and managed vps hosting providers.
But are their features really efficient? Let's find out!
In this blog, we are going to talk about Host4Geeks's Review but first, we shall focus on why choosing the right Web Hosting Provider is important for your business.
Merely buying a Domain is not enough as you need space on a server in order to save your website files on it. A Web-hosting service company takes care of all the backend support that your website needs.
While selecting a Web Hosting provider you have to consider certain things such as:
There are many additional features that a Web Hosting Provider provides such as the money-back guarantee, malware scan facility, website migration facility, etc.
Each Web Hosting Provider has its own benefits.
Let's see what all Host4Geeks has to offer.
Host4Geeks Overview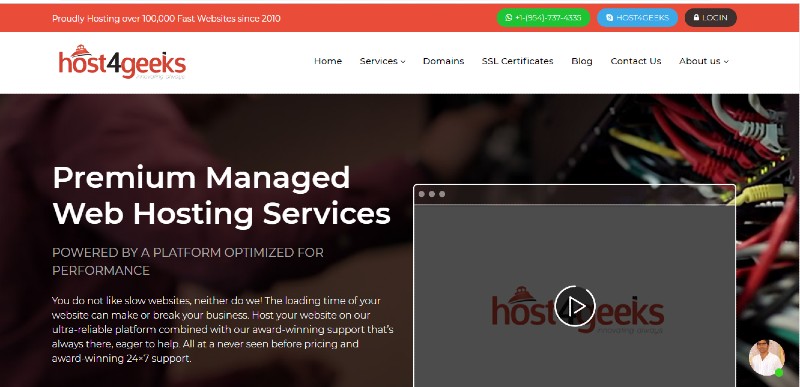 Serving clients since 2010, Host4Geeks has provided services to more than 100,000 websites.
The hosting provider has a 24/7 support team that caters to the needs of over 10,000 clients in the UK, USA, and India. Partnering with some of the biggest service providers in this industry such as cPanel, WHMCS, DirectAdmin, LiteSpeed, and ARIN, they have involved some of the most passionate and hardworking employees to provide seamless customer service to their customers.
The hosting provider puts special focus on speed too. To load your web pages faster, Host4Geeks operates 4 geographically diverse data center facilities with in-house staff. 
These data centers are located in:
The team at Host4Geeks claims that special importance was given to choosing these strategic locations as these locations are charged with extremely good network connectivity. They also have on-site engineers to ensure maximum uptime and server connectivity.
Talking about the services provided Host4Geeks, you get the following:
These services include features such as: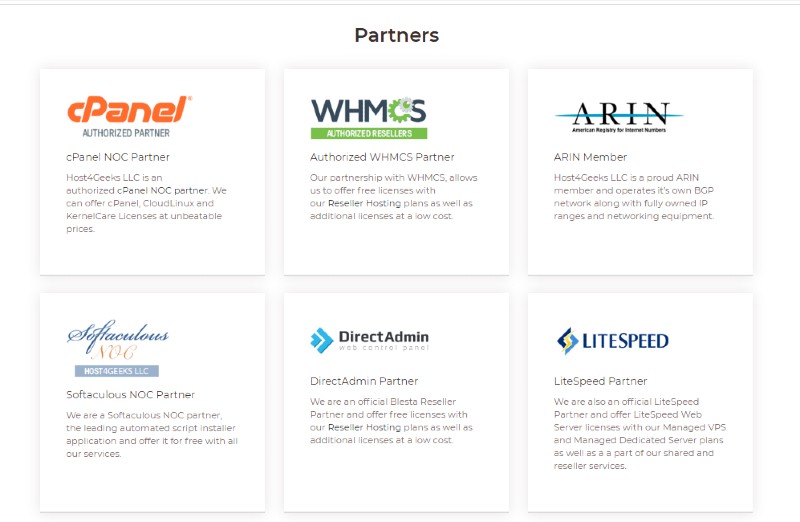 Best Features
This privately owned web hosting service provider is more than just Uptime Guarantee and quick tech support. It is the additional features along with the prices that make Host4Geeks a really competitive choice.
Host4Geeks has some of the best features that make it one of the top prospects and top competitors for some of the big players in the industry.
01

. Fast Servers

We must say that employing a knowledgeable staff in your company and the help of 4 datacenters does a pretty good job of providing blazing fast servers to the customers.

Host4Geeks uses the best enterprise-grade hardware and employs several other advanced technologies so that you can get an ultra-reliable platform.
02

. Free Malware Scan

Most of the web hosting providers do not provide malware scanning as they charge an additional fee for it. Malware scanning becomes important to deal with all the unwanted threats to the websites.

Host4Geeks provides Free Malware Scanning services even in its basic plan.
03

. Customer Support and Ticketing Response

Nowadays, every web hosting service provider gives its customers a 24/7 support system but there are few who are known for their response timings.

Host4Geeks has an average ticketing response time of 40 mins as compared to some of the big players in the industry, this stat is pretty outstanding.

Also, their support team is available via phone, live chat, or emails.
04

. Free Backups

Who hates daily free off-site backup services? Definitely not a single person on this planet who is looking for web hosting services.

If any tragic disaster were to occur, Host4Geeks could restore your account easily with the help of these backups. On top of that, all of this is provided in its basic plan
05

. Free SSL certificate and DDoS protection

To save a website from any DDoS attacks that disrupt normal traffic with a flood of internet traffic, Host4Geeks provides DDoS protection in its basic pack.

While there are many other web hosting providers that provide DDoS protection but none of them provides this in their basic plans.

Moreover, a free SSL certificate is like a cherry on the cake.
06

. No Hidden Cost

We have saved the best one for the last. The prices that seem great at starting aren't actually what these web hosting providers charge you. Renewal costs, operational fees, and other security costs are often hidden from the customers but Host4Geeks makes sure there are no hidden costs hidden.

These are certainly the best features of this Host4Geeks and the thing to acknowledge is that all of these features are available in the basic plan.
Basic Plan Pricing
To judge a web hosting provider, you can get a rough estimate about its advantages and limitations from the basic plan it offers.
Although the uptime guarantee it offers, might not match the big players in the industry like SiteGround, Bluehost, and HostGator but the freebies provided by them make up for it. 
To increase the intensity of the competition, Host4Geeks offers freebies such as free migration, free domain, unlimited bandwidth, SEO tools, and personalized onboarding.
Comparison with other Web Hosting Providers
We have compared the basic plan of A2 Hosting, SiteGround, and DreamHost with Host4Geeks's basic plan to provide a general understanding of services.
| | | | | | |
| --- | --- | --- | --- | --- | --- |
| | Pricing | Uptime Guarantee | Bandwidth | Backups | Security |
| Host4Geeks | $2.49/month | 99.9% | Unlimited | free Backups | DDoS protection & malware scanning |
| SiteGround | $3.95/month | 99.9% | Unlimited | free Backups | |
| A2 Hosting | $2.99/month | 99.9% | Unlimited | DDoS protection & malware scanning | |
| DreamHost | $4.95/month | 100% | Unlimited | free Backups | |
The above comparison states how Host4Geeks is actively providing competition to all the big players in the industry.
Apart from the additional features and freebies, these big players won't account for high renewal fees and operational costs but Host4Geeks makes sure that there are no hidden costs attached to any of their plans.
Conclusion
In a nutshell, Host4Geeks is not only an economical bet but also a smart one. With its powerful servers, you get blazing fast speed and reliable support of the tech team.
Not to forget the 4 datacenters installed for better servers and performance. While the uptime commitment might be less as compared to what the big players offer but the freebies and additional features make up for it.
Here are some of the real customer reviews for Host4Geeks