hihaho helps users in making their videos more exciting and more interactive. These videos can be used for learning, training, or for giving instructions to your new employees.
The best part about it is that you don't even need to create a new video, you can just pick one video from any popular video streaming site like Vimeo, YouTube, and more.
hihaho is really good for employee training programs, schools, Learning Management Systems (LMS), product showcases, entertainment videos and many more. The integration process of hihaho is smooth because it supports SCORM and xAP and it can be embedded via html5 as well.
The videos are automatically optimized for both desktop and mobile, giving freedom to your audience to watch your video anywhere, anytime. They never have to stop learning.
hihaho also provides stats of your learners so that you can understand how they are progressing or what they want from you in the future. These insights can help you implement improvements to your videos.
How hihaho Works (Ease of Use)?
hihaho is a user-friendly platform that also includes tutorials on how to use it flawlessly. Interactive learning is the future now and hihaho is a software that provides the tools for that.
If you're an online instructor then you must know how important it is to make your videos interactive. Pre-recorded videos without any interaction feature can be boring to your viewers. But with hihaho, you can catch the attention of your audience easily.
To get started with this platform you need to click on the start for free button. You will be redirected to a signup page. Once you sign up for it, you can start enriching your videos.
You can select a video directly from YouTube, Vimeo, Kaltura, and JW Player or you can paste the link of your video. Once you have selected the video, click on the enrich button. You will be redirected to a new page where you can start enriching that particular video.
Now for the fun part, let's get a sneak-peak on how to use interactive and static features of hihaho:
1. Adding Questions
To add questions at a specific time in the video, click on the questions option. It will show you different options for your questions as well like multiple choice, multiple responses, entry questions, and open questions.
Let's assume you click on multiple-choice questions, now you have to add a question, then add the correct and incorrect options. You can also add feedback on every choice.
2. Adding Pop-up Menu
To give a proper overview of our audience we usually use pop-up menus to organize any written articles, where we add items and then link them to specific parts on the page.
The same thing you can do on your videos. Create a pop-up menu, add different items on it and then link those items to a specific time on your video or to a hyperlink.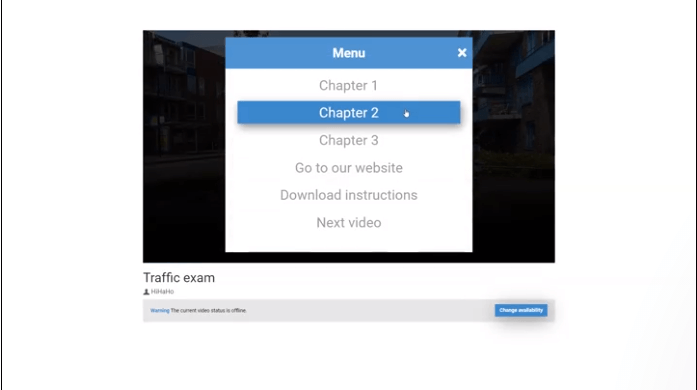 3. Creating Hotspot Within the video
Hotspots are usually used to draw attention and the same thing you can apply to your videos. Create hotspots on your video to draw your viewer's attention to a certain point. Hotspots can also be used to show descriptions or to link with a hyperlink.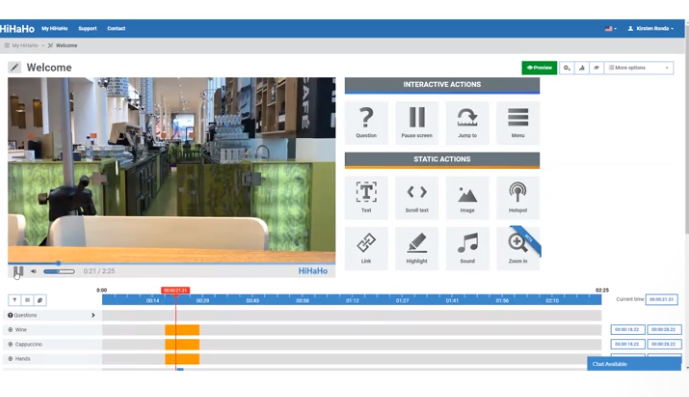 4. How To Pause the video
Videos usually have many elements and sometimes users miss some of those elements because the video is running and then they have to go back and see what they missed. To resolve that issue, you can pause the video for viewers on certain points to give them an overview of the screen, image, or text. It can be a summary or a question which you would like to ask your audience.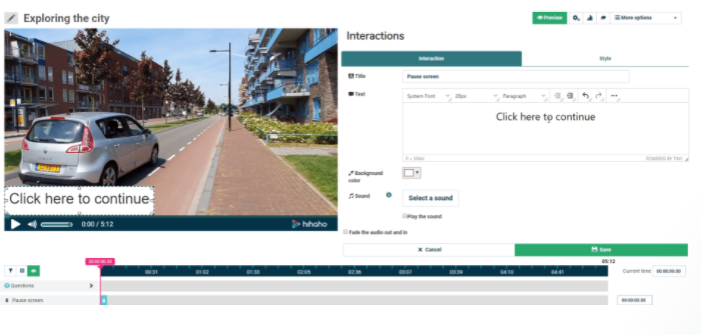 5. Adding Texts and Images
You can't always narrate all the parts of the video to make your viewers understand. For that, you can use texts to explain certain points of your video to your viewers. These texts can also be turned into clickable buttons. Similarly, you can add an image of a particular logo, infographic, or banner to give an understanding to your audience of your video.
6. Adding Zoom In Feature
To add the zoom-in feature, you have to select a certain time of the video and then select a part of the screen on which you want your video to zoom in. You can also fill out the aspect ratio of that zoom as well.

7. Adding Highlights
This feature allows you to highlight your video at certain points within the video. It simply decreases the visibility of irrelevant areas so that your user can focus on the main part of the video. These highlights can also be used to show some texts, items, logos, or images.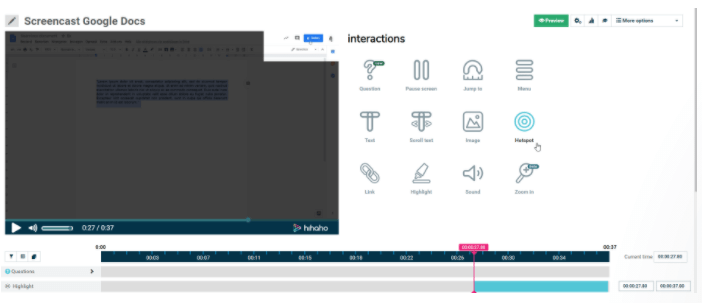 8. Adding Rating Options
Who doesn't want to know the rating of their videos? But to give ratings to a certain video, your viewers have to wait for the video to the end. But with this feature, you can ask your audience to give a rating to your video before it ends. The rating shows how much your viewers liked your video, or what improvements it needs in the future.

9. How To Link Another Video
YouTube has this feature already, where its creators can link their other videos at the end of a video. This feature also works similarly but you can link your other videos in the middle of a video.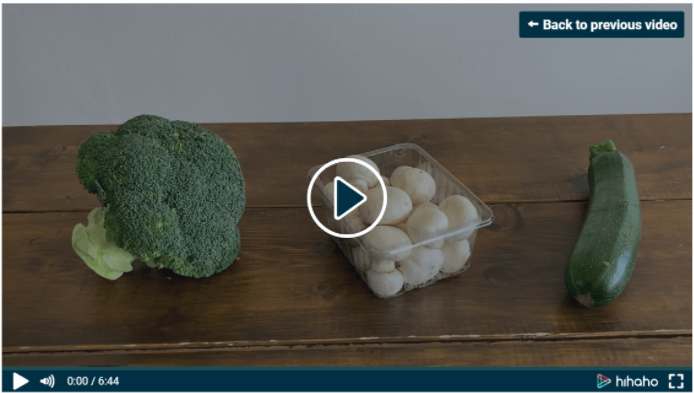 10. Adding Forms
Last but not least feature of hihaho is to add forms in the video. To add a form in the video, click on the add form feature and then fill out what kind of information you want to collect from your viewers. You can also select where you want this information to go.
Devices & Platforms Supported
hihaho supports Windows, Mac, and Web-based devices. The deployment of hihaho is cloud-based. hihaho supports up to 20 languages.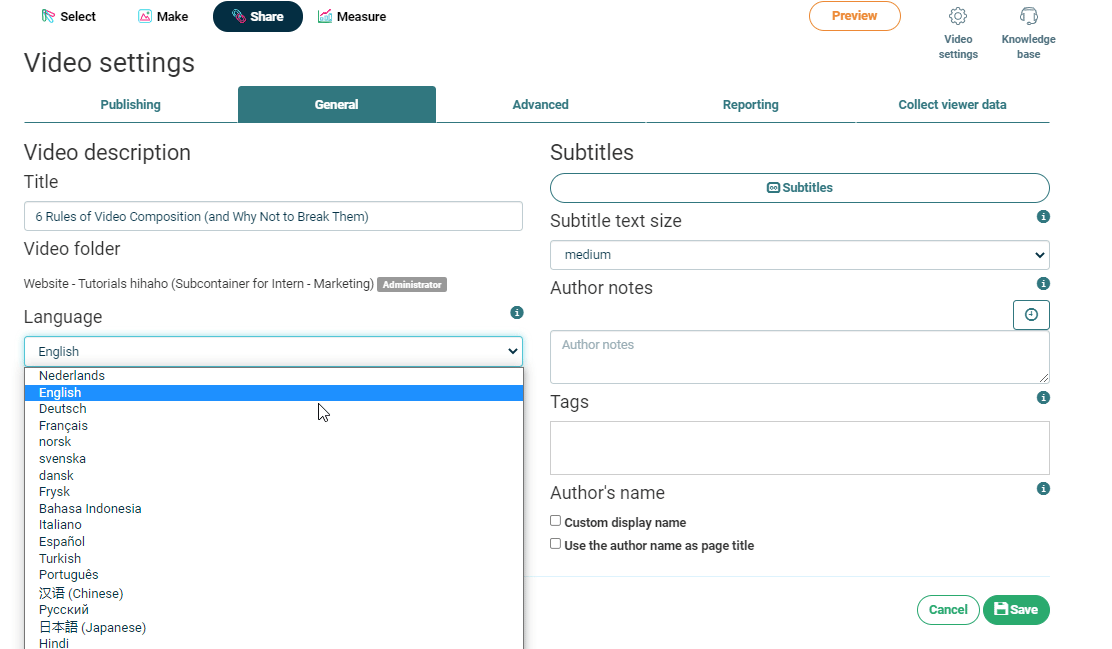 Who is hihaho Best Suited For?
In this era of the pandemic, everything has shifted to online platforms. Many people need to take most classes online or instructors have to narrate the pre-recorded videos. But with hihaho, you can make those existing videos interactive for your students. It can work as test papers, surveys, and many more.
hihaho is best for schools, MNCs which run video training programs for their employees, or LMS (Learning Management Systems) where the instructor has to create interactive videos for their students.
Along with the learning-related videos hihaho is a great video platform for any kind of product review and walk-through type of content related to any industry.
It is also used for entertainment-related videos by a large number of users.
You can have a look at this page to check the kind of videos you can create with hihaho.