Following are some cutting-edge features of G-Core Labs that set themselves apart from the rest.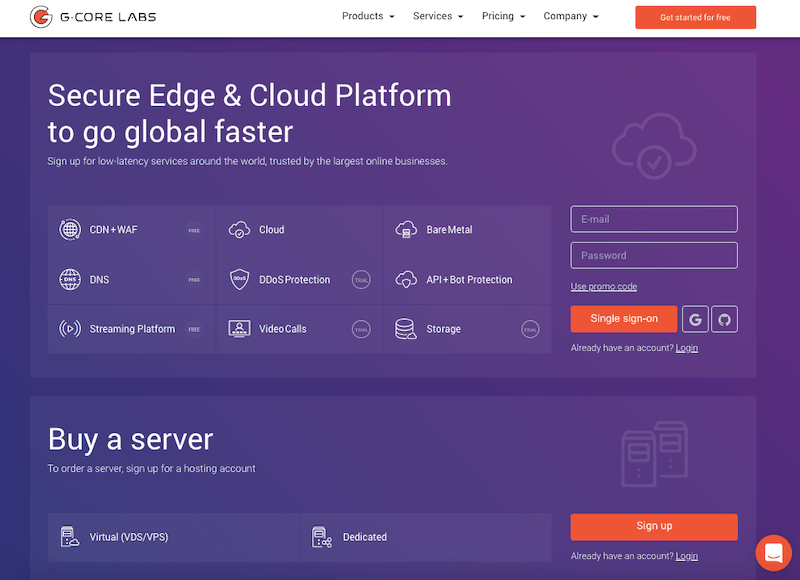 Server load balancing:
G-cores Labs automatically calculates the total load on all servers delivering your content around the world. Once these figures are known, it balances server loads to deliver faster speeds and maximum availability of content delivery to end-users across the globe.
In addition, G-core Labs allows you to select which countries you want your website or application to be served from and then enables you direct DNS control over that selection without having to change its origin server IP addresses.
In addition, G-Core Labs provides access to industry-leading protocols, including TLS 1.2, SPDY 3.1/3.2, SSL 2/3/4, and HTTP Strict Transport Security (HSTS).
With over 150 points of presence worldwide and over 7000 peering partners, it's a widespread solution for your business. You can read more about the CDN services here.
Flexible CDN settings:
G-Core Labs CDN provides its users with robust control and customization options for delivering their content.
A simple button click allows you to activate or deactivate the G-Core Labs CDN for any website, web app, streaming media, or game that you own. It saves time during implementation and makes it possible to deactivate features easily when they're not needed.
G-core Labs also enables you to control cache headers and set TTLs on a per-geo basis or specific files by manually setting the cache header information yourself directly on the file using .htaccess rules.
Instant purge:
G-Core Labs CDN's Instant Purge feature lets you purge content quickly and easily without waiting for the cache to expire.
It is beneficial if you need to update your website or web app, change your streaming media, or announce something new about your game. In addition, instant purging is essential where you need the latest version of your site to be seen by visitors immediately.
In addition, this CDN comes with advanced server-side caching. This feature ensures that frequently visited content is available from the G-Core Labs CDN cache servers for faster content delivery to end-users.
You can set server-side caching based on file extensions, cookies, query strings, or even individual URLs.
State-of-the-art security:
G-Core Labs takes security very seriously. The company implements industry-standard SSL encryption on all plans without extra cost for the bandwidth used.
In addition, G-Core Labs allows you to choose your preferred TLS version, IP addresses, and ciphers. Finally, the company provides its users with DDoS protection features to proactively secure against denial of service attacks that bots or malware frequently launch against websites and other properties to make things even better.
It offers advanced security features such as HSTS, CSP header, and XSS Protection. Moreover, if you are using HTTP on your website G-Core Labs automatically redirects all requests to HTTPS.
Easy CDN management:
G-Core Labs CDN makes it easy for its users to quickly access their content anytime, anywhere through their online portal.
All requests to the CDN are tracked and logged centrally, making it possible for you to monitor a wide variety of information, including bandwidth usage, cache hits/misses, and purges from the G-Core Labs CDN servers.
G-Core Labs' unique analytics enables its users to quickly view their content delivery performance over time, allowing you to make changes as needed. Furthermore, this information is presented visually, making it simple for even novice users to understand.
Another key advantage of using G-Core Labs products is that it provides comprehensive reporting on all aspects of content delivery – including URL views by country and HTTP traffic statistics – helping you analyze which areas are most popular how visitors interact with your site.
Advanced and easy-to-use control panel:
G-Core Labs CDN provides its users with a powerful and easy-to-use control panel that enables you to configure and manage your account online, anywhere, and at any time.
Using the portal, you can easily add/remove domains, change traffic limits, set expiry headers, and more – all within seconds.
In addition, G-Core Labs offers single sign-on support for all of its content delivery services so that no additional authentication is needed to access each service, such as Cloudflare or Amazon S3. Single sign-on ensures improved security while creating an intuitive user experience.
Detailed usage statistics:
G-Core Labs makes it easy for its users to monitor how much bandwidth they use. With one click, you can see your current usage in bytes or packets, your monthly usage statistics, and the resources that have been delivered through G-Core's service.
In addition, G-Core Labs is a highly scalable solution that offers more storage space with every plan upgrade, enabling you to quickly meet any sudden increases in traffic or file size requirements you may experience on your websites or web applications.
This way, you don't have to worry about paying for overages on bandwidth during busy times of the year – upgrade your plan when needed and use all of the extra storage space without worrying about hidden costs.
For enterprise-level companies, G-Core Labs can send API requests via a white-label API or public API. It allows for the complete customization of front-end applications and back-end systems.
How does it work?
The G-Core Labs CDN works by serving your content to end-users from a server nearest to their geographic location.
In other words, content stored in the cloud is served directly from the closest data center – resulting in faster load times for visitors who will inevitably spend less time waiting on pages to load and more time browsing your website or web application.
G-Core Labs CDN automatically caches static content every time it is requested so that subsequent requests for that same file are delivered without having to make any additional requests.
This feature leads to even quicker response times, improving performance across all browsers and devices (including mobile) while also reducing bandwidth costs associated with traffic congestion during peak hours or periods of high activity on your websites or web applications.
In addition, G-Core Labs CDN allows you to set an expiration date on your cached content. It helps ensure that your web pages are always up to date and gives end users a better experience as they're not forced to refresh their browser every time they visit your site.
G-Core Labs CDN's working is seamless, so you won't need to change anything about your existing infrastructure or application code. You can use it with any website, irrespective of the platform or technology stack used.
You may know more about how the G-Core Labs CDN works, read more.
G-Core Labs Products
Other than CDN, G-Core Labs offers a number of products making it a comprehensive solution for your business.
Here is the list of products that you get on the G-Core Labs platform.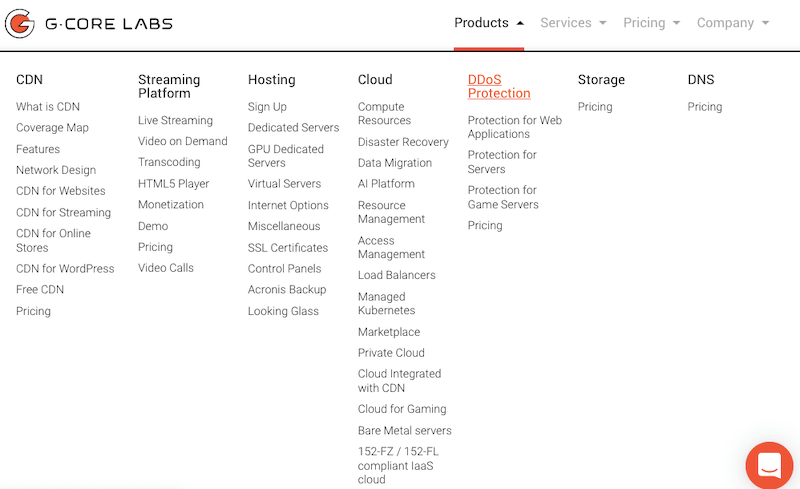 Wrapping up!
In conclusion, G-Core Labs CDN provides users with a highly scalable content delivery service that enables them to accelerate their websites and web apps while providing unparalleled reliability.
In addition, the company offers round-the-clock support and several advanced features such as instant purging, state-of-the-art security, advanced caching options, and easy content management.