Digital magazines are becoming popular tools of marketing, and it is far more affordable to reach out to your audience through digital content than by sending printed literature.
You also get to customize your content the way you see fit which includes choosing the right themes, templates, and backgrounds to stylize your magazine.
FlipHTML5 is one of the most popular tools for creating and editing digital magazines that you can get right now.
HTML5 technology has become more significant than ever, and it has become the go-to platform for creating digital magazines.
FlipHTML5 makes it very easy for users to get started with digital publishing and the created digital magazines are compatible with a variety of devices including smartphones.
When it comes to creating high-quality digital flipbooks, you do not need a whole lot of expertise to use FlipHTML thanks to the simple user interface.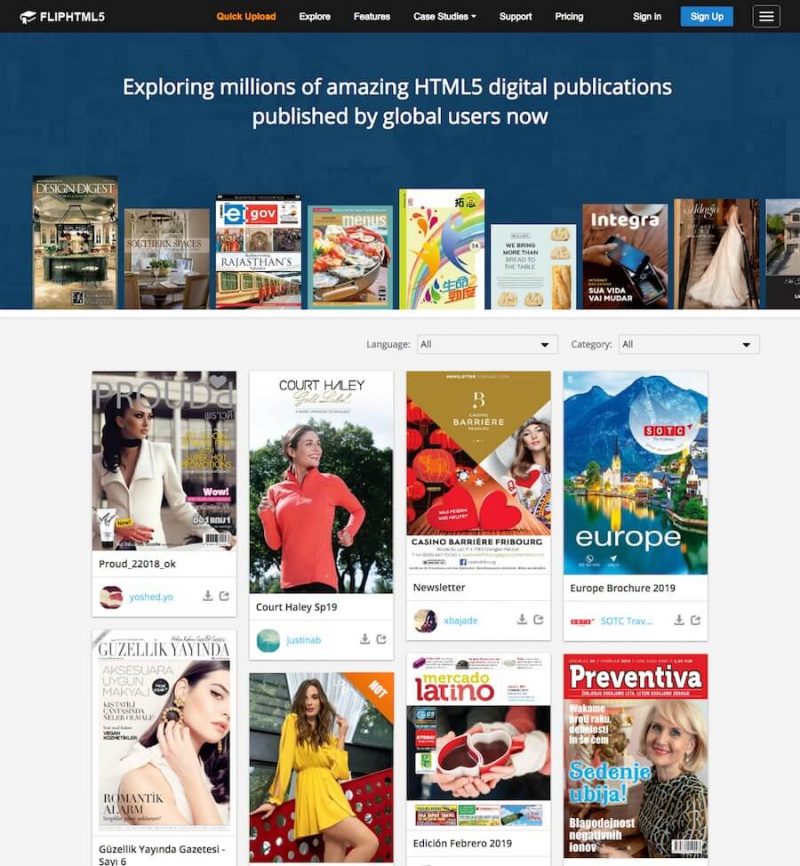 You can simply install the app and get started with creating magazines from scratch in no time. If you plan on making digital conversions at your e-commerce store, this is definitely something you want to invest in.
Who is FlipHTML5 for?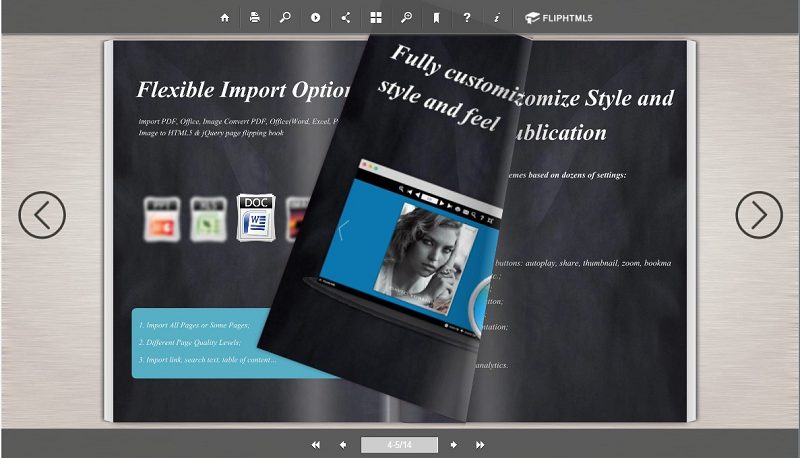 FlipHTML5 is known as one of the most reliable publishing platforms out there but who is it for? The tool can be useful to trainers, business owners, digital marketers, designers and just about anyone else for a wide variety of purposes.
From creating training manuals to brochures, it can do it all. It is a very versatile digital publishing solution, and it comes with a whole bunch of benefits.
FlipHTML5 Features
While there are more complex publishing tools available to digital marketers and business owners, very few tools can match the usability of FlipHTML5.
The application is extremely easy to use, and all you need to do is import a PDF from your computer, and you will be able to create high-quality flipbooks in a few clicks.
There are a number of customization tools available to design highly attractive and engaging flipbooks with little technical experience needed.
The user interface of the app has been translated into 17 global languages that makes it very easy for non-English speaking users to access the app comfortably.
Responsive Design: You do not have to worry about what device your audience will be accessing your content on thanks to the responsive design of all flipbooks created by the app.
The app automatically optimizes the flipbooks to be optimized for a variety of devices including tablets, desktops, and phones.
The content created using the editor can also be embedded into websites and emails for convenient access.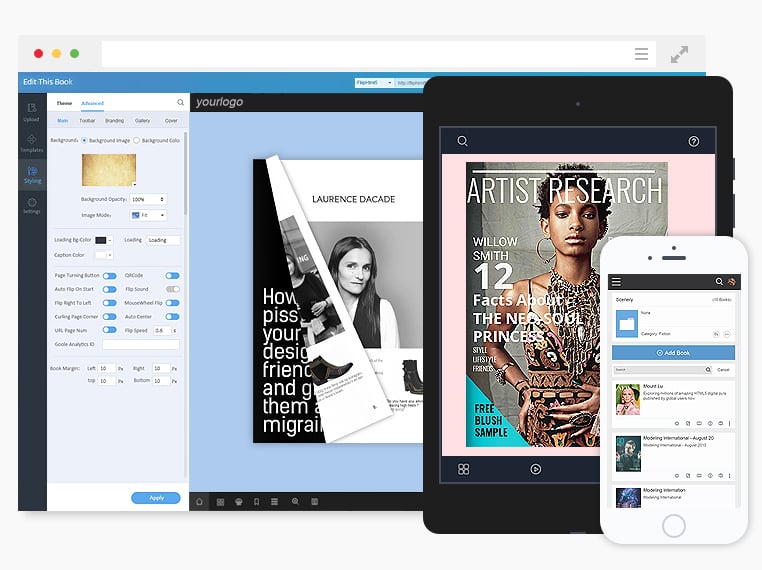 Animations: One of the core elements of the FlipHTML5 flipbook creator is the ability to add animations. Users can add any form of media to their content, and there are tools available within the app to add effects, text, designs and more to enhance objects like images and video.
The animator editor can be used to add text, links, dialogue, shapes, buttons, hotspots, and even slideshows.
Online Editing: The online editor allows users to add videos, images, links, and audio files without needing FlipHTML5's desktop client.
Users can use the editor online and access some of its intensive features directly on a web browser which is very convenient for collaborative editing.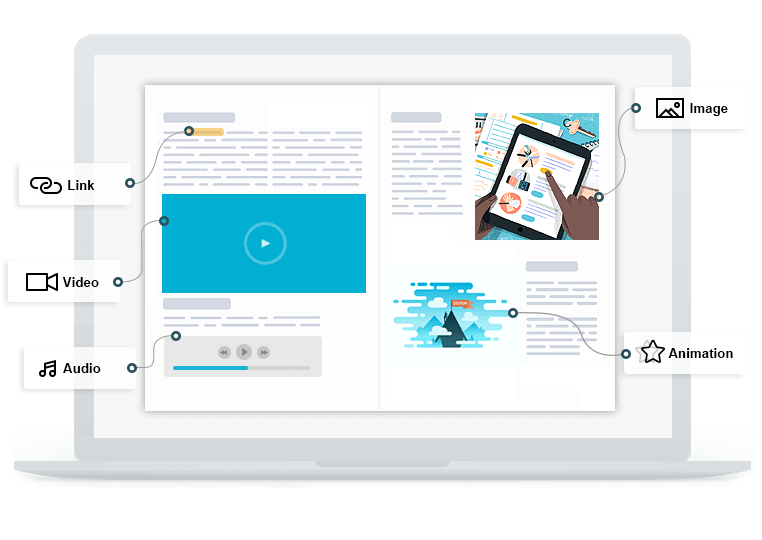 PDF Converter: The FlipHTML5 app comes with a built-in PDF converter which can be used to create digital magazines in a matter of minutes. Users do not have to rely on third-party solutions and export their magazines to different software.
Creating online digital magazines, e-books, marketing brochures, and training manuals takes only a few seconds.
Users need to be signed in to their FlipHTML5 accounts to access the feature, and the conversion feature is accessible from the Page Editor icon.
Themes: You will be able to customize your HTML5 flipbooks using a basic assortment of 10 templates and themes while the premium version of the software offers even more.
You get to mix and match different design elements to get exactly what you need. The app offers both horizontal and vertical flipbooks with unique animations and color schemes.
Hosting Cloud Platform: FlipHTML5 offers you a number of publishing formats, and you can directly publish your e-books or e-magazines online even if you do not happen to own a website.
You can also convert your publications to .exe or .zip formats and send them via emails to your audience if you want to.
SEO Profiles: You can create custom SEO profiles and add keywords, extract text from the PDF versions of your publications, and more.
Having a text-only version of your content also makes it easier for your pages to be visible on search engines.
Why Choose FlipHTML5?
If you are wondering why should you pick up FlipHTML5 over other publishing tools available online, here are some of the factors that make FlipHTML5 one of the most useful digital publishing applications out there.
The fact that the tool takes advantage of HTML5 gives it a head start over other digital publishing tools as HTML5 is supported by a wide range of platforms including iOS, Android, Windows, MacOS, Linux and more.
A lot of people are moving away from old-school Flash-based content as it is aging technology at this point for the purpose of creating digital magazines at least. The tool also offers access to in-depth statistics, Google AdSense integration, and cloud publishing as well.
Pros:
Can incorporate videos, animations, images, audio, and other forms of media into digital magazines.
A great user interface that compiles all publications and sorts them in a bookcase-style menu which can be embedded into web pages.
Collects viewer statistics to help users learn about their target audience.
A large number of premium templates for added customization.
Cons:
Limited features available in the free version.
Too few free templates on offer.
Verdict
You should only choose FlipHTML5 if you see yourself moving to e-publication for your marketing material. Whether it is for creating posters or catalogs or full-blown magazines that you want to send to your audience, the tool is capable of handling all of your needs fairly.
While the free version of the app is barebones and does not offer much, the premium version is worth every penny if you want to get into a digital publication.
Whether you are an experienced graphic designer or someone completely new to e-publishing, the tool is designed to cater to people from any level of technical expertise.
The realistic digitally published magazines and brochures that FlipHTML5 is capable of creating will impress you, and it beats out a number of more expensive alternatives.
You do not have to use external file converters, which is a great bonus as the tool is capable of converting your images, PDFs, and documents into e-books with stylized animations and fancy layouts in no time.
HTML5 is often considered to be the future of web development, and tools like FlipHTML5 have been made possible by the technology.
It is far more capable of creating digital magazines than what we have seen in the Macromedia/Adobe Flash era. The product is competitively priced, and reviews suggest that the support staff is very helpful.
Overall, it is a must-have app for anyone who wants to publish digitally and if you are not sure if you want to invest in the premium version of the app, you can always opt for the free version and see if it fits your bill.