If you want to create your own blog network on the Private Blog Network (PBN), which not only lets you control the site but also allows you to build and host your network, this review of the Simple Blog Network will help you set your PBN profile.
The problem with building a Private Blog Network is that the search engine sees it as a form of manipulation. Links made up of a network of connected blogs and sites do not provide the function of delivering relevant content to the target audience.
Does it sound shady?
Well, if you use different hosting providers for each site and those sites don't leave any digital footprints, you're in for a treat.
This is where Easy Blog Network (EBN) comes in!
One can not argue that PBN backlinks are more convenient than natural backlinks. For organic white hat strategies, you 're going to have to take a lot of measures that don't even secure your backlink. Whereas, with PBN, you reduce the possibility of getting zero results.
The question is whether EBN is the right PBN hosting service for you?
Let's find out!
Easy Blog Network Overview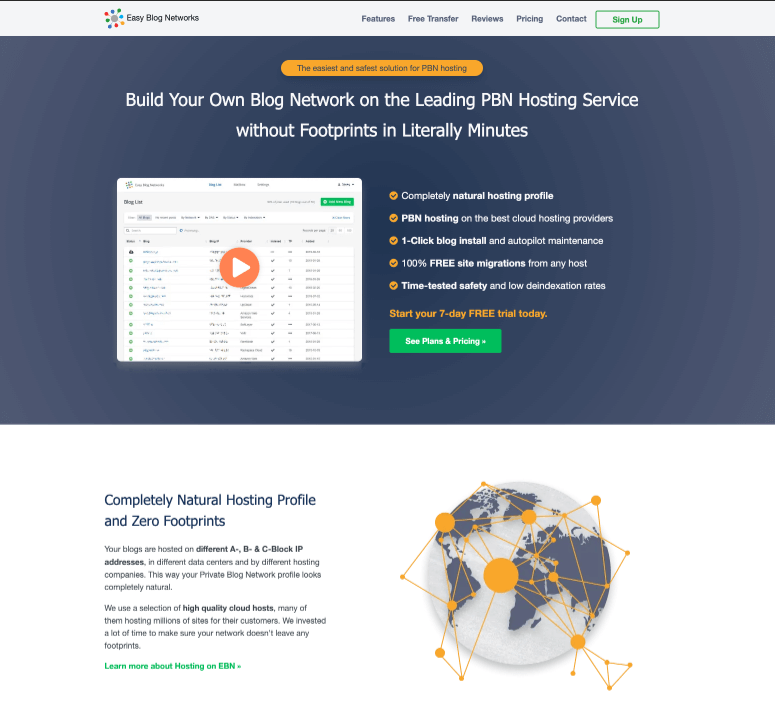 Launched in 2014, Easy Blog Network has established itself as one of the oldest and most popular PBN hosting solutions.
To put together the functions of EBN, we can simply say that they take the responsibility of building, hosting, and automating blog networks.
We know what you might think – "What about Search Engines?" or "How does EBN overcome the problem of Search Engine breaking backlinks from a Private Blog Network?"
EBN hosts your blogs and sites on different Block IP addresses that are available in different data centers and are owned by various hosting companies.
This way your network gets a complete natural hosting profile. They have even employed a third-party auditor to check their security vulnerabilities and digital footprints.
It will be safe to say that EBN is more than just PBN hosting as it caters to provide comprehensive solutions to deal with updates, transfers, security, maintenance, and even backups.
Best Features
Being the best in the market, EBN has some of the most advanced features that none of the other hosts can provide. They have aligned their features to match the PBN criteria perfectly.
Have a look!
Ease of Use
We can not emphasize enough the simple and minimal steps taken by the EBN methodology. So much as it provides 1-click blog installation and autopilot maintenance function.
Every blog on EBN is fully installed with random themes and plugins. You just have to enter the domain name and blog title and EBN will take care of the rest.
Moreover, if you've to change the plugins and settings, you can easily do this with the help of a few clicks.
In addition, there will be no cPanel, as the dashboard used by EBN is a pleasure to use. Including comprehensive blog reports and statistics to indexing status checks, all information is accessible on a single dashboard.
Safe Hosting
As we mentioned earlier, EBN does not have any fingerprints. The Niteo team has spent a lot of time and resources to make sure your site doesn't leave any footprints. They use high-quality cloud hosts for this reason, and most importantly, they notify you about your hosting providers and DNS providers.
As far as other PBN hosts are concerned, EBN's deindexation rate is by far the lowest.
Transparency
So this is where EBN is taking a big leap from its rivals. If you have tried another SEO hosting company to create a PBN network, you might have had a problem where you don't even know your hosting provider or IP address.
Not only do they send you various IP addresses on the Easy Blog Network, they also don't conceal the name of the hosting company. One of the reasons for giving your PBN profile a natural look is to back your blog on big brand hosting providers.
We have mentioned a few of the hosting providers and DNS providers here:
Autopilot Maintenance
EBN literally works on the principle – Set and Forget.
From automated backups and updates to setup, security, and maintenance, EBN has taken all the work-load from you. This allows you to concentrate on adding more blogs so that you can rank more keywords on the search engine.
In addition, with the aid of regular EBN backups, you can download your blogs with just one button.
Free Transfer
EBN has already migrated thousands of blogs from their competitor's servers. Therefore, making the daunting and expensive task of transferring absolutely easy and free.
Moreover, even if you've subscribed to the free trial pack of EBN, you are allowed to transfer your blogs to EBN.
Blog Health
The EBN team has created an exclusive feature called Blog Health that lets you stay informed about the steps you need to take to reduce the risk of deindexation.
The best thing we liked about this feature was that all the deindexed blogs are automatically deleted from the servers.
The Risk that comes with EBN
While there is no big downside to EBN except for the disadvantage of hosting a high-traffic blog (usually one with more than 10,000 visitors per month), EBN is definitely not risk-free.
EBN offers hosting solutions exclusively for PBNs, and although PBN backlinks can sound pretty good, they are still subject to overall security and reputation constraints.
While EBN does its best to remove any hosting footprints, there is still a lot of responsibility on you to make sure you're not leaving your own, like with outbound backlinks and installing the same batch of plugins, or adding a unique ID to all your sites (like analytics). Make sure you learn about PBNs in detail before using them.
Here is Some Good News for You
If you look at the case studies, the deindexation rate for the PBNs. The networks hosted on EBN is by far the lowest.
Here is a case study graph by PBN Fox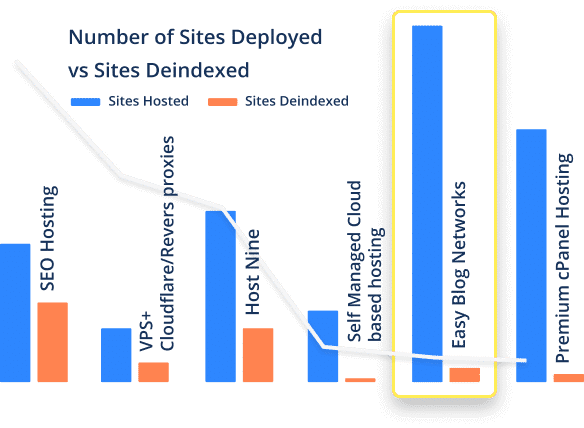 Here is another case study by Charles Floate
This study is done on 165 of his blogs hosted on different PBN host services.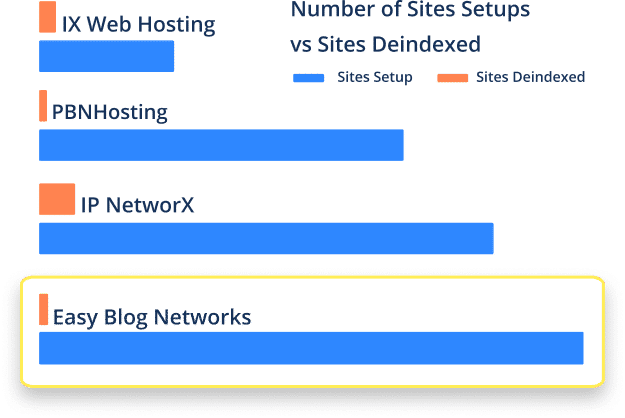 Pricing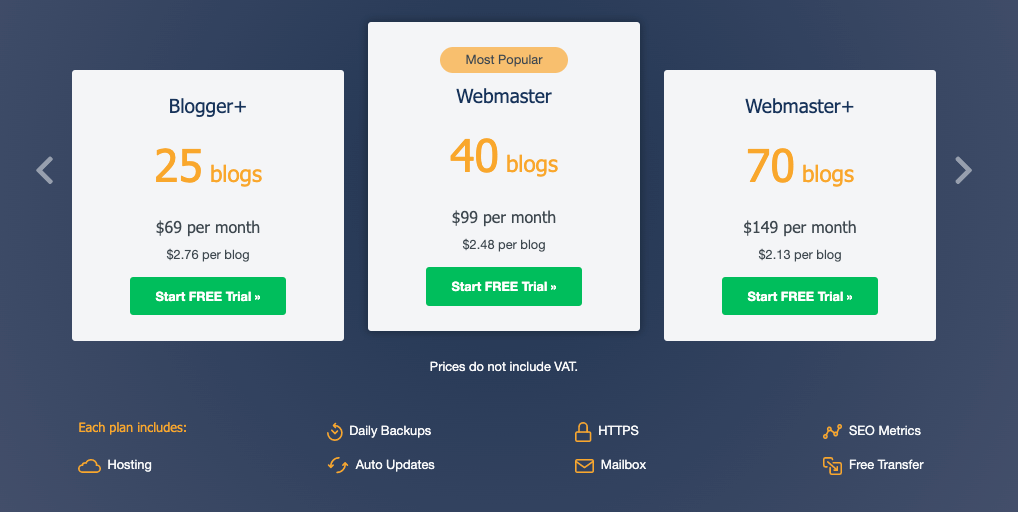 EBN has 9 plans to sell, starting from hosting 15 blogs to hosting 1,000 blogs.
Although all plans provide regular backups, HTTPS, daily updates, SEO analytics, and free transfers, there are several variations that can be found below:
If you like what you're reading, you can also take advantage of a 7-day free test drive plan that is available up to the Agency's plan.
In fact, all plans are fitted with a 30-day money-back guarantee. It will provide you plenty of time to check their plans and services before making a final decision.
There are certain additional features that we'd like to discuss that isn't as important as we listed before but can play an important part in the final decision.
Final Words
Does Easy Blog Network pass our test?
Yes and with flying colors. We all know how stringent search engines are when it comes to black hat tactics, but EBN provides natural-looking PBNs that violate the rules set by the search engines.
PBN is still one of the strongest SEO techniques, but it still does not offer 100 % protection from de-indexing.
However, Easy Blog Network has done a pretty amazing job in establishing a platform that is automatic, easy-to-use, and offers by far the safest solution to blogs.
In addition, there is an approximately 98% chance that a user will recommend EBN to his/her friend!