Are you searching for an unbiased Brybe review? Well, you have landed on the right article.
Brybe is a new digital platform with low competition that lets you find the world's top influencers and freelancers across the world.
In this article, we have written a biased review based on our days of research and personal experience. We have focused on various aspects, including features, how it works, pricing, and more.
By the end of this article, you will be able to figure out all the details about the platform and get started immediately!
With that, let's dive into the details.
How Does Brybe Work?
Brybe is a highly flexible and convenient platform suitable for any user. It lets you switch accounts easily. For example, if you have created a freelancer profile, you can quickly switch to a buyer or influencer profile with a click of a button.
The account creation steps are similar for freelancers, buyers, and influencers. Currently, the platform is open to everyone. However, the only criteria for influencers to register for the account is that they should have a minimum of 500 followers.
To get started, you need to create a Brybe account. On the official website, you can click "Join Now," and it will open a pop-up window that looks something like this: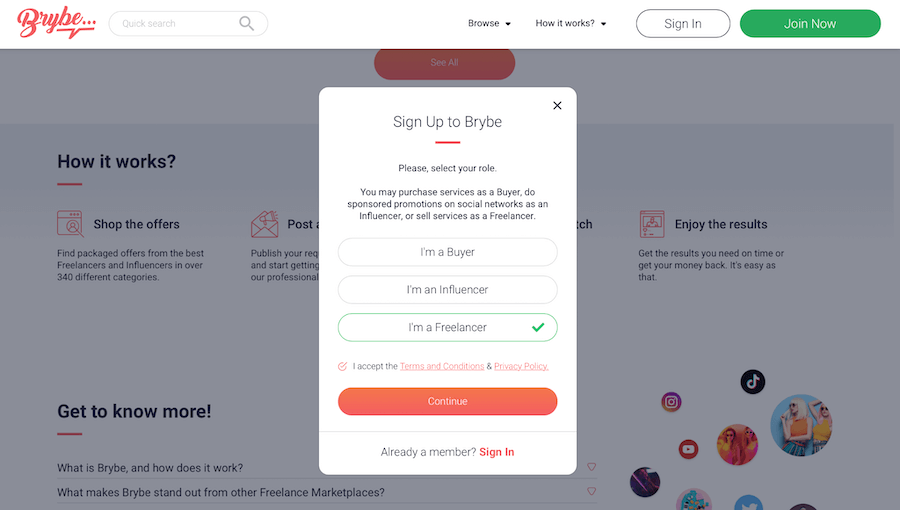 Here, you can choose the type of profile you want to create. You can sign up using your social media channel or email. Once your profile is set, you can start your hunt for the job search.
To simplify your job research, it comes with various filters. Brybe divides all the users based on different categories. For influencers, they are divided by tier, social media, location, price, and more.
Similarly, for freelancers, the categories are price, languages, delivery time, experience, and more.
Once you find the ideal job/client, you can review and send your best offer to them. If you want an influencer or freelancer, you can find the ideal one and directly contact them by sending your proposal.
For freelancers and influencers, Brybe packages are one of the best features. There are three types of packages that you can create -standard, Advanced, and Premium. Furthermore, you can create custom packages for different buyers depending on their requirements and goals.
Using Brybe and finding leads is quick and easy.
Who Can Use Brybe?
Brybe is an open digital marketplace with no country restrictions. Although it was initially launched for helping small businesses and beginners, it has scaled up and worked with various big names, including Samsung, Dove, Adidas, Adobe, Jeep, and more.
Let's check in detail how it benefits various users below.
Brybe for Influencers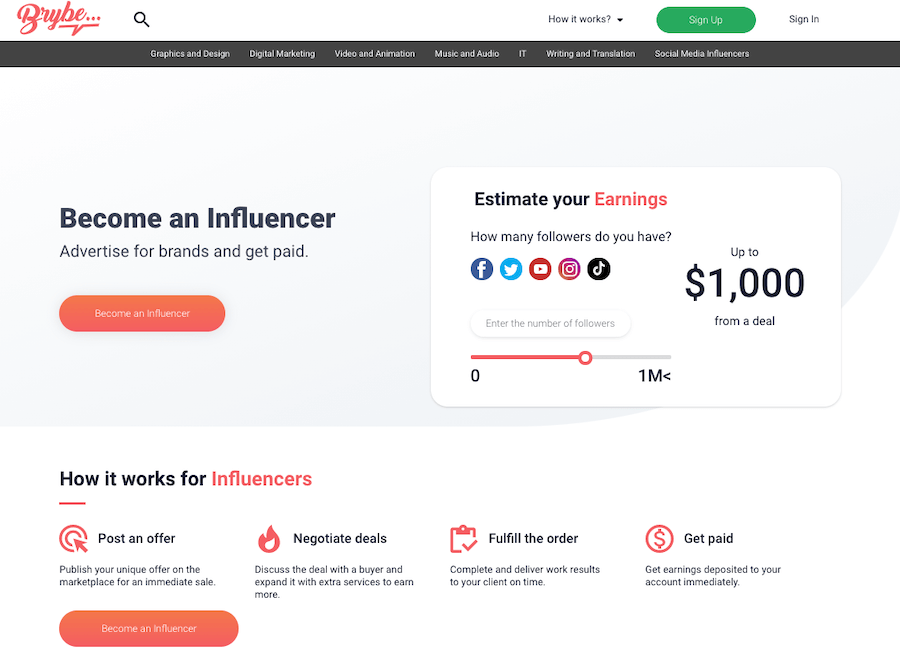 Irrespective of where you belong, if you have 500 followers on your social media account, Brybe qualifies you as an influencer. Sounds impressive, right?
Whether you are a beginner or already a huge influencer, you can create your profile and send various offers to different brands. Irrespective of your niche, you can reach out to as many brands as you wish to.
One important tip is that you should always connect your social media account with your Brybe profile. This will help the buyers to directly visit your social media channel and get to know more about you.
Moreover, you can also create different packages that summarize your fixed prices for sponsored posts. If you use this feature correctly, you can grab excellent deals!
Brybe for Freelancers
Freelancers are one of the latest additions to the platform. It doesn't matter how long you have been freelancing, and if you have the right skills, you can create your profile and start creating your brand name.
Brybe has over 180 categories, including photography, digital marketing, video and animation, writing and translation, IT, and more. You can create a portfolio that displays the best of your work and starts with your job research.
In addition, getting started as a freelancer with Brybe is easy. All you need to do is create your profile, post an offer, negotiate deals, fulfill the order, and get paid immediately. There is no restriction on the minimum number of years of experience.
Small to Medium-Sized Business Owners.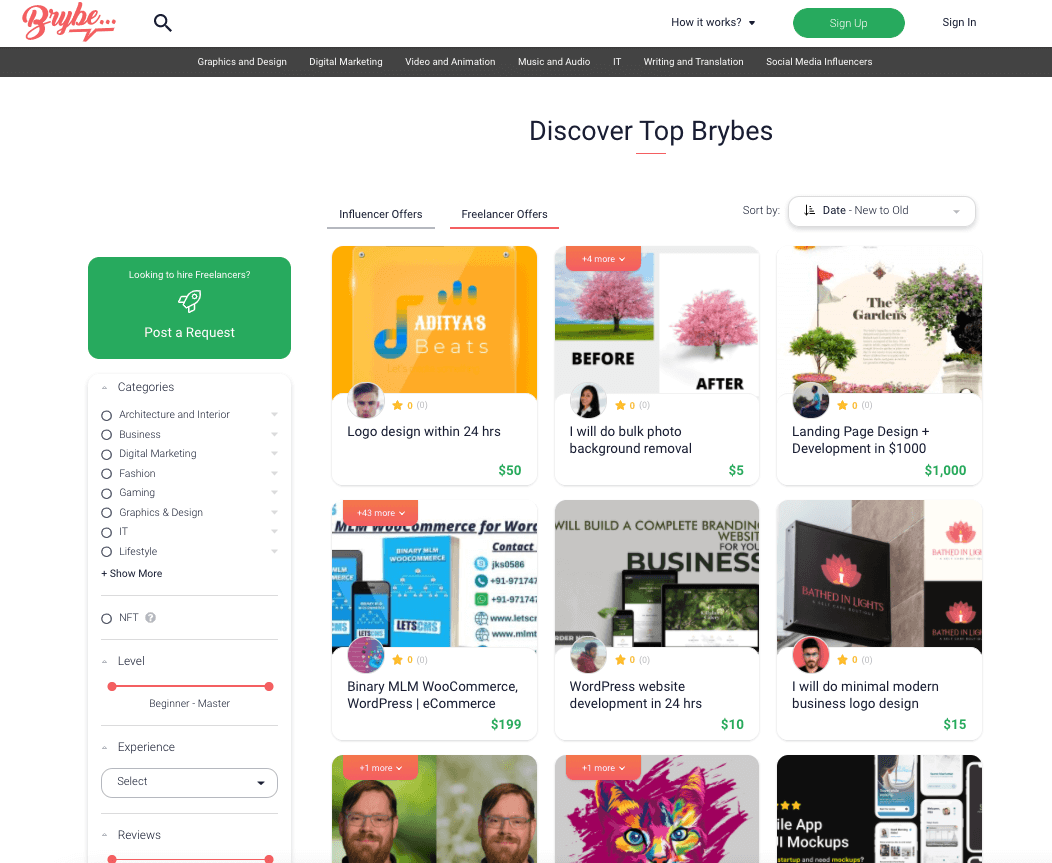 Hiring influencers to market your products is challenging. Especially when it comes to small to medium business owners, you cannot afford to spend thousands of dollars on a simple promotion.
For example, if you are a small business, you cannot directly hire mega influencers or freelancers with over a decade of experience. This is where Brybe plays a crucial role.
With Brybe, you can close the deal as low as $5, depending on what you are searching for. With over 15 different industries and 23k+ registered users, you can find the right talent needed to boost your business.
Lastly, if your budget is higher, you can also hire mega influencers by contacting their agents. Some of the biggest names on Brybe are Messi, Nadal, Ramos, and more.
How Can You Monetize Your Social Channels Using Brybe?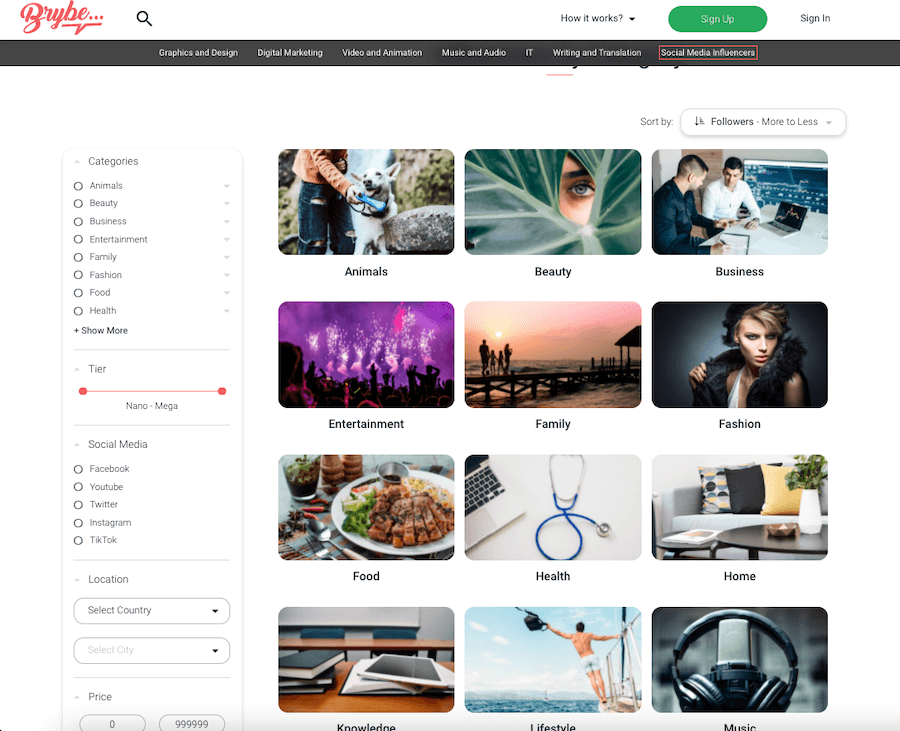 Monetizing your social media channels using Brybe is easy. If you have many followers on your social media account like Twitter, Instagram, Facebook, or TikTok, you can find sponsorships and run promotions.
All you need to do is create a Brybe account as an influencer and connect your social media account with Brybe. Now, you can apply to multiple requests made by the buyers.
Additionally, you can also create different packages by setting a fixed price for posting the paid promotion on your social media account.
Brybe Pros and Cons
Like all the other platforms, Brybe has its advantages and disadvantages. Let us take a look at the pros and cons below.
Pros:
There is no middleman; you can communicate directly with the buyer.
There are no commissions charged.
Flexible payment options.
There is no need to sign any kind of contract.
Easy switching between multiple accounts.
The platform is entirely free to use.
Cons:
The platform is relatively new, which means certain features are still in progress.
The interface may be overwhelming for beginners.
Final Thoughts: Is It Worth It?
Brybe is an all-in-one marketplace for business owners, influencers, and freelancers. Although the platform is relatively new, the number of users is increasing rapidly, leading to a higher chance of landing on the best clients.
One of the best parts about the platform is that there are no transaction fees. You can keep all the hard-earned money without any middleman involved or zero transaction fees.
Whether you are a newbie or a mega influencer, you can get started with Brybe without paying a single dollar. So, what are you waiting for? Signup right away!
We hope our Brybe Review was helpful to you. What are your thoughts about the platform? Let us know in the comments section below.