It is no secret that for proper marketing, businesses use brand push. BrandPush is one such platform recommended by digital marketers.
With the partnered news site of BrandPush, the brand can benefit from the authority and, further, profit from the readership. Let's give an idea of the numbers you can expect by engaging with BrandPush.
News Sites: 275
Monthly Readers: 140,712,900
Max Authority: 92
News websites associated with BrandPush are:
MarketWatch
Benzinga
Digital Journal
Daily Herald
21 News
Pittsburgh Post-Gazette
Fox 40
You can use BrandPush if you are running an eCommerce website, business, charities or if you are an artist, influencer, creator, or even a musician.
The power of BrandPush is such that people have even earned a blue mark on Instagram. Additional benefits include more signups, increased conversion rate, higher authority, and quality backlinks.
What Is Brand Push?
Brand Push provides the users with press release distribution services for the brands and businesses. Its service helps increase brand visibility and authority. Therefore, it is a valuable marketing strategy.
The platform provides its users with both writing and publishing services. Using these services is extremely easy. All the user needs to do is sign up for the form to enjoy a live article on more than 200 news websites within a week.
BrandPush can help you save money, effort, and time. The articles published through BrandPush have a lifespan of 3-24 months which is good from the perspective of good SEO.
Different news sites support different duration for the published articles. However, in all the cases the users can benefit for sure!
How Can It Help?
Let us now throw light on how BrandPush can benefit your brand. You can use the platform to boost the online presence of your brand and business.
This helps improve the search ranks of the website, and this, in turn, will fetch more buyers to your website. Here are how BrandPush can be helpful:
1. More qualified buyers
With BrandPush, you can publish articles on high-traffic news websites. You can quickly get more qualified buyers to your site with high traffic.
Each published article works as a warming landing page for the buyers. It is generally done by making readers aware of your brand before they shift to your website for further engagement. With each publication, the brand awareness of your company improves.
2. High ranking on Google
The news articles published by BrandPush often can be seen on the first page of Google. Getting featured on the first page means more traffic to your website.
Also, links from prominent news websites work like recommendations from high authorities. It generally pushes the search position of your website higher.
3. Get blue ticks on social media platforms.
News articles about you and your brand on more than 200 news websites clearly indicate that your company or you as a public figure holds the people's interest. This is often checked during the verification process on the different social media platforms.
With BrandPush, you can easily get blue ticks on platforms like:
Facebook
Twitter
Instagram
4. More sales
The "As Seen On" badge on social media platforms is a charm for any website. This badge alone can make your website more trustworthy.
It is seen that this trust badge can improve the conversion rates of the website by 48%. Legitimacy is critical when it comes to running an online business.
How Does It Work?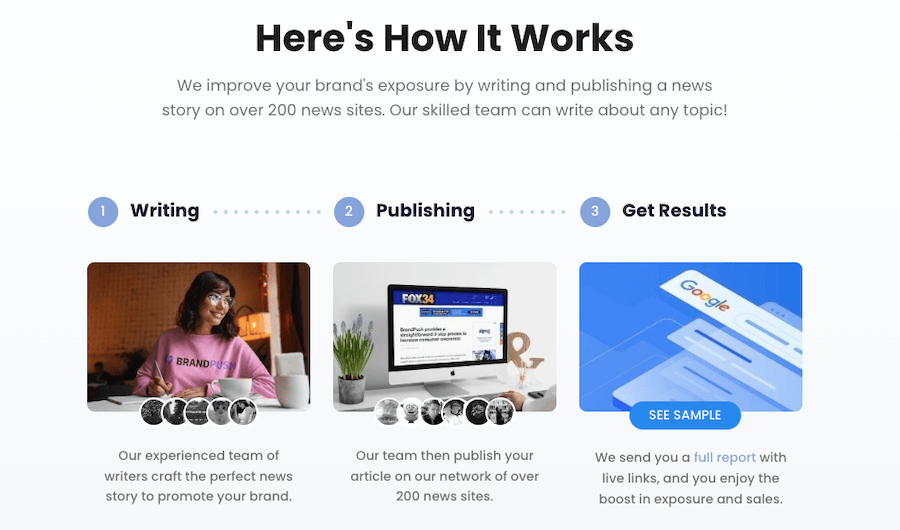 BrandPush provides the users with two services:
Writing
The user has the freedom to submit their own article and further ask BrandPush to write an article. If you are planning to go for articles by BrandPush, you need to provide them with the following information:
In addition to that, you can also provide them with quotes and images and embed YouTube videos. You can avail the writing service of BrandPush through their Plus or Pro packages. You must follow their guidelines if you plan to submit your own article. The basic writing guidelines are:
Publishing
Secondly, let's focus on the publishing part of BrandPush. The articles will be available not on major news sites like FOX and USA Today but on their local affiliates like FOX 34 and FOX 40.
The user will have a say before the article is published. With the plus package, the user can ask for two revisions. However, the users can ask for unlimited revisions.
You can be assured about the services of BrandPush because it comes with a money-back guarantee if your article is not published on 200 news websites.
BrandPush runs on two news networks:
The users must know that BrandPush will publish one article on all the new sites. However, it still will be helpful to boost the SEO of the website. Another question that might pop up in your brain is whether all the backlinks work as do-follow links.
Well, the do-follow links only work for the smaller news website. However, larger websites usually go for the no-follow links. This should not be a concern for you.
It is because many users have seen that even without no-follow links, the search position for the websites has increased.
Report
After the publication of the news, the user also provides the user with a report. The news report includes a list of all the news websites where the article is published. In addition to that, it further provides the users with data on:
The articles published on prominent websites usually last for two years. However, some websites might delete the article to keep their website fresh with new content.