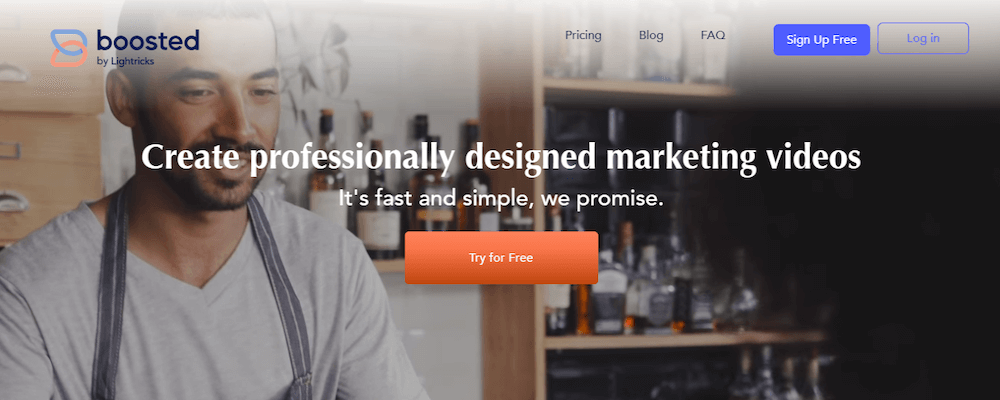 Image Source: Boosted
Using text and images alone to support your marketing strategies just won't cut it anymore. It can be tough to hear, but it's the truth.
If you want to stand out from your competitors, you need to engage your audiences better, drive more conversions and sales, and invest in video marketing.
If you're still overwhelmed by the idea of making video a big part of your marketing mix, then you'd be wise to check out the Boosted by Lightricks web app and mobile apps.
Whether you're promoting products, engaging with your social media followers, acquiring an audience with a media buy or building your personal brand with video, Boosted provides the tools you need to create professional marketing videos – efficiently and at scale, even if you don't have any visuals or video footage of your own to work with.
In this review, we'll look at the Boosted app's features and functionalities and how to use them to create videos for your brand.
Boosted at a Glance
Boosted by Lightricks offers a free online video creation app that helps eCommerce business owners, marketers, social media managers, freelancers and more make professional-looking marketing and business videos.
It offers libraries of video templates, stock clips, music and fonts, along with easy yet powerful editing tools to create beautiful videos that you can use as organic social posts or ads to help promote your products and offers, reach new audiences, and engage your followers.
Boosted promises quick and easy video and content creation through an intuitive interface and essential editing tools.
Let's dive in and look at Boosted's key features.
Ready-to-Use Templates
If you don't have a ton of time or experience creating videos using original footage and a pro editing app, Boosted's library of templates can help you make your videos.
This way, you never need to start from scratch. Instead, you can build on their professionally-made templates and make them suitable for your brand and video content.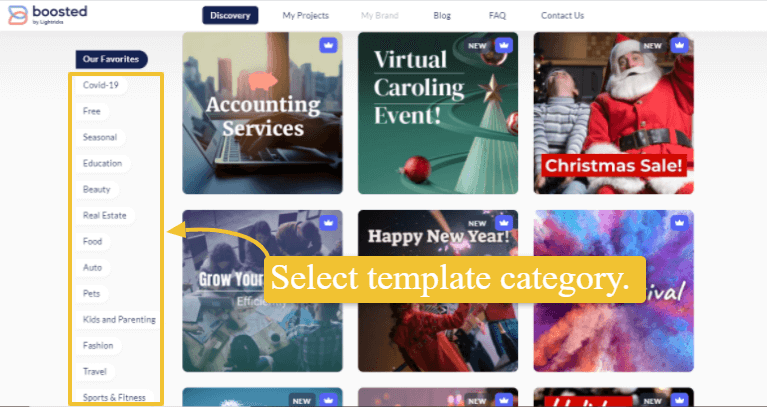 The app has heaps of templates for different industries, from real estate, fashion and food to seasonal categories. Many are free, and with an affordable subscription upgrade, you can gain unlimited access to them all.
You can customize the templates to your liking to reflect your branding and message. If you have pre-made video clips, you can easily replace the template's default clips with your own.
Video Editor
The app's video editor environment doesn't look overwhelming. Learning how to use it isn't time-consuming because of how intuitive the features, labels and navigation are.
It offers only the essential tools you need, such as the options to add media, music, colors, text and font styles, to help you create stunning marketing videos quickly and easily.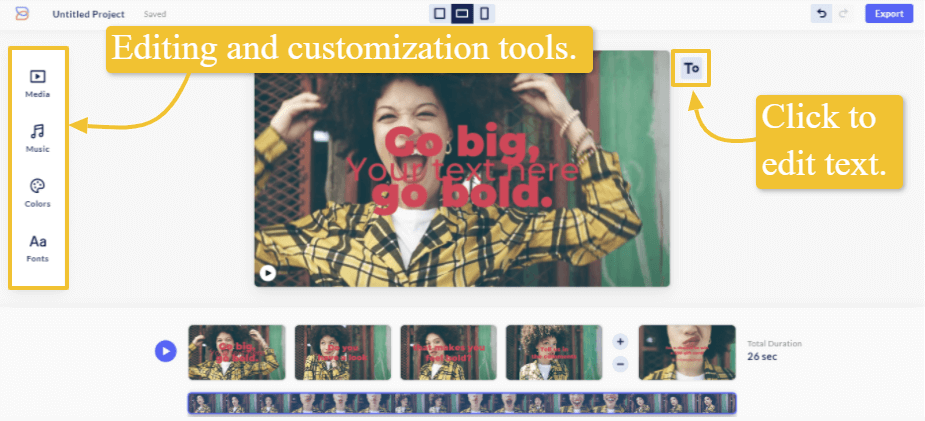 You'll also get to preview your video instantly to see how it looks while you work on it and make changes quickly when you need to, streamlining your editing process.
Boosted templates contain default video clips, but you can change or add to them when you choose other clips from the app's stock library.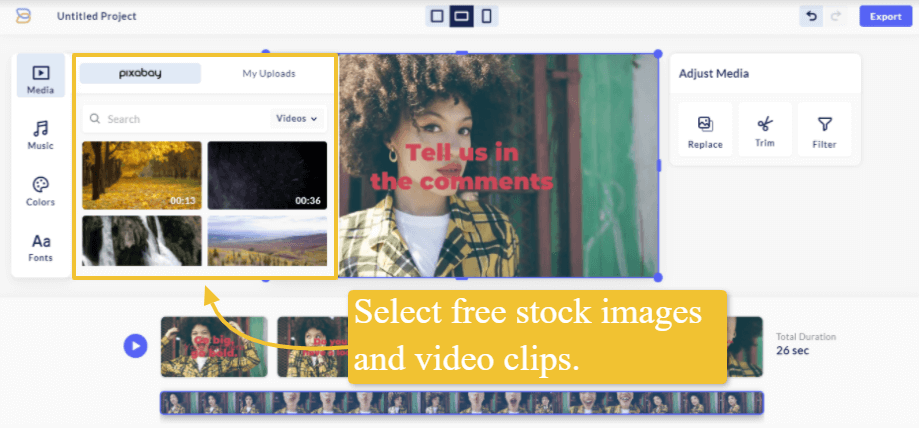 Get royalty-free video clips and images to include in your marketing videos, which you can select from Boosted's integration with Pixabay, or by uploading your own content.
Additionally, the app lets you resize your videos to pre-set options to fit the social media platforms where you publish your videos. This helps you avoid having awkward white space around your videos that isn't visually pleasing to viewers.
How to Use the App
The Boosted app's interface is simple and easy to navigate. After choosing a template, you'll be directed to the video editor tool.
Start by selecting a template, then choose your video orientation and name your Project.
Next, head to the Media tool and upload any videos, images and logos you like from your local drive, so you can easily work with them in the project.
Your video timeline will appear at the bottom of the editing tool interface, and you can easily add and remove segments to integrate any of the elements that you've selected or imported.
To edit the text, or anything else, in each video segment, click the button beside the video preview, and you'll see the editing options.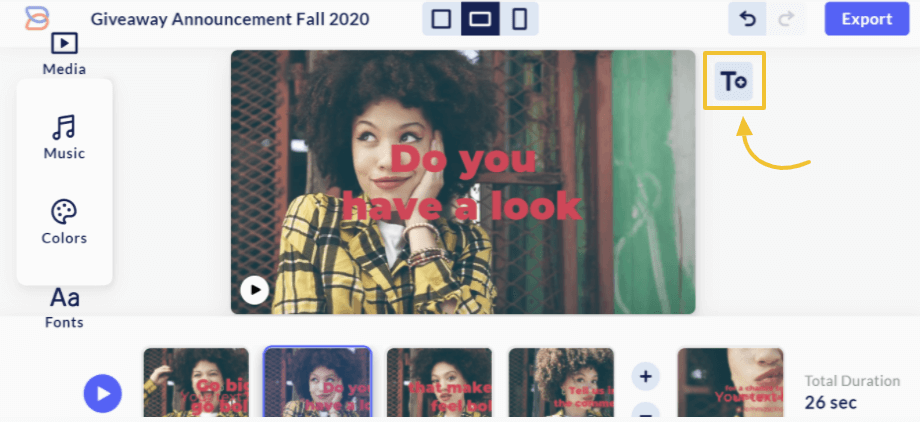 Type in your text and choose a font style and color, alignment, capitalization, and add a shadow effect.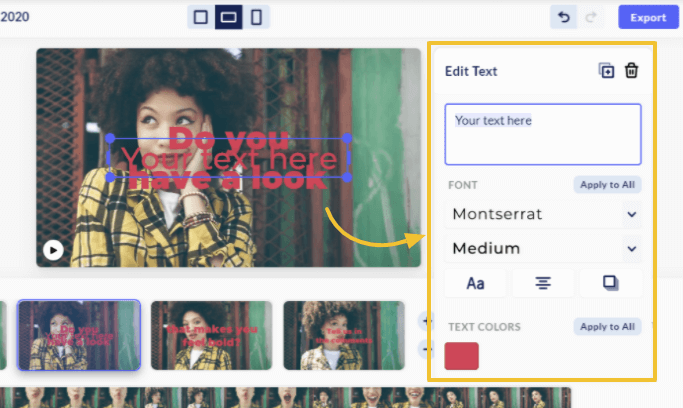 The app also lets you adjust your image and video clips by replacing and trimming them and even adding filters to match your brand's color scheme.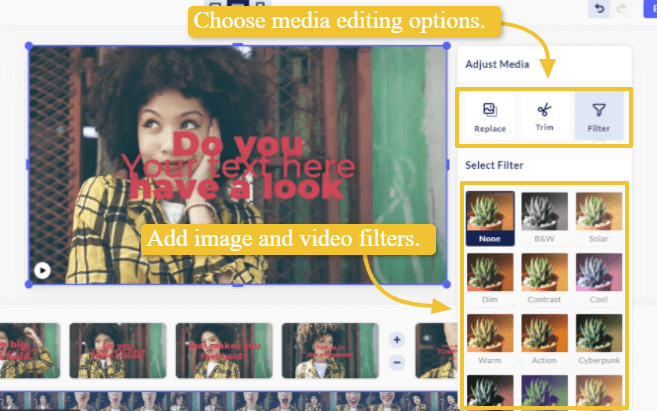 Another way to trim your video is to click the timeline at the bottom and drag and drop each segment to your desired length. For continuous clips, hover over the media timeline until the Split Clip option appears, then select to separate the video clips.
To add music and audio, you can use the defaults associated with your template, upload your own from your drive, or choose from the Boosted app's music library.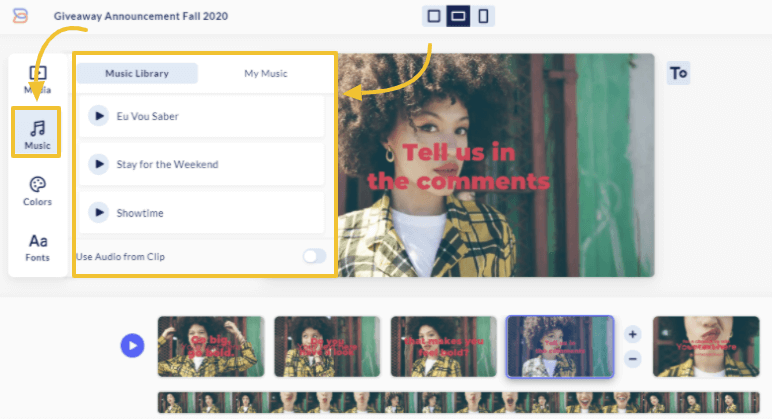 You can also trim the audio and adjust the volume.
Boosted lets you instantly preview any revisions you make or add to your videos, allowing you to edit in real time.

For instance, when choosing colors and font styles for your text, the tool shows you an instant preview as you scroll through the Colors Library and Fonts Library, streamlining your video creation and editing process.
Once you're done customizing and editing your video, click export, and Boosted will automatically download your video, in high-resolution MP4 format, to your device.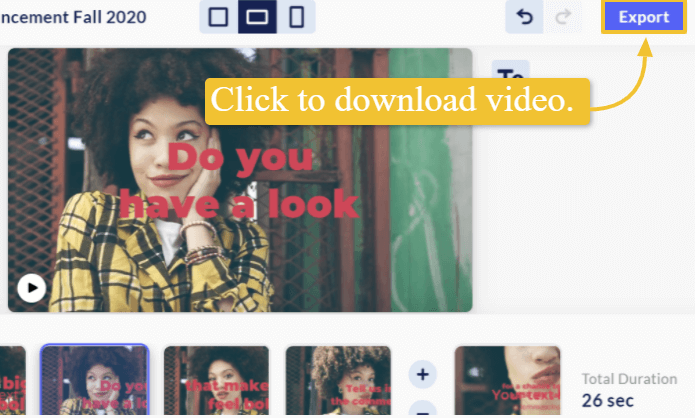 From here, it's easy to upload the clip to the platform of your choice, whether that's a social app, an ad buying platform or any other content management system.
Final Thoughts
If you're looking for a quick and easy way to create professional-looking marketing and business videos, then Boosted by Lightricks might be your best option.
There are many video creation apps available on the market today. Many of them offer more features, more templates, and more extensive stock libraries than Boosted. But with Boosted, Lightricks has created a happy medium – a diverse library of beautiful templates that's easy to customize quickly, to whatever extent you like.
It's a great app for content creators who don't specialize in video or those who don't have a lot of time – but who realize that in 2021, publishing video content, at scale, as part of a healthy marketing mix, is a must.